The Non-Toxic Foundation that Works So Well
This post may contain affiliate links. To read our affiliate policy, click here.
You have a whole array of tubes and bottles of skin foundation, yet none of them satisfies you? I know that feeling all too well! Instead of enjoying a fresh and even complexion in the mirror, I focused on every skin flaw that the foundation seemed to enhance rather than mask. But not anymore! I am excited to tell you about this non-toxic foundation that actually works! When you use it, you do not have to re-apply your makeup during the day. In addition, it provides full coverage but feels weightless on your skin. Plus, based on my experience, I can say that this safe foundation will help you mask wrinkles. If you cannot use skin foundation because your skin is dry and flaky, read my post The Best Tips for Skin Care Routine for Dry Skin.
Before deciding to try this toxic free foundation, I looked at the ingredients of many liquid foundations made with organic and natural ingredients. However, I always encountered the same problems. Either I would find ingredients of some concern, or the manufacturers were not forthcoming in their answers to my questions about heavy metal contamination, or both. Some of the liquid foundations I looked at and decided against were Beautycounter, Mineral Fusion, Ecco Bella, Vapour Beauty, Ilia, Bare Minerals, 100% Pure, Ilia, Physician's Formula . . . and the list goes on. Let me tell you why I deemed Crunchi foundation to be the safest foundation among those.
Safest foundation safety criteria
To begin with, let's talk about the ingredients I look for in a truly safe foundation. There are so many natural foundations that are much better than the makeup you will find in your local drug store. Here are my standards for the best foundation.
Liquid foundation versus powdered non-toxic foundation
In my opinion, liquid foundation is better for several reasons. Firstly, liquid foundation is safer because when powdered foundation gets airborne, we can inhale various chemicals. Even if a foundation is not toxic, it still does not belong in our lungs.
I know some of you are looking for a foundation without titanium dioxide. The main reason for that is that you might have heard that titanium dioxide is a carcinogen. That is true to some extent. To clarify, the International Agency for Research on Cancer has classified titanium dioxide nanoparticles as possibly carcinogenic to humans through inhalation (source). In other words, in liquid foundations, titanium dioxane is safe to use because it does not become airborne and inhaled.
Secondly, my skin is on the drier side and has some wrinkles, so pressed or loose powders do not work well for me anymore.
Safe foundation pigments
For starters, makeup companies use either mineral or petroleum-based pigments. Yes, some companies, such as 100 Percent Pure, claim to use fruit- or vegetable-based pigments in their non-toxic foundation. But I am very skeptical of them for a few reasons.
Firstly, the FDA does not approve these pigments for use in cosmetics. Secondly, because our planet is polluted, the FDA tells us those plants may contain trace amounts of heavy metals that they absorb from the soil, water, and air. Thus, when pigments are created from plants, heavy metals may become concentrated. 100 Percent Pure would not give me satisfying answers about possible heavy metal contamination. And lastly, 100 Percent Pure started disclosing that some of their makeup products include mineral pigments as well as plant colorants.
Petroleum-based pigments
I do not recommend makeup products with petroleum-based pigments or dyes because they can contain petroleum contaminants. That is to say, per each colorant, the FDA sets what it considers to be acceptable limits of the contaminants. However, when the FDA does so, it takes into account input from industry, too, and so its standards often differ from the limits recommended by persons and organizations that are truly looking out for consumers. As such, I advise to just stay away from them altogether.
Mineral pigments
To continue, mineral pigments are not a perfect choice for a safe foundation either. It is because they may contain residues of heavy metals as well. That is why when it comes to makeup products that cover large areas, I always ask for test reports to make sure that the pigments do not come from China. When pigments come from China, I don't consider it to be a non-toxic foundation.
Beautycounter claims that they test every product batch. However, they were not able to provide me with any evidence that they do so. They could not even assure me that none of their pigments were manufactured in China. A few years later, they finally posted test reports for 7 products on their website. I wonder how they chose to post the test reports of these 7 products only. And their foundation is not one of them.
Preservatives in makeup foundations
As you know, if there is water in a product, formulators must use preservatives to protect a product from mold and bacteria contamination. This is important. While we can often see mold on a product, bacteria are not visible but can be dangerous, especially for people with compromised immune systems. You can read more about that in my post called WaterWipes Baby Wipes: You Need to Know This!
The problem is that the preservatives are often associated with allergy, sensitization, or even endocrine disruption. But the good news is that there is a limited number of preservatives about which we need to know. Therefore, with a list of them in your hand, you can spot them in a product and avoid over 95% of concerning products. This is what I call my "consumer superpower," and you can learn how to master it here.
Packaging of non-toxic foundation
Most liquid foundations I looked at were packaged in plastic. I know it is not easy to avoid plastic altogether. However, I try to forgo plastic in areas where I can. So, you can imagine why I am so excited to present to you the Crunchi non-toxic foundation. In addition to other positive sides, it is packaged in a glass bottle.
With this said, let us look at the Crunchi foundation ingredients. By the way, they have recently reformulated their foundation, so the ingredients are a bit different now. In my opinion, the new formulation is safe to use.
The Crunchi non-toxic foundation ingredients
This is a list of the foundation ingredients that I accessed on the Crunchi website as of April 5, 2020.
Water (Aqua), Caprylic/Capric Triglyceride, Coconut Alkanes, Propanediol, Glycerin, Silica, Capryloyl Glycerin/Sebacic Acid Copolymer, Sorbitan Sesquioleate, Diheptyl Succinate, Tri(Polyglyceryl-3/Lauryl) Hydrogenated Trilinoleate, Vanilla Planifolia Fruit*, Helianthus Annuus (Sunflower) Seed Oil*, Aloe Barbadensis Leaf Juice Powder*, Rosa Canina Fruit Oil, Butyrospermum Parkii (Shea) Butter*, Tocopherol, Rosmarinus Officinalis (Rosemary) Leaf Extract, Tremella Fuciformis (Mushroom) Extract, Xanthan Gum, Sodium Chloride, Coco-Caprylate/Caprate, Maltodextrin, Hydrogenated Castor Oil, Jojoba Esters, Gluconolactone, Calcium Gluconate, Sodium Phytate, Potassium Sorbate, Sodium Benzoate, Triethoxycaprylylsilane, Alcohol, Citric Acid, Dimethicone, May Contain (+/-): Titanium Dioxide (CI 77891), Mica (CI 77019), Iron Oxides (CI 77489, CI 77491, CI 77492, CI 77499)
Now, let's talk about each ingredient of this safe foundation.
Water, caprylic/capric triglyceride, and coconut alkanes
First is water. On the one hand, aqua, or deionized water, is obviously innocuous. But on the other hand, the presence of water means that the product needs preservatives.
Then there is caprylic/capric triglyceride. This is a type of fractioned coconut oil and is a great skin moisturizer that helps to spread the non-toxic foundation easily, evenly, and smoothly. Because it has so many benefits, I recommend looking for it in products. It is not known to cause any skin irritation (unless, of course, you are allergic to coconut oil). If you think that you are allergic to coconut because you are allergic to coconut derivatives, you might be surprised to learn that the allergy is to contaminants in coconut derivatives, not to the coconut itself. You can read more about this in my post Is Cocamidopropyl Hydroxysultaine Safe?
Next is coconut alkanes. This is a natural ingredient that manufacturers derive by reduction and hydrogenation of coconut oil fatty acids. Nevertheless, some people on the Internet complain of its comedogenicity. However, I have been using this safe foundation for a while and have not had these problems. On the other hand, comedogenicity is not always easy to diagnose. It depends on the other ingredients in a formulation to see if the product is comedogenic as a whole.
Propanediol, glycerin, and silica in this non-toxic foundation
Propanediol refers to 1,3-propanediol, not propylene glycol, which is 1,2-propanediol. Unlike propylene glycol, propanediol is not in the American Contact Dermatitis Society Core Allergen Series. Neither does there seem to be any significant link with irritation or allergic contact dermatitis. In the Cosmetic Ingredient Review (CIR) report, scientists found it serving as an irritant only in concentrations as high as 75%.
As for glycerin, it is a naturally occurring compound found in all animal and human skin and blood. Based on the available safety data, the Cosmetic Ingredient Review Expert Panel concluded that glycerin is safe in concentrations as high as 79% in leave-on products and 99% in rinse-off products. There are animal, plant, or synthetic sources of glycerin. Crunchi uses glycerin derived from RSPO (Roundtable on Sustainable Palm Oil) palm oil. In fact, all the Crunchi non-toxic foundation ingredients are vegan.
Like glycerin, silica, aka sand or silicon dioxide, is also natural. To clarify, it is a part of the Earth's crust and is used in food as an anti-caking agent. Although silica has no known adverse health effects, it has concerns if it is airborne and inhaled.
Capryloyl glycerin/sebacic acid copolymer, sorbitan sesquioleate, and diheptyl succinate
For starters, capryloyl glycerin/sebacic acid copolymer does not have safety data as is the case with most natural ingredients. However, it has an EcoCert certification meaning that it is truly natural and biodegradable, which is a plus for the Crunchi safe foundation.
When it comes to sorbitan sesquioleate, the test results are quite encouraging. Even when scientists patch tested undiluted sorbitan sesquioleate on 50 people twice for 72 hours, neither the first nor the second test produced irritation or sensitization in the subjects (source).
Moving on to diheptyl succinate, I must say that there is not much information available on it in the US. However, an Australian agency assessed it and reported no acute toxicity in animal studies, no skin irritation or allergy concerns. Also, it found this ingredient non-mutagenic and non-genotoxic.
Tri(polyglyceryl-3/lauryl) hydrogenated trilinoleate, coco-caprylate/caprate, and triethoxycaprylylsilane
To begin, I have not found any safety information on tri(polyglyceryl-3/lauryl) hydrogenated trilinoleate. However, I am not very concerned about it because it is biodegradable, naturally derived, and its components seem to be non-concerning. To clarify, trilinolein is a triester of glycerin and linoleic acid. Additionally, polyglyceryl-3/lauryl is made of lauryl alcohol and glycerin. Lauryl alcohol naturally occurs in apples and coriander (source). Thus, the WHO approves lauryl alcohol as a food additive without any health concerns.
Then, coco-caprylate/caprate is a mixture of esters of coconut alcohol with caprylic acid and capric acid, which do not seem to have any concerns.
Next, triethoxycaprylylsilane in this non-toxic foundation is a silicone-based ingredient. According to its CIR report, scientists found it to be non-sensitizing, non-irritating, and non-genotoxic. The EWG Skin Deep Database rates it 1 with limited data.
Dimethicone in the Crunchi safe foundation
Dimethicone is a controversial ingredient on the internet, I know. That is to say, it has developed a bad reputation. However, I have been researching it on and off for years now, and here is what I can say about it.
Its chemical name is polydimethylsiloxane (PDMS), and it is also known simply as silicone oil. While the Skin Deep database rates it 1-3, I have not found any studies showing its potential negative health effects. In other words, I haven't found any proof of it causing endocrine disruption, cancer, allergic contact dermatitis, or even skin irritation. On the contrary, dimethicone is found to be effective to treat contact dermatitis.
In addition, I read a comprehensive write up on dimethicone in Ullmann's Encyclopedia of Industrial Chemistry which states the following.
Firstly, dimethicone is well-researched and has no health effects, even when dimethicone was administered orally in big doses to animals.
Secondly, the publication explains how dimethicone, while non-biodegradable, is not harmful to aquatic life.
Furthermore, some bloggers (and cosmetics companies that do not use it in their products) claim that dimethicone creates an unbreathable layer on the skin. They also say that it may make the skin dry and even cause acne. However, I have been using this safe foundation exclusively for a few years now and have not had any acne problems, whereas in the past, I have had acne. To read more about this misunderstood ingredient, please read my dimethicone post.
Gluconolactone, calcium gluconate, and botanicals in the Crunchi non-toxic foundation
The FDA approved both gluconolactone and calcium gluconate as direct food additives. These ingredients are neither skin nor eye irritants, nor are they skin sensitizers. Mutagenicity and reproductive and developmental toxicity data are negative (source).
Regarding botanicals, Crunchi makes sure that all their products are non-GMO and 99.9% organic. When a botanical ingredient has no "organic" marking, it is simply because Crunchi cannot always source it as organic. The botanical ingredients include organic vanilla planifolia fruit and organic sunflower seed oil. Additionally, there is organic aloe leaf juice powder, rosa canina fruit oil, and organic shea butter. Moreover, this safe foundation contains rosemary leaf extract, and tremella mushroom extract.
Preservatives in the Crunchi toxic-free foundation
Again, since water is an ingredient, the product needs to have a preservation system. In this case, I feel that the preservation system in this non-toxic foundation is about as safe as it can be.
Sodium phytate
Clinical studies showed that a skincare product with 0.49% sodium phytate tested on 22 subjects caused no irritation. In addition, scientists classified a product containing 50% sodium phytate as a minimal irritant to a non-irritant. Furthermore, a product containing 1% sodium phytate did not produce skin sensitization in a test involving 25 people. Finally, in vitro tests concluded no sensitization potential. You can find more information about it in the applicable Cosmetic Ingredient Review report.
Potassium sorbate
This is a food-grade preservative. To clarify, I am not saying that it is safe to eat food with preservatives. But to me that it is an indication that it is a safer preservative than a non-food grade preservative. The EWG Skin Deep database used to rate it 3, but recently it improved its rating to 2. According to a 1988 CIR report, it was practically non-irritating to rabbits' eyes at concentrations up to 10%. In addition, animal studies found it non-carcinogenic. Mutagenic tests on bacteria were mixed. And products containing up to 0.5% potassium sorbate were not sensitizers. But considering the alternatives, in my opinion, potassium sorbate is one of the safer preservatives and a reasonable choice for this safe foundation.
Sodium benzoate
Just like potassium sorbate, sodium benzoate is a food-grade preservative, too. However, it may cause an allergic reaction in some people if used in concentrations over 5% (source). The concentration of sodium benzoate in the Crunchi non-toxic foundation is less than 1%.
Again, please visit here to learn more about how to avoid the worst preservatives and other ingredients. Gain a superpower to know in a few seconds if a product is potentially harmful!
Also, if you wonder whether sodium benzoate becomes harmful when it interacts with citric acid, please visit my Sodium Benzoate & Citric Acid Myth post. The short answer is no.
Other ingredients in this safe foundation
Xanthan gum, sodium chloride (salt), maltodextrin, alcohol, and citric acid are all food-grade ingredients. Hence, I do not have any concerns with them in skincare products.
Hydrogenated castor oil is a derivative of castor oil.
Jojoba esters are jojoba oil derivatives. The oil and its derivative jojoba esters are more similar to sebum than to any traditional vegetable oils (source).
Tocopherol is a great antioxidant. It is used as a food additive as well as a supplement, so I do not see a problem with it. Besides, it is non-GMO and is wholly extracted from sunflower seeds.
Mineral pigments in the Crunchi toxic-free foundation
The pigments used in this non-toxic foundation are titanium dioxide, iron oxides, and mica.
Titanium dioxide
As I mentioned earlier, titanium dioxide is linked to cancer only when it is inhaled in loose powdered form. While the EWG Skin Deep Database does specify that and has some frightening information about it, it also rates it at 1-3 only.
Iron oxides
The iron oxides in this safe foundation are CI 77499, CI 77491, and CI 77492.
When I first started using Crunchi products, I appreciated the fact that they use ECOCERT-certified mineral pigments in their non-toxic liquid foundation, which, in my opinion, are the safest available to us. EcoCert certifies pigments that are natural and contain no synthetic components. Also, ECOCERT certification means that the residues of heavy metals adhere to European safety standards. I love the fact that none of Crunchi's pigments come from China or Asia.
Of course, this is no guarantee that there are not trace amounts of heavy metals that can be found in iron oxides. However, I have great news for you. Thankfully, in large part due to consumer pressure, more and more manufacturers are testing their makeup products for heavy metals. The Crunchi team is currently undergoing a Beta Testing Program. They report that they are beyond thrilled with the results so far. After seeing their product test reports, I feel even more confident using their non-toxic makeup products. To read more about the issue of heavy metals in makeup, click here.
Mica
Mica is a shiny silicate mineral typically used in mineral makeup. It has a rating of 2 with fair data in the Skin Deep database. Above all, Crunchi's mica is free of child labor.
Conclusion about this non-toxic foundation
How Crunchi foundation works
This foundation comes in 10 shades. With the old foundation I used Medium (03). Now with the new one, I get Light Medium (2.5). Please keep in mind that my skin is darker than it used to be due to adrenal insufficiency.
What I like about this safe foundation the most is that it spreads easily, evenly, and smoothly. Besides, the improved product provides more coverage. I start with a quarter of a pump and use a flat top brush to spread it well. Often, I do not need more after that. Sometimes I use a little bit of Crunchi non-toxic highlighter when I am in the mood for a dewy effect.
I highly recommend applying Crunchi Smart Primer first, especially if you have dry skin and/or wrinkles. The primer fills in the wrinkles and hydrates the skin. It is light, and it will probably work well for oily skin, too. Also, I read every ingredient of the Crunchi Smart Primer and did not find any concerning ingredients.
Where to buy the toxic-free foundation
You can buy the Crunchi Beautifully Flawless Foundation and other products on their website.
As I mentioned above, I highly recommend getting the Crunchi Smart Primer with your foundation or foundation matching color kit, especially if you have dry skin and/or wrinkles. You can use it as a standalone moisturizer, too. To read my comprehensive review of the Crunchi brand, please visit here.
If you prefer to use a foundation with very simple ingredients, please check out AnnMarie mineral makeup foundation. You simply mix facial oil and mineral powder in your palm. Keep in mind that some people do not like that because this mineral makeup won't hide your wrinkles. And if you cannot use skin foundation because your skin is dry and flaky, read my post The Best Tips for Skin Care Routine for Dry Skin.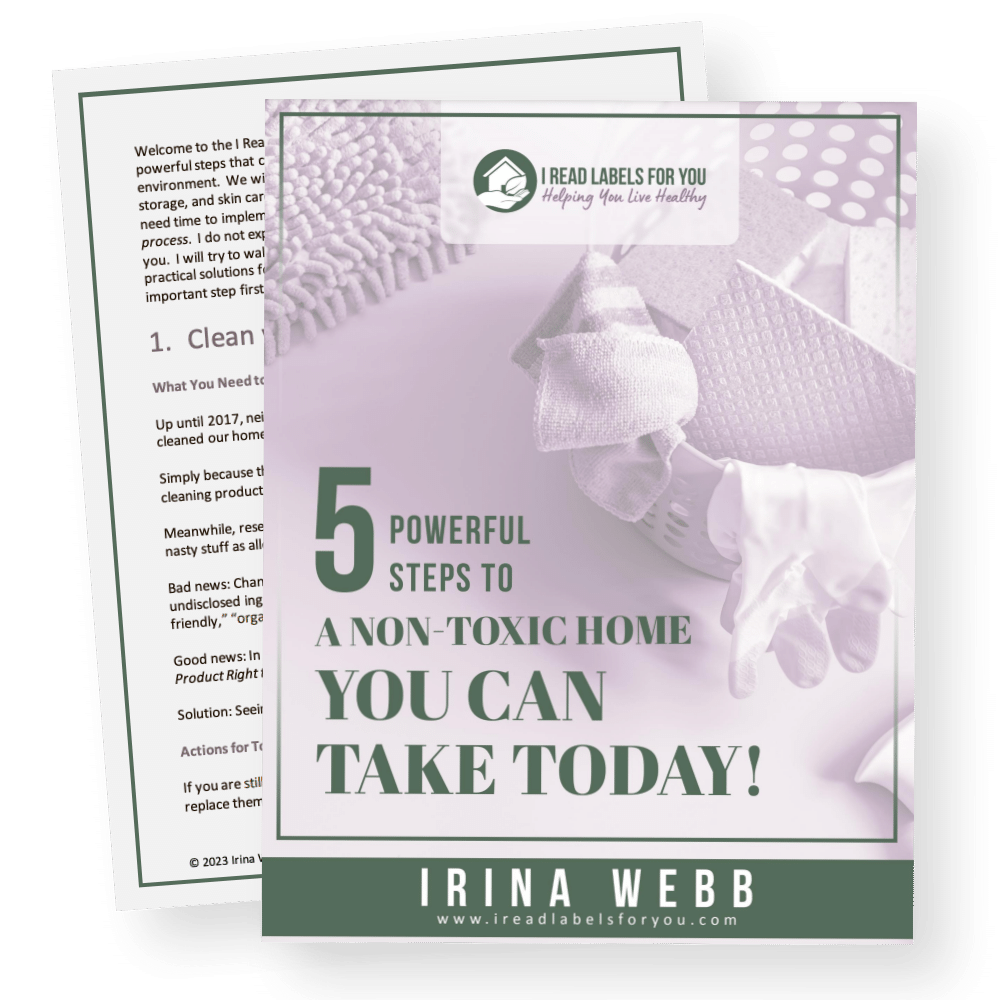 Download The Free Guide!
5 Powerful Steps To A Non-Toxic Home
Join our informed consumer community and get our free guide the "5 Powerful Steps To A Non-Toxic Home".