Crunchi Non-Toxic Makeup Reviews: the Good & the Bad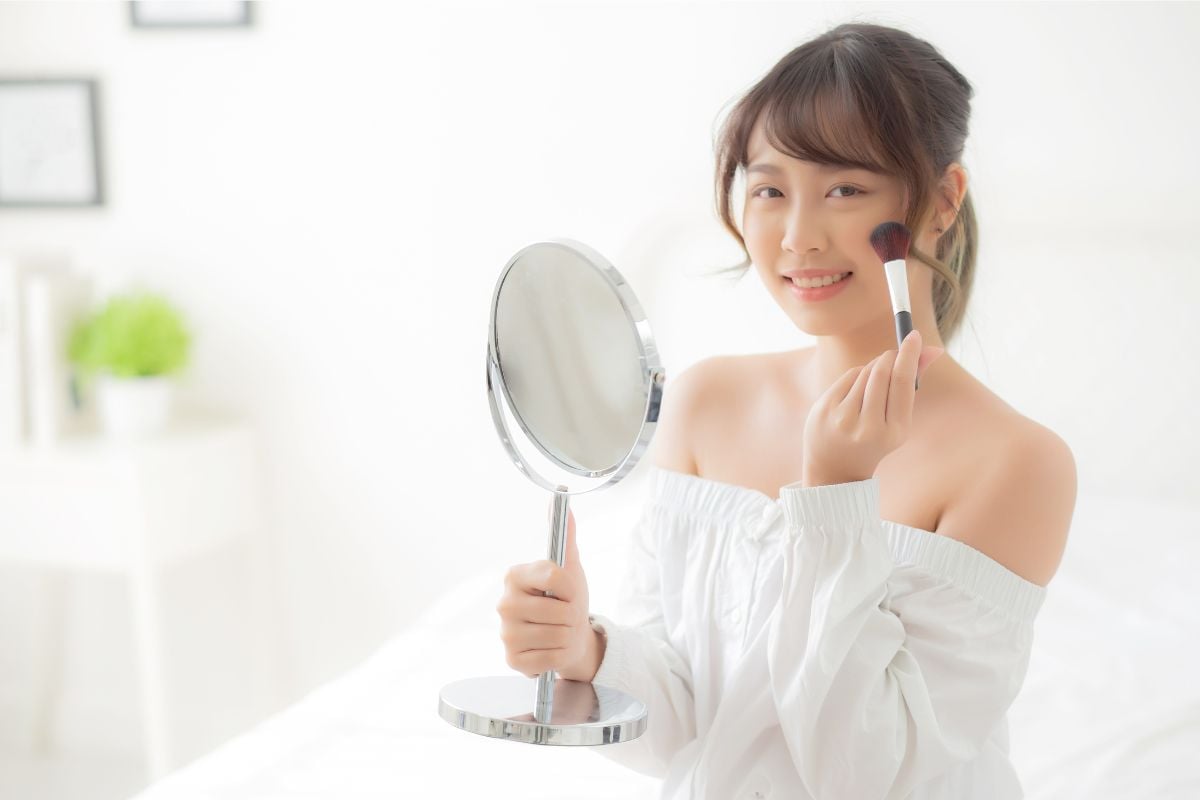 This post may contain affiliate links. To read our affiliate policy, click here.
Want the best non-toxic makeup that meets your skin care needs? Inside, I review Crunchi makeup and Crunchi skincare and reveal whether they live up to Crunchi's clean beauty claims, or whether the negative reviews are true. Plus, I'll specifically review Crunchi sunlight and daylight facial creams, semi-matte finish foundation, mascara, and other toxin-free beauty and makeup products. In addition, I will address the Crunchi vs. Beautycounter question and show you which one is the best in my opinion.
Crunchi Non-Toxic Makeup Reviews: 10 Reasons I Love It!
In my late forties, I rely on non-toxic skincare and makeup to enhance my youthful looks. As a full-time ingredient researcher, I set my safety criteria rather high. And I am super excited to tell you that Crunchi cosmetics meet my safety standards to the fullest and more! (Check out my website to see how I do my research and determine whether products are safe.)
Having recovered from one autoimmune disease and being in the process of recovery from another, I am careful about what I put on my skin. That is why I meticulously study ingredients to form an opinion about their effect on my health. In the long run, my goal is to make the market a safer place for you and your children.
As for Crunchi, I have reviewed every ingredient used in their non-toxic makeup and skincare products. I believe it is a safe cosmetic brand as all their products are safe. Indeed, all their botanicals are organic and there are no endocrine disruptors, carcinogens, or common allergens. Plus, they use eco-friendly packaging and, thus, take more plastic out of the environment than they put in.
In fact, there are at least 10 reasons I love Crunchi skincare and non-toxic makeup company. Check them out!
Crunchi Advocates for Your Health.
First of all, Crunchi makeup and skincare company advocates for more health-protective legislation.
To clarify, the US Congress created a law to govern the safety of clean beauty and personal care products called the Federal Food, Drug, and Cosmetic Act (the FD&C Act) in 1938. This act created the Food & Drug Administration (FDA).
However, under the FD&C Act, from 1938 – 2016, the FDA banned only 11 ingredients from use in cosmetic products. In 2016, 19 more ingredients were banned, but all of them were used in antibacterial soap.
Further, there are over 10,000 ingredients used in cosmetic and personal care products. The Cosmetic Ingredient Review (CIR) Panel, a cosmetic industry-funded agency, has only reviewed 13% of them for safety.
The good news is there are four bi-partisan legislative bills in Washington D.C. that should make personal care products safer! They include the Toxic-Free Beauty Act, the Cosmetic Fragrance and Flavor Right to Know Act, and the Cosmetic Supply Chain Transparency Act.
These bills should make the job of deciphering ingredients and their contaminants easier. Crunchi makeup company endorses these bills and has been working toward making them a reality. Besides, Crunchi skincare brand is a part of the Safe Cosmetics Leadership Circle which holds legislative briefings. So, they stay abreast of the substance, timing, and specifics of state and federal legislation and safe cosmetics advocacy opportunities.
Crunchi does not Engage in False Advertisement or Greenwashing.
Second, there are no claims on the Crunchi website that their non-toxic makeup products are organic or natural.
Indeed, mineral colorants are not agricultural products, so, by definition, they cannot be organic. Therefore, I appreciate the fact that Crunchi is not engaging in false advertisement. In other words, it tells me that they are not trying to "greenwash" consumers.
The Crunchi Clean Beauty Brand Names Ingredients with Integrity.
Third, Crunchi lists the ingredients of their non-toxic skincare products per INCI naming conventions. It means that they call their ingredients by agreed-upon industry standard names. This tells me that Crunchi has integrity and respect for their customers.
To clarify, if a company does not disclose their ingredients per the INCI naming conventions, sometimes we cannot even know what ingredients comprise the product. This can be a red flag.
Crunchi Tests their Products for Common Contaminants.
Next, I applaud Crunchi for testing their safe and high-performing products for perfluoroalkyl and polyfluoroalkyl substances (PFAS). These are commonly found in makeup and even in some so-called "green" and "clean beauty" products. PFAS are associated with infertility, high cholesterol, insulin resistance, diabetes, impaired immunity, and cancer (source). To clarify, they can be intentionally added to a product or may be present as manufacturing contaminants.
Thus, Leah Segedie (of Mamavation) tested 83 green beauty products for PFAS, and Crunchi makeup found itself in the best category. Neither of Crunchi products had any detectable levels of organic fluorine which is an indicator of possible PFAS contamination. (Learn more about that in the Environmental Health News.)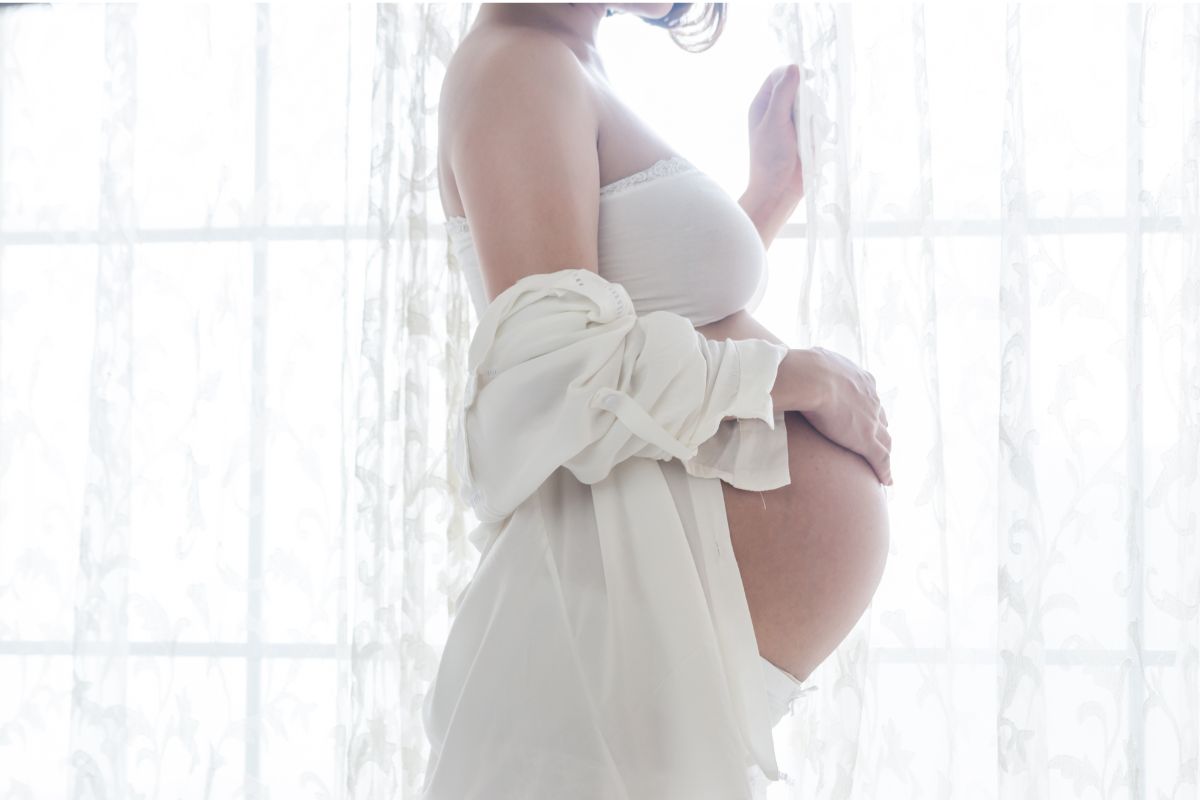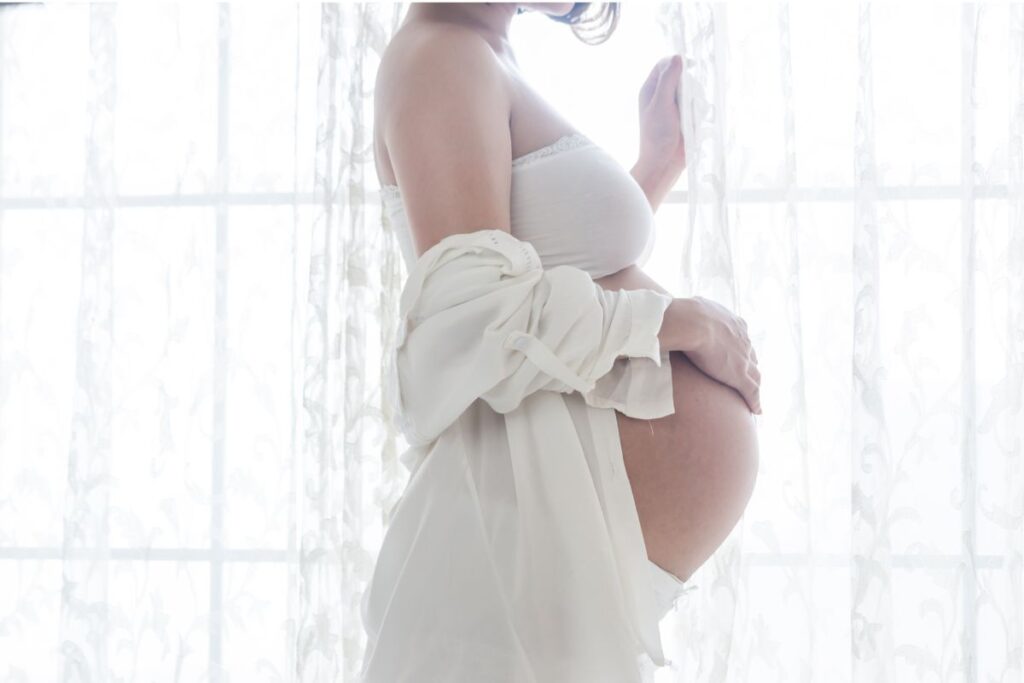 Crunchi is Non-toxic and Pregnancy Safe Skincare.
If I made my own non-toxic skincare and toxin-free makeup, they would not differ much from Crunchi makeup and skincare products.
In my opinion, Crunchi makes pregnancy-safe makeup and skincare products. Generally speaking, safe cosmetics are also safe for pregnancy, with two exceptions.
First, to be on the safe side, some essential oils are not recommended during pregnancy and breastfeeding. Second, so as not to overdose on vitamin A, it is a good idea to avoid retinol and its derivatives in the products you use on skin. (You can see the list of essential oils in the Safe Shampoo for Pregnancy Step by Step Guide. Also, refer to my Helpful List Of Chemicals To Avoid During Pregnancy. This said, be sure to consult with your medical doctor as to which skincare and makeup products are right for you during pregnancy and breastfeeding.)
Crunchi Skincare is Vegan and Cruelty Free.
I am happy to tell you that all Crunchi cosmetics are vegan. They used to include organic beeswax in some of their toxin-free beauty products' formulations, but they have replaced it with plant-based waxes, not petroleum. Therefore, they can proudly claim that they are a vegan makeup brand.
Additionally, Crunchi is a cruelty-free makeup brand. They test their clean beauty products on humans only; Crunchi does not test on animals. (By the way, all products I use and recommend – not only Crunchi – are cruelty free.)
Crunchi Cosmetics are Gluten Free.
Further, for people who avoid gluten (like myself), I'm glad to announce that Crunchi non-toxic skincare products contain no gluten.
Also, those products that are not manufactured in a gluten-free facility have a stringent protocol to prevent cross-contamination. In fact, Crunchi tested their lip gloss to confirm that gluten was non-detectable (< 20 ppm). (Find out if you are using a safe lip color!)
Crunchi Uses Environmentally Friendly Packaging.
Ever since my son was born, I have taken environmental pollution personally. It is painful to realize that we leave so much garbage behind for our kids to deal with. What I love about Crunchi non-toxic makeup and skincare company is their sincere concern for the environment. Hence, they use packaging made of easily recycled materials, such as glass, paper, and wood.
For instance, Crunchi eyeliner, eyebrow pencil, and lip crayons are made of wood – the real wood, not a plastic look-alike! Moreover, they use glass for their semi-matte finish foundation, facial sunscreen, facial multi-peptide serum, vitamin C serum, gentle facial exfoliator, and even mascara! Plus, their non-toxic eyeshadows, bronzer, and blush come in paperboard packaging. (First purchase of $50+ gives you $10 off!)
Although it is not feasible to avoid plastic completely, 100% of their plastic is free of phthalates and BPA (and other bisphenols).
Above all, it always makes me happy to see no plastic wrapping every time I receive a new order of these safe makeup and non-toxic skincare products.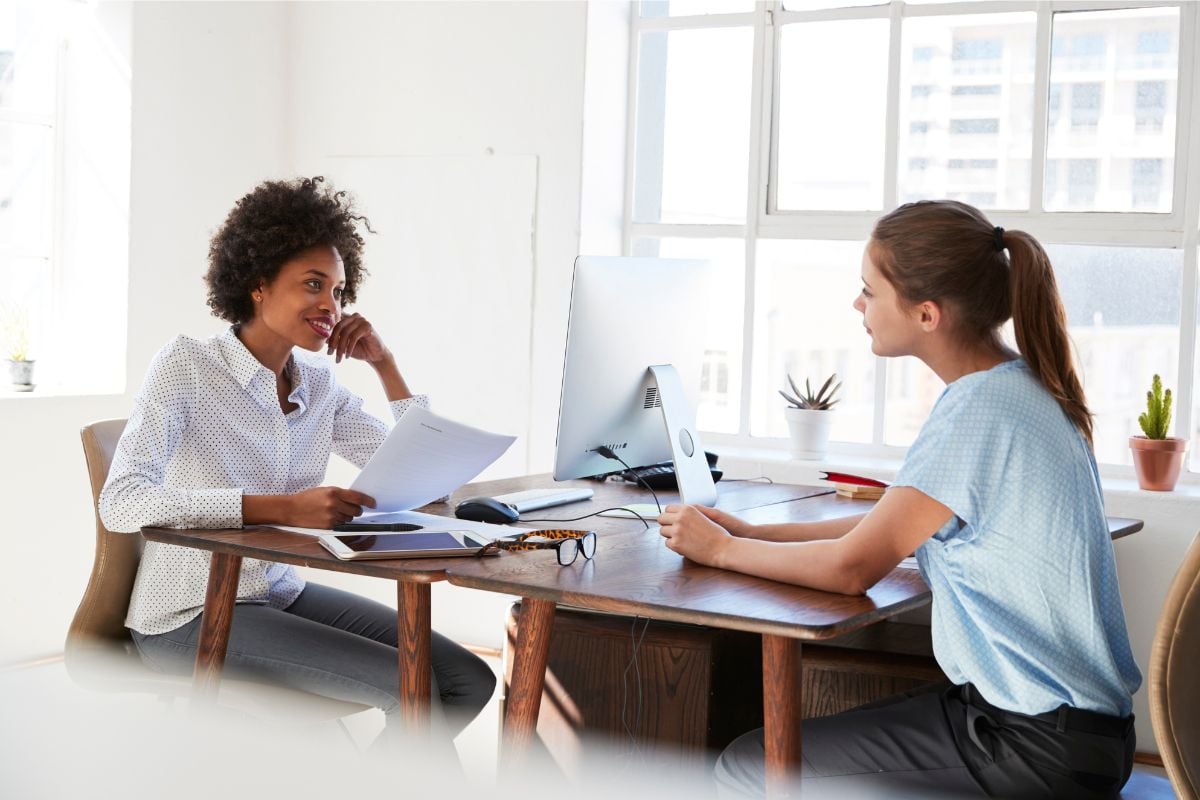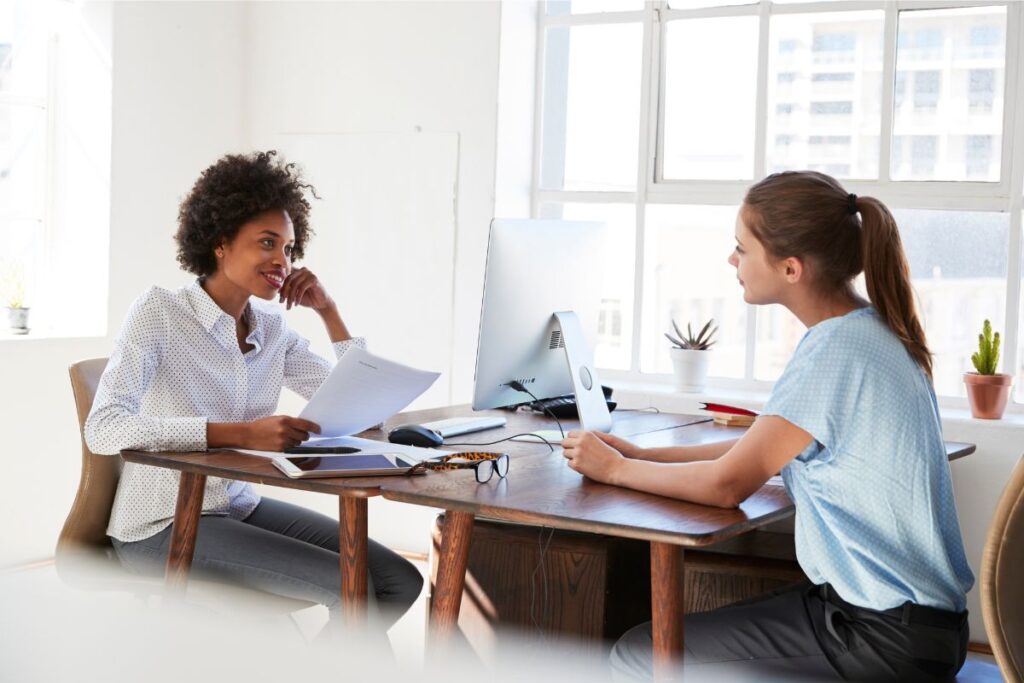 Crunchi Makeup & Skincare Company Helps Women.
As a direct sales company, Crunchi provides opportunities for women to earn income in the comfort of their homes and in the pockets of their busy schedule.
The best news is that they offer an extensive training program as well as many resources and tools to help women develop their businesses. Crunchi does not use any "predatory practices," meaning that they do not make any promises of unattainable riches. As with any business, you have to put work into it to make it successful.
To learn more about non-toxic makeup and skincare advocate opportunities, visit the Crunchi website and do not hesitate to email me.
Crunchi Addressed All My Questions in Detail.
Last but not least, one of Crunchi's co-founders Melanie Petschke took time to call me personally to give answers to all my questions. Her integrity, knowledge, and passion to create a well-performing safe makeup brand impressed me a lot!
I have been in touch with Crunchi's product development team on a regular basis. Moreover, Crunchi values my opinion on the safety of ingredients for their new cruelty-free makeup and non-toxic skincare products. That is how I know their non-toxic makeup and skincare ingredients in and out!
Crunchi Daylight Facial Cream Review
Definitely, my top favorite cream is Crunchi Daylight Cream, the most hydrating face moisturizer I have found among the affordable ones. It owes its hydrating ability to sodium hyaluronate and Chondrus Crispus extract that draw water into the skin and make it plump and firm. (First purchase of $50+ gives you $10 off!)
For your information, Crunchi Daylight Facial Cream has passed a tough exam on hydration in the high desert in Colorado. Although the climate here is very dry, my skin remains normal and feels great thanks to this facial moisturizer. (For a detailed ingredient review, please refer to my post about this hydrating face moisturizer.)
Crunchi Night Cream Review
As a clean beauty product, Crunchi Nightlight Advance Facial Cream is toxin-free, and it is nourishing, light, absorbent, and non-greasy. Indeed, Hibiscus Sabdariffa flower acid provides deep hydration without making the skin greasy. ($10 off 1st purchase of $50+)
Also, I love the nutrient-rich oils, such as jojoba, avocado, and sesame, and powerful antioxidants, such as organic rose petals, sage, and ginko biloba. These ingredients help to protect your skin from environmental stressors. Remember that I studied every ingredient of all Crunchi non-toxic skincare products and deemed them safe based on my 5-step research method.
As I mentioned above, Crunchi cosmetics, including its non-toxic vegan makeup, are packaged in recyclable containers. Thus, both day cream and night cream come in glass bottles with BPA/phthalate-free lids.
Crunchi Sunlight Review
Next, I really like Crunchi SPF 30 Sunlight Facial Sunscreen that has a good concentration of non-nano zinc oxide (12.5%). However, due to non-whitening zinc oxide and many emulsifying ingredients, it leaves almost no white cast. Plus, it contains nourishing ingredients, such as squalane and certified organic shea butter and grape seed oil. ($10 off 1st purchase of $50+)
Additionally, the broad-spectrum SPF 30 protects against UVA as well as UVB rays to help decrease the risk of skin cancer and early signs of aging. Plus, it has non-GMO ingredients, fragrance, and essential oils. Just as Daylight cream and Nightlight cream, Crunchi Sunlight cream is lightweight, non-greasy, hydrating, and fast-absorbing.
By the way, Crunchi Sunlight tested negative for benzene, which can be a problem with some sunscreens. And its preservatives are some of the safest: phenethyl alcohol and COSMOS-approved sodium phytate, glyceryl caprylate, and glyceryl undecylenate. Check out my Non-Toxic Face Sunscreen Guide to see how Crunchi safe sunscreen compares with others.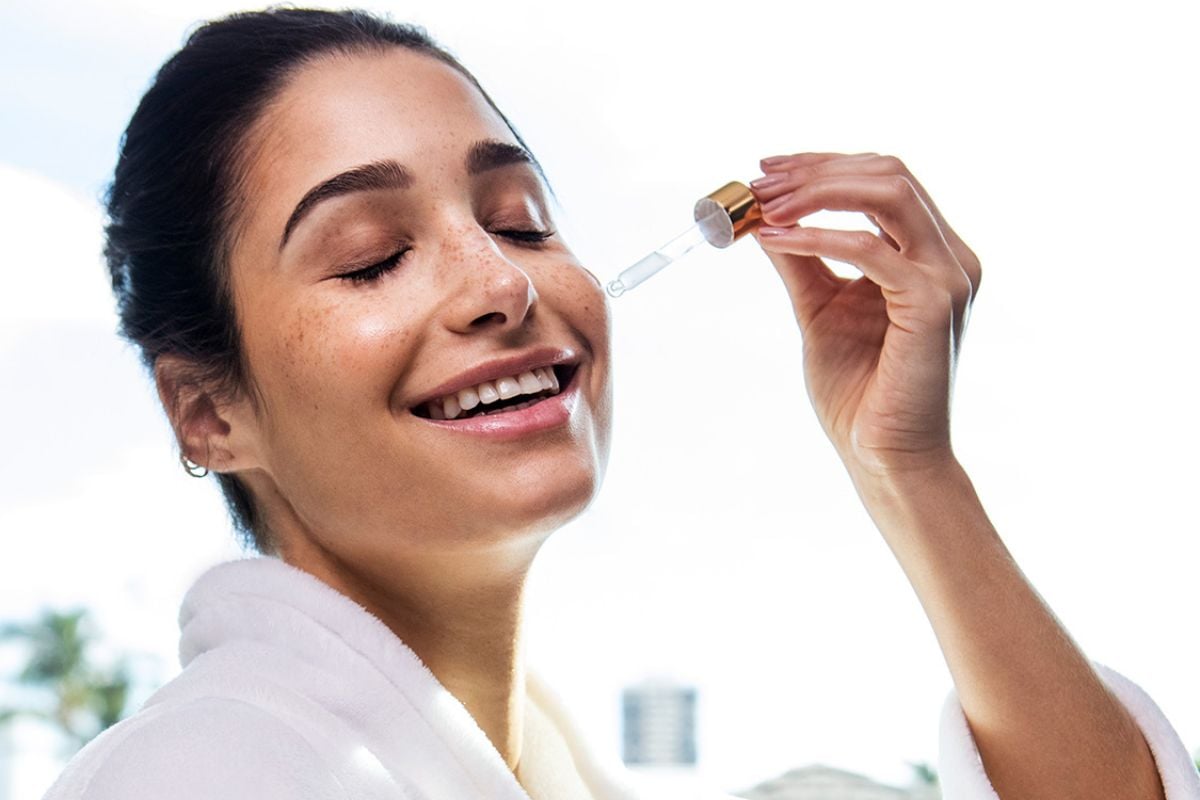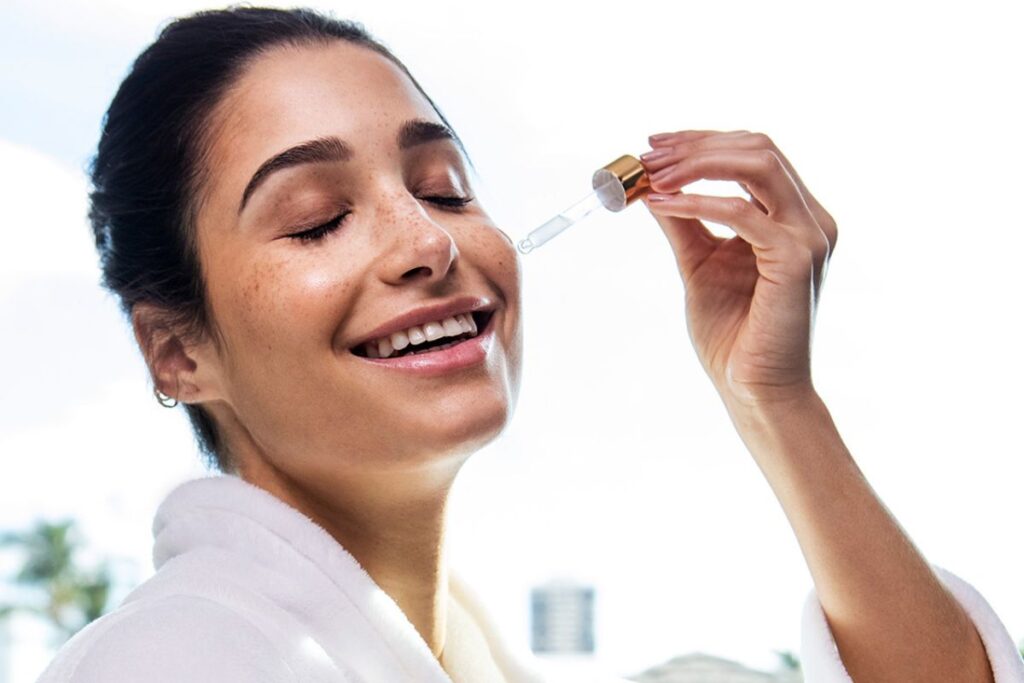 Crunchi Multi-Peptide Serum Review
Before we talk about Crunchi cruelty-free non-toxic makeup, I would like to review two new products in the Crunchi skincare collection. One of them is Crunchi Goldenlight™ Multi-Peptide Serum, packaged in recyclable glass with a glass dropper.
The best part is that it contains FOUR collagen-stimulating peptides that work overtime to help reduce the signs of aging. Thus, they visibly plump fine lines, and firm and tighten the skin, leaving it with a natural glow. Importantly, the natural glow does not come from silicones common in anti-aging creams and serums. It comes from the health of your skin that this serum helps you acquire.
Is there anything wrong with silicones?
Well, of the two types of silicones – linear and cyclical – the linear ones, such as dimethicone, seem to be safe. On the other hand, the cyclical silicones, such as cyclotetrasiloxane (D4), cyclopentasiloxane (D5), and cyclohexasiloxane (D6), may contribute to endocrine disruption and reproductive issues. Unlike with carcinogens, allergens, and irritants, even small doses of endocrine disruptors matter. (Check out my blog post about cyclopentasiloxane and other cyclical silicones.)
While silicones simply mask the appearance of wrinkles without improving the skin's condition, peptides, particularly signaling peptides, provide anti-wrinkle properties. For me, in my late forties, this feature is especially valuable and desirable in non-toxic skincare products. (Learn more about the Goldenlight Serum and its ingredients, e.g., hyaluronic acid.)
Crunchi Eye Cream Review
Finally, no Crunchi cosmetics review would be complete without mentioning Powerlight™ Eye Cream, clinically proven non-irritating for the eyes. It definitely belongs with Crunchi pregnancy-safe skincare applied under non-toxic makeup. ($10 off 1st purchase of $50+)
Once I forgot to order a refill and went for several weeks without using this eye cream. I could totally see the difference! After all, it is designed to help reduce the appearance of wrinkles, minimize the appearance of dark circles, and temporarily reduce the appearance of puffiness. Dark circles are what I usually struggle with, and Crunchi Powerlight Eye Cream helps me with that a lot!
Further, it has no fragrance and no essential oils. Ingredient-wise, it contains some of the safest preservatives: phenethyl alcohol, and COSMOS approved sodium phytate, glyceryl caprylate, and alcohol. Plus, it features niacinamide (vitamin B3), organic green tea, hyaluronic acid, vitamin C, squalane, and palmitoyl tripeptide-38.
To clarify, palmitoyl tripeptide-38 is a collagen-stimulating peptide, as opposed to inhibitor peptides (Botox-like), such as acetyl hexapeptide-8. The latter can impair memory in the long-term because they block the release of acetylcholine, a neurotransmitter involved in muscle contractions.
Mind you, the clear white "fiber" appearance on the cream is normal. It is part of the ingredient delivery mechanism designed for optimal active ingredient absorption and efficacy.
Also, this clean beauty skincare product is packaged in a small recyclable glass jar with a 100% BPA-free and phthalate-free recyclable lid.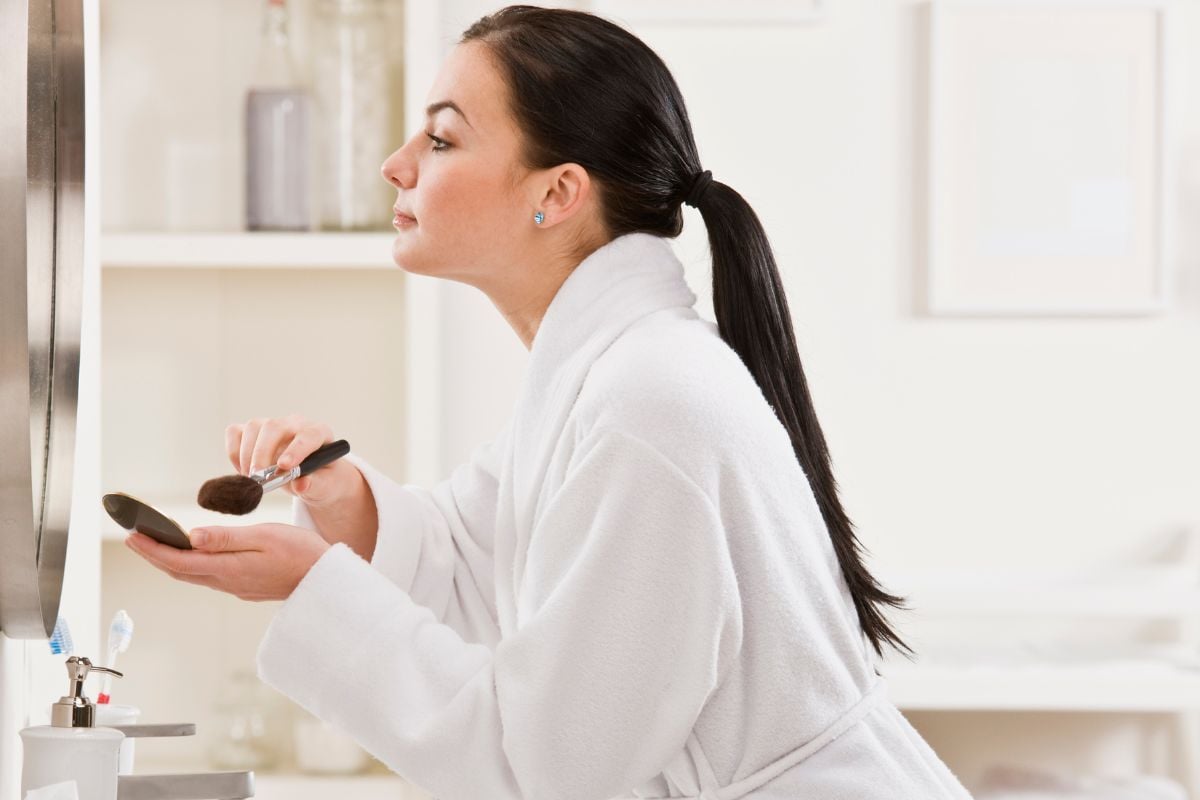 My Crunchi Makeup Review: 6 Reasons Crunchi Ingredients are Safe and Non-Toxic
Since I was a teenager, I have always loved wearing makeup. As I mentioned earlier, in my late forties, I rely on non-toxic makeup (and non-toxic skincare) to enhance my youthful looks.
When I started trying newly emerging safe cosmetic brands (not all of them were truly safe, by the way), the question arose: Is clean beauty worth it? I think it is better not to wear any makeup than to wear toxin-free makeup that runs, sheds, does not stay on or cover, or is the wrong shade.
For the sake of research, I have looked into quite a few makeup brands that claimed to be safe, including:
Kosas
Osmia
Rejuva
Lily Lolo
Honest Co
Ilia Beauty
100% Pure
W3ll People
Hynt Beauty
Dime Beauty
Mineral Fusion
Thrive Causemetics
Vapour Organic Beauty
Unfortunately, they all either fell short of my standards or did not respond to my questions about heavy metals in their pigments. (Read on to find out why these questions are important as well as how Crunchi compares to Beautycounter makeup.)
As you can see, Crunchi makeup was not my only option, but I ended up choosing Crunchi because of their safe ingredients. Check out the six reasons I consider Crunchi skincare and makeup safe and non-toxic!
Crunchi Uses Only Mineral Pigments.
First, I like the fact that for their non-toxic makeup, Crunchi uses only mineral pigments that are NOT made in China.
For your information, the raw materials for colorants are either petroleum or minerals that come from the earth. Since the earth's crust has naturally occurring heavy metals, they end up in dyes and pigments used in cosmetics.
Admittedly, trace amounts of heavy metals are present in both types of cosmetic colorants: petroleum-based and mineral. But in addition to heavy metals, petroleum-based pigments may also contain trace amounts of contaminants specific to petroleum. For example, they may include carcinogenic and endocrine disrupting benzo[a]pyrene and polycyclic aromatic hydrocarbons (PAHs). Find out what contaminants they may have on the FDA website.
In fact, FDA test results of 400 lipsticks in 2010 raised consumers' awareness of heavy metal contamination in cosmetics. According to the test, most lipsticks contained lead, and the highest amount was 7.19 parts per million (ppm). In my post about lead in lipstick you can learn more about other test results.
Therefore, I recommend clean beauty brands that use only mineral pigments, such as Crunchi makeup and non-toxic skincare.
Mineral Pigments in Crunchi Cosmetics are Certified by EcoCert.
Furthermore, the mineral pigments (iron oxides) in Crunchi non-toxic makeup are certified by EcoCert, a European Union certification. Specifically, this certification guarantees that their pigments are truly natural and free of any synthetic and potentially harmful additives.
There is another reason I appreciate the fact that Crunchi's pigments meet EcoCert standards. Namely, EcoCert pigments must adhere to the European Union limits for heavy metals. Thus, I believe EcoCert is a great standard for safe makeup pigments.
Please know that any makeup may still contain residues of heavy metals, so avoid inhaling or ingesting it. Also, do not let your kids play with makeup. In my post Heavy Metals in Makeup, you will find out how you can reduce your exposure to heavy metals.
The Levels of Heavy Metals in Crunchi Makeup are Below the Limits.
In my experience, most makeup companies rely solely on information provided by their suppliers. Therefore, it is reassuring that Crunchi tests their toxin-free makeup for heavy metals in an independent lab. Crunchi knows about trace amounts of heavy metals in their products because the lab can detect extremely low levels.
As of today, heavy metal levels in Crunchi non-toxic skincare and safe makeup products are well below limits considered to be safe. Thus, for lead and arsenic, the minimum detectable levels are 0.003 ppm, and for mercury and cadmium – 0.001 ppm. The following table shows the upper limits for heavy metals in cosmetics established by the European Union, Canada, and United States.
| | | | |
| --- | --- | --- | --- |
| | EU | Canada | United States* |
| Lead | 10 ppm | 10 ppm | 10 ppm |
| Arsenic | 3 ppm | 3 ppm | no finished product limit |
| Cadmium | 1 ppm | 3 ppm | no guidance |
| Mercury | 1 ppm | 1 ppm | 1 ppm** |
* The US does not legally enforce these limits; it just provides guidance. **The US permits an upper limit of 65 ppm for mercury if used as a preservative in eye products.

Crunchi cosmetics brand strives to achieve the lowest possible heavy metal levels for their non-toxic makeup. Consequently, they invest in the highest purity grade colorants available (e.g., iron oxides) from reputable US suppliers. None of their mineral pigments come from China, which is important because of pollution and lenient regulations in China. Additionally, Crunchi suppliers ensure that the mica does not involve child labor.
Preservatives in Crunchi Non-Toxic Makeup and Skincare are Safe.
If you are a regular reader of my blog, you probably know that I always emphasize the importance of preservatives. Even clean beauty products, if they contain water, must have preservatives to protect them from mold and bad bacteria growth. If you have a compromised immune system, harmful bacteria can become very dangerous. Read more about scientific studies on the ill effects of bacteria in my WaterWipes Baby Wipes post.
However, some companies seem to either not disclose preservatives or simply do not use them altogether, which is dangerous. Therefore, I appreciate the fact that Crunchi non-toxic skincare and makeup contain safe and effective preservatives.
For instance, Crunchi cosmetics do not use controversial grapefruit seed extract (GSE) for preservation. Contrary to the claims about its antimicrobial properties, studies show that natural GSE does not have antimicrobial properties whatsoever. Moreover, its antimicrobial properties come from additional ingredients that are not that harmless. To learn what these ingredients are, please read my post about WaterWipes Baby Wipes.
Other Ingredients in Crunchi Vegan Makeup and Skincare are Fine.
To begin, how do I know whether an ingredient is acceptable? In addition to the EWG, I turn to scientific studies in the US National Library of Medicine, the US Cosmetic Ingredient Review Panel reports, and to the European Chemicals Agency (ECHA) database. (If you turn to EWG, learn how to use the Skin Deep database the right way.)
The good news is that, first, Crunchi pregnancy-safe makeup and skincare ingredients are non-GMO. Second, there are no ingredients known to increase the risk of cancer or endocrine disruption, or any established allergens. (Generally speaking, anything can cause an allergy in some people, even chamomile, coconut, and avocado.)
Further, Crunchi has an extensive list of ingredients (which I advised on) that they banned from use in their products. Actually, the list could be longer if it contained harmful ingredients irrelevant to non-toxic skincare and makeup products. (For instance, some companies boast their glass containers are "BPA free" whereas glass does not contain BPA in the first place.)
Additionally, Crunchi cosmetics use plant extracts and oils that are almost always organic, which is rare to find. Besides, if they cannot guarantee that the source was organic, they do not mark the ingredient as organic.
Note that it's impossible to create well-performing toxin-free makeup using only plant oils and extracts, without any synthetic ingredients. However, the safe synthetic ingredients Crunchi uses in their toxin-free beauty products allow them to strike the right balance between performance and safety.
The Skin Deep Database Rated Crunchi Products Favorably.
Indeed, the EWG Skin Deep Database gave almost all Crunchi clean beauty products its best rating of 1 or 2. Only two products have a rating of 3 (on a scale with 10 as the most toxic). They are the Crunchi Shattered Mascara and Smart Primer. Note that in 2023, the EWG changed their rating of Crunchi Beautifully Flawless Foundation from 3 to 4, even though the ingredients had not changed.
Thus, it is important to know that the safety rating of ingredients in the EWG Skin Deep database often varies. Specifically, the ingredient rating depends on whether the reviewed product is a part of the paid EWG Verified Program. In other words, the EWG does not review the documentation of ingredients and their amounts in the products added to the database for free. (Take a look at this post about the EWG, to learn to use the EWG Skin Deep Database the right way.) Consider the following example.
Dimethicone
The main reason the EWG downgraded the rating of Flawless Foundation to 4 is dimethicone. (We will talk about dimethicone in Crunchi makeup in a bit, so stay with me!) At the same time, the EWG approves of the dimethicone in the paid EWG Verified products such as Mineral Fusion foundation or Beautycounter Skin Twin Featherweight foundation.
Similarly, iron oxides, the safest makeup pigments, are rated at 3 in the non-verified Crunchi toxin free beauty products, but they are not flagged in the paid EWG Verified Program. Another interesting fact is that Crunchi mascara has a rating of 3 because of only one ingredient – sodium hydroxide. True, it can be corrosive in large amounts. In reality, Crunchi uses a minuscule amount of it to adjust the pH of this non-toxic makeup product to make it pH-balanced and non-irritating for the eyes.
The EWG And The Amounts Of Ingredients In Clean Beauty Product Formulations
To begin, Crunchi facial moisturizer (Daylight Cream) contains organic sweet orange oil that the EWG rated at 5. Although essential oils can be allergenic, their amount in a product makes a difference. (When it comes to baby products, I prefer those that are free of essential oils altogether.) However, the EWG does not take into account the amounts of essential oils in clean beauty products.
In addition, the EWG voices a concern that orange oil in Crunchi makeup has a link to phototoxicity. But again, it does not seem to differentiate between the sweet orange (Citrus Sinensis) and bitter orange (Citrus Aurantium) oil. While Crunchi daylight cream contains organic Citrus Sinensis oil, the EWG rates it as Citrus Aurantium Dulcis peel oil. Why is this so important?
Well, Robert Tisserand, a renowned expert in aromatherapy, explains in his book Essential Oil Safety what causes phototoxicity. Namely, furanocoumarins are responsible for phototoxicity. When essential oil researchers identified and quantified furanocoumarins, they found them in bitter orange, lemon, lime, and grapefruit. That is to say, they did not find them in sweet orange oil. Hence, it is not phototoxic.
If I had my own non-toxic skincare line, I would also use sweet orange oil for its delicate and delicious scent. And I am sorry that this essential oil confusion causes some misunderstanding regarding Crunchi non-toxic makeup and skincare ingredients.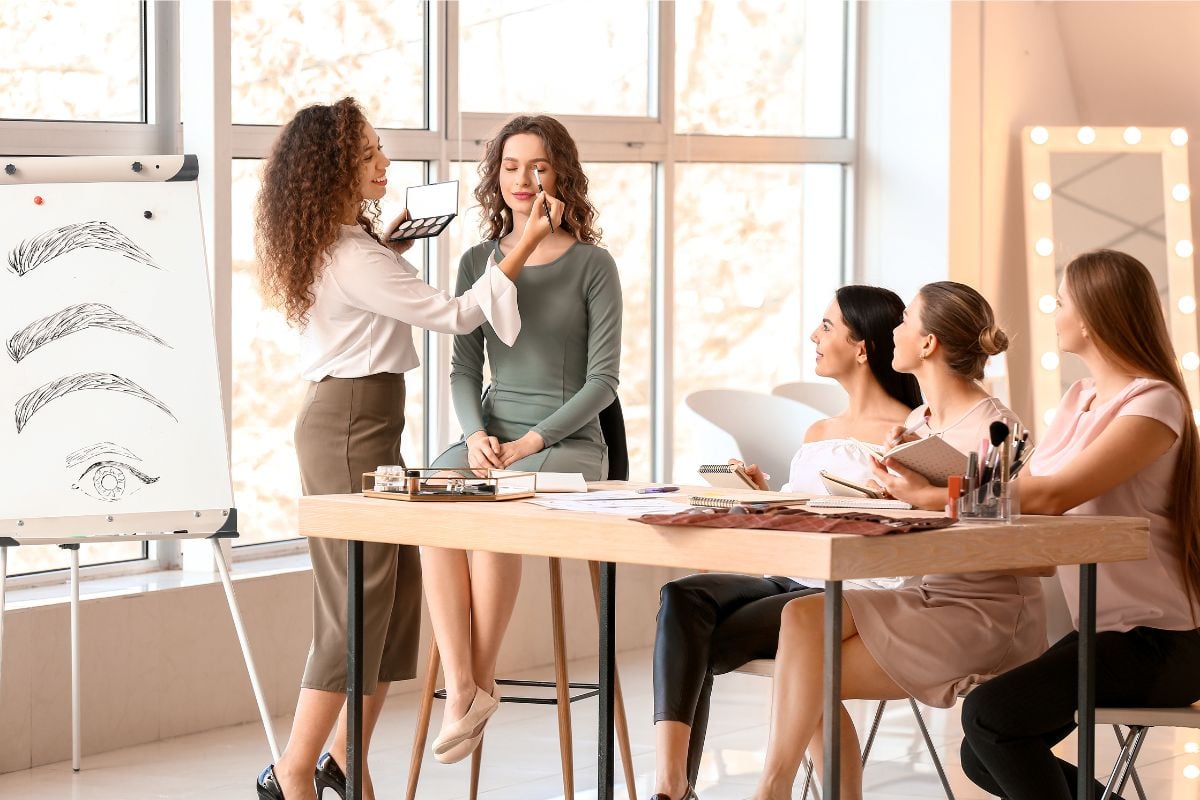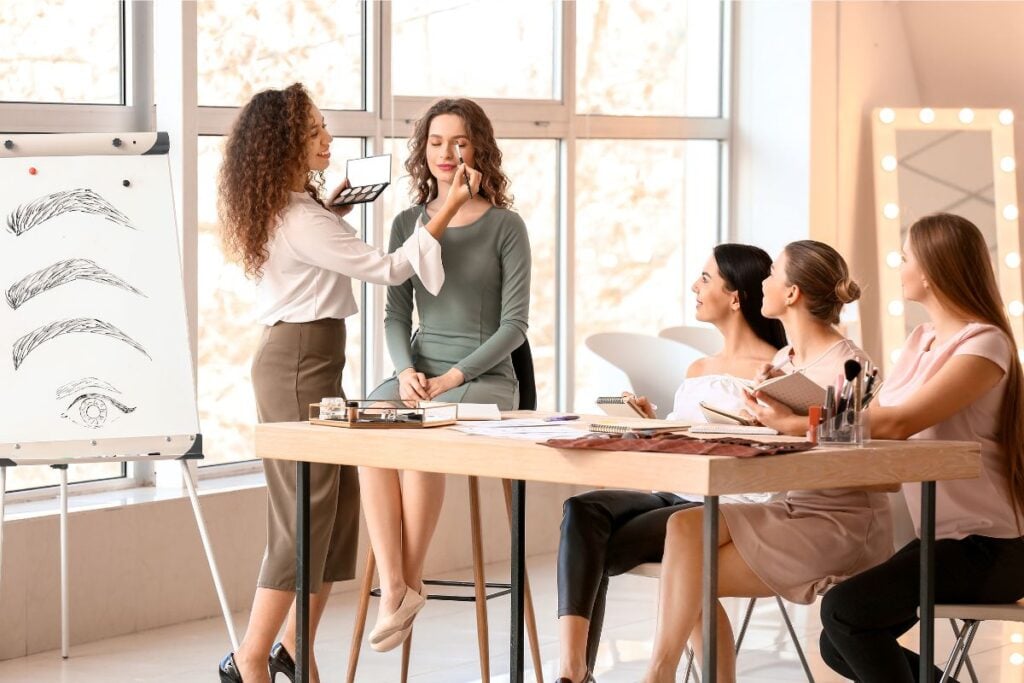 Crunchi Negative Reviews Examined
For starters, the ingredient in Crunchi pregnancy-safe makeup that has generated some controversy is dimethicone. Known as silicone oil, it helps spread the Crunchi foundation well and even mask wrinkles.
At first, I tried to avoid using products containing dimethicone, apprehensive of breakouts (as some claimed on the Internet). But I did not have any!
Also, I looked into its safety closely. While there are many negative remarks about dimethicone on the Internet, the information I have found lacks references. What I see happening is one concerning comment multiplies into tens of concerning comments, but none of them cites their sources. Consequently, the ingredient develops a bad reputation on the Internet, even though it does not deserve this reputation.
For this reason, I always do my own research and rely on scientific sources. In this case, I searched high and low but found no scientific evidence linking dimethicone to any health concerns. Instead, I found comprehensive evidence to the contrary. That is why I believe it is okay to use dimethicone in non-toxic makeup. (Consider reading my post about dimethicone in safe makeup to learn more.)
Crunchi Semi-Matte Finish Foundation Review
What I like about Crunchi's Beautifully Flawless foundation the most is that it spreads easily, evenly, and smoothly. It is very lightweight but provides full coverage. Plus, it is very economical – half a pump is enough – and packaged in a recyclable glass bottle with a 100% BPA- and phthalate-free pump. ($10 off 1st purchase of $50+)
Just as other Crunchi skincare and makeup products, the balanced satin and semi-matte finish foundation is cruelty-free and vegan. It uses only mineral pigments, and its preservatives are COSMOS/ECOCERT approved (European certification for organic and natural products).
Moreover, it features Tremella Fuciformis (Mushroom) Extract that helps reduce wrinkles by increasing the presence of superoxide dismutase (SOD) that fights free radicals. (Read my review of each ingredient of this non-toxic makeup product as well as my guide to Finding a Clean Foundation where I group the most popular facial foundations in the "worst-bad-better-best" categories.)
I like this safe clean beauty product because it helps me look younger! Before applying Crunchi liquid foundation, I like to use Crunchi Smart Primer to maximize the performance of the liquid foundation. Also, for a dewy effect, I use Crunchi non-toxic highlighter. If you are not sure what shade is right for you, get the shade sample card first. Alternatively, email me your picture in the natural light without makeup, and I will help you choose.
Crunchi Brush Review
For maximum results, it is best to apply Crunchi makeup with vegan makeup brushes (as opposed to fingers, sponges, or pads). For example, especially if you need only light coverage, it is best to apply the Beautifully Flawless foundation with the No. 1 Flat Top Brush. ($10 off 1st purchase of $50+)
In total, Crunchi carries 12 professional-grade vegan brushes. I have a friend who is a professional makeup artist, and she confirms that the brushes are professional-grade. In fact, I own and use them all and can attest to their high quality. They are durable and a great investment.
Crunchi Eyeshadow Review
Next, Crunchi skincare and makeup list would be incomplete without vegan, cruelty-free, and talc-free eyeshadow with mineral pigments. To ensure high purity of mineral pigments for their non-toxic makeup, Crunchi verifies they do NOT come from China.
Further, Crunchi offers a variety of eyeshadows including individual shades and eye shadow palette bars. I love the fact that my favorite Shadow Bar Vol II contains all the colors I need! Both individual shades and palette bars are packaged in plastic-free paperboard. ($10 off 1st purchase of $50+)
Crunchi Mascara Review
I am glad that as a safe cosmetic brand, Crunchi came up with a formulation for a non-toxic mascara, packaged in a glass tube.
Indeed, Crunchi vegan Shattered Mascara has a safe and effective preservation system, which is important to keep infections away from the eyes. Besides, it was clinically tested and found to be non-irritating to the eyes (and I can attest to that). ($10 off 1st purchase of $50+)
Like all Crunchi makeup products, the mascara contains ECOCERT-certified high purity mineral pigments NOT sourced from China. Pigments that are not from China reduce the risk of heavy metal contamination. Actually, Crunchi tested both their non-toxic makeup and non-toxic skincare products for heavy metals using a third-party lab, and the results were outstanding!
Additionally, Mamavation included Crunchi Shattered Mascara in her PFAS study, and it showed no detectable levels of organic fluorine (an indicator of the possible presence of PFAS).
As for its performance
if you live in a humid climate or have oily eyelids, you might not be happy with Crunchi mascara. However, if you are looking for a truly non-toxic mascara, it is a good idea to give it a try. Personally, I use the following system.
First of all, I apply no more than 3 coats and wait for each coat to adhere to avoid shedding. Then, I use Crunchi eyeliner to accentuate my eyes, so I don't have to rely on mascara to achieve that. Last, after applying the concealer and Beautifully Flawless foundation, I use the finishing powder around my eyes, too. ($10 off 1st purchase of $50+)
Crunchi Bronzer Review
Crunchi clean beauty bronzer comes in a cool shade C50, perfect for contouring, and a warm shade W100, for a tanned look. You can absolutely use them together, too. ($10 off 1st purchase of $50+)
As all Crunchi non-toxic skincare and makeup products, the bronzer is cruelty-free and vegan, packaged in plastic-free paperboard. The best brush to apply the bronzer is brush number 3. To learn how to apply the bronzer (or other Crunchi makeup), click on the How to Use Tab on the product page here.
Crunchi Blush Review
Another item among Crunchi non-toxic makeup products I cannot do without is Cheekmate Blush. I apply the blush with Crunchi vegan brush number 4, and it lasts the whole day. And, of course, I appreciate its plastic-free packaging. ($10 off 1st purchase of $50+)
Again, just as with all other Crunchi skincare and makeup products, the blush is gluten-free, non-GMO, cruelty-free, and vegan. Besides, it contains organic olive, jojoba, and argan oils and is made only with mineral pigments without any synthetic dyes.
To reiterate, the pigments are ECOCERT-certified and do NOT come from China, which reduces the risk of heavy metal contamination. The tests for heavy metals conducted by a third-party lab showed insignificant levels, way below European and Canadian limits. Plus, Crunchi tested for fluorine, a proxy for PFAS, and the tests revealed non-detectable levels of fluorine. That is why I believe that Crunchi is a non-toxic makeup and skincare brand.
Crunchi Translucent Finishing Powder Review
Recently, Crunchi added to their safe makeup the translucent finishing powder, made entirely of silica. Since I had never used this kind of product before, I was not sure if I needed it. However, after having tried it, I have become obsessed with it! Indeed, the translucent powder masks my wrinkles and pores and creates a "filtered" look, hiding the layers of foundation, concealer, blush, and bronzer. ($10 off 1st purchase of $50+)
I am really happy with this new Crunchi makeup product (as well as with all Crunchi skincare and makeup products)! It helps me not only control the oily shine, but also prevent shedding of the mascara when I apply it around my eyes.
For your information, it is a good idea to apply the powder on the foundation before the foundation dries. This way it will melt into your skin and produce a smooth and velvet effect.
Also, I think it is best to apply the finishing powder with Crunchi brush no. 2, but brush no.1 (the foundation brush) is fine, too.
Importantly, the packaging is made from plant-based and renewable ingredients, including bamboo, rice husk, coconut shell, and green tea leaves. I consider these materials fitting for non-toxic makeup.
Crunchi Lip Gloss Review
Because we can ingest small amounts of lip products, I am very picky about the ones I use. There was a time I gave up wearing lip products altogether because I could not find a safe one. Actually, I describe the potential harm of lip products in my blog post Protect Yourself from Lead in Lipstick.
After I discovered Crunchi safe cosmetic brand, I fell in love with their lip gloss. It is truly moisturizing and glossy and helps me with my dry lips. My current favorite color is Date Night. By the way, Crunchi makeup has expanded into a new lip gloss shade too – Mulberry Mint. Check out the Crunchi website here. ($10 off 1st purchase of $50+)
Please know that the shades look different on different lips. Thus, for me, the Mulberry Mint shade is too dark, more like an evening color. But my friend can barely see it on her lips! I guess, it is all individual and depends on your skin tone, eye color, and hair color. (Learn more about Crunchi lip glosses in my post The Best Vegan Lip Gloss.)
Here is a picture of me wearing Crunchi semi-matte finish foundation (shade 2.5) and Namaste lip gloss.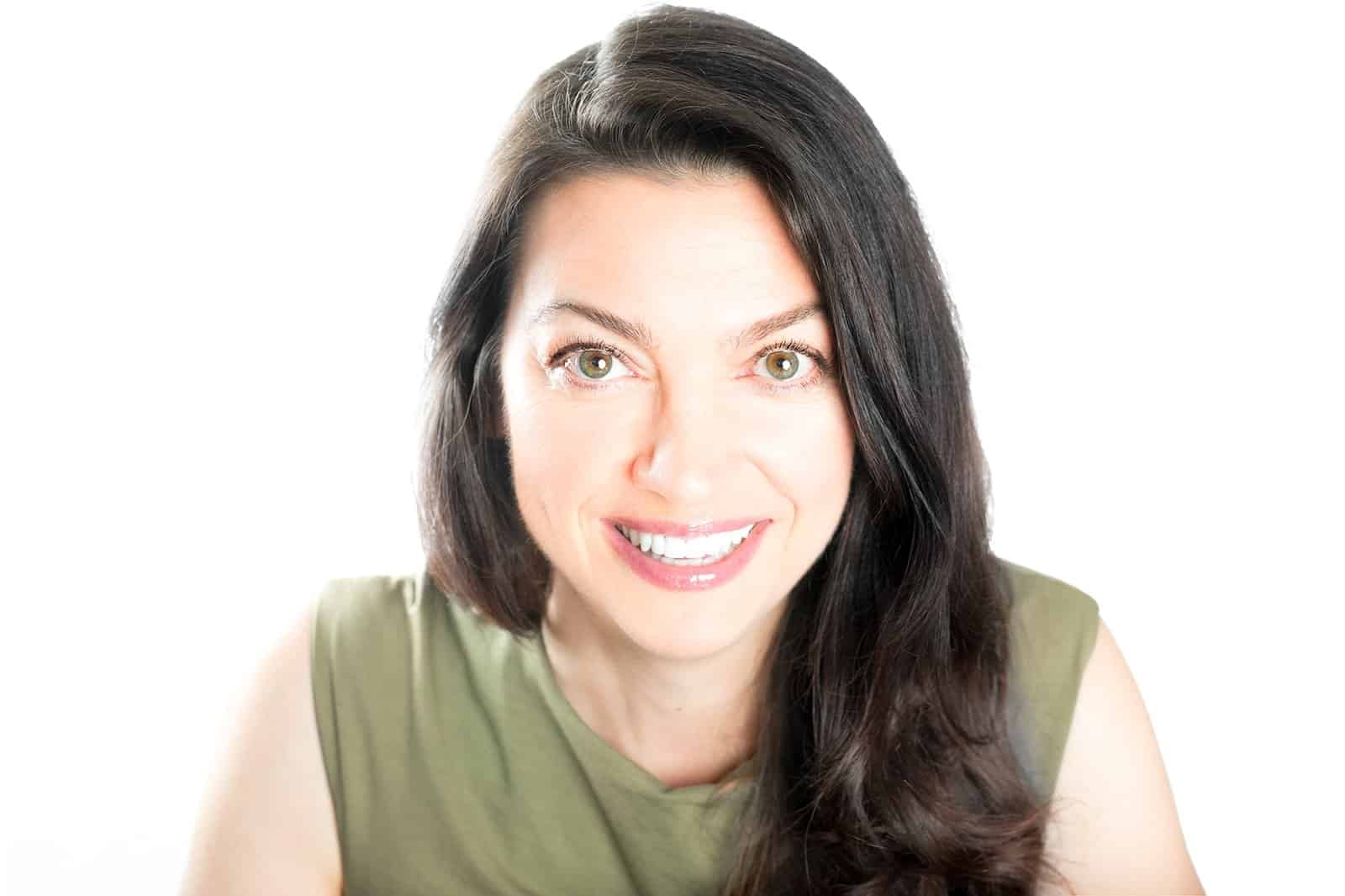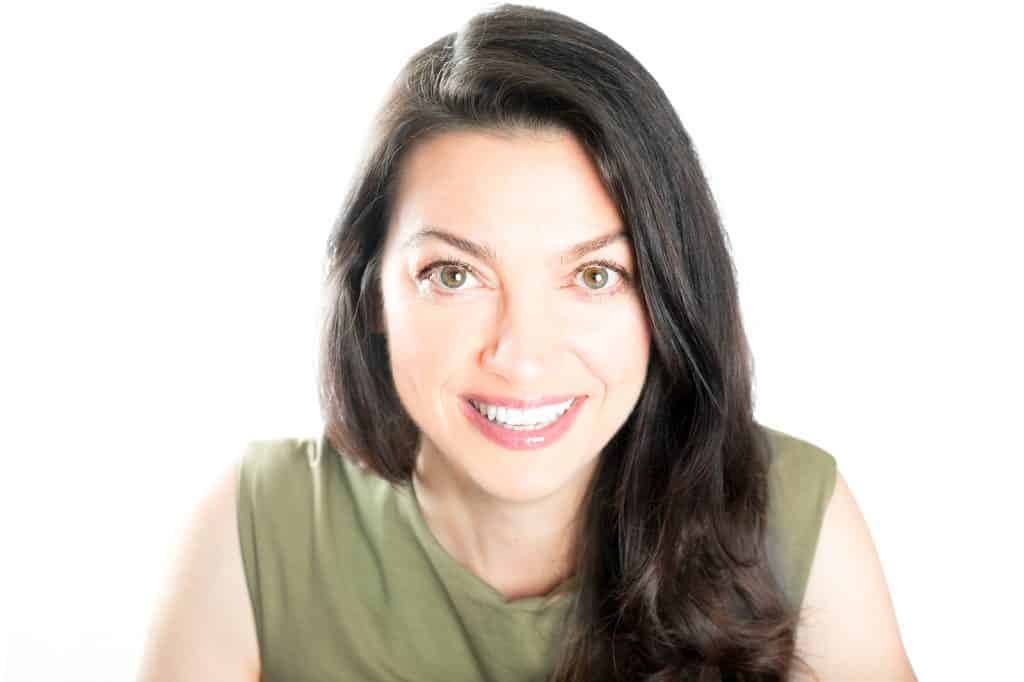 Crunchi vs. Beautycounter Non-Toxic Makeup
To begin with, I contacted Beautycounter shortly after they had started their clean beauty brand. At that time, some of their products contained phenoxyethanol as a preservative, talc, and non-mineral pigments. However, I was excited about their claims of unique purity of their toxin-free makeup colorants. Unfortunately, they did not back up their claims with documentation, and I initially wrote a critical review.
The good news is that now Beautycounter discloses their third-party test reports, so I updated my review accordingly. In fact, I even signed up with them as a safe makeup and non-toxic skincare consultant.
Just like Crunchi makeup, Beautycounter has been removing talc from their products and is becoming a talc-free makeup company. Lately, talc has been in the news for two reasons. First, some talc used in cosmetics was found to be contaminated with carcinogenic asbestos (source). And second, there are multiple lawsuits alleging that talc used in personal hygiene caused ovarian cancer (source). The good news is that Crunchi uses no talc in their non-toxic makeup, even if it has no asbestos.
To learn more about pros and cons of Beautycounter vs. Crunchi, read my honest Beautycounter review here.
Conclusion about the Crunchi Makeup and Skincare Line
To sum up, I can say that I use Crunchi vegan makeup and skincare products almost exclusively because I researched every ingredient of every product. Also, I interviewed Melanie, a co-founder, and compared Crunchi safe cosmetic brand with many others. As a result, I feel comfortable with their clean beauty products and trust the company.
In addition, I appreciate the absence of claims that their cruelty-free makeup and non-toxic skincare products are organic or natural. It is truly refreshing as I feel that they are not trying to greenwash me. I know how hard they work to produce well-performing vegan and safe products packaged in eco-friendly packaging.
Above all, I love the fact that there are quick and helpful videos on how to apply Crunchi makeup. Needless to say, I have watched them all! And with practice, now I can do my non-toxic anti-aging beauty routine from start to finish in 6 minutes!
You can buy Crunchi toxin-free makeup and skincare products on the Crunchi website. ($10 off 1st purchase of $50+).
Browse my shop for options of non-toxic skincare and other safe products. Additionally, book a consultation with me if you need any assistance understanding clean beauty or other products.
FAQ
What is Crunchi?
The name "Crunchi" is based on the concept of a crunchy – a person who makes changes in their lifestyle to reduce exposure to toxins. These people strive to purchase organic products, are conscious about the environment and animals, and are informed consumers.
Where to buy Crunchi makeup?
You can buy Crunchi non-toxic makeup and skincare products on the Crunchi website. To give me credit for your purchases, be sure to see my name in the top right corner when you shop.
What are your favorite Crunchi products?
Crunchi Translucent Finishing Powder
What is the Crunchi return policy?
You can return Crunchi products for any reason for store credit within 30 days. Some exceptions may apply such as samples and sales items. If you receive a damaged product (personally, I have never received a damaged product), contact Crunchi at [email protected] right away.
Is Crunchi makeup worth it?
In my opinion, it is. The mainstream media talks a lot about makeup that can be contaminated even with asbestos and PFAS (source and source). Therefore, it is a good idea to use clean beauty products tested for contaminants.
Also, when we apply products on our skin, we can be exposed to contaminants through dermal penetration and inhalation. True, the dose matters when it comes to carcinogens, irritants, and allergens. However, endocrine disruptors can act in very tiny doses. Hence, many birth control pills are delivered at 20 micrograms (mcg) of estrogen. To illustrate this amount, take the following example. Let's say we have a kid's sandbox with 150 pounds of sand in it. 20 mcg in a gram would be the equivalent of ¼ teaspoon in a 150 lbs sandbox.
Is Crunchi makeup clean?
I believe Crunchi products are clean. I have researched every ingredient of all Crunchi non-toxic makeup and skincare products. Also, I am in touch with their product development and production team. Plus, Crunchi values my input on ingredient selection. This has not happened with any other company, and I have been researching the clean beauty market of products since 2013!
Does Crunchi carry makeup samples?
With one exception, Crunchi does not sell samples because they pollute the environment. You can buy a foundation sample card; however, not all shades are included in the card. The main thing to know is that you can contact me for help with selecting the right shade for you. Just email me your picture in the natural light without makeup.
How To Find A Crunchi Advocate?
You can contact Crunchi customer service to help you find an advocate, or you can choose me. It is easy to do. Simply make a purchase through my affiliate/advocate link. By the way, there is a $10 discount embedded in my link on the first purchase of $50+. Keep in mind, though, if you bought from Crunchi before through some other advocate's link, your purchase will be attributed to that initial advocate even if you attempt to purchase with my link. If you want to switch advocates, you will have to contact Crunchi to make that switch.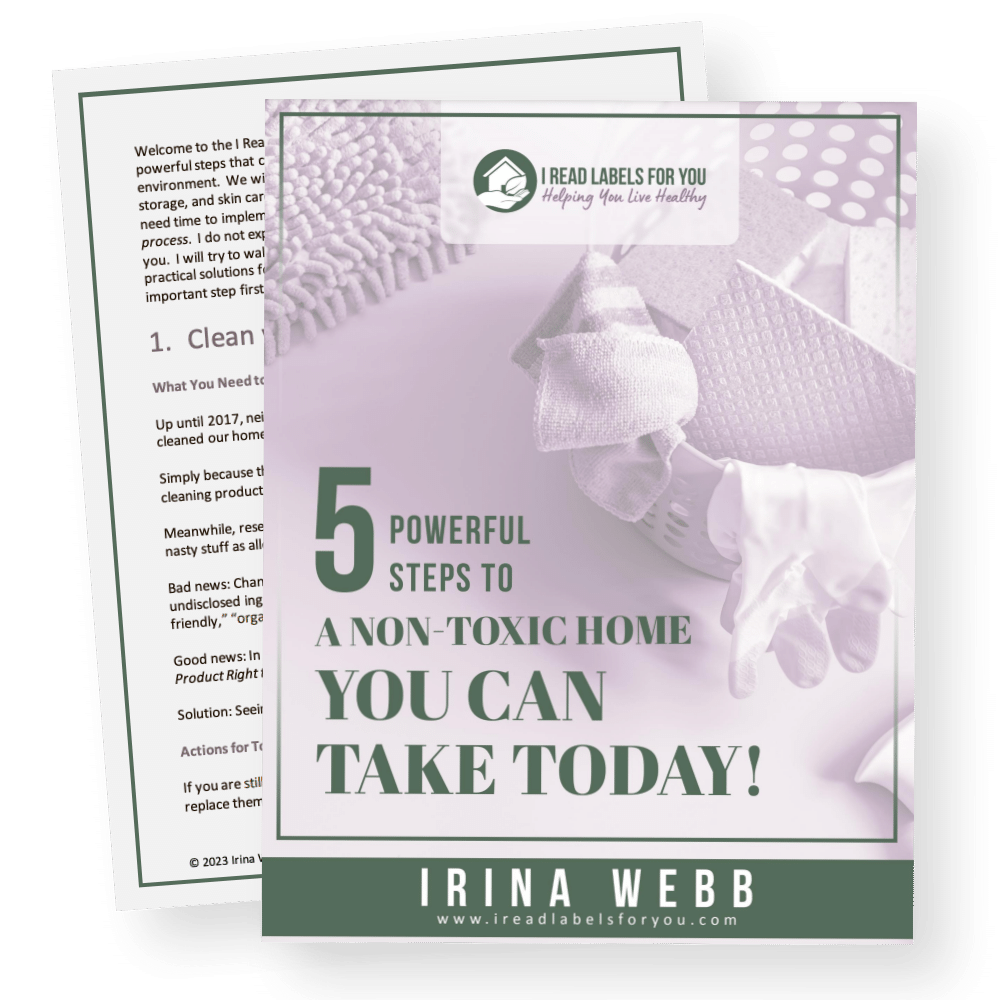 Download The Free Guide!
5 Powerful Steps To A Non-Toxic Home
Join our informed consumer community and get our free guide the "5 Powerful Steps To A Non-Toxic Home".