My Honest Beautycounter Review
This post may contain affiliate links. To read our affiliate policy, click here.
Every step a manufacturer takes towards consumer safety is worth acknowledging. Yet another company has made an exciting change that you are going to learn about. Indeed, Beautycounter has disclosed their heavy metal test reports for 10 products on their website. This is great news! Read on to find out why knowing about heavy metals in makeup is important. Plus, you will see my recommendations for the safest Beautycounter makeup products.
Because heavy metals are serious contaminants, makeup companies should disclose their heavy metal test reports, in my opinion.
To begin with, heavy metals are not ingredients in makeup – they are contaminants. In other words, companies, including Beautycounter, do not intentionally add them to their products. For instance, they can sneak in via color additives, whose raw materials – petroleum or minerals – come from the Earth's crust. Heavy metals are present in the water and soil, and also in the air because of industrial pollution or natural occurrence. As a result, dyes and pigments used in cosmetics may have trace amounts of heavy metals.
Of the two kinds of pigments – petroleum-based and mineral – I give preference to mineral ones. Petroleum-based colorants may contain residues of benzo[a]pyrene, PAHs, and resorcinol. To clarify, these substances arouse concerns related to cancer, endocrine disruption, and allergies. While mineral pigments do not contain contaminants typical of petroleum, they are not perfect either because of heavy metal residues. In my post Heavy Metals in Makeup you can learn about regulations for heavy metals in dyes and pigments.
The bad news is that most heavy metals tend to "bioaccumulate," meaning they stay in our bodies for a long time. Although there are ways to get rid of them, no method is perfect. Several years ago, upon discovering high levels of lead and mercury in my body, I did a 5-month course of chelation therapy. While the improvement was significant, the levels were still higher than normal. That is why I am so adamant about knowing the levels of heavy metals in cosmetics before recommending any.
Beautycounter disclosed heavy metal test reports for ten products.
In 2015, Beautycounter makeup and skincare company published a bold claim on their blog. "The only way to be sure that your color cosmetics have undetectable or only extremely low levels of heavy metals is to use Beautycounter."
Naturally, I requested their test reports, but they responded that I would have to sign a very restrictive non-disclosure agreement first. In other words, they wanted me to agree not to tell my readers about what I learned or even that I talked about that with them. That made no sense to me because my mission is to inform you so you could make informed decisions. So, I kept corresponding with the company till March 2017, but to no avail. I finally gave up.
Good news! In 2021, they published their test reports on their website. Additionally, they removed the claim I mentioned above. Instead, now they say they do their best to keep heavy metals undetectable but always within "health-protective company standards."
Ultimately, I applaud them for becoming more transparent. I still have some questions, though. Why did they post test results for only 10 products? And why these 10? However, it is a great start! Moreover, I completely understand the difficulty of full disclosure for all products and their batches.
So, now I know that they test for heavy metals and the results are well below Canadian and European limits (the US has only guidance, not enforced limits, for lead and mercury). But is Beautycounter safe enough so I could promote their products on my blog? Let us discuss their pros and cons.
There are more pros than cons for Beautycounter makeup and skincare company.
The features that make me like this company are as follows:
Absence of almost all controversial ingredients
Presence of preservatives (read on to find out why this is a good thing)
Ethical mica
Sustainable production and packaging
Advocacy work
Job opportunities for women
Alternatively, there are some things that raise my concerns:
Phenoxyethanol in some products
Synthetic colorants in some products
Most plant extract and oils are not organic
Let us talk about these points a little more.
There are almost no controversial non-colorant ingredients.
The ingredients I am talking about are fragrance, ethoxylated ingredients, formaldehyde releasers, parabens, and harsh preservatives.
First, Beautycounter discloses natural fragrance ingredients according to the European law. Thus, rather than additional ingredients, linalool and limonene are components of essential oils.
Second, they do not use ethoxylated ingredients, such as PEGs and those that end with -eth (e.g., laureth). The process of ethoxylation makes harsh petrochemical raw materials less irritating to the skin. However, it involves carcinogenic ethylene oxide and may produce 1,4-dioxane as a byproduct which can remain in the final product if not treated properly. On my blog, I do not recommend products with ethoxylated ingredients. You can read more about that in my Hidden Ingredients in Best Baby Wipes post.
Third, Beautycounter makeup and skincare has no formaldehyde-releasing preservatives, such as methenamine, diazolidinyl urea, and some others. In 2011, the National Toxicology Program classified formaldehyde as one of the "known human carcinogens" (source). Find out how to protect yourself from formaldehyde in products.
Lastly, there are no parabens and no methylisothiazolinone and methylchloroisothiazolinone preservatives. Parabens may cause endocrine system disruption and accumulate in human breast tissue (source). Both methylisothiazolinone and methylchloroisothiazolinone are fatal if inhaled in big amounts and allergens (source).
Beautycounter uses preservatives to protect its products from bacterial contamination.
Common sense tells us that preservatives are bad, and it is best for products not to have them. Well, this is true to an extent. Obviously, it is important to avoid high risk preservatives, like those we discussed above. Fortunately, Beautycounter makeup and skincare does not use those.
At the same time, preservatives are a must for products with water or some other liquid ingredients. In short, preservatives protect against mold, fungus, bacteria, and rancidity. So, imagine what will happen to a water-based product that has no preservatives. There is a description of some such cases in my WaterWipes Baby Wipes post.
Unfortunately, not all companies disclose what preservatives they use. Some companies claim that citric acid is a sufficient broad-spectrum preservative. By that they mean that it is effective against most types of mold, fungus, bacteria, and rancidity. Even more so, some claim there is no need for preservatives in their products. For example, one popular skincare company explained the absence of preservatives with the fact that they use Miron glass bottles. I believe opaque glass protects products from sunlight and oxidation, not from bacteria, especially after you have opened the bottle. In my rating lists, I put an asterisk next to the products which, in my opinion, have insufficient preservation systems. Knowing that will help you make an informed decision.
The mica mineral colorant is ethically produced and supplied.
For starters, high-performing color cosmetics, such as Beautycounter makeup, need mica. However, the mica industry can come with unethical practices such as child labor, forced labor, and wage theft. So, Beautycounter looks into its supply chain to confirm responsible sourcing. Thus, they prefer to source domestically and work with a supplier in Hartwell, Georgia. They also ensure that the supplier uses industry-leading practices for sustainable mining and processing.
Additionally, the company is supporting a Children's Foundation in India that is working on regulating of mica mining. The hopes are that the formalization of mining will bring transparency and opportunities for traceability within the industry. Plus, the company actively supports the idea of the importance of education, rather than working in mines.
The production process and packaging are sustainable.
In simpler terms, sustainable production requires awareness of every step of the process. It calls for thinking not only about safety and environmental impacts but also about human rights issues. In other words, one should take into consideration the origin of the materials, the sourcing methods, and the impact of waste. And Beautycounter makeup and skincare company does that.
As for the packaging, the company says they have excluded plastic spatulas, over caps, lid inserts, and cleansing cloth towels. In addition, they have removed the secondary packaging from many of their product lines and extra product literature.
Furthermore, Beautycounter sets such goals as eliminating unit cartons, launching the first refillable product, avoiding virgin plastic in a minimum of 30% new launches and repacks. Besides, they move packaging closer to home when possible, and seek 100% recycled, recyclable, refillable, reused, or compostable packaging by 2025.
The company advocates for more health-protective legislation.
For starters, the last time U.S. passed a major federal law governing the cosmetics industry was in 1938. To compare, the European Union has banned or restricted 1,328 ingredients from personal-care products (source). Alternatively, the US FDA specifically prohibits or restricts only 11 substances (source). In 2016, the FDA banned 19 more chemicals used in making antibacterial soap (source).
Just pause for a while to comprehend the difference.
So, Beautycounter makeup and skincare works with lawmakers to ensure the safety of product ingredients. They stand up for transparent labeling and advocate for the beauty industry that is friendly to the planet. Additionally, company consultants meet with congress members in their hometowns, advocating for updates to laws governing personal care products. As a result, more and more lawmakers place cosmetics safety at the top of their legislative agendas.
Moreover, Beautycounter helped pass a law requiring manufacturers to disclose 66 harmful chemicals in children's clothes, toys, and personal care products.
They also supported the Microbead Free Waters Act which prohibits the manufacturing and distribution of personal care products containing plastic microbeads.
In sum, the advocacy work the company does is impressive. I appreciate their level of awareness and the fact that their interests go beyond mere product marketing.
The company provides job opportunities for women.
Finally, Beautycounter makeup and skincare is a direct sales company. That means that it gives an opportunity to women to make money whether they stay at home with kids or are navigating job displacement due to COVID, or look for extra income. Beautycounter makes it easy to sign up as a consultant and an initial investment can be as low as $50. There are no risks, penalties, or inventories to hold if your business does not pan out.
Additionally, compared to other direct sales companies, such as Rodan & Fields and Arbonne, Beautycounter has obvious improvements in terms of safety.
Beautycounter vs Rodan and Fields
If you look at the Rodan and Fields ingredient list, you will notice ethoxylated ingredients, such as sodium laureth sulfate, polysorbates, and PEGs. As you remember, ethoxylated ingredients may have carcinogenic contaminants.
Also, Rodan & Fields uses fragrance and does not seem to disclose its ingredients. To clarify, fragrance is a blend of multiple ingredients, many of which can be allergens.
Lastly, they use non-mineral UV filters, such as avobenzone, homosalate, octisalate, and octocrylene. For example, homosalate penetrates the skin and may interfere with the normal function of hormones by disrupting them. And octinoxate showed hormone activities affecting the reproductive system, thyroid, and behavior.
You can learn more about UV filters and find a safe sunscreen in The Best Non-Toxic Face Sunscreen Guide.
Beautycounter vs Arbonne
Unlike Beautycounter makeup and skincare, Arbonne uses ethoxylated ingredients, such as polysorbates and PPG-26-Buteth-26.
In addition, they use fragrance and flavor, both of which are mixtures of undisclosed ingredients. Thus, I have contacted them twice requesting their fragrance ingredients and received no response both times. Meanwhile, the Arbonne consultants told me on Instagram that their fragrance is safe, and they are transparent about it.
In short, in comparison to these two direct sales companies, Beautycounter is walking a few steps ahead.
The downsides of Beautycounter makeup and skincare are phenoxyethanol, synthetic colorants, and few organic oils and extracts.
First, phenoxyethanol is a common cosmetic preservative in skincare products. To me, it is a "middle-of-the-road" preservative because it is not the worst one. It is definitely safer than the preservatives we discussed above, such as methylisothiazolinone and methylchloroisothiazolinone or formaldehyde-releasing preservatives. But I believe it is possible to find products with more natural preservation systems.
For example, the American Society of Contact Dermatitis lists phenoxyethanol as an allergen even in concentrations as low as 1%. By the way, Beautycounter promises not to exceed 1% in all their products. Another reason I do not promote products with phenoxyethanol on my blog is its manufacturing process. You can learn more about that in my post about phenoxyethanol.
However, as a broad-spectrum preservative, it effectively protects a product from yeast, mold, and all types of bacteria. So, between a product with phenoxyethanol and a product with no apparent preservative, the former is safer. This is especially true for mascaras because eye infections caused by bacteria are no fun at all!
Second, Beautycounter uses some petroleum-based synthetic colorants which can be contaminated with traces of heavy metals and petroleum contaminants. Compared to mineral pigments, some synthetic colorants have higher limits for lead, arsenic, and mercury (source). In my post about lead in lipstick you can find out how to protect yourself from lead in cosmetics.
Last, I wish Beautycounter makeup and skincare used more organic plant oils and extracts to reduce our exposure to pesticides and GMOs.
Conclusion about Beautycounter cosmetic line
In conclusion, Beautycounter makeup and skincare cosmetic lines have both positive and negative sides. On the one hand, they do not use harsh chemicals and actively participate in the improvement of the industry. On the other hand, they use phenoxyethanol, synthetic preservatives, and not enough organic ingredients. Yet, in my Instagram posts, most Beautycounter products fall into the "better" or "best" category versus "bad."
Importantly, everybody is at a different stage in their health journey. Therefore, it is a good brand to switch to if you have just recently learned about potential risks associated with beauty products. For the most part, maybe except for mascara, their products work as well as Macy's or Bloomingdale's or Nordstrom brands. Safety-wise, it will be a big improvement compared to these brands or drugstore brands.
My personal favorite makeup products are Crunchi. Feel free to read my review of Crunchi Non-Toxic Makeup to find out what makes it special.
My recommendations
I am happy that now I can recommend some products in the Beautycounter line. Here is a list of products that I believe are some of the cleanest:
Skin Twin Featherweight Foundation
Countertime Tripeptide Radiance Serum
Countertime Ultra Renewal Eye Cream
Daily Shampoo and Conditioner (My husband likes using them, see what a recent user said about them here.)
To get 20% off on your first purchase, sign up here. And to get free shipping, a welcome gift, 10% credit, and other perks, consider becoming a member of a Band of Beauty.
Browse my shop for safe and healthy products and book a consultation with me if you need help with your non-toxic journey.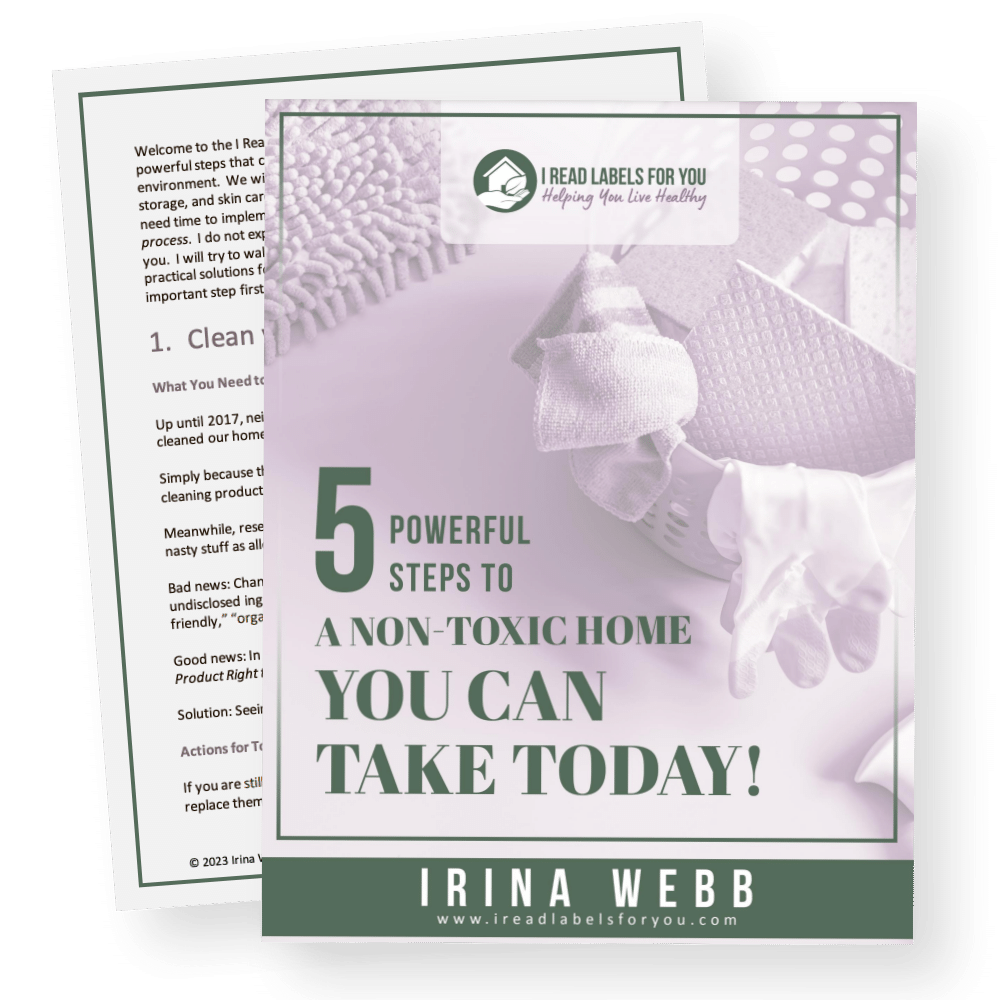 Download The Free Guide!
5 Powerful Steps To A Non-Toxic Home
Join our informed consumer community and get our free guide the "5 Powerful Steps To A Non-Toxic Home".