Last updated on January 5th, 2018
You know you want to create a healthy toxin-free home for your loved ones… but where do you start?
You want to buy safe products… but what do those unpronounceable ingredients mean?
You feel confused and frustrated and overwhelmed… 
Do you need a better way to create a toxin-free home for your family?
You don't have to feel this way.
I believe…
You can shop for toxin-free products with ease.
You can gain clarity and confidence to create a toxin-free home, even if you are on a budget.
What others are saying
There is no doubt that Irina offers unique service. There are so many products I never knew even existed. Most important, she provides a solution to the problem. I highly appreciate her hard work and completely trust her recommendations for my family. This kind of research is not easy to do as every brand is trying to sell their products, and it is easy to mask all information about toxins in their products.
-Mehnaz
I've been reading your blog for the past year or so – you have really helped me to stay on the road to health and wellness. You have certainly educated me to live in a toxin-free world and slowly but surely toxins have been significantly reduced in the personal products I use and in the products I use for my home! Your blog is my go to now. I thank God for you every day for doing the research for all of us! I appreciate the time, effort and passion you put into this.
–Denise
Imagine a new you
Imagine yourself with a smile when shopping for non-toxic products for your family!
Imagine boldly asking the right questions to create that non-toxic home, even with a pushy salesman or haughty manufacturer.
Imagine saving money because you stopped buying products based on marketing claims; instead, you buy products based on their true value.
Imagine being empowered with resources and information to make the best decisions for your family.
My story in a nutshell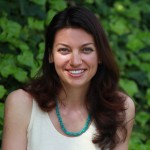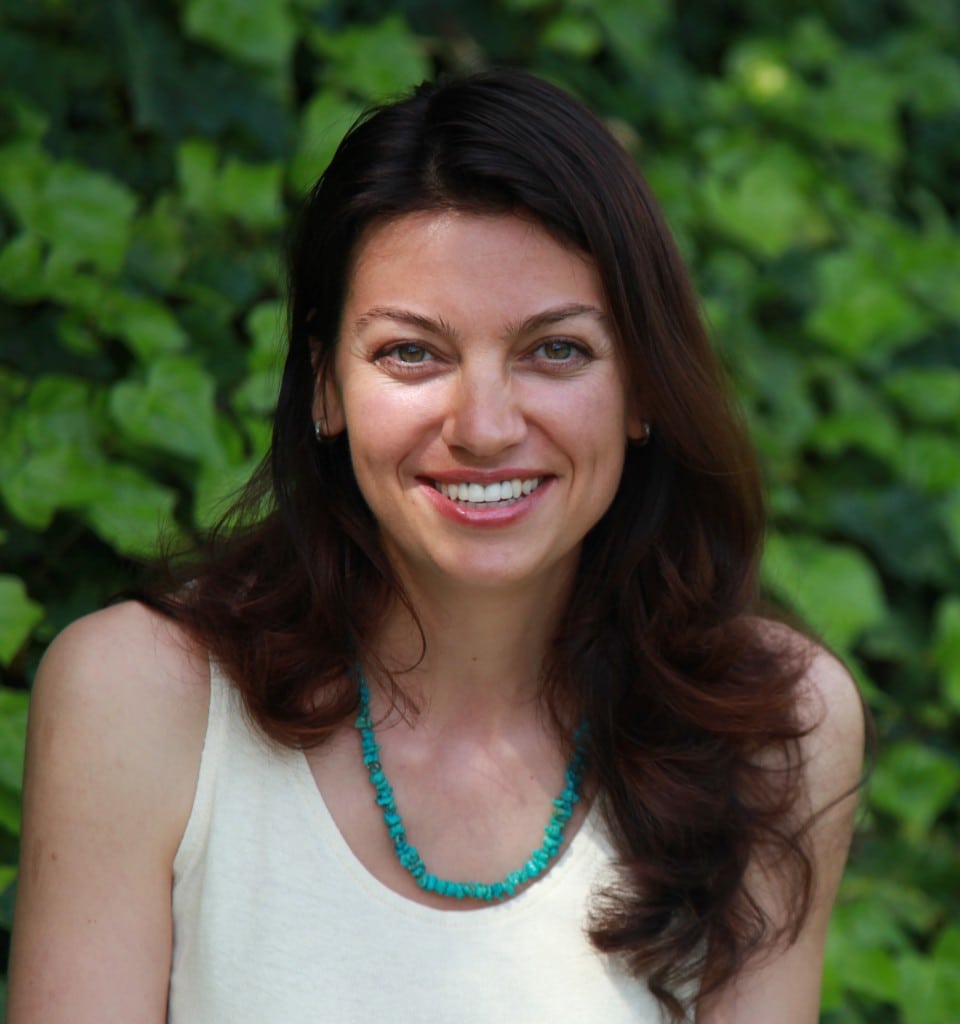 I was so happy to learn I was pregnant.  When I felt new life moving inside me, I wanted so much to keep him healthy and safe.  I picked up a bottle of baby shampoo and read the ingredients, most of which I couldn't pronounce and obviously did not come close to understanding.  It took me a month of research before I decided which shampoo to buy.  On another occasion, I was pressed for time and just needed to buy a crib mattress.  I bought one I thought would be safe, based on what little I knew at the time.  Later, after researching the matter further, I realized that there were much safer alternatives available, and we had to replace an almost brand-new mattress.  This pattern repeated itself as I learned more and more about how baby products are made and all other consumer products along the way.
I encountered resistance from some companies while doing my research.  Sometimes when I called them, they tried to avoid my questions. This did not dissuade me – I kept asking questions, studied regulations affecting consumer products, and read scientific studies.  And I also tried lots and lots of products.
Today I've gained the confidence to ask the right questions and make informed decisions.  I know how to identify dangerous chemicals and where to find the safest alternatives. And I'm empowered when I shop, knowing that I do whatever is in control to protect my family from harmful chemicals.
It is crucial for me to minimize exposure to potentially harmful chemicals as part of functional medicine approach of dealing with chronic diseases.  To the disbelief of endocrinologists, I was able to recover from Hashimoto's Thyroiditis, an autoimmune condition, and now I have been working on reversing Addison's, another chronic autoimmune illness.  In my emails, I periodically share updates about my health journey.
You can read my latest post about my health journey here.
What others are saying
I found Irina's site during my first pregnancy. We wanted our purchases to be healthy for our family, good for the earth and from responsible supply chains. I was overwhelmed trying to make what should have been simple selections like diapers and wipes. Stumbling across 'I Read Labels For You' was a sanity-saver! Irina dedicates endless hours to researching products, testing them and best of all, she understands and can explain what all the complex chemicals do and why or why not you may want them in products. I've also discovered new brands and products through Irina's blog and we make it a point to check what she has written about a product that we are considering buying before we purchase it. The service that she is providing has been highly valued by our family, which is why I happily donate money on her site in appreciation for all of the information she provides. While free to us, I know that a lot of time and energy goes into her research. Our family alone has Irina's research to thank for our choices in toothpaste, diapers, sleep sack, wipes, sunscreen and more.
– Laura
I have to add my voice to the chorus of praise for all the meticulous research you are conducting on ways in which we can decrease the amounts of toxins in our home.
– Dawn
I was compelled to thank you for the work you do to research and share products and, perhaps, even more, the thought and care you put into replying to comments on blog entries.  You recommend yourself and add authority by showing you care about responses and are willing to follow up on questions – not something I often see in the anonymous, overpopulated Internet world!  So thanks for breaking the mold and adding a level of genuineness to your reviews.
– Christine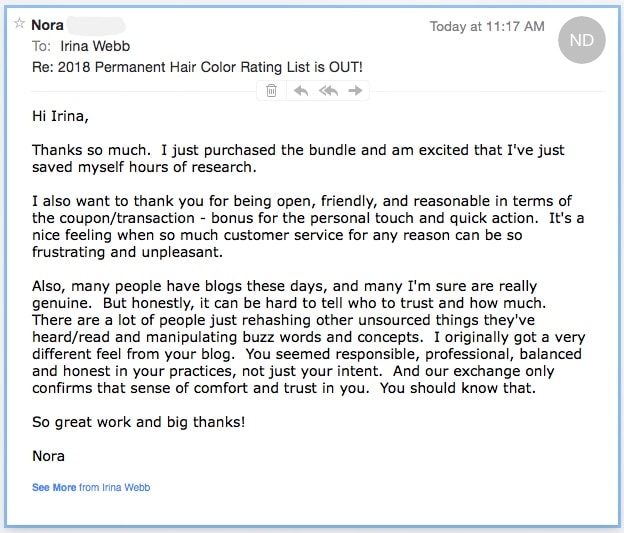 How to start
I'd love to hear from you
Hi!  If you have a question about a product not listed on the website (use the website menu and search engine in the top right corner to locate products), please visit my consultation page first before contacting me.
I am the only person here behind this mission to bring safe consumer products to us.
Due to the large volume of emails and comments on social media, I don't always have time to reply but be assured that I read all emails and consider all input as I plan my posts and resources.
I am grateful to my husband for his emotional and financial support.  He is also this non-toxic living practice's legal counselor.  Read about my husband next.
*  *  *

My name is Bill Webb.  I am Irina's husband, our son's father, and an attorney dedicated to helping small businesses and individuals navigate an increasingly complex (and dangerous) society.
History will be the judge as to who had the idea for this blog first.  When we were expecting our son's birth, I remember Irina was really concerned about finding the best products for him after he was born.  As an analyst, she attacked the problems of finding the right products with the best tool for uncovering the truth: she asked the right questions, and when she didn't get the right answers, she kept asking.  Believe me, as an attorney, I know when I have been cross-examined well, and Irina is among the best.
After awhile, she amassed such a quantity of information on non-toxic baby products that I encouraged her to start a blog and share her newfound expertise with the world.  I thought this would just be a hobby, but I have watched it become a passion, and have witnessed the birth not only of our son, but also of this blog.  As I read it, I'm not sure which makes me prouder: watching Irina care for our little boy, or watching her separate the wheat from the chaff when it comes to truly safe consumer products.
But this is supposed to be about me.  I grew up an all-American kid in the Midwest, playing sports in the summers and after school, baling hay and de-tassling corn as summer jobs, and eventually ended up at Notre Dame, where I graduated with a dual degree in English and Government and International Relations.  I then attended Notre Dame's Law School and graduated more than twenty years ago.  I have been licensed in Indiana, Illinois, Colorado and California.
I practiced law in Indiana for many years, and then migrated West, with a stop in Denver before settling in San Francisco.  I started my own practice where we (three of us now) help businesses and individuals cope with legal issues in a broad range of areas.  You can visit my website here.
I hope you enjoy the information my wife works long hours to bring you.  She has found her calling and her passion in researching, and bringing to light, the many dangerous chemicals and ingredients in products we all use.  Since she began her research, our lives have changed, but for the better.  I have more energy and feel much healthier for the relatively small changes we have made to our lifestyle.  Enjoy exploring these pages.
SaveSave
Let's start creating a healthy home today!
When you join the I Read Labels For You community, you'll receive weekly emails with inspiration, exclusive content and coupons to gain clarity and confidence to create a healthy home. Plus, you'll get the FREE guide: "5 Powerful Steps to a Non-Toxic Home You Can Take Today!"
"I find your knowledge so helpful, to the point and like a gold mine. You have saved me so much time and have taught me so much." Toni