The Best Non-Toxic Face Sunscreen Guide
This post may contain affiliate links. To read our affiliate policy, click here.
Do you choose your sunscreen by the sun protection factor (SPF)? Though somewhat important, the SPF indicates the length of protection, not the quality. Say your skin burns after 15 minutes of sun exposure. Multiply the SPF value by 15 and you will get the amount of time you are technically protected from sunburn. For example, SPF 30 should protect you for 450 minutes. However, experts recommend re-applying any sunscreen, even waterproof sunscreen, every 2 hours or immediately after swimming or excessive sweating. Then, if SPF is not as important as advertised, what are the right criteria for selection? This non-toxic face sunscreen guide will give you tips on how to choose a safe and effective sunscreen. It will also provide some recommendations for the best mineral facial sunscreen options. To choose the right sunscreen for your child, read my Guide to the Safest Baby Sunscreen and Sunscreen for Kids.
What does an effective non-toxic face sunscreen entail?
According to the National Cancer Institute, 1 in 5 Americans will develop skin cancer by the age of 70. Further, studies have shown that the majority of melanomas (the most dangerous skin cancer) are caused by sun radiation. That is why it is important to wear an effective sunscreen on a daily basis. Besides, it helps to slow down the appearance of wrinkles.
Basically, an effective sunscreen is the one that protects you from both short wave (UVB) and long wave (UVA) ultraviolet light. Thus, recent studies have shown that UVA rays damage skin cells called keratinocytes in the basal (deepest) layer of the epidermis. This is where most skin cancers occur (source). Alternatively, SPF is a relative measure of how long a sunscreen will protect you from UVB rays only. In other words, a higher SPF value does not mean better UVA protection.
The function of UVB and UVA protection is achieved by UV filters, which are the active ingredients in all sunscreens.
Common sunscreen UV filters
To begin with, there are two types of UV filters – chemical and mineral. The former includes the following chemicals:
Oxybenzone
Octinoxate
Homosalate
Octisalate
Octocrylene
Avobenzone
The Environmental Working Group has a really helpful summary table that describes health concerns of these chemicals. I also checked their information with the European Union Chemicals Agency database. If you find a sunscreen with some of these ingredients, I believe your perception that you use a non-toxic face sunscreen will change and here is why. Keep reading to discover the best mineral facial sunscreen options.
Is oxybenzone safe in sunscreens?
Oxybenzone is also called Benzophenone-3 and its chemical name is 2-hydroxy-4-methoxyphenyl. Further, the EWG rates it 8 out of 10 (10 as the most toxic), and the EU Chemicals Agency database marks it for endocrine disruption. When it penetrates the skin, it may disrupt hormones by acting as an estrogen or by blocking testosterone. Because it may alter babies' birth weight, please do not use sunscreens with oxybenzone during pregnancy.
Additionally, New Zealand dermatologists and the American Society of Contact Dermatitis believe that it may cause an allergic reaction. Furthermore, the State of California added benzophenone as a carcinogen to the California EPA's Proposition 65 List of Chemicals Known to the State to Cause Cancer or Reproductive Toxicity. Last, Hawaii will ban sunscreens with oxybenzone beginning January 1, 2021 because it is very toxic to coral reefs.
Is octinoxate toxic in sunscreens?
Just as with oxybenzone, Hawaii is banning sunscreens with octinoxate, too, because it is toxic to coral reefs. In addition, the EWG rates it 5, and it penetrates the skin.
Moreover, animal studies have shown that octinoxate has hormone activities affecting reproductive system, thyroid, and behavior. Thus, the EU Chemicals Agency database marked it for hormone disruption. Also, it may cause an allergic reaction, though with lower rates than oxybenzone.
Is homosalate safe in sunscreens?
For starters, the EWG rates it 4, and it also penetrates the skin. Furthermore, scientists have found that it may interfere with the normal function of hormones by disrupting estrogen, androgen, and progesterone. Consequently, the EU Chemicals Agency database indicates that it has been assessed for endocrine disruption.
So, a true non-toxic face sunscreen is not the one that contains oxybenzone, octinoxate, or homosalate. The other chemical UV filters such as octisalate, octocrylene, and avobenzone seem to be relatively okay. However, I have not seen any sunscreen that would have them without the three chemicals we discussed above. So, it is safest to make sure you are using a mineral facial sunscreen instead of a chemical one.
Specifically, the best mineral facial sunscreen will contain zinc oxide or titanium dioxide, and we will talk about them below.
Are nano titanium dioxide and zinc oxide in non-toxic face sunscreen safe?
Both titanium dioxide and zinc oxide are UV filters that protect from UVB and UVA rays (source). In fact, they are not known to penetrate the skin and are not linked to endocrine disruption or other negative health effects.
Further, the word "nano" means one-billionth of a meter (1 meter = 3.28 feet) and denotes something exceedingly small. We used to think that nano zinc oxide penetrates the skin and may cause DNA damage. However, recent FDA and EU studies have not shown that meaningful amounts of nanoparticles completely penetrate the dermis and enter the bloodstream even if you use almost 100% nano sunscreen twice a day. You can read more about that directly on the EU website.
On the other hand, some studies show that very small nanoparticles (smaller than 35nm) of uncoated zinc oxide and uncoated titanium dioxide can be harmful to aquatic life. That is to say, they can cause cellular damage to sensitive organisms such as coral or juvenile fish and invertebrates (source). Hence, it is a good idea to ask about the size of zinc oxide and titanium dioxide particles.
So, in this non-toxic face sunscreen guide, you will find the best mineral facial sunscreen options that I deemed the safest. In addition, the listed names came out of many sunscreens my Instagram followers had asked me about. Also, they are all made with non-nano zinc oxide and their inactive ingredients do not pose health concerns. But first, let us look at the worst and bad sunscreen options.
The worst sunscreens
In my opinion, the following two sunblocks belong in the worst category among those researched for this survey:
La Roche Posay Anthelios Ultralight Fluid Facial Sunscreen SPF 60
Sun Bum Original Face SPF 50 Sunscreen Lotion
The reasons you see these two products in the worst category are as follows.
First, both La Roche Posay and Sun Bum contain homosalate among their active UV filters. Plus, La Roche Posay contains oxybenzone.
Second, both have ethoxylated ingredients. Specifically, La Roche Posay has PEG-30 dipolyhydroxystearate, lauryl PEG/PPG-18/18 methicone, and PEG-8 laurate. And Sun Bum has PEG-100 stearate and trideceth-6. Made through the process of ethoxylation, these ingredients may contain 1,4 dioxane, which is a carcinogenic contaminant (source).
In addition, Sun Bum has an allergenic preservative methylisothiazolinone. To clarify, the American Contact Dermatitis Society named methylisothiazolinone Contact Allergen of the Year for 2013.
Therefore, La Roche Posay Anthelios Ultralight Fluid Facial Sunscreen SPF 60 and Sun Bum Original Face SPF 50 Sunscreen Lotion are far from non-toxic sunscreens.
The bad sunscreens
In the table below are the products I consider somewhat better than those in the worst category and the reasons they belong in this category. Despite using zinc oxide (Neutrogena), they cannot make it to the better group in this non-toxic face sunscreen guide. If you are using one of the following products, do not get upset. The list of the best mineral face sunscreen options is rather long, and you will be able to find a replacement for yourself.
In the meantime, the following are the ingredients present in the bad sunscreens:
Ethoxylated Ingredients
Homosalate
Octinoxate
Parabens
Iodopropynyl Butylcarbamate
Phenoxyethanol
Butylated Hydroxytoluene (BHT)
| | |
| --- | --- |
| Coola Full Spectrum 360° Sun Silk Drops Organic Face Sunscreen SPF 30 | Homosalate |
| Elta MD UV Daily Tinted Broad-Spectrum SPF 40 | Octinoxate Ethoxylated ingredients (PEG-7 Trimethylolpropane Coconut Ether, Oleth-3 Phosphate) Phenoxyethanol Iodopropynyl Butylcarbamate |
| Black Girl Sunscreen | Homosalate Phenoxyethanol |
| Supergoop Unseen Sunscreen SPF 40 | Homosalate |
| Cerave AM Facial Moisturizing Lotion with Sunscreen Broad Spectrum SPF 30 | Homosalate Octinoxate Methylparaben Propylparaben |
| Neutrogena Sheer Zinc Face Dry-Touch Sunscreen Broad Spectrum SPF 50 | Cetyl PEG/PPG-10/1 Dimethicone Phenoxyethanol |
| Blue Lizard Face Mineral-Based Sunscreen SPF 30+ | Octinoxate Butylated Hydroxytoluene (BHT) Ethoxylated ingredients (Laureth-7, Lauryl PEG/PPG 18/18 Methicone) Phenoxyethanol |
| Alba Botanica Sensitive Sheer Shield Fragrance Free SPF 45 | Homosalate Ethoxylated ingredient (Polysorbate 60) |
What is wrong with parabens, phenoxyethanol, BHT, and iodopropynyl butylcarbamate?
These ingredients cannot be among those of a non-toxic face sunscreen for the following reasons.
First, parabens, such as methylparaben and propylparaben, are associated with hormone disruption. Thus, there is some evidence that parabens can accumulate in human breast tissue (source).
Second, phenoxyethanol is a preservative that may be irritating to skin, eyes, and lungs. Hence, it is restricted in Japan and is considered harmful for products used on the lips and around the mouth in the European Union. You can read more about phenoxyethanol in my post about its safety.
Third, BHT (butylated hydroxytoluene) is a fragrance or masking ingredient that may cause skin, and eye irritation. Also, there is a lot of controversy surrounding BHT because of its suspected potential endocrine-disrupting and carcinogenic effects (source). Therefore, the EU has been assessing it for endocrine disruption (source).
Lastly, iodopropynyl butylcarbamate is a preservative associated with allergy and immunotoxicity. Thus, dermatologists have seen that it can trigger painful contact allergies in some people at concentrations as low as 0.1% (source). For a complete list of preservatives to avoid, please check out Your Savvy Consumer Superpower.
The better non-toxic face sunscreen options
To start with, all the better sunblocks use zinc oxide and titanium dioxide as UV filters. However, there are some reasons they did not quite make it to the best mineral facial sunscreen category, which you can see in the table below.
| | |
| --- | --- |
| Beautycounter Countersun Daily Sheer Defense for Face SPF 25 | Phenoxyethanol |
| Thinksport Everyday Face Sunscreen SPF 30 Naturally Tinted | Magnesium Sulfate, Citrus Paradisi |
| Acure Radically Rejuvenating SPF 30 Day Cream | Caprylhydroxamic Acid |
| Suntegrity 5-in-1 Natural Moisturizing Face Sunscreen Tinted, Broad Spectrum SPF 30 | Magnesium Sulfate |
| Babo Botanicals Daily Sheer Facial Sunscreen SPF 40 Fragrance Free | Aluminum Hydroxide |
What is wrong with magnesium sulfate, citrus paradisi, aluminum hydroxide, and caprylhydroxamic acid?
The reasons these ingredients should not be on the list of ingredients of a non-toxic face sunscreen are as follows.
First, magnesium sulfate may be contaminated with heavy metals. I know that because I researched Epsom salts (aka magnesium sulfate) and have seen heavy metal test reports for them. Magnesium sulfate contains heavy metals because it comes from the earth's crust.
Second, citrus paradisi (aka grapefruit seed extract) may be contaminated with hormone-disrupting chemicals such as triclosan when they use it as a preservative. Given that there is water in ThinkSport sunscreen and there are no other preservatives, I assume it is used as the notorious grapefruit seed extract preservative. I emailed ThinkSport but have not received any answer yet. You can read in detail about the dirty secret of grapefruit seed extract in my post about WaterWipes baby wipes.
Third, aluminum hydroxide is a form of aluminum that can penetrate the skin and accumulate in the body. Hence, this contributes to "body burden" and potentially increases the risk of health problems (source). In addition, some evidence indicates that aluminum in sunscreens may increase the risk of the oxidative damage in the skin (source).
Last, caprylhydroxamic acid is a preservative that does not have much safety data. In fact, Finnish dermatologists determined that it was a new contact allergen in 2016 (source). So, in 2019 the CIR panel began reviewing this ingredient because of sensitization reactions reported in Finland.
The best mineral facial sunscreen options
Needless to say, the non-toxic face sunscreen options in this category do not have harmful ingredients we discussed previously. Above all, they use non-nano zinc oxide and titanium dioxide as their active UV filter.
Uncoated Zinc Oxide 22.5%, Extra Virgin Olive Oil*, Beeswax*, Cocoa Butter*, Shea Butter & Sunflower Vitamin E*. *Organic

Raw Elements Tinted Face Moisturizer SPF 30 Plastic-free (their other formulations look safe to me, too, and you can find them on the Detox Market website. Please read about heavy metals in makeup.)

Non-Nano Zinc Oxide 23%, Sunflower Oil*, Green Tea*, Black Tea*, Coffee Bean*, Hemp Seed Oil*, Cocoa Butter*, Mango Butter**, Beeswax*, Rosemary Oil Extract**, Vitamin E**, Iron Oxides.

* USDA Certified Organic, ** Certified Natural


Crunchi Sunlight Facial Sunscreen SPF 30 (my personal favorite non-toxic face sunscreen! I like to use it with Crunchi non-toxic foundation.)



Non-nano Zinc Oxide 12.5%, Bisabolol*, Butyloctyl Salicylate, Butyrospermum Parkii (Shea) Butter*, Cetearyl Alcohol, Cetearyl Olivate, Cetyl Palmitate, Citric Acid, Coco-Caprylate/Caprate, Coconut Alkanes, Ethyl Ferulate, Ethylhexyl Olivate, Glyceryl Caprylate, Glyceryl Undecylenate, Heptyl Undecylenate, Phenethyl Alcohol, Polyhydroxystearic Acid, Propanediol, Sodium Hyaluronate, Sodium Phytate, Sodium Stearoyl Glutamate, Sorbitan Oleate, Sorbitan Olivate, Sorbitan Palmitate, Squalane, Tocopherol, Triethoxycaprylylsilane, Vitis Vinifera (Grape) Seed Oil*, Water, Xanthan Gum. *Certified Organic Ingredients

Titanium Dioxide (6.00%), Zinc Oxide (6.00%), Aloe Vera Gel Juice, Water, Green Tea Leaf Extract, Caprylic/Capric Triglyceride, Cetearyl Alcohol, Cetearyl Glucoside, Cetearyl Olivate, Pumpkin Seed Oil, Ethylhexyl Palmitate, Glycerin, Glyceryl Stearate, Sunflower Oil, Leuconostoc/Radish Root Ferment Filtrate, Almond Oil, Sesame Seed Oil, Sodium Laurylglucosides Hydroxypropylsulfate, Sorbitan Olivate, Cocoa Butter, Xanthan Gum.

Earth Mama Lady Face Stick SPF 40 (please read about heavy metals in makeup to make informed decisions)

Zinc Oxide 22%, Coconut Oil*, Sunflower Seed Oil*, Beeswax*, Candelilla Wax, Titanium Dioxide, Iron Oxides, Carnauba Wax*, Shea) Butter*, Tocopherol, Cocoa Seed Butter*, Aloe Vera Leaf Juice*, Calendula Flower Extract* *Organic
In addition to the products in the table that were requested by my readers, I like several non-toxic sunscreens that I consider safe and effective.
Additional recommendations of non-toxic face sunscreen options that I have tried
In my opinion, the following products are also the best mineral facial sunscreen options:
Kari Gran Three Sixty Five SPF 28
Juice Beauty SPF 30 Mineral Moisturizer Sheer
Annmarie Sun Love – Natural Sunscreen Broad Spectrum SPF 20
Blissoma Photonic – Light Shifting Solution SPF 25 Broad Spectrum Face Sunscreen
Let us talk about each of them briefly.
Kari Gran non-toxic face sunscreen
To begin with, the product has 17% non-nano zinc oxide and organic nourishing and healing plant oils. In addition, it has no water, so there is no need for preservatives. Further, the whitening effect is minimum. And, of course, I love the fact that it comes in glass, which is good for the environment.
Due to the absence of water and emulsifiers, the consistency of this mineral face sunscreen is close to facial oils. When my skin was on the dry side, it was good for me, and I did not have to use a moisturizer first. If your skin is oily, you might find it greasy, though. Therefore, I believe that it will work great for dry or sensitive skin.
Finally, this sunscreen is available on Credo Beauty and Amazon.
Juice Beauty sunscreen
To begin with, this light and non-greasy face sunscreen uses 20% non-nano zinc oxide and organic botanicals. Because it contains water, the product needs preservatives, which are phenethyl alcohol and ethylhexylglycerin. Phenethyl alcohol occurs naturally in the environment, produced by microorganisms, plants, and animals. As for ethylhexylglycerin, based on my knowledge of other choices for preservatives, I added it to my approved list of preservatives.
Juice Beauty sunscreen has the texture of a typical lotion and goes on very white at first but then dissipates quickly. In fact, I have not had any problems with this non-toxic face sunscreen, and I like the way it feels on my skin. It has a bit of an odd scent, though.
It is available here, on Credo Beauty, and Amazon.
Annmarie Sun Love best mineral facial sunscreen
The active ingredient is 15% non-nano zinc oxide, and there are several organic botanicals.
To deal with the whitening effect, they added mineral pigments such as mica, iron oxide, yellow iron oxide, and brown iron oxide to create a tint. Though there are concerns about possible heavy metal contamination in mineral pigments, Annmarie assures me that they source mineral pigments from a trusted US supplier. Also, they showed me their supplier documentation reflecting that heavy metals are within FDA guidelines. You can learn more about that in my blog post about heavy metals in makeup.
The product is available on Annmarie website.
Blissoma Photonic broad-spectrum non-toxic face sunscreen
Blissoma has practically no whitening effect because of a low percentage of non-nanoparticled zinc oxide (only 12.5%). Besides, zinc oxide is micronized. It means that it is smaller than your typical non-nano zinc oxide, yet bigger than nanoparticled zinc oxide. Furthermore, a relatively high SPF of 25 is achieved due to the herbs and oils in it that have natural SPF properties.
This non-toxic face sunscreen uses many beneficial botanical ingredients. Specifically, even the preservatives are botanical, namely aspen bark extract and leuconostoc/radish root ferment filtrate. In addition, there is niacinamide (vitamin B3), which helps protect from UV light damage, improves skin elasticity, and reduces blemishes and inflammation (source). When I happen to have breakouts, I use Blissoma Smooth A+ – Correcting Serum that contains 4% niacinamide. This is probably the main reason it takes care of my breakouts promptly.
As for the texture, this best mineral facial sunscreen is non-greasy and light and is likely to work well for oily or normal skin. When I used it on the beach once, I did not get any burn or even tan.
And, of course, I appreciate the glass packaging – less environmental pollution. This is my favorite!
You can buy this product on Blissoma website.
Conclusion about non-toxic face sunscreen
To sum up, an effective non-toxic sunscreen must provide both UVA and UVB protection and use mineral UV filters, such as zinc oxide and titanium dioxide. It should be a broad-spectrum sunblock without harmful ingredients, such as oxybenzone or ethoxylated ingredients.
Hence, in my opinion, the products I categorized as "best" sunscreens provide effective UVA and UVB protection. However, I encourage you to check your sunscreen in the EWG sunscreen database for the potency of protection from UVA rays.
To choose the right sunscreen for your child, read my Guide to the Safest Baby Sunscreen and Sunscreen for Kids. Additionally, for multiple options of non-toxic products, please visit my shop. Also, do not hesitate to book a consultation if you need help with non-toxic living. Finally, consider applying to the Savvy Consumer Circle to be a part of a community of like-minded people seeking healthy decisions for their everyday life.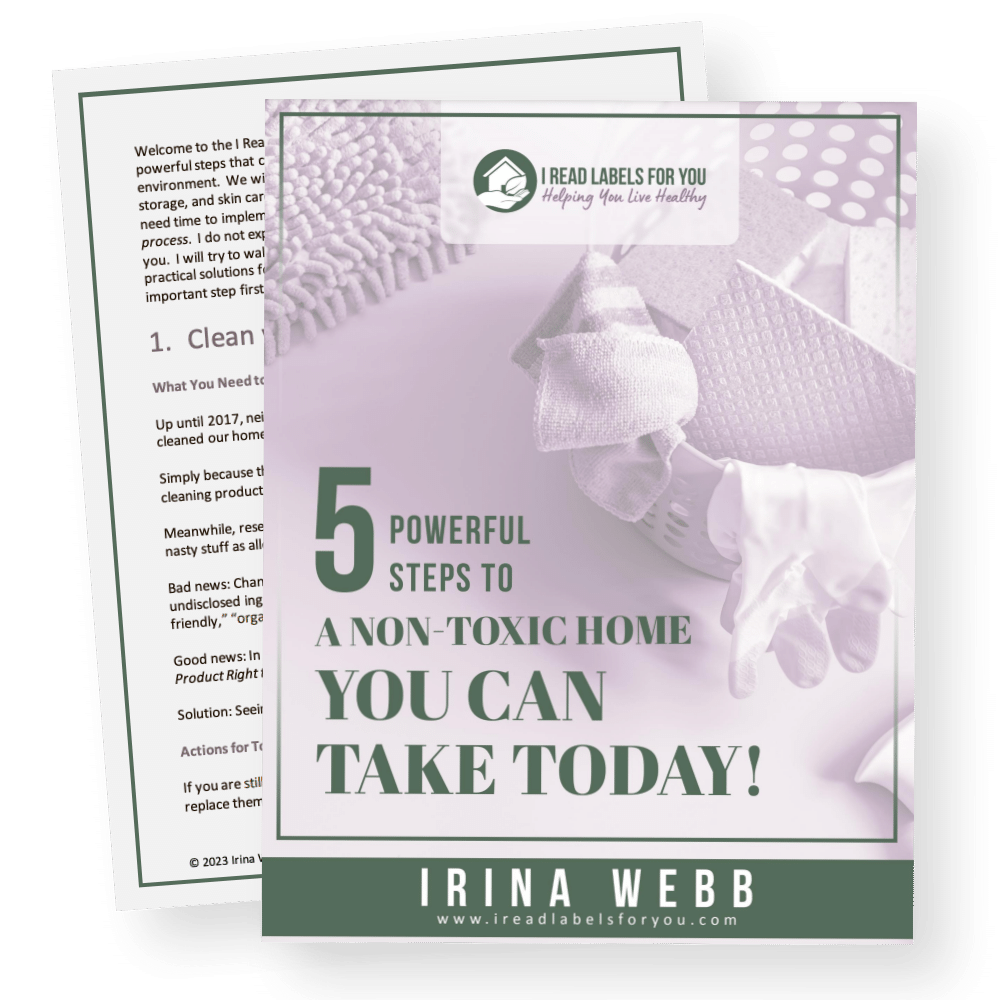 Download The Free Guide!
5 Powerful Steps To A Non-Toxic Home
Join our informed consumer community and get our free guide the "5 Powerful Steps To A Non-Toxic Home".