Is Natural Fragrance Safe?
This post may contain affiliate links. To read our affiliate policy, click here.
Have you ever noticed that sometimes you prefer one product to another just because the label says "natural"? Nowadays, the word "natural" is common in skin, body, and home care product descriptions. A company may boast that its product is made of 96% natural origin ingredients. But by "natural," they often mean ingredients that retained more than 50% of their molecular structure after being processed from a natural source. Is that what you think when you read "natural" on a product label? In actuality, the term "natural" as used in consumer products does not have a uniform definition. Hence, our understanding of "natural" may differ greatly from the manufacturer's understanding. So, when it comes to fragrance (or "parfum"), is natural fragrance safe or, at least, safer than synthetic fragrance?
In my ingredient reviews I focus on your health and safety.
When I started my blog in 2013, I could hardly imagine the depths I would dive into researching product ingredients. At first, my motivation revolved around my newly born baby and my desire to use safe products on him. Pretty soon I realized that to be able to truly understand whether products are safe, I would have to get to the bottom of their manufacturing process. This realization led to another – I would have to do a lot of reading and contact companies with lots of questions. Well, I was ready.
With time, I developed my research method that reflects the core values of my mission. Now, my main goal is to educate you as consumers so that you can make informed decisions about your purchases. And my major focus is health and safety for you and your loved ones. I have recovered and am recovering from some health issues, too. Please, read my posts about breast implants and explant surgery to learn more. (Both posts were reviewed by Myrto Ashe, MD, MPH, IFMCP.)
Prior to becoming a product researcher, I based my choice of skin or body care products on their fragrance. Basically, my decision to buy the product depended on how much I liked the scent. Conversely, today, I avoid all products that have fragrance. Why is that? Here is what I discovered about synthetic fragrance and natural fragrance when I dove into this subject.
Be aware of people with sensitivities to scented products.
Reportedly, sensitivities to scented products and air fresheners are very common. A 2009 study published in the Journal of Environmental Health reported that 30.5% of the general population found other people wearing fragrances to be irritating. Additionally, 19% of people reported adverse effects from air fresheners, including headaches, chest tightness, wheezing, and even difficulty breathing.
Importantly, fragrance sensitivity is not just a US problem. In fact, this 2019 study shows that 32.2% of residents of the US, UK, Australia, and Sweden reported fragrance sensitivity. On top of that, 28.6% of respondents with chemical sensitivities lost workdays or even a job because of exposure to fragranced products in the workplace.
Thus, fragrance poses a threat to many people. So, when you decide to use or wear scented products, I encourage you to take those people into consideration. If you cannot imagine your life without using aromas, read on to see healthy options that may work for you.
People with fragrance sensitivity may benefit from carbon air purifiers that handle smells. To be effective, an air purifier should have at least 5 lbs of activated carbon. The largest amount of carbon I have seen so far – 15 lbs – is in most Austin Air purifier models. Please, read my Comprehensive Guide to Mobile Air Purifiers and contact me to get a discount on Austin Air purifiers.
Also, my favorite makeup and skincare company Crunchi has started making fragrance-free products even without any essential oils. They are baby serum, eye cream, and facial sunscreen.
Both synthetic and natural fragrance are comprised of multiple ingredients.
As I mentioned above, fragrance can be natural or synthetic. While somewhat different, both natural and synthetic fragrance have something in common.
To begin with, any kind of fragrance listed as an ingredient is not just one ingredient. Rather, it is a blend of ingredients that are frequently undisclosed because US law does not require disclosure of fragrance ingredients. Basically, fragrance ingredients are protected as trade secrets.
Thanks to the International Fragrance Association, we know that over 3,000 ingredients are used to create fragrance mixes. That is to say, a combination of a number of these ingredients results in a particular fragrance.
Generally speaking, there are two major groups of fragrance ingredients, each with their specific functions (source). Check out the table below.
Fragrance compounds
· release a pleasant scent
· mask a bad odor
Functional ingredients
· provide the durability or functionality of fragrance compounds
· include antioxidants, preservatives, diluents, solvents, fixatives, and colors
Synthetic fragrance mixes can cause dermatitis and more.
Before we talk about natural fragrance, let's look at some ingredients in synthetic fragrance and their health effects.
First, the Environmental Working Group Skin Deep database rates fragrance as an 8 (with 10 being the most toxic). (Learn how to use the Skin Deep database the right way to avoid falling prey to its shortcomings.)
Second, according to the EU Scientific Committee on Consumer Safety, synthetic parfum mixes have a link to:
photosensitivity
irritant contact dermatitis
allergic contact dermatitis
airborne contact dermatitis, and
pigmented contact dermatitis.
Third, the fragrance ingredient list contains chemicals associated with:
allergic reactions
endocrine (hormone) disruption, and
cancer.
Moreover, emerging evidence suggests that childhood exposure to some phthalates (which are common fragrance ingredients) may increase the risk of obesity. Specifically, phthalates may disrupt critical lipid metabolism pathways to promote adipogenesis and fat storage. To be fair, though, not all phthalates seem to be harmful (e.g., dioctyl phthalate appears to be okay).
The table in the next section presents some common synthetic fragrance ingredients and scientific research into them. Also, stay with me to see if natural fragrance guarantees the absence of allergic reactions and other fragrance-related health issues.
Phthalates, styrene, and resorcinol have safety concerns.
Dibutyl phthalate (DIBP) CAS 84-74-2
– toxic to reproduction and may cause damage to the unborn child (source)
– prenatal exposure of rats to DIBP showed a decrease in testis weight and lower testosterone levels (source)
– human urine samples revealed DIBP metabolites associated with changes in male genital development (source)
Diethyl phthalate (DEP) CAS 84-66-2
– under assessment as an endocrine disruptor (source)
– in animal studies, not found affecting male reproductive development (source)
– in human studies, exposure to DEP in a mixture of phthalates repeatedly showed adverse reproductive outcomes, including changes in hormone levels, poor semen quality, and genital development (source)
– The Natural Resources Defense Fund recommends avoiding exposure to DEP until we know more.
Di(2-ethylhexyl) phthalate
CAS 117-81-7
– may damage fertility and unborn child (source)
– classified by the US National Toxicology Program as "reasonably anticipated to be a human carcinogen"
Styrene
– classified by the US National Toxicology Program as "reasonably anticipated to be a human carcinogen"
Resorcinol
– common allergen in hair dyes
– under evaluation for endocrine disruption (source)
So, synthetic fragrance does not seem a desirable ingredient in your skin care or body care products any longer. But what if the fragrance is natural?
Natural fragrance allows for traces of synthetic ingredients.
For your information, applicable US regulations are lenient, with hardly any updates in the law governing cosmetic products since 1938. Without a legal definition in the US, the term "natural" may mean different things for you and the manufacturer. For instance, independent scientists found 0.25 ppm of dibutyl phthalate in Citrus Magic air fresheners marketed as natural. This tells me we cannot trust "natural" claims blindly.
On the one hand, the International Fragrance Association (IFRA) sets forth some guidelines based on the ISO 9235 standard as to the meaning of the word "natural." Namely, fragrance materials are still considered natural even when they are physically isolated from plants through the processes of distillation, expression, and extraction (source).
On the other hand, the IRFA allows traces of synthetic fragrance ingredients (solvents, antioxidants, preservatives) in their definition of natural fragrances. Additionally, a natural ingredient is not necessarily organic and can be grown with chemical fertilizers, pesticides, and herbicides (source).
Ask manufacturers what they use instead of regular scent ingredients.
When I see fragrance listed as "natural," I ask the company to email me a full list of fragrance ingredients. In most cases, I get something like "it is proprietary information, but all our ingredients are natural and safe." This kind of answer makes me pause because I consider it evasive.
Another reply is "our fragrance is a blend of essential oils and botanical extracts." Or "we use naturally derived fragrance and flavor materials free of phthalates, parabens, and petrochemicals."
While they sound good, I still have reservations about safety due to the lack of disclosure of natural fragrance ingredients. Indeed, "free of phthalates and parabens" does not mean the naturally derived fragrance is free of functional ingredients. As you remember from the table above, functional ingredients are antioxidants, preservatives, fixatives, diluents, solvents, and colors.
So, if a company claims they use no paraben preservatives or phthalate fixatives, what do they use instead? With no way to know, we can only hope their functional ingredients are safer than those used in synthetic fragrance. We just won't know in the absence of full disclosure.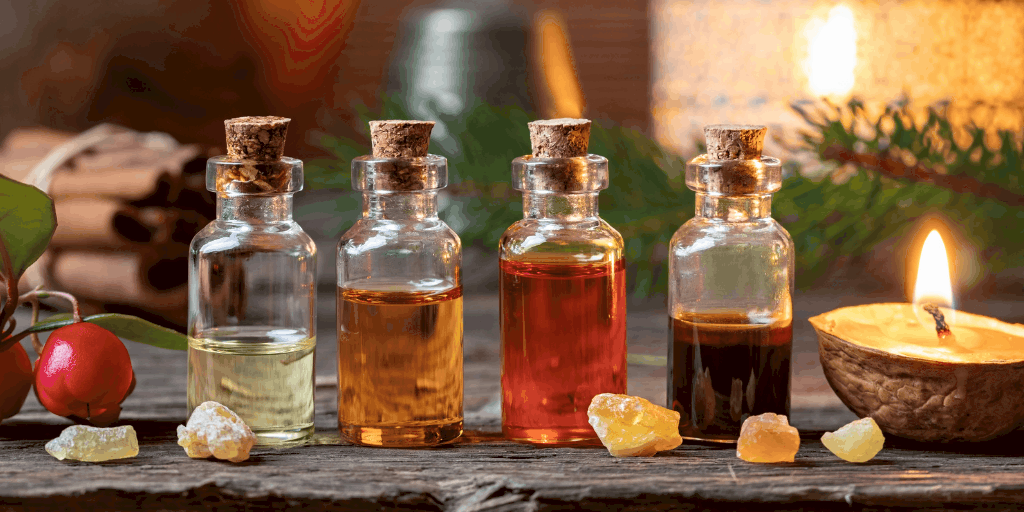 Isolates in natural fragrance can cause skin allergies and sensitization.
The active ingredients in fragrance mixes are called "natural scents" or "fragrance materials." Oftentimes, to make a natural scent compound, manufacturers extract from the whole plant a single scent compound, aka an isolate. Some examples include:
Citral
Linalool
Eugenol
Geraniol
Limonene
Coumarin
Citronellol
Hexyl cinnamal
Benzyl salicylate
Benzyl benzoate
Hydroxycitronellal
Per the European Cosmetics Regulation, European manufacturers must list isolates in addition to essential oils even though they are not additional ingredients. Conversely, isolates listed on American products can be additional ingredients. While I am okay with essential oils, I do not favor products with isolates as standalone ingredients.
For starters, the Environmental Working Group rates essential oil isolates 3-5 out of 10 (this rating used to be 5-7).
Next, it is questionable whether isolates are still natural just because they are derived from plant matter. Indeed, pounds of plant matter are crammed into a tiny bottle of essential oil and then a compound is isolated. Most likely, the compound molecule is very different from the original plant, which makes me feel uneasy.
Moreover, the European Union Chemicals Agency considers isolates skin allergens and sensitizers. To clarify, one can develop an allergic reaction to sensitizers after using the same product with these ingredients repeatedly. Regardless of their origin – synthetic or plant-based – they may increase the risk of allergic reactions. Therefore, when it comes to the allergenic properties of the fragrance material, the term "natural" does not mean much. Just as synthetic fragrance materials, natural scents can be sensitizing, too.
Natural fragrance oils and essential oils are not the same.
The difference between the two is in their manufacturing process and their purpose as ingredients.
Essential oils
Natural fragrance oils
Production
– extract the entire scent complex compound
– extract an isolate from a plant (one oil can have several different isolates from different plants)
– man-made, though called "natural"
Purpose
– scent
– therapeutic properties
– scent
Because essential oils have powerful healing properties, many shampoos and conditioners contain them to improve scalp conditions. In high concentrations, essential oils may cause allergic reactions, which should not be the case with shampoos and conditioners with them (source).
Interestingly, this study found that mice exposed to airborne particulates in essential oils experienced an inflammatory liver injury. On the other hand, mice exposed to certain essential oils were protected from the inflammatory cascade resulting from exposure to air pollution.
All in all, because of potential side effects and complexity, essential oils should be used wisely. Here are some options for you.
Safe options of essential oils
Plant Therapy
– carries both USDA-certified organic and non-organic essential oils
– discloses GC/MS (gas chromatography/mass spectrometry) reports
– ensures the purity and high quality of the oils by the team of analytical chemists and certified aromatherapists
– extracts oils with all 4 methods of extracting and discloses which method was used
Neal's Yard Remedies
– most of their essential oils are USDA-certified organic
– extracts oils with either steam distillation or expression and discloses which method was used
– partners with experienced farmers and the oils are distilled right at the farms while the plant matter is fresh
– offers skin and body care products mildly scented with essential oils
– UK company, so discloses essential oil isolates separately from essential oils
Summary of the natural fragrance safety post
In sum, due to the lack of ingredient disclosure, I cannot consider natural fragrances safe. Additionally, there is a possible presence of harmful functional ingredients and an allergenic potential of essential oil isolates.
My rating system reflects my attitude to the overall safety of both natural and synthetic fragrance. In my rating list e-books, I rate them 6 and 8, respectively, while I rate essential oil blends 1 (with 10 as the most toxic). Plus, I would be careful about using scented products around people with sensitivities. If you are sensitive to fragrance, an air purifier may be your solution. Please, read my Comprehensive Guide to Mobile Air Purifiers and contact me to get a discount on Austin Air purifiers.
At the same time, essential oils have therapeutic effects when used wisely, assuming they are made of quality ingredients. For example, Plant Therapy and Neal's Yard Remedies carry both organic and non-organic options of essential oils. And Crunchi offers skincare products both with and without essential oils.
For more safe skin and body product options, please check out my shop. Join the Savvy Consumer Circle and book a consultation with me if you wish to go deeper with your healthy living journey.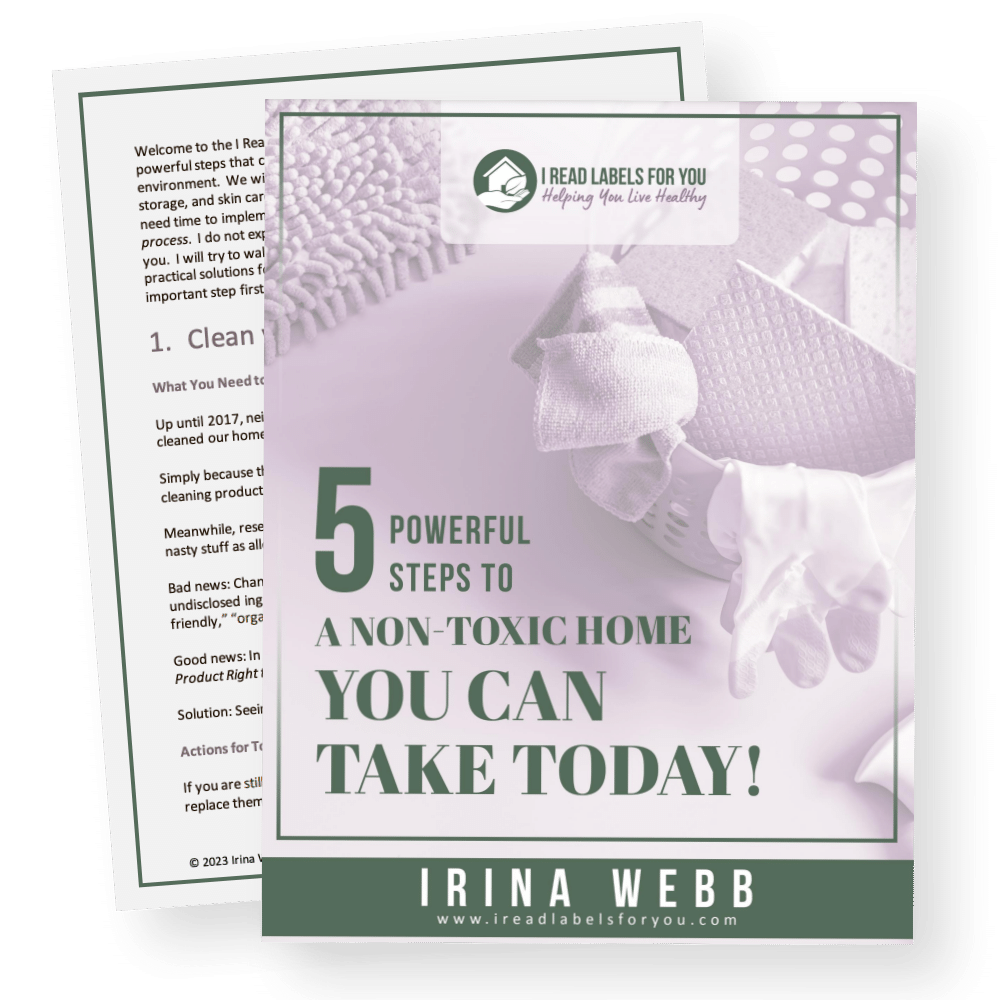 Download The Free Guide!
5 Powerful Steps To A Non-Toxic Home
Join our informed consumer community and get our free guide the "5 Powerful Steps To A Non-Toxic Home".