Phenoxyethanol in Skin Care: Consider This!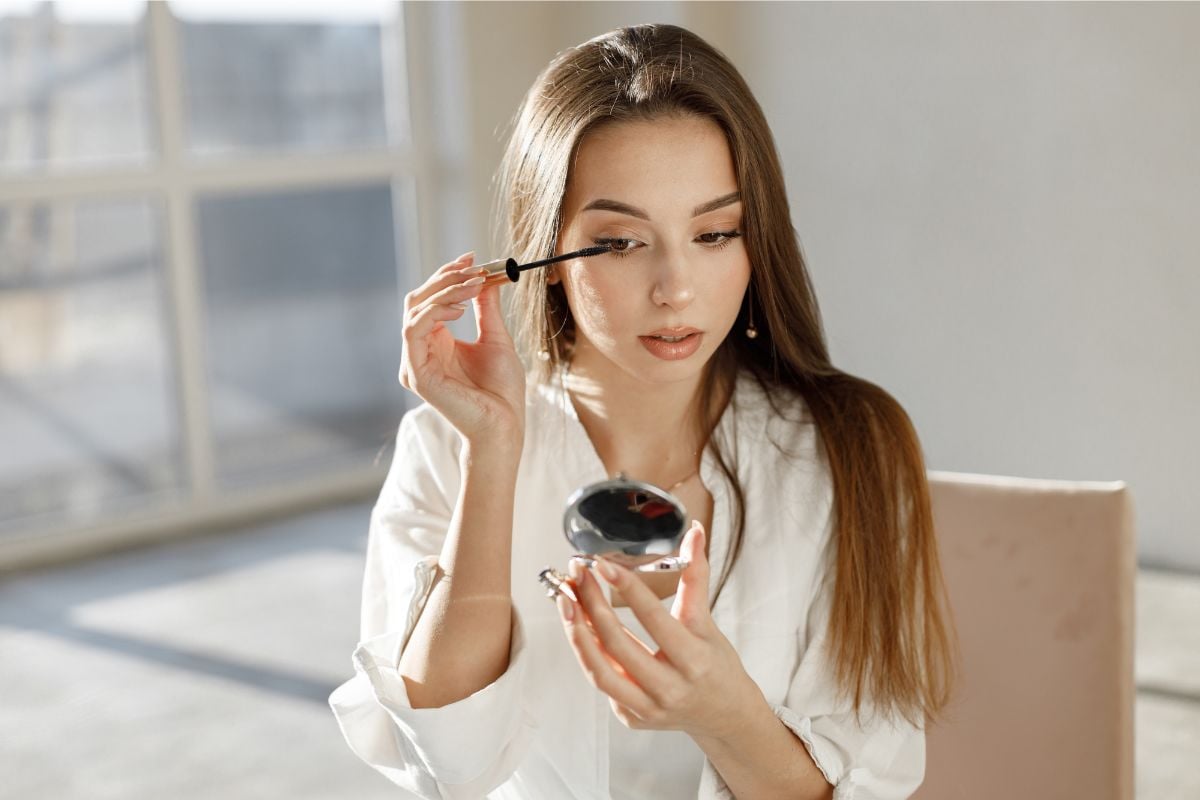 This post may contain affiliate links. To read our affiliate policy, click here.
Are you concerned about phenoxyethanol as a preservative in skin care? You might have noticed that this cosmetic preservative is common in shampoos, washes, mascaras, and foundations. Are there side effects of phenoxyethanol? Is it a skin irritant? In this expert ingredient analysis, you will learn more about this preservative and whether there is a reason to worry about it as used in cosmetics and personal care products.
Relatively speaking, phenoxyethanol is not the worst preservative out there, but there are better and more natural ones, for sure. Due to our high standards for the safety of skin care product ingredients, I Read Labels For You refuses to promote products that contain phenoxyethanol for the reasons explained below. For a skincare brand that does not use phenoxyethanol, check out our Pure Haven Review.
Phenoxyethanol In Skin Care
To begin, I believe this cosmetic preservative is much safer than some of its alternatives, such as parabens, benzisothiazolinone, methylchloroisothiazolinone, methylisothiazolinone, and formaldehyde releasers. (Find a list of formaldehyde releasing preservatives in my post Hidden Ingredients In Cosmetics.)
The EU Scientific Committee on Consumer Safety (SCCS) does not classify phenoxyethanol as a mutagen or carcinogen. And the EWG Skin Deep database rates its toxicity 2-4 depending on usage (with 10 as the most toxic). (Read my Skin Deep database post to learn how to avoid common mistakes people make while using this database.)
However, be careful with phenoxyethanol in products that can be ingested. In fact, in 2008, the FDA warned consumers not to use Mommy's Bliss Nipple cream because it contained phenoxyethanol and chlorphenesin. Allegedly, both ingredients may have depressed the central nervous system causing vomiting and diarrhea in breast feeding infants. The Mommy's Bliss Nipple cream was soon recalled (source).
Is Phenoxyethanol An Endocrine Disruptor?
The SCCS does not mention phenoxyethanol as a potential endocrine disruptor. Actually, in one study on this cosmetic preservative, researchers referred to it as an "endocrine disruptor" as if it were a proven fact. However, later they released a Corrigendum to their study in which they corrected their mistake and apologized to the readers for the misinformation. Specifically, they said:
We have reported in the above publication that 2-phenoxyethanol (PhE) is an endocrine disruptor. US-EPA did not conclude at all that PhE is an endocrine disruptor. In contrast, US-EPA included PhE in their Endocrine Disruptor Screening Program (EDSP) for Estrogen Receptor Bioactivity, but could not identify any indication for ED activity. This is in accordance with the overall data available for PhE. Therefore, the authors would like to make some changes to the paper for accuracy.

source
To reiterate, the US Environmental Protection Agency (EPA) did not conclude that phenoxyethanol was an endocrine disruptor. I have also searched high and low for any evidence of that but haven't found any. If you come across any credible sources proving this, please let me know.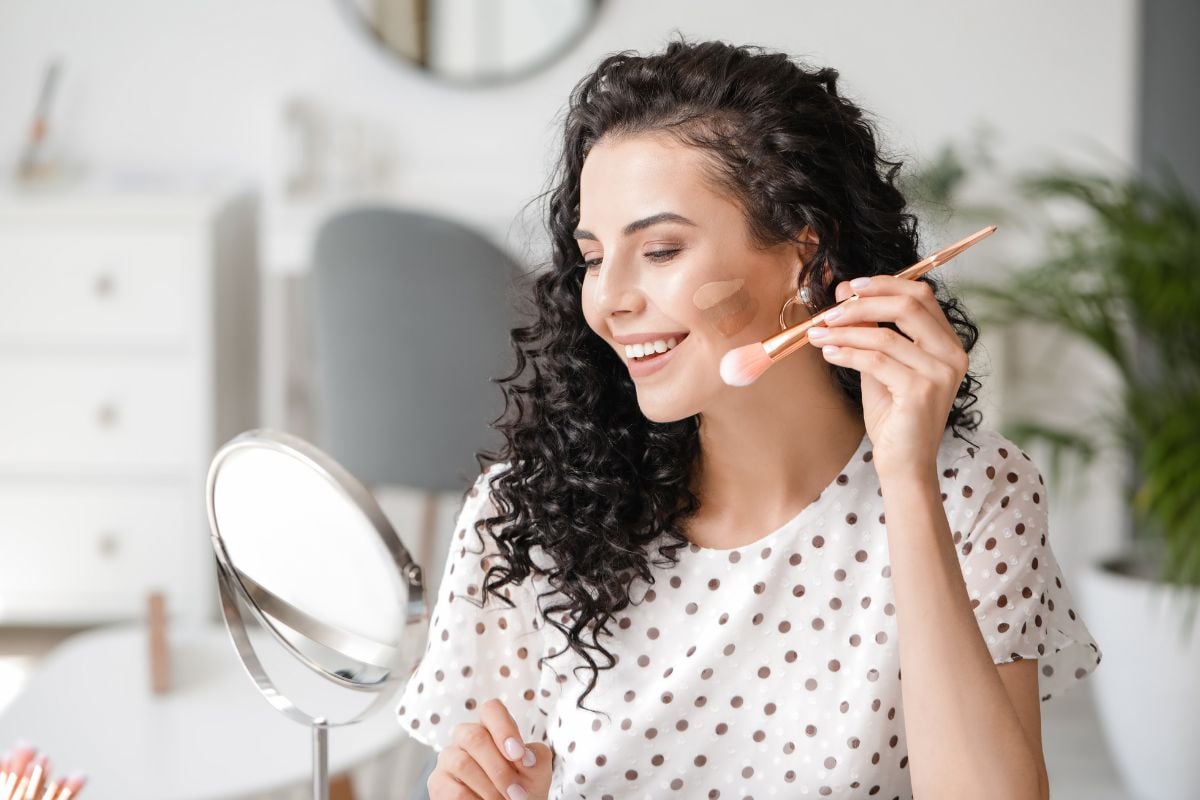 Does Phenoxyethanol Cause Allergic Reactions?
For starters, there is not much information on whether this cosmetic preservative may cause a skin reaction. To clarify, a skin reaction may be anything from a simple rash to a full-blown allergic reaction. Moreover, the symptoms can start either right after you have used a new product, or after a prolonged period of using this product with no problems. This is called sensitization, and ingredients that may cause a postponed allergic reaction are called sensitizers.
As for phenoxyethanol, the American Society of Contact Dermatitis (ACDS) lists it as one of its core allergens, even in concentrations as low as 1%. Plus, this article on the WebMD website links it to skin allergies and recommends doctors employ a patch test before use.
Further, this study lists the top 10 allergens out of 3,000 and methyldibromoglutaronitrile/phenoxyethanol is one of them. However, it is unclear whether the former or the latter is the culprit. (Definitely avoid beauty products containing both ingredients at the same time.)
So far, I have found one case of an allergic reaction to phenoxyethanol in the medical literature. Thus, despite its common use over many years, contact allergy to this preservative has rarely been described. Then again, not many of us report allergic reactions to our doctors. Besides, doctors may have no training in reading product ingredients. Therefore, the problem might be more widespread than reported to date.
Can Phenoxyethanol Contain Contaminants?
Also known as 2-phenoxyethanol, this cosmetic preservative is a member of the glycol ether family and is the product of the reaction of carcinogenic ethylene oxide with highly corrosive phenol. As a matter of fact, all forms of phenol may cause irritation, especially to sensitive skin. Even highly diluted solutions (1% to 2%) may cause severe burns in case of prolonged contact.
Yet, according to the Cosmetic Ingredient Review report (which you can find here), free unreacted phenol remains in this cosmetic preservative at 1% or less. It may also contain the residue of carcinogenic ethylene oxide. Cosmetic grade phenoxyethanol is normally 98% pure.
Because it is made from ethylene oxide, some consider phenoxyethanol an ethoxylated ingredient (source). On the one hand, the CIR report does not list 1,4 dioxane as phenoxyethanol's contaminant. So I would not classify it as an ethoxylated ingredient. On the other hand, I believe there may be several ways for the production of phenoxyethanol, which may or may not yield this contaminant.
Therefore, the best solution would be to reach out to the product manufacturer to clarify how they manufactured this cosmetic preservative and whether it has the 1,4 dioxane contaminant. Personally, I have decided to avoid using and recommending products with phenoxyethanol altogether.
In addition, I do not like the idea of exposing the workers and the environment to carcinogenic and dangerous substances. The derivation process of phenoxyethanol makes me wonder what exactly some companies mean describing it as natural and plant derived.
Are Preservatives Necessary?
With what you know now, do you think you want to use products with phenoxyethanol? If you have decided to avoid it, you have probably noticed two things. First, your skin looks better when you use products without this cosmetic preservative. Second, it is sometimes challenging to find products with sufficient preservation.
In fact, there is an alarming problem with many manufacturers. They either do not disclose the broad-spectrum preservatives they use or do not use a sufficient preservation system.
Thus, as a "broad-spectrum" preservative, phenoxyethanol is effective at protecting a product from yeast, mold, bacteria, and fungi (source). Bacteria include antibiotic-resistant ones such as gram-negative bacteria. When there is water in a cosmetic product, it needs a broad-spectrum preservation system. If you hear that water-based products have no preservatives, run! Indeed, bacteria are dangerous, especially for people with compromised immune systems and for babies whose immune systems have not matured yet. (Read more about that in my WaterWipes Baby Wipes blog post.)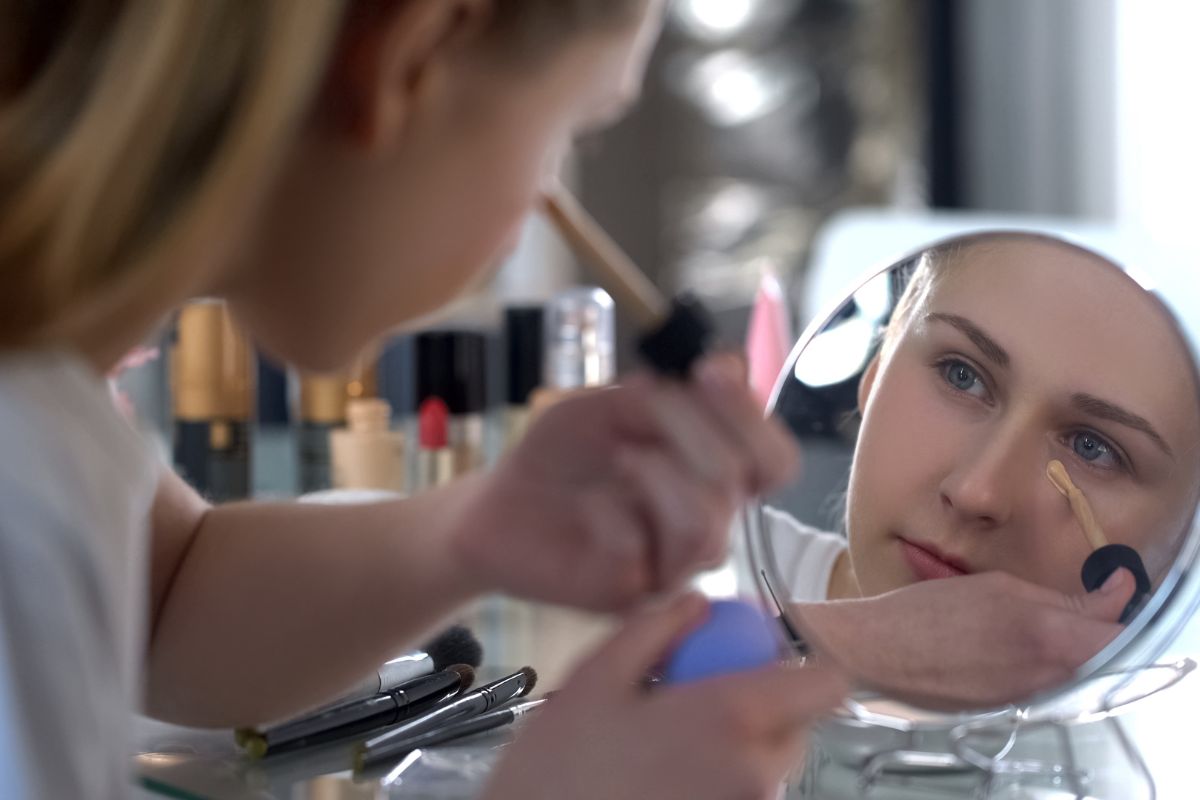 The Danger Of Bacteria In Cosmetic Products
This section presents a gist of numerous research into bacteria contamination.
First, this article discusses how to prevent contamination in cosmetic products and describes the most common cosmetic preservatives. Second, a study described here compared the level of microbial contaminants and their type in commercial cosmetics and a laboratory prepared aqueous cream. The study concluded that the commercial products did not meet the standards for microbial limits and the products can negatively impact the health of consumers.
Next, the American Journal of Infection Control describes the possible connection of a contaminated hand lotion to an infection outbreak in a neonatal intensive care unit. And the Journal of the American Academy of Dermatology depicts a case of a fungal infection induced by a compromised skin lotion. Further, the Journal of Hospital Infection describes an infection outbreak among babies caused by a contaminated baby shampoo.
Additionally, this microbiological study analyzes health risks and the efficacy of preservation systems in cosmetic products during their use by consumers. And here you can get a profound review of legislation, usage, infections, and contact allergy associated with contamination and preservation of cosmetics. Also, this study compared the microbial qualities and the antibiotic sensitivity patterns of 15 random cosmetic products and revealed that most of them did not meet the official requirements.
Thus, preservatives are necessary, especially in mascaras, because eye infections are not fun at all! Therefore, with a choice between phenoxyethanol and no apparent preservative, I would choose a mascara with phenoxyethanol.
The Alarming Problem Of Substitutive Preservation
Despite the dangers of bacteria and fungi, not all companies disclose what preservatives they use instead of phenoxyethanol. They claim that this information is "proprietary" or a "trade secret." Alternatively, they claim that their cosmetics and personal care products do not need any preservatives.
For instance, one skincare company told me they did not need cosmetic preservatives because they used Miron glass bottles. Yes, opaque glass is a good way to protect a product from sunlight and oxidation. But, in my humble opinion as a product manufacturer adviser for ingredient safety, it does not protect from bacteria, especially after you have opened the bottle. Watch out!
By the way, I mark with asterisks the products with insufficient preservation (in my opinion) in all my rating list e-books. This way you can make an informed decision.
What Preservatives Are Safer Than Phenoxyethanol?
Luckily, there are more and more products on the market that do not contain phenoxyethanol and yet contain preservatives. Among common substitutes for phenoxyethanol are:
sodium benzoate
caprylhydroxamic acid
ethylhexylglycerin, and
leuconostoc/radish root ferment filtrate.
If you have concerns in regards to sodium benzoate and citric acid or ascorbic acid interaction, read my post Sodium Benzoate & Citric Acid Myth. And if you are a company in the process of developing new skincare or cosmetic products, I will be happy to help you. Together, we can choose a cosmetic preservative that will agree with your brand promise and work well with other ingredients you use in your products.
Conclusion About Phenoxyethanol In Skin Care
Phenoxyethanol Is Not The Worst Cosmetic Preservative, But There Are Better And More Natural Options.
To sum up, I consider phenoxyethanol a "middle-of-the-road" preservative: it is not the worst, but there are safer options. If you are not allergic to phenoxyethanol, you might be better off using products with it over those that either do not list broad-spectrum preservatives or do not use them at all.
If you are allergic to phenoxyethanol, you are in luck! In the shop section of the I Read Labels For You website, you won't find any products with phenoxyethanol. And yet, these products have other preservatives to protect against harmful bacteria and fungi. As a product manufacturer advisor for ingredient safety, I know how to spot preservatives. That's how we were able to create the Baby Wipes Rating List, Permanent Hair Color Rating List, and Savvy Consumer Superpower e-books.
I whole-heartedly believe that we can make beauty product formulators listen to us if we ask them the right questions. Knowledge is a great power! Moreover, it is the first step that leads to a market full of safe consumer products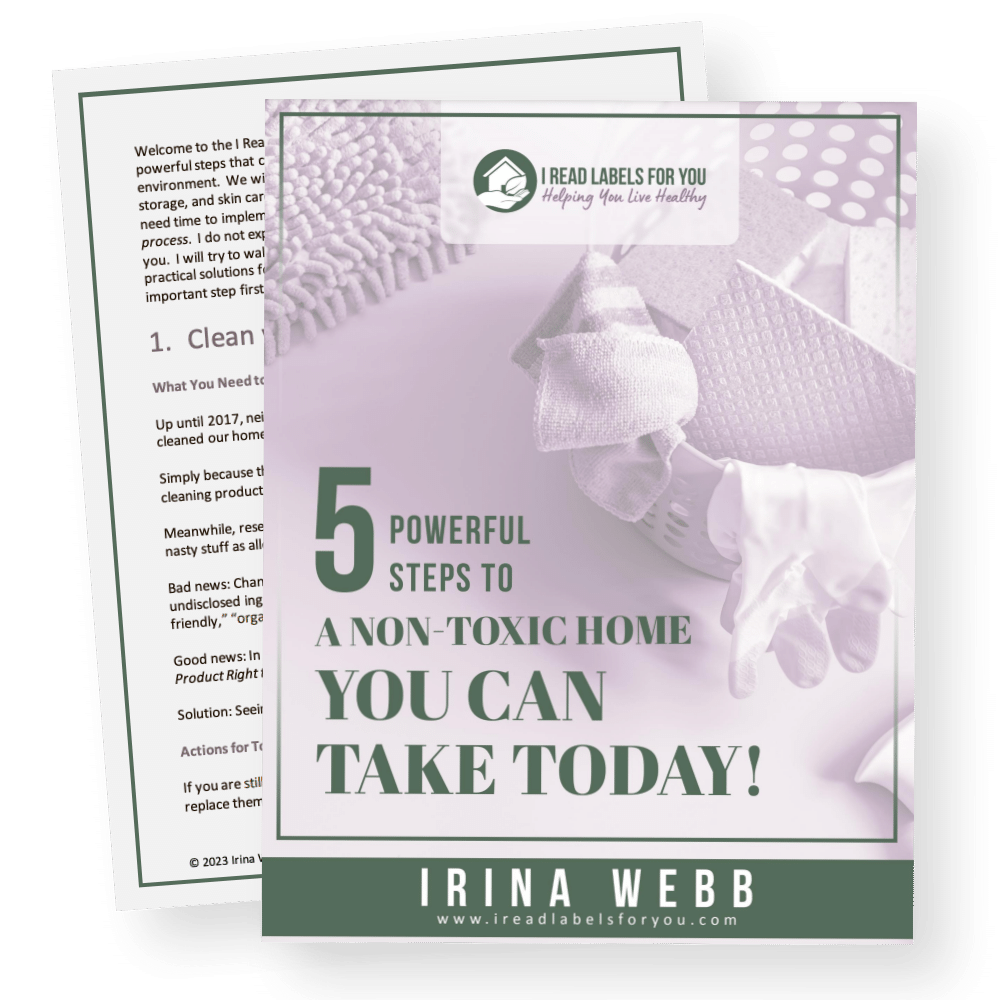 Download The Free Guide!
5 Powerful Steps To A Non-Toxic Home
Join our informed consumer community and get our free guide the "5 Powerful Steps To A Non-Toxic Home".