Sodium Benzoate & Citric Acid Myth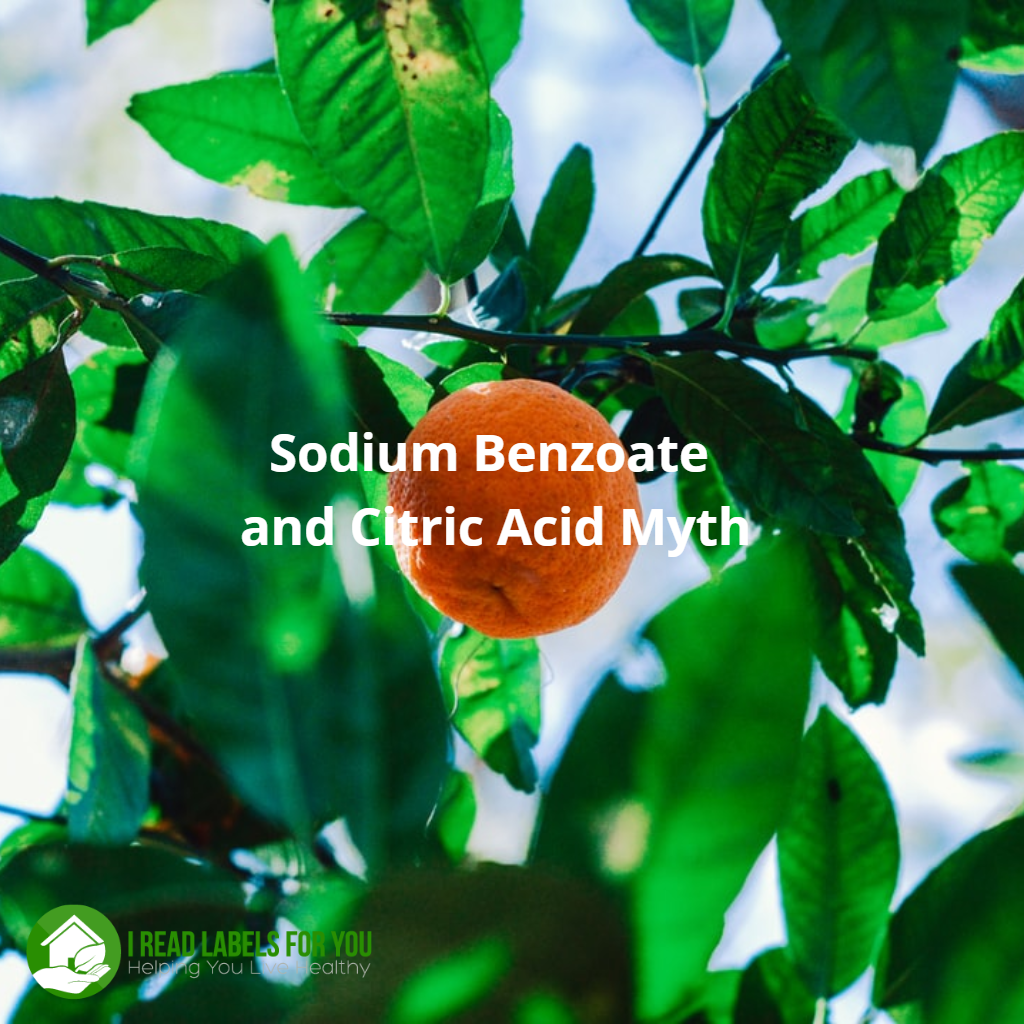 This post may contain affiliate links. To read our affiliate policy, click here.
Are you confused about the safety of cosmetic products that contain both sodium benzoate and citric acid? In this special ingredient spotlight review, you will learn whether the sodium benzoate and citric acid combination in products triggers the formation of benzene, classified as a human carcinogen. We will get to the bottom of this concern and filter out myth from real science. To see my opinion about baby wipes that contain both sodium benzoate and citric acid, check out my blog post about Kirkland Signature baby wipes. And to learn about the safety of phenoxyethanol preservative, jump to my blog post about phenoxyethanol in skin care.
Can benzene form in soft drinks?
To begin, the sodium benzoate preservative controversy started in 2005 when some soft drinks tested positive for carcinogenic benzene. According to the FDA website, the FDA first became aware that benzene could form in some drinks in the early 1990s.
In November 2005, the FDA examined the results of a survey of benzene levels in soft drinks and discovered the following. Specifically, the vast majority of the drinks sampled (including those with both benzoate salts and ascorbic acid) contained either no detectable benzene or levels well below 5 ppb. This is the EPA's level for benzene in drinking water. (To put things in perspective, California's public health goal for benzene is 0.15 ppb. This number is based on scientific research into the long-term health effects of benzene exposure. It does not take into consideration what industry lobbyists might want.)
Apparently, the soft drink survey generated a lot of publicity. As a result, soft drink manufacturers either discontinued the use of sodium benzoate or reformulated those products that had higher benzene levels. The FDA continued testing soft drinks after the initial survey and found that benzene levels were less than 1.5 ppb.
However, there appeared an opinion that the same chemical reaction could occur in cosmetic products. Because citric acid and ascorbic acid are very similar, people voiced their concerns on the Internet. The cause of the worry was the presence of citric acid in the products that contained sodium benzoate.
Does sodium benzoate stimulate the formation of benzene?
Starting with 1993, there have been a lot of studies to determine specific benzene formation mechanisms. Most studies indicate the best candidates for benzene formation. Specifically, they are conditions with elevated temperature and light where ascorbic acid and benzoic acid or potassium or calcium or sodium benzoate preservative are present. In addition, traces of copper and iron may catalyze reactions between ascorbic and benzoic acid or benzoate salts (source).
Further, in 2006, the American Beverage Association published guidelines for beverage manufacturers. These guidelines were to help them to reduce or inhibit the formation of benzene in their products. One of the most important guidelines involved replacing ascorbic acid with another antioxidant. Another one was about adding EDTA or sodium polyphosphates to chelate the metallic ions that catalyze hydroxyl radical formation. The third guideline was to review the storage conditions and shelf life to minimize product exposure to high temperatures and ultraviolet (UV) light.
Interestingly enough, while there is a detailed account of the chemical reaction that forms benzene, there is no mention of citric acid. It is ascorbic acid that is the culprit. So, should we be concerned about ascorbic acid and sodium benzoate preservative reaction in skincare products?
Should I avoid citric acid or ascorbic acid in the combination with sodium benzoate?
To determine whether a product is safe enough to recommend for you to use, I must look at every ingredient. Although the Skin Deep database is a good starting point, it has certain shortcomings for which as consumers we should account. (Find out how to use the Skin Deep database the right way.)
Undoubtedly, the best way to get accurate information about ingredients is to go directly to the source, namely, scientific studies. For instance, the Cosmetic Ingredient Review report on sodium benzoate preservative describes a test to examine benzene formation in the beverage samples. The beverages were in the UV stabilized and non-UV stabilized packaging. Some of the samples had 0.04% benzoate and 0.025% ascorbic acid in water. As a result, under intense UV light, benzene levels increased by as much as 53%, whereas the use of UV stabilized polyethylene terephthalate bottles reduced benzene formation by approximately 13%.
Based on the CIR report, I believe it is a good idea to avoid skin products containing both ascorbic acid and sodium benzoate preservative. Note that the CIR report does not say anything about a reaction between citric acid and sodium benzoate preservative to produce benzene.
Conclusion about citric acid and sodium benzoate preservative
In conclusion, there seems to be no reason to worry about the combination of citric acid and sodium benzoate preservative in a personal care product. The concern related to the formation of carcinogenic benzene arises only when ascorbic acid and benzoic acid or benzoate salts interact with one another.
It is such a relief to know this because most personal care and skincare products contain citric acid. For example, my survey of popular baby wipes brands showed that every baby wipe formulation had citric acid in it. Citric acid regulates the pH of a product, and its quantity is usually very small. Also, sodium benzoate preservative is common in baby wipes to protect them from bacteria contamination.
Visit my blog post about Kirkland Signature baby wipes that contain both sodium benzoate and citric acid to see what I think about them. And check out the IRLFY shop with multiple options of healthy skincare, personal care, household, and baby products.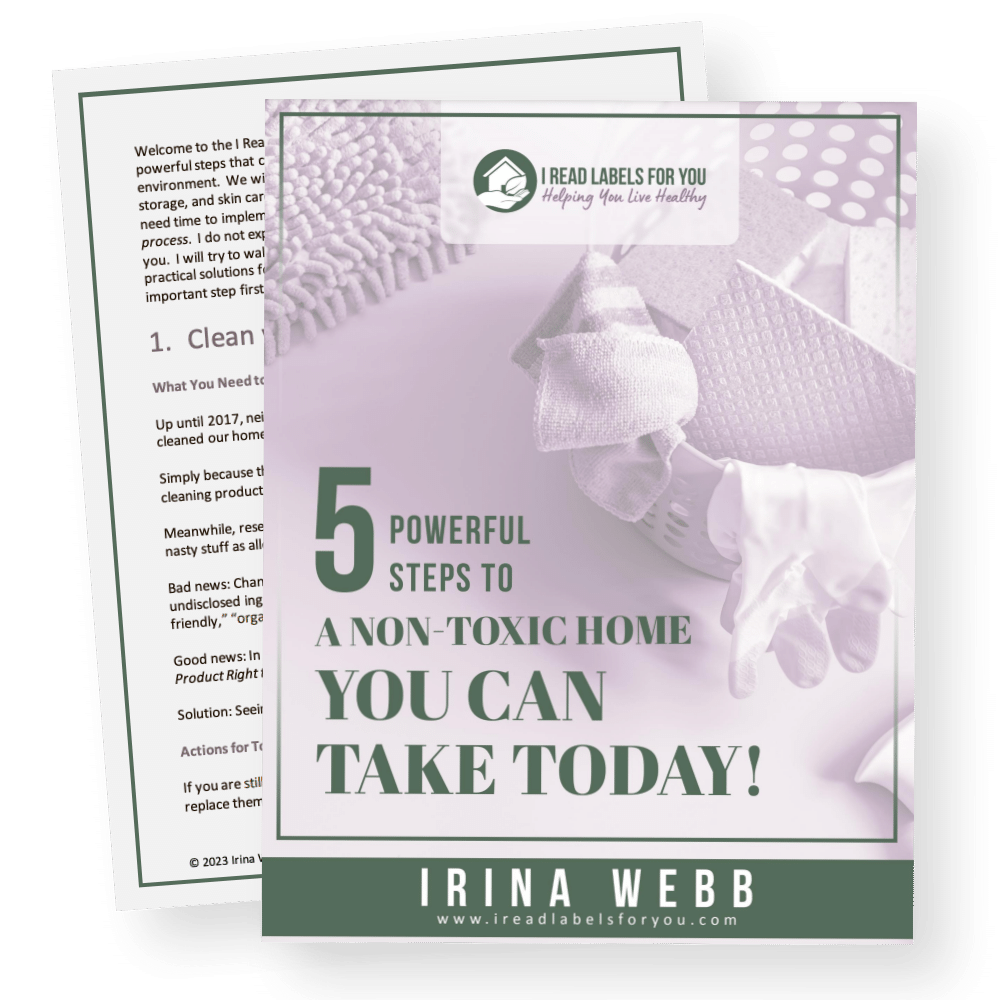 Download The Free Guide!
5 Powerful Steps To A Non-Toxic Home
Join our informed consumer community and get our free guide the "5 Powerful Steps To A Non-Toxic Home".