Update on WaterWipes Baby Wipes as of May 15, 2018
I'd like to share with you an update.  My mission is to help you make informed decisions about the products you use on your baby, on your body, and in your home.  Let me tell you what happened with WaterWipes baby wipes.
Back in 2014, when I was putting together the first edition of the Baby Wipes Rating List, I looked into the safety claims of WaterWipes baby wipes.  They used to claim that their baby wipes were made of water and grapefruit seed extract and nothing else.
Fortunately, I checked with the Skin Deep database and read a number of independent scientific studies (that you can see in the original post, quoted in full below) and learned that grapefruit seed extract may contain harmful contaminants that act as preservatives. By the way, every product containing water needs to have preservatives because water is a breeding ground for mold and bacteria.
I contacted the manufacturer of WaterWipes baby wipes and had not heard from them, so I published the post with the information I had.
After I published the original post, they contacted me and assured me that there are no contaminants in the grapefruit seed extract they use.  You can read about that in the update to the original post below.
On the one hand, I was glad that there were no contaminants.  On the other hand, I could not recommend WaterWipes baby wipes because I was concerned that they were not protected from bacteria and mold contamination, which I understand can happen as soon as they are open.  You can read more about that in the update.
Recently, I became aware of the fact that WaterWipes now discloses in the Q&A section that the grapefruit seed extract contains a small amount of a contaminant called benzalkonium chloride.  This is what they say: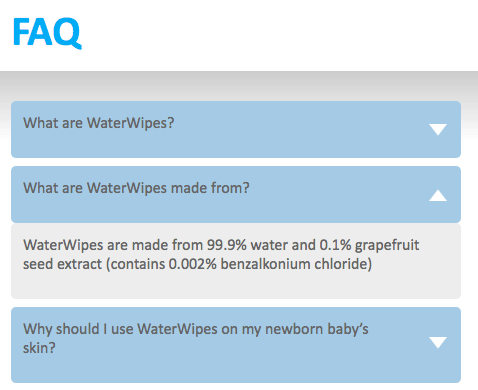 Now let's talk about the safety of benzalkonium chloride.
The chemical name of benzalkonium chloride is alkyldimethylbenzylammonium chloride (ADBAC). It is a disinfectant and can be used as an antimicrobial preservative in products.  It is a well-known irritant, and there is some evidence that it may even cause a contact allergy at concentrations as low as 0.1% (source).  It decreased fertility in both sexes of mice, even when benzalkonium chloride was just used to clean their cages (source).
Know that the amount of 0.002% claimed to be used in the WaterWipes baby wipes is 50 times smaller than the described amount in the studies. So your baby might be okay and not be impacted by benzalkonium chloride that is now finally disclosed.
However, I personally would not feel comfortable using WaterWipes wipes on my child.  My calling is to educate you so you can make your own informed and practical decisions.  I researched every single ingredient of 35 other baby wipes and published my findings in the Baby Wipes Rating List so you can decide on the go which baby wipes are the right for your baby.
Update on WaterWipes Baby Wipes as of 2014
After I published the post below, I was contacted by Irish Breeze – the company that makes WaterWipes baby wipes. The company's CEO and the person responsible for online media took time to answer all my questions, which I highly appreciate. So let me now share with you what I've learned and my conclusions.
Company's Claim: the Grapefruit Seed Extract (GSE) used in the WaterWipes baby wipes contains only three components: dried grapefruit seed/pulp, vegetable glycerin, and ascorbic acid.
What I Think: The company supplied me with step-by-step instructions on how its GSE is produced. The process made sense to me. I am glad that there are no harmful ingredients such as parabens, triclosan, or quaternary ammonium compounds (such as benzethonium chloride) that may be found in GSE.
But this also means that there are no preservatives at all in the baby wipes, which concerns me. If you're a regular reader of my blog, you know that I am not a big fan of preservatives as most of them have some controversy around them. But I said a number of times on my blog that all baby wipes have to have preservatives due to the fact they are moist, and water is a potential breeding ground for bacteria and mold.
Company's Claim: WaterWipes baby wipes are preserved with a patented preservation system that results in a sterile product before the wipe pack is open. And there is no food in WaterWipes baby wipes for germs to grow, after the pack is opened and used.
What I Think: It makes sense to me that a product can be made sterile before it is open. However, after consulting with a person experienced in microbiology and reading Amazon reviews, I am not confident that WaterWipes baby wipes remain sterile after they are open and used. I found a few reviews on Amazon in which people noticed mold growth on the wipes. Most of those people blamed themselves because they left the wipes in a hot car, or used them over an extended period of time, or transferred them into a baby wipe warmer or baby wipe dispenser.
I think that there is a possibility that WaterWipes baby wipes remain bacteria- and mold-free, if you follow strict guidelines, which are as follows: 1. Use WaterWipes baby wipes within 4 weeks of opening (write on the pack with a magic marker the date when you open them to be sure); 2. Use them out of the packaging they came in; 3. Do not leave them in the sun, in a hot car, or other hot places; 3. Carefully pull out the wipes, making sure that you are not touching the next wipe that will remain in the pack. Although I have not tested this, I have a feeling it is not easy to do that, especially when you have a crying baby at home.
Also, keep in mind that while we can see mold, we can't see bacteria growth without a microscope, so we can't be sure whether the baby is exposed to bacteria.
By the way, while reading reviews on Amazon I noticed that a lot of people complained that it is very hard to get one wipe at a time, which makes me believe that the sterile environment that the company has in mind does not work well. You should test it for yourself, though, to be sure. Your hands are not sterile; you might even have pee and poop on your hands while changing your baby's diaper. So when you touch a top wipe with your hands, you might grow dangerous bacteria in there, such as E.Coli, and possibly even give your baby a urinary tract infection.
And lastly, as an aside, WaterWipes do not contain any cleansing agents. Using water and a wipe might work sufficiently if the baby peed only. But I think with poop, using soap or some other cleanser helps a lot. The poop residue can irritate the baby's skin too.
In conclusion, while WaterWipes baby wipes are free of toxic chemicals (a fact that I love), it seems to me that using them is associated with a potential risk of exposing your baby to bacteria and mold. Let me know your experience with them in the comments.
Want to know how these baby wipes compare with others!
Original Post on WaterWipes Baby Wipes as of October 9, 2014
Many of you have asked about WaterWipes baby wipes made by Irish Breeze Ltd, a company headquartered in Ireland. WaterWipes baby wipes are advertised as absolutely safe, "99.9% water plus a tiny drop of natural ingredients." It is so hard not to get lost in the convoluted maze of unpronounceable ingredients all other baby wipes seem to have. What a refreshing difference with the WaterWipes baby wipes – just two ingredients! The company claims that there are only two ingredients in their WaterWipes baby wipes – water and a drop of Grapefruit Seed Extract (GSE). Can it really be that simple?
Sadly, no. In order to see the problem, let's delve into GSE together.
GSE in the WaterWipes Baby Wipes
To begin with, I contacted the company with some questions. They responded by stating they would have to consult their microbiologist and get back to me. Unfortunately, as of today's date. The company has not responded to me. If they do, I will let you know what they say.
Here is a simple question. If the ingredients of the WaterWipes baby wipes are that simple why do they need a microbiologist to answer questions?
First of all, when there is water in the product, some type of a preservative is needed; otherwise, mold and bacteria will grow in a few days. And you do not need to be a scientist to know that. How long can you keep cooked food in the fridge? And your dry supplies such as grains last for a long time, right? Thus, all baby wipes need a preservative, because they are all moist.
Is GSE a preservative?
A number of skin care and personal care product makers who use GSE claim that natural GSE has antimicrobial properties. On the other hand, there are a number of studies showing that natural GSE does not have antimicrobial properties whatsoever. Natural GSE is good for skin conditioning but I am not aware of any studies that conclusively demonstrate that GSE is effective as a preservative. I found many studies in the US National Library of Medicine that concluded that GSE's antimicrobial properties come from the synthetic preservative agents contained in it. (You can access the studies here, here, here, here, here, and here).
Synthetic agents found in GSE
So what are these synthetic agents found in GSE and how did they end up in it? One of the studies listed above explains that GSE is extracted with carcinogenic chloroform, a solvent, which converts grapefruit into a substance mainly composed of benzethonium chloride. Chloroform is an extremely toxic substance, rated 10 out 10 in the Skin Deep Database powered by the Environmental Working Group (EWG).
Benzethonium chloride is a quaternary ammonium compound. The European Scientific Committee concluded that it is not carcinogenic; however, it may cause skin irritation at a concentration higher than 0.1%. According to this datasheet, there is some evidence that it may cause sensitization, meaning that with prolonged use a person may become allergic to it. It is also toxic to organs but that, of course, applies to higher doses taken orally. In short, it is far from natural and innocuous substance and it should be disclosed to people who believe that they are buying absolutely natural and safe baby wipes.
In addition, according to the EWG Skin Deep Database, GSE may also contain triclosan and parabens, both of which interfere with the normal function of the body's hormone system leading to developmental and infertility problems. Triclosan, rated 7 out 10, is also bioaccumulative (accumulates in the body) and persistent (does not break down in the environment). So without any disclosure, it is hard to say whether WaterWipes contain those chemicals.
Is GSE Citricidal?
I also found an interview with a maker of GSE, the commercial name of which is Citricidal. The manufacturer says that there is nothing natural about it. The manufacturing process is proprietary and "[a]ll I am willing to offer is that we start with grapefruit bioflavonoids and convert them into a quaternary ammonium compound similar to a known, but toxic, compound called benzethonium chloride." So he claims that there is no benzethonium chloride but he is not even willing to say which quaternary ammonium compound is there instead. That does not give me a warm fuzzy feeling about the safety of GSE they are making.
Also, from the interview, it is clear that so-called GSE contains other ingredients. In the case of Citricidal, it is ascorbic acid and glycerin. So we do not know what other ingredients are in the GSE of the WaterWipes baby wipes.
Conclusion about WaterWipes baby wipes
In conclusion, WaterWipes baby wipes are not as natural as the company wants us to believe. There are undisclosed ingredients in them and we do not know what those ingredients are. WaterWipes baby wipes should not be marketed as natural so please share this post with others who might be interested to know about this.
Here is a list of posts about baby wipes
Hidden Ingredients in Baby Wipes
Huggies Baby Wipes – Safe or Toxic?
Kirkland Signature Baby Wipes and Others
Pampers Sensitive Baby Wipes: Safe or Toxic?
Products I Like – Biodegradable Baby Wipes
Products I Like – Toxin-Free Baby Wipes Not Made in China
Let's start creating a healthy home today!
When you join the I Read Labels For You community, you'll receive weekly emails with inspiration, exclusive content and coupons to gain clarity and confidence to create a healthy home. Plus, you'll get the FREE guide: "5 Powerful Steps to a Non-Toxic Home You Can Take Today!"
"I find your knowledge so helpful, to the point and like a gold mine. You have saved me so much time and have taught me so much." Toni