WaterWipes Baby Wipes: You Need to Know This!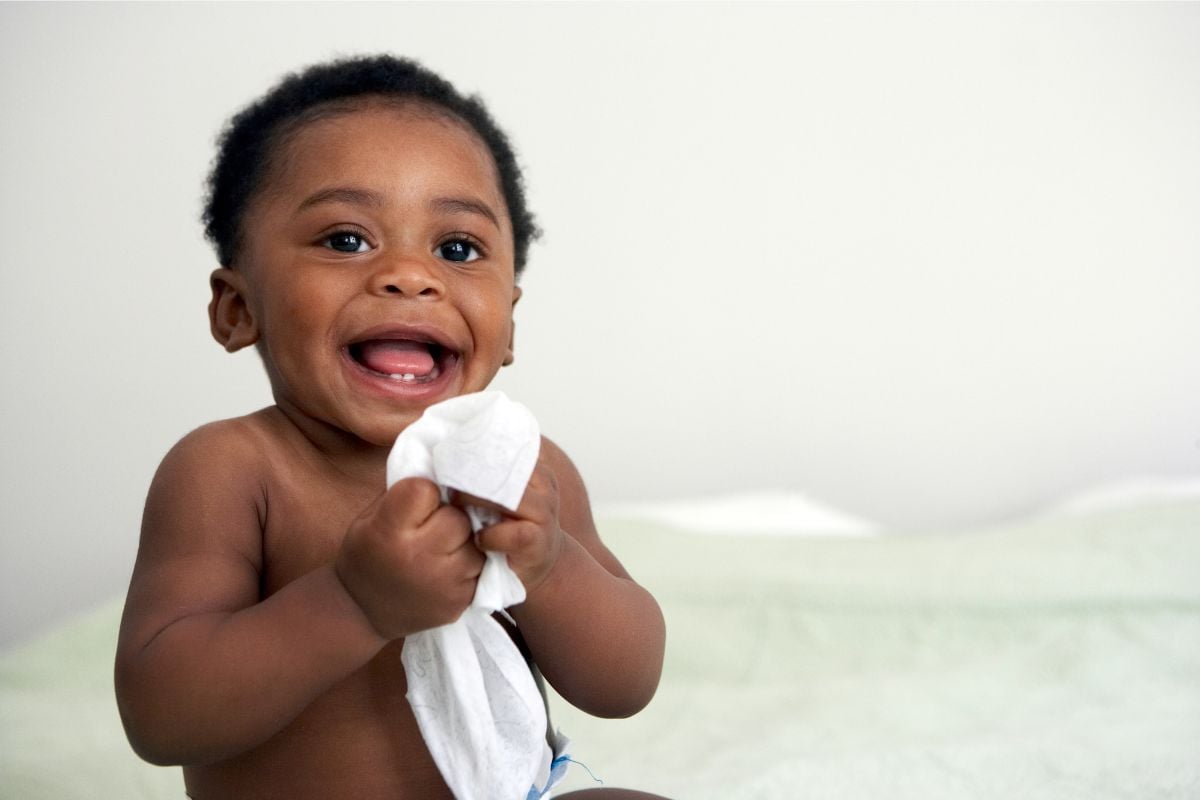 This post may contain affiliate links. To read our affiliate policy, click here.
You may have been in a situation where you wanted to do something fast but ended up spending hours and sometimes even without any result. I still remember the time when I did not know that I needed to read baby wipes ingredients. The main criterion I based the purchase of my first baby wipes was the absence of alcohol in them. Later, we got a box of Costco Kirkland baby wipes, but it took me so long to decipher their ingredients! So, I can imagine your excitement and relief seeing water wipes for babies with just two ingredients. Yay! Definitely, these two-ingredient WaterWipes baby wipes should be your final choice! Or should they?
I am about to share with you the nearly six-year history of my contacts with the company that makes WaterWipes. You can make your own decision about whether these baby wipes are for you. And I will begin with a little background.
WaterWipes Baby Wipes: You Need to Know This!
Back in 2014, when I was putting together the first edition of the Baby Wipes Rating List, I looked into the safety claims of WaterWipes baby wipes.
The brand was founded by a couple who had an allergy to chemicals and other ingredients found in traditional wipes. They set out to make their own line of baby wipes that were chemical-free. And, they were successful in creating a product that did not have any harmful chemicals in it and could be used on sensitive skin. They also claimed that their wipes were more effective than regular baby wipes because they did not contain any chemicals that would strip the skin of its natural oils or disrupt its pH balance.
I wanted to see if these claims held up when placed under scrutiny, so I conducted my own tests on WaterWipes baby wipes.
What are water wipes used for?
Water Wipes brand carries 4 different types of wipes: 2 types of baby wipes (with Sapindus trifoliatus (Soapberry) fruit extract and without), bathing wipes, and adult care wipes. The company suggests that their baby wipes are suitable for not only bottoms, but also feet, hands, and faces. This is important to note as when wipes are used on baby hands and faces, ingestion of the wipe ingredients may occur.
Further, parents seem to be using them for a variety of purposes beyond just their baby's body. While they're most often used for wiping down baby faces, hands, and bottoms, parents use them for cleaning up spills on clothing or high chairs, and even to clean up messes in the kitchen (if they have a toddler who loves to eat at the counter, for example).
Water Wipe Ingredients
The ingredient list consisted of 99.9% water. These mostly water-based wipes include a drop of grapefruit seed extract and nothing else (i.e., no petroleum-based preservatives, or even a safer preservative, like sodium benzoate).
I had a problem with that. Why? Two reasons. First, grapefruit seed extract may contain harmful contaminants that act as preservatives. Second, any product that contains water should have a broad-spectrum preservation system to prevent the growth of mold and bacteria in order to keep babies safe from infection.
Let's talk about why I had my reservations about the safety of the grapefruit seed extract to begin with. When I do my product research, I do not rely on manufacturers' claims of safety. I read medical and scientific studies to arrive at my own conclusions.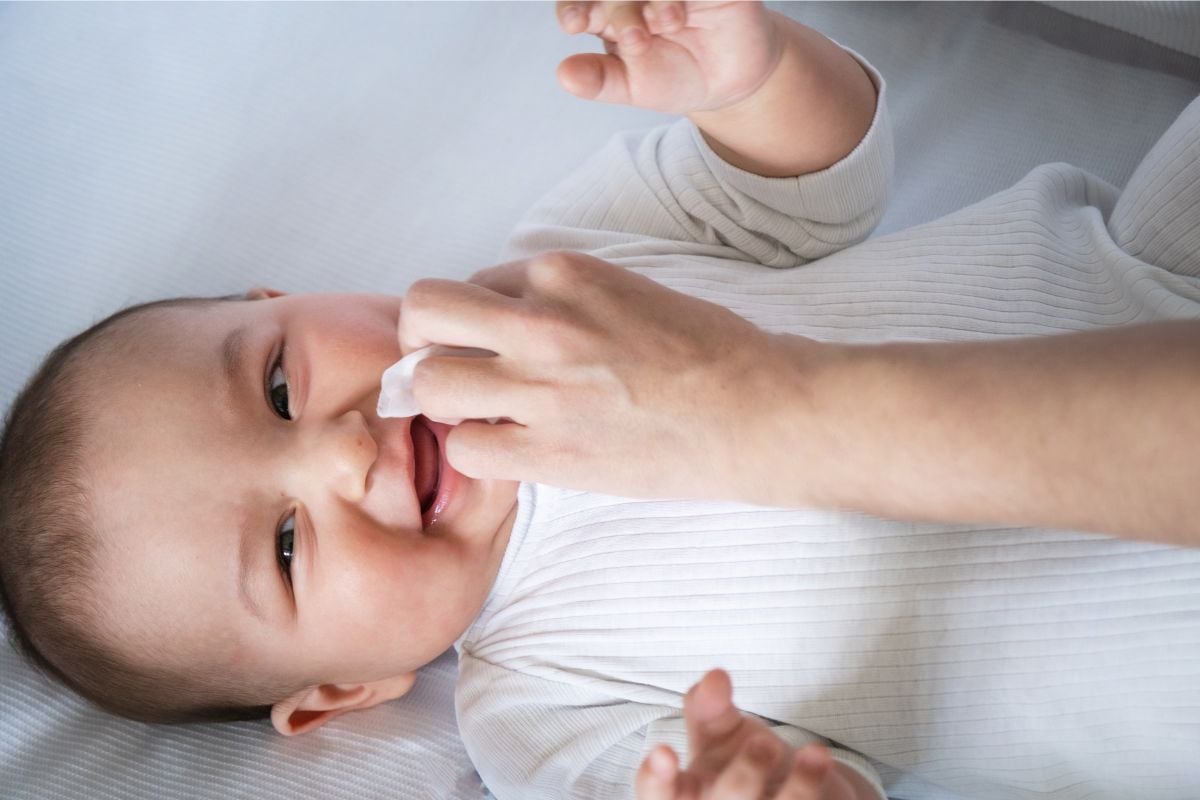 Grapefruit seed extract in these water wipes for babies
Some skincare and personal care product manufacturers who use grapefruit seed extract (GSE) claim that natural GSE has antimicrobial properties. Conversely, there are studies showing that natural GSE does not have antimicrobial properties whatsoever. Contaminant-free GSE can be a good skin conditioner, but I am not aware of any studies that conclusively demonstrate GSE as an effective preservative. The US National Library of Medicine has compiled studies showing that GSE's antimicrobial properties come from the additional ingredients in it.
Research into grapefruit seed extract as a preservative
In this study, researchers examined the antimicrobial efficacy and the content of preservative agents of six commercially available grapefruit seed extracts. They concluded that the antibacterial properties of the examined GSEs were due to synthetic preservative agents present in them.
While this study identified benzethonium chloride in commercial grapefruit seed extracts, this one found benzalkonium chloride in GSE.
This survey states that synthetic disinfectants such as benzethonium or benzalkonium salts were detected in most commercial GSE products.
Finally, this study describes a method that allowed for the simultaneous identification and quantification of the following ingredients. The study found benzethonium chloride, methylparaben, and triclosan in commercial products labeled as grapefruit seed extract.
By the way, now the manufacturer of WaterWipes baby wipes discloses on their website that there is benzalkonium chloride in their water wipes for babies.
Now let's talk about why I wanted to make sure that these wet wipes do have a sufficient preservation system.
The danger of bacteria in baby care and skincare products
Let's talk about the subject of the dangers of bacteria in products we use on the skin. Here is a short overview of the studies on the subject. True, none of the research below is specifically about water wipes for babies. But I can't afford to test the baby wipes on my son to bring the results to the public's attention. It is enough for me to know that bacteria are dangerous. And I will do what I can to avoid it.
Bacteria Research in baby care
The American Journal of Infection Control reports on an outbreak of an infection in a neonatal intensive care unit and its possible connection to a contaminated hand lotion.
The Journal of the American Academy of Dermatology describes cases of a fungal infection caused by a compromised skin lotion in patients. The patient's immune system was suppressed by chemotherapy. Two patients died and one patient had lesions in the eye and kidney resulting from the infection.
The Journal of Hospital Infection reports numerous infections among 14 babies. The infections included urinary tract infection, meningitis, septicemia, and purulent conjunctivitis. 13 of 14 babies recovered fully but one died from meningitis and septicemia. All infections were traced to contaminated baby shampoo.
By the way, WaterWipes baby wipes do not contain any cleansing agents. Using water and a wipe might work sufficiently if the baby peed only. But I think with poop, using soap or some other cleanser helps a lot. The poop residue can cause skin irritation for your baby too. And, let's not mention the presence of bacteria.
Bacteria Research in Skincare
How can we prevent contamination in cosmetic products? This article will give you an answer to this question as well as describe the most common cosmetic preservatives (read my post Phenoxyethanol in Skin Care about one of them).
Here you will find a scientific comparison of the type and level of microbial contaminants in two kinds of products – commercial cosmetics and a laboratory-prepared aqueous cream. Their preservative capacities while in use were the focal point of the study.
This microbiological study presents an analysis of health risks and the efficacy of preservative systems in skincare items during their use.
This research assessed the microbial properties and antibiotic sensitivity patterns of 15 random cosmetic products. It was discovered that most of the creams and lotions in question did not meet the official requirements. Hence, they are a potential health hazard to unwary consumers.
Head here for an in-depth review of legislation, usage, infections, and contact allergies linked to contamination and preservation of cosmetics.
Of course, the concerns over the contaminants in GSE and the sufficiency of the preservation system made me contact the manufacturer of these water wipes for babies. This is what I learned in 2014.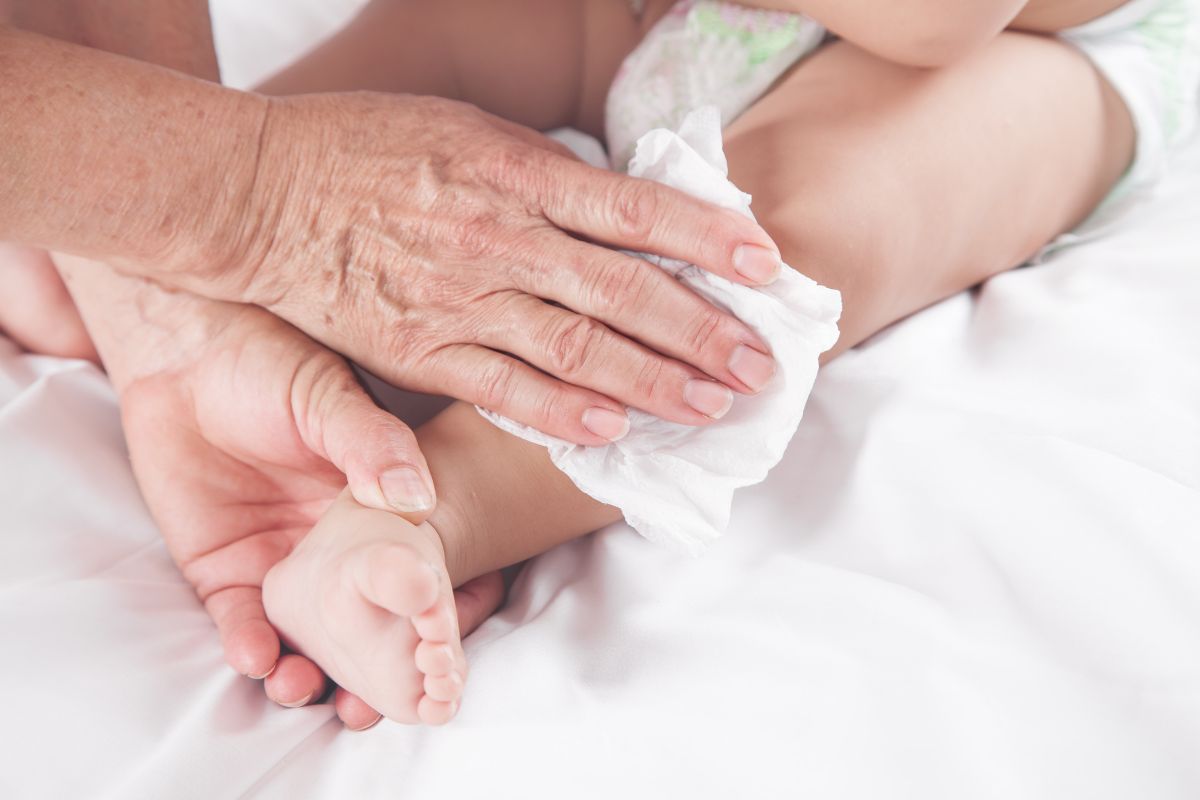 The manufacturing process of the WaterWipes baby wipes
Irish Breeze was the name of the wipes manufacturing company. The CEO and the person responsible for online media took the time to answer all my questions, which I highly appreciated.
They explained to me that the Grapefruit Seed Extract (GSE) in their water wipes for babies contained only three components. Those components were dried grapefruit seed/pulp, vegetable glycerin, and ascorbic acid. The step-by-step instructions on the GSE production process they described made sense to me.
On the one hand, I was glad that there were no harmful ingredients such as parabens, triclosan, or quaternary ammonium compounds. On the other hand, this also meant that there were no preservatives at all in the baby wipes, which was equally concerning to me. I am not a big fan of preservatives as most of them have some controversy around them. However, all baby wipes must have preservatives because they are moist, and water is a potential breeding ground for bacteria and mold. So, I voiced my concerns to the company representatives.
The preservation system of these water wipes for babies
Irish Breeze' claimed that WaterWipes baby wipes were preserved with a patented preservation system that resulted in a sterile product before the wipe pack was opened. In addition, they said that there was no food in the wipes for germs to grow, even after the opening of the pack.
I was not confident that the sterility remained when the product was being used. My conclusion got confirmed in a private consultation with a person experienced in microbiology. Just picture yourself handling your baby's soiled diaper. Can you be 100% sure that none of the waste gets on your hands, and that they remain sterile? Then, when you touch the top wipe with your hands, the dangerous bacteria, such as E.Coli, may transfer there and possibly even give your baby a urinary tract infection.
So, technically, there was a possibility that these water wipes for babies could remain free of bacteria and mold. But only if you handled them extremely carefully.
How Have Water Wipe Ingredients changed Over Time?
Today, the official website of these water wipes for babies presents their ingredients as follows: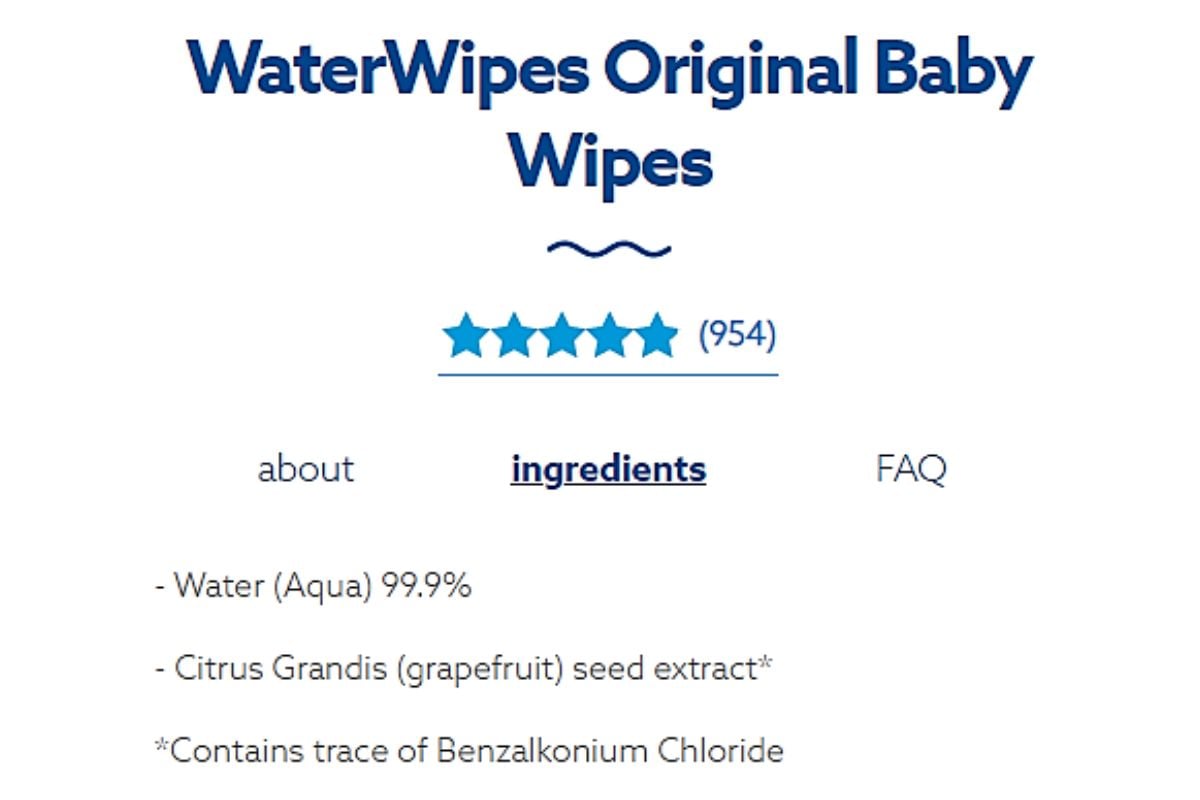 Did you notice an asterisk? Now we know that there is benzalkonium chloride. On the one hand, I applaud the manufacturer for disclosing a full list of ingredients. But on the other hand, this additional ingredient raises concerns.
By the way, all 4 type of WaterWipes include benzalkonium chloride. In addition, WaterWipes Textured Clean Baby Wipes contain Sapindus trifoliatus (Soapberry) fruit extract. This extract should produce some lather.
Let's look at benzalkonium chloride in the WaterWipes baby wipes in detail.
Benzalkonium chloride in the water wipes for babies
The chemical name of benzalkonium chloride is alkyldimethylbenzylammonium chloride (ADBAC). It is a disinfectant and can serve as an antimicrobial preservative in products. There is some evidence that this well-known irritant may cause contact allergy even at concentrations as low as 0.1% (source). Benzalkonium chloride decreased fertility in both sexes of mice, even when it was just used to clean their cages (source).
Do we know the concentration of this substance in the WaterWipes baby wipes? In today's FAQ section on the WaterWipes baby wipes website, I haven't seen this information:
Conversely, the screenshot below taken several years ago specifies the concentration of 0.002%: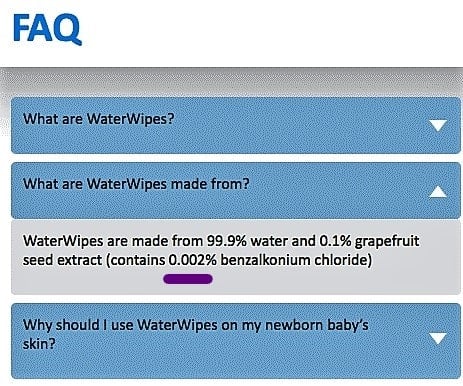 Know that 0.002% is 50 times smaller than the limit set by the Cosmetic Ingredient Review Expert Panel, a cosmetic industry organization, for people with healthy (not diseased) skin. So, your baby might be okay. Personally, I would not feel comfortable using these water wipes for babies on my child. And then the question arises about whether such a small amount of benzalkonium chloride is enough to protect these wet wipes from growing bacteria and mold.
The fact that you do not see this information on the website anymore makes me wonder: has the concentration changed, and for less or for more?
My Final Take on These Water Wipes
The home page of these water wipes for babies website states that they are "the world's purest baby wipes." However, based on my research, I politely disagree. And we even have not talked about the cloth ingredients of the wipes! If you are using them now and would like to replace them with a safer brand, there are many options for you. My calling is to educate you so you can make your own informed and practical decisions. I have researched every single ingredient (including the cloths) of more than 60 baby wipes and published my findings in the Baby Wipes Rating List. This way, you can discern the toxic baby wipes from the healthy ones! In addition, you can find out which other 3 baby wipes (besides Water Wipes) tested positive for formaldehyde by the American Contact Dermatitis Society in 2019.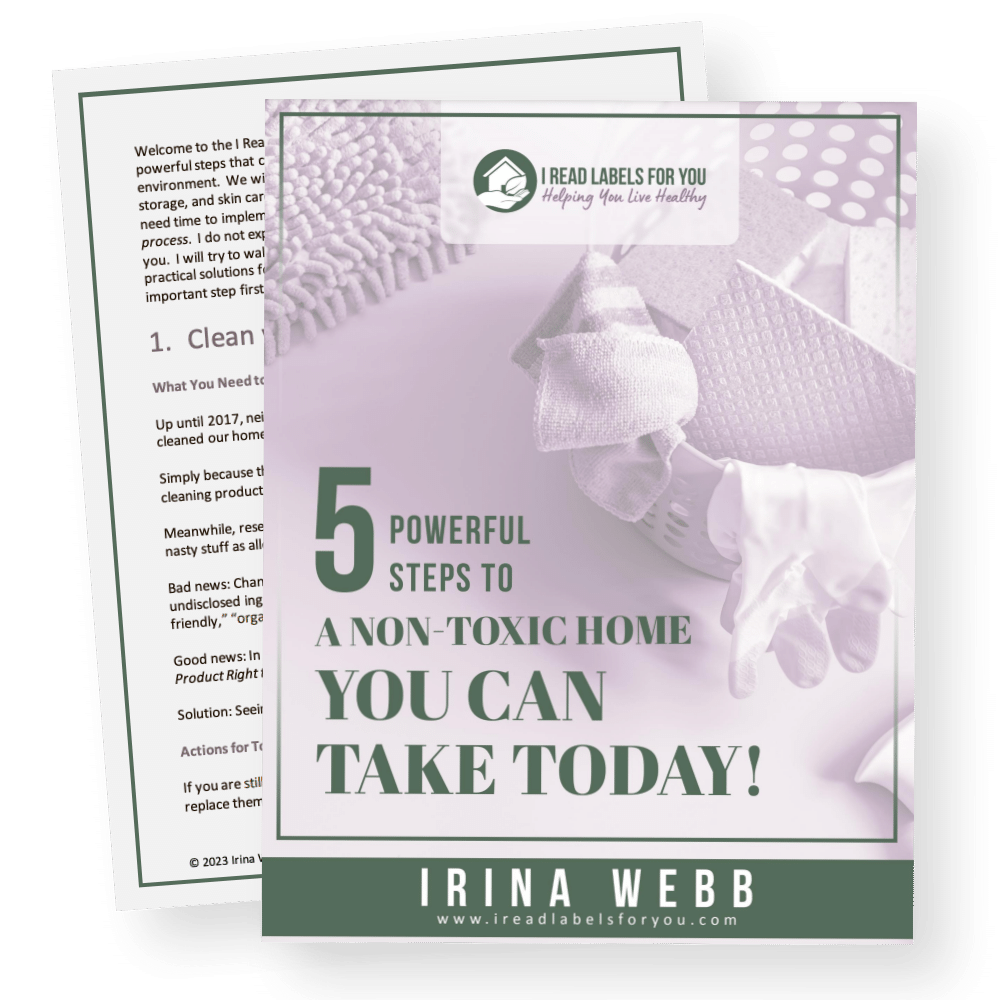 Download The Free Guide!
5 Powerful Steps To A Non-Toxic Home
Join our informed consumer community and get our free guide the "5 Powerful Steps To A Non-Toxic Home".