Hydrating Face Moisturizer That Works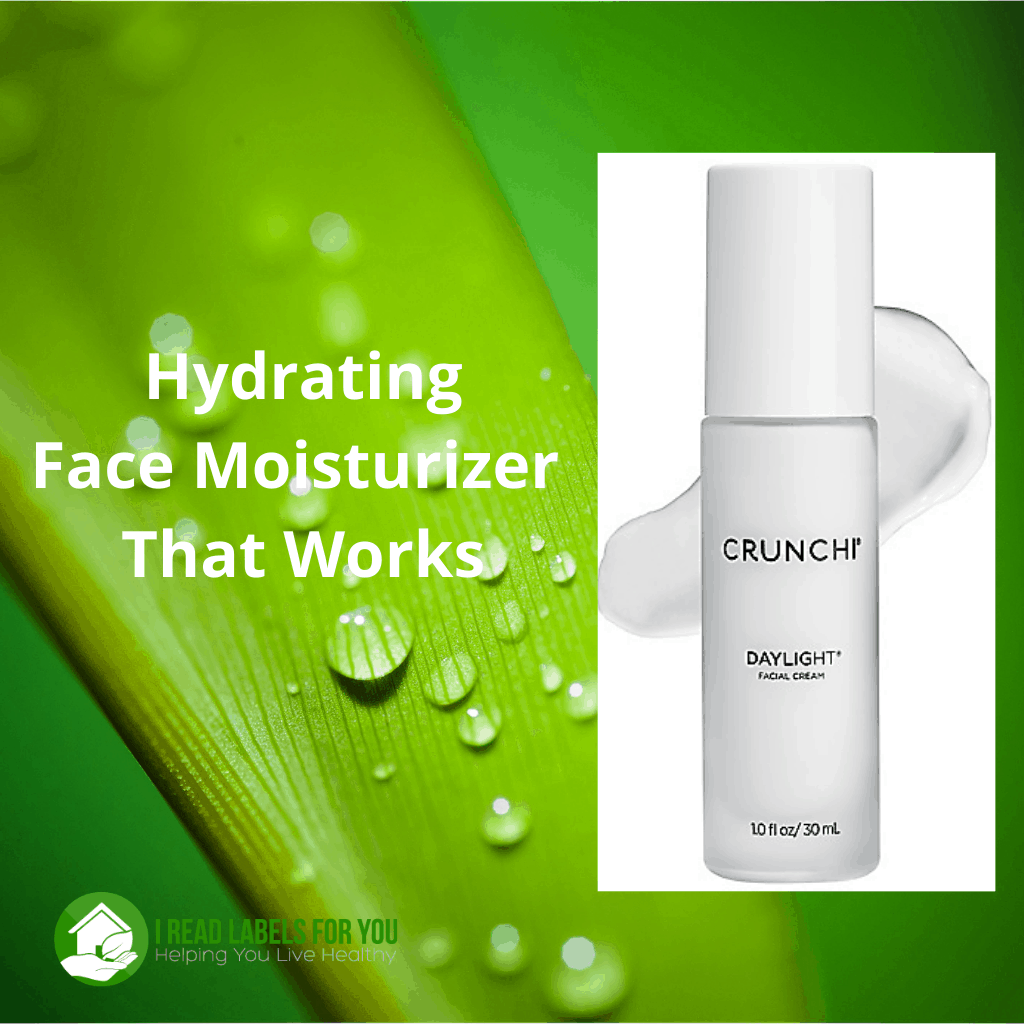 This post may contain affiliate links. To read our affiliate policy, click here.
Have you ever wondered whether hydrating the skin is the same as moisturizing it? Oftentimes, people use these words interchangeably, but these terms actually mean different things. Thus, hydrating means to bind water to the skin, while moisturizing means to prevent water from leaving the skin. For instance, oils are good at moisturizing, but you must hydrate first to get the full benefit. So, it is possible to have dry skin even if you use a moisturizer daily. In this post, you will learn about my favorite hydrating face moisturizer by Crunchi. Read on to find out which ingredients make this non-toxic moisturizer the best. And for help with taking care of dry skin, turn to my post The Best Tips for Skin Care Routine for Dry Skin.
What makes Crunchi hydrating face moisturizer special?
To begin with, there are several reasons I like Crunchi products, including Crunchi Daylight Cream.
First, I consider this Daylight Cream the best hydrating moisturizer because it contains one of the best hydrating ingredients. Specifically, it contains hyaluronic acid, aka sodium hyaluronate, which truly reduces the appearance of wrinkles. And I know what I am talking about now that I am in my forties (don't tell my husband). Another cosmetic brand that uses hyaluronic acid is Annmarie and its anti-aging serum, but I find the Crunchi cream more hydrating.
Second, it has withstood the test of time and weather. To clarify, I have been using Crunchi non-toxic face moisturizer almost exclusively since 2018. Undoubtedly, my skin looks and feels younger and has no signs of irritation or acne. Moreover, a while ago I went to the high desert whose dry climate caused my skin to get dry, too. However, thanks to the Crunchi non-toxic moisturizer, the skin on my face remained normal and looked and felt great.
Third, just like all Crunchi products, this hydrating face moisturizer is vegan, gluten-free, and cruelty free.
Lastly, if you like traditional white and fluffy creams, Crunchi Daylight Cream is white and fluffy, absorbent, and non-greasy.
Why I consider Crunchi trustworthy
The reason I trust Crunchi is that I have used its other products and have only positive impressions of them. Thus, I love Crunchi non-toxic makeup because it works. Additionally, it is made with EcoCert-certified pigments that are NOT made in China.
In addition, Crunchi is conscious about its packaging and uses mostly glass and paper. Although it is impossible to get rid of plastic altogether, the plastic Crunchi uses is BPA, BPS, and BPF-free. You can find out why plastic is such a big deal in my post about plastic plates.
Crunchi hydrating face moisturizer ingredients
Without further ado, let's look at the Daylight Cream ingredients:
Water (Aqua), Aloe Barbadensis (Aloe Vera) Leaf Juice*, Glycerin*, Montmorillonite (Mineral Water), Simmondsia Chinensis Seed Oil (Jojoba)*, Helianthus Annuus Seed Oil (Sunflower)*, Persea Gratissima Oi l(Avocado)*, Propanediol, Disteardimonium Hectorite, Polyglyceryl-2 Isostearate, Polyglyceryl-6 Polyricinoleate, Laminaria Digitata Extract, Polyglyceryl-2 Oleate, Polyhydroxystearic Acid, Polyglyceryl-2 Stearate, Chondrus Crispus Extract, Sodium Hyaluronate, Sesamum Indicum (Sesame) Seed Oil*, Tocopherol (Vitamin E), Organic Citrus Sinensis (Sweet Orange) Peel Oil*, Euterpe Oleracea (Acai Berry) Pulp Powder*, Lycium Chinense (Goji) Fruit*, Thymus Vulgaris (Thyme) Leaf*, Rosmarinus Officinalis (Rosemary) Leaf Powder*, Phenethyl alcohol, Ethylhexylglyceri. *Certified Organic Ingredients
Let me re-organize the ingredients for you to make them easier to read and understand.
Hydrating ingredients in this non-toxic moisturizer
There are several hydrating ingredients in this best hydrating moisturizer. Specifically, they are water and mineral water, sodium hyaluronate, chondrus crispus extract, and aloe vera leaf juice.
Let's talk about sodium hyaluronate, chondrus crispus extract, and aloe vera.
Sodium hyaluronate
To start with, sodium hyaluronate is the sodium salt of hyaluronic acid. It is also part of our bodies, a natural component of connective tissues such as cartilage. The Skin Deep database rates it 1 with fair safety data. In comparison to other skincare ingredients, it has the greatest capacity to hold water (source). That is why sodium hyaluronate makes the best ingredient for a truly hydrating face moisturizer.
I am so happy that Crunchi uses it now! There was a time I searched all over for a skincare product with sodium hyaluronate but without potentially allergenic or endocrine-disrupting ingredients. As a result, I found only one product which in the end turned out to be not so good.
Chondrus crispus extract
This extract is another great hydrating ingredient in this non-toxic moisturizer. A powerful sea kelp, it plumps and helps firm the skin and reduces the appearance of fine wrinkles.
It should be noted that some websites pronounce it comedogenic, meaning that it causes acne. However, they do not provide any references, so the sources of their information are unclear. As I have mentioned earlier, I have been using this non-toxic face moisturizer since 2018. Believe me, I expected to have acne because my skin can be very sensitive, but I do not have any.
Organic aloe vera leaf juice
Basically, aloe vera is a great hydrating ingredient because it reduces flaking of dry skin and restores its suppleness (source). And I am so glad that Crunchi uses organic aloe vera juice, which reduces exposure to pesticides.
Moisturizing ingredients in this hydrating face moisturizer
In addition to hydrating ingredients, there are great organic moisturizing oils, such as jojoba, sunflower, avocado, and sesame seed oils.
Consequently, there must be emulsifiers that bind water and oils together. Frequently, emulsifiers are a source of some concern.
Emulsifiers in this non-toxic moisturizer
The Crunchi best hydrating moisturizer uses the following emulsifiers: polyglyceryl-2 stearate, polyglyceryl-2 oleate, and polyglyceryl-6 polyricinoleate. They all belong to the group of polyglyceryls (poly = many and glyceryl = glycerine). That is to say, they are polymers of joined glycerine molecules.
In 2016, the Cosmetic Ingredient Review assessed polyglyceryls for safety as used in cosmetic formulations and found them safe. There is limited data on them, though. However, what gives me peace of mind is that they are EcoCert-certified and are naturally derived. In other words, there were no chemical additives in the process of derivation.
Preservatives in the Crunchi Daylight Cream
As you know, water in a product calls for preservatives to prevent the growth of bacteria and mold. While preservatives are necessary for water-based products, they are often a source of irritation and sensitization. Sensitization is an allergic reaction to the same product after a period of use.
To replace some of the harsh preservatives, manufacturers choose phenoxyethanol, to which some people can develop an allergic reaction. Personally, I neither use nor recommend any products with phenoxyethanol. You can find out why in my post about phenoxyethanol in skin care.
As for the Crunchi non-toxic moisturizer, it uses ethylhexylglycerin and phenethyl alcohol as preservatives.
Ethylhexylglycerin in the Crunchi hydrating face moisturizer
To begin with, the Skin Deep database rates ethylhexylglycerin 2 with limited safety data and irritation listed as a concern. On the other hand, it has no risks associated with cancer, endocrine disruption, reproductive toxicity, or sensitization (source). It may increase the risk of irritation, though.
Further, the Cosmetic Ingredient Review Panel found it a mild irritant in an undiluted form and not a sensitizer at a concentration of 50%.
Nevertheless, medical literature describes several cases of allergic reactions to ethylhexylglycerin. As a result, the American Contact Dermatitis Society added it to its 2017 core allergen series along with sodium benzoate and lavender oil. Sodium benzoate is another common preservative found in plant-based and natural beauty products, especially shampoos. Both ethylhexylglycerin and sodium benzoate are allergens at concentrations of 5%.
While these are some concerns, know that I have surveyed most common preservatives used by skin care product formulators. I have also consulted with product formulators on preservatives (get your Savvy Consumer Superpower to learn more about bad preservatives). Based on my knowledge of other options, I have added ethylhexylglycerin to my approved list of preservatives.
Besides, after using this hydrating face moisturizer for many months now, I have not experienced any irritation.
Phenethyl alcohol in this non-toxic moisturizer
For starters, the Skin Deep database rates it 1 with fair data on safety. A naturally occurring ingredient, it is produced by microorganisms, plants, and animals. It has been found in some natural essential oils, food, spices, tobacco, and undistilled alcoholic beverages, beers, and wines (source). The 1993 safety reassessment of phenethyl alcohol as food flavoring ingredient found it safe (source). Moreover, the World Health Organization expresses no concerns regarding phenethyl alcohol as a food flavoring ingredient at current doses (source). And the FDA approves of its use in food.
The CIR report on phenethyl alcohol
According to the CIR report, phenethyl alcohol received the GRAS status from the Flavoring Extract Manufacturers' Association (FEMA). This means that it is generally safe.
Second, in some animal tests it was slightly to moderately irritating while in others it was not irritating at all.
Additionally, 53 females used an eye remover containing 0.05% phenethyl alcohol once a day for 4 weeks. As a result, only one person developed excessive dryness and swelling. However, the scientists believe it happened due to the surfactant in the product.
Next, there were no positive reactions for skin sensitization in 25 subjects.
Thus, with the exception of this article by a skincare company, there is only positive information about phenethyl alcohol. By the way, the skincare company did not list their sources of information. Instead, they contradicted themselves by saying that phenethyl alcohol had never been assessed for safety.
In sum, phenethyl alcohol is in wide use and there is a fair amount of information on it. It is safe to use in concentrations of up to 1%. So, it does not raise any concerns regarding its use in the Crunchi hydrating face moisturizer. Besides, phenethyl alcohol is not drying because it is not a true alcohol, such as ethyl alcohol, denatured alcohol, and isopropyl alcohol. Besides, whether a product is drying or not depends on how all ingredients work together in a product.
Other ingredients in the Crunchi non-toxic moisturizer
The rest of the ingredients are glycerin, propanediol, disteardimonium hectorite, and botanicals. The latter are organic ingredients, namely laminaria extract, sweet orange peel oil, acai berry pulp powder, goji fruit, thyme leaf, and rosemary leaf powder.
As for glycerin, it is a skin conditioning ingredient and is common in creams and lotions to prevent them from drying out (source).
Next, propanediol is often confused with propylene glycol, which it is not. Unlike propylene glycol, the American Contact Dermatitis Society does not list it as an allergen. Also, I have not found any information linking it with irritation or allergic contact dermatitis. The European Chemicals Agency database does not list any concerns about it. Neither does the Cosmetic Ingredient Review Panel find it irritating, sensitizing, endocrine disrupting, or genotoxic.
Lastly, disteardimonium hectorite is based on naturally occurring clay mineral hectorite agent.
Conclusion about the best hydrating face moisturizer
In conclusion, I find the ingredients in the non-toxic Crunchi Daylight Cream safe and effective. I have been enjoying it for a long time already and hope you will try it, too. If you have already tried it, please let us know in the comments how you liked it. In addition, they carry Crunchi Night Cream whose ingredient safety is comparable to Daylight Cream's.
For help with taking care of dry skin, turn to my post The Best Tips for Skin Care Routine for Dry Skin. Also, feel free to browse my shop for non-toxic products and book a consultation with me. Finally, consider applying to our Savvy Consumer Circle to get an in-depth experience with healthy living and to have fun with the like-minded people.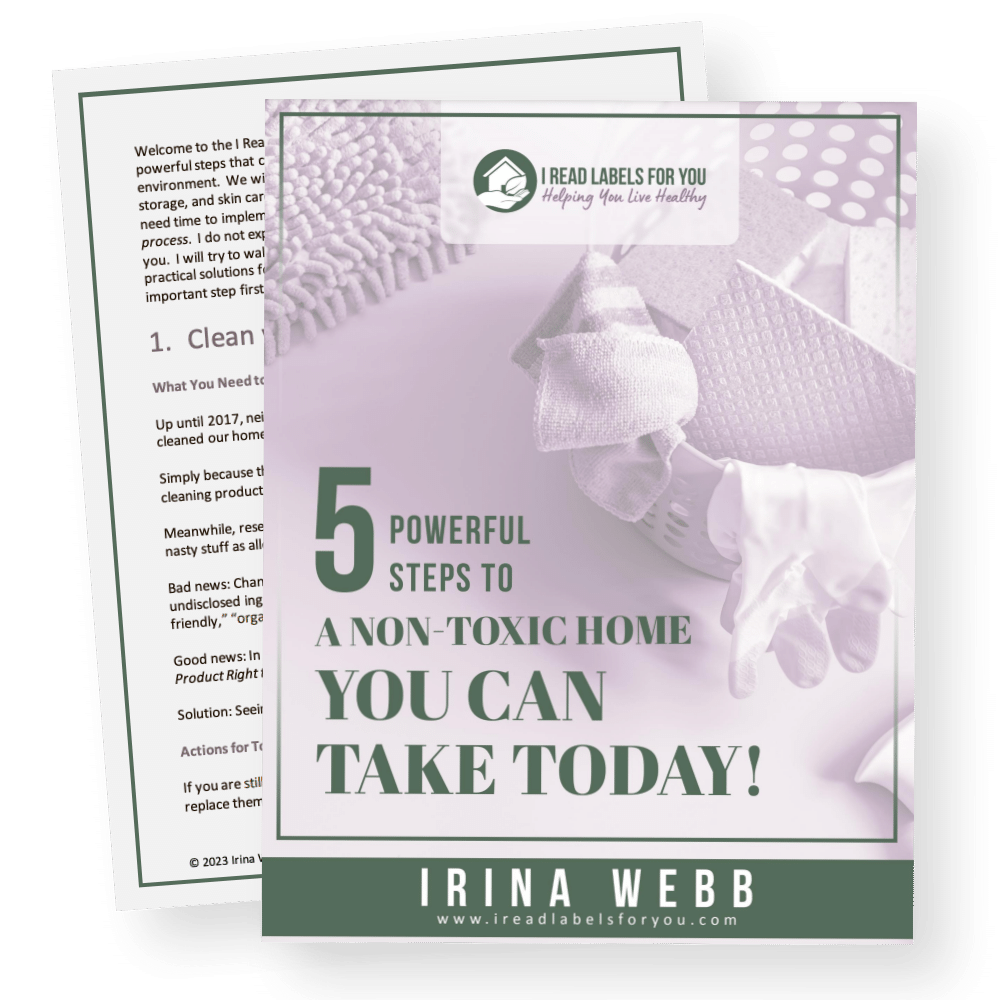 Download The Free Guide!
5 Powerful Steps To A Non-Toxic Home
Join our informed consumer community and get our free guide the "5 Powerful Steps To A Non-Toxic Home".