How to Get Clean Water in Your Home
This post may contain affiliate links. To read our affiliate policy, click here.
Today I'd like to share with you some very exciting news. There is an unprecedented service that you will be interested in learning about because it concerns clean water – an absolutely critical component of our health.
There are so many water filter systems sold today. But, how do you choose the best water filter system for you? One way is to test your water. That's why I am thrilled to tell you about this unique service.
In this modern world, some of us assume that tap water is safe. Sadly, it is not true. Many of you have heard about the Flint, Michigan water crisis. Unfortunately, high levels of lead are not unique to Michigan. Just recently, drinking water in Oakland, California turned out to be as bad and even worse than it is in Flint.
And these stories concern lead exposure. Lead is a well-known toxin affecting all organs in the body with no safe level of exposure.
Records have shown that since 2004, the water provided to 49 million Americans have had illegal concentrations of chemicals such as arsenic, dangerous bacteria, and even radioactive substances. And 20% of water treatment facilities have violated the Safe Drinking Water Act of 1974 that is the only government regulation overseeing the safety of our drinking water.
You might have seen water quality reports issued by your local municipal water facility. The first time I saw it, I needed help understanding what the report was actually telling me. When you read your local water district's report, you should keep in mind that those water quality reports are not completely unbiased as they are issued by the very facility that is supposed to do a good job at keeping your water safe. And lastly, the quality of water in the watersheds is not always representative of the water you get in your home, as the water goes through the pipes that may add contaminants (which is what happened in Flint).
If curious, you can find your local municipal water quality report here.
So, this is a pretty dim picture. What are we as consumers (and we are all consumers of water) to do to inform and protect ourselves?
Well, there's a new company that was founded to help us do just that.
I'd like to introduce you to Tap Score by SimpleWater, an unbiased service founded by a Berkeley University team of scientists, engineers, and academics who are passionate about clean water – because clean water is at the crux of our long-term health.
The process is simple. No matter where you live, you send SimpleWater a sample of your water (they will tell you how to do this). They will then test your water for over 100 contaminants (which is the highest number I have seen) and will provide you with a very easy to understand report. You won't need help reading it, but if you have questions, they are available to answer any questions you might have.
For every contaminant, SimpleWater will provide you with the most stringent maximum allowed limit they can find. If there is no official up-to-date limit, they rely on their internal expertise and partnerships with leading academic institutions. In other words, their recommendation is based solely on the potential health impact without considering how costly and inconvenient it would be to eliminate or reduce the sources of the contamination.
Moreover, the SimpleWater team of scientists and engineers created an unprecedented database of water filters that satisfy their high standards. So based on the results of your water report, they will recommend you a water filter you can use in your home. Again, they will answer any questions you might have and they welcome any feedback you might have about their service.
One more thing I like about SimpleWater is that they are absolutely unbiased. They neither sell water filters nor profit financially in any way from the sales of water filters. All their profits are generated from the sales of water testing packages. So you can rest assured that they work for you. SimpleWater wants to be your personal water manager.
SimpleWater experts are using an innovative wholesale model to bring water testing to you at affordable prices. They just launched water test packages called Tap Score Water Test at an introductory price, which they have plans to increase in the future.
Furthermore, to get a discount code, please email us.
To access an example of a Tap Score Water Test, visit here.
To view and order different water test packages, visit here.
They also have a free service where you can type your zip code and learn about local risks affecting the quality your drinking water.
In conclusion, I believe SimpleWater can provide you with the most effective way to start drinking truly clean water. I hope you will check them out!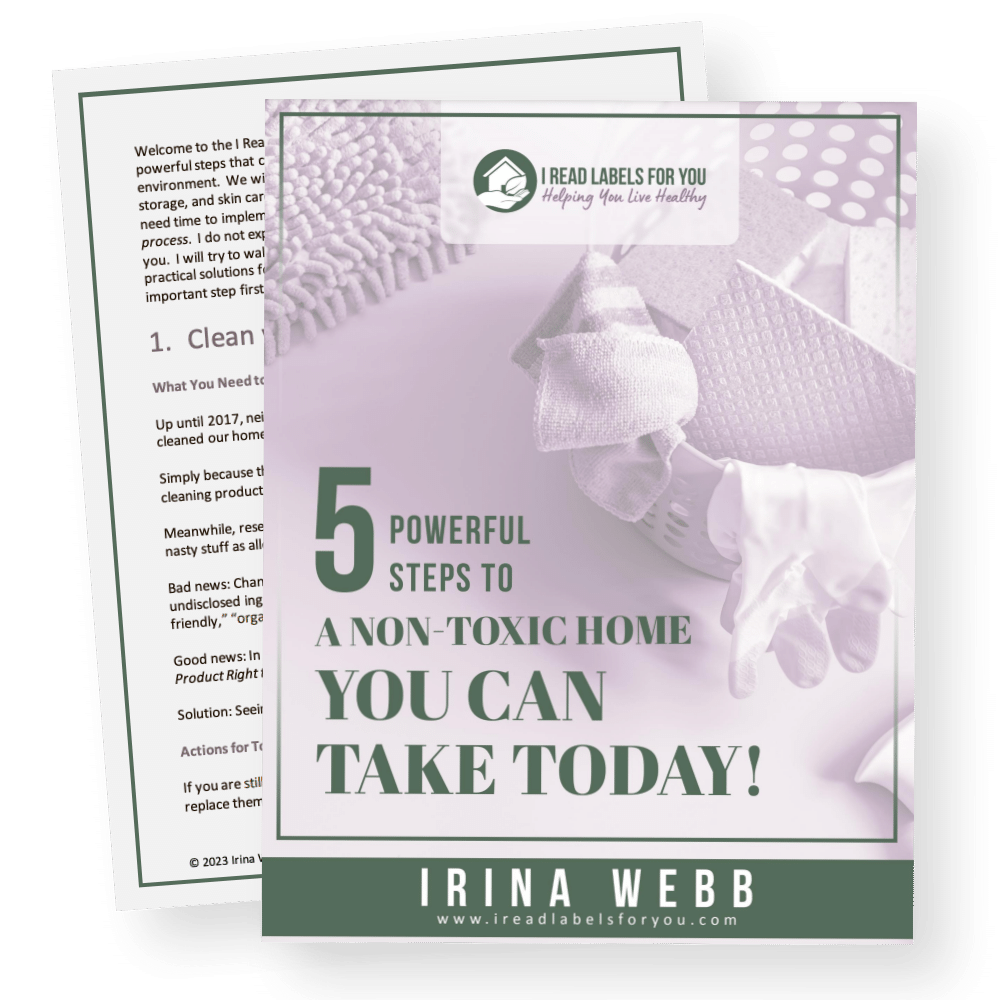 Download The Free Guide!
5 Powerful Steps To A Non-Toxic Home
Join our informed consumer community and get our free guide the "5 Powerful Steps To A Non-Toxic Home".
SaveSave