The Non-Toxic Shampoo to Know About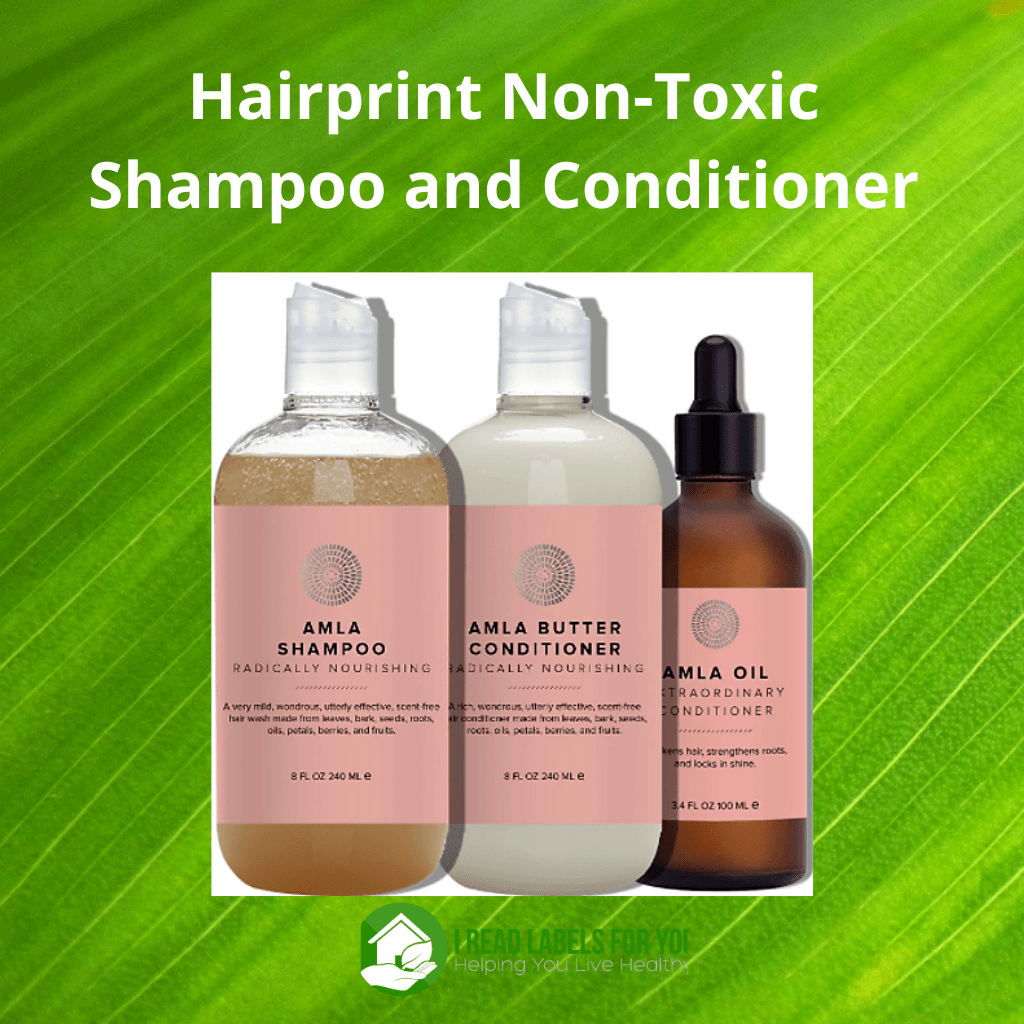 This post may contain affiliate links. To read our affiliate policy, click here.
Do you have naturally coiled and dry hair and find it hard to locate a well-performing shampoo? Well, this post about Hairprint hair wash and conditioner may help you solve this problem. In fact, I have heard multiple times from women with natural coils that Hairprint worked well for them. By the way, I have already reviewed Hairprint hair color restorer. But Hairprint also offers a variety of hair care products including anti-dandruff shampoo, chelating shampoo, and baby shampoo and conditioner. Though somewhat different in function and formulation, Hairprint non-toxic shampoo and conditioner products share the same core ingredients. Let's look into them to make sure that Hairprint plant-based shampoo and conditioner formulations are truly safe.
I made it my mission to seek and promote safe products because of my own health condition and a family tragedy.
Because I have been researching shampoos for many years now, I understand the challenges of choosing the right shampoo. Indeed, we want our hair products to be safe for both our hair and our health.
Safety and health are not just mere words for me. Actually, I have faced two serious diagnoses in my life –autoimmune diseases deemed incurable by conventional medicine. One was Hashimoto's Thyroiditis, and the other is Addison's. Much to the surprise of my conventional doctor, I recovered from Hashimoto's with the help of functional medicine. I believe that if I could cure from one autoimmune condition, I can cure from the other, too. Interested in the steps I have taken to my recovery? Please, refer to my posts Can Breast Implants Cause Autoimmune Diseases? and My Health Update After the Explant Surgery.
Additionally, my father died of metastatic cancer at the age of 57. So, I know that I must be careful about products I put on my body and use at home.
Hence, I rigorously study the body care industry using a multiple-step approach and reading tons of scientific literature. My sources include PubMed publications, CIR expert panel reports, chemical databases (e.g., ECHA and OSHA), and many more.
That said, let us put Hairprint hair wash and conditioner under the microscope.
Hairprint non-toxic shampoo ingredients
For our research, we are going to look at the ingredients of Amla plant-based shampoo. As I have mentioned, all the Hairprint herbal shampoos have the same core ingredients. By "core ingredients" I mean surfactants, emulsifiers, and preservatives. To clarify, surfactants clean and lather, emulsifiers bind oils to water and add viscosity, and preservatives prevent bacteria growth.
Generally, shampoos also contain conditioners, which, in the best-case scenario, are plant oils, extracts, proteins, panthenol, and amino acids. In the worst-case scenario, they are silicones and waxes that hide the damage and make the hair appear shiny. Additionally, most conventional shampoos contain quaternary ammonium compounds (quats). They have anti-static properties and help distribute the shampoo evenly, impart a silky feel to the hair, and ease combing.
So, here are the Hairprint Amla nourishing shampoo ingredients (source).
| | |
| --- | --- |
| Ingredient | Function |
| Water | |
| Decyl glucoside Sodium cocoamphoacetate | surfactants |
| Radish root ferment (leuconostoc radish), Coconut milk ferment (cocos nucifera) | preservatives |
| Guar gum (hydroxypropyl guar) | binder, viscosity agent |
| Citric acid | pH adjuster |
| Amla fruit extract (phyllanthus emblica), Pomegranate fruit ferment (lactobacillus/punica granatum), Rose of Jericho extract (selaginella lepidophylla), Elderberry fruit extract (sambucus nigra), Evening primrose oil (oenothera biennis), Japanese bloodgrass (imperata cylindrica), Gotu kola (tigergrass) | botanical conditioners |
Now, let's talk about them in detail.
Surfactants in Amla plant-based shampoo are gentle.
To begin with, there are two surfactants (aka cleansers) in this non-toxic shampoo: decyl glucoside and sodium cocoamphoacetate. Unlike many other surfactants, they have some safety data. They are not known to be either carcinogens, mutagenic, or endocrine disruptors. Additionally, they are mild and gentle on the hair and will not strip it of much-needed proteins and oils.
In fact, they are so gentle that they won't even irritate your eyes. As an experiment, I lathered my eyes with the shampoo, and they did not hurt when I opened them. Later that day, my friend commented on how very green my eyes looked. 😊 (I am not saying you should try this too. Just know the lengths I routinely go to for you, my readers.)
Regarding glucosides, I have nothing against shampoos with glucoside cleansers. The fact that they are very common in non-toxic shampoos drew researchers' attention to them. Thus, the Department of Dermatology of McGill University Health Center in Montreal tested 3,065 people and found that 20 of them had an allergic reaction to decyl glucoside. Given that some people are allergic even to coconut oil or chamomile, I consider this percentage too small to start telling you to avoid this ingredient. But I wanted to let you know, just in case. Actually, I have a very detailed review of glucosides – please, check it out.
A chelating ingredient in Hairprint non-toxic shampoo
Besides decyl glucoside and sodium cocoamphoacetate cleansers, the Chelating shampoo contains tetrasodium glutamate diacetate that acts as a chelating agent. Specifically, it facilitates the shedding of metals and minerals accumulated in your hair, encapsulates their molecules and whisks them away. The European Chemical Agency (ECHA) database lists no red flags in connection with tetrasodium glutamate diacetate.
It is a good idea to use this plant-based shampoo before such coloring products as Hairprint color restorer or henna. It removes buildup and increases the efficiency of these gentle products. (Visit my shop for healthy henna-based hair color products.)
Preservatives in Amla hair wash are EcoCert certified.
Occasionally, I come across manufacturers who claim they do not use any preservatives even though their products contain water. The absence of preservatives in liquid products creates a risk of contamination with mold and bacteria, which grow in water. Some bacteria are potentially harmful, especially for a compromised immune system. Find out why products without preservatives may be dangerous in my post about WaterWipes baby wipes.
The good news is that Hairprint non-toxic shampoo contains preservatives that are on my approved list. (For your information, one of the preservatives I do not approve of is phenoxyethanol.) Namely, they are radish root ferment and coconut milk ferment that utilize the self-preserving power of the fermentation process.
Moreover, they have moisturizing properties and are beneficial for the health of hair and scalp (source and source). Plus, they are both EcoCert certified and have no hidden contaminants. (Speaking of hidden contaminants, consider reading my post about hidden ingredients in cosmetics.)
Guar gum binder in Hairprint products arouses no concerns.
There is not much to say about guar gum except that it is common in food due to its thickening and emulsifying properties. Personally, I have found no indication that it poses any health risks when used topically, as it is in this plant-based shampoo.
Other ingredients in this non-toxic shampoo are beneficial to hair and scalp.
First, citric acid is a popular ingredient in personal care and skin care products. For example, in my Baby Wipes Rating List you will see that every wipe formulation has citric acid in it. Citric acid is important to regulate the pH of a product, and its quantity is usually very small. (Consider reading my post about the combination of citric acid and sodium benzoate.)
Second, the botanicals in this hair wash serve conditioning and nourishing functions. I wish they were organic, though.
Various hair wash formulations
The Hairprint herbal shampoo formulations differ in the plant oils and extracts used.
Thus, the Amla nourishing shampoo contains Amla fruit extract whereas the Wild Plum revitalizing shampoo contains Kakadu plum extract. In addition, the Wild Plum plant-based shampoo has hyaluronic acid which is beneficial for hydration.
Further, the Wash and Grow shampoo contains biotin and niacinamide that may help restore thinning hair. And the Marine Bio-Active shampoo has Wakame algae bioferment that helps increase the strength of follicles and reduces excess sebum.
For a problematic scalp, try the Anti-Dandruff shampoo that has anti-inflammatory white willow bark extract and healing zinc complex.
As for the Plant Baby shampoo, it has much fewer ingredients featuring Calendula extract and the same core ingredients.
The rest of the botanical ingredients that you see in the table above are in every Hairprint herbal shampoo formulation.
And that's it! I like the fact that Hairprint uses no essential oils and very few ingredients, which minimizes the risks of sensitivities. Especially when it comes to babies, I think it is best to use products with not too many ingredients.
Hairprint conditioner ingredients
Just as non-toxic shampoo products, Hairprint conditioners have the same core ingredients. They are leuconostoc radish and cocos nucifera ferment, trehalose, brassicyl isoleucinate esylate, and PCA glyceryl oleate.
First, the preservation system in the conditioners is the same as in the plant-based shampoo. That is to say, it is a combination of EcoCert certified radish root ferment and coconut milk ferment. They work by the self-preserving power of the fermentation process.
Second, trehalose is a kind of plant sugar that functions as a humectant and moisturizer.
Third, brassicyl isoleucinate esylate has no safety data, but I am not too worried about that. This is a relatively new ingredient developed for natural products and derived solely from fermentation and plant materials. Functionally, it delivers manageability and silkiness to the hair without coating it. I consider it a better alternative to quaternary ammonium compounds.
Next, PCA glyceryl oleate reduces static and helps with combing wet hair without making it greasy. There is hardly any research on this ingredient, but the European Chemicals Agency (ECHA) lists no hazards (CAS number 84608-82-2). I also ran it by a chemist who said that it is essentially a partially saponified triglyceride, a type of fat found in our blood (source). Though we do not know whether it is an irritant, I am willing to take my chances.
Finally, the other ingredients are botanical extracts and oils beneficial for scalp and hair.
All in all, I believe that the ingredients of Hairprint conditioners are safe to use.
Performance-wise, Hairprint non-toxic shampoo and conditioner products may be not for everybody.
For starters, chemically colored hair may have a hard time transitioning to this natural plant-based shampoo. To clarify, chemical hair color (even ammonia-free hair color) may damage hair and cause it to need coating to hide the damage. The need for this coating might not let this hair wash do its job effectively.
Personally, I find Hairprint herbal shampoo and conditioner products too heavy for my hair. I like volume and lightness in my hair. In other words, I prefer it airy and even fuzzy rather than flat and greasy. My team member says the same about her experience with Hairprint non-toxic shampoo and conditioner. So, these products do not work for us.
On the other hand, my friends and clients with naturally coiled hair deem Hairprint hair care products very effective. Indeed, they say that their thick and frizzy hair needs some heaviness to ease the frizz. So many people, so many minds. And that is awesome! Don't you just love it how different and unique we all are?!
Conclusion about Hairprint plant-based shampoo and conditioner products
In sum, in my opinion, the ingredients of Hairprint hair care products are not only safe but also healthy. They are literally like food for your hair and scalp. Make sure to leave them on for a few minutes for the nutrients to have time to work and absorb. You can purchase them on the Hairprint website. As a matter of fact, for extra conditioning, Hairprint offers a variety of hair oils, too.
As always, I invite you to join my Savvy Consumer Circle. It is a fun place to learn and share your finds and knowledge about non-toxic products and receive my guidance. And, of course, you are welcome to contact me for assistance, and check out my shop and e-books.
/SaveSave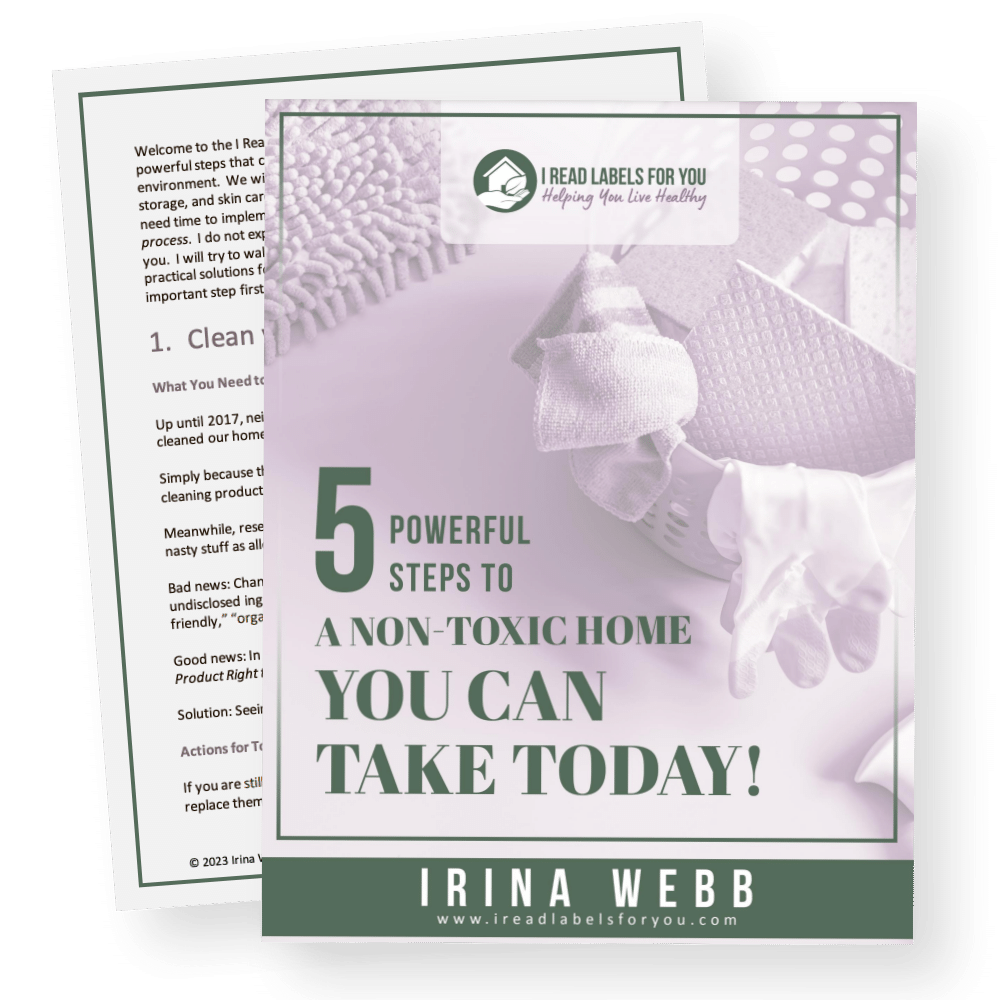 Download The Free Guide!
5 Powerful Steps To A Non-Toxic Home
Join our informed consumer community and get our free guide the "5 Powerful Steps To A Non-Toxic Home".