Innersense Shampoo Ingredients Review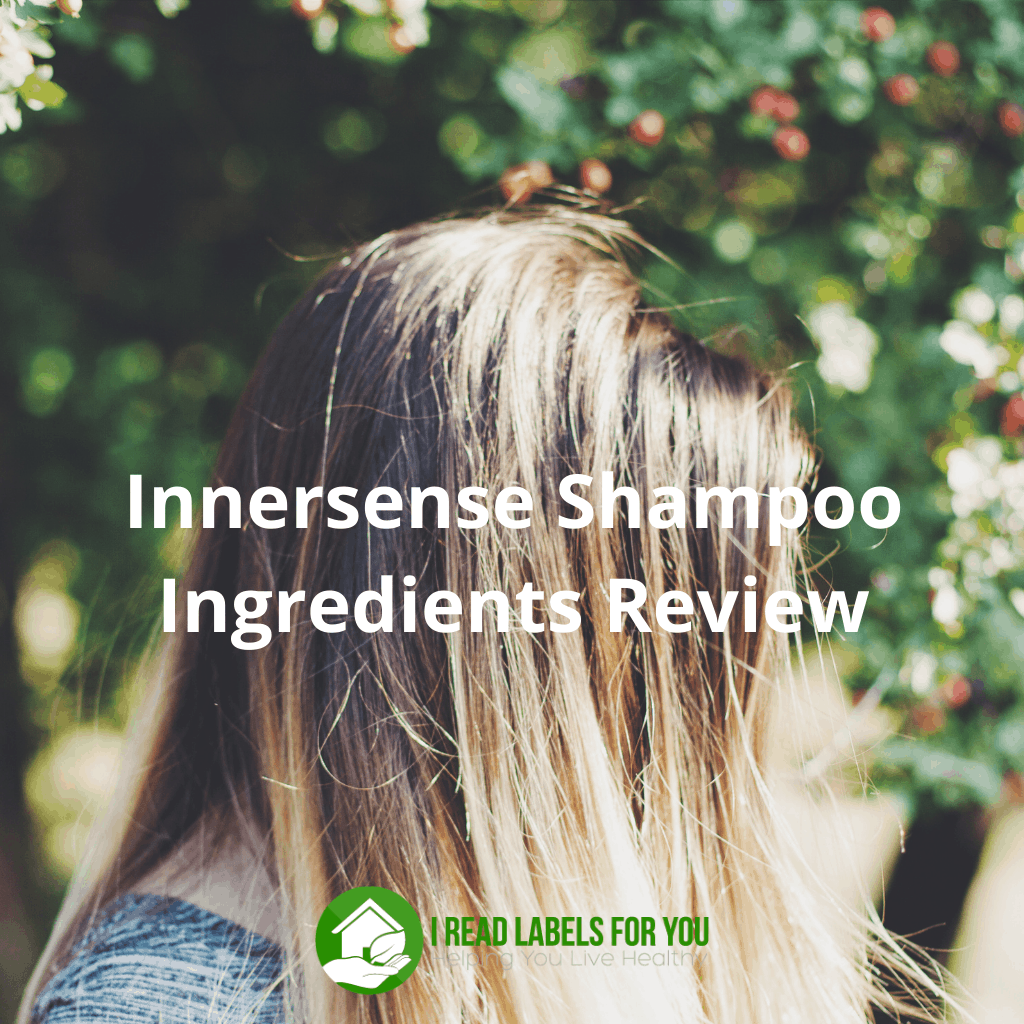 This post may contain affiliate links. To read our affiliate policy, click here.
How do you choose a shampoo? For example, you can go by looks, familiarity, price, recommendation, habit, performance, and/or advertisement. And how should you choose a shampoo? The answer is – by ingredients. I have been reading shampoo ingredients since 2012 and published my study of over a hundred shampoos. It will help you choose a shampoo based on your risk tolerance level, skin sensitivity, performance requirements, and hair type. One of the shampoos in the study is Innersense Pure Harmony Hairbath. In this post, you will learn whether the Innersense shampoo is safe based on its ingredients, not hype or advertisement.
Innersense Pure Harmony Hairbath ingredients
As of September 2020, the Innersense shampoo ingredients are as follows (source):
Water, Aqua- EAU, Cocamidopropyl Hydroxysultaine, Sodium Cocoyl Isethionate, Caprylyl/Capryl Glucoside, Glycerin, Sodium Chloride, Sodium Lauroyl Methyl Isethionate, Butyrosepermum Parkii (Shea Butter), Citrus Aurantium Dulcis Peel Oil (Orange), Citrus Medica Limonum Peel Oil (Lemon), Eucalyptus Globulus (Eucalyptus), Cucurbita Pepo Seed Oil (Pumpkin)*, Hydroxypropyltrimonium Honey, Hydrolyzed Quinoa, Trisodium Ethylenediamine Disuccinate, Sodium Benzoate, Hydrolyzed Rice Protein, Guar Hydroxypropyltrimonium Chloride, Persea Gratissima Oil (Avocado), Oryza Sativa Bran Oil (Rice), Camellia Sinensis Leaf Extract (Green Tea)*, Cucumis Sativus Fruit Extract (Cucumber), Persea Gratissima Fruit Extract (Avocado)*, Mangifera Indica Fruit Extract (Mango)*. *Certified Organic
There are three main categories of ingredients that will help you understand if a shampoo is safe and performs well. Specifically, they are surfactants (aka cleansing agents), conditioners (aka coating agents), and preservatives.
Surfactants in the Innersense shampoo
To begin with, surfactants produce lather and make your hair and skin clean. Normally, you can see them at the top of the ingredient list. When I was researching shampoos for my shampoo rating list, I compiled a list of about 100 popular surfactants.
Undoubtedly, it is quite challenging to find a shampoo with surfactants that have absolutely no health concerns. Indeed, most surfactants have limited safety data or no safety data at all. And we know some of them as allergens, irritants, and even carcinogens. Some surfactants, such as sulfates, can be stripping and drying on the hair. So, it is good that Innersense Pure Harmony Hairbath is sulfate-free.
Although some surfactants are made from coconut, it is not as appealing as it may sound. To clarify, the long process of derivation calls for so many potentially harmful chemical additives that it does not really make a huge difference what the starting point was. For instance, cocamide DEA is derived from coconut, but it is on the California Proposition 65 List for causing cancer.
With this in mind, let's take a close look at the four surfactants in the Innersense shampoo. Namely, they are:
cocamidopropyl hydroxysultaine
sodium cocoyl isethionate
sodium lauroyl methyl isethionate
caprylyl/capryl glucoside.
Cocamidopropyl hydroxysultaine
To start with, the EWG Skin Deep database rates this surfactant 1 with limited data (on a scale from 1 to 10, with 10 as the most toxic). However, I think it should get a higher rating, so I rate it 3, and here is why.
First, "with limited data" means that there are not enough studies to make a confident conclusion about its safety.
Second, it is a close relative of cocamidopropyl betaine which the American Contact Dermatitis Society pronounced the Allergen of the Year in 2004.
Like cocamidopropyl betaine, cocamidopropyl hydroxysultaine may contain a residue of the chemical called 3,3-dimethylaminopropylamine (DMAPA). The chemical is a sensitizer, meaning it can cause an allergic reaction long after the first use. Consequently, the Cosmetic Ingredient Review Panel has encouraged manufacturers to minimize the residue amount of DMAPA. As a result, sensitization to cocamidopropyl hydroxysultaine is relatively rare. It is considered a gentle surfactant. You can read more about cocamidopropyl hydroxysultaine and cocamidopropyl betaine in my post about their safety.
Sodium cocoyl isethionate in the Innersense Pure Harmony Hairbath
Like cocamidopropyl hydroxysultaine, it is considered a gentle surfactant and rated 1 with limited data by the Skin Deep database. In addition, a 2017 Cosmetic Ingredient Review (CIR) report states that scientists found it non-mutagenic and non-sensitizing. Also, it caused no birth defects in animal studies, so scientists found it non-irritating or slightly irritating. Even when they fed it to rats in high doses, they found it practically non-toxic (source). However, it has not been evaluated for cancer risks.
Sodium lauroyl methyl isethionate in the Innersense shampoo
This is yet another surfactant with limited data and a rating of 1. Obviously, it is a close relative of sodium cocoyl isethionate that we discussed above. The difference is that sodium cocoyl isethionate is the sodium salt of the coconut fatty acid ester of isethionic acid. And sodium lauroyl methyl isethionate is the sodium salt of the methyl lauric acid ester of isethionic acid.
Further, sodium lauroyl methyl isethionate belongs to the group of 12 isethionate surfactants described in the 2017 CIR safety report. There is not much information about sodium lauroyl methyl isethionate in this report, though. Nevertheless, the CIR Panel believes that its safety profile should be similar to that of sodium cocoyl isethionate due to the shared core chemical structure (source).
Caprylyl/capryl glucoside
This surfactant in the Innersense Pure Harmony Hairbath belongs to the group of 19 glucoside surfactants. On the one hand, there are not many safety data on individual glucosides. But on the other hand, their usage and chemical similarities suggest that their safety profile is similar, too. Due to their mildness, glucosides are popular surfactants and are generally safe. Because they are not irritating to the eyes, they are common in baby shampoos.
At first, the 2013 CIR report concluded that the risk of irritation was small, and they were not sensitizers. Then, however, there appeared reports from dermatologists pointing out that glucosides could cause allergic contact dermatitis (source). Thus, in some patch tests, 0.25% of patients had a reaction to glucoside surfactants. And in other patch tests, the number of patients was as high as 5%. Therefore, unlike the Skin Deep database who rated it 1, I rate it 2. You can read more about glucosides in my post about them.
All in all, I believe the Innersense shampoo has some of the safer and more gentle surfactants. Yet, there is a risk of irritation and sensitization increased by the presence of four surfactants versus one or two.
Conditioners in the Innersense sulfate-free shampoo
To begin with, conditioners that coat the hair make a big difference in how a shampoo can perform. The reason is that they add smoothness and volume, prevent frizz and static, and bind moisture to the hair. As a rule, chemical coloring damages hair and makes it porous. Hence, it requires the help of these coating agents.
The conditioners in the Innersense Pure Harmony Hairbath are as follows:
hydroxypropyltrimonium honey
guar hydroxypropyltrimonium chloride
hydrolyzed rice protein
hydrolyzed quinoa.
Hydroxypropyltrimonium honey
While the CIR Panel has not assessed it for safety yet, manufacturers use it widely in so-called "natural" shampoos. However, by looking at its components separately, I think it should be okay.
They make it by adding a quaternary ammonium chemical to honey to convert it into a quaternary ammonium compound. In turn, the quaternary ammonium compounds and the hydroxypropyltrimonium components have been assessed for safety. Let us look at one of them next.
Guar hydroxypropyltrimonium chloride in the Innersense shampoo
First, the 2015 CIR report found guar hydroxypropyltrimonium chloride to be non-genotoxic and neither sensitizing nor irritating.
Second, outside of the CIR report, I have not found any studies linking it to irritation or allergic reactions, either.
Third, it has a rating of 1 with limited data in the Environmental Working Group's Skin Deep database.
In my review of commonly used quaternary ammonium compounds, I find guar hydroxypropyltrimonium chloride one of the safest ammonium compounds.
Hydrolyzed rice protein
This ingredient is a hydrolysate of rice protein derived by the method of hydrolysis. Generally, hydrolyzed ingredients are very popular in so-called clean shampoos and conditioners. To clarify, they coat the hair, binding moisture to the hair and increasing its volume. I guess the Innersense Pure Harmony Hairbath formulation has it for the same reasons.
According to the 2006 CIR report, there are no safety test data available for hydrolyzed rice protein. Nonetheless, we can infer its safety from rice extracts.
Thus, the EWG Skin Deep database notes pesticides as a concern if the rice is not organic. What is not noted is arsenic. I assume that this ingredient can be contaminated with arsenic because rice is known to be contaminated with arsenic (source). Additionally, hydrolyzed rice protein is considered hypoallergenic.
Hydrolyzed quinoa
Lastly, the fourth conditioner in the Innersense shampoo is hydrolyzed quinoa, which is a hydrolysate of quinoa. While there are no safety data available for it, other hydrolyzed ingredients are considered safe. Also, since quinoa is not known to be contaminated with arsenic, we can assume that it is okay to use it.
In sum, I believe the hair coating ingredients in the Innersense sulfate-free shampoo are some of the safest. So, it should make your hair look good.
Preservatives in the Innersense Pure Harmony Hairbath
As you know, any product with water must contain preservatives to prevent it from bacteria and mold growth. The Innersense sulfate-free shampoo has the following preservatives:
trisodium ethylenediamine disuccinate
sodium benzoate.
Trisodium ethylenediamine disuccinate
This chelating agent improves the efficacy of sodium benzoate, which we will talk about next. According to this Australian report, it is neither a skin irritant nor a sensitizer. Per the in vitro and in vivo tests, it is non-mutagenic, too. Also, it has low acute oral and dermal toxicity.
Sodium benzoate in the Innersense shampoo
First, sodium benzoate has a rating of 1-3 in the Skin Deep database and fair data. Definitely, it is popular with so-called natural and organic shampoos and conditioners.
Second, it is a common food preservative. While I highly recommend avoiding processed food made with preservatives, the EWG indicates that sodium benzoate's toxicity is low.
Also, in case you were wondering, it does not produce benzene when in reaction with citric acid. That is to say, it may produce benzene under certain conditions if reacted with ascorbic acid, but not citric acid.
Next, in concentrations over 5%, sodium benzoate may cause an allergic reaction in some sensitive people (source). At the same time, I have no information about its concentration in the Innersense sulfate-free shampoo.
In short, while sodium benzoate is not perfect, considering the alternatives, it is one of the safer preservatives. I also rated it 3. True, some non-toxic shampoos use preservatives with a rating of 1. On the other end, some manufacturers use preservatives with a rating as high as 10.
Conclusion about the Innersense Pure Harmony Hairbath
In conclusion, in my shampoo rating list, I qualify its safety level as "good" (while "very good" is the safest). This sulfate-free shampoo should work well for chemically colored, damaged, and curly hair, in my opinion. In fact, to my DevaCurl shampoo review, many people have responded that they like using the Innersense shampoo for their curls. (Actually, for curly hair, Innersense recommends their hydrating shampoo.) Thus, if you are okay with the potential health concerns, go ahead and try this sulfate-free shampoo.
Please know that all Innersense shampoos are very concentrated. Using too much of it can result in wasting the product and even stripping the hair of natural oils. For better results, Innersense recommends rubbing a small amount of shampoo between your hands before applying it to wet hair.
Finally, check out my shop for safe products and book a consultation with me if you need any help. Also, join the Savvy Consumer Circle for better results with healthy living.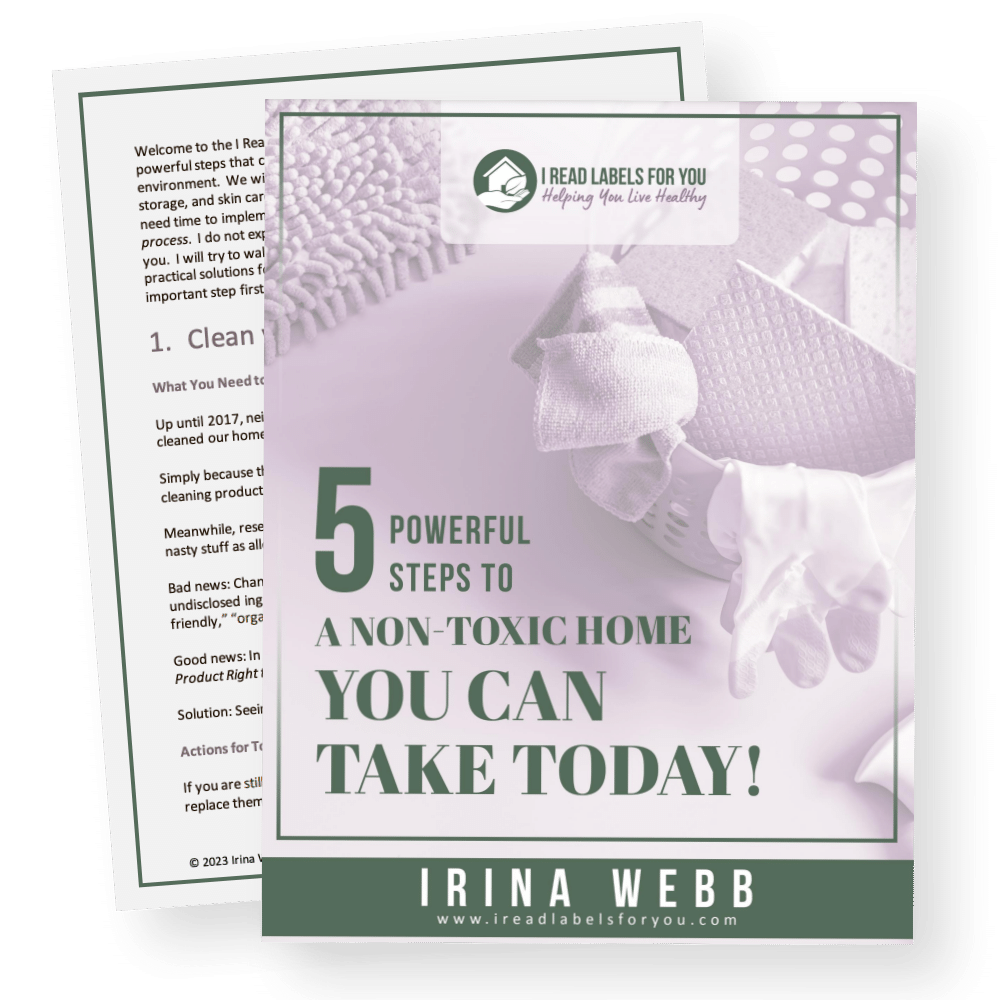 Download The Free Guide!
5 Powerful Steps To A Non-Toxic Home
Join our informed consumer community and get our free guide the "5 Powerful Steps To A Non-Toxic Home".