How Safe is this Sulfate-Free Color-Safe Shampoo?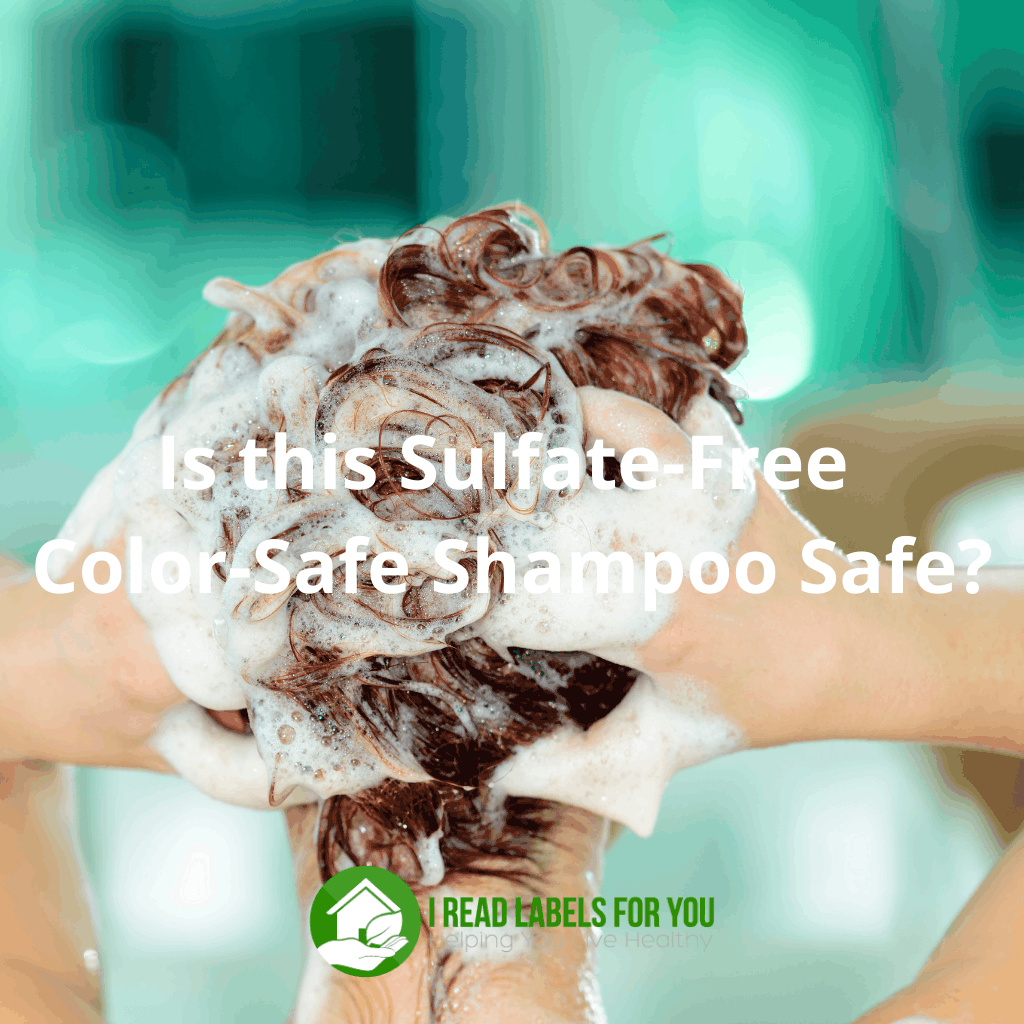 This post may contain affiliate links. To read our affiliate policy, click here.
The hair product brand we will talk about today was a popular request for my Shampoo Rating List e-book. In my list, Evolvh UltraShine Moisture shampoo and conditioner take a middle position between "good" and "proceed with caution." So, let us take a closer look at the ingredients of the Evolvh sulfate-free color-safe shampoo and UltraShine Moisture conditioner. The brand uses the same core ingredients, such as preservatives, surfactants, and coating agents, across their well-performing haircare product line. Therefore, in a way, we will talk about the whole brand. As a preview, their haircare products contain no ingredients of great concern. Yet, they use a few ingredients that I would like to pay attention to. Read on to find out which ingredient in Evolvh hair products causes some controversy and my opinion about that.
My opinion about the safety of ingredients is based on thorough research.
I began researching consumer products and ingredients in 2012 when I was expecting my son. Actually, it all started with me looking for a safe baby shampoo. Nowadays, my research includes products ranging from skincare, makeup, cookware, water filters, and clothes, to mattresses and even furniture. You can find my posts on these subjects by typing the keyword into the search bar on my website.
Anyway, what started as a hobby turned into a full-time occupation that I love. Yes, I enjoy researching product ingredients and reading scientific studies on them. I turn to such credible sources as Cosmetic Ingredients Review panel reports, PubMed scientific publications, and the European Chemicals Agency, to name a few. Also, I consult the EWG, but one must know how to use the Skin Deep database the right way.
Before writing a product review, I thoroughly study every ingredient to form my opinion about its safety. It is important to note, though, that there is no 100% safe product for everybody because everyone's health is different. In fact, some of my clients have even had allergic reactions to seemingly mild chamomile, coconut, and avocado.
As of today, I see no ingredients of great concern in the Evolvh sulfate-free color-safe shampoo and other product formulations. But know that it is quite common for manufacturers to change ingredients, so I encourage you to read labels. (This is the reason I regularly update my rating list e-books.)
Evolvh sulfate-free color-safe shampoo and other haircare product formulations are free of fragrance and ethoxylated ingredients.
I like the fact that Evolvh hair products avoid fragrance and ethoxylated ingredients for the following reasons.
First, when you see the word "fragrance" among a product's ingredients, remember that it is not just one ingredient. Rather, it is a mix of undisclosed ingredients which do not have to be disclosed under US law. According to the International Fragrance Association, manufacturers "produce fragrance ingredients and create fragrance mixtures." Then, they add them "to finished consumer products such as personal care products, cosmetics, household cleaning products or fine fragrance."
There are over 3000 fragrance ingredients, many of which are associated with a variety of adverse health effects (source). Is "natural fragrance" safer than just "fragrance"? Well, since there is no legal definition of the word "natural," it is difficult to understand what "natural fragrance" means. Feel free to read my post about the safety of natural fragrance to form your own opinion on the subject.
Second, I am glad that Evolvh non-toxic haircare products, including their sulfate-free color-safe shampoo, are free of ethoxylated ingredients. In a nutshell, manufacturers need to soften harsh petrochemicals that they may use as raw materials for personal care products. To achieve this, they use a process called "ethoxylation" when they add carcinogenic ethylene oxide to the other ingredients. As a result of this process, trace amounts of carcinogenic ethylene oxide may remain in the final product. Personally, I avoid products with ethoxylated ingredients, e.g., those whose names begin with "Polysorbate" or "PEG" and end with "-eth."
I appreciate the fact that there are no harsh preservatives.
For starters, I always emphasize the importance of preservatives in products that contain liquid ingredients, such as water or juice. They are an absolute must to prevent bacteria, fungus, mold, and rancidity. (Please, read the results of my extensive research on bacterial contamination in skincare products in my post WaterWipes baby wipes.) Ultimately, it all boils down to the question as to what kind of preservatives are used. Before we look into the Evolvh sulfate-free color-safe shampoo preservation system, let's discuss some common preservatives in personal care products.
Examples of "harsh preservatives" are various isothiazolinones and formaldehyde-releasing ones. True, they protect personal care products from bacteria very well: they are so strong that they just kill them all. But do you want them on your skin?
For instance, in addition to being allergens, methylisothiazolinone and methylchloroisothiazolinone are sensitizers, as is as benzisothiazolinone (source and source). That is to say, you may have no allergic reaction to them right away but might become allergic with time if you keep using products with these ingredients.
Further, such preservatives as diazolidinyl urea and DMDM hydantoin release some amount of formaldehyde into a product over time. Thus, the Environmental Working Group assigns formaldehyde the highest level of toxicity (10 out of 10) and underscores cancer concerns. And the American Society of Contact Dermatitis considers it a core allergen even in concentrations as low as 1%. You can find out what other preservatives release formaldehyde and about its dangers in my post Formaldehyde in Products.
Evolvh sulfate-free color-safe shampoo as well as their other products do not use phenoxyethanol, either.
If you read labels, you may have noticed that phenoxyethanol is quite common in shampoos and washes. It is also common in mascaras and liquid foundations (compare this non-toxic foundation and Physicians Formula foundation).
To be fair, I believe phenoxyethanol is safer than isothiazolinones and formaldehyde-releasing preservatives. If you have just started with your healthy living journey and switched from isothiazolinones to phenoxyethanol, that is an accomplishment! One of the main reasons I stay away from it is its manufacturing process that involves chemicals with bad reputations. You can learn more about it in my post about Phenoxyethanol in Skin Care: Consider This!.
One of the preservatives in Evolvh products is benzyl alcohol.
Evolvh informed me that they use 0.1% benzyl alcohol in their products, including their sulfate-free color-safe shampoo formulations.
Because of some controversy around benzyl alcohol on the Internet, I did extensive research to form my own opinion. I believe the controversy has been fueled in the following two manners.
First, the EWG Skin Deep database rates it 4-6. (They used to rate it 5 and have just recently changed their rating of this and many other ingredients.) However, after reading the same sources of information, I saw no confirmation of their concerns. Nevertheless, I wanted to give EWG the benefit of the doubt. So, I rated benzyl alcohol 4 out of 10 in my Shampoo Rating List (10 being the worst).
Second, in 1982, the American Journal of Diseases of Children reported 15 deaths of premature infants (1). It linked the deaths to benzyl alcohol that doctors used to administer IV fluids to the babies. The infants received 99-234 mg/kg/day of benzyl alcohol through saline solution used to flush the catheters after blood sampling and medication administration.
In my opinion, we cannot draw any significant conclusions about health effects of benzyl alcohol when used topically and at very low concentrations.
By the way, this accident did not preclude benzyl alcohol use at 0.9% – 2% concentrations as an antibacterial agent. It is common in a variety of pharmaceutical formulations intended for intravenous administration.
Additionally, medical providers use benzyl alcohol in intravenous medications commonly administered to critically ill newborns.
Research on the safety of benzyl alcohol
This research will help you make an informed decision regarding the safety of benzyl alcohol at concentrations 0.1% in Evolvh sulfate-free color-safe shampoo and other product formulations.
According to the 2017 Cosmetic Ingredient Review Panel report, scientists found benzyl alcohol non-mutagenic and non-genotoxic. Neither did they classify it as a reproductive/developmental toxicant in oral and dermal animal studies.
Next, the National Toxicology Program considered it negative for carcinogenicity following 2 years of oral dosing in rats (up to 400 mg/kg) and mice (up to 200 mg/kg). But the EPA thought that 3 out of 48 incidences of adrenal cortex adenoma (male mice) was equivocal evidence of carcinogenicity rather than negative. In dermal application to mice, a nonoxidative hair dye containing 2.0% benzyl alcohol and 0.016% benzoic acid was negative for carcinogenicity.
Further, undiluted benzyl alcohol was slightly irritating to animals. The study on 456 subjects using a lice treatment with benzyl alcohol at concentrations of 5% showed a low rate of irritation (2.3%).
As for sensitization, scientists recorded both negative and positive results in animal studies. Human patch studies showed a maximum skin incidence of 1% only. Additionally, occupational exposure to benzyl alcohol over decades did not result in sensitization.
Finally, the American Contact Dermatitis Society considers benzyl alcohol an allergen but only in concentrations of 10% or more. The European Union allows it as a preservative in cosmetics at a maximum concentration of 1% (source). Plus, the European Chemicals Agency database deems it safe for dermal applications.
Another preservative in the Evolvh sulfate-free color-safe shampoo and conditioner is dehydroacetic acid.
As a matter of fact, both dehydroacetic acid and benzyl alcohol are ECOCERT certified preservatives in Evolvh hair products. Specifically, to meet ECOCERT standards, an ingredient must be derived from renewable sources.
I read the CIR Expert Panel report on dehydroacetic acid on their website, and the conclusions are as follows. The panel found that dehydroacetic acid and cosmetics containing it were nonirritating, non-sensitizing, non-photo sensitizing, and non-phototoxic in numerous clinical tests.
My low concern is that Evolvh sulfate-free color-safe shampoo formulations contain cocamidopropyl betaine.
To begin, cocamidopropyl betaine is a cleansing agent that creates foam in shampoos and washes.
The reason for my concern is that the CIR Panel suspects it of inducing skin sensitization in some people. They believe that the 3,3-dimethylaminopropylamine (DMAPA) contaminant which results from the manufacturing process of cocamidopropyl betaine is the reason for the sensitization. The same seems to be true about its relative, cocamidopropyl hydroxysultaine. That is why it is important for companies to only use these cleansing ingredients if they are of high purity/quality.
Evolvh assured me that they looked into that and the amount of cocamidopropyl betaine in their shampoos is low. So, the products should not cause any allergic reaction.
Generally speaking, unless you are using soap made of saponified oils, your shampoo will have some kind of a surfactant. Even glucosides that I consider some of the mildest surfactants are not perfect.
In other words, in an ideal world, there would be no cocamidopropyl betaine or any other concerning ingredients. However, it all depends on where you are in your personal journey to healthy living. Suppose, moving away from worse ingredients you are looking for a well performing shampoo for different types of hair. Then, cocamidopropyl betaine in the Evolvh sulfate-free color-safe shampoo products may be okay for you.
Also, some of their hair products do not have this ingredient, e.g., InstaVolume Elixir and SmartCurl Leave-In Conditioner. And this WonderBalm Magic for Curls does not even have benzyl alcohol.
They use green chemistry conditioning ingredients in their conditioners.
To start with, green chemistry aims at reducing toxicity of chemical products while preserving their efficacy. Specifically, it developed innovative cationic surfactants using renewable and bio-based materials.
Thus, Evolvh uses plant-derived brassicamidopropyl dimethylamine, dicapryl succinate, and brassica glycerides cationic surfactants that create slip by ion attraction.
First, brassicamidopropyl dimethylamine is 83% biodegradable and has a non-quat cationic charge which provides excellent hair lubricity (source). Judging by its name, it may have DMAPA residues. According to the 2014 CIR Expert Panel report, scientists found brassicamidopropyl dimethylamine non-sensitizing when it is used in small quantities and DMAPA residue is kept to a minimum.
Second, dicapryl succinateis a synonym of dioctyl succinate which is, in turn, a synonym of diisooctyl succinate. The latter is 100% bio-based and derived from non-GMO corn oil and castor oil (source). Per the 2012 CIR Expert Panel report, dicapryl succinate was found non-toxic and safe for use in topical products.
Third, brassica glycerides is COSMOS approved for the use in organic products, 100% biodegradable, and contains no palm derivatives (source). Although scientists have not evaluated the safety of brassica glycerides yet, I am not too concerned about this ingredient. Based on its manufacturing process and related substances, I think it should be okay.
In sum, Evolvh conditioners have no quaternary ammonium compounds or coating silicones. Hence, they should not block the work of gentle hair colors, such as Hairprint restorer. Plus, they should be suitable for the "curly girl method" as they do not flatten the curls.
Conclusion about Evolvh sulfate-free color-safe shampoo
In conclusion, I applaud Evolvh for disclosing their ingredients the right way using INCI names. (They had had trouble doing it before, which I addressed in my initial review of them.) Looking at their ingredients I can tell that they are doing their best to utilize natural ingredients from renewable sources. I truly appreciate the fact that they avoid fragrance, ethoxylated ingredients, phenoxyethanol, and harsh preservatives.
Plus, I like it that they offer a variety of products for all hair types. Thus, my assistant used their volumizing series and is very satisfied with the result. She mentioned, though, that for her hair, using step one, the cleansing treatment, was enough. Her fine curly hair felt clean, light, and, most importantly, voluminous. But when she used step two, the volumizing elixir, the hair felt heavy. Though it was still voluminous, it did not have more volume than after using just the cleansing treatment.
So, I conclude that it is not necessary to use the whole arsenal of products. Follow the basic principle: the fewer products you use, the less exposure to various ingredients you have.
You can check out Evolvh haircare products on their website and remember to use the code IREAD15 for 15% off.
With that said, there are many products that I vetted for safety for all budgets in my shop. Also, book a consultation with me to get clarity in your particular situation. And consider joining the Savvy Consumer Circle of like-minded people for fun healthy living.
References
Benzyl alcohol poisoning in neonates. Reactions Weekly 69.1 (2013): 8-8.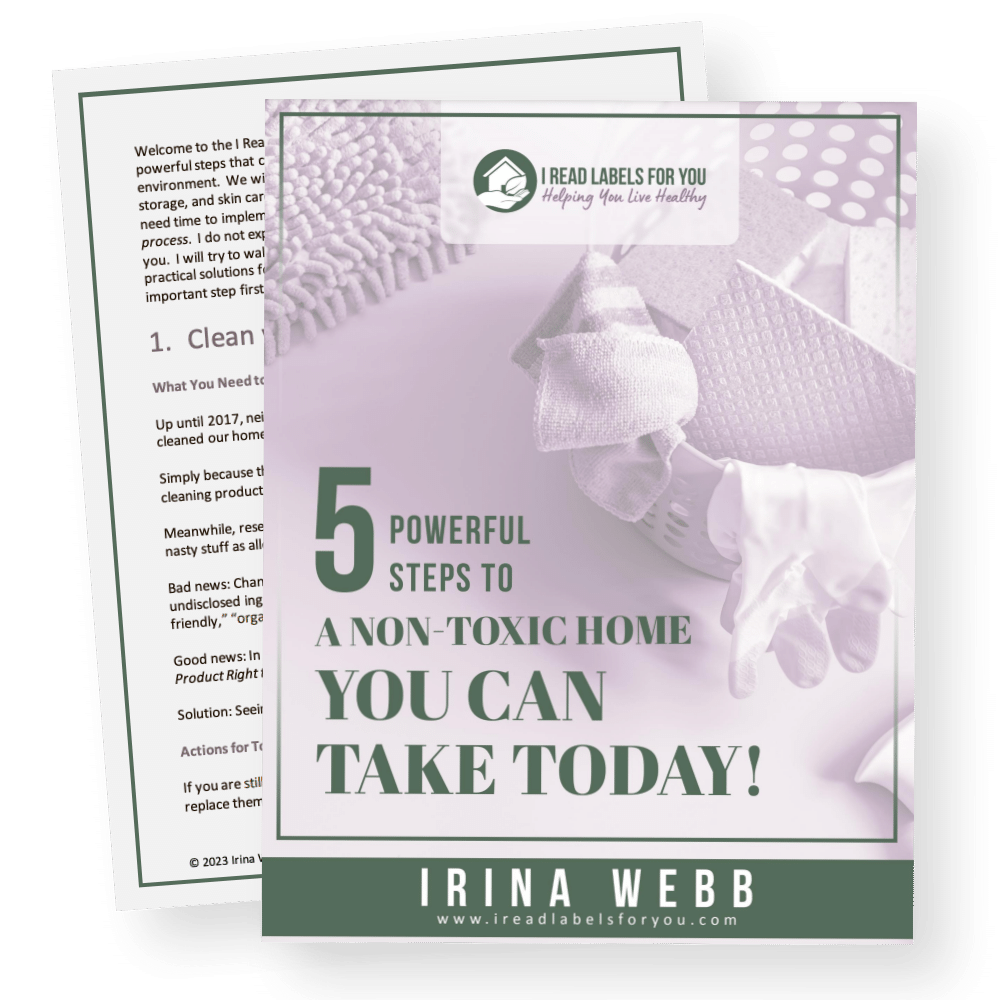 Download The Free Guide!
5 Powerful Steps To A Non-Toxic Home
Join our informed consumer community and get our free guide the "5 Powerful Steps To A Non-Toxic Home".