Can Breast Implants Cause Autoimmune Diseases? – My Confession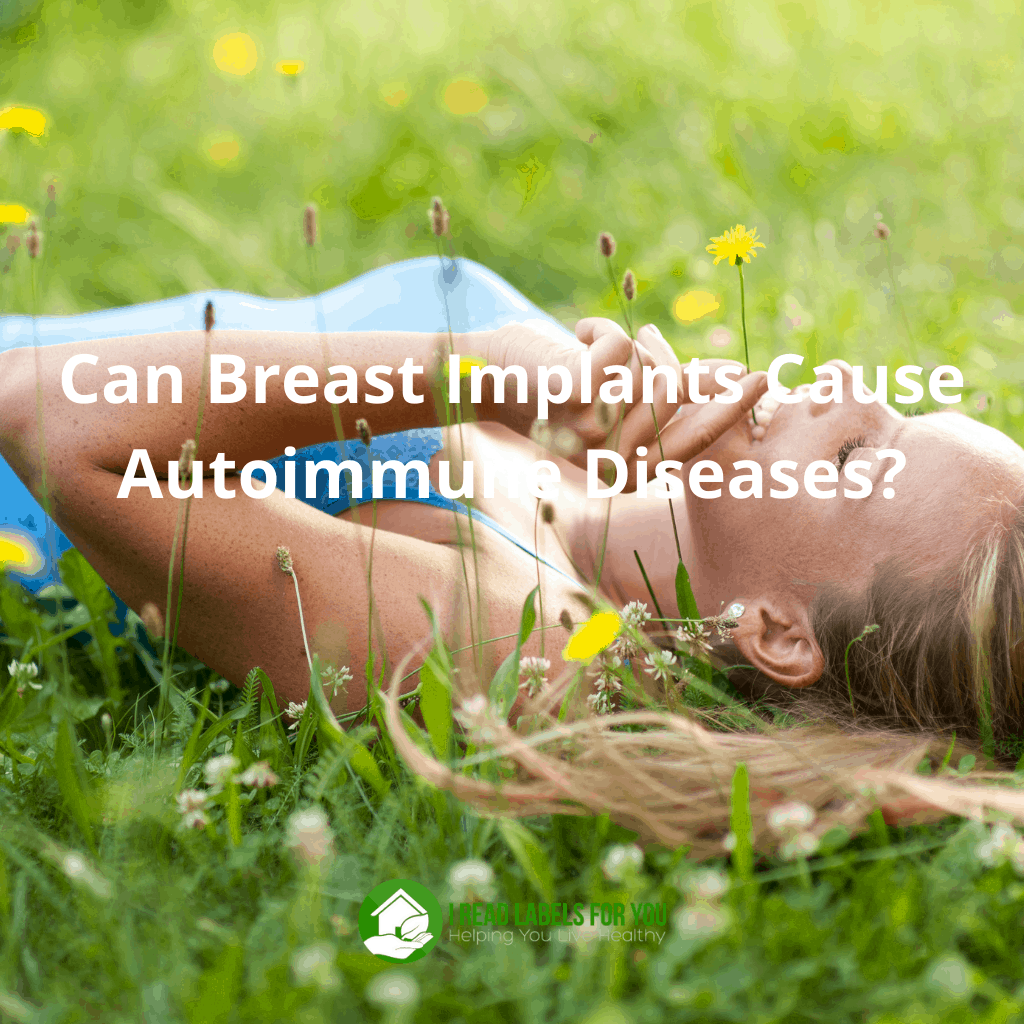 This post may contain affiliate links. To read our affiliate policy, click here.
I can relate when I read stories of personal struggles and journeys that my readers share with me. Many have gained their toxin awareness after brushing with cancer or autoimmune diseases. Some have had their eyes opened faster than others, but one thing is certain – it is a process. And I am no different. Today I want to share with you a part of my life about which I regret now. In my early thirties, unhappy in my first marriage, I struggled with body-image issues as many modern women do. So, I decided to "enhance" my figure with breast implants, which now I consider a big mistake. Subsequently, I was diagnosed with two autoimmune diseases in a row. Read on to find out if it was the saline implants that caused that, and how I dealt with it.
My decision to have the surgery was more emotional than reasonable.
Looking back, I understand I was very naïve about many things, including the process of the implant surgery. Simply put, I did not invest sufficient time into determining the long-term health effects associated with implants. Instead, I chose to trust my plastic surgeon to warn me of any possible side effects.
However, the only side effects he told me about were the risks any surgery with general anesthesia would have. After all, he said, they had recently switched from silicone to saline implants that they deemed much safer. He explained that in case of rupture, which, he said, hardly ever happened, the body would just absorb the saline. Problem solved.
Fortunately, I recovered after the surgery without complications and quickly adopted the implants as a part of my body. I did not want to think about them as two silicone bags filled with saline liquid I carried around. Being able to wear a size B bra made it all worth it! So, I intentionally blocked any information about the potential health effects related to breast augmentation.
My new breast implants did not make me happier.
Several years and a divorce later, I got married again. On our first anniversary, I was in a hit-and-run accident and ended up in the hospital with bleeding in my brain. (Luckily, the saline implants did not burst from the impact.) After the accident, my stomach started aching a lot. While the doctors were working me up, I read a lot about food to find a solution to my pain. I learned about toxins, pesticides, and the organic food movement, all of which really opened my eyes. As a result, I decided to eat only organic food as a way of allaying my symptoms. Besides, my doctors and other healthcare providers gave me the same advice as a possible solution.
During that extensive workup, my doctors diagnosed me with Hashimoto's Thyroiditis, an autoimmune disease. They said I would have to take medicine to control this condition for the rest of my life.
Although my abdominal pain went away during pregnancy, I developed a couple of other curious symptoms. First, I was very itchy throughout my pregnancy, and second, my skin got darker, as if I were tanned. After I gave birth, the itchiness left, but the tan remained and even deepened with time. Then, I started having anxiety attacks, nausea, vomiting, and extreme fatigue. Another diagnosis followed – Addison's Disease, an autoimmune condition when the adrenal glands stop producing cortisol, a hormone critical for living.
It was time to face the question: Could the breast implants be affecting my health?
There may be a connection between saline breast implants and autoimmune disorders.
Reportedly, saline implants are not considered safe any longer because bacteria can grow inside them. If they rupture and the liquid contaminated with bacteria escapes, it can make the woman quite sick. Some doctors say even without rupture, they can leak in small amounts without visibly deflating, causing sickness (source). The leakage may trigger mold growth around the valves, which can produce a biotoxin that may trigger an autoimmune response. As a result, breast implant surgeons recommend changing implants every 10 years.
This raises an important question: Can breast implants cause autoimmune conditions such as Hashimoto's Thyroiditis and Addison's disease?
Although the first breast augmentation surgery happened in 1962, doctors do not know much about the long-term health effects of implants.
It appears there is a link between silicone implants and autoimmunity. In 1992, the FDA banned silicone implants due to a possible link between them and autoimmune disorders such as lupus, arthritis, and body aches (source).
The autoimmune/inflammatory syndrome induced by adjuvants is real.
Turns out, saline implants are not a big improvement. Breast implant illness (BII) has come into the spotlight, and medical professionals have stopped brushing it off as something women imagine. Namely, medical doctors describe BII as autoimmune/inflammatory syndrome induced by adjuvants (ASIA). Some women who have BII also get a diagnosis of a specific autoimmune or connective tissue disorder including lupus, rheumatoid arthritis, and scleroderma. Any breast implants, including silicone gel-filled, saline-filled, smooth surface, textured surface, round, or teardrop-shaped can trigger BII (source).
A large number of women have joined online communities about breast implant illness. As an example, the Breast Implant Illness and Healing by Nicole Facebook group has almost 150,000 members.
Currently, the FDA is working on labeling requirements for implant manufacturers and consent forms patients need to sign (source).
Lastly, the FDA is collecting information about cases of Anaplastic Large Cell Lymphoma (ALCL). It is a rare type of non-Hodgkin's lymphoma in women with breast implants. As of today, the FDA is aware of 60 cases of ALCL in women with implants.
Since I did not want to be a part of this human experiment, I decided to have explant surgery.
After the removal of saline implants, my breasts were not the same as before the implant surgery.
As it turned out, the explant surgery was more complicated, much more involved, and more expensive than the implant surgery. To clarify, when they implant, they inflate the silicone bags with saline after having put them into the body. Thus, they need to make only tiny incisions in the hidden areas of the body. Conversely, to take the inflated implants out, they must make big incisions under the breasts to have enough room.
Plus, the tissue capsules that grow around the implants over the years may make it challenging to take them out. The surgeon must be able to help you decide whether to leave the tissue capsules in or take them out. Neither option seems ideal. In my case, they took the capsules out to remove the tissue that could have been contaminated with silicone. This type of surgery is called En Bloc implant removal. However, with the removal of extra tissue, the breasts may end up smaller than with the tissue left in.
That was what happened to me after my breast implants removal: my right breast was smaller than the left one. In addition, I had visible indentations across the bottom part of my breasts. According to my surgeon, they could be easily corrected with fat transfer/grafting. After getting a second opinion, I decided to wait at least a year before thinking about any surgery.
In the meantime, this is what I learned about grafting.
There is a lot to consider before doing fat grafting as an alternative to breast implants.
Nowadays, fat transfer/grafting has become a popular alternative to saline implants. While it might seem to be a natural way to make breasts bigger, there is something you need to know. (Now I know better – always do your own research!)
First of all, before injecting fat into your breast area, they must perform liposuction, a surgery under general anesthesia. (My husband offered to be a fat donor!)
Second, fat grafting as an alternative to breast implants is a relatively recent procedure. Hence, there are no large clinical studies with long-term follow-ups to back up its safety.
Third, doctors express concern that fat injected into the breast area may stimulate the growth of cancer cells (source). For example, according to this study, 16.7% of patients developed cysts where the injected fat calcified. Because a mammogram would be unable to tell if the cysts are benign or cancerous, a biopsy would be needed.
On top of that, the body absorbs the injected fat over time, making further surgeries an extravagant hobby.
To me, this sounds like a nightmare. Most importantly, why should I go through this trouble?
In the long run, explanting brought me some great results.
Here is some good news – my breasts are mostly back to normal as they were before the breast augmentation surgery. I am so happy to be free of the saline implants and to have my natural body back! Now I understand that beauty comes in different shapes and forms. Moreover, I do not have to look to the beauty industry to dictate its standards and ideals to me.
I definitely have more energy now than before the explant surgery. Thus, I can work long hours helping people reduce exposure to toxic chemicals while fully engaging in my roles as a wife and mother.
Above all, it is a miracle that after a major breast implants removal surgery under general anesthesia, I am alive! The thing is, due to Addison's, my body does not produce cortisol naturally. This hormone literally keeps us alive on a daily basis, so I have to take synthetic cortisol orally. For your information, the body's need for cortisol goes up with stress, trauma, and illness. Therefore, the success of the surgery largely depended on the accurate dosing of synthetic cortisol for me. In fact, the wrong dosage could lead to a coma or death. However, I took the risk because I felt then that it was my best chance to get well. So, did I? Did the explanting improve my autoimmune conditions?
With my breast implants gone, I believe I am closer to a complete recovery from the autoimmune diseases.
For starters, the saline implants removal helped me and my functional medicine doctor eliminate another potential trigger to autoimmune conditions. Indeed, the approach of functional medicine is to find the root cause of a chronic illness. The premise is that once the cause is eliminated, the body will heal itself. Some common root causes of autoimmune conditions are chronic infections, harmful bacteria, food allergies, mold, heavy metals, and stress.
Two months after the explant surgery, I re-tested markers associated with mold illness, inflammation, and autoimmunity. Some of them were way down, which was a great result, especially, given I was grieving my mom's passing.
Moreover, with the help of my functional medicine doctor Myrto Ashe, MD, I had been cured from Hashimoto's Thyroiditis. Believe it or not, but it is true! My endocrinologist confirmed that my thyroid worked as intended whereas previously doctors had told me that there was no cure for Hashimoto's. To learn more about the steps I took to recovery, refer to my post My Health Update After Explant Surgery.
I am also determined to overcome Addison's, empowered by the fact that I could reverse Hashimoto's Thyroiditis to the disbelief of conventional doctors. Although there is only one documented case of spontaneous recovery from Addison's, it does not mean there weren't other recoveries. All it means is that the other cases were either not documented or have not been discovered yet. Actually, in his book Cured, Dr. Jeff Rediger describes recovery stories, including recoveries from cancer.
Summary about the connection between breast implants and autoimmune diseases
So, there it is – my confession. I am not perfect, and even the saline implants were unable to make me perfect (or happier, for that matter). If you have read this far, God bless you! My hope is to use this blog to try to dissuade others from making the same mistake I made. If you are considering implants, please use my experience as a cautionary tale. Opening up publicly about things so personal is not easy for me. I feel strongly, though, that if I can help spread the word, it is worth any personal embarrassment.
Ultimately, the link between breast implants and autoimmunity remains controversial. However, there is an emerging consensus that the cause of autoimmune diseases may be related to exposure to toxins. Therefore, I believe that explanting protected me from potential bacteria contamination that could be caused by rupture or leakage.
In addition, my family has been in the process of adopting a non-toxic lifestyle for a few years now. Please read about safe cookware we use and an organic mattress we sleep on. Also, read my posts to choose the best water filter system and non-toxic makeup.
Finally, visit my shop for multiple options for safe products, and check out my e-books to make informed purchasing decisions. Besides, I am available for personal healthy living consultations. And you are welcome to join the Savvy Consumer Circle for a deeper and fun experience with healthy living.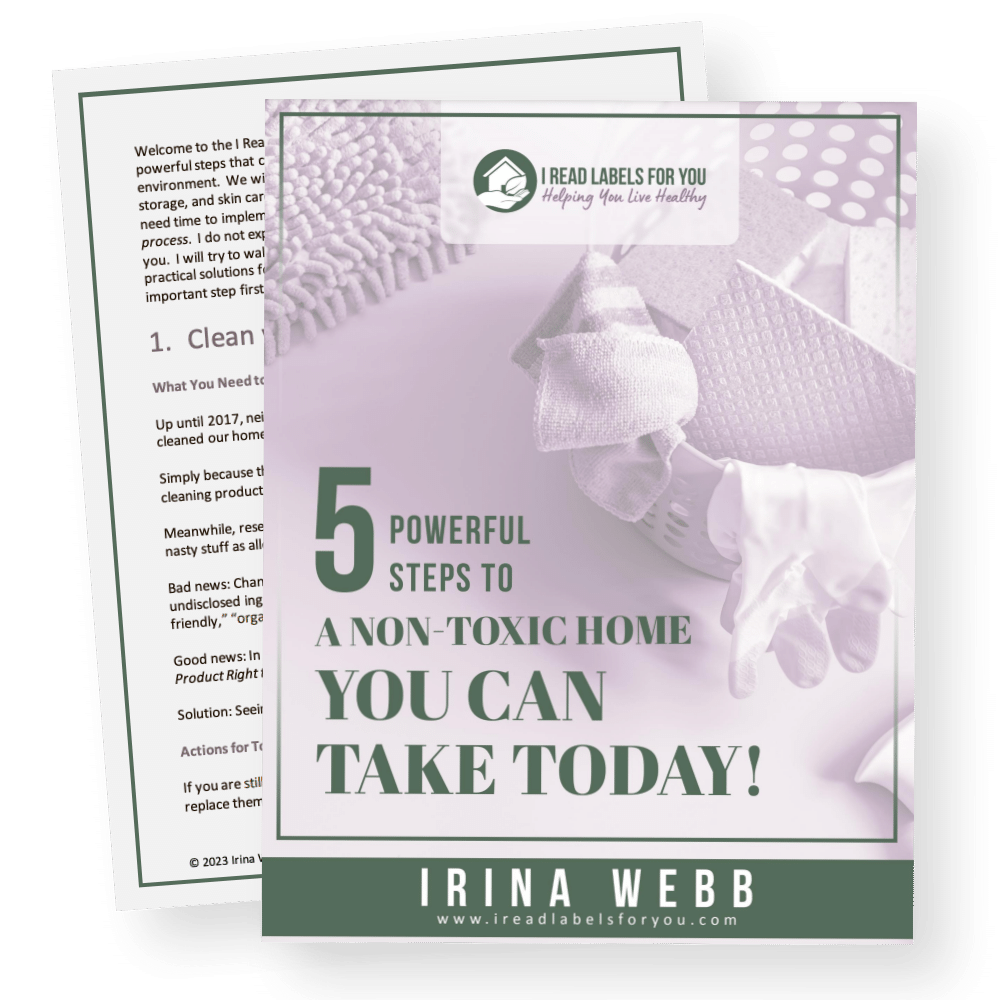 Download The Free Guide!
5 Powerful Steps To A Non-Toxic Home
Join our informed consumer community and get our free guide the "5 Powerful Steps To A Non-Toxic Home".