Are Ammonia-Free Hair Color Brands Better?
This post may contain affiliate links. To read our affiliate policy, click here.
Many hair color brands announce themselves as ammonia-free hair colors. This phrasing makes it sound like you should want your hair dye to be a no ammonia hair color. After researching hair colors for the past few years, I want to share with you what I have discovered about best ammonia-free hair dye brands. These findings will help you make informed decisions and buy hair color products that you want – not what hair color companies want you to buy.
What do we know about ammonia health effects?
Here is a good summary on ammonia for your reference. The Environmental Working Group database has rated ammonia a 4-6 (on a scale from 1 to 10, with 10 bring the most toxic), depending on the way it is used.
According to the U.S. Centers for Disease Control and Prevention (CDC), ammonia may cause some pretty serious symptoms. They may be eye, nose, and throat irritation. In addition, ammonia may lead to breathing difficulty, wheezing, or chest pain. On top of that, such conditions as pulmonary edema, pink frothy sputum, burns, blisters and frostbite may develop. Makes you wonder if hair dyes with ammonia can cause that, right? And, if turning to an ammonia-free hair color is actually a good idea. Stay with me on this one, though.
Despite these possible unpleasant symptoms, Canada Environment has classified ammonia as a low health priority. Besides, I've found no evidence that ammonia either increases the risk of cancer or disrupts hormones.
Why do hair dyes need ammonia?
For a hair dye to penetrate hair, something corrosive must open the hair cuticle first. Ammonia is one of the best substances to achieve this goal. As you can imagine, this process is damaging to your hair. All permanent hair colors use this technique to make the color stay longer and cover even the most resistant grey hair. In other words, some corrosive substance makes a hair dye permanent.
What does the claim ammonia-free hair color mean?
Permanent hair dyes
To begin, you need to find out if that hair color is classified as a permanent hair dye. If it is NOT a permanent hair dye, there is no need for ammonia in the first place. So, in a way, it is like saying "plastic-free" about a glass product. It is obvious that all glass is plastic-free, but sometimes manufacturers add something meaningless to make it sound good. They know we're all very busy and might not stop to think how silly the claim is. (If that's all they can say about their product, though, I would be very careful!)
Not permanent hair colors
The hair color that are not permanent are called semi-permanent colors. They do not need ammonia because they do not need to open the cuticles of the hair. Instead, they coat the hair, which is a less damaging process. I recommend switching to semi-permanent ammonia-free hair color brands if you can.
The downside of semi- or demi-permanent hair colors is that they may not work for resistant grey hair. However, I think it is a good idea to try semi-permanent hair colors before you resort to hair dyes with ammonia for the following reasons. First, it is not necessary to use ammonia. Second, semi-permanent hair colors typically use less harmful dyes.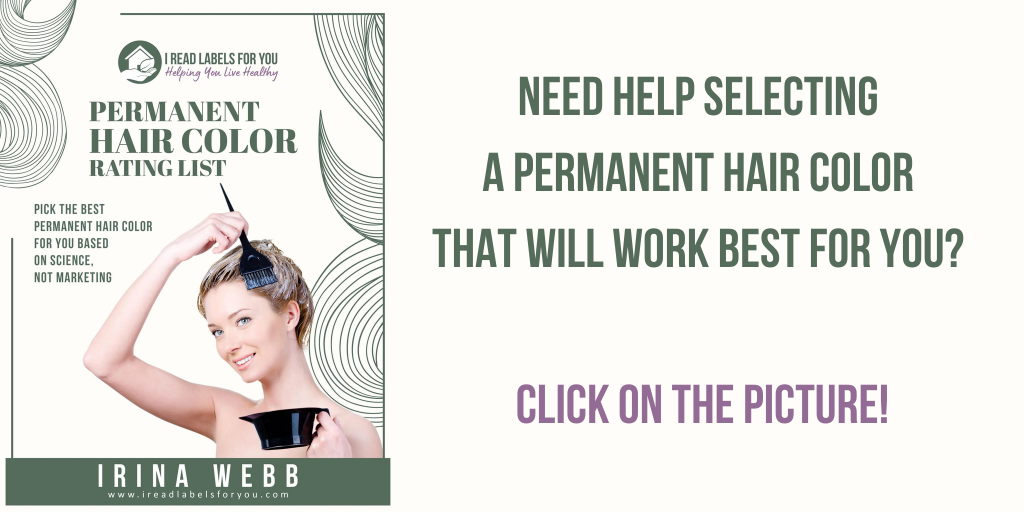 What are the best ammonia-free hair dye brands?
My Permanent Hair Color Rating List e-book presents the results of a comprehensive study of multiple permanent hair dye brands. Every year I add to the list of the brands. Besides, you can contact me for a feedback on a hair dye brand of your choice. Among the listed brands, you will find ammonia-free hair color brands as well as the brands with hair dyes with ammonia.
You will learn how many sensitizers each hair color product has. Also, you will learn about the presence of resorcinol that may have a potential to interfere with the normal function of thyroid. You will learn all these and more so you can make an informed decision about the best ammonia-free hair dye brand for you. Of course, such factors as the condition of your health and hair as well as your budget and preference to tackle hair coloring at home or go to a salon will be taken into consideration.
What about permanent no ammonia hair color brands?
For starters, let me reiterate that all permanent hair dyes must open hair cuticles. So, if there is no ammonia, there must be something else to perform this function. My experience of studying each ingredient in many different permanent hair colors shows that the ingredient that does this job in place of ammonia is called ethanolamine (aka monoethanolamine, or MEA). Let's find out what its role in ammonia-free hair color products is like.
What is ethanolamine?
Ethanolamine, like ammonia, is a corrosive chemical. It must be corrosive in order to fulfill the same function – open hair cuticles. Ironically, reacting carcinogenic ethylene oxide with aqueous ammonia produces ethanolamine (source). It is not surprising that ethanolamine has an ammonia-like odor, too, although it is not as strong as ammonia.
Is ethanolamine safer than ammonia?
The Environmental Working Group rates it 5-6, which is slightly worse than ammonia's rating of 4-6. Also, Canada Environment has classified ethanolamine as a moderate health priority versus a low health priority for ammonia. But the ammonia-free hair color brands won't tell you that, will they?
As for cancer risks, ethanolamine has not been evaluated for such risks yet because it is a newer chemical. In comparison, ammonia has no evidence of either increasing the risk of cancer or disrupting hormones.
On the other hand, there is evidence that ethanolamine may increase the risk of birth defects, which is a big deal. Therefore, if you are pregnant or planning, I highly recommend you avoid using permanent no ammonia hair colors because such hair dyes will contain ethanolamine instead.
Furthermore, this study found that hair colors that contain ethanolamine versus ammonia are more likely to cause hair loss.
Thus, apart from a more pungent smell, a hair color with ammonia may be a better choice than an ammonia-free hair color. In my Permanent Hair Color Rating List e-book, you can find out which brands use ammonia and which ones are ammonia-free.
Do hair dyes with ammonia or ethanolamine damage your hair more?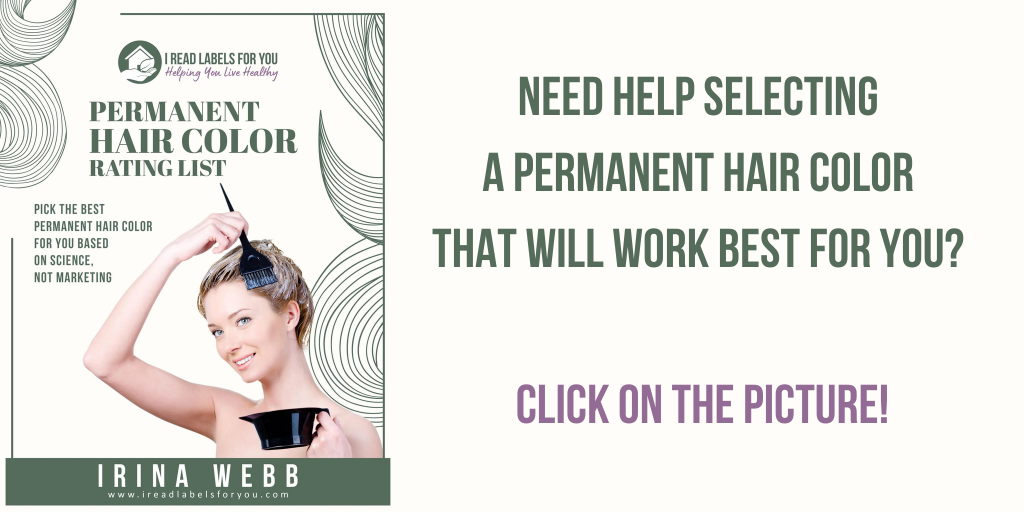 You would think that since ammonia has a stronger smell, it is more corrosive and, consequently, more harmful to hair. However, this is not the case. Because of their corrosiveness, both substances damage hair, but ethanolamine may damage hair more.
In this study, researchers applied different methods to measure hair cuticle damage and protein loss. The researchers found that there is more hair damage from ethanolamine than from ammonia. In some extreme cases, ethanolamine was found to increase hair damage as much as 85% more than ammonia. Can you believe that? I was shocked, too.
You might want to ask a hairstylist who has had experience using both hair dyes with ammonia and ammonia-free hair color brands which hair dye damages hair more. Make sure, though, that the hairstylist is not bound by contractual terms with an ammonia-free hair dye brand so they will have an independent opinion. When I asked my hairstylist, she confirmed the researchers' findings that ethanolamine was more damaging.
Conclusion about ammonia-free hair dyes
In sum, I advise you to be skeptical of permanent ammonia-free hair color brands. Everything else being equal, I recommend choosing permanent hair dyes with ammonia. Additionally, find out why there are no organic hair color brands and read a fascinating story about Natulique hair color.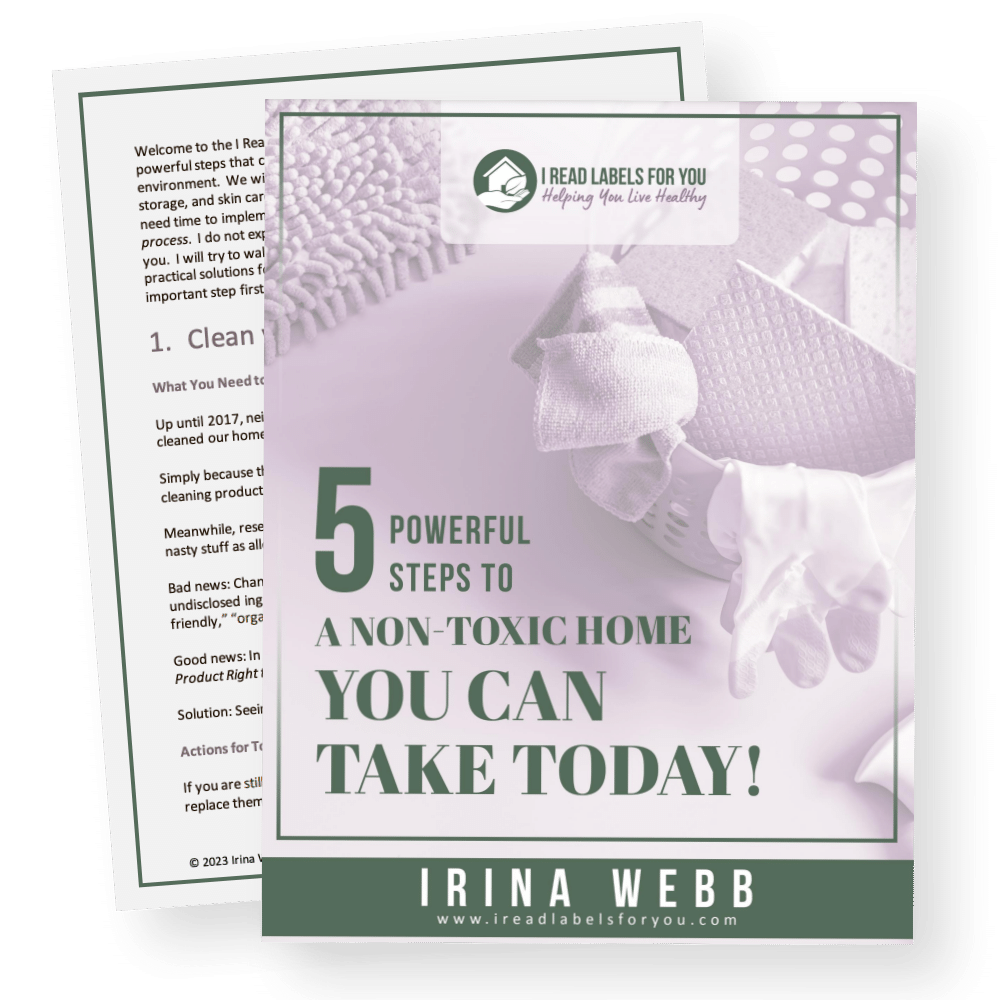 Download The Free Guide!
5 Powerful Steps To A Non-Toxic Home
Join our informed consumer community and get our free guide the "5 Powerful Steps To A Non-Toxic Home".