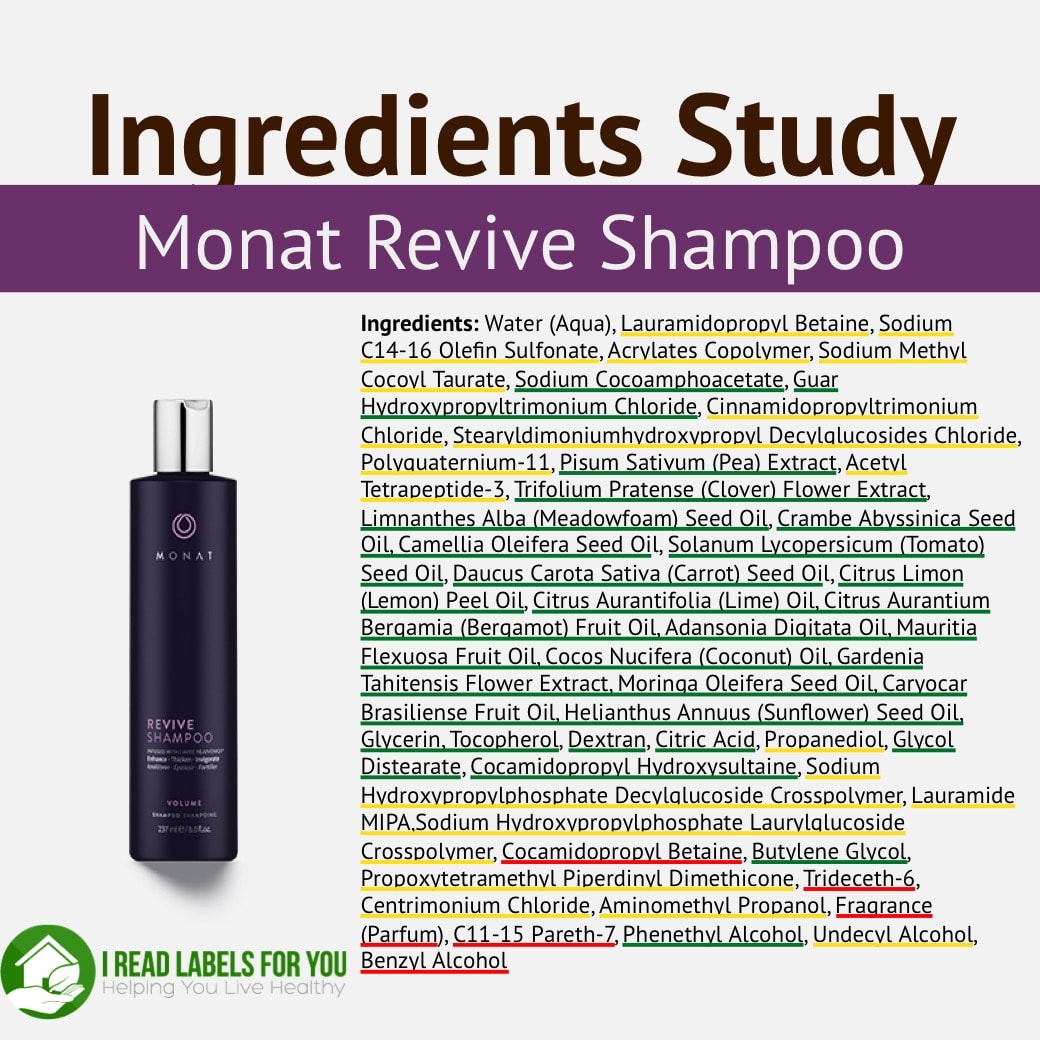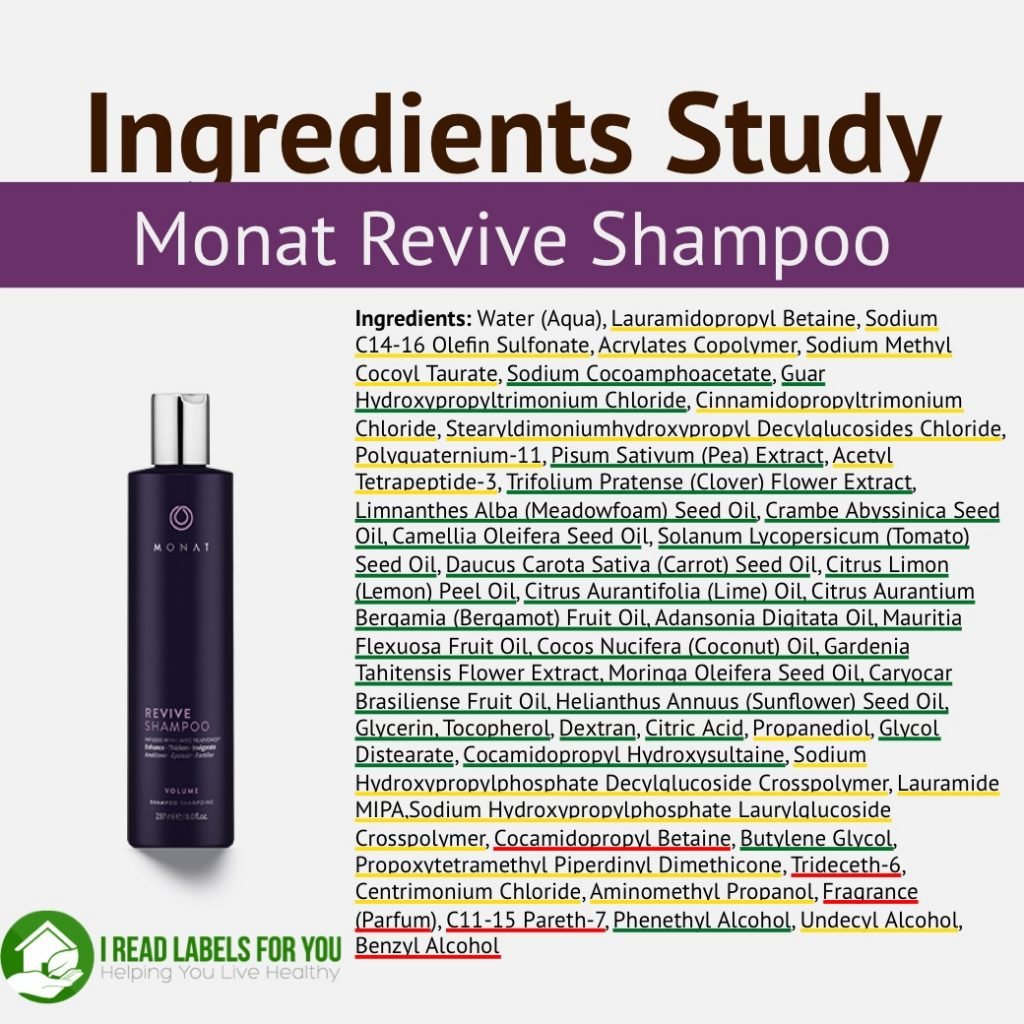 First of all, let me say that a lot has happened since I wrote the review of Monat Revive Shampoo.  Be sure to read this post comments as well as click on the links provided at the end of the post for more information on the latest developments.
Monat Revive Shampoo has the longest list of ingredients I have ever seen in my experience reading shampoo ingredients almost daily for the past 5 years. (Check out the results of my long-term hair product research in my Shampoo and Conditioner Rating List).
Here we go:
Monat Review Shampoo Ingredients: Water (Aqua), Lauramidopropyl Betaine, Sodium C14-16 Olefin Sulfonate, Acrylates Copolymer, Sodium Methyl Cocoyl Taurate, Sodium Cocoamphoacetate, Guar Hydroxypropyltrimonium Chloride, Cinnamidopropyltrimonium Chloride, Stearyldimoniumhydroxypropyl Decylglucosides Chloride, Polyquaternium-11, Pisum Sativum (Pea) Extract, Acetyl Tetrapeptide-3, Trifolium Pratense (Clover) Flower Extract, Limnanthes Alba (Meadowfoam) Seed Oil, Crambe Abyssinica Seed Oil, Camellia Oleifera Seed Oil, Solanum Lycopersicum (Tomato) Seed Oil, Daucus Carota Sativa (Carrot) Seed Oil, Citrus Limon (Lemon) Peel Oil, Citrus Aurantifolia (Lime) Oil, Citrus Aurantium Bergamia (Bergamot) Fruit Oil, Adansonia Digitata Oil, Mauritia Flexuosa Fruit Oil, Cocos Nucifera (Coconut) Oil, Gardenia Tahitensis Flower Extract, Moringa Oleifera Seed Oil, Caryocar Brasiliense Fruit Oil, Helianthus Annuus (Sunflower) Seed Oil, Glycerin, Tocopherol, Dextran, Citric Acid, Propanediol, Glycol Distearate, Cocamidopropyl Hydroxysultaine, Sodium Hydroxypropylphosphate Decylglucoside Crosspolymer, Lauramide MIPA,Sodium Hydroxypropylphosphate Laurylglucoside Crosspolymer, Cocamidopropyl Betaine, Butylene Glycol, Propoxytetramethyl Piperdinyl Dimethicone, Trideceth-6, Centrimonium Chloride, Aminomethyl Propanol, Fragrance (Parfum), C11-15 Pareth-7, Phenethyl Alcohol, Undecyl Alcohol, Benzyl Alcohol
Source: http://monatglobal.com/revive-shampoo/
Second, you will probably read lots of enthusiastic reviews for the Monat Revive shampoo.  I could have been paid very lucrative commissions, too, for promoting Monat's expensive products but after reading each ingredient, I decided that Monat products, including the Monat Revive shampoo, do not adhere to my standards.
Monat Revive shampoo is also probably the shampoo with the highest price tag I have seen.
Monat claims its shampoo "Penetrates and supports the scalp while helping boost natural hair growth and improving follicle strength to assist in reducing hair thinning".  Source: https://corp.mymonat.com/shop/products/revive-shampoo
In this post, let's focus on the ingredients underlined in red and how this shampoo might give you a look of thicker hair.
114 shampoos are rated and described so you can choose a shampoo that you truly want !
Allergens in the Monat Revive Shampoo
There are two ingredients – Cocamidopropyl Betaine and Benzyl Alcohol – that are associated with contact allergy.  Typical symptoms of a contact allergy (its clinical manifestation is allergic contact dermatitis) include redness, swelling, itching, and fluid-filled blisters, which are more severe symptoms than the symptoms of irritation.
Also, the difference between an irritant and an allergen is that an allergen (aka sensitizer) causes the allergic contact dermatitis after repeated contact with the allergen over time.  So, if you used the Monat Revive shampoo once and did not experience any symptoms, there is no guarantee that you won't have a reaction sometime later.
Cocamidopropyl Betaine
Cocamidopropyl Betaine is a surfactant that makes a shampoo lather.  It is commonly used in so-called "natural" shampoos as a better alternative to SLS (sodium lauryl sulfate) or SLES (sodium laureth sulfate).  The proponents of Cocamidopropyl Betaine (CAPB) claim it is safe, based on the fact it is derived from coconut oil.
I encourage you not to fall prey to this marketing technique and read what the medical branch of Dermatology has found in its research.
Yes, CAPB is manufactured by reacting coconut fatty acids with 3-dimethylaminoproplylamine (DMAPA) to produce amidoamine, which is then combined with monochloroacetic acid to get to CAPB (source).  It does not sound like CAPB is a natural ingredient to me.  Does it sound natural to you?
That fact that coconut oil is used to make CAPB becomes irrelevant, in my mind, when we learn that some amounts of the two chemicals DMAPA and amidoamine remain in CAPB.  Commercial-grade CAPB can contain up to 3.0% amidoamine and up to 0.02% DMAPA (source).
Do you have chemically treated hair? Consider using these healing hair treatments!
The personal care products trade association itself tells us that both DMAPA and amidoamine are known skin allergens. (source)
The first reports of allergy to CAPB were published in 1983.  The first two case reports were women with red lesions, which cleared after they stopped using their shampoos with CAPB.
After that, many cases have been reported in association with shampoos, liquid soaps, bath gels, toothpaste, contact lens solutions, make-up removers, and hygiene products, with a range of incidence between 3% to 7.2% (source).
In fact, American Contact Dermatitis Society named CAPB the 2004 Allergen of the Year (source).
And lastly, in the Environment Canada Substance List, CAPB is marked as being toxic to aquatic life.
Benzyl Alcohol
True, benzyl alcohol is an aromatic alcohol found in many naturally occurring plant products such as balsam of Peru.  It is also a naturally occurring component of essential oils such as hyacinth, jasmine, and ylang-ylang oils and even of foods such as apricots, cranberries, cocoa, honey, mushrooms, and snap peas.  However, when used in products, it is synthesized in labs by reacting benzyl chloride with sodium hydroxide (source).
In personal care products, it is often used as a preservative.
The Cosmetic Ingredient Review (CIR) has concluded that it is safe for use in cosmetic products, at concentrations of up to 5 percent, and up to 10 percent in hair dyes. (source)
However, in the European Union, benzyl alcohol is allowed as a preservative in cosmetics and personal care products at a maximum concentration of 1%. (source)
It is restricted because it may cause an allergic reaction.  While it is rated higher (worse) (at 5 out of 10 being most toxic) in the Skin Deep database than CAPB (4 out of 10), according to the American Contact Dermatitis Society, it is recognized as a "weak" sensitizer.  The American Contact Dermatitis society states that an allergic reaction to it is rare and a Belgian patch-test of 8,521 patients revealed that only 25 (0.3%) people had a positive reaction. (source)
I do not have any information as to what concentrations of benzyl alcohol is used in the Monat Revive shampoo.
While an allergic reaction is rare, the American Contact Dermatitis Society encourages to use caution. (source)
Fragrance in the Monat Revive Shampoo
Fragrances are normally undisclosed mixtures of a long list of various chemicals.  The FDA does not require companies to disclose the ingredients of fragrances.  On my blog, I recommend products made by companies that value transparency.  Thus, I recommend products that have only natural scents that come from essential oils and/or plant extracts and oils.  Fragrances have been associated with allergies, dermatitis, respiratory distress and potential effects on the reproductive system.  They are rated 8 out 10 (10 being the most toxic) in the Skin Deep database.
Ethoxylated Ingredients in the Monat Revive Shampoo
There are two ingredients – Trideceth-6 and C11-15 Pareth-7 – that are made with a process called ethoxylation.  What are the problems with this process?  To begin with, most manufacturers use harsh petrochemical raw materials.  To make them less irritating to the skin, ethoxylation is used in which ethylene oxide is added.  As a result, traces of un-reacted ethylene oxide might be left in the final product.  Moreover, 1,4-dioxane gets created during the ethoxylation process.  Unless a manufacturer uses the vacuum-stripping method to get rid of 1,4-dioxane, the dangerous chemical can remain in the shampoo.
The International Agency for Research on Cancer has classified ethylene oxide as "carcinogenic to humans" and 1,4-dioxane as "probably carcinogenic to humans".  "Probably carcinogenic to humans" is defined by stating that "there is limited evidence of carcinogenicity in humans and sufficient evidence of carcinogenicity in experimental animals."
For a full list of ethoxylated ingredients in personal care products and how to spot them, visit here.
Even if the company makes sure that there is no 1,4-dioxane left in the Monat Revive Shampoo, I am not very enthusiastic about ingredients the manufacturing process of which includes two carcinogens.
On my blog, I do not recommend products with ethoxylated ingredients.
114 shampoos are rated and described so you can choose a shampoo that you truly want !
Does the Monat Revive Shampoo make your hair thicker?
I am not familiar with any independent studies illustrating that by using a shampoo you can increase hair growth, or make hair thicker and stronger.  Keep in mind that contact with shampoo is short and relatively infrequent.  I had a hair-thinning problem and took the time to look for any independent studies on this subject.  (Please visit here to find out how I solved my hair-thinning problem and what you can do today.)   But my point is that I was unable to find any scientific studies proving that hair does get thicker by using shampoo.
On the other hand, I noticed that there are quite a few ingredients that I believe coat the hair, which I assume would make the hair look and feel thicker.
Here are the ingredients that may coat the hair:
Guar Hydroxypropyltrimonium Chloride
Cinnamidopropyltrimonium Chloride
Stearyldimoniumhydroxypropyl Decylglucosides Chloride
Acrylates Copolymer
Sodium Hydroxypropylphosphate Laurylglucoside Crosspolymer
Propoxytetramethyl Piperdinyl Dimethicone
Centrimonium Chloride
I have not seen so many coating agents in one single shampoo including even Acrylates Copolymer that I normally see in nail polish as a film former and in hair sprays as a hair fixer.
So, what do you think?  Do you think it is worth $35 for 8 oz?  Let me know in the comments.  I personally would not use this shampoo even if they send it to me for free.
More Information on Monat
And last but not least, please visit Better Business Bureau to read numerous complaints about Monat products and their customer service. 
This is the most comprehensive review I have seen of what has panned out since I first published this post.
SaveSave
SaveSaveSaveSave
SaveSave
SaveSave
Your Superpower To Read Ingredients
Imagine looking at the ingredients of any shampoo, conditioner, lotion, or cream and in a matter of seconds being able to decide if it is safe to use!
With this easy unprecendented method, you will be able to spot potentially harmful personal care or skincare products that may cause irritation, an allergic reaction, or increase the risk of endocrine disruption or cancer.