This post may contain affiliate links. To read our affiliate policy, click here.
Today you will learn about one of the safest shampoo that does not contain soap. How do I know that it is one of the safest out there? Well, it is a bit of a crazy story. I compared over 114 shampoos by studying each ingredient of each shampoo and then created a rating system. Thus, the 2020 Shampoo Rating List contained 87 shampoos because I excluded the least clean shampoos. And then the 2021 Shampoo Rating List gained some cleaner shampoos for a total of 97 shampoos. You will also find out what constitutes a healthy shampoo so you can choose the best shampoo for healthy hair with confidence.
Picking the best shampoo that leaves your hair shiny, manageable, smooth, and moist, but not too heavy, is a tall order already, isn't it? And we also want to make sure that there are no chemicals that irritate the scalp, cause dandruff, contact dermatitis, or, even worse, hair loss. Do you know that some shampoos have been alleged to cause hair loss? You can read about Monat shampoo and DevaCurl shampoo.
Neither do we want any questionable chemicals to get absorbed via the skin into the bloodstream and potentially increase the risks of long-term health effects. I look into all these concerns when I pick the best shampoo.
What I think about soap-based shampoos
The reason I emphasized that this safest shampoo does not contain any soap is that soap does not work for everybody. For example, soap-based shampoos did not work for me despite my efforts to transition three times. Although some say it took them 4 months, I did not have the patience.
I would love to use soap-based shampoo bars because I believe they are the safest shampoos. That is to say, their simple ingredients do not have any health concerns. In addition, they do not pollute the environment with plastic bottles. To learn why shampoo bars did not work for me, please read my all-natural shampoo bars post.
With this said, in my opinion, Pure Haven shampoo is one of the safest non-soap shampoo. Let's look at the ingredients in this healthy shampoo.
Pure Haven safest shampoo ingredients
The ingredients of the Pure Haven shampoo are as follows:
aloe barbadensis (organic aloe vera) leaf juice, coco-glucoside, water, leuconostoc/radish root ferment filtrate, xanthan gum, citrus sinensis (organic sweet orange) oil, glycerin (organic, non-gmo), oriza sativa (organic rice) bran oil, panthenol, cocos nucifera (coconut) fruit extract, mentha piperita (organic peppermint) extract, equisetum arvense (organic horsetail) leaf extract, urtica dioica (organic nettle) leaf extract, yucca shidigera (organic yucca) root extract, lactobacillus, sodium phytate, citric acid (source).
As a rule, the main areas of concern in foaming liquid shampoos are surfactants and preservatives.
Surfactants in the Pure Haven healthy shampoo
To begin with, surfactants are foaming agents in a shampoo. As for the Pure Haven safest shampoo, it has coco glucoside as a foaming agent. Since coco glucoside is produced from coconut, I would like to say a few words about coconut allergy.
A few words about coconut allergy
Some people claim that they are allergic to coconut. I am not trying to convince you to start using products with coconut derivatives. But if you do not have a positive patch test result, you might benefit from hearing this.
First of all, coconut is not a nut. So, if you are allergic to nuts, that does not mean that you will be allergic to coconut.
Second, when a surfactant is derived from coconut, it may go through a multi-step process where potentially harmful chemicals are added along the way. The residue of those chemicals may trigger an allergic reaction, not coconut. Here is an example.
A popular surfactant that is not used in this healthy shampoo
Such a popular surfactant in so-called non-toxic shampoos as cocamidopropyl betaine can cause allergic skin reactions in some people. Thus, the American Society of Contact Dermatitis lists cocamidopropyl betaine as one of the core allergens, even in concentrations as low as 1%. Due to high rates of cases of allergic reactions, the American Contact Dermatitis Society named it the 2004 Allergen of the Year. Therefore, it is really good that this safest shampoo does not use this ingredient.
Although cocamidopropyl betaine is derived from coconut fatty acids, let's look at the fine print. In its manufacturing process, they use two chemicals: 3,3-dimethylaminopropylamine (DMAPA) and amidopropyl dimethylamine (amidoamine). Neither of them is an appropriate ingredient for a healthy shampoo because they both are allergens. They may also remain in cocamidopropyl betaine as residue.
Therefore, the Cosmetic Ingredient Review (CIR) Expert Panel encourages manufacturers to minimize the amounts of these by-products in cocamidopropyl betaine. The Panel noticed that once the levels of DMAPA and amidoamine started going down, so did the number of people reacting to cocamidopropyl betaine (source). Do you see what I am saying?
Perhaps, some people are allergic to contaminants in the surfactant rather than to coconut. By the way, a common substitute of cocamidopropyl betaine is cocamidopropyl hydroxysultaine. Is it any safer? You can find out in my cocamidopropyl hydroxysultaine post.
With that out of the way, let's talk about coco-glucoside.
Coco-glucoside in Pure Haven safest shampoo
First of all, coco-glucoside belongs to the glucoside family of surfactants. Because they are gentle on colored hair and the eyes, glucosides are common in shampoos, especially baby shampoos.
The typical non-petroleum sources for them are corn, palm, potato, wheat, or coconut. In addition, there are no bad chemicals in the manufacture of coco glucoside, and thus, no chemical residues.
So, is it an ideal ingredient for a healthy shampoo?
Research into coco glucoside safety
According to a 2013 Cosmetic Ingredient Review (CIR) report, glucoside surfactants are non-sensitizing, which is good news. It looks like they can belong in the safest shampoo.
However, the CIR Expert Panel indicates that there is a potential for dermal (skin) irritation. So, manufacturers should formulate products in a way that would reduce the risks of irritation.
On the other hand, Belgian dermatologists reported that only 30 people out of 11,842 (0.25%) test participants had allergic contact dermatitis to one or more glucosides. They concluded that allergic contact dermatitis caused by glucosides in cosmetics does occur.
In addition, US dermatologists at the Columbia University Medical Center reported in 2017 that out of their 897 patients, 48 patients (5%) had positive reactions to decyl glucoside and/or lauryl glucoside.
Thus, glucoside surfactants are not as harmless as previously thought. Nonetheless, considering the alternative surfactants, I still think it belongs in this healthy shampoo.
Preservatives in shampoos
To begin with, preservatives protect a water-based product from mold and bacteria contamination. However, many of so-called natural or organic shampoos do not seem to contain any preservatives. Others claim that they use essential oils or potassium sorbate or citric acid as a broad-spectrum preservative. Would this be enough for the safest shampoo?
Well, my work experience with skincare and personal care product formulators tells me the following. It is critical for a product that contains water to have a sufficient preservation system. Indeed, bad bacteria can be even deadly for newborns or people with compromised immune systems.
For example, the Journal of Hospital Infection reported numerous infections among 14 babies due to a contaminated baby shampoo. Specifically, the infections were meningitis, septicemia, purulent conjunctivitis, and urinary tract infection. In fact, one baby died from meningitis and septicemia.
In other words, I would not call a shampoo without a sufficient preservation system a healthy shampoo, even if its ingredients were safe.
Leuconostoc/Radish root ferment filtrate in the Pure Haven safest shampoo
In both of its clean shampoos, Pure Haven uses one of the safest preservatives – leuconostoc/radish root ferment filtrate. To clarify, it is a unique peptide with antimicrobial and conditioning properties derived from fermented leuconostoc kimchii radishes.
Besides, leuconostoc/radish root ferment filtrate qualifies for EcoCert certification, which means that it is truly natural and plant-based. You can read more about the radish root ferment filtrate here.
Other preservatives in Pure Haven healthy shampoo
In addition, there are three more ingredients that help protect against mold and bacteria. Namely, they are sodium phytate, cocos nucifera (coconut) fruit extract, and lactobacillus.
First, lactobacillus is a probiotic that you may take orally.
Next, cocos nucifera (coconut) fruit extract is made by fermenting cocos nucifera (coconut) fruit with lactobacillus to prevent yeast and mold from growing in the Pure Haven safest shampoo. It also helps condition the scalp because it is rich in fatty acids, proteins, and complex B vitamins.
As for sodium phytate, there is some negative anecdotal information about it on the Internet. Despite this information, clinical studies indicate that a cream with 0.49% sodium phytate tested on 22 subjects showed no irritation. Also, a product containing 50% sodium phytate was classified as a minimal irritant to non-irritant. Additionally, a product containing 1% sodium phytate did not cause skin sensitization in a test involving 25 subjects. And finally, in vitro tests concluded no sensitization potential. You can read these studies and more about sodium phytate in the Cosmetic Ingredient Review report.
Other good ingredients in the Pure Haven clean shampoo
First, this healthy shampoo has organic aloe vera that provides healing and nutrition to the hair and scalp. It is also great that it is organic because there are no pesticide residues this way.
Second, there is panthenol in this healthy shampoo which helps to strengthen hair roots and restore shine to dull hair.
Lastly, plant extracts in this safest shampoo have excellent anti-inflammatory properties so they help sooth irritated and itchy skin. This shampoo uses only one essential oil for a nice mild scent as well as stress reduction and relaxation. Additionally, oryza sativa (rice) bran oil helps restore the luster to hair.
Above all, I am happy to see that all extracts and oils are organic. It means that there should be no harmful pesticide and herbicide residues in this healthy hair shampoo.
Now I would like to say a few words about the Pure Haven conditioner.
Pure Haven conditioner ingredients
The Pure Haven conditioner ingredients are as follows:
aloe barbadensis (organic aloe vera) leaf juice, brassica alcohol, cetyl alcohol, glyceryl caprylate, brassicyl valinate esylate, citrus sinensis (organic sweet orange) oil, heptyl undecylate, glycerin (organic, non-gmo), panthenol, mentha piperita (organic peppermint) extract, yucca shidigera (organic yucca) root extract, urtica dioica (organic nettle) leaf extract, equisetum arvense (organic horsetail) leaf extract, tocopherol (non-gmo), water, caprylhydroxamic acid, calcium gluconate (source).
It has almost identical extracts and essential oil with its healthy shampoo; however, its preservation system is different.
Caprylhydroxamic acid preservative in Pure Haven conditioner
To start with, caprylhydroxamic acid is a very common preservative in green, natural, and organic personal care products. The great news is that the Cosmetic Ingredient Review Expert Panel concluded that it is neither an irritant nor an allergen. It also believes that it is neither an endocrine disruptor nor mutagenic. So, is there potential for Pure Haven to have not only the safest shampoo but also the safest conditioner?
Well, the EWG rates caprylhydroxamic acid 1 (on a scale from 1 to 10, with 1 as the safest). However, I rate it 3 on a scale from 0 to 10 (with 0 as the safest). By the way, the EWG believes that there is no safety data available, which is not true. Please read about the shortcomings of the EWG Skin Deep Database and how to use it without being misled in my Use the Skin Deep Database Correctly post.
The reason I rate caprylhydroxamic acid 3 is that there is evidence in Finland that some people with skin damage caused by eczema developed a reaction to it. In fact, this may be true of many other ingredients. People with eczema must be extra careful about products they use. Just to be on the safe side, I decided to rate it 3.
An important change in Pure Haven conditioners
There have been changes in both Pure Haven healthy shampoo and conditioner. Thus, the conditioner used to have one of the safest quaternary ammonium compounds – behentrimonium methosulfate.
On the one hand, quaternary ammonium compounds are effective at making the hair shiny, antistatic, free of frizz, and hydrated. But on the other hand, they are not good for aquatic life and some people may be sensitive to them. Despite that after washing my hair with its safest shampoo, I used the Pure Haven conditioner with this ingredient because I loved how my hair and scalp felt.
The good news is that now Pure Haven replaced behentrimonium methosulfate with ECOCERT/COSMOS compliant ingredients. Specifically, they are brassica alcohol, brassicyl valinate esylate, and heptyl undecylenate. These ingredients have the same conditioning properties as quaternary ammonium compounds without potential harm to the environment. The European Chemicals Agency database does not list any environmental or human health concerns on these ingredients.
In addition, Pure Haven came out with new supergreens conditioners and shampoo that have these ingredients, too. Along with the same surfactants and preservatives, they have more plant proteins, powders, and extracts beneficial for your hair.
You can check them out on the Pure Haven website.
Conclusion about the Pure Haven safest shampoo and conditioner ingredients
In my opinion, there are no common irritants or sensitizers, and no known endocrine disruptors or carcinogens. And I like the fact that all ingredients that can be organic are organic. That makes it the safest shampoo among soap-free shampoos I have researched.
Browse my shop for options of non-toxic skincare and household items. Also, book a consultation with me if you have any questions regarding your healthy living plan. Finally, apply to become a member of the community of like-minded people in the Savvy Consumer Circle to share and gain experience living healthy at your own pace.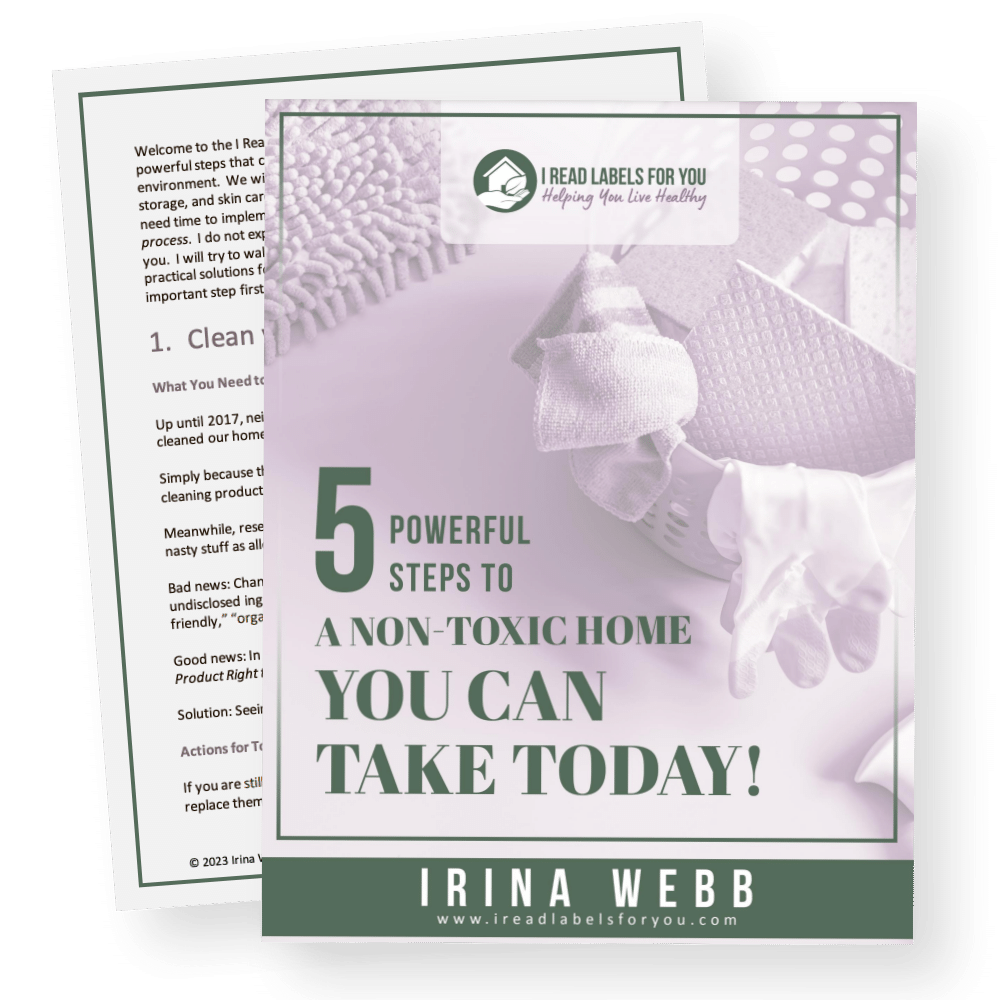 Download The Free Guide!
5 Powerful Steps To A Non-Toxic Home
Join our informed consumer community and get our free guide the "5 Powerful Steps To A Non-Toxic Home".