Hairprint: Restoring Your Hair Natural Color
This post may contain affiliate links. To read our affiliate policy, click here.
Hair is a sensitive subject for women, isn't it? The styling, the washing, the coloring – all these issues are superseded with the ultimate desire to preserve and beautify hair. So, the question is: which products can help with that, or at least, not make it worse? Suppose you decide that you will start coloring your hair. Then, the next step will be to find a non-toxic hair color. If your goal is to cover greys, and if your natural hair color is dark or brown, read on. This post describes my experience with a product that affected me and my hair in a very positive way. Have you heard about Hairprint? Keep reading to find out what makes this hair color restorer special.
My expertise in the field of ingredients will help you choose a safer hair color.
In 2012, I spent a lot of time looking for baby products, as I had just had a baby. To make sure that he was using safe products, I started studying the ingredients and how products were made. Actually, both of my Master's degrees (that I received in two different countries and in two different languages) and my career as a financial analyst helped me with that.
As a result, I read hundreds of scientific studies, scoured numerous product ingredients, and asked manufacturers for test reports. I also inquired about the efficacy of their preservative systems and asked other tough questions. Finally, I learned the truth.
As customers, we hope that if a product is in a store, it means that the government approved its safety. However, the truth is that the US government regulations are not sufficient. Even though a cosmetic product may be harmful, the FDA has no authority to recall it.
Therefore, it became my mission to help consumers choose safer products and retailers and product manufacturers – offer safe goods.
In sum, I believe that you can benefit from my expertise in the field of cosmetic ingredients. Stay with me to learn about a safe hair color that can change your hair beauty routine.
How does Hairprint work? It restores the hair pigment.
As its description states, this hair color restorer brings back the natural color of the hair instead of dyeing it. Specifically, it restores eumelanin, the brown spectrum pigment in the hair. In other words, it works for light brown, brown, and black hair only. Therefore, it is not for redheads and blondes. Well, at least not yet.
According to the science behind this product, it places pre-cursors of eumelanin onto the hair. To clarify, these pre-cursors are molecules small enough to slip under the hair cuticle and polymerize into a granular protein. This protein does not easily leave the hair because it has bonded with larger molecules. Thereby, presumably, it can restore natural hair color. Intriguing, right?
The inventor of Hairprint is John Warner, Ph.D., a co-founder, and leader in the "green chemistry" movement. It appears that in 2014, he received a Perkin Medal, widely acknowledged as the highest honor in American chemistry. I went over his video presentations, and he struck me as a knowledgeable and humble man. Specifically, I found it enriching to hear his explanation of why harmful chemicals exist in the first place.
Speaking of harmful chemicals, I cannot but mention permanent hair color.
Permanent hair color compromises the hair pigment.
Unlike the Hairprint hair color restorer, permanent hair dyes remove the hair pigment to replace it with a chemical color.
First, it is important to understand how a permanent hair color works.
For the hair to get a new color, its old color must be stripped off. For this purpose, the hair color ingredients must include hair shaft openers. The common ones are ammonia and ethanolamine. When you see the "ammonia-free" label on a box, do not automatically assume that this brand is safer. In fact, some studies show that ethanolamine as an ammonia substitute is more harmful. Check out my post about ammonia-free hair color brands to learn more.
Second, the colorants in permanent hair dyes may cause allergic reactions that may result in more than just skin redness. Thus, they may even cause anaphylactic shock (1), and hair loss (source). (In addition to permanent hair color, there are at least seven other overlooked hair loss causes.) Some common examples of hair colorants are toluene-2,5-diamine sulfate (TDS), p-phenylenediamine (PPD), and resorcinol.
Hence, chemicals in permanent hair dyes are the reason they cannot be organic. Find out what "organic" means and how, in my opinion, hair color brands misuse this term in my post about organic hair color. Additionally, learn about Oway hair color, Organic Color Systems, and Madison Reed before you buy your next hair color.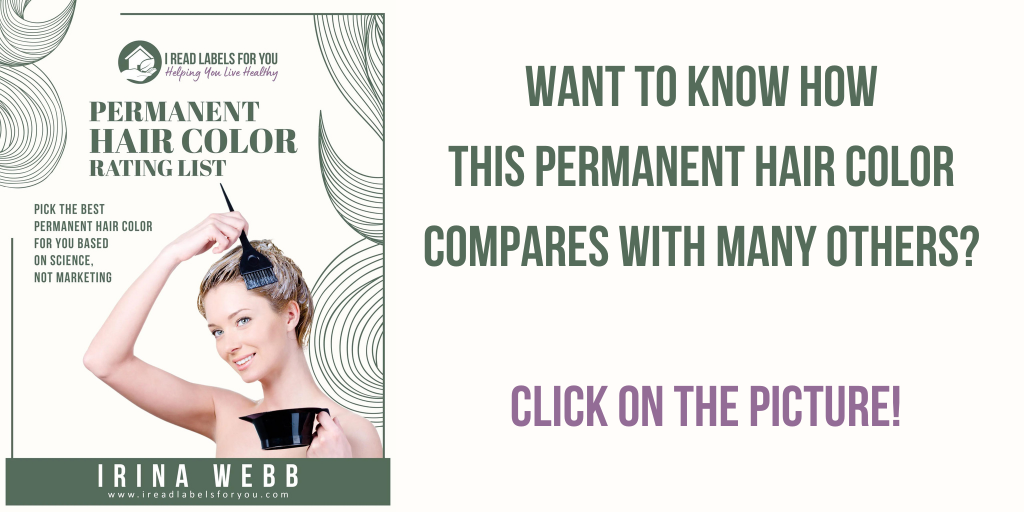 Hairprint hair color restorer ingredients
Since harsh chemical processes were not what I wanted for myself, I decided to give this unique product a try. Let us look at its ingredients together – my favorite part of my job. Indeed, I enjoy figuring out how products are made, and whether marketing claims are consistent with the ingredients.
So, this non-toxic hair color consists of eight food-grade ingredients. (I do not recommend eating them, though!) They are bicarbonate of soda, sodium carbonate, mucuna pruriens, diatomaceous earth, ferrous and manganese gluconate, hydrogen peroxide, and carbomer.
Bicarbonate of soda
We use bicarbonate of soda, aka baking soda, in baking and cleaning. Some people also use it to wash their hair following the "no-poo" hair washing method. Actually, I have tried the "no-poo" method for the sake of research. (It is crazy what I am willing to do in the name of research!) The conclusion I came to is as follows.
When used regularly and long-term, and, therefore, in large quantities, baking soda may damage your hair. The reason is that it is too alkaline and abrasive for the hair. On the other hand, I found it helpful and harmless if used properly. Thus, it helps remove silicone and waxes deposited into our hair by conventional shampoos and conditioners. Since you would not use the hair color restorer that often, baking soda is OK in this product.
Sodium carbonate
The Skin Deep database rates sodium carbonate, aka soda ash, or washing soda, 1 (10 is the most toxic), with fair data. Of course, one of the concerns is irritation to eyes and skin. I would not apply it to my hair or skin in big concentrations. But I feel comfortable about small amounts as used in the Hairprint formulation. By the way, sodium carbonate can be used in baked goods preparations.
Mucuna pruriens
To begin with, Mucuna pruriens is an extract powder made from velvet beans. Next, velvet beans have three main uses: food, cattle forage, and soil restoration (source). Both herbal and Ayurveda medicine use it as an herbal drug to treat various health conditions. They include male infertility and Parkinson's. As a supplement, the powder is also used for libido enhancement. You can read more about that in the US National Library of medicine here and here.
Why is Mucuna pruriens a part of this hair color restorer?
As a matter of fact, L-dopa, found in Mucuna pruriens, is the precursor to eumelanin. Like many plants, animals, and humans, Mucuna pruriens contains a natural form of L-dopa.
You should know that the WebMD website listed several possible side effects of oral consumption of the L-Dopa supplement. As you see, they are side effects of oral consumption of the concentrated component in Mucuna pruriens.
I can't guarantee that Mucuna pruriens will not harm you if you apply it topically. Different substances have different rates of absorption. And I do not have information about the rate of absorption for velvet beans.
However, some studies indicate that L-dopa derived from Mucuna pruriens does not have the same side effects as synthetic L-dopa has when used for many years orally. This fact makes me feel much better.
Also, Hairprint does not use L-Dopa as an isolated substance. Instead, it uses velvet bean extract that contains naturally occurring L-Dopa.
Lastly, people and animals eat velvet beans.
All in all, I believe Mucuna pruriens extract powder is safe to use on scalp and in this coloring product.
Diatomaceous earth
This is fine powder made from fossilized phytoplankton that is used in skin care or as a supplement. The EWG Skin Deep database gives it a rating of 1-2 with a fair amount of data. It also provides a list of products that contain diatomaceous earth.
True that he high content of silica in the Diatomaceous earth can make it too abrasive. That is why this hair color restorer uses the smallest particle size and amount of the Diatomaceous earth possible.
By the way, if you inhale the airborne particles, they can be irritating to your lungs and eyes (source). So, when you transfer this this coloring product powder into a bowl, be careful not to inhale it. I feel comfortable about it, considering that I did not observe any damage to my hair.
Gluconates
To start with, Hairprint contains two gluconates – ferrous gluconate and manganese gluconate.
First, ferrous gluconate can be also used as an oral dietary supplement and as a nutrient. It is also known as iron, which performs a vital function combining with protein and copper to make hemoglobin.
As any drug or supplement, it can have side effects, especially when it is overdosed. Thus, the University of Michigan listed its possible side effects. Note that these side effects are applicable to oral intake. The fact that topical supplements of iron do not seem to exist makes me think that iron is one of the substances that does not get absorbed readily.
Second, manganese gluconate is a dietary supplement and nutrient, too. Manganese is important in the breakdown of amino acids and the production of energy. Too much of a good thing is not good either. And yes, side effects can happen when too much is ingested. In short, iron and manganese are known to be poorly absorbed topically, but there is no research concerning the impact of Hairprint on blood minerals.
Hydrogen peroxide
When it comes to hydrogen peroxide, the concentration is what is important. For example, conventional hair dyes use hydrogen peroxide in concentrations as high as 12%. But in Hairprint, it is half of what you buy at a drugstore and a fraction of what is used in conventional chemical hair dyes.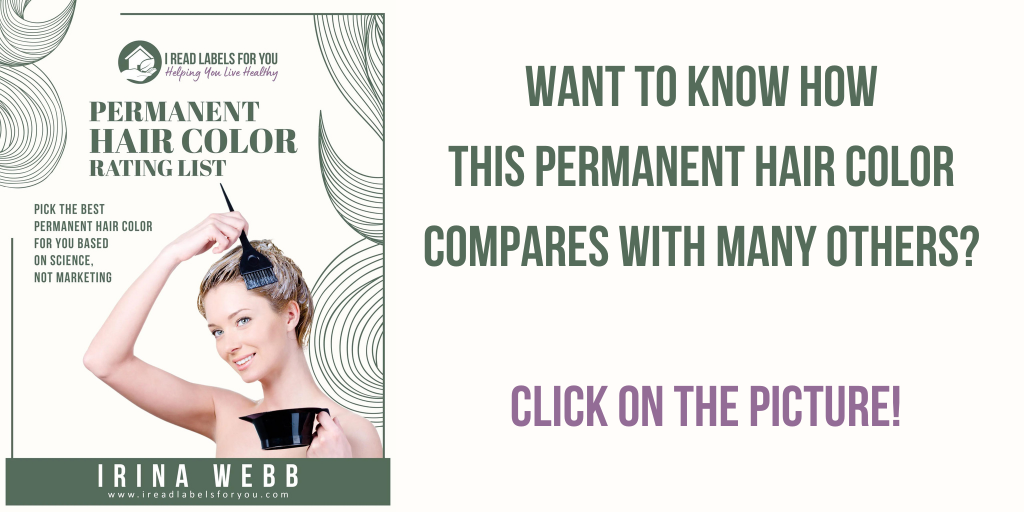 Carbomer
Carbomer is the only synthetic ingredient made of a petrochemical ingredient in this hair color restorer. The EWG Skin Deep database rates it 1 with a fair amount of data and lists no concerns about it.
While I do look up ratings on the EWG, I do not solely rely on them. Instead, I directly read the scientific sources of information that the EWG may use to form its opinions about ingredients.
Thus, the 2018 Cosmetic Ingredient Review Panel report states that carbomer may contain benzene residue. However, even during the 2003 CIR Expert Panel's re-assessment of its safety, manufacturers reported the industry practice of removing benzene. Furthermore, animal and clinical studies showed a low potential for skin irritation and sensitization even at carbomer concentrations up to 100%.
Hairprint hair color restorer pretreatment ingredients
Before applying the coloring powder mixture, you must apply the pretreatment first. Its ingredients are as follows: water, decyl glucoside, leuconostoc radish, cocos nucifera ferment, sodium chloride, hydroxypropyl methylcellulose, and phytic acid.
Decyl glucoside
As a surfactant, decyl glucoside produces lather and, in my opinion, is one of the safest surfactants. It is not known to contain contaminants and has a very low potential for irritation and allergic reactions. You can read about it in detail in my Are Glucoside Safe? post.
Preservatives in the Hairprint pretreatment
There are two preservatives: leuconostoc radish and cocos nucifera ferment. Though there is no safety information on them, I consider them some of the safest preservatives. I make this assessment after comparing them with all the other preservatives that I do not recommend on my website – 22 of them, to be precise.
Besides, they are on the list of approved ingredients by ECOCERT, a European certifying agency. This tells me that they are truly natural and, most likely, are the least harmful.
Other pretreatment ingredients
First, such ingredient in the Hairprint hair color restorer pretreatment product as sodium chloride is also known as table salt.
Second, phytic acid is a chelating agent naturally occurring in green tea and grains. In its Cosmetic Ingredient Review report, the Panel describes the antioxidant and anti-inflammatory properties of phytic acid. Even a product containing 50% of sodium phytate was classified as a minimal to non-irritant.
Last, hydroxypropyl methylcellulose is produced from cellulose. Not only the US but also Europe approves its use in food (source). Plus, the EWG rates it 1 with a fair amount of safety data and no concerns.
To sum up, the ingredients are truly unusual and seem to be not harmful for topical application. On the other hand, an allergic reaction may occur to almost anything, including even chamomile or avocado. Therefore, if you experience any reaction to it, discontinue immediately, see a doctor, and contact the company.
With this said, I have no concerns about the ingredients and personally have not experienced any reaction to it.
My experience with Hairprint was good but not simple.
To begin with, I first used this hair color restorer for the first time in 2016. Then, most of my greys were on my temples. I also noticed that the result was better after the second use. Here are my Hairprint before and after pictures.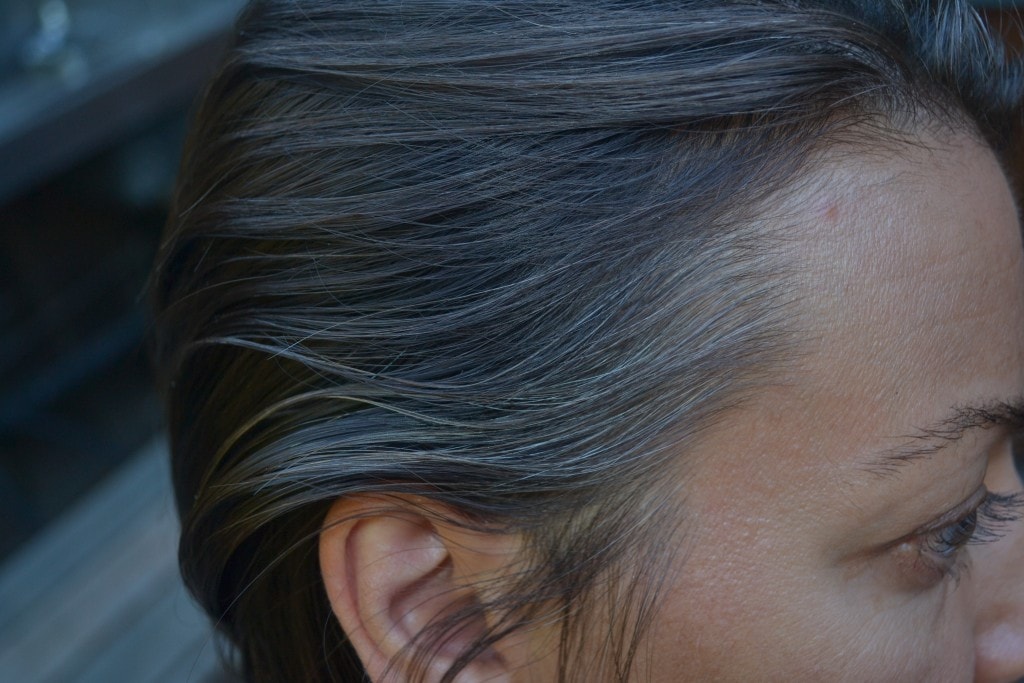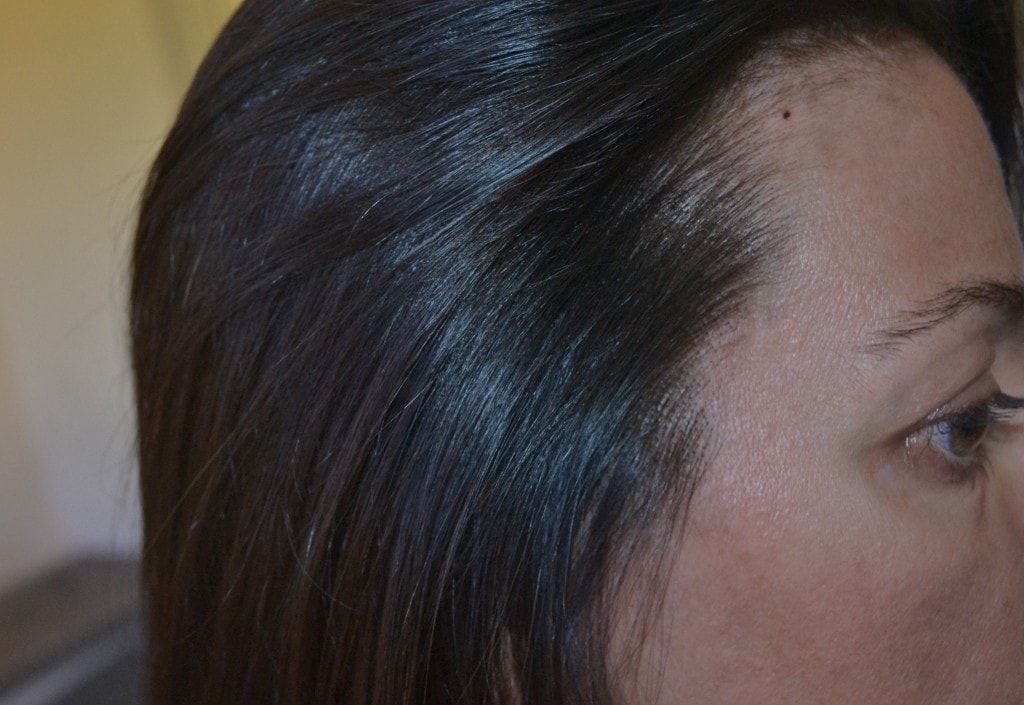 By looking at the pictures, you will probably say, "Wow!" However, as honest as I am, I want to tell you exactly what happened.
In fact, after two uses, my grey hair did not disappear completely, and I could still see some grey strands. On the other hand, Hairprint camouflaged my greys so well that my husband and other people could not see them.
At first, the overall color was a little darker than my natural color. Then, after a week or so, it returned to the color I had in my childhood – warm, rich brown. The vibrant color and thicker texture lasted about a month. Nevertheless, even after the color wore off, I felt like I had fewer grey hairs than before.
So, I decided to use this hair color restorer a third time, and my grey temples were gone! It made me really happy because I could enjoy the hair color I used to have in my childhood. Here is my picture right after the third application.
Later, I stopped using Hairprint because I embraced my grey hair.
I kept using Hairprint for two years. Within that period, I got a bit more grey hair. It was not only on my temples, but also on the top of my head. I think that hair color restoration worked for about 80% of my hair. As for the rest, it blended so well that it was hard to see (unless you knew where to look!).
Nonetheless, that was not the reason I stopped using this hair color restorer. Right now, I do not use any hair color. This is because grey hair does not bother me any longer. Don't get me wrong – it is still there! But, as a result of the change in my way of thinking, I hardly notice it now. In fact, I consider it beautiful and attractive. And so does my husband! [He is my blog editor and wrote that himself!]
How long does Hairprint last?
Well, in my case this product lasted 4-5 months! Because it is not a permanent hair color, in addition to causing no hair damage, it gave me no hair line, either. My hair looked healthy and vibrant.
Is it hard to apply Hairprint hair color restorer?
Frankly, I did my first three applications at a hair salon. It looked easy when my hairstylist did it. However, to save money, I started doing it myself at home instead of going to the hairdresser's.
While it was a little more work, it was not too bad. Just know that if you splash it, wipe it right away because it stains. (I even had to use bleach on some stubborn stains in my grout!) If you stain your clothes, soak them in hot water with hydrogen peroxide for several hours. The stains must come off.
The good news is that the company website offers very clear application instructions and videos. To feel more confident, watch videos of real-life users on the website and YouTube who share their tips. Also, to prevent skin coloring, apply oil on your hairline, ears, and neck.
In short, if you have applied henna or any other hair color at home, Hairprint should not be challenging, especially if you have shorter hair. Even if you have never done hair color at home, you can still do it.
Does Hairprint actually work?
To begin with, we are not living in an ideal world, so nothing is perfect. Some people are extremely happy with the results; others are not. For example, I have received lots of positive reviews from people I know. Thus, this is my closest friend's testimonial about the Hairprint hair color restorer.

With that said, there are negative reviews on the Internet, too. While it works very well for many people, it does not seem to work well for everyone. But you will never know until you try. Remember, though, that it restores the color of the grown hair, not the hair that has not grown yet. In other words, with time, you will start noticing grey hair growing and will have to apply it again.
I believe that the results depend on the hair texture, its density, the hair products, and following the instructions. If you have a mane of coarse grey hair, this product may not work for you. You may have to resort to permanent hair color. In this case, my Permanent Hair Color e-book will help you choose a safer brand.
Does Hairprint work for all kinds of hair?
It seems that short, fine, and not very dense hair is the best candidate for this hair color restorer. However, the company states that it works better over time and encourages people to use it multiple times before forming an opinion as to its efficacy. That makes sense to me, based both on my own experience and on the opinions of other users.
In addition, make sure that you use Hairprint at least a year after using henna or other plant-based dyes. Also, cleanse your hair of coating agents by washing it 2-3 times with the Hairprint chelating shampoo.
Is Hairprint safe?
For starters, the degree of safety of a product depends on what you are comparing it with. If you compare this hair color restorer with a permanent hair color, then, of course, it is safe. However, various people may have various reactions.
For example, some people say that even such seemingly mild ingredients as chamomile and coconut oil gave them allergies. Ultimately, anything can cause an allergic reaction, and there is no guarantee that you will not have any.
All in all, I believe that Hairprint is much safer than typical permanent, semi-permanent, or even temporary hair dyes. It is one of the safest hair coloring products on the market I know.
Conclusion about Hairprint hair color restorer
In conclusion, my experience with this product was very positive and made me happy with the results.
Nevertheless, because of the unique and intricate way it works with each individual's hair chemistry, the results will vary. In other words, I do not know how it will act on your hair. I know that it has not worked for some people. For more tips on the application, visit the Hairprint Support Center, especially if you have dyed or bleached your hair.
If you are ready to give it a try, you can purchase this hair color restorer on the company's website. If you are not up for applying it yourself, you might want to ask your hairdresser or friend to apply it for you.
Lastly, browse my shop for safe products and book a consultation with me to get help with non-toxic living. I'll help you find how to work for your health conditions, appetite for change, risk tolerance, and budget.
(1). Washio, K., Ijuin, K., Fukunaga, A., Nagai, H., & Nishigori, C. (2017). Contact anaphylaxis caused by Basic Blue 99 in hair dye. Contact Dermatitis, 77(2), 122-123.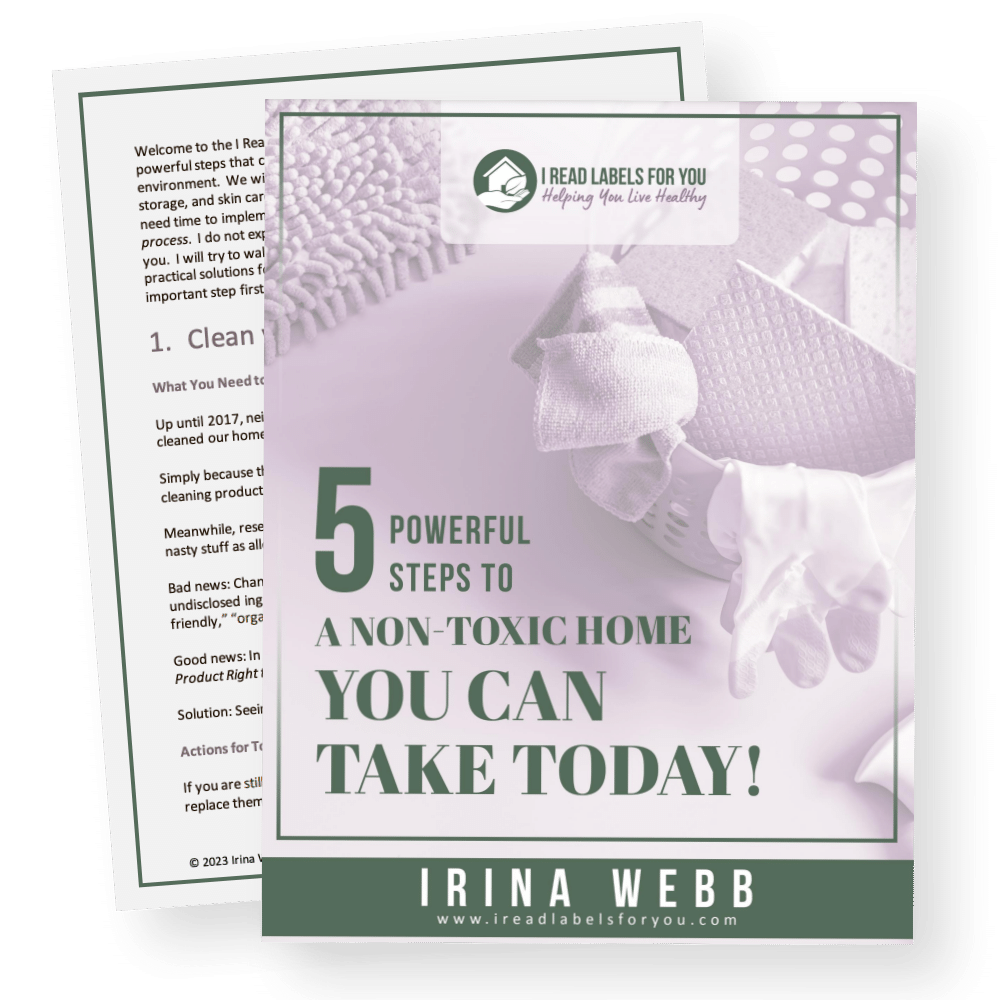 Download The Free Guide!
5 Powerful Steps To A Non-Toxic Home
Join our informed consumer community and get our free guide the "5 Powerful Steps To A Non-Toxic Home".