Branch Basics Safe Cleaning Products Review
This post may contain affiliate links. To read our affiliate policy, click here.
In this Branch Basics review, I'll show you how to know if Branch Basics carries safe cleaning products with a complete analysis of the ingredients. You will also see how Branch Basics compares to green cleaning products by Dr. Bronner's and cleaners by Method, Mrs. Meyer's, and Puracy.
How do I know which cleaning products are safe?
Besides being a full-time consumer goods researcher, I am a full-time product user, too. Like you, I want to use safe and eco-friendly cleaning products at home. Hence, I base my judgment on not only scientific data about ingredients but also my personal experience with the merchandise. Believe me, I have used a lot in almost a decade of research!
Additionally, I've had many offers of generous commissions from companies who wanted me to promote their goods on my blog. However, I only recommend safe cleaning products that meet my strict standards. Learn more about I Read Labels for You unique approach to research and the credible sources we use. Plus, meet the IRLFY team of hardworking researchers who are committed to bringing safe products to your home.
In 2013, when I started my blog, there was hardly any information available in the field of non-toxic product research. For the first several years, I worked with no payback, just absorbing whatever data and studies I could find. Today, I am happy to tell you that IRLFY offers not only free educational blog posts but also unique paid services. Take advantage of our healthy living consultations, Savvy Consumer Circle membership, e-books, and a shop full of great products that meet my strict standards.
In other words, you have plenty of opportunities to tune into healthy living and start making changes in your surroundings. One of the easiest first steps could be replacing your old chemical-laden home cleaners with green cleaning products.
Why use non-toxic cleaning products?
To understand why using safe cleaning products is important, let's look at common household cleaners.
For starters, there is something fundamentally important for you to know when it comes to cleaners. Namely, there is no requirement for the manufacturers to disclose the ingredients they use. Those that do disclose them do it on a voluntary basis (and we are grateful for that!).
Obviously, most cleaning products can be dangerous to our health; otherwise, they would not have warning statements on their labels. For instance, some cleaners cause immediate hazards such as skin or respiratory irritation, watery eyes, chemical burns, or even death. Thus, American Poison Control Centers report that household cleaning products and disinfectants are common causes of poisoning in both children and adults (source).
Furthermore, the Environmental Protection Agency requires that manufacturers label their products depending on the degree of toxicity. The words 'Danger,' 'Warning' or 'Caution' indicate if the product may harm through swallowing, inhalation, skin application, or cause death.
Certainly, even knowing this much, you are already eager to replace all your conventional cleaners with new green cleaning products. So, keep reading and you will learn about safe cleaning products on the market.
But first, let's discuss what ingredients in household cleaners are best to avoid.
What are the safest cleaning products?
Ideally, the safest cleaning products are good to use on babies and contain none of the following ingredients:
Ingredient
Health Concern
Ammonia
– can irritate the skin, eyes, and respiratory tract (consider reading my post about ammonia-free hair color brands)
Fragrance
– blend of chemicals, many of which can trigger asthma and allergies (consider reading my post about natural fragrance)
Phthalates (used in fragrance)
– increase the risk of allergies and asthma, and are also endocrine disruptors and can cause moderate reproductive and developmental toxicities (source)
Quaternary ammonium compounds (QUATs, QACs, QATs)
– can cause nose, throat, eye irritation and trigger asthma (e.g., benzalkonium chloride) – – can cause allergic skin reactions associated with the growth of bacteria resistant to disinfection
– Exposure to a common QAC disinfectant impaired reproductive health in mice (source).
Sodium Hypochlorite (bleach)
– can trigger asthma attacks in people who already have asthma
– can irritate the skin, eyes, and respiratory tract
Triclosan
– suspected endocrine disruptor in animal studies
– may play a role in cancer development, perhaps through its ability to act as estrogen or inhibit fatty acid synthesis (source)
– Asthmatic children with higher concentrations of triclosan in their bodies were found more likely to be sensitized to inhaled allergens (source).
– The FDA banned the sale of hand and body soaps containing triclosan (and 18 other disinfecting ingredients) saying that these products were no more effective at preventing illness than regular soap and water (consider reading my non-toxic hand soap guide).
Are all green cleaning products truly green?
Truth be told, even though some brands promote their cleaners as green or safe cleaning products, they are not. Hence, it is important to read the ingredients.
The thing is such terms as "green," "non-toxic," "eco-friendly," and "all-natural" do not have any legal definitions. That is to say, manufacturers can write virtually anything they want on their product labels to sell their goods. The strict exception is the USDA organic label that tells you that the product is organic.
In addition, "plant-based" and "plant-derived" ingredients do not automatically make a product safe. Stay with me to see which brands use harsh chemicals in their plant-based products. But before that, let's explore what I consider green cleaning products.
Is Branch Basics safe?
For your information, Branch Basics was founded by three women. They spared no time or money to design safe cleaning products to meet the needs of the most sensitive people.
At first, I had my reservations about Branch Basics because I was not sure about their preservation system. But then, an interview with one of the founders Marilee Nelson dispersed my doubts. I believe Branch Basics uses one of the safest preservation systems in their water-based cleaning product – Branch Basics Concentrate.
To complement the liquid cleaner, Branch Basics carries Oxygen Boost powder that boosts the power of the Branch Basics Concentrate. It is great for laundry, stains, and grout and is bleach-, ammonia-, dye-, and fragrance-free. And it has only two ingredients: sodium percarbonate and sodium bicarbonate (baking soda).
Does Branch Basics work?
I use Branch Basics for several purposes (read on to learn more about that), and, I believe, it works well.
But don't take just my word for it. Here is a comment about Branch Basics cleaning products by a member of my Savvy Consumer Circle: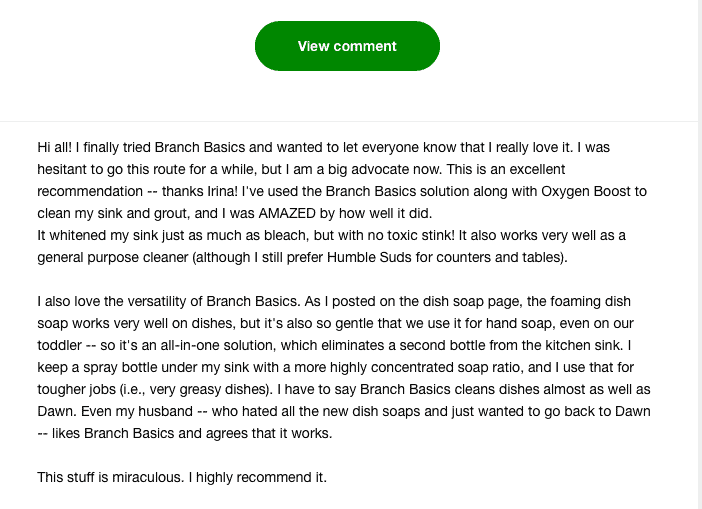 Is Branch Basics worth it?
The idea behind the non-toxic concentrate is to dilute it with water in different proportions to get a non-toxic cleaner you need. Personally, I like having one product for all purposes instead of a whole artillery of products. Thus, Branch Basics Concentrate can serve as non-toxic dish soap, laundry detergent, and other safe cleaning products.
So, in a sense, we are looking into multiple green cleaning products in one bottle. The product consists of just seven ingredients:
water
decyl glucoside
chamomile extract
coco-glucoside
sodium citrate
sodium bicarbonate, and
sodium phytate.
Please, study the non-toxic ingredients of Branch Basics Concentrate and Oxygen Boost in the table below (in alphabetical order).
Branch Basics dish soap and Oxygen Boost ingredients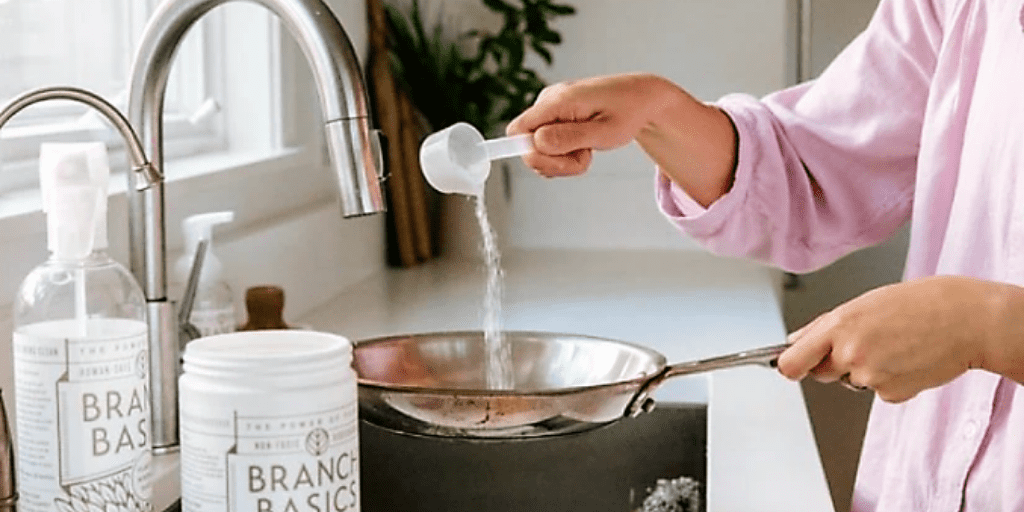 Chamomile Extract
– powerful healing and anti-inflammatory properties
– Branch Basics takes time to make sure that the chamomile is free of contaminants, and that the manufacturer adds no trace amounts of chemicals during processing.
Coco-Glucoside, Decyl Glucoside
– derived from non-petroleum sources (corn, palm, potato, wheat, or coconut)
– no petroleum-associated contaminants
– According to the Cosmetic Ingredient Review report, glucoside surfactants are not allergens or sensitizers. For full disclosure, though rare, there are reported cases of allergic reactions to glucosides. Hence, the CIR Panel encourages manufacturers to minimize the risks of irritation in their formulations.
Sodium Bicarbonate
– baking soda
Sodium Citrate
– a salt of citric acid with no health concerns
Sodium Percarbonate
– an inorganic salt used as an oxidizing agent
– its properties resemble those of hydrogen peroxide; no concern for humans with regard to possible genotoxicity or carcinogenicity (Human & Environmental Risk Assessment)
Sodium Phytate
– part of these safe cleaning products preservation system that also includes a higher pH (8.5 +/- 0.5), and a large amount of chamomile (which has antibacterial properties)
– Even in a diluted form, Branch Basics green cleaning products have been tested to last up to 2 years.
– When it was administered to groups of rats for 44 weeks after azoxymethane injection, there was a reduction of cancerous tumor prevalence, frequency, and size (source).
– For more information on sodium phytate and glucosides, consider reading my post The Best Safest Shampoo.
Branch Basics vs. Mrs. Meyer's
Just as Branch Basics, Mrs. Meyer's uses plant-derived cleansers, namely, glucosides. Yet, in my opinion, some of Mrs. Meyer's cleaners contain ingredients of concern.
In the table below are the ingredients of Mrs. Meyer's Rose Multi-Surface Everyday Cleaner. I have also highlighted the ingredients of concern in bold and explained why I consider them as such.
| | |
| --- | --- |
| Mrs. Meyer's Rose Multi-Surface Everyday Cleaner Ingredients | Water, Decyl Glucoside, [Fragrance: (Citronellal, Geraniol, Hexyl Cinnamal, Linalool), Rosa Damascena Flower Oil, Citrus Dulcis Aurantium (Orange) Peel Oil], Sodium Citrate, Lauryl Glucoside, Sodium Methyl 2-Sulfolaurate, Citric Acid, Tetrasodium Glutamate Diacetate, Methylisothiazolinone, Benzisothiazolinone. Contains fragrance allergens |
| Linalool, Geraniol, Hexyl Cinnamal | – allergens |
| Methylisothiazolinone | – American Contact Dermatitis Society called this preservative Contact Allergen of the Year for 2013 |
| Benzisothiazolinone | – preservative known as a skin irritant and sensitizer |
In sum, due to the potential health hazards of the emphasized ingredients, I cannot call Mrs. Meyer's products safe cleaning products. To learn more about them, consider reading my post Are Mrs. Meyer's Cleaning Products Safe.
Branch Basics green cleaning products vs. Method
Again, like Branch Basics, Method uses plant-based surfactants, i.e., glucosides. However, in my opinion, some other ingredients in Method cleaners are not that safe. Check out the ingredients for Method All-Purpose Cleaner and why I consider the ones in bold concerning.
| | |
| --- | --- |
| Method All-Purpose Cleaner Clementine Ingredients | Water, Decyl Glucoside, Lauryl Glucoside, C12-16 Pareth-7, Sodium Gluconate, Sodium Carbonate, Limonene (fragrance), Linalool (fragrance), Citric Acid, Colorant (synthetic) |
| C12-16 Pareth-7 | – made with carcinogenic ethylene oxide and may have traces of carcinogenic 1,4-dioxane |
| Limonene, Linalool | – allergens |
| Synthetic Colorant | – may be contaminated with heavy metals |
You can learn more about Method in my post Are Method Cleaning Products Safe.
Branch Basics vs. Puracy
Alongside Branch Basics and the brands discussed above, Puracy uses a glucoside surfactant that is okay for green cleaning products. Although Puracy Multi-Surface cleaner has very few ingredients, almost half of them look concerning to me.
| | |
| --- | --- |
| Puracy Natural Multi-Surface Cleaner Ingredients | Water, Decyl Glucoside, C10-C16 Alcohol Ethoxylate, Benzisothiazolinone, Sodium Citrate, Natural Fragrance, Citric Acid |
| C10-C16 Alcohol Ethoxylate | – ethoxylated ingredient made with carcinogenic ethylene oxide and may contain traces of carcinogenic 1,4-dioxane |
| Benzisothiazolinone | – preservative known as irritant and sensitizer (as indicated by the European Chemicals Agency Database) |
| Natural Fragrance | – mixture of numerous chemicals, many of which can trigger asthma and allergies (consider reading my post about natural fragrance) |
Branch Basics vs. Dr. Bronner's
Right off the bat, I can tell you that, in my opinion, Dr. Bronner's products belong in the safe cleaning products category.
| | |
| --- | --- |
| Dr. Bronner's Pure Baby Unscented Castile Soap Ingredients | Water, Organic Coconut Oil, Potassium Hydroxide*, Organic Palm Kernel Oil, Organic Olive Oil, Organic Hemp Oil, Organic Jojoba Oil, Citric Acid, Tocopherol. *None remains after saponifying oils into soap & glycerin. |
I believe Dr. Bronner's unscented castile soap has no concerning ingredients. As for the options scented with essential oils, I would not use them on babies and kids. They are okay for adults, though, if you are not allergic to those essential oils.
Can you add essential oils to Branch Basics? Yes, you can. And if you are looking for affordable essential oils, check out Plant Therapy Organic Essential Oils.
In concept, Branch Basics Concentrate works similarly to Dr. Bronner's Castile Soap. The difference is that Dr. Bronner's main ingredient is saponified soap, which does not work well with hard water. Contrary to that, the safe non-petroleum glucoside surfactants in Branch Basics green cleaning products work well even in hard water. (Learn more about castile soap in my post Natural Bar Soap – The Mystery Revealed.)
Branch Basics dilution guide to make safe cleaning products
For your convenience, Branch Basics offers reusable glass spray bottles with fill lines to make your cleaning routine simple and sustainable. I am impressed with how well these spray bottles work, and they do not break even after extended use.
Plus, Branch Basics offers very detailed dilution and usage instructions for what seems like all possible situations you may encounter. They include cleaning of your bathroom, tiles, toilet bowls, carpets, pets, granite, marble, and so on. Additionally, the instructions explain how to use vinegar and hydrogen peroxide with Branch Basics Concentrate to achieve better results in certain cases.
Below are the main Branch Basics Concentrate (BBC) dilution ratios to prepare non-toxic cleaning solutions:
ALL-PURPOSE green cleaning products
1 part BBC to 11 parts distilled water
BATHROOM
1 part BBC to 5 parts water
STREAK-FREE
1 drop BBC to 24 oz. distilled water
FOAMING WASH
1 part BBC to parts water
LAUNDRY
– 1 part BBC to 2 parts of water (and then you pour ¾-1 capful of this laundry solution into the washing machine)
– For hard water (high in minerals): add 1 cup vinegar and/or baking soda to your wash. Hard water may also require more concentrate than soft water.
How to use Branch Basics green cleaning products
To begin with, here are some of my favorite uses for Branch Basics safe cleaning products:
mopping wooden floors
dusting wooden furniture
doing dishes in the dishwasher and manually
cleaning kitchen surfaces.
Below are some examples of how you can use Branch Basics Concentrate. To learn about other ways, please study the user guide.
Can you use Branch Basics on wood?
The short answer is "yes," but there are some caveats.
Please, know that wooden floors have various finishes. Hence, Branch Basics suggests using only very diluted solutions on sealed wood floors because a more concentrated solution may break down the finish.
Mix 3/4 teaspoons of the concentrate in 2 cups of water and test in an inconspicuous area before cleaning the entire floor. Also, instead of using water directly on the wood floor, spray the solution onto a slightly damp mop and then clean.
Branch Basics laundry detergent
As a laundry detergent, Branch Basics works for cold-washing silk and wool. Be sure to check, though, as to whether the garment label specifies another way of washing.
In case of stains on clothes or fabric surfaces, pretreat each stain with Branch Basics All-Purpose cleaner. For tough stains on white fabrics, spray with All-Purpose, sprinkle with Oxygen Boost, and add more All-Purpose. Soak for 15 minutes or even overnight.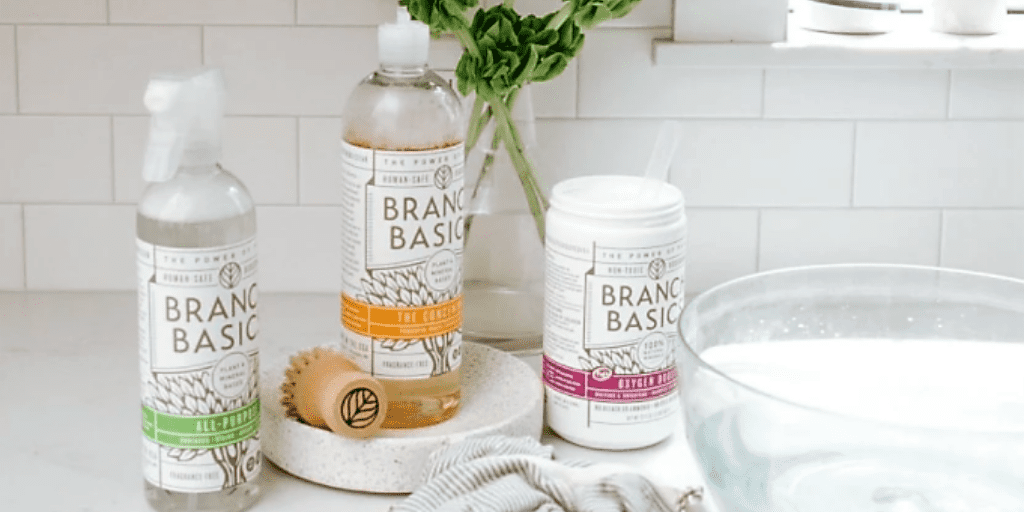 Also, use distilled water for stain removal, especially on fabrics, upholstery, carpets, and rugs. This is to avoid watermarks from the minerals in tap water.
How to use Branch Basics safe cleaning products for stainless steel cookware
To polish your stainless-steel cookware, you can use Branch Basics green cleaning products in the following way.
First, spray the clean and dry stainless steel pan surface with Branch Basics All-Purpose cleaner, and then wipe with a paper towel. If the All-Purpose leaves streaks, try spraying a damp cloth first before wiping or try using the Streak-Free.
You can also use Branch Basics to clean the pots after burning food. Because I work from home and often multitask, I burn some food sometimes. In this case, I fill my stainless-steel pot with hot water and add one scoop of Branch Basics Oxygen Boost. Then I leave it to soak for at least one hour. After that, I do not have to scrub and just wash with water and soap.
Is Branch Basics antibacterial?
This question requires some explanation.
First off, the FDA has admitted the lack of proof of the effectiveness of antibacterial soap (source). In essence, antibacterial soaps contain added chemicals that are supposed to reduce or prevent bacterial infection. Yet, the FDA representative states that there is no data that proves that. Therefore, using antibacterial soaps might give people a false sense of security.
Hence, Branch Basics green cleaning products are not sanitizing, disinfecting or antibacterial. In their opinion, using Branch Basics All-Purpose solution is enough to remove (rather than kill) germs.
For those who are still concerned about germs, I have a suggestion. I know that vinegar is widely considered a disinfectant. However, I have SEARCHED and have NOT FOUND any scientific evidence confirming that vinegar works for all bacteria strains effectively. Therefore, I suggest teaming Branch Basics safe cleaning products with the safest disinfectant I have found.
Basically, you would wash the surface with All-Purpose first, wipe it, and then spray it with the disinfectant. I suggest the Force of Nature disinfectant because it is registered with the EPA as a disinfectant. By the way, a disinfectant works at its full capacity per manufacturers' instructions only on CLEAN surfaces.
Is Branch Basics safe for babies?
I believe that Branch Basics cleaners are safe for babies and kids. The great thing is, it does not contain any fragrance, synthetic, natural, or even essential oils that some kids can be sensitive to. In fact, the ingredients of the concentrate remind me of some of the safest baby shampoos and washes that I have reviewed. Due to glucoside surfactants, the formula is considered "no tears" for washing babies.
In fact, I have a post about Numbing Agents in Tear-Free Baby Shampoos where I explain what makes shampoos tear-free. In a nutshell, if a baby shampoo or wash uses no other surfactants besides glucosides, it should be tear-free. Glucosides are mild enough for babies.
Is Branch Basics safe for pets?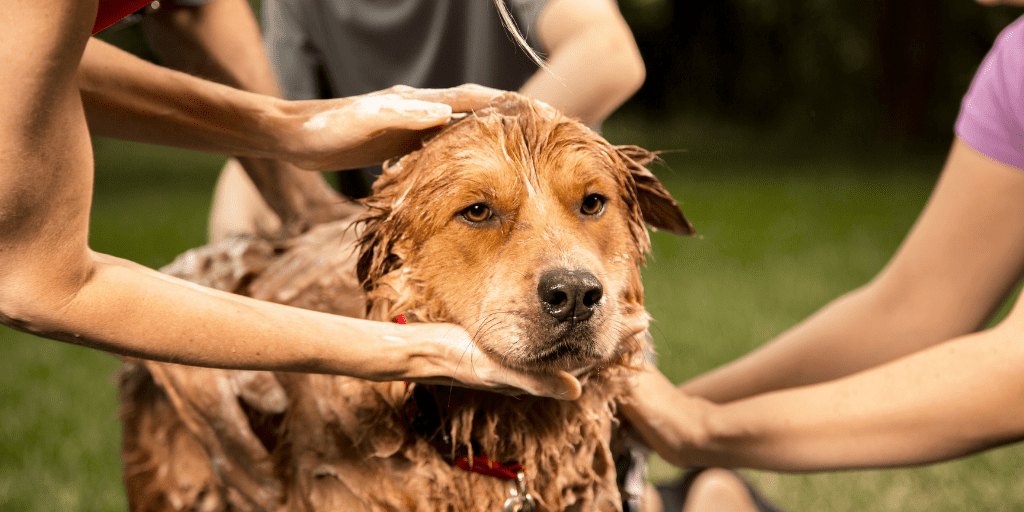 Again, per the Branch Basics user guide, you can use their green cleaning products for both pets and their habitats. As we discussed earlier, I do not see any concerning ingredients in this cleaning product. However, I am not a veterinarian. Please, consult with your vet to confirm that Branch Basics safe cleaning products are safe for your pets.
Thus, Branch Basics Streak-Free solution is good for cleaning aquariums and terrariums without leaving any toxic residue. For cages and litter boxes, you can use Branch Basics All-Purpose solution. Just spray the empty litter box liberally and let sit for 5 minutes. Then fill it with water and let sit for another 5 minutes. Lastly, rinse with hot water. They say that you can even spray directly on litter to control odor.
To wash cats and dogs, spray Branch Basics Foaming solution on your wet pet, lather for 5 minutes, and rinse.
Where can you buy Branch Basics?
You can buy it on the Branch Basics website or in the IRLFY shop. Please use the discount code READ15 to get 15% off. It is not sold in brick-and-mortar retail stores.
Summary of the Branch Basics safe cleaning products review
To sum up, replacing conventional cleaning products with green cleaning products seems like an easy step toward healthy living. Indeed, besides posing immediate danger, the chemicals in conventional cleaners can cause an increase in the risks of allergy, hormone disruption, reproductive problems, and even cancer. In my opinion, it is best to avoid products with such ingredients as ammonia, bleach, fragrance, triclosan, and QUATs.
Further, it is imperative that we read product ingredients rather than rely on a manufacturer's claims. In fact, along with plant-based ingredients, some products may have pretty harsh chemicals in them. For instance, the Method, Puracy, and Mrs. Meyer's all-purpose cleaners we discussed above contain allergens and sensitizers.
As for Branch Basics Concentrate, it is one of the cleaning products that I consider safe and effective. The ingredients are some of the safest: water, glucoside surfactants, chamomile extract, sodium citrate, sodium bicarbonate, and sodium phytate. Moreover, they have Oxygen Boost powder that has only two ingredients and boosts the power of the concentrate.
Lastly, there are many toxic-free options for household and cosmetic products in the IRLFY shop. In addition, if you are considering a purchase but are not sure about the ingredients, I can assist you in making your decision via a private consultation.