Are Method Cleaning Products Safe?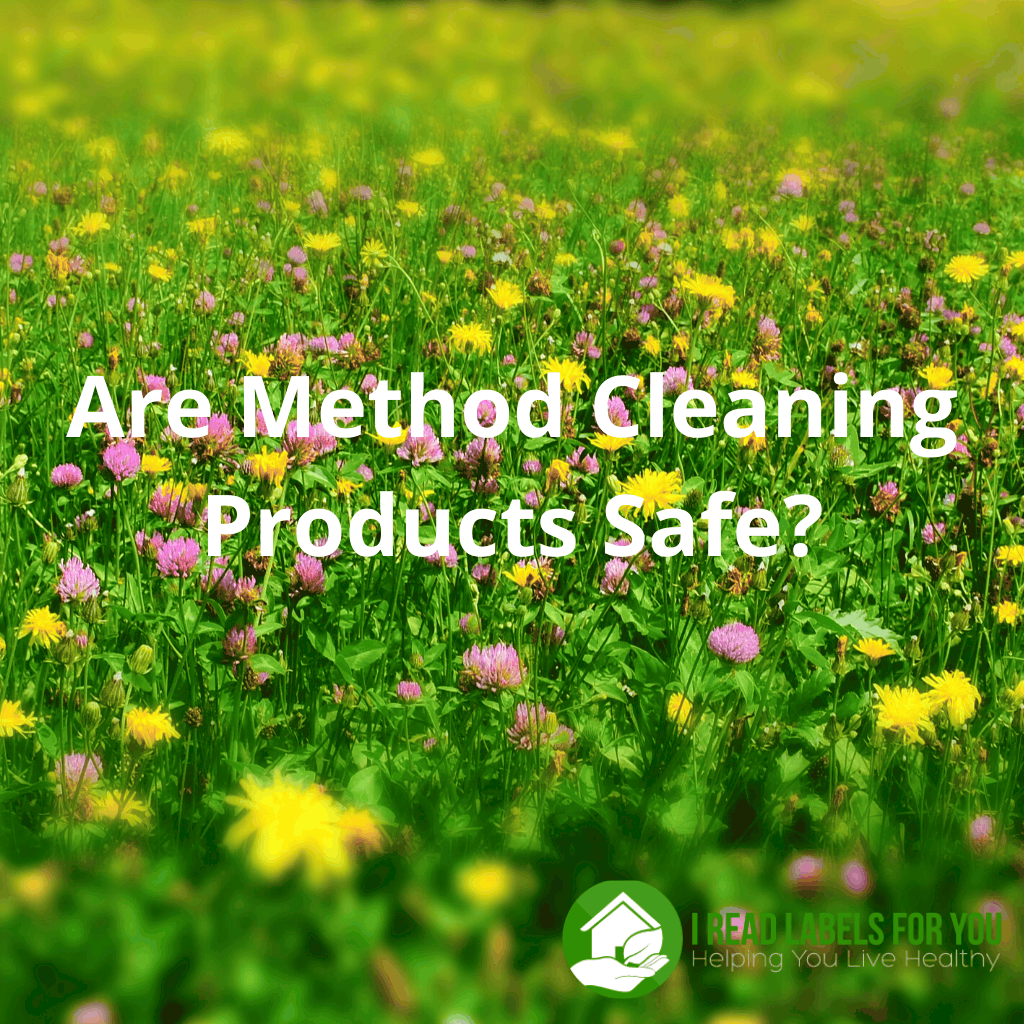 This post may contain affiliate links. To read our affiliate policy, click here.
After I had just had a baby, I bought Method cleaning products because I thought they were the safest out there. What made me think that way? It was the product description with such words and phrases as "green," "non-toxic," and "naturally-derived." Much to my surprise, a friend told me that the products I had bought were not as safe as I thought. So, I decided to look at the actual ingredients instead of the claims. Hence, in this post, we will discuss Method cleaning supplies and their ingredients to see whether they are safe to use.
What do "green" and "naturally-derived" mean?
To begin with, neither "green" nor "naturally-derived" automatically means a product is safe for health. Basically, what these words mean is that the ingredients are biodegradable and originate not from petroleum but rather from coconut oil in most cases.
Nevertheless, even when the source of an ingredient is as natural as coconut oil, the manufacturing process involves so many other chemicals that it is hard to consider the end ingredient natural and healthy. In my post about Mrs. Meyer's Cleaning Products you can read about two examples of such "naturally-derived" ingredients that turn out to be pretty harmful in the end.
Therefore, it is critical to look at the ingredients themselves, and not rely solely on marketing claims. And if you do not understand something, be sure to contact manufacturers and ask. They need to hear from us and know that we are paying attention.
Method cleaning products
The Method cleaning supplies that we will talk about include an all-purpose cleaner, laundry detergent pour, dish soap, and hand wash.
Method all-purpose cleaner
These are the Method Honeycrisp All-Purpose Cleaner ingredients:
Water, Decyl Glucoside, Lauryl Glucoside, C12-16 Pareth-7, Sodium Gluconate, Sodium Carbonate, Acetate C 6 Hexylic, Agrumex, Aphermate, Dihydro Myrcenol, Galaxolide, Hexyl Cinnamic Aldehyde, Hexyl Propionate, Peach Pure, Citric Acid, Colorant (source).
In contrast to other Method cleaning products, the all-purpose cleaners have no preservatives among the ingredients. So, I contacted the company to ask them about that, and they gave me a very reasonable response. To clarify, the pH of the product is 10.5 – 11.5, which is high enough to preserve it without having to add any preservatives. Hence, the preservation system in Method all-purpose cleaners should be effective.
However, there are some ingredients of concern, namely, fragrance, surfactants, and colorant.
Fragrance in Method products
First of all, I applaud Method for disclosing their fragrance ingredients. Since there is no legal requirement to disclose fragrance ingredients, we often see 'fragrance' or 'parfum' listed on a label as if it were just one ingredient. However, fragrance is a blend of ingredients, many of which can contribute to the development of allergies, sensitization, endocrine disruption, negative environmental impact, and even cancer.
The fragrance ingredients in the Method cleaning supplies are Acetate C6 Hexylic, Agrumex, Aphermate, Dihydro Myrcenol, Galaxolide, Hexyl Cinnamic Aldehyde, Hexyl Propionate, and Peach Pure.
The European Union determined that 5 out of the 8 ingredients are toxic to aquatic life with long lasting effects. In addition, the EU has been assessing Galaxolide for endocrine disruption. Finally, the EU states that Hexyl Cinnamic Aldehyde may cause an allergic skin reaction and skin sensitization. Skin sensitization means developing an allergic reaction after repeated use. In other words, you can develop an allergic reaction to the product you were okay with at first.
As you can see, there are risks associated with the usage of Method all-purpose cleaner. Based on this alone, I would not take my chances. Additionally, I love aquatic life too much to cause it distress.
Now, let us look at other ingredients of the Method all-purpose cleaner.
Surfactants among Method ingredients
The surfactants I see in Method cleaning products are Decyl Glucoside, Lauryl Glucoside, and C12-16 Pareth-7.
I believe that decyl glucoside and lauryl glucoside belong to a group of the safest surfactants called glucosides. Indeed, they are mild enough to be used in baby washes. In fact, my favorite safe cleaning products contain these surfactants, and I consider them the safest cleaners I have found so far. Feel free, though, to read my complete research into glucosides to form your own opinion about their safety.
As for C12-16 Pareth-7, there is no safety data for it. We also know that it is an ethoxylated ingredient. That is to say, it was created through the process of ethoxylation. To clarify, in this process carcinogenic ethylene oxide is reacted with other ingredients to make them less harsh on the skin. As a result, carcinogenic 1,4-dioxane is created in this process and can remain in the end product as a contaminant.
Additionally, studies performed by the United States Food and Drug Administration (FDA) show that 1,4-dioxane can penetrate human skin. As consumers, we cannot know for sure if there is any residue of this contaminant in the products we apply to our skin.
Therefore, I firmly believe that bodycare and household products should not be made with carcinogenic chemicals. Besides, these chemicals are not good for either the environment or for the workers who make the product. That is why I don't recommend Method cleaning supplies that have ethoxylated ingredients.
Colorants in Method cleaning products
The problem with colorants is that they may contain residues of heavy metals and petroleum-based carcinogenic contaminants such as PAHs. I wish Method did not have colorants in their cleaning supplies, because they are not vital for those products at all. If you think about it, who cares what color their cleaning products are. To learn more about the danger of dyes in cosmetic products, head over to my post Heavy Metals in Makeup.
Method laundry detergent
These are the ingredients in the Method Fresh Air Detergent Pour:
Water, C12-16 Pareth-7, Sodium Lauryl Sulfate, Glycerin, Ethanol, Sodium Chloride, Limonene, Citronellol, Linalool, Coconut Fatty Acid, Trisodium Salt Of Methylglycinediacetic Acid, Polyester, Carboxymethylinulin, Calcium Chloride, Protease, Sodium Hydroxide, Disodium Distyrylbiphenyl Disulfonate, Pectinase, Alpha Amylase, Benzylisothiazolinone, Phenoxyethanol, Methylisothiazolinone, Mannanase, Denatonium Benzoate, Proprietary Colorant Blend (source).
Contains Fragrance Allergens
As you can see, the C12-16 Pareth-7 surfactant that we discussed above is here, too. Also, there are colorants and fragrance ingredients that have a connection to allergy, such as Limonene, Citronellol, and Linalool (source).
On top of that, there are very concerning preservatives in this laundry detergent, which are also in other Method cleaning supplies.
Just as in many household cleaners, the preservatives in Method cleaning products are benzisothiazolinone, methylisothiazolinone, and phenoxyethanol.
Benzisothiazolinone among Method ingredients
First, the Skin Deep database rates benzisothiazolinone at 3-6, but it used to rate it at 6. (For some reason, perhaps to seem more friendly, the EWG's rating system seems to have been softened across the board recently. Out of an abundance of caution, I usually provide the rating before the change, because that is what I go by myself.)
Second, with respect to systemic toxicity, the European Union's Scientific Committee on Consumer Safety (SCCS) considers this preservative safe for use in cosmetics products in amounts up to 0.01%.
Nevertheless, the SCCS states that benzisothiazolinone is a known sensitizer. From the point of view of sensitization, there is no data as to the safe levels of exposure to this ingredient. Therefore, until the levels are established, the use of this preservative in products cannot be considered safe in relation to sensitization (source).
Methylisothiazolinone and phenoxyethanol in Method cleaning supplies
Further, methylisothiazolinone (MI) has a link to contact allergy and a rating of 4-7 out of 10 in the Skin Deep database, whereas it used to have a rating of 7.
On top of that, in 2013 the American Contact Dermatitis Society named it Contact Allergen of the Year. Above all, lab studies on the brain cells of mammals suggest that MI may be neurotoxic.
As for phenoxyethanol, the American Society of Contact Dermatitis lists it as one of its core allergens, even in concentrations as low as 1%. Please read my post about the safety of phenoxyethanol to learn more about this ingredient.
Clearly, Method cleaning supplies do not have the best choices of preservatives.
Method dish soap
These are the ingredients of one of the other Method cleaning products – Free+Clear Dish Soap:
Water, Sodium Lauryl Sulfate, Lauramine Oxide, Decyl Glucoside, Lauryl Glucoside, Ethanol, Glycerin, Sodium Chloride, Citric Acid, Methylchloroisothiazolinone, Methylisothiazolinone (source).
In addition to the glucoside surfactants mentioned above, the dish soap contains sodium lauryl sulfate and lauramine oxide. Lauramine oxide is toxic to aquatic life with long lasting effects and may cause skin irritation (source). Sodium lauryl sulfate is also toxic to aquatic life and may cause skin or respiratory irritation (source).
Besides, the dish soap contains methylisothiazolinone and methylchloroisothiazolinone preservatives (MI and MCI respectively). They both have a link to a higher risk of allergic contact dermatitis and sensitization.
On a positive note, this particular kind of dish soap is the only one among other Method dish soaps that has no fragrance. In other words, there is no risk of an allergic reaction to fragrance ingredients.
Thus, if you are currently using Method dish soap, I recommend wearing gloves. It will protect you from possible sensitization and, as a result, an allergic reaction.
Method hand wash
These are the ingredients of Method Lemon Mint foaming hand wash:
Aloe Barbadensis Extract, Citric Acid, Cocamidopropyl Betaine, Colorant, Fragrance (Parfum), Glycerin, Methylchoroisothiazolinone, Methylisothiazolinone, Sodium Chloride, Sodium Citrate, Sodium Lauryl Sulfate, Tocopheryl Acetate (Vitamin E), Water (source).
First, there are the methylchoroisothiazolinone and methylisothiazolinone preservatives in the hand wash just as in the other Method cleaning supplies.
Second, the formulation does not disclose the fragrance ingredients.
Third, in addition to sodium lauryl sulfate, Method cleaning products use cocamidopropyl betaine as a surfactant.
Cocamidopropyl betaine as a surfactant
This ingredient functions as a lathering agent. However, the Cosmetic Ingredient Review Panel states that it has the potential to cause sensitization. The latter is due to the contaminants DMAPA and Amidopropyl Dimethylamine (Amidoamine). Hence, the Panel warns manufacturers to cut down on concentrations of the sensitizing impurities.
Additionally, the American Contact Dermatitis Society refers to cocamidopropyl betaine as an allergen, even in concentrations as low as 1%. Furthermore, the Society named this surfactant the Allergen of the Year in 2004 (source).
Conclusion about Method cleaning products
In answer to the question as to the safety of Method cleaning supplies, I choose not to recommend them. However, I appreciate the absence of harsh preservatives in their all-purpose cleaner and the fragrance-free option for dish soap.
As always, I put emphasis on the importance of looking at the ingredients. For help with assessing a product's safety in a matter of seconds, please check out this Savvy Consumer Superpower.
Also, visit my IRLFY shop to check out the products, including cleaning products, I approve of and recommend. Specifically, I am a fan of these non-toxic cleaners that have the safest ingredients I have seen in household cleaners. Plus, they are rather economical!
Finally, for my opinion on a certain product, do not hesitate to book a consultation with me. I will be happy to assist you.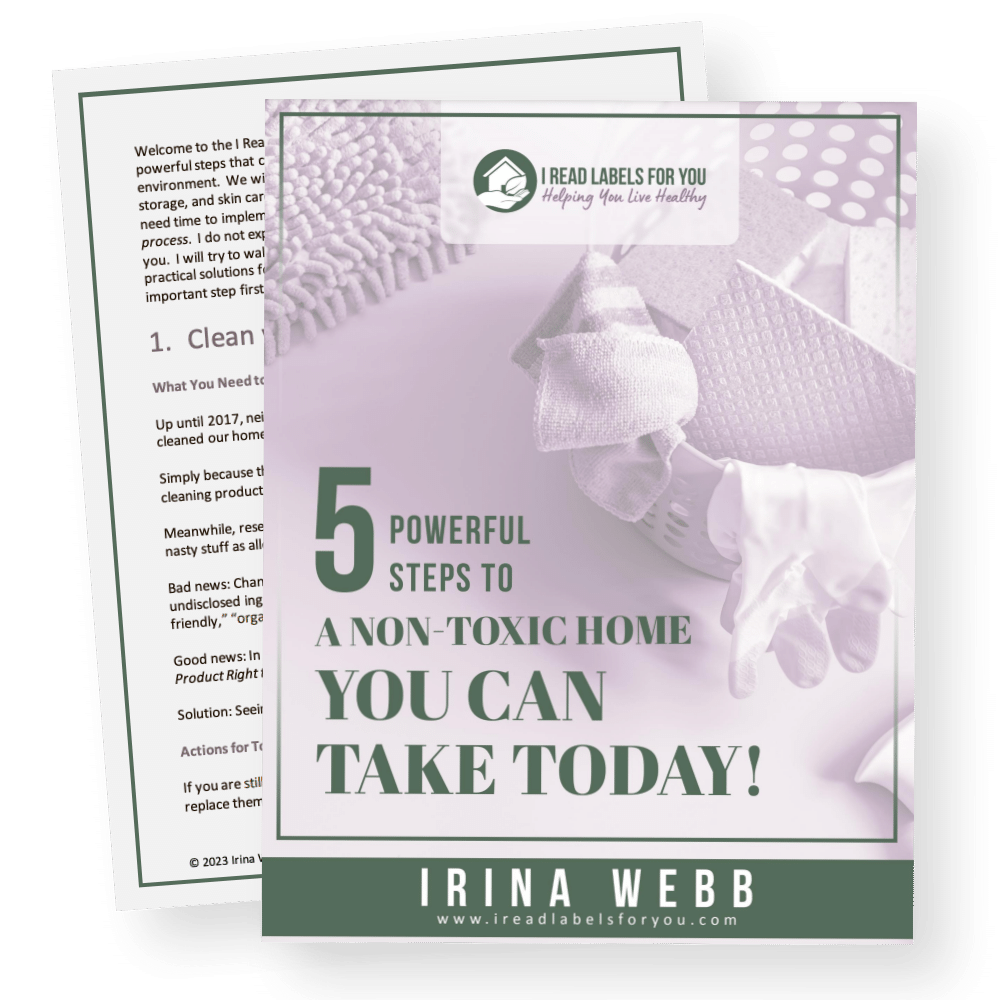 Download The Free Guide!
5 Powerful Steps To A Non-Toxic Home
Join our informed consumer community and get our free guide the "5 Powerful Steps To A Non-Toxic Home".