Are There Numbing Agents in Tear-Free Baby Shampoos?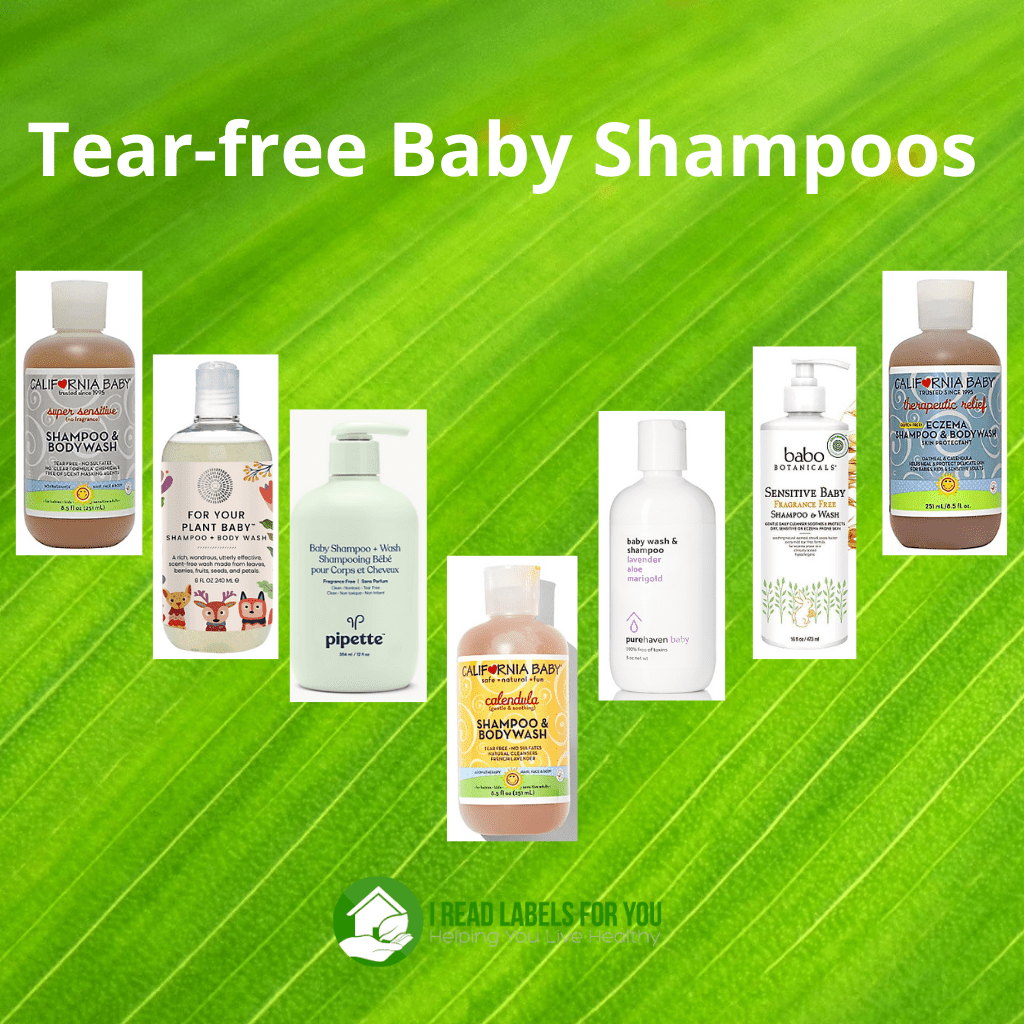 This post may contain affiliate links. To read our affiliate policy, click here.
Is it the numbing agents that make baby shampoos tear-free? Frankly speaking, I had heard the rumor about soap manufacturers using numbing agents to make their shampoos tear-free. But I had never heard any specifics, such as the names of those agents or shampoos per se. Yet, I felt uneasy about buying a baby shampoo without a "no numbing agents" claim. Eventually, I decided not to let potentially unreliable information on the Internet affect me and do my own research instead. In this post, you will learn about baby shampoo ingredients and what makes a tear-free baby shampoo tear-free. Also, you will find some safe tear-free shampoo and baby wash options.
I found no credible sources proving the use of numbing agents in baby shampoos.
To begin, I have been doing product research, including baby shampoos, since 2012 when I was expecting my baby. By then, I had already encountered death by cancer in my family and was dealing with my own health issues. (See my posts about breast implants and autoimmune diseases and my health update after explant surgery.) Naturally, I wanted to do my best to provide healthy products for my child.
I even contacted GoodGuide, a team of scientists who rate products and companies on health and environmental impact as well as social responsibility. To my question whether it was a numbing agent that made a tear-free baby shampoo tear-free, they responded:
Most baby shampoos are formulated to be tear-free by reducing the concentration or even presence of conventional shampoo ingredients that can irritate the eyes. I am not aware of any reliable source that ingredients are added to baby shampoo formulations to anesthetize tear ducts, although this is sometimes asserted in various natural product blogs. The ingredients most often indicted in these articles are alkyl polyethoxylates or alkyl phenol polyethoxylates.
My research yielded no evidence of the presence of numbing agents in a tear-free shampoo either. Therefore, I concluded that it was more of an urban myth. Additionally, I realized that understanding how products are made helps with choosing the safest ones. Conversely, relying solely on marketing claims brings confusion, frustration, and unnecessary and regretful expenditure.
So, let's discuss the two main kinds of shampoo – soap-based and soap-free shampoo.
Know that soap does not make a tear-free baby shampoo.
For starters, soap-based baby shampoos are made with saponified plant oils, such as coconut oil, olive oil, or palm oil.
In the process of saponification, plant oil is reacted with an alkali – either potassium hydroxide or sodium hydroxide. To clarify, the alkali does not remain in the final product, even when you see it listed among the ingredients. Basically, it is listed because it is used to make soap.
Check out the table below for the main benefits and downsides of soap-based baby shampoos.
| | |
| --- | --- |
| Soap-based shampoo benefits | Soap-based shampoo downsides |
| – no health concerns – no environmental concerns | – may irritate eyes |
As you can see, a soap-based shampoo has no health or environmental concerns, but it is not a tear-free shampoo. The reason for that is its higher pH that may cause eye irritation if you are not careful. Personally, I have been using only soap-based shampoos on my son, and he learned quickly to close his eyes and tilt his head.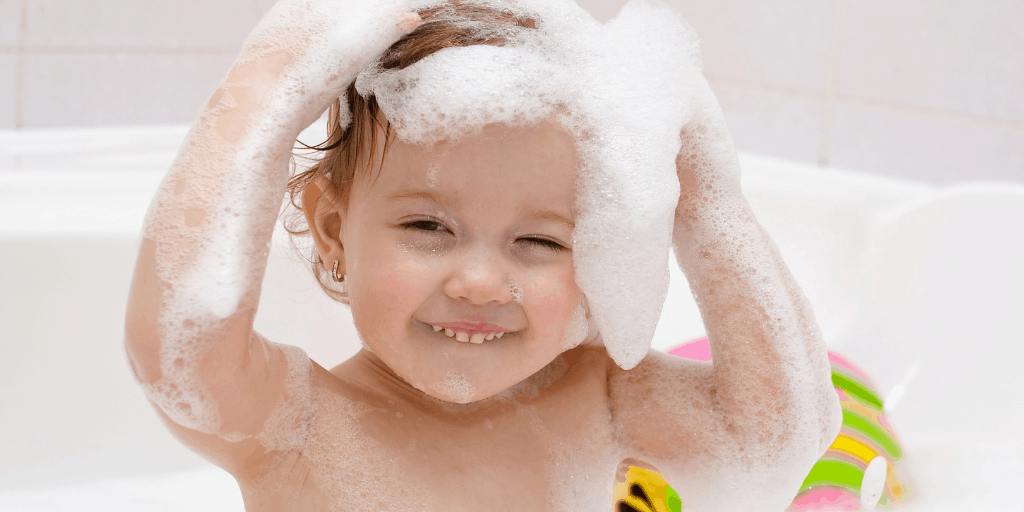 A tear-free baby shampoo uses synthetic surfactants.
Since soap is alkaline, it may hurt your baby's eyes if it finds its way there. But if there is no soap in a baby shampoo, chances are it is a tear-free shampoo.
What do soap-free shampoo manufacturers use instead of soap? They use synthetic surfactants, of which there are thousands. The claims about some surfactants being derived from coconut oil are not so simple. Indeed, it takes several steps to turn coconut oil into a surfactant. Plus, the process can involve toxic chemicals, so "derived from coconut" is not synonymous with "healthy" and "pure."
For example, let us take a popular surfactant – Sodium Laureth Sulfate – whose manufacturing process is as follows:
Coconut oil is turned into fatty acids that are used to derive lauryl alcohol.
Lauryl alcohol is treated with sulfur trioxide gas or chlorosulfuric acid to produce Sodium Lauryl Sulfate.
Sodium Lauryl Sulfate is treated with ethylene oxide, a carcinogen, to make Sodium Laureth Sulfate.
Here are the potential benefits and downsides of soap-free baby shampoos:
| | |
| --- | --- |
| Soap-free shampoo benefits | Soap-free shampoo downsides |
| – no eye irritation | – may contain ingredients of concern |
On the one hand, the benefit of soap-free shampoos is that instead of soap they use non-alkaline surfactants. This means they will most likely not hurt a baby's eyes.
But on the other hand, some of those surfactants are associated with health allergies and may even be carcinogens or endocrine disruptors.
Glucoside surfactants are mild enough for baby washes.
The only synthetic surfactants I am comfortable with in a tear-free baby shampoo are glucosides (e.g., decyl, lauryl, coco glucoside). And only if they are the main surfactants (because there may be other surfactants used together with glucosides). Due to their mildness, they have become rather popular and are reported as generally safe surfactants. Because they are not irritating to the eyes, you may see them among tear-free shampoo ingredients.
To clarify, they belong to a group of nineteen surfactants. Although individually they have limited safety data, the Cosmetic Ingredient Review Panel attributes the same factor of safety to the whole group. They base their opinion on chemical and usage similarities of the glucosides.
In addition, glucose-based ingredients are sourced from plants such as corn, palm trees, potatoes, wheat, and coconut. And their manufacturing process is considered "green" because it involves natural and renewable sources. Because no petroleum chemicals are added during the manufacturing process, glucoside surfactants have no contaminants associated with petroleum. In rare cases, some babies may develop an allergic reaction to them. Please, read more about that in my post about glucosides.
Avoid washes with concerning ingredients.
Even though we have ruled out numbing agents from a tear-free baby shampoo, there still may be ingredients of concern. That it why I emphasize the importance of knowledge to be able to make informed decisions. So, I would not purchase a tear-free shampoo for babies that has:
Fragrance
Phenoxyethanol
Ethoxylated ingredients (PEGs, polysorbates, and ingredients ending with -eth, e.g., laureth)
The table below will give you the gist of why I consider them ingredients of concern.
| | |
| --- | --- |
| Fragrance | – mixture of undisclosed ingredients (more than 3000!) – some of them are linked to allergy, hormone disruption, or even cancer |
| Phenoxyethanol | – made by reaction of highly corrosive phenol with carcinogenic ethylene oxide whose tiny residues can remain in the final product – an allergen, even in concentrations as low as 1% |
| Ethoxylated | – may contain residues of carcinogenic 1,4-dioxane because of their production process |
You can learn more about fragrance and phenoxyethanol in my posts about natural fragrance and phenoxyethanol in skin care.
Also, you will not see ethylene oxide and 1,4-dioxane among the listed product ingredients. In other words, they are potential contaminants that I consider hidden ingredients. You can learn more about them in Hidden Ingredients in Best Baby Wipes and Hidden Ingredients in Cosmetics.
In my opinion, chemicals arousing health concerns should not be used in any products, not to mention baby products. Besides, there are many options with better ingredient choices.
Tear-free baby shampoo options with mild surfactants
First, if you are looking for a safe baby wash, I highly recommend reading my Best Baby Shampoo Guide. It will walk you through the steps of selecting a safer product for your baby and offer some safe choices.
Meanwhile, check out the table below for some tear-free shampoo options or mild shampoos that may act like tear-free ones. (Keep in mind that even water can irritate the eyes.) Additionally, they have no ingredients of concern, such as fragrance, Phenoxyethanol, or ethoxylated ingredients.
| | |
| --- | --- |
| Shampoo name | Surfactants used |
| Babo Botanicals Sensitive Baby Shampoo and Wash Fragrance Free | Lauryl Glucoside, Coco Glucoside, Sodium Lauryl Glucose Carboxylate, Sodium Cocoamphoacetate |
| | Lauryl Glucoside, Decyl Glucoside |
| | Lauryl Glucoside, Decyl Glucoside |
| | Lauryl Glucoside, Decyl Glucoside |
| | Decyl Glucoside, Sodium Cocoamphoacetate |
| | Coco Glucoside, Decyl Glucoside, Sodium Lauroyl Lactylate |
| | Coco Glucoside, Decyl Glucoside |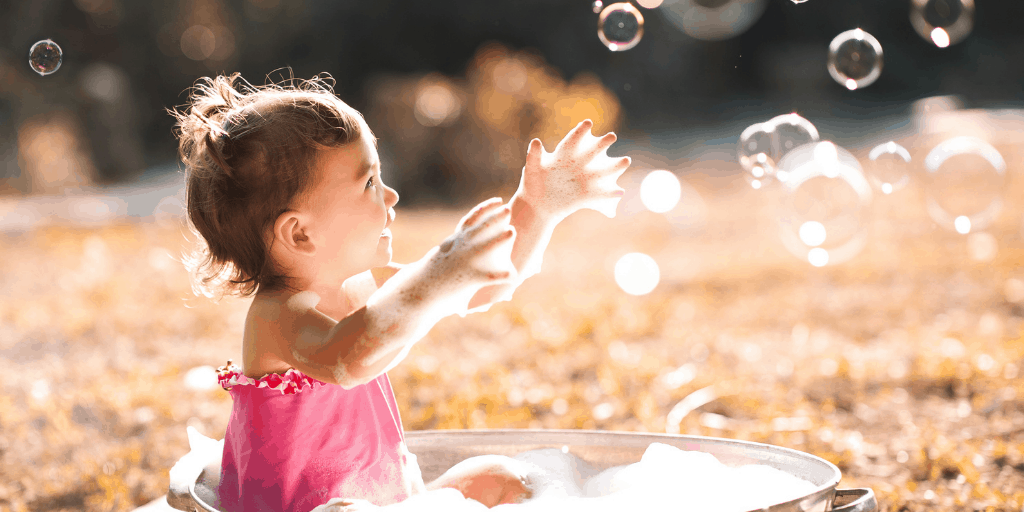 Suggestions for soap-based washes
As I have mentioned, instead of a tear-free baby shampoo, I have been using soap on my son since he was born in 2012. We have figured out how to use it without getting it into my son's eyes, and he has never needed any tear-free shampoo. And by the way, I have always envied his soap-washed hair – soft, thick, and shiny.
At present, my favorite product is Crunchi Littles 3-in-1 Bathtime Bar that has no ingredients of concern, even essential oils. It is gentle enough for daily use on hair and body, and most of its ingredients are certified organic. Plus, the packaging is eco-friendly 100% recyclable post-consumer wastepaper. Actually, this is one of the reasons I use and recommend bar soap – to avoid plastic packaging. (Learn more about Crunchi products and ingredients, all of which I approve, in my Crunchi non-toxic makeup review.)
If you prefer liquid washes, consider the following soap-based options that I deem safe for babies:
Conclusion about numbing agents in a tear-free shampoo
In sum, I have not found any credible sources proving that a tear-free baby shampoo contains any numbing agents. What makes it tear-free is the presence of mild surfactants, such as those from the glucoside family.
Ideally, in my opinion, it is best to use unscented bar soap on babies (also because there's no plastic packaging). It would be the safest option. Personally, we use Crunchi Littles 3-in-1 Bathtime Bar with certified organic ingredients.
At the same time, I understand that people have different preferences and many like liquid products. That is why I prepared safer baby wash options with mild surfactants and those made with castile soap. You can see them in the two previous sections of this post.
Also, there are many baby washes out there that contain ingredients of concern, such as fragrance, phenoxyethanol, and ethoxylated ingredients. I do not promote products with these ingredients on my blog. Please, read my Best Baby Shampoo Guide before you buy a body wash for your baby.
As usual, I invite you to my shop where you can find safe product options for you and your loved ones. If you have any questions regarding a healthy way of living, do not hesitate to contact me for a consultation. Finally, check out my e-books and join my Savvy Consumer Circle to have fun living healthy.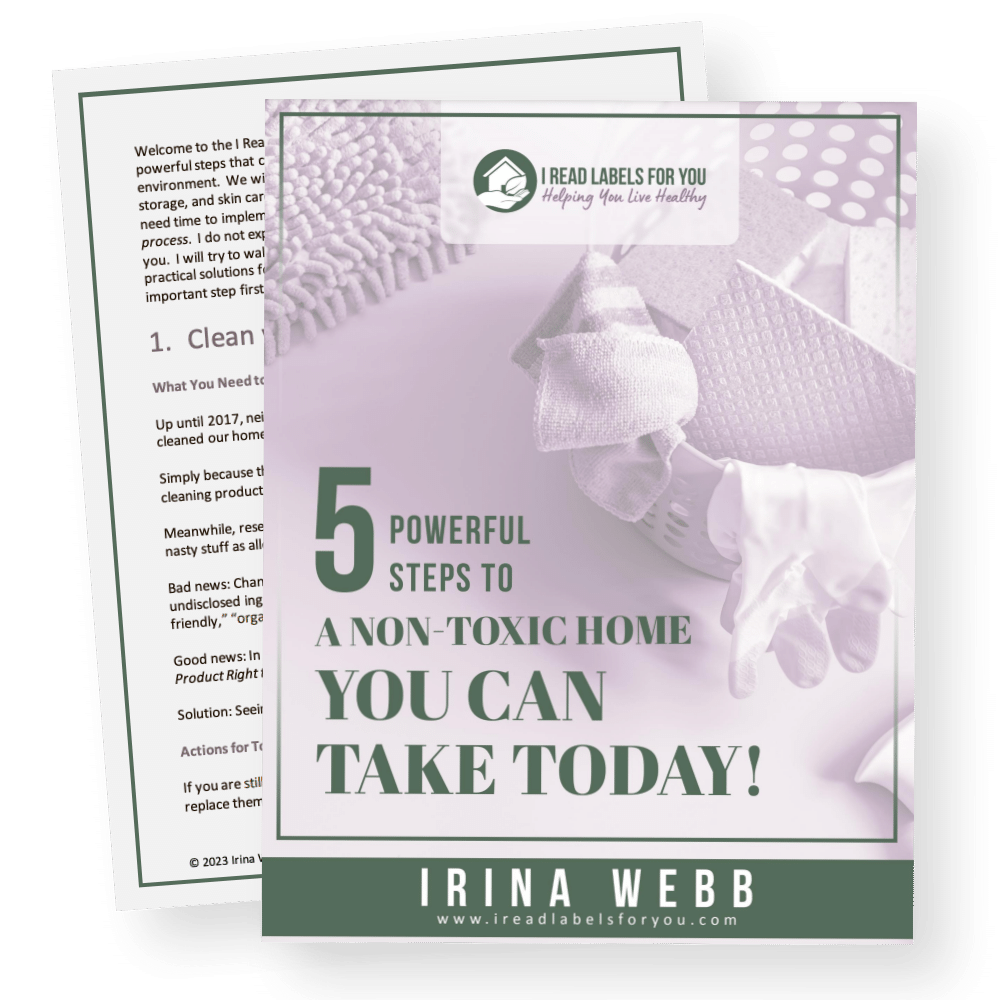 Download The Free Guide!
5 Powerful Steps To A Non-Toxic Home
Join our informed consumer community and get our free guide the "5 Powerful Steps To A Non-Toxic Home".