Branch Basics Dishwashing, Laundry, & Cleaning Products
This page contains affiliate links, which means that if you click on the affiliate link and buy an item, I'll receive commissions.
The best way to experience Branch Basics' innovative approach to cleaning is to get the Premium Starter Kit that contains Oxygen Boost, Concentrate, and 5 empty bottles labeled:
all-purpose
bathroom
streak-free
laundry, and
foaming wash.
Just pour water and the concentrate to the lines on the bottles. For more information, read below.
To get 15% off the Branch Basics Premium Starter Kit, Glass Starter Kit, and Laundry Kit, please use the discount code READ15 at the checkout.
More info
The best way to experience Branch Basics' innovative approach to cleaning is to get the Premium Starter Kit.
The Premium Starter Kit has 5 empty bottles labeled "all-purpose," "bathroom," "streak-free," "laundry," and "foaming wash." And it comes with Oxygen Boost and Concentrate. The amazing part is with one concentrate; you can make 3 bottles of all-purpose cleaners, 3 bottles of bathroom cleaners, 3 bottles of streak-free cleaners, do 64 loads of laundry, and have 4 foaming wash bottles. Don't worry – it takes just a few seconds to make a cleaner by pouring water and the concentrate to the lines on the bottles. Easy!
You can use foaming wash to wash hands, body, babies, pets, and dishes. Indeed, there are almost endless uses for Branch Basics.
And yes, you can hand wash dishes with Branch Basics. There are 3 ways to do that:
1. Spray dirty dishes with a standard All-Purpose solution, scrub as needed, and rinse under warm water.
2. For tougher grease or cooked-on messes, fill the sink with water and add a capful of concentrate to let the dishes soak.
3. If you are like me and prefer to see more foaming action, use the Foaming Wash bottle and squirt the soap onto a sponge or brush. Helpful tip: if you have very hard water, you might want to add more concentrate to the Foaming Wash bottle.
Here are a few of my absolute favorite uses of Branch Basics:
1. Soaking my stainless steel pots and pans and glass baking dishes in Oxygen Boost – no more scrubbing!
2. Washing cast iron pans and skillets by squirting the soap from the Foaming Wash bottle. Branch Basics has the right pH and is gentle enough to wash cast iron cookware well but not strip the coating.
3. Cleaning the stove and countertops with the All-Purpose cleaner. It cleans well, does not leave residues or streaks, and is safe enough for surfaces that come into contact with food.
4. Washing my hardwood floors and tile floors. I used to wash with water and vinegar, but I missed the bubbles. I pour a ½ teaspoon of the concentrate or ½ cap of laundry solution into a bucket of water, which makes it very sudsy, and then I wash the floors with it.
5. Washing hands. Because it doesn't dry the skin, I can save on using hand lotion.
And the big news is that now you can get Premium Starter Kit with all glass bottles. They do have protective silicone sleeves!
In addition, Branch Basics Dishwasher Tablets fall into the "best" category of my worst-bad-better-best product safety classification in the Dishwasher Detergent Guide. For performance, it is rated 3-4 on a scale from 1 to 4 (4 working well in hard water). If you have very hard water, consider getting a water softener.
Also, Branch Basics Oxygen Boost powder consists of only two ingredients: sodium percarbonate and sodium bicarbonate (baking soda). The powder boosts the power of the Branch Basics Concentrate and is great for laundry, stains, and grout. It is bleach-, ammonia-, dye-, and fragrance-free. Check out the comment below of one of my Savvy Consumer Circle members:


And this is what one of the Savvy Consumer Circle members said about Branch Basics All-Purpose Cleaner: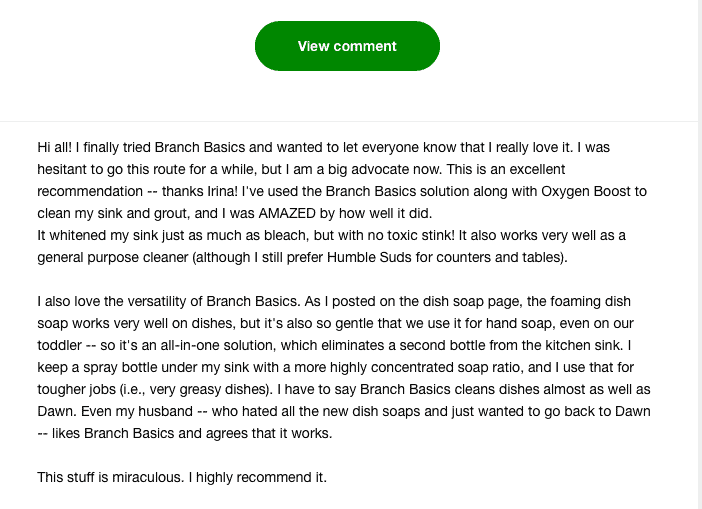 For the full review of Branch Basics, visit my Branch Basics Safe Cleaning Products blog post.
For easy dilution instructions, see the Branch Basics User Guide.
To learn about my classification of LAUNDRY detergents into the worst, bad, better, and best categories, read my Guide to the Safest Laundry Detergents.
Also, get instant access to my safety and performance review of 73 popular DISHWASHER detergents here.