Branch Basics All-Purpose Cleaner Concentrate
This page contains affiliate links, which means that if you click on the affiliate link and buy an item, I'll receive commissions.
The ingredients of this non-toxic all-purpose cleaner concentrate are safe enough to be a body wash and pass even the most sensitive people's test.
The preservation system includes a combination of a higher pH of 8.5 +/- 0.5, sodium phytate, and a large amount of organic chamomile.
Even in a diluted form, the products have been tested to last up to 2 years.
I'm impressed with the amount of time the women-owned company spent to make sure that the organic chamomile is free of contaminants, and that the manufacturer was not adding trace amounts of chemicals without telling them.
The concentrate comes with empty plastic bottles (you can opt-out of the plastic bottles or choose glass bottles) to make various safe cleaners by diluting the concentrate.  Please see the dilution instructions here

.

My favorite uses: dishwasher detergent, dishwashing liquid, surface cleaner, and laundry detergent
When I use it as dishwasher detergent, I fill 90% of the bottle cap.
This is what one of the Savvy Consumer Circle members said about Branch Basics All-Purpose Cleaner: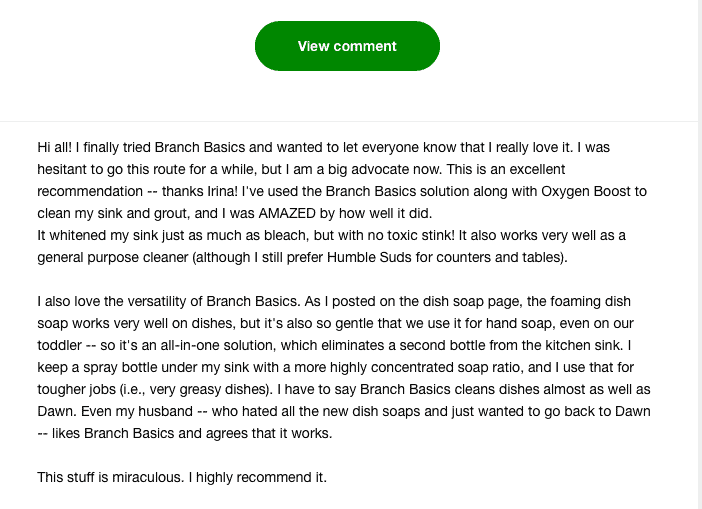 To read the full review of Branch Basics, please visit the Branch Basics Safe Cleaning Products post.
To get 15% off, please use the discount code READ15 at the checkout.