Natural Bar Soap – The Mystery Revealed
This post may contain affiliate links. To read our affiliate policy, click here.
Do you want to buy bar soap without harmful chemicals but do not know how to look for it? Indeed, what do you type into a Google search browser – good soap? Handmade bar soap? Organic soap? Natural soap? Perhaps, it is time to clarify what natural bar soap is, especially, since the term "natural" is not legally defined. Read on to see if castile soap ingredients qualify to make natural soap, and what the best options are.
I spend long hours doing research before forming an opinion on the safety of an ingredient or a product.
First of all, I understand that reading soap ingredients can be a daunting task. When I started reading ingredients in 2012, I was so confused that I spent days researching them and following up with manufacturers. Now, thousands of research hours later, reading labels has become my full-time occupation. I feel that as consumers we deserve more guidance than we get from manufacturers and the government. So, my mission is to help fulfill that need.
Besides, I have noticed a correlation between decreasing the amount of toxic chemicals around me and improvement of my health. Thus, I no longer have Hashimoto's Thyroiditis and am on the way to recovery from Addison's autoimmune disease. Feel free to read my posts about my journey to health: Can Breast Implants Cause Autoimmune Diseases and My Health Update After Explant Surgery. Note, I have been working closely with doctors and do not recommend you follow my steps without consulting your doctor.
To learn about ingredients and form my opinion on their safety, I study multiple sources, including chemical databases and scientific publications. Of course, I turn to EWG Skin Deep database, too, but it has its pitfalls. If you consult EWG for product safety, learn how to Use the Skin Deep Database the Right Way. For a comprehensive list of sources and research steps I take, please visit my Start here page.
Natural bar soap must contain an alkali.
What helped me understand soap ingredients was learning about the soap making process. Specifically, soap is made by saponifying a fat or an oil with an alkali, aka lye. (In essence, these are castile soap ingredients.) Typically, an alkali is either sodium hydroxide (for bar soap) or potassium hydroxide (for liquid soap). So, saponification is a process in which alkali diluted with water goes into reaction with animal fat or plant oil. The end products are soap and glycerin.
Although no unreacted lye remains in the final product, soaps technically cannot have an organic certification, because alkalis, including lye, are chemicals. Even so, soap made through the process of saponification is as close to "natural" as can be.
For your information, there is no officially accepted definition of the term "natural." It is a marketing term that can be found on pretty much anything. Besides, "natural" does not necessarily mean good for you. After all, even crude oil is natural, and gasoline is "derived" from crude oil. It is good to keep this in mind when you hear the term "natural" or that something is "derived" from something natural.
However, when people say, "natural soap," I believe they mean soap that is good for skin and healthy for you. And that means soap made by the traditional process of saponification.
Do castile soap ingredients qualify to make natural bar soap? Yes, they do.
Historically, the first soap was made simply with olive oil, lye, and some water, and got the name "castile soap." Since olive oil is moisturizing and healing for the skin, castile soap is good for sensitive and problematic skin and for newborn babies.
The downside of true castile soap is that it comes with a price tag and does not produce rich lather. Some people may even consider it slimy, but a well-draining soap dish can prevent its sogginess. This soap dish that my husband found after long research works best for us.
I consider castile natural bar soap healthy and like using it, especially when it contains organic plant oils. Plus, it should be free of artificial colorants and synthetic fragrance, meaning that essential oil-based scent is fine. At the same time, I recommend avoiding essential oils in baby skincare products, as they may cause allergies.
To make sure that soap is made by saponification, see if the label says one of the following:
Saponified plant oils (e.g., olive oil, coconut oil, castor oil), sodium hydroxide
Saponified plant oils
Plant oils, sodium hydroxide
Sodium ____-ate (e.g., sodium cocoate, which means saponified coconut oil)
Plant oils
The last way of listing ingredients – "plant oils" – is not in compliance with the law. But since soap makers sometimes use it anyway, you should know about it. (I encourage you to contact manufacturers before purchasing any product, even if the website seems clear.)
The oils in soap perform various functions.
Unlike the traditional castile soap ingredients – olive oil, lye, and water – modern soap has more ingredients. Indeed, most natural bar soap consists of a combination of different oils that serve different purposes.
First, olive oil has unique moisturizing and skin-conditioning properties and produces mild lather with minimal bubbles.
Second, coconut oil makes hard soap with rich bubbly lather. However, high amounts of coconut oil can be drying.
Third, castor oil produces rich creamy lather and draws moisture to the skin. Even a little bit of castor oil in the soap will make a difference. Additionally, it has anti-inflammatory, antibacterial, and anti-fungal qualities (source). If you have heard that castor oil is toxic, please know that the ricin toxin of the castor plant does not partition into the oil (source).
Next, hemp seed oil gives light creamy, silky lather and has luxury healing and moisturizing properties.
Then, sunflower oil is moisturizing but does not produce a lot of lather.
Lastly, palm oil is a very popular kind of oil for soap making. It hardens the soap and produces rich creamy lather. From an environmental standpoint, we want palm oil to be sustainable because of over logging of palm trees (source).
There are several options for natural bar soap.
The brands below have true castile soap ingredients and organic botanicals.
For starters, Apple Valley Natural Soap carries a variety of true castile bar soaps made with organic olive oil. They also carry other soap bars, some of which used to have synthetic fragrance blends that I don't recommend. So, please check the ingredients before purchasing.
One of my favorite bar soaps is made by Pure Haven. It fits so well in my hand. Take a look what one of the users of it said about it here.
Next, in case you prefer to avoid palm oil, Meliora Cleans Better does not use palm oil. I like it because it does not get soggy; it moisturizes the skin and lathers very well.
If you do not fancy bar soap, MamaSuds true castile soap may be just for you because it is liquid. Although it comes in a plastic bottle, refills are available.
My personal favorites
I love Pure Haven cocoa bar with goat's milk which they use in addition to castile soap ingredients. Not only does it seem to be healthy non-toxic natural bar soap, but also it is very comfortable to handle. Be sure to take a look at what a recent customer said about it here.
Additionally, excellent choices for natural bar soap products include the Crunchi facial bar, Crunchi charcoal body bar, and Littles™ 3-in-1 Bathtime Bar. In fact, when it comes to babies, I highly recommend Littles™ 3-in-1 Bathtime Bar. To minimize risks of an allergic reaction, Crunchi does not use any essential oils in it.
The truth of the matter is I have examined every ingredient of every Crunchi product and stand by their safety. Plus, I like the way they perform and the feeling on my skin after using them. If I ever created my own line of skincare and beauty products, it would be a lot like Crunchi. By the way, I use Crunchi non-toxic makeup exclusively and love it.
Conclusion about natural bar soap
In sum, I consider soap "natural" when it is made by the process of saponification of oils, e.g., olive oil. Actually, olive oil is a must-have among true castile soap ingredients, and castile soap is as natural as it gets.
Another must-have among natural soap ingredients is an alkali, such as sodium hydroxide or potassium hydroxide. But don't be afraid of them! In a high-quality product, the alkali used in the saponification process does not remain. Just make sure that you are buying your soap from a reputable company.
Confirm with the manufacturer that they make soap by the process of saponification, and that they use only essential oils for their scent. Learn why I am on the fence about Mrs. Meyer's products in my post to learn how to buy truly non-toxic soap.
Please, visit my shop for numerous options of non-toxic products and check out my e-books. Also, book a consultation with me for a deeper look into your personal needs and wants. And join my Savvy Consumer Circle to advance together on a journey of healthy living.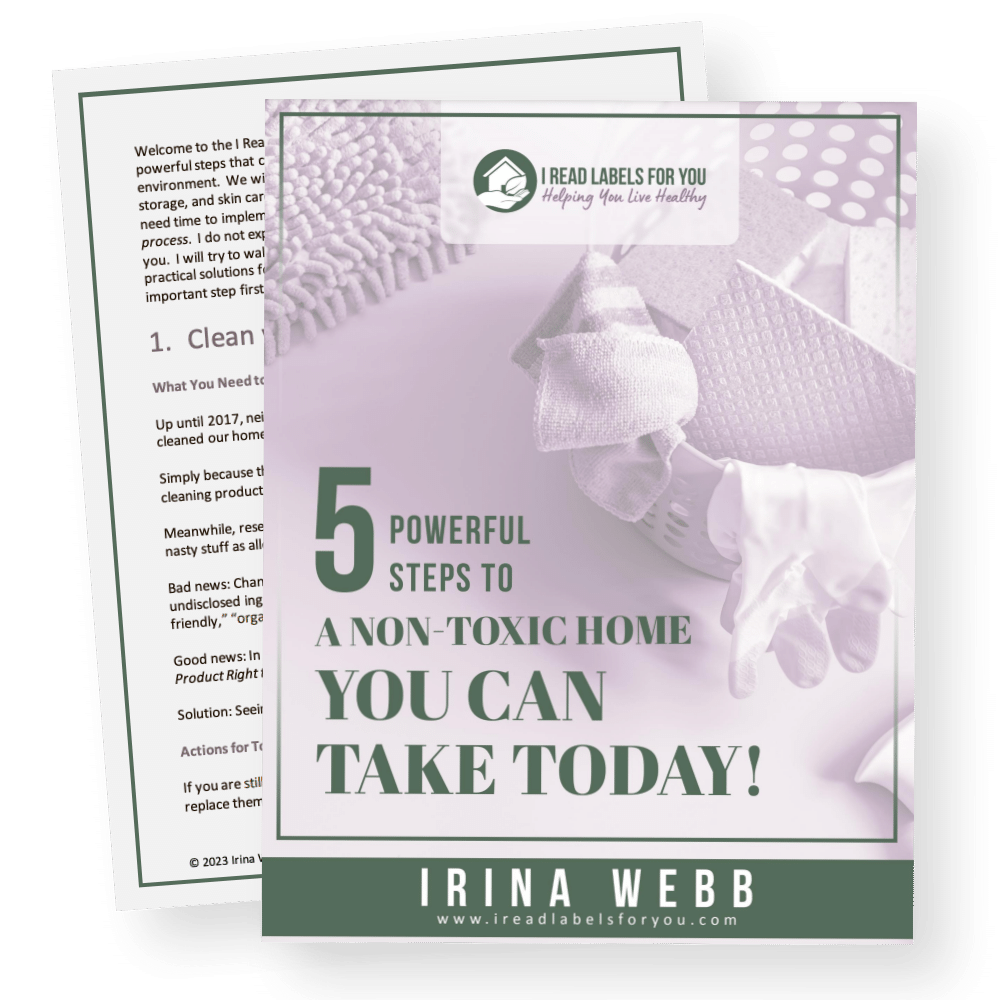 Download The Free Guide!
5 Powerful Steps To A Non-Toxic Home
Join our informed consumer community and get our free guide the "5 Powerful Steps To A Non-Toxic Home".