The Most Comfortable Organic Pillow For You
This post may contain affiliate links. To read our affiliate policy, click here.
Have you ever wondered what is in the pillow that you come in close contact with every night? Today you are going to learn what typical pillows consist of. You'll also read about how to find a truly nontoxic pillow. Hint: To have confidence that your pillow is truly nontoxic, you need to look for a certified organic pillow. And most importantly, we will talk about comfort because even if the healthiest pillow is not comfortable, it does not do you any good. Comfort is crucial when it comes to bedding and a good night's sleep.
I used to pay no attention to ingredients. Until I had a baby. I realized that it was up to us, consumers, to protect ourselves from numerous substances in products we use on our bodies or homes. They may have a negative impact on our health without our realization. Those effects can manifest themselves in an immediate reaction such as irritation or swelling. They can also happen over a long period of time.
Conventional vs organic pillows
Normally, they are made of memory foam, polyester or down.
Memory foam non organic pillows
If you do not own an organic pillow, your pillow is most likely made of memory foam. Memory foam is also called polyurethane foam. I believe that it is the most toxic material for a pillow. The workers who make polyurethane foam must wear a full-body protective gear and respirators. According to independent studies, the foam continues to emit toxic gasses when you bring it home. You can read more about the potential harms of polyurethane foam to your health and the environment in my Polyurethane Foam post.
In addition, researchers at Duke University found that polyurethane foam pillows may contain flame retardant chemicals (even though there is no law requiring manufacturers to use them in pillows).
The Green Science Policy Institute has compiled a list of scientific studies showing numerous negative health effects. This institute has been exerting tremendous efforts to educate consumers and affect change on a political level.
The US National Institute of Environmental Health Sciences has classified flame retardants as obesogens, meaning that even if you eat a healthy diet and exercise regularly, you might not be able to lose weight. That's a really good reason to look for a nontoxic pillow, isn't it?
Polyester pillows
Before we start talking about organic pillow choices, I have a few words on the other two materials commonly used in conventional pillows – polyester and down. The good thing is that polyester foam is not known to contain added flame retardants. Polyester is a step forward because polyester pillows are non flame retardant pillows. However, polyester is normally derived from petroleum, and manufacturers do not disclose possible contaminants in it.
Down pillows
As far as down is concerned, in my experience, with the exception of 3 companies I know, down comes from birds from China. They are grown specifically for down and even plucked live. Absolutely unacceptable. Plus, to sanitize feathers, carcinogenic formaldehyde can be used. So, at the very least, avoid down from China.
If you are like me, you can become allergic to down. If you wake up with red and swollen eyes, your down pillow can be at fault. That happened to me. Thus, it is hard to call a down pillow a nontoxic pillow.
Organic pillows
Okay. Enough of the awful stuff.
The good news is that there are a number of natural and organic materials to make pillows.
What are our choices for nontoxic pillow materials?
The most common ones I have seen are natural latex foam, wool, cotton, kapok, and even buckwheat. There are also a few different types of natural latex foam and wool. For example, natural latex can be shredded, crushed, sculpted, or molded. I believe I have tried them all to be able to base my choice on safety but even more importantly on comfort. If you cannot sleep on a pillow, it does not matter if is the healthiest pillow on the planet.
What constitutes a comfortable pillow for me?
Pillows come in different levels of firmness/softness and support. I tend to like soft pillows, yet I need a lot of support. That's why I used to like down pillows: they provided a good amount of support and were soft and malleable.
Why do you want an organic pillow versus natural?
Here is the gist of it. There are certifications that prove that a pillow or its component are organic. But there are no certifications that provide evidence that a pillow or its component are natural. In other words, when a company says that their pillows are organic, you can see an organic certification for it. But when it says they are natural, you must rely on the company's word.
Global Organic Textile Standard (GOTS) is a leading standard. Oregon Tilth and Control Union are the two agencies that certify organic pillows, sheets, comforters, blankets, mattresses, and clothing.
GOTS can certify the whole product or a component of a product. If the whole product is certified, you can look up the GOTS certification in the GOTS public database. In other words, it is super easy to look up an organic pillow.
If the whole pillow is not certified organic, you will have to ask for certifications of its components. More work for you. And make sure that they are the right certifications, too. If you need help reading certificates, please schedule a consultation. Or you can check out my Savvy Consumer Fast Track: Mattresses e-book where I explicitly explain the difference between various certifications.
Buckwheat pillow
Yes, you heard it right – buckwheat – the same buckwheat you would use to make a buckwheat dish. And yes, we have tried it. When I opened it up, my husband happened to be about to take his power nap, so I handed it to him. He tried it for about 3 seconds and gave it back to me. He was very uncomfortable.
I tried it, too, but did not find this nontoxic pillow comfortable. Then I called the retailer from whom I got the organic pillow to ask if there was an adjustment period. And he responded, "People either love them or hate them." So, we were among the latter, but you might love it.
If you love a firm pillow, a Japanese style, you might enjoy a buckwheat pillow. You can check out the organic pillow I am talking about here.
Wool pillow options
Wool pillows can compress over time and become flat. If you do not need a lot of support and prefer a firm pillow, a wool pillow can be a good option for you. But if this is what you need, you might like organic wool pillow options here.
My son's first pillow was filled with wool. Now we stack it on top of the Naturepedic kapok pillow for more support.
Cotton-filled pillow options
Cotton pillows can also compress over time and become flat. OMI offers an organic cotton pillow that you can buy at Green Cradle.
Kapok pillow options
My son's second pillow was filled with organic kapok and organic cotton. Naturepedic was the only place where I could find organic kapok. All the other places were selling natural kapok. It was good at first. Now, 4 years later, he uses two organic pillows to get more support. A kapok pillow is great for somebody who does not need a lot of support. You can learn more about this organic pillow here.
Natural latex pillows
I believe that being organic is most important when it comes to natural latex. Natural latex is certified by the Global Organic Latex Standard (GOLS). It means that at least 95% of the foam is organic.
There are two types of natural latex foam: Dunlop and Talalay. To my knowledge there is no Talalay foam that is certified organic by GOLS. That makes me wonder if Talalay foam is natural enough to qualify for GOLS certification. It also leaves a question open whether the natural latex pillow is a truly nontoxic pillow.
The downside is that Talalay foam is softer and more porous, more similar to its synthetic counterpart. So, if you love a soft pillow, it was challenging to find it in an organic pillow, until now.
If you like a supportive pillow but do not need it very soft, here are some options for you.
Naturepedic Pillow: Please, use IREAD15 to get 15% off.
The best organic pillow that I love
For years now we have been sleeping on an organic mattress by Naturepedic. And we love it. I trust the company, so I wanted to get an organic pillow from them as well. Unfortunately, they did not have the options that would be comfortable for me. Until now.
Comfortable shredded latex nontoxic pillow
Just recently Naturepedic started making a shredded latex pillow. Because it is shredded, it almost feels like down.
In addition, this nontoxic pillow is easily adjustable. It is a unique feature that I have not seen in any other organic pillow. And I have seen a lot of pillows by now.
Moreover, you can decide which side to sleep on because the cover has two sides. For a firmer feel, you have your polylactide (PLA) quilted side, and for a plusher feel, you have your stretch organic cotton side.
On top of that, you can adjust the amount of latex inside the pillow. I was able to adjust it to the perfect amount of softness and support for me. The latex inside this pillow is Dunlop with GOLS certification. By the way, Naturepedic would never use Talalay foam because there is no organic Talalay foam available.
How safe is PLA in the organic pillow I love
I did a lot of research into polylactide (PLA) that Naturepedic uses when we were in the process of shopping for a mattress. It was a relief to learn that GOTS approved PLA for usage in certified organic products. PLA is made of non-GMO plant starch through the process of fermentation. Naturepedic provided me with actual test reports that showed "below quantifiable levels" for various contaminants.
Conclusion about the most comfortable nontoxic pillow for you
In sum, I am so happy that I sleep on a pillow where safety meets comfort. I am sure that the information above will be useful to you whether you are looking for a pillow for yourself or for a gift. Actually, if your new year's resolution is to detox your bedroom further, you can learn more about organic mattresses in my Organic Mattress post and budget-friendly Non-Toxic Mattress post.
Where to buy this healthiest pillow
Naturepedic website
Please use the IREAD15 discount code at the checkout to get 15% off and free shipping.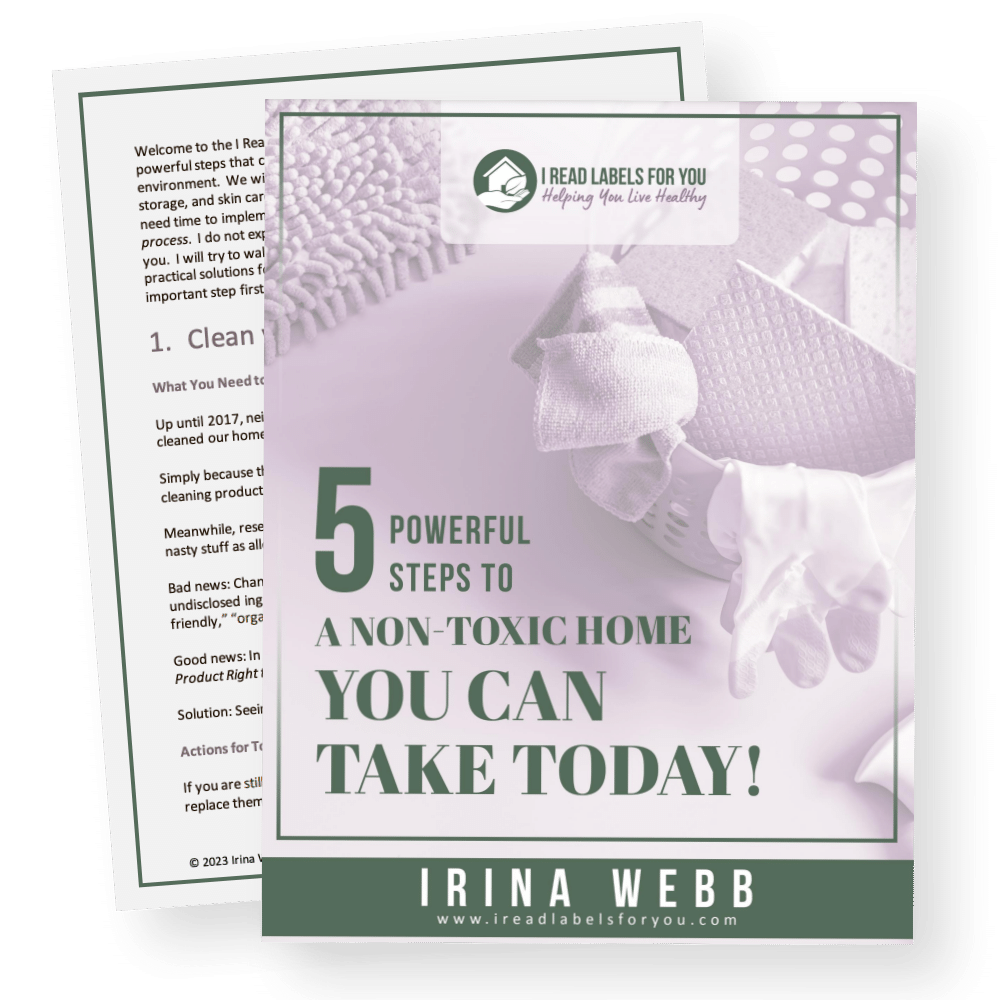 Download The Free Guide!
5 Powerful Steps To A Non-Toxic Home
Join our informed consumer community and get our free guide the "5 Powerful Steps To A Non-Toxic Home".