How to Buy Non-Toxic Furniture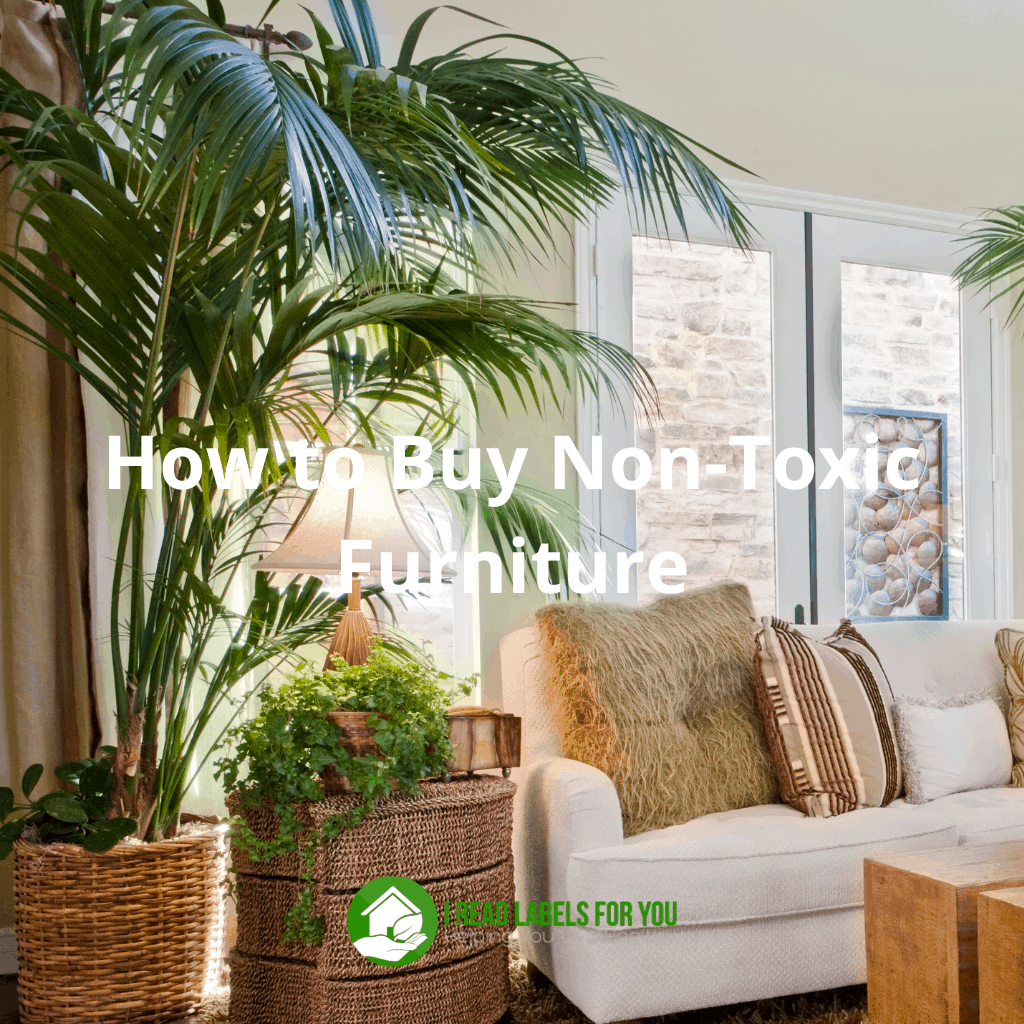 This post may contain affiliate links. To read our affiliate policy, click here.
Don't you just love your family time on a comfortable couch in your living room? I definitely do, especially since we bought a non-toxic sectional that we have enjoyed for several years already. Actually, I had spent multiple hours researching the furniture industry before making the final decision. Although it is true that chemical-free furniture costs more than conventional furniture, it is worth considering. First, it is a long-term investment: divide the price by the number of days of usage and it will be very reasonable. Second, it is healthful: you do not have to inhale toxic substances that may potentially cause health issues. Third, it gives you peace of mind: you know that you and your children are resting in a safe environment. So, let's see what constitutes non-toxic furniture and how to buy a non-toxic couch.
My opinions about product safety come from thorough research and personal experience.
If you are a regular reader of my blog, you know that I have been a product researcher since 2012. It started as a hobby for me but then turned into a full-time occupation that I love. Believe it or not – I actually like to research product ingredients and read scientific studies on them. To learn more about my research process and reference sources, please visit here. As for health-related claims, they are reviewed by Myrto Ashe, MD, MPH, IFMCP. Look for her name on posts she has reviewed.
My research led me to the creation of several e-books, e.g., Permanent Hair Color and Baby Wipes rating list e-books. In addition, when I came across non-toxic products, I wanted to save them somewhere to share them with you. This idea gave birth to the Savvy Consumer Circle, a community of people who strive to make healthy changes around them. You can apply to join us to take advantage of the useful information and/or contribute your own.
When it comes to shopping for a non-toxic couch, there are certain things you want to avoid.
Non-toxic furniture has no flame retardants or other toxic ingredients.
To begin, upholstered furniture manufacturers resorted to using flame retardant chemicals to meet California's Technical Bulletin 117 fire safety standard. Specifically, it required that all upholstery padding withstand a small open flame for at least twelve seconds without catching fire. Later, however, it turned out that flame retardants were associated with a number of serious health issues. Thus, scientists link them to reduced IQ, infertility, thyroid disruption, damaged immune system, and possibly cancer (source).
As a result, in 2013, California revised Technical Bulletin 117 and altered the fire safety standard. To clarify, California's TB 117-2013 regulation replaced an open-flame test with a smolder test. This means that the use of flame retardants is unnecessary. To learn why there is still no certainty that manufacturers stopped using flame retardants, read my post about TB 117-2013. Besides, the upholstered furniture made before 2015 still has flame retardants. Therefore, if you own a sectional from before 2015, you may consider replacing it with a non-toxic couch.
Avoid polyurethane foam and soybean foam.
First, you may want to switch to non-toxic furniture because conventional furniture in the US contains potentially toxic polyurethane foam. One of the components of polyfoam is diisocyanate, namely toluene diisocyanate (TDI), a derivative of petroleum. The US National Toxicology Program classified it as "reasonably to be anticipated as a human carcinogen" (source). This means that the upholstery padding in your home may emit carcinogenic TDI.
Additionally, polyurethane in furniture may emit toxic volatile organic compounds (VOCs) which may cause both short-term and long-term problems. Namely, they may contribute to headaches, allergies, and even cancer. To learn more about the research and other issues associated with this material, read my post about polyurethane foam.
Second, soy foam is not actually made of soybeans. Unfortunately, it is the same polyurethane foam with a touch of soy. So, the harmful effects of polyurethane are still present in the soybean foam. Besides, soy is not the best material for furniture foam because most soy in the US is genetically modified. They use very toxic pesticides to grow it. To learn more about soy foam and other pitfalls of non-toxic furniture shopping, read my post about soybean foam.
A non-toxic couch contains no synthetic fabrics.
Of course, furniture made with synthetic materials attracts buyers because it is less expensive. However, synthetic fabrics are usually petroleum-based and often utilize toxic dyes. In other words, synthetic fibers are a form of plastic fibers. When at home, microplastics may shed potentially toxic additives into the house dust that may end up in our bodies. Globally, scientists seem to agree that plastics pose a threat to human health because they contain and leach hazardous chemicals. They include endocrine-disrupting chemicals that can increase the risk of cancer, diabetes, reproductive disorders, and neurological impairments of developing fetuses and children (source). Additionally, this study describes evidence of the presence of microplastics in human placenta.
On top of that, microplastics contaminate waterways during both the production process and laundry (source).
One of the popular materials for upholstered furniture is fake leather which is not the right material for non-toxic furniture. In most cases, it is a synthetic fabric made with plastic polymers such as polyurethane, vinyl or PVC. To learn about the downsides of PVC, read my post PVC Yoga Mats. Although there are safer options made with plant materials (e.g., cork), they do not seem to be available for furniture.
Beware of stain-resistant chemicals and formaldehyde.
Additionally, manufacturers may spray furniture fabrics with perfluorinated chemicals (PFCs), e.g., perfluoroalkyl substances (PFAS), to make them stain and water-resistant. Scientists link PFCs to cancer, reproductive system problems, birth defects, and issues with child development (source and source). Therefore, a non-toxic couch will not contain stain and water-resistant materials.
Plus, for plywood, medium density fiberboard, or particleboard furniture, manufacturers may use glues containing toxic phenol-formaldehyde (PF) or urea-formaldehyde (UF). Thus, formaldehyde affects the respiratory tract, central nervous and reproductive systems, skin and eyes, and may be carcinogenic (source). Further, the Healthy House Institute compared manufactured wood to natural wood. They concluded that PF-glued products emit 10 times the formaldehyde, and UF-glued wood can release 100 times more formaldehyde.
Non-toxic furniture utilizes certified organic materials.
For starters, furniture materials that can have an organic certification are of agricultural origin. Specifically, they include organic latex, wool, cotton, kapok, linen, and hemp. Plus, a non-toxic couch will have a solid wood frame that has no need for toxic glues. Some low VOC stains and varnishes include linseed oil, walnut oil, refined hemp oil, and Rubio Monocoat. (Read on to learn more about Rubio Monocoat.)
Common natural materials for cushion fillings are latex, wool, and kapok. The latter provides a squishy feel to your cushion, and wool is a natural flame-resistant barrier and water-repellent.
When it comes to latex, you want Dunlop latex certified to the Global Organic Latex Standard (GOLS). The other kind of latex, Talalay, does not adhere to GOLS standards.
To ensure that you are getting truly non-toxic and organic fabrics, look for Global Organic Textile Standard (GOTS) certification. It will allow you to avoid toxic chemicals added in the processing and dyeing of fabrics used in conventional furniture. GOTS is the highest standard for organic fibers and indicates that the material is the safest the market can offer.
Another standard, OEKO-Tex, is not as meticulous as GOTS. Indeed, it bans or limits a hundred toxic chemicals and allows for both organic and non-organic fibers, including synthetic fibers. In fact, it okays some flame retardants, pesticides on the growing of the cotton, and lower levels of formaldehyde. Conversely, GOTS does not allow any of these within the GOTS certification.
Non-toxic couch options
In this section, you will learn about three non-toxic furniture brands with which I have had direct and indirect experience. They are Pure Upholstery and Medley. But first, let's talk about my dream brans.
My Dream Upholstered Furniture
First, this furniture company would use natural and organic materials. Namely, they would use GOLS-certified foam that is free of petroleum, soy, and any fillers.
Further, the wool would come from family-owned farms in Oregon and California, and the organic cotton would have a GOTS certificate. In addition, they would use vegetable or low-impact dyes to dye natural hemp canvas and linen. As a finishing touch, they would use a combination of hemp webbing, jute, and hemp burlap on the frame. Plus, the slip covers in this non-toxic couch would be removable and washable.
Next, the wood would be Forest Stewardship Council (FSC®)-certified. It would be fastened with steel screws and double-dowelled with zero-VOC glue with disclosed ingredients. For the wood finish, they used zero-VOC finish without pigments or preservatives. The drying agents would be free of lead or any other heavy metals. Moreover, a full list of ingredients of the wood finish would be disclosed. Indeed, in my entire career as a researcher, I have found only one toy maker and one crib manufacturer that use 100% pure linseed oil.
Importantly, the furniture would be affordable!
If you are looking for a non-toxic mattress …
In addition to non-toxic furniture, some furniture shops sell GOTS-certified organic mattresses. However, they can be too expensive due to the high cost of materials.
If you are looking for a non-toxic mattress, consider reading my post to find out what constitutes an organic mattress.
I personally like a Naturepedic adult mattress, organic kids mattress, and crib mattress. We own both an adult and a kid's mattress, and we had a crib mattress when our son was a baby. (Please, click here to see how to get 15% off.)
Additionally, Naturepedic offers a more affordable option, Happsy. Happsy organic mattresses cost less because they come only in one firmness and are available only online. (Click here to get a discount code.)
Pure Upholstery non-toxic furniture
Pure Upholstery makes all its products in the US and is a good place to look for a non-toxic couch. We own their high-quality armchair custom-made for my husband. The chair is so comfortable that we even fight for a turn to sit in it.
In addition to organic couches, they make chairs, sectionals, ottomans, arm cover throws, headboards, and custom pieces. They use GOLS-certified organic foam, organic wool, organic cotton, and a big variety of fabrics. Some fabrics are certified to GOTS, and others to OEKO-Tex.
Next, their wood frames are made of 100% solid wood, which is important from the standpoint of durability and toxicity.
Further, they use Rubio Monocoat Oil Plus 2C as their finish on the wooden parts of their organic furniture. Its main ingredient is made of linseed oil (aka flax oil), but there are also undisclosed ingredients. So, I contacted Rubio Monocoat directly and received from them the Safety Data Sheet and a test report for VOCs.
The Safety Data Sheet showed that the oil contained no harmful chemicals to declare to the European Union. And the lab reports showed 25.2 mg/L of VOCs, which classifies it as zero VOCs according to US standards. I also found it on the Eurofin website as certified to Eurofins Indoor Air Comfort standard for low VOCs. Plus, Rubio Monocoat oil is a product from Belgium (not China), so I think Pure Upholstery made a good choice. (Mention my name, Irina Webb, to receive a discount.)
Medley non-toxic couch
There are pros and cons about Medley because they offer not only non-toxic furniture.
First, for foam, they offer both polyurethane and organic natural latex. So, when you order, be sure to choose organic latex foam with GOLS certification.
Second, their fabrics include GOTS-certified organic fabrics, OEKO-Tex polyester fabrics from China, and Greenguard polypropylene from the US. Clearly, I recommend GOTS organic fabrics, and OEKO-Tex fabrics would be my second choice. By the way, their wool is not organic but is OEKO-Tex certified, which is fine because it's inside the furniture.
Third, they use solid wood, which is great. And they also use beeswax, carnauba wax, and olive oil for their wood finish, which is also great.
Cons of Medley furniture
On the other hand, I have a client who has had a negative experience with this company. Specifically, she discovered polyurethane foam in the non-toxic pull-out couch she had paid for. To be fair, that happened when the company operated under a different brand name. So, chances are some improvements might have taken place since then.
Frankly, I tend to be skeptical about companies that sell a combination of toxic and non-toxic products. First of all, cross-contamination is possible, and mistakes can be made. Second, these companies are not fully on board with non-toxic, healthy living. They seem to offer healthy products as an option to satisfy the demand. As customers, we just trust companies to do the right thing. But if they do not fully commit to healthy living, it is hard for us to trust them.
Nonetheless, I list Medley here because they are not bad for tight budgets. Just make sure that the furniture you are paying for as non-toxic is truly made with non-toxic materials. You can use the discount code IREAD5 to get 5% off.
Conclusion about non-toxic furniture
To sum up, a non-toxic couch is a couch that has no toxic chemicals in it. The best way to avoid toxic chemicals is to avoid polyurethane foam entirely.
Additionally, the fabrics in a non-toxic sofa are organic with GOTS certification, and organic latex foam has GOLS certification. The wooden frame is normally made of solid wood finished with low VOC lacquer or finish.
Consider Pure Upholstery as natural furniture options. Also, decide to invest in a healthy organic mattress such as Naturepedic or Happsy.
Book a consultation with me to get clarification on non-toxic living and purchasing non-toxic furniture. You can join the Savvy Consumer Circle and get access to tons of useful information about daily healthy living. And check out my e-books, my healthy product shop, and my favorite non-toxic makeup.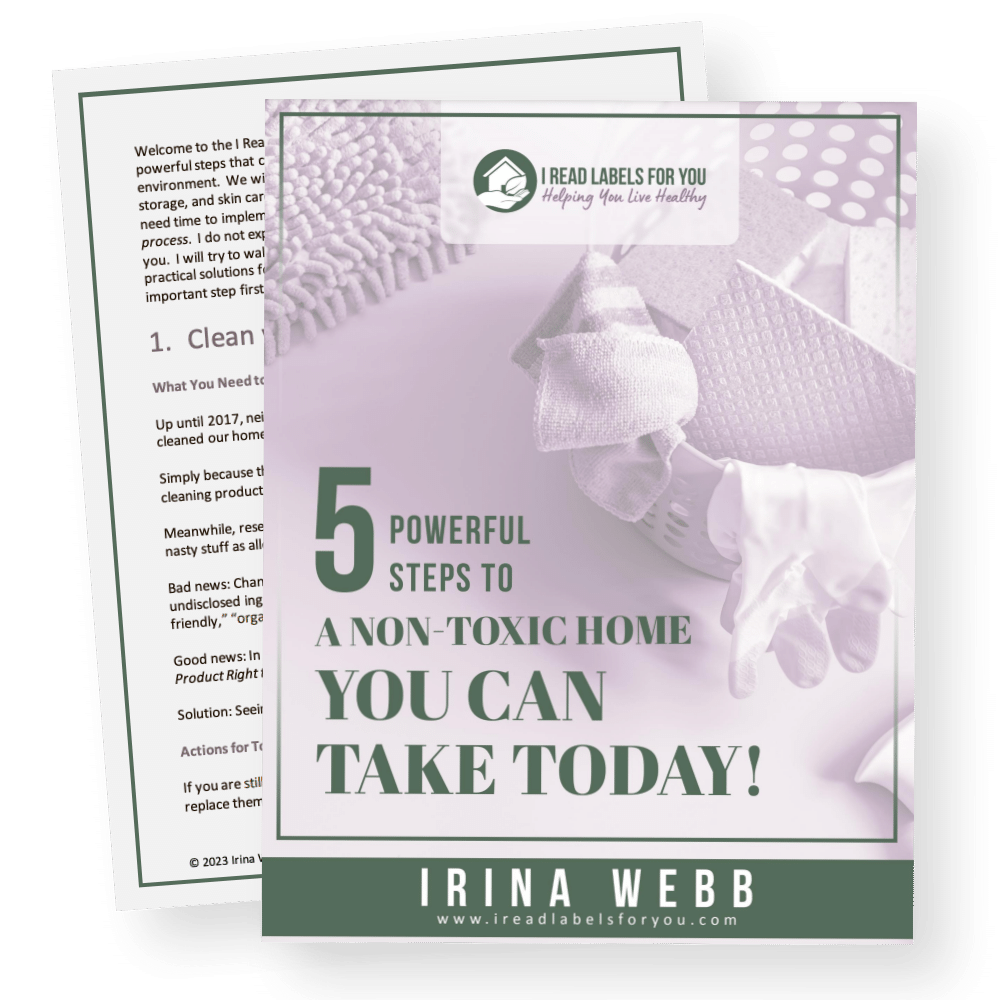 Download The Free Guide!
5 Powerful Steps To A Non-Toxic Home
Join our informed consumer community and get our free guide the "5 Powerful Steps To A Non-Toxic Home".