Humble Suds Non-Toxic Cleaners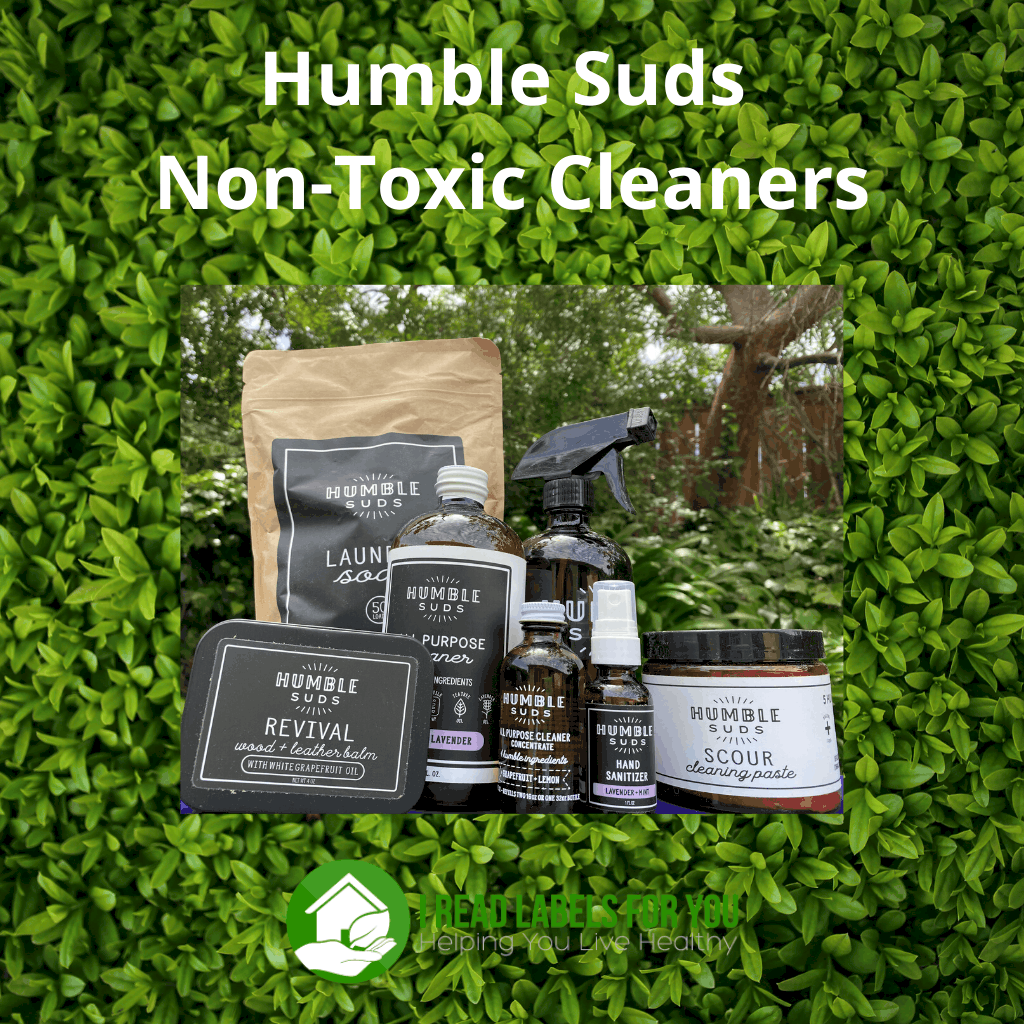 This post may contain affiliate links. To read our affiliate policy, click here.
One of our biggest concerns is how to safely and effectively clean and disinfect our homes, especially in the age of coronavirus. Have you ever wondered how people cleaned their homes less than a hundred years ago? There were no factories to make chemical cleaning products. Possibly, the idea to replace non-toxic cleaners with chemical ones had not even been thought of yet. If humankind has survived for so many years using natural stuff for cleaning, why are we so quick to resort to chemicals today? Probably one reason is that it seems faster just to grab a bottle with some ready-made cleaning liquid than come up with a DIY home cleaner. If this is true about you, keep reading to find out what ready-made safe cleaning products you can use that are both non-toxic and effective. In this post, you will learn about household cleaning supplies by Humble Suds.
What is wrong with conventional household cleaners?
As you may already know, it is not a must for manufacturers to reveal their ingredients. When they do, it is on a voluntary basis.
However, it is enough to look at the warning statements on the product labels to understand that they are harmful. For instance, the words 'Danger,' 'Warning,' or 'Caution' mark different degrees of toxicity. That is to say, a conventional cleaner may harm people through inhalation, swallowing, and skin contact. Thus, according to the American Association of Poison Control Centers, chemical cleaners and disinfectants are common causes of poisoning in both children and adults (source). On top of that, they may even cause death (source).
Furthermore, chemicals are responsible for allergies, hormone disruption, reproductive problems, and even cancer. For instance, this study concludes that the regular use of chemical house cleaners doubles the risk of breast cancer. You can become exposed to chemicals via inhalation, skin absorption, and ingestion simply by touching surfaces treated with these chemicals.
The good news is that you do not have to put up with it. In other words, there are non-toxic cleaners that will make your cleaning both safe and enjoyable. Before we talk about one of the options for safe cleaning products, let us review common harmful chemicals in order to be able to avoid them.
Common chemicals in conventional household cleaning supplies
First, there is the combination of ammonia and bleach, aka sodium hypochlorite. Both are skin, eye, and respiratory tract irritants.
Second come quaternary ammonium compounds, aka QUATs, QACs, or QATs. They may cause allergic skin reactions, and nose and throat irritation. For example, benzalkonium chloride is a severe eye irritant and causes and triggers asthma. Besides, it decreased fertility in both sexes when it was used to clean the cages of mice (source).
The third is triclosan, a suspected endocrine disruptor. Thus, in animal studies, triclosan disrupted the endocrine system and altered the body's production of hormones. In addition, triclosan may play a role in cancer development through its ability to act as estrogen or inhibit fatty acid synthesis (source). On a positive note, the FDA has recently banned the sale of any hand and body soaps containing triclosan. (If you are looking for safe hand soap, please read my non-toxic hand soap guide.)
Then, we have phthalates and fragrances. Both may increase the risk of allergies and asthma. Also, phthalates are endocrine disruptors (source).
Finally, let us be on the lookout for such claims as "green," "non-toxic," "eco-friendly," and "all-natural." The fact of the matter is that these terms do not have any legal definitions. Basically, manufacturers can put anything they want on the labels of their products to sell them. The exception is the USDA organic label, which indicates that the product is organic.
Are Mrs. Meyer's and Method safe cleaning products?
Even though the products of these brands are better than others, there are not non-toxic cleaners. For example, Mrs. Meyer's Rose Multi-surface Everyday Cleaner uses such preservatives as methylisothiazolinone and benzisothiazolinone (source). And Method All-Purpose Cleaner Clementine has C12-16 Pareth-7 among its ingredients (source).
To clarify, the American Contact Dermatitis Society named methylisothiazolinone Contact Allergen of the Year for 2013, and benzisothiazolinone is a known sensitizer. As for C12-16 Pareth-7, it is a product of ethoxylation and may have traces of 1,4-dioxane, which is a carcinogen.
You can read my reviews of both of these brands' cleaning supplies in my posts Are Mrs. Meyer's Cleaning Products Safe? and Are Method Cleaning Products Safe?.
Humble Suds non-toxic cleaners
It is in this context that I now turn to Humble Suds. To begin with, Humble Suds is a small company in Evergreen, Colorado. Two moms, Holli and Jennifer, decided to clean up the cleaning aisle. Just like me, these two ladies started their healthy journey after having their kids. Truly, this is when the health of your family becomes of primary importance. Wishing to be able to just buy safe cleaning products instead of making them at home, they paired up to create cleaners that would be available to anyone.
Now let us talk about the ingredients of Humble Suds non-toxic cleaners.
Humble Suds laundry soap ingredients
The ingredients for the unscented version are sodium carbonate, sodium percarbonate, saponified coconut oil (sodium cocoate), and sodium bicarbonate. And the scented option has additional sweet orange oil, and lemongrass oil.
First, sodium carbonate is a white odorless powder, aka washing soda or soda ash. To avoid eye irritation, do not put it in your eyes or make it airborne. As for the effect on the environment, the European Chemicals Agency does not describe it as harmful (source).
Second, sodium percarbonate is a mix of hydrogen peroxide and sodium carbonate. Hydrogen peroxide breaks down into water and oxygen, so all you are left with is sodium carbonate.
Third, sodium cocoate is saponified coconut oil (or soap) where coconut oil is reacted with an alkali agent. This is how soap has been made for centuries.
Finally, sodium bicarbonate is baking soda.
Essential oils in safe cleaning products
Are essential oils a good idea for non-toxic cleaners?
Well, they definitely have benefits. Even though I use products with essential oils on me and my son, I know that in Europe they are included on the list of allergenic substances. Therefore, if you are prone to allergies, the unscented option of Humble Suds laundry soap may be a better choice for you.
Humble Suds cleaning paste ingredients
This all surface scrub has the following ingredients: sodium bicarbonate, castile soap (organic saponified oils [coconut, olive, jojoba], vegetable glycerin, sweet orange oil, lemongrass oil.
To begin with, castile soap originated in the Castile region of Spain and was made from 100% olive oil. This formulation has three oils in it, which is great, too. The oils go through the process of saponification involving its reaction with water and an alkali, or "lye." As a result, soap and glycerin are produced. You can find out why I like castile soap and recommend it, especially for babies, in my post Castile Soap for You and Your Baby.
Next is glycerin, which is a safe ingredient with antibacterial properties. Its function is to keep the paste from drying out.
Humble Suds all purpose concentrate ingredients
This concentrated option of safe cleaning products consists of water, natural grain alcohol, castile soap [organic saponified oils (coconut, olive, jojoba), rosemary extract, organic aloe vera], organic essential oils (grapefruit/lemon or tea tree/lavender or grapefruit/lemon).
As you can see, the ingredients are quite simple: soap, alcohol, and aloe vera. Rosemary extract is a great antioxidant.
Similar to the non-toxic cleaners above, this one has essential oils, too. Please exercise caution if you have any sensitivity.
Humble Suds hand sanitizer ingredients
The hand sanitizer's ingredients are 70% ethanol, hydrogen peroxide, glycerin, water, and essential oils (lavender, sweet orange and peppermint OR grapefruit, lemon and lemongrass).
Per the Center for Disease Control (CDC), hand sanitizers must have at least 60% ethanol (aka ethyl alcohol) to be effective. I like that Humble Suds uses 70% alcohol, which means that it will be effective. In addition, they have hydrogen peroxide to deliver further antiseptic properties. Glycerin prevents the skin from drying. There are a lot of hand sanitizers out there nowadays, but this is one of the best ones I have seen. Also, it feels good to use a safe hand sanitizer from the company I trust.
Humble Suds Revival™ Wood + Leather Balm
The balm's ingredients are organic cold expeller-pressed virgin coconut oil, organic extra virgin olive oil, organic raw beeswax, vegetable glycerin, organic grapefruit oil, and organic lemongrass oil. As you can see, they are chemical-free and organic. You can use the balm on leather or wood, including your wooden furniture or even a cutting board.
Performance of Humble Suds non-toxic cleaners
I like all Humble Suds toxin-free cleaning products. Out of the safe cleaning products by Humble Suds, one of my favorites is the cleaning paste all surface scrub. It leaves my stainless-steel sink clean and very shiny. When I tried to make my own paste before, it would harden in no time. This paste, however, does not harden and performs well.
Furthermore, I love their laundry soap. My clothes come out clean, and the fragrance is pleasant and not overbearing. I really enjoy its citrus smell.
As for the Humble Suds all-purpose cleaner concentrate, it fills one 32 oz bottle or two 16 oz bottles and is safe for all surfaces. Both the cleaner concentrate and hand sanitizer come in glass instead of plastic. I love that the hand sanitizer has enough alcohol to be protective even in hospital settings but the alcohol content is not too high to be drying.
Conclusion about Humble Suds non-toxic cleaners
To sum up, I am happy with these safe cleaning products because their ingredients are safe both for people and the environment. I especially appreciate the fact that the company tries to minimize plastic. Thus, the shipping package was completely free of plastic, too.
If you would like to give these products a try, you can buy Humble Suds eco-friendly products on the Humble Suds website. Please, use the code IRLFY10 at checkout to get a 10% discount.
For other options of safe cleaning products, household items, and skincare, please check out my shop. If you have questions about the products you consider buying, please book a consultation with me and I will help you. In addition, consider applying to the Savvy Consumer Circle to have access to all the latest information on safe products and get my ongoing guidance and interactions with like-minded people.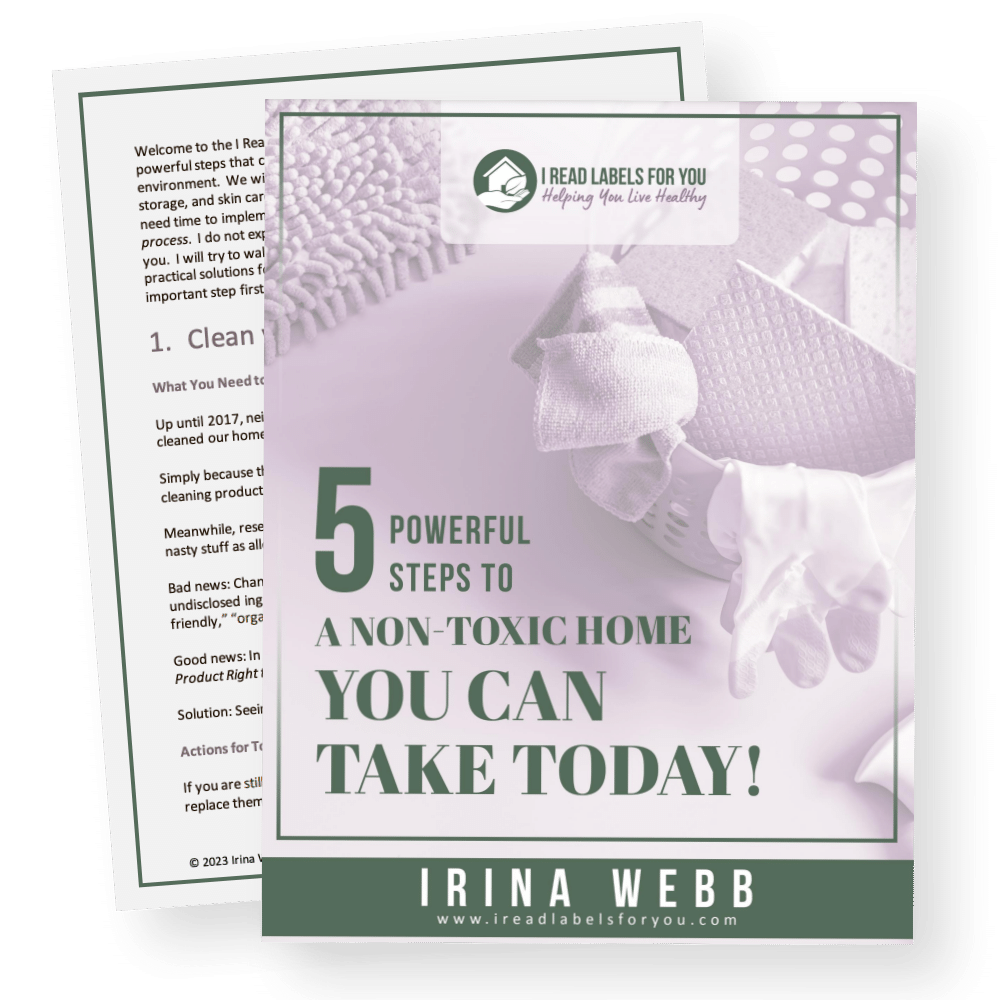 Download The Free Guide!
5 Powerful Steps To A Non-Toxic Home
Join our informed consumer community and get our free guide the "5 Powerful Steps To A Non-Toxic Home".