Soybean Foam: Pitfalls of Non-Toxic Furniture Shopping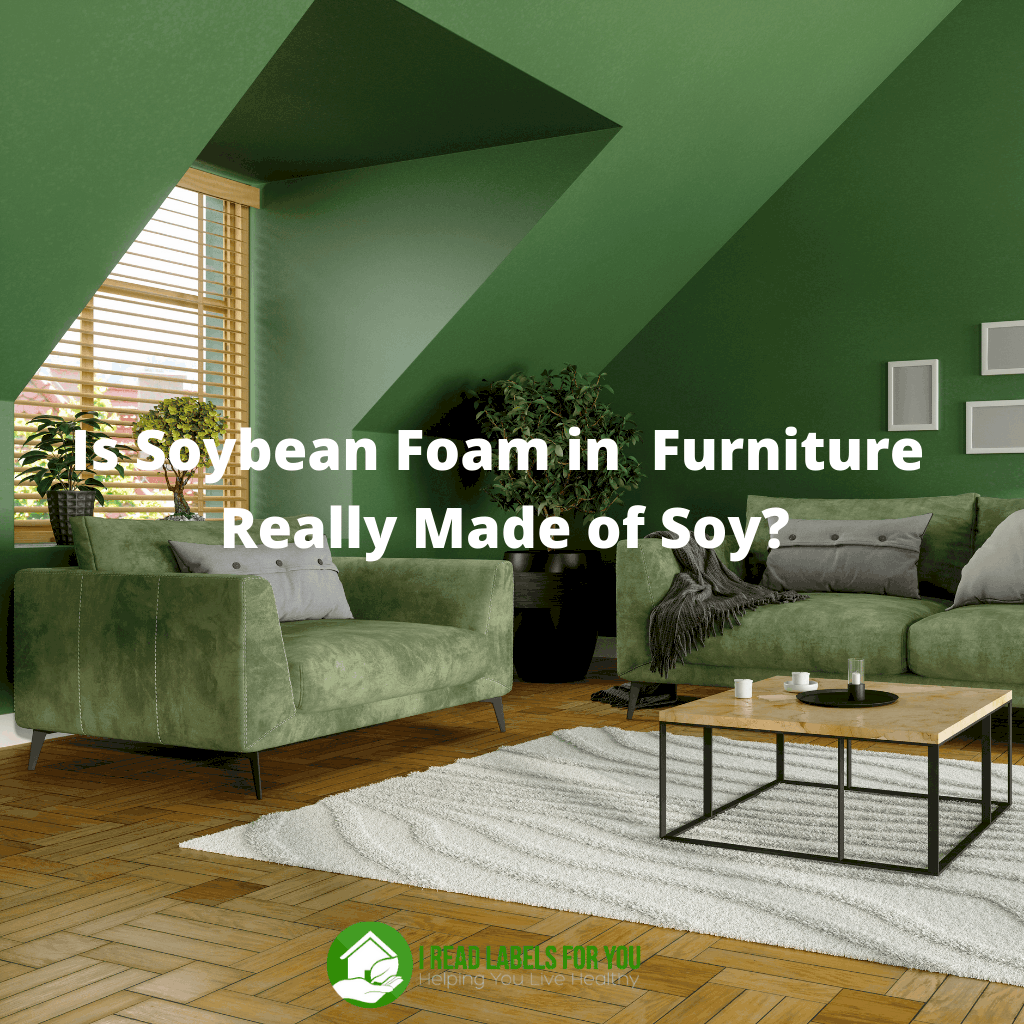 This post may contain affiliate links. To read our affiliate policy, click here.
If you add a couple of soy creamers to your coffee, does it make your coffee soy-based? I borrowed this analogy from another blogger because it shows well what the soybean foam hype is all about. Just as soy creamer in your coffee does not make it coffee-free, soy does not make your soy foam polyurethane-free. That's right – furniture foam made from soybeans is not exactly what manufacturers want us to believe it is. Actually, this is one of the pitfalls a consumer may encounter while looking for non-toxic upholstered furniture or a mattress. Read on to learn more about the use of soybeans in furniture foam, as well as non-toxic furniture and mattress options.
Finding safe products requires dedication and commitment.
It took me an entire year to find a sectional sofa free of flame retardants, polyurethane, and soybean foam. As usual, I did a lot of research and engaged in lively correspondence with manufacturers.
As a side note, I apply a multi-step approach to my research of any product, starting with a thorough survey of the subject matter. First and foremost, I focus on the safety of the product ingredients and their effect on human health. For this, I utilize chemical databases (OSHA, ECHA), medical sources (PubMed, ACDS), and government regulations (Ca Prop 65, EPA). (To see more resources I use, visit here.) Also, Myrto Ashe, MD, MPH, IFMCP goes over medical information in my posts. As a result of my dedication to consumer goods ingredient research, I have created several e-books, founded the Savvy Consumer Circle, and worked for major companies as a consultant.
So, the non-toxic sofa I bought is free of nasty chemicals, heavy metals, VOCs, polyurethane, and soy foam. In addition, the mattresses my family members sleep on are certified organic because they are made from safe ingredients. Before we talk about them, let's discuss what is wrong with soy-based furniture foam.
Avoid soybean foam because it contains more ingredients than just soybeans.
Sadly, soy foam contains very little soy, making it polyurethane foam with a touch of soy. In fact, this is what "20% soy based" really means.
To begin, polyfoam has a polyol portion and an isocyanate portion combined equally. So, the "20% soy-based" claim refers to the polyol portion of the foam: 20% of it is derived from soy. Basically, it means that 10% of the foam's total volume – comprised of a combination of polyol and isocyanate – is soy-based. In other words, the foam consists of 90% polyurethane and 10% soy. As with the coffee and creamer, does this 10% turn polyfoam into soybean foam? No. Does this 10% soy make the end product safer?
Well, some may say that 10% of soy is still better than nothing. However, soy is not a good material for furniture foam in the first place.
Indeed, most soy grown in the US is genetically modified and calls for the use of pesticides. In fact, from 1996 to 2012 there was an increased use of pesticides, up to 400 million pounds, used for GMO crops.
Furthermore, the widespread use of pesticides causes a real threat to the integrity of the ecological system. Thus, honeybee populations in America have dropped 30% per year since 2006 (source). It is a real crisis because bees are pollinators. So, no bees – no crops – no food.
To top it off, the harmful effects of polyurethane are still present in the soy foam.
Polyurethane foam is hazardous to human health and the environment.
Admittedly, polyurethane in conventional upholstered furniture and mattresses is a potentially harmful material both for human health and the environment.
First, in its isocyanate part, polyurethane contains toluene diisocyanate (TDI) which is "reasonably anticipated as a human carcinogen" (source). So, this carcinogenic TDI may off-gas from the upholstery furniture in your home.
Second, furniture and mattresses with polyurethane foam may emit volatile organic compounds (VOCs). According to this 2019 study, emissions from mattresses significantly increase from body heat. The problem with VOCs is that they may trigger various health issues including headaches, allergies, and cancer. Thus, one should specifically avoid crib mattresses with polyfoam or soybean foam for that matter.
Third, flame retardants in polyurethane foam may potentially cause disruption of the endocrine system (source). If your mattress had been around for a while, consider investing in a new non-toxic mattress. Ultimately, it will serve you for decades and give you peace of mind.
Moreover, the facilities that produce PU foam are a major source of hazardous air pollutants. Besides, when polyfoam burns, it releases deadly gases, such as hydrogen cyanide. On top of that, polyurethane foam inevitably contributes to the ever-growing landfill.
Please, refer to my post about polyurethane foam in furniture for details on scientific studies and the harms of polyfoam.
Soy foam manufacturers sometimes tout CertiPUR-US® and GreenGuard certifications.
Sometimes, manufacturers boast that their products have CertiPur-US and/or GreenGuard certificates. In my opinion, though, these two certifications make no difference.
For starters, CertiPUR-US® does not certify the product as a whole – just the foam part in foam furniture or mattresses. What is more, when the soybean foam is CertiPUR-US® certified, it means that it is indeed polyurethane foam.
On the one hand, the CertiPUR-US® standards seem impressive: no ozone depleters, no PBDE flame retardants, no mercury, no heavy metals, no formaldehyde, no phthalates, and low VOC emissions. (By the way, where you stand while measuring matters – the farther away from the foam, the lower the VOCs.) On the other hand, I want to know what the foam does have instead of what it does not have.
For your information, the CertiPUR-US® association is a creation of the Alliance for Flexible Polyurethane Foam. To clarify, their mission is to educate consumers about the benefits of polyurethane foam. Is there a conflict of interest somewhere here? Just wondering.
Then, there is GreenGuard certification, which is not an industry certification and is, indeed, independent. However, it tests only for VOCs – gases that some furniture emits into indoor air. There is no testing for heavy metals, pesticides, BPA, flame retardants or other dangerous substances.
Therefore, in my opinion, it is best to buy GOTS-certified organic mattresses and furniture because GOTS certifies the entire product. Plus, it is best to avoid soy foam which is, largely, polyurethane foam.
My suggestions for mattresses without soybean foam
Undoubtedly, the Global Organic Textile Standard is the certification you want to see when you look for a healthy mattress. As I have said before, GOTS certifies an entire product, not just its parts. If you wonder how a mattress can be organic, please read my post about an organic mattress and its certification.
So, my first suggestion is GOTS-certified organic mattress by Naturepedic (get a 15% discount code here). I especially appreciate its dual firmness feature when you and your partner have different preferences. Thus, I sleep on a softer side while my husband sleeps on a firmer side. Please, read my Best Organic Mattress Review to learn more.
In addition to adult non-toxic mattresses without soy foam, Naturepedic makes non-toxic crib mattresses (get a discount code here). If you are looking for one, take advantage of my posts about the organic crib mattress and solid wood cribs. Plus, when our son became too big for his crib, we bought him a Naturepedic organic kids mattress. (Get a code for 15% off here.)
My second suggestion is a GOTS-certified organic mattress by Happsy, a more affordable version of Naturepedic. Specifically, two major factors make Happsy mattresses more affordable: they have only medium firmness and are sold only online. To learn the details, please read my review of this affordable non-toxic mattress (get a discount code here).
Options for non-toxic furniture
In this category, my first suggestion is soybean foam-free furniture by Pure Upholstery. I especially trust its founder Donna Halloran because she has years of experience as a healthy furniture designer. For their non-toxic furniture crafted in the USA, they use GOTS-certified organic cotton and wool, OEKO-Tex-certified fabrics, and GOLS-certified latex. They also use solid wood with natural flax seed finish for frames (get a discount here).
Next, take a look a look at our How to Buy Non-Toxic Furniture blog post for more ideas and the description of my dream upholstered furniture.
If you happen to know other non-toxic furniture brands, please do not hesitate to share in the comments!
Conclusion about soybean foam in mattresses and furniture
To sum up, the buzz about soy foam benefits is mostly marketing hype. Obviously, to be "soybean based," the foam does not need to be 100% soybean or even "mostly" soybean. Basically, it is greenwashing with an aim to make people believe that something is "greener" than it really is.
In a nutshell, soybean foam is literally the same old polyurethane foam with a touch of soy. Thus, soy foam furniture and mattresses display the same health concerns as the polyfoam ones. Some of them are potential endocrine disruption and carcinogenicity.
Consequently, I suggest GOTS-certified organic, non-toxic mattresses by Naturepedic and Happsy that are certified as entire products. And for non-toxic furniture, I suggest Pure Upholstery. I also recommend airing your room or the house by opening windows regularly.
You are welcome to contact me for a consultation and browse my shop for healthy products, like Crunchi non-toxic makeup. Additionally, check out my e-books and join the Savvy Consumer Circle community to have fun learning and shopping healthy.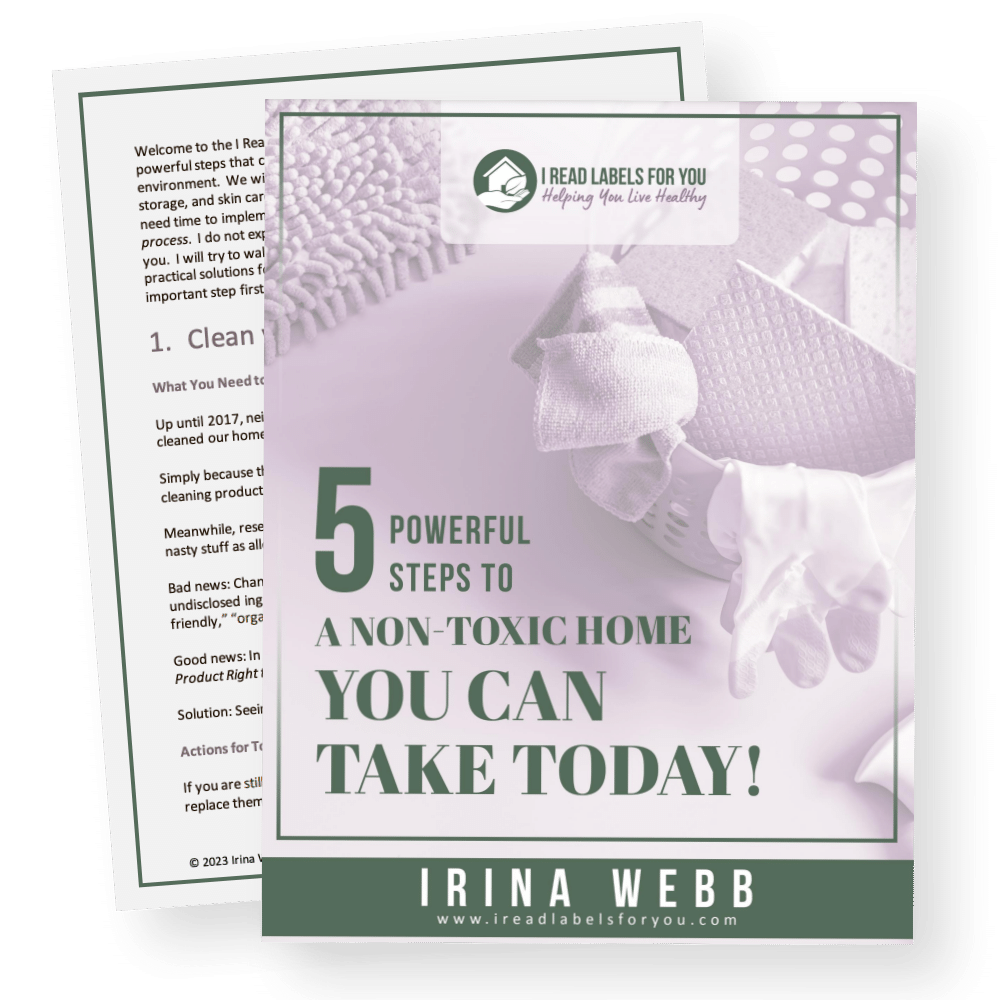 Download The Free Guide!
5 Powerful Steps To A Non-Toxic Home
Join our informed consumer community and get our free guide the "5 Powerful Steps To A Non-Toxic Home".