Can a Mattress Really Be Organic? Yes!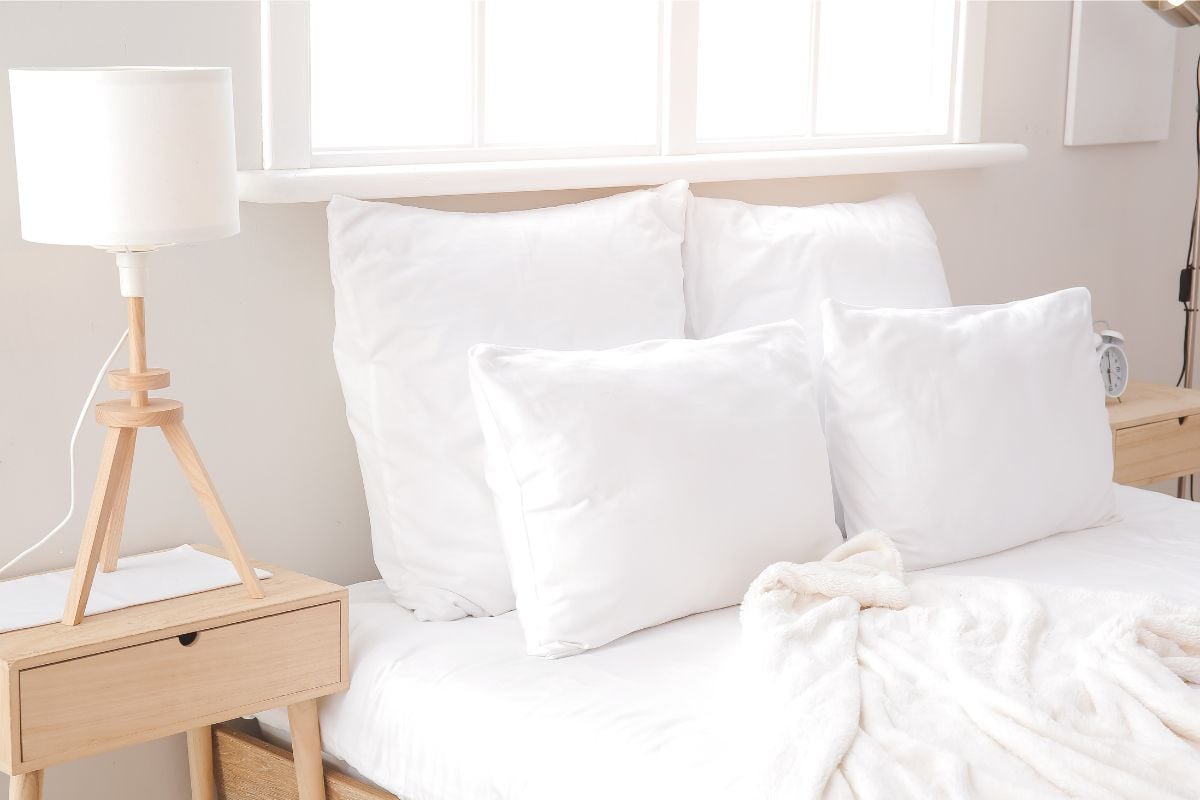 This post may contain affiliate links. To read our affiliate policy, click here.
How is your sleep quality? There was a time I could not care less about the surface on which I slept. But not anymore! Now I need all kinds of special conditions – a cool temperature, pitch dark and tranquil room, no sugar or stress, and absolutely comfortable bedding. Hence, I did thorough research to find a healthy mattress and a soft supportive pillow for my beauty sleep. In this easy-to-read blog post, you will learn that it is possible for a mattress to be truly organic. Additionally, you will see that if you get a non-certified so-called organic mattress, you may end up with a synthetic one full of flame retardant chemicals. Also, you will know where to buy an affordable organic mattress and get answers to frequently asked questions about non-toxic mattresses. As for the most comfortable organic pillow, this blog post will help you find it!
Can a Mattress Really Be Organic? Yes!
What does "organic" really mean?
To begin, in search of a healthy mattress, we contacted mattress companies directly to get answers to our questions. Frankly, we encountered various reactions, including resistance, hostility, and even contempt. Instead of admitting that they did not have the answers, some customer service representatives used disdain as a defensive mechanism. Luckily, with more consumers asking questions, the situation is changing. So, keep asking!
Further, the key steps in our multi-step approach to research are surveying the product industry and learning about its manufacturing processes and ingredients. To achieve this, we read multiple sources of scientific literature and study chemical databases and ingredient reports. We also look for definitions and regulations in the subject matter we cover.
When it comes to the field of "organic" products, we have noticed that the term is used quite loosely. It is important to understand that an organic certification can be issued only to those products that have at least 95% of their ingredients certified organic individually.
However, probably to convey a certain sense of safety, manufacturers apply the term "organic" even to the products that cannot be organic, like hair dyes. True, an organic hair color may contain organic ingredients. Yet, it cannot have an organic certification as an entire product due to the presence of multiple chemicals without which it just won't work.
In the same way, many mattress manufacturers claim that their products are organic. Is there a way to know whether they truly are organic? Read on to find out!
A healthy mattress is an organic mattress.
Why is an organic mattress the best choice in the first place? Well, an organic certification will protect you from having the following in your mattress:
pesticide and herbicide residues
potentially carcinogenic volatile organic compounds (VOCs), and
all flame retardant chemicals (they can undermine your thyroid function and increase the risk of cancer, among other things).
These toxic materials off-gas and/or settle into dust while you sleep, and you can inhale or ingest them. (That's why we recommend washing your hands before handling food.) Many of them are in polyurethane foam, a common material in conventional mattresses. In our blog post about polyurethane foam in furniture we explain why we recommend avoiding it.
On top of that, without an organic certification, there is no guarantee that the mattress is the most natural, eco-friendly, and safest it can possibly be. Conversely, an organic certification ensures that such materials as the cotton, wool, and natural latex foam in your healthy mattress are of natural and organic origin. Additionally, it confirms that the entire supply chain is environmentally and socially responsible. Plus, it prohibits the use of such harmful chemicals as heavy metals, aromatic solvents, phthalates, and formaldehyde during the manufacturing process and in the finished product.
You want your mattress to be GOTS certified organic.
Note that there is only one organic certification that can prove that the entire product is organic. Namely, it is the Global Organic Textile Standard (GOTS) certification. To verify that a mattress company holds this certification, type its name into the GOTS certified suppliers database.
How does a non-toxic mattress officially become "organic"?
First, the certifiers disassemble the product, and literally create two piles: the "main" pile (for fibers) and the "accessories" pile. While the materials the certifiers agreed to accept as accessories do not have to be organic, they must meet GOTS non-toxic requirements. Some examples of GOTS approved accessories include steel coils, or springs, and waterproofing materials.
Second, the certifiers examine the fibers in the "main" pile. If 95% of the fibers comprising your healthy mattress are organic, GOTS certifies the entire mattress as organic.
Another important thing to know is that GOTS certifies not only products, but also manufacturing facilities. So, technically, it is possible for a non-certified mattress to be made at a GOTS-certified facility. Therefore, we recommend confirming the mattress itself is GOTS certified, not just the facility where it was made. You can do that easily by looking up the GOTS certification in the GOTS certified suppliers database. Alternatively, it is granted that a GOTS-certified bed product is made at a GOTS-certified facility. Also, remember to check on the GOTS website that the mattress model you are buying is certified organic.
Other certifications do not certify a product "organic" as an entity.
What if the manufacturer insists that their certification is even better than GOTS? Well, let's look at some other certifications that manufacturers may show to you and see what they actually mean.
Name of the Certification
What it Does
Global Organic Latex Standard (GOLS)
– certifies natural latex foam to be organic. Specifically, it certifies Dunlop latex foam, not Talalay, because Talalay has the chemical additives prohibited in the GOLS. Thus, GOLS certification without GOTS certification is not enough. (Here you will find some organic latex-free bed options.)
Greenguard Gold
– measures various gas emissions against certain limits that Greenguard established. Many mattresses with the Greenguard Gold certification use potentially harmful polyvinyl chloride (PVC). (Learn more in the PVC yoga mats post.) Moreover, even petroleum-based polyurethane foam mattresses can pass the Greenguard Gold standard. In our opinion, a healthy mattress should contain neither PVC nor PU foam.
Oeko-Tex Standard 100
– restricts 100 toxic substances but does not necessarily eliminate them. For your reference, phthalates are allowed under this certification.
US Department of Agriculture (USDA)
– develops and enforces national standards for organic agricultural products for sale in the US
– provides a third-party assurance for raw materials, like rubber tree sap or cotton, grown organically
– does not preclude the use of synthetic and harmful materials along with organic ones
Beware of a "supplier's certificate"
In our experience, some manufacturers have shown us a "supplier's certificate" to prove that their product is organic. Here is what you need to know about a supplier's certificate.
Basically, it is a document provided by the manufacturer's supplier claiming that a certain material they supply is organic. It may also point out that the material has some other designation, e.g., that it is GOLS-certified.
However, a supplier' certificate is not helpful. Indeed, it does not prove that the mentioned "organic" material is actually used in the mattress you are buying. All it says is that at one time, the supplier offered this material for sale. It does not say that the manufacturer bought the material, or that it was incorporated into the product you are buying.
Benefits of Organic Mattress
To summarize, here is a list of the benefits of buying a GOTS-certified organic mattress:
The most natural, eco friendly, and safest materials that can be in the mattress because GOTS is the strictest standard.
You don't have to verify with the manufacturer that each mattress component is either organic or approved by GOTS because GOTS did that. Plus, it would be quite challenging to do.
You will have peace of mind that you bought the safest mattress because GOTS is the strictest standard we currently have.
With this being said, please keep in mind (but do not panic) that GOTS certification is not an absolute guarantee that the mattress is made to GOTS specifications or has no chemicals of any kind. Just like with certified organic food, there are no guarantees that chemicals that are not allowed showed up in organic food just because USDA organic certification prohibits all chemicals. Yet, that does not mean that we should eat non-organic food or sleep on conventional mattresses made of polyurethane foam and concerning flame retardants.
Shopping for Organic Mattress
The organic mattresses listed here are not only certified by GOTS but also the mattresses that I have extensively researched over the course of many years relying on our 5-Step Signature Research Method and the intuition we have developed over the years.
GOTS-certified organic mattresses contain no concerning materials and are very customizable. There are options for everyone! In fact, they come in different degrees of firmness/softness, and you can even select dual firmness, as we did. While my husband uses the firmer side, I use a much softer surface because I weigh less. In our Naturepedic Mattress Review, you can learn about all types of mattresses Naturepedic makes. Above all, this company has proven to be a trustworthy leader over the decades. (Get a 15% discount code.)
These GOTS-certified organic crib mattresses are made of safe and only hypoallergenic materials. The Naturepedic crib mattress is waterproofed with food-grade non-GMO sugarcane plastic approved by GOTS. Furthermore, to be on the safe side, Naturepedic refuses to provide a latex mattress option for babies because 6% of people are allergic to natural latex, and we do not want to find that our baby is one of the 6%. If you are looking for a crib, you will benefit from our post on solid wood cribs. (Get a code for a 15% discount on the mattress.)
These GOTS-certified organic mattresses are made of safe and hypoallergenic materials meaning that there is no latex in the kids mattresses. It has stainless steel coils and a waterproof side made from food-grade non-GMO sugarcane plastic approved by GOTS. My son loves it, and I have peace of mind that he sleeps on a healthy mattress. (Get a code for 15% off.)
GOTS-certified organic mattress with coils that comes only in medium firmness (adjustable with a topper). One firmness and the fact that Happsy sells only online makes it a rather affordable non-toxic mattress option. (Get a discount code for Happsy.)
Summary about an organic certification
So, what is a truly healthy mattress? An organic mattress. Can a mattress really be organic? Yes, it can. What certification must a mattress hold to prove itself organic? GOTS organic certification. It guarantees that the product as an entity is non-toxic and is made at a toxic-free facility.
What about other bed product certifications?
Well, on their own (i.e., without the GOTS certification):
Greenguard Gold and Oeko-Tex Standard 100 can help you find a tiny bit safer synthetic product. Neither of them indicates that a product is organic or natural, and, ultimately, safe.
GOLS is not very reassuring, either, because it certifies only the foam (Dunlop), not the entire mattress.
A "supplier's certificate" stating that a certain material is organic, or the foam is GOLS-certified, does not guarantee that this material is in the product you are buying.
As for the USDA, it certifies only raw materials and some parts of the bed product.
Our favorites healthy mattress options are GOTS certified organic ones by Naturepedic and Happsy. They both have generous discount codes for you. For a latex-free option, check out our blog post here.
Of course, visit the IRLFY shop that abounds in healthy product options of all kinds (e.g., non-toxic makeup). And use one of our services for help with a product ingredient review or personal consultation regarding your healthy living journey.
Frequently Asked Questions and Answers
This is a bonus section addressing some common questions about non-toxic mattresses.
Are mattresses toxic?
Generally speaking, most mattresses are made with various materials, some of which contain outright toxic ingredients. Specifically, they include chemicals used in polyurethane foam, flame retardant chemicals, formaldehyde, pesticides, glues, vinyl phthalates, PFAS etc. They off-gas or settle into the dust while you sleep, and you can inhale or ingest them. These are not the right ingredients for a healthy mattress. Note, though, that not all beds contain potentially toxic materials. The safest mattresses, namely those that are certified by Global Organic Textile Standard (GOTS), do not use these toxic materials.
Which mattress is best for me?
To begin, mattress manufacturers have different opinions regarding how to select the "best" mattress, and they mostly focus on firmness. In our opinion, however, the priority in selecting a bed should be the materials. We believe that the only way to be sure that you will buy a non-toxic mattress is to get a GOTS-certified mattress. Indeed, GOTS certification guarantees that organic cotton, organic wool, and natural latex foam in your organic mattress are of natural and organic origin. In addition, GOTS forbids using heavy metals, aromatic solvents, phthalates, and formaldehyde during the manufacturing process and confirms that the entire supply chain is environmentally and socially responsible.
If you are looking for the best non-toxic mattress for yourself from the perspective of comfort, know this. First, you should not feel forced to sleep on a certain firmness just because somebody said so. Mattress firmness is an individual preference: some people enjoy a plush mattress, and others prefer a very firm one. In our opinion, you should get what you are most comfortable with.
Honestly, when I bought my Naturepedic healthy mattress, I was very excited about its feature to select the desired firmness. Plus, you can change the firmness at any time! As a result, my husband and I share the same mattress but enjoy different firmness levels. It's fun! (Get a 15% discount code for Naturepedic.)
What mattress should I buy?
Strictly speaking, you want to buy a non-toxic mattress – there is no doubt about that! It boils down to the question: how do I know that the mattress I am looking into is non-toxic?
In our opinion, there is only one way to know for sure – by checking whether the product you want holds GOTS certification. As stated above, GOTS guarantees that your bed product is natural, organic, and free of questionable chemicals. In other words, this is the only certification that will give you peace of mind that you have bought a safe and non-toxic mattress.
But what about other certifications? While it is definitely a plus for a product to have a certification, make sure you know what it certifies.
Thus, Greenguard Gold measures various gas emissions against certain limits established by Greenguard. And Oeko-Tex Standard 100 regulates only 100 toxic substances (out of 80,000 used by US manufacturers!!) by limiting and eliminating their use in the production process. As for GOLS, it certifies only the latex foam (Dunlop) to be organic. And USDA certifies only parts of a product, not the entire item.
In sum, find a healthy mattress, preferably certified by GOTS, that offers a variety of firmness levels and comfort options. And if you are allergic to latex, check out our guide to latex-free options of mattresses.
Which mattresses have fiberglass?
For starters, fiberglass is one of the materials used by manufacturers to pass the government flammability test. The thing is, mattress manufacturers are not required to disclose what chemicals are in their product. This includes all the chemicals used as fire retardants, with fiberglass being one of them.
Hence, unless manufacturers willingly disclose the chemicals they use to meet the government flammability standard, there is no way to know which mattresses have fiberglass. The good news is there is a way to know which mattresses do not have fiberglass. That's right! GOTS certified organic mattresses do not have fiberglass or any other toxic flame retardants. In our opinion, a GOTS certified mattress is the safest mattress option for you. Therefore, consider Naturepedic or Happsy organic mattresses, both of which offer generous discounts if you buy them with our discount codes.
Can mattresses be cleaned?
Generally, the surface of a mattress can be vacuumed, the interior can be steamed, and spots can sometimes be removed. To save yourself trouble, consider buying a protector to cover the surface of your healthy mattress.
Can mattress pads be washed? Usually yes, but they may be too large to fit into a home washer or dryer. They might fit into a commercial washer and dryer, though.
Are mattress protectors necessary? No, they are not necessary. However, if you are spending a lot of money on a mattress, it may be a good idea to add a protector. This is certainly the case if you eat in bed or if your baby sleeps on your bed.
Is a mattress pad the same as a topper? No, it is not. A pad is used as a cover to protect your bed from being soiled, and it can be washed. On the other hand, a topper cannot be washed and is used to regulate the level of firmness. If you cannot afford a new mattress, a topper is better than nothing.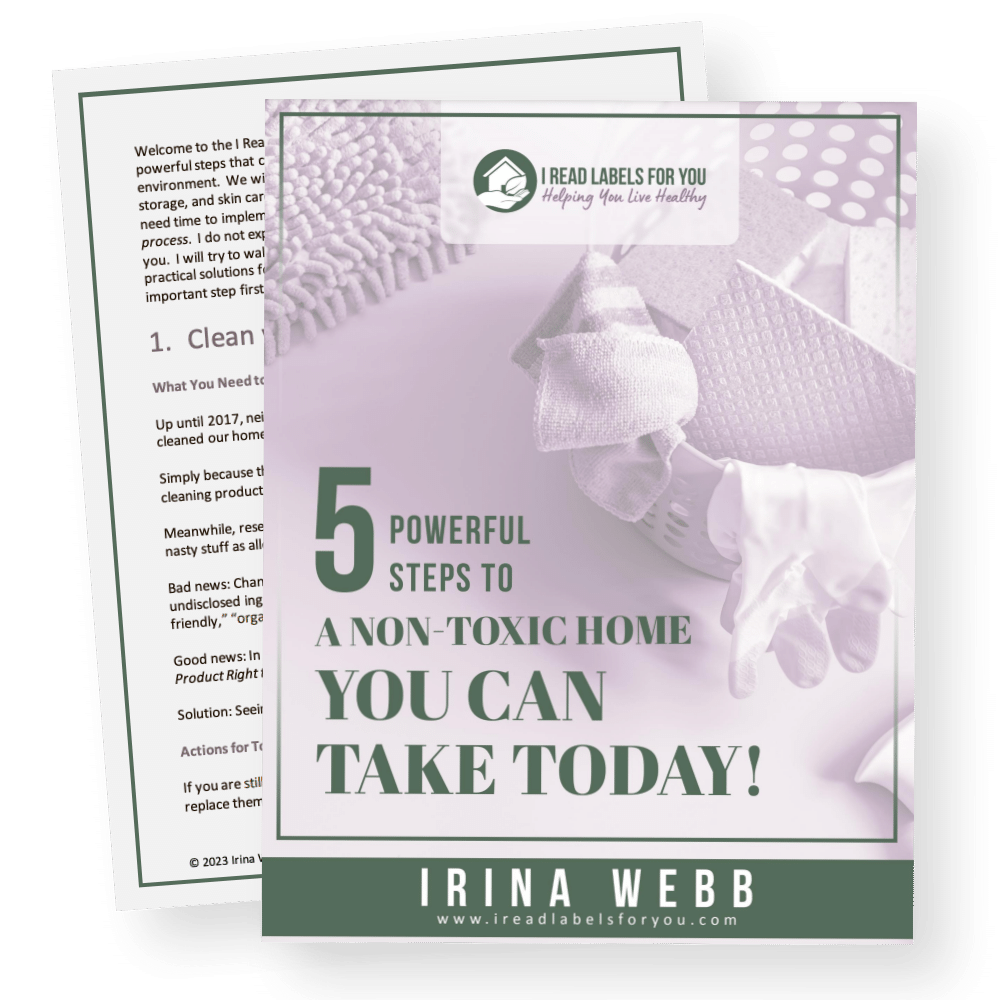 Download The Free Guide!
5 Powerful Steps To A Non-Toxic Home
Join our informed consumer community and get our free guide the "5 Powerful Steps To A Non-Toxic Home".