Are Solid Wood Cribs a Better Choice?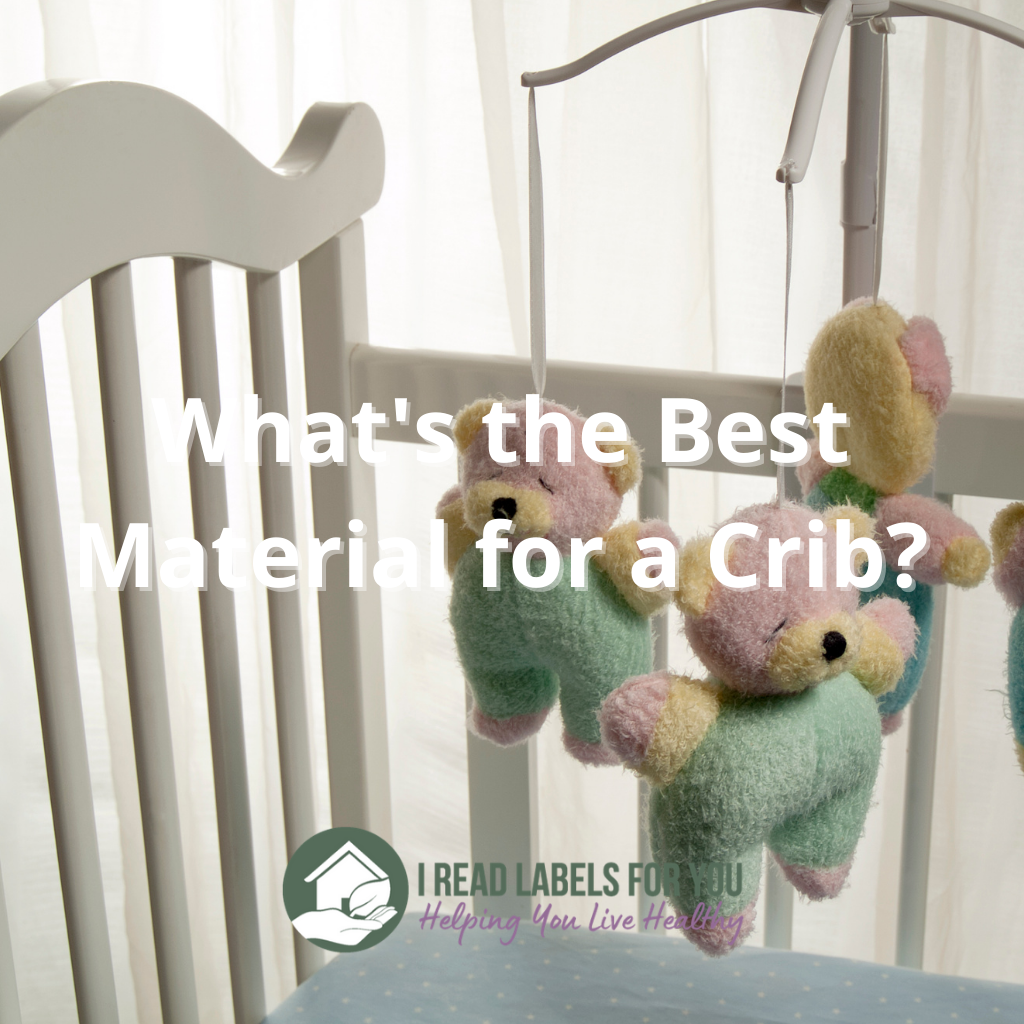 This post may contain affiliate links. To read our affiliate policy, click here.
When I was a little girl, I dreamt of having a crib for my toy doll. I remember my excitement when my parents gave me one – a carved rocking cradle made of pink plastic. It was so pretty that I wished it would magically turn into a real size crib for me. Well, what passes as a toy, won't pass as a real deal. Regardless of how pretty the crib is, I would never buy a plastic bed for my child. Fortunately, there are many crib options on the market today. In this post, you will not only learn how to buy a non-toxic crib. You will also find out whether solid wood cribs are better than others. Also, keep reading to see which wood crib is my favorite.
How to buy a non-toxic crib
If you are shopping for a crib, you probably have lots of questions. Several years ago I shopped for a crib for my son, so I know what it is like. Just like many parents, I wanted to do everything right. But I did not find much help on the Internet or from my friends. Eventually, my frustration lead me to giving up my career in finance for the sake of researching safe baby products. In the end, research turned into my full-time occupation. Hence, I am here to help you get the peace of mind about making the right decisions for your family.
Now, let's address some questions you may have about baby cribs.
How do you know if a crib is truly non-toxic?
To begin with, no government agency has a definition for the term "non-toxic." In addition, there is no law that would prohibit a crib manufacturer from calling their cribs non-toxic, no matter what they are made of. In other words, it is not a legally regulated term and is virtually meaningless. It seems that some manufacturers use the term just as a marketing tool.
Also, my research of hundreds of cribs, including solid wood cribs, led me to the following discovery. Sometimes manufacturers use this term simply to mean that the amount of lead agrees with the latest government regulations. While this is laudable, don't they all have to comply with the latest government regulations?
Thus, to buy a truly non-toxic crib, it is necessary to look behind the marketing claims. Also, it is important to ask manufacturers the types of questions set forth herein.
What does "CPSC and/or ASTM compliant" mean?
To start with, CPSC stands for U.S. Consumer Product Safety Commission and ASTM stands for American Society for Testing and Materials.
With the exception of lead and phthalates, both the CPSC and the ASTM focus on crib structural safety. That is to say, they do not focus on safety from the standpoint of harmful chemicals that can be found in wood finish, wood composites, and glue. Instead, they want to make sure that cribs won't injure or even kill babies.
Therefore, on the one hand, it is great if a crib is compliant with CPSC and ASTM International standards. On the other hand, CPSC/ASTM compliance does not automatically mean that the crib you consider buying is non-toxic. Read on to see if the same is true for solid wood cribs.
New safety requirements for cribs
In fact, the latest regulations, 16 CFR 1223 (for full-sized cribs) and 16 CFR 1220 (for non-full-sized cribs), adopted on December 6, 2013, have been a big improvement (source). To clarify, these new safety requirements resulted from infant deaths caused by cribs with drop-down sides.
(And yes, we had a fear that our son would die of sudden infant death syndrome. Fortunately, he survived those years just fine, and now we are in the sweet spot between that and his qualifying for a driver's license. Yikes. You will get through it, too, but it is right to read about the crib structural safety. This is one area where you want to do your homework. Perhaps, it is best to buy the latest model up to the latest government codes which take into account the latest research.)
Is a non-toxic crib completely free of lead?
Well, you may have heard that lead in paint has been banned. And you may have concluded that lead is no longer something to worry about, especially in solid wood cribs. However, this is not entirely true.
To clarify, the Federal Consumer Product Safety Improvement Act of 2008 (CPSIA) lowered the permissible concentration of lead in paint from 0.06 percent (600 ppm) to the new limit of 0.009 percent (90 ppm), effective August 14, 2009 (source). Thus, if you decide to get a used crib, get one with the issue date after August 14, 2009. And again, our best advice is to buy a new one – this year's model – not a used one.
Additionally, occasionally we hear about lead in toys, kids' furniture, and cribs, which come from abroad. For example, in May of 2015, the Consumer Product Safety Commission recalled Baby's Dream cribs and furniture manufactured in Chile between March 2014 and March 2015 due to the violation of lead paint standards.
Consequently, try to make sure that the furniture you consider buying follows the current standards. How can you do that? Call and ask the manufacturer. Even though there is no guarantee that you will get a straight answer, you will let the manufacturer know that consumers care about these issues. And if you get an evasive answer, you can draw your own conclusion about purchasing their product.
Why does a non-toxic crib smell?
Unless you are standing before unfinished solid wood cribs, chances are the cribs you are looking at smell of chemicals. This is because of volatile organic compounds (VOCs). They are a large group of toxic chemicals such as acetone, benzene, ethylene glycol, formaldehyde, and methylene chloride. In fact, all of them easily evaporate at room temperature in a process known as "off-gassing."
Nonetheless, with the exception of formaldehyde, there are no helpful regulations regarding VOCs in nursery furniture. To specify, VOCs can be in a crib's lacquer, paint, glue, and/or its composite wood. Moreover, exposure to high levels of VOCs can cause a whole array of symptoms like eye, nose and throat irritation. Additionally, VOCs may cause headaches, nausea, vomiting, and dizziness. Above all, exposure to VOCs may lead to worsening of asthma, cancer, and liver, kidney, and central nervous system damage.
However, scientists have not determined what amount constitutes a "safe" dose of VOCs. Neither have they studied the impact of combinations of chemicals on our health, coming from multiple sources of VOCs. You will find out in a bit if solid wood cribs can emit VOCs, too.
It is important to note that babies are more vulnerable to VOCs because they need more air per body weight. That is to say, an infant takes 40-60 breaths per minute, whereas a healthy adult breathes 12-16 times a minute.
Greenguard certification
To avoid exposure to VOCs, ask whether the non-toxic crib has received Greenguard Gold certification.
Greenguard is a company that was acquired by UL Environment (a division of Underwriters Laboratories) in 2011.
Without a doubt, Greenguard certification helps manufacturers create and helps buyers identify products and materials used inside homes and buildings that have low chemical emissions, improving the quality of the air in which the products are used.
Additionally, the UL Environment laboratory uses state-of-the-art equipment to determine total volatile organic compounds. It also sometimes tests for individual VOCs following the two standards: Greenguard Certified and a stricter Greenguard Gold standard (formerly known as "Greenguard Children & Schools").
Are solid wood cribs better than others?
Just as before, let's look at some questions that may arise when you shop for a wood baby crib.
How important is it to buy solid wood cribs?
To answer this question, let's look at how non-solid wood cribs are made. Specifically, they are made of engineered or composite wood. Namely, plywood, medium-density fiberboard (MDF) or particleboard, are common materials made by gluing small pieces of wood together. As you can imagine, it takes a lot of glue to do it. And glue usually contains formaldehyde, which does not sound like it belongs in a non-toxic crib.
So, what do we know about formaldehyde?
The International Agency for Research on Cancer (IARC) has classified formaldehyde as "carcinogenic to humans." They based it on nose and throat cancers in working populations. For more information about formaldehyde, visit here.
It is true that the amount of formaldehyde in a baby crib would be small in comparison to occupational exposure. However, we must remember that babies are more vulnerable to VOCs because they need more air per body weight. Therefore, to be on the safe side, I recommend solid wood cribs or cribs with low formaldehyde emissions.
What is CARB II certification?
To begin with, California determined that formaldehyde is a potent toxin in 1992. Hence, the California Air Resource Board (CARB) is a department of the California Environmental Protection Agency that regulates formaldehyde emissions in composite wood.
Further, the California Environmental Protection Agency has recently come up with a stricter standard, called CARB II, which sets forth the following limits on formaldehyde emissions.
First, for hardwood plywood veneer core the standard prohibits formaldehyde in amounts greater than 0.05 parts per million ("ppm"). The same is true for hardwood plywood composite core.
Second, for particleboard, it is 0.09 ppm.
Third, for medium density fiberboard (MDF), it is 0.11 ppm.
Often manufacturers use plywood or MDF to make mattress supports in cribs and the bottoms of dresser drawers (source). Therefore, please always double-check with the seller if their non-toxic crib is 100% solid wood. Also, remember to check the mattress support and dresser drawers.
Is CARB II good enough?
When it comes to non-solid wood cribs, there is a better standard – Greenguard, which we discussed above.
For example, the formaldehyde emission limit for Greenguard Certified is 0.05 ppm. It is the same as CARB II's for plywood veneer core and hardwood plywood composite core. Yet, it is better than CARB II's requirement for particleboard (0.09 ppm), and MDF (0.11 ppm). The Greenguard Gold standard's limit is only 0.0075 ppm.
As you can see, for cribs, CARB II is not the strictest standard. Thus, it is best to look for either a solid wood crib or Greenguard Gold-certified crib.
As a matter of fact, you can search for any product in the Greenguard database to learn if it has been certified here. In addition to formaldehyde, Greenguard tests for VOCs, and you can learn more about its standards here.
Are solid wood cribs very expensive?
Frankly speaking, a non-toxic crib made of wood will most likely be costly, but not always.
Over the years, I have looked into tons of cribs sold on the US market. Generally, solid wood is more expensive than pressed wood. On the other hand, I have also seen very expensive cribs that were not solid wood cribs.
My favorite option for a non-toxic solid wood crib
I am really excited about the non-toxic crib brand Green Cradle for several reasons.
First, they make nursery furniture by hand in the USA.
Second, all their furniture and cribs are from 100% solid wood.
Additionally, instead of paint, they use natural linseed oil for the furniture finish.
Moreover, their wood cribs are convertible. It means you can transform your crib into a bed when your child grows up. Isn't it great that you don't have to throw away the crib and look for another bed?
Above all, I appreciate the fact that Green Cradle wood cribs are made in the USA, namely in Southern California. Undoubtedly, foreign manufacturing locations, such as China, offer less expensive cribs and furniture. For example, some Million Dollar Baby cribs are much more budget-friendly but their manufacturing location is China. My fear is that the Million Dollar Baby company might not be in full charge of the manufacturing or quality control process. Thus, there might be deviations from their standards. In addition, the finish of Million Dollar Baby cribs is low VOCs, not zero VOCs.
Finally, to learn more about Green Cradle safe cribs, please visit the Green Cradle website.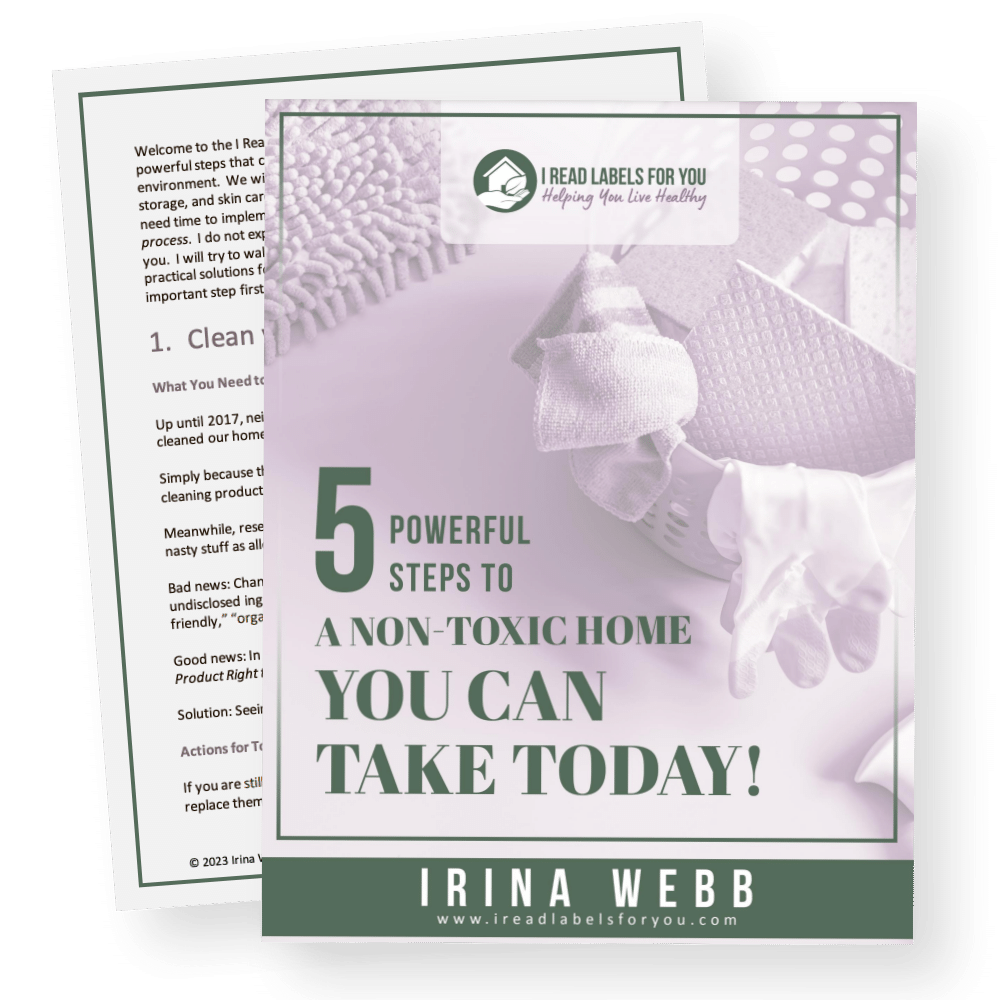 Download The Free Guide!
5 Powerful Steps To A Non-Toxic Home
Join our informed consumer community and get our free guide the "5 Powerful Steps To A Non-Toxic Home".