Polyurethane Foam: What is Inside Our Furniture?
This post may contain affiliate links. To read our affiliate policy, click here.
How do you choose furniture? Before becoming a full-time consumer product safety consultant, I had three main criteria: comfort, price, and looks. Now I have added another criterion to this list – safety – and it comes first. If we think about the materials from which furniture is made, we will discover that they can affect our health. Indeed, furniture surrounds us everywhere: we work, eat, and sleep on it, and, thus, inhale and ingest whatever comes out of it. One of the common materials in conventional furniture and mattresses is polyurethane foam. Let us find out if polyurethane in furniture is safe or toxic for human health. Also, read on to see my suggestions about how to protect your health.
I do extensive research and consult major companies.
It was during my pregnancy in 2012 that I faced the issue of consumer goods safety, particularly baby products. Before that, I had just assumed that if a product reached the store shelf, it was safe. I hoped that "laws and regulations" (about which I knew nothing) controlled manufacturers and protected consumers. That attitude changed when I saw potentially harmful chemicals among the ingredients of a baby shampoo whose manufacturer promoted it as "natural." After investigating other baby products and finding many that met my strict criteria, I wanted to share my findings. Thus, my blog was born.
My website contains tons of free posts with my opinions on the safety or toxicity of products for daily use. Also, you can benefit from my e-books and join the Savvy Consumer Circle for education and fun. I form my opinions based on multiple credible sources, including scientific publications and chemical databases. (Check out my research approach and the list of reference sources here.) In addition, Myrto Ashe, MD, MPH, IFMCP reviews the medical-related facts in an increasing number of my posts.
Nowadays, online retail companies use my consulting services, and this non-toxic makeup brand values my advice on their product ingredients. Further, furniture manufacturers feel compelled to report to me about their compliance with the updated California flammability regulation (TB 117-2013). In other words, they want to say that their furniture is now free of any flame retardant chemicals. However, most of these same manufacturers continue using polyurethane in furniture.
Polyurethane foam is a potentially harmful material used in upholstered furniture and mattresses.
While free of toxic flame retardants, upholstered furniture still utilizes toxic materials. Most of the furniture sold to US consumers is made with polyurethane foam (aka polyfoam or PU foam). This is what you need to know about this material.
To begin, polyfoam is a combination of a polyol, a type of alcohol, and a diisocyanate, a derivative of petroleum. While both substances are deadly, the major concern lies with diisocyanate, namely toluene diisocyanate (TDI). The US National Toxicology Program classified it as "reasonably to be anticipated as a human carcinogen" (source). Some evidence suggests that they add more TDI than it is necessary to make PU foam (1). This means that the upholstery padding in your home may emit significant carcinogenic TDI. Actually, workers who make polyfoam must wear full-body protective gear and respirators.
In addition to TDI, polyurethane in furniture in your home may continue emitting toxic volatile organic compounds (VOCs). These gas emissions may contribute to a variety of short-term or long-term problems, ranging from headaches and allergies to even cancer. Thus, researchers from the National Research Foundation of Korea tested five different types of furniture. They found that the items with polyfoam exhibited much higher VOC levels than the other items they tested (source).
Polyurethane foam causes a major environmental concern.
First, the Environmental Protection Agency (EPA) identifies polyfoam manufacturing facilities as a potential major source of hazardous air pollutants (source). They include methylene chloride, hydrochloric acid (HCl), 2,4-toluene diisocyanate (TDI), and hydrogen cyanide (HCN). These substances are known to cause cancer and damage the lung, eye, and mucous membranes, as well as the central nervous system.
Second, polyurethane foam is a major contributor to landfill. Indeed, once something toxic is out there, it is impossible to get rid of it without bad consequences. Sadly, PU foam is not biodegradable, which means that it goes into ever-growing landfills. Even if it gets recycled, it is not ideal, because it will come back to us in other products.
Third, upholstery foam produces deadly gases when it burns. Ignited polyfoam sofas can reach temperatures over 1400 degrees Fahrenheit within minutes. Studies show that PU foam releases significantly higher amounts of hydrogen cyanide at a faster rate than cotton, wool, and nylon (source and source). For your information, in 1995 Aum Shinrikyo terrorists used hydrogen cyanide in their attack on the Tokyo subway system. Also, the Nazis used hydrogen cyanide in death camps during World War II.
Polyurethane in mattresses emits toxic gases.
Along with polyurethane in furniture, manufacturers use PU foam in mattresses. Is this a big deal?
Well, since you spend on average 8 hours a day on your mattress, I think it is a big deal. Definitely, you do not want to breathe in VOCs and carcinogenic TDI while you are sleeping. Indeed, this 2019 study showed that body heat increases emissions from mattresses significantly.
Next, US researchers tested how the emissions of four different types of crib mattresses affected mice. They found that mattresses made of polyfoam and covered with vinyl caused the highest lung irritation in mice (source). Additionally, this study sampled the air around polyurethane crib mattresses. The results indicated that it had 21 times higher VOCs than the rest of the air in the room.
Thus, polyurethane foam can emit potentially harmful gases, which can negatively impact not only your health, but also your baby's. Here is another reason to consider avoiding polyurethane in furniture and mattresses.
Flame retardants in mattresses are dangerous because they disrupt the endocrine system.
Because polyfoam is so flammable, mattress manufacturers must add flame retardants to make them safe. Before 2007, the Federal government's cigarette flammability test required companies to add flame retardant chemicals to the polyurethane foam. They may cause reduced IQ, infertility, thyroid disruption, oxidative DNA stress, adverse effects on the immune system, and cancer (source). One of the most common flame retardants is polybrominated diphenyl ethers (PBDE). Among other things, it may increase the risk of breast cancer and disrupt normal thyroid functions.
Unfortunately, with time, older mattresses will shed flame retardants more. Therefore, if you bought your mattress before 2007, it is time to switch to a healthy mattress.
After 2007, manufacturers started using a flame retardant barrier to pass a more stringent flammability test required by law. However, in my experience, no conventional mattress company has answered my question of what they make their barrier. Since there is no organic certification, there is no guarantee that they do not use flame retardants for the barrier. Unlike OEKO-Tex, the GOTS certification does not allow flame retardants.
A major potential harm of flame retardants as endocrine-disrupting chemicals is reproductive health effects. According to this research, after 1950, with the increased production of hormone-altering chemicals which include flame retardants, sperm counts and fertility began their decline.
CertiPUR-US certifies polyurethane in furniture and mattresses.
According to their website, the CertiPUR-US program ensures that flexible polyfoam meets their standards for content, emissions, and durability. Specifically, the foam is made without ozone depleters, certain flame retardants, heavy metals, formaldehyde, phthalates, and has low VOC emissions.
It should be noted, though, that CertiPUR-US certification is the creation of the Alliance for Flexible Polyurethane Foam. It associates with the Center for the Polyurethanes Industry, Business and Institutional Furniture Association, American Home Furnishings Alliance, etc. (source). In other words, it is an industry-affiliated organization rather than an independent certification agency. I believe it means that their standards might not be as strict as those of an uninterested party would be.
In sum, it is best to avoid polyurethane in furniture and mattresses. Here are several suggestions for PU foam free options.
My suggestions for non-toxic mattress options
Right away I want to tell you that a healthy mattress is an organic mattress. Moreover, it should be GOTS-certified organic as an entire piece, not just as components. Can a mattress really be organic? Yes, and you can learn how it is possible from my post about the process of certifying an organic mattress.
In a nutshell, an organic certification guarantees that the materials in your mattress, including foam, are of the safest available. Hence, there will be no pesticide residues and chemical-loaded substances in your bed.
For example, we own a Naturepedic GOTS-certified organic mattress with dual firmness (softer for me and firmer for my husband). You can learn more about this non-toxic mattress without polyurethane foam from my Best Organic Mattress Review. (To get a 15% discount code, go here.)
Also, Naturepedic offers non-toxic crib mattresses. Before purchasing one, please read my posts about the organic crib mattress and solid wood cribs. (To get a code for a discount, visit here.) Further, when our son outgrew his crib, we got him a Naturepedic organic kids mattress, which he loves. (To get a code for 15% off, go here.)
On top of that, Naturepedic offers an affordable non-toxic mattress Happsy which is GOTS-certified organic, too. Happsy is affordable because it comes only in medium firmness and is sold only online. By the way, you can adjust its firmness with a topper. Read my review of this affordable non-toxic mattress. (To get a discount code for Happsy, go here.)
Options without polyurethane in furniture
If you are on the lookout for new furniture, you may benefit from my post about soybean foam. Briefly, you will learn that soybean foam is basically the same as polyurethane foam. And as crazy as it may sound, the CertiPUR-US® certification just proves that the soybean foam is indeed polyfoam.
So, what are your options for non-toxic upholstered furniture?
First, check out Pure Upholstery founded by Donna Halloran who has decades of experience as a designer of healthy furniture. Pure Upholstery makes non-toxic couches, chairs, sectionals, ottomans, arm covers, headboards, and custom pieces for different budgets. They use GOTS-certified organic cotton and wool, OEKO-Tex-certified fabrics, and GOLS-certified latex. For the frame, they use solid wood with natural flax seed finish, and handcraft their furniture in the USA. (Find out how to get a discount here.)
Second, browse read our blog post How to Buy Non-Toxic Furniture to get some additional helpful ideas.
If you know of other non-toxic furniture brands, please let us know in the comments!
Conclusion about polyurethane foam in furniture
To conclude, polyurethane in furniture has potentially harmful effects on human health because it can emit VOCs and carcinogenic substances. In addition to that, polyurethane foam causes environmental concerns contributing to the ever-growing landfill.
Further, polyfoam is a common material in conventional mattresses, which is not good, especially for cancer patients. It would be best to use a healthy organic mattress such as Naturepedic or Happsy. Additionally, there are options for non-toxic furniture, such as Pure Upholstery. In the meantime, you can improve your air quality with an air purifier or by opening windows regularly.
If you need help with your purchases, contact me for a consultation, and I will be happy to assist you. Also, you are welcome to visit my shop which has many healthy product options of all kinds, including non-toxic makeup.
(1) Boor, B., Spilak, M., Laverge, J., Novoselac, A., & Xu, Y. (2017). Human exposure to indoor air pollutants in sleep microenvironments: A literature review. Building and Environment, 125, 528-555.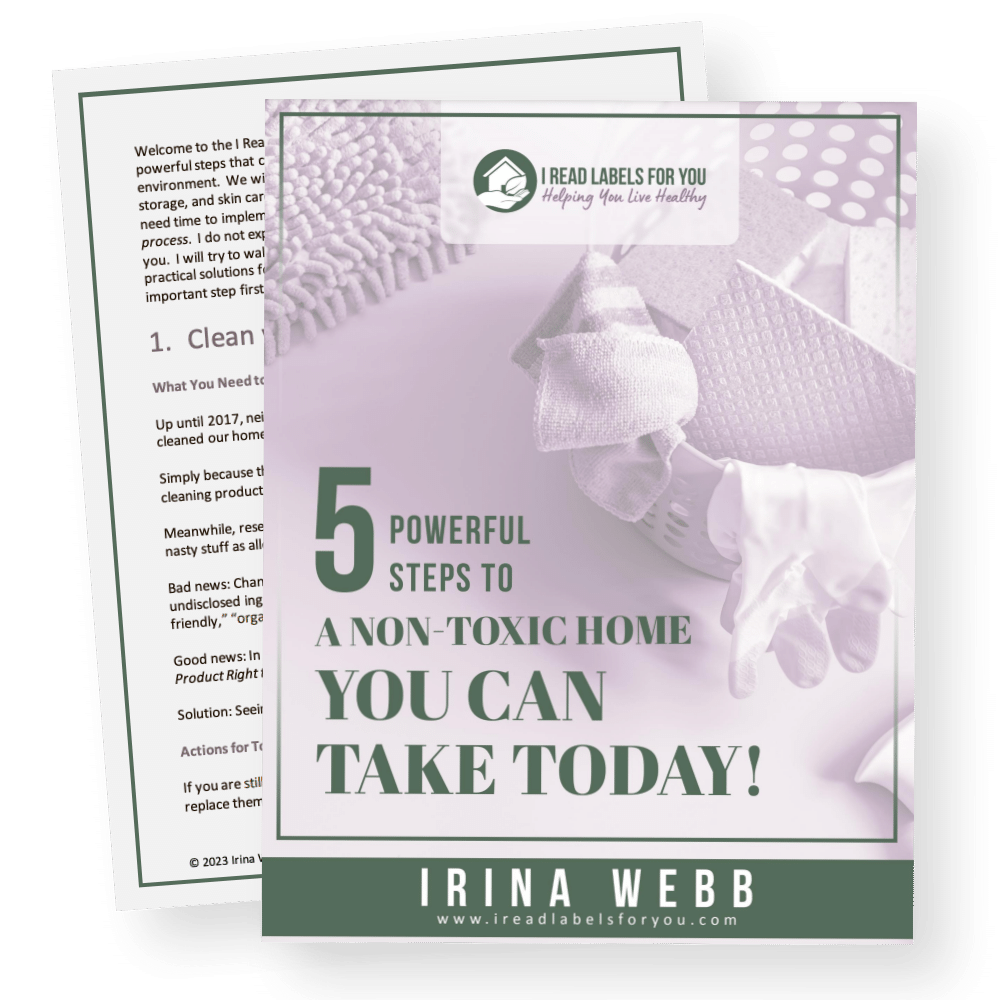 Download The Free Guide!
5 Powerful Steps To A Non-Toxic Home
Join our informed consumer community and get our free guide the "5 Powerful Steps To A Non-Toxic Home".