TB 117-2013: What Does It Mean For You?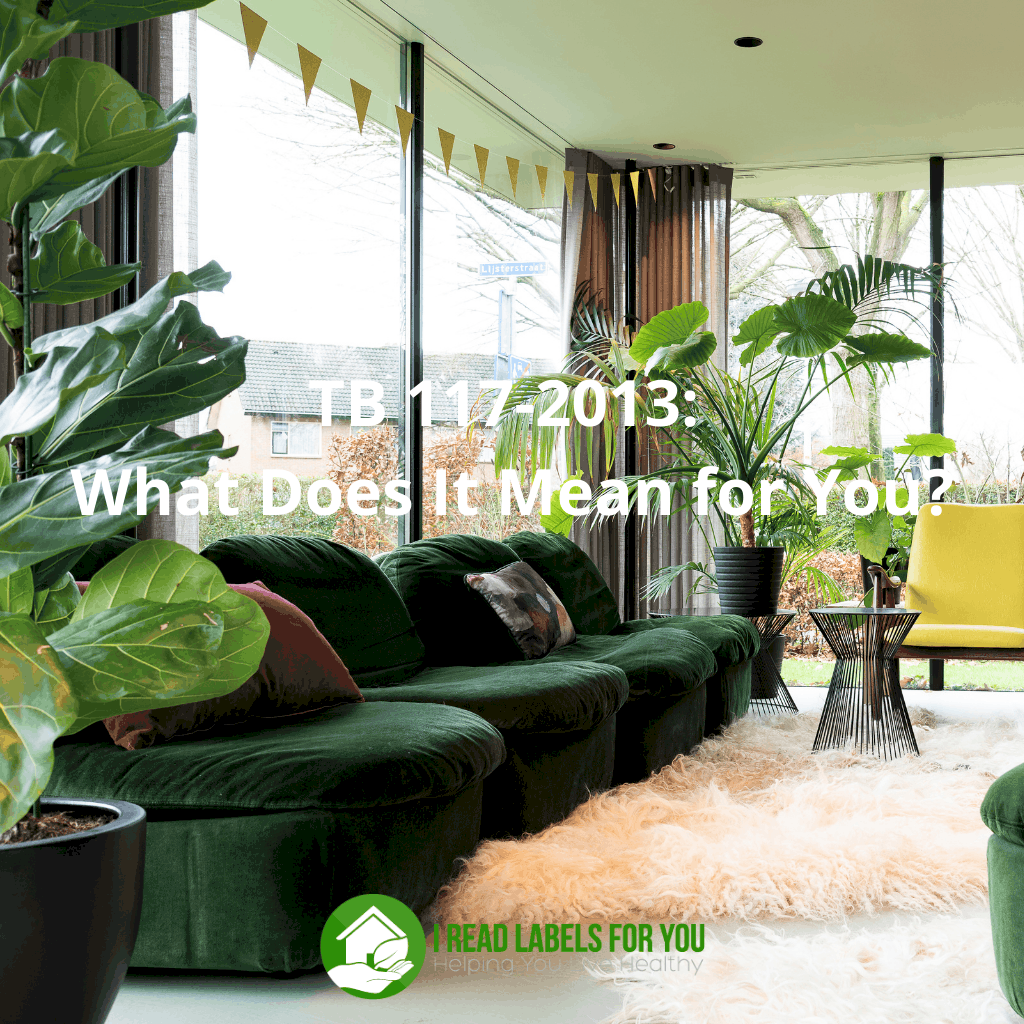 This post may contain affiliate links. To read our affiliate policy, click here.
Have you seen the Toxic Hot Seat documentary? It explains how we end up sitting on two pounds of carcinogenic flame retardant chemicals each time we rest on our sofas in our living rooms. This is especially true for upholstered furniture made before 2015. The year 2013 marked some changes in California TB 117 fire safety law which was renamed California TB 117-2013. And it took another couple of years for the new regulation to come into effect. In this post, you will learn the difference between these two laws and how they may affect your life today. You will also learn what you can do about flame retardants at home and how to avoid them while shopping for furniture and mattresses.
Manufacturers comply with California fire safety law.
Historically, the state of California implemented Technical Bulletin 117 (TB 117) as a fire safety law in 1975. It set forth flammability standards with which certain furniture and children's products had to comply to prevent deaths by fire.
Currently, California's economy is the fifth largest in the world doing over $3 Trillion in business per year. Obviously, manufacturers wishing to sell products in California must comply with its laws. Instead of trying to meet different standards for different markets, manufacturers typically choose to stick to the California standard, especially because it is the strictest in the country.
Essentially, TB-117 required that upholstery padding withstand a small open flame for at least twelve seconds without catching fire. It should be noted that the law did not require the use of flame retardants. Merely, it required that foam filling in upholstered furniture pass the test without bursting into flames. Rather than find non-toxic ways to pass the test, manufacturers resorted to chemicals to comply with California TB 117.
In 2013, California flammability standards underwent some alterations that potentially improved the situation with furniture containing foam. Before we discuss the changes introduced by California TB 117-2013, let us talk about the issue of flame retardants.
Manufacturers used flame retardants to pass California's TB 117 flammability test.
To begin with, fire retardant chemicals came into use in the 1970s in … baby pajamas (!). The federal government adopted a regulation requiring jammies to pass a flammability test. To pass the test, pajama manufacturers added brominated tris fire retardant to the fabric – up to 10% of its weight. Later, scientists discovered that brominated tris was a DNA mutagen and carcinogen (source). The good news is that the government banned brominated tris from baby pajamas in 1978. But the bad news is that another toxic fire retardant, chlorinated tris, replaced it.
To comply with California TB 117, furniture manufacturers used polybrominated diphenyl ethers (PBDEs), specifically pentabromodiphenyl ether (pentaBDE), as flame retardants. However, evidence started emerging linking fire-retardant chemicals to health issues and environmental concerns. (Eventually, this led to a change in the previous fire safety law and the appearance of the updated TB 117-2013.)
According to the U.S. Environmental Protection Agency (EPA), PBDEs are persistent, bioaccumulative, and toxic to humans and the environment (source). In 2003, the Environmental Working Group published a study revealing that breast milk of American mothers contains PBDEs.
Again, the good news is that PBDEs manufacturer voluntarily ceased production of this chemical in 2004. The bad news is that once one flame retardant disappears, another one takes its place. Importantly, it is not necessarily less toxic – just less studied.
Scientists link flame retardants to serious health and environmental issues.
Since the ban of PBDEs, the primary flame retardants in commercial products have been tris(1,3-dichloroisopropyl)phosphate (TDCPP) and Firemaster® 550. For instance, TDCPP is prevalent in children's products such as nursing pillows, changing pads, and car seats.
Admittedly, there are two major groups of flame retardant chemicals: halogenated (brominated and chlorinated) and phosphate based. Although many deem the latter a safer alternative to halogenated flame retardants, there are not enough studies to prove that, in my opinion.
In humans, halogenated fire-retardant chemicals are linked to reduced IQ, infertility, thyroid disruption, oxidative DNA stress, adverse effects on the immune system, and possibly cancer (source). Moreover, they like the fat tissues in our bodies which have a hard time getting rid of them. Additionally, they are present in water and in the tissue of animals and fish.
Ironically, flame retardants do not prevent the materials from burning. They only allow them to pass the California TB 117 flammability test. In an actual fire, the furniture and materials burn, releasing toxic smoke into the air. The produced dioxins and furans, responsible for fire deaths and injuries, remain in the environment for a very long time. In fact, firefighters started developing cancers at a disproportionate rate compared to the general population (source).
California's TB 117-2013 changed the flammability test standards and added exemptions.
In 2013, California revised TB 117 and called it TB 117-2013. How are they different?
In essence, the updated regulation replaced an open-fire 12-second flammability test with a smolder test for upholstered furniture covers. Consequently, it eliminated the need for the use of flame retardants in the cushions. Originally, California tried to avoid fires started with cigarettes. But it became clear that cigarettes did not start fires in the middle of a seat cushion. Typically, it was hot ashes landing on top of furniture covers that started fires. So, the change in the standard made sense from this standpoint.
Furthermore, the changes in California TB 117 allowed additional exemptions. Specifically, the original regulation provided three exemptions: nursing pillows, strollers, and infant carriers. This means that these products did not have to meet the standard and, thus, did not require fire retardant chemicals. TB 117-2013 excludes 17 more baby products: infant walkers, booster seats, changing pads, floor play mats, highchair pads, high chairs, infant swings, bassinets, infant seats, infant bouncers, nursing pads, play yards, playpen side pads, infant mattresses, infant mattress pads, and portable hook-on chairs.
It should be noted that TB 117-2013 does not stop furniture manufacturers from treating upholstered furniture with flame retardants. Indeed, the law does not prohibit the use of flame retardants specifically. It simply provides new flammability test requirements for meeting which no chemicals may be needed.
Your upholstered furniture may contain flame retardants.
The revised California TB 117 (TB 117-2013) went into effect in 2015 (giving manufacturers some time to change their practices). So, if your furniture has polyurethane foam and was made before 2015, it is likely to contain flame retardants. Made of petroleum, polyurethane foam is very flammable. Therefore, it would be challenging to pass the original TB-117 flammability test without adding flame retardants to the foam. (Refer to my posts about polyurethane foam and its derivative soybean foam to learn more about these materials in furniture.)
Conversely, if your furniture has polyester, cotton, down, wool, or natural latex foam, it is unlikely to contain flame retardants. The following tag at the back or bottom of the furniture should indicate whether flame retardants were added.
As semi-volatile compounds, flame retardants settle into dust that you then eat or inhale. Plus, they land on crawling babies and toddlers who spend a lot of time exploring the floor.
Options of healthy furniture that meets TB 117-2013 fire safety standards in non-toxic ways.
Not all upholstered furniture manufacturers resorted to flame retardants to meet California TB 117 standards. Fortunately, there are those who find non-toxic ways to pass the test.
So, one of the non-toxic upholstered furniture options is Pure Upholstery (learn how to get a discount here). They use GOTS-certified organic cotton and wool, OEKO-Tex-certified fabrics, GOLS-certified latex, and solid wood with natural flax seed finish.
Another option is to read our How to Buy Non-Toxic Furniture blog post for more ideas on how to look for healthy furniture.
Now, I realize that replacing or buying new, especially organic, furniture is a costly endeavor. Therefore, do not beat yourself up – just try to reduce your exposure to flame retardants. How? Dust your furniture with a damp cloth, use a HEPA filter vacuum, mop the floors, and air your house regularly. In addition, remember to wash your hands upon returning home, before eating and cooking. (Consider reading my free non-toxic hand soap guide for safe options.)
California TB 117-2013 does not work for mattresses.
Unfortunately, your mattress may have flame retardants because the change in California TB 117 did not affect mattresses. The law that governs mattresses is the federal flammability standard set forth in a Federal regulation called 16 CFR Part 1633. As a Federal regulation, it pre-empts any contrary state law, which is why TB 117-2013 does not apply to mattresses.
This standard involves a severe and lengthy open flame test, which means that adding flame retardant chemicals is not enough. In fact, mattress manufacturers must build a flame retardant barrier around the mattress. This regulation came about because many people were falling asleep with lit cigarettes in bed and causing deaths by fire.
In my experience, manufacturers are reluctant to disclose materials and chemicals they use to make barriers. Moreover, the law does not require that mattress manufacturers disclose the presence or absence of flame retardant chemicals. According to the mattress industry, flame retardants are not generally used in foam fillings in adult mattresses in the U.S. However, researchers at Duke University detected flame retardants in 22 out of 71 tested mattresses (source). And this 2019 study discovered a correlation between body heat and boosted emissions from mattresses.
Hence, the best way to avoid toxic substances in your mattress is to invest in a GOTS-certified organic mattress. Instead of polyurethane foam, it utilizes natural latex foam, wool, or polylactic acid (PLA) as a fire-resistant barrier.
Clean mattress options
Upholstered furniture from before 2015 most likely contains flame retardants that manufacturers used to pass the California TB 117 flammability test. Even with modern furniture, it is unclear whether manufacturers use fire retardants because TB 117-2013 does not prohibit their use.
But I understand that it is not easy to replace or buy new non-toxic furniture.
However, I do recommend that you consider replacing or buying a new mattress. In comparison to other furniture, it is definitely more affordable. Besides, you spend 8 hours a day on it, inhaling toxic substances coming out of it.
Therefore, for your health' sake, I suggest that you look at GOTS-certified organic mattress options.
Specifically, check out Naturepedic GOTS-certified organic mattresses. In my Best Organic Mattress Review, you can read about my personal experience with the mattress. (To get a 15% discount code, visit here.) Additionally, check out their non-toxic crib mattress and organic kids' mattress.
Plus, to meet all kinds of budgets, Naturepedic came up with a more affordable GOTS-certified organic mattress called Happsy. Because it comes only in medium firmness and sells only online, it costs less. And you can always adjust its firmness with a topper. Here is my review of this affordable non-toxic mattress. (To get a discount code for Happsy, visit here.)
Conclusion about California TB 117-2013
To sum up, Technical Bulletin 117-2013 is a revised version of California TB 117. Historically, under TB 117, all filling materials in upholstered furniture had to withstand a small open flame for at least twelve seconds without catching fire. To comply with that law, manufacturers infused the filling materials with flame retardant chemicals. The latter caused numerous health and environmental concerns, which led to the necessity to revise TB 117. The updated TB 117-2013 regulation issued a new flammability standard by replacing an open-fire test with a smolder test. As a consequence, it eliminated the need for the use of flame retardants in upholstered furniture filling.
Nonetheless, manufacturers may still be using them because California TB 117-2013 does not prohibit the use of flame retardants. Moreover, if you bought your upholstered furniture before 2015, there is a strong likelihood that it contains toxic flame retardants. Please, follow some steps to reduce your exposure to them, such as ventilate your house and wash your hands regularly.
Also, consider investing in a healthy organic mattress such as Naturepedic or Happsy. And check out non-toxic furniture options such as Pure Upholstery and Pine Street Natural Interiors.
I am available for consultations and have many healthy product options in my shop, e.g., non-toxic makeup. And, of course, you are welcome to join the Savvy Consumer Circle community and have fun shopping healthy.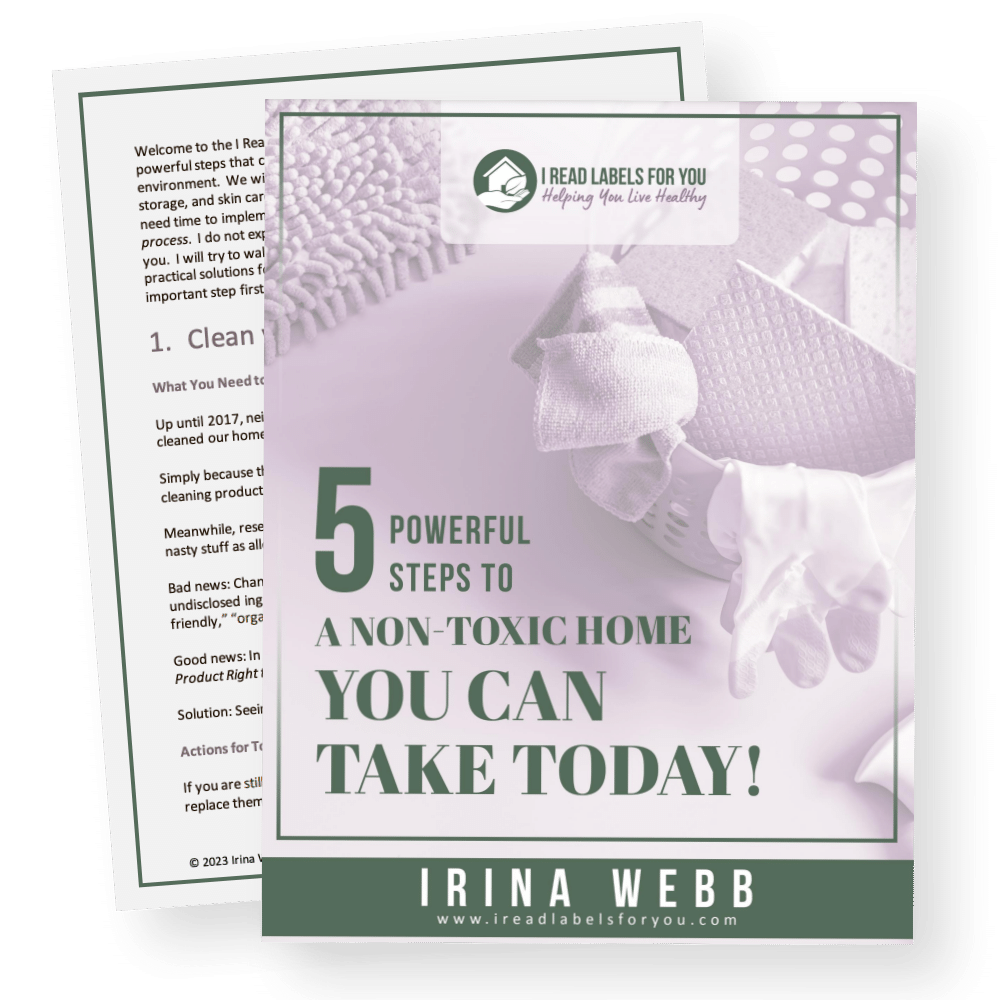 Download The Free Guide!
5 Powerful Steps To A Non-Toxic Home
Join our informed consumer community and get our free guide the "5 Powerful Steps To A Non-Toxic Home".