Is John Masters Shampoo Safe?
This post may contain affiliate links. To read our affiliate policy, click here.
Lustrous hair is everyone's dream. We are often lured into buying wrong products that promise this result. Although my main criterion in selecting hair products is safety of the ingredients, I still want my hair to look shiny and voluptuous. That is why I stopped using soap for my hair. It is true that it is the safest choice, but it did not work for me. Therefore, I am always on the lookout for a safe shampoo that will do miracles with my hair. So, in this post we will explore John Masters Organics shampoo called Spearmint & Meadowsweet Scalp Stimulating Shampoo. Read on to find out if John Masters shampoo ingredients are safe for you.
Does a true organic shampoo exist?
When manufacturers apply the term "organic" to their product, they may mean one of two things. Thus, they may want to imply that their product has an organic certification. Conversely, they may want to draw attention to the fact that some ingredients in the product are organic. In both cases, their product's name may carry the word "organic" because the FDA, which regulates personal care products, does not regulate the use of the term "organic." That is to say, manufacturers can freely use the term "organic" for the promotion of their product as long as they do not use the USDA organic certification symbol.
In my search for an organic product, I first and foremost look for the USDA organic certification seal. To clarify, this agency certifies ingredients of agricultural origin if they meet its production, handling, processing, and labeling standards. And if a certain product, say a shampoo, wants to get an organic certification, 95% of its ingredients should already be USDA certified organic.
So, is there such a thing as "organic shampoo"? Is John Masters organic shampoo truly organic?
To reiterate, only ingredients of agricultural origin may get organic certification. Hence, another question arises: is shampoo an agricultural product? In other words, can a shampoo be comprised of 95% agricultural ingredients that could qualify for organic certification? No, it cannot, and here is why.
Why John Masters Organics shampoo is not certified organic
It is because John Masters shampoo consists of many ingredients of non-agricultural origin that it cannot get an organic certification. These ingredients are an indispensable part of any shampoo that aims at performing its main function, i.e. cleaning, well. Generally, a shampoo contains surfactants, emulsifiers, and preservatives. However, none of these chemicals are eligible for organic certification.
But what if a shampoo formulation allows for these chemicals to fit in the remaining 5% and the other 95% are certified organic? Well, hypothetically this is possible, but in all my years of shampoo research I have not come across such a shampoo formula.
And now, let us look at John Masters Organics ingredients.
John Masters shampoo ingredients
The following are the ingredients for John Masters Organics, specifically for Spearmint & Meadowsweet Scalp Stimulating Shampoo:
Aloe Barbadensis Leaf Juice (Aloe Vera)*, Cocamidopropyl Betaine, Sodium Lauroyl Methyl Isethionate, Glycerin, Water, Sodium Levulinate, Mentha Viridis (Spearmint) Leaf Oil*, Spiraea Ulmaria Flower Extract (Meadowsweet)*, Mentha Piperita (Peppermint) Oil*, Illicium Verum (Anise) Fruit/Seed Oil, Eugenia Caryophyllus (Clove) Leaf Oil, Mentha Arvensis Leaf Oil, Gaultheria Procumbens (Wintergreen) Leaf Oil*, Apium Graveolens (Celery) Seed Extract, Lactobacillus/Punica Granatum Fruit Ferment Extract (Pomegranate), Capsicum Frutescens Fruit Extract, Prunus Amygdalus Dulcis (Sweet Almond) Oil, Smithsonite Extract, Eucalyptus Globulus Leaf Oil (Eucalyptus), Helianthus Annuus (Sunflower) Seed Oil*, Oenothera Biennis (Evening Primrose) Oil, Simmondsia Chinensis (Jojoba) Seed Oil*, Linum Usitatissimum (Linseed) Seed Oil, Tocopheryl Acetate (Vitamin E), Panthenol (Vitamin B-5), Mentha Viridis (Spearmint) Leaf Oil, Mentha Piperita (Peppermint) Oil, Gaultheria Procumbens (Wintergreen) Leaf Oil, Hydrolyzed Soy Protein, Decyl Glucoside, Sodium Phytate, Sodium PCA, Caprylic/Capric Triglyceride, Caramel, Potassium Sorbate, Sodium Benzoate, Citric Acid, Limonene†
*Organic
†A natural component of essential oils
So, let us talk about the surfactants and preservatives in John Masters Organics.
Surfactants in Spearmint & Meadowsweet Scalp Stimulating Shampoo
There are three cleansing agents, aka surfactants, in John Masters Organics shampoo: cocamidopropyl betaine, sodium lauroyl methyl isethionate, and decyl glucoside.
Cocamidopropyl betaine
To begin with, many companies point out that this ingredient is "natural" because it is derived from coconut. Although it is derived from coconut, the process of derivation alters the source ingredient and the end chemical has nothing in common with it. To demonstrate, this is what happens.
First, the processors derive coconut fatty acids from coconut oil. Then, they create a reaction between coconut fatty acids and 3-dimethylaminoproplylamine (DMAPA) to produce amidoamine. Afterwards, they combine amidoamine with monochloroacetic acid to get to cocamidopropyl betaine. So, I think the fact that coconut oil is used initially to make CAPB becomes irrelevant.
Further, there is evidence that cocamidopropyl betaine may cause allergic skin reactions in some people. Hence, the American Society of Contact Dermatitis lists cocamidopropyl betaine as one of its core allergens, even in concentrations as low as 1%. Moreover, due to high rates of cases involving allergic reactions, the society named it the 2004 Allergen of the Year.
You can learn more about cocamidopropyl betaine in my post about cocamidopropyl hydroxysultaine which is its relative.
Sodium lauroyl methyl isethionate
This ingredient in John Masters shampoo has a rating of 1 and limited safety data in the EWG Skin Deep database. It is one of the 12 isethionate surfactants that CIR describes in its 2017 safety report.
To clarify, the report does not provide much safety information on sodium cocoyl isethionate in particular. However, the CIR Panel believes that its safety profile is similar to that of sodium cocoyl isethionate due to their shared core chemical structure (source). Thus, the table below presents the difference between sodium lauroyl methyl isethionate (which is in John Masters Organics shampoo) and sodium cocoyl isethionate (which is not). The similarities are in bold font.
| | |
| --- | --- |
| Sodium lauroyl methyl isethionate is | Sodium cocoyl isethionate is |
| the sodium salt of | the sodium salt of |
| the methyl lauric acid ester of | the coconut fatty acid ester of |
| isethionic acid. | isethionic acid. |
In case with sodium cocoyl isethionate, the CIR report finds it non-mutagenic, non-sensitizing, non-irritating, and not causing birth defects in animal studies (source). It is also considered a gentle surfactant.
Decyl glucoside
To begin with, decyl glucoside is one of the most common surfactants from a group of 19 glucoside surfactants. What makes them popular is their mildness and non-irritating quality to the eyes. That is why they are especially common in baby shampoos.
In addition, decyl glucoside is biodegradable and contains no petroleum contaminants. Therefore, it is not likely to cause contact allergy. Nevertheless, some people may have a skin reaction to it.
To know more about glucoside ingredients please read my post Are Glucosides Safe?.
Preservatives in Spearmint & Meadowsweet Scalp Stimulating Shampoo
The preservatives in this John Masters shampoo are sodium levulinate, potassium sorbate, sodium benzoate, and sodium phytate.
Sodium levulinate, potassium sorbate, and sodium benzoate
Because liquid shampoos are mostly water, they must contain preservatives. In my opinion, these three are some of the top choices because they are food-grade preservatives. Not that I advocate eating food with preservatives, but they are as safe as it gets.
However, sodium benzoate may cause an allergic reaction in some people if they use it in concentrations over 5% (source). If you are interested in knowing whether sodium benzoate produces a carcinogen when it interacts with citric acid (an often-repeated but groundless claim circulating on the Internet), please read my Sodium Benzoate & Citric Acid Myth post.
Sodium phytate
Despite some unsupported negative information about sodium phytate on the Internet, I would not worry about it too much.
To begin with, the Cosmetic Ingredient Review panel published a report on it in September 2018. To illustrate, the report states that one clinical study tested a cream with 0.49% sodium phytate on 22 subjects and found no irritation. Another study tested a product with 50% sodium phytate and classified it as a minimal irritant to non-irritant. In addition, in a test involving 25 subjects, a product with 1% sodium phytate did not cause skin sensitization. Lastly, in vitro tests showed no genotoxicity and no sensitization potential.
So, based on my research, I believe sodium phytate is safe to use. In addition, it is often a component of Dermofeel PA-3, a preservative that helps make the preservation system more robust. For example, one of my favorite shampoos, which you can read about in my post The Best Safest Shampoo, contains this ingredient.
Conclusion about John Masters shampoo
In conclusion, although Spearmint & Meadowsweet Scalp Stimulating Shampoo has several organic ingredients, it is not a certified-organic shampoo. And it cannot be because it does not consist of 95% of individually certified organic ingredients of agricultural origin.
So, mainly because of cocamidopropyl betaine, John Masters Organics shampoo is "okay" from a safety standpoint, meaning there are both better and worse shampoos.
Feel free to visit my shop to browse multiple options for non-toxic personal care and household products. Additionally, you are welcome to book a consultation with me to get help with living healthy. Finally, consider applying to the Savvy Consumer Circle to get ongoing guidance with non-toxic living and instant access to all my e-books.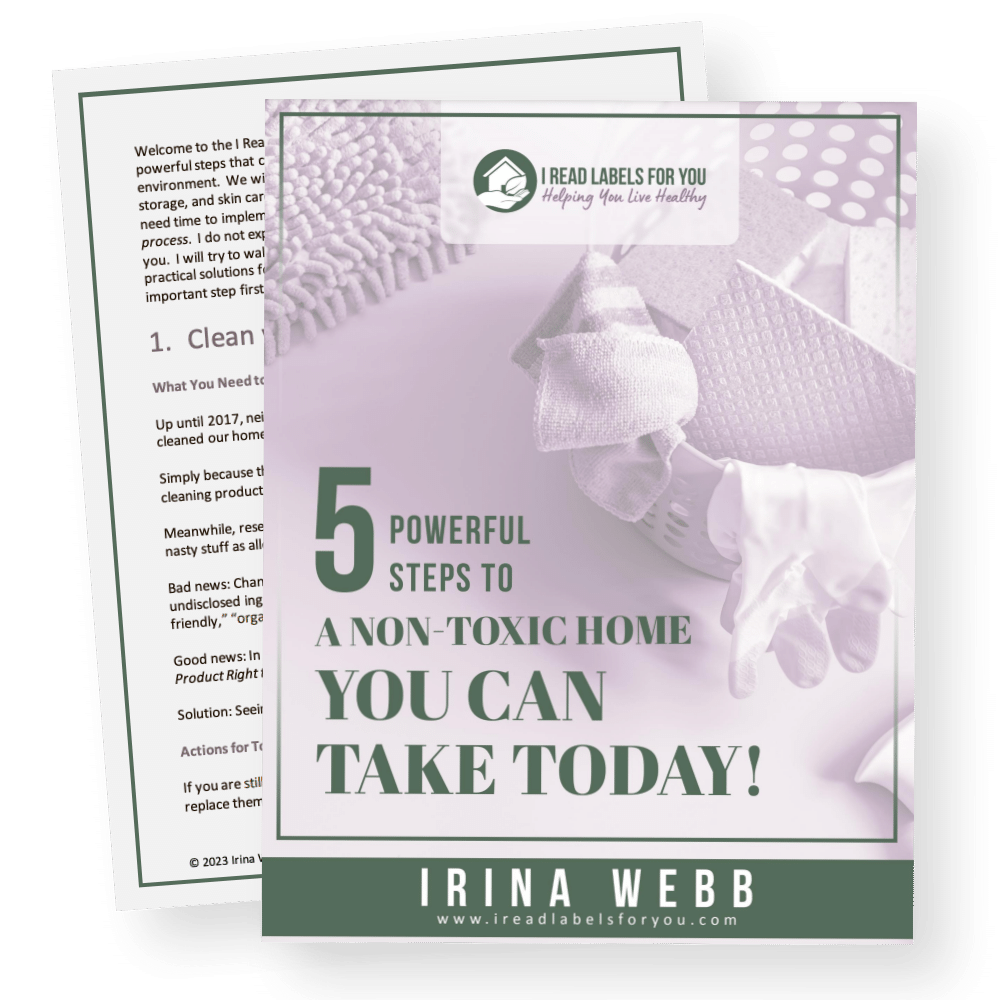 Download The Free Guide!
5 Powerful Steps To A Non-Toxic Home
Join our informed consumer community and get our free guide the "5 Powerful Steps To A Non-Toxic Home".