Is Organic Laundry Detergent Best?
This post may contain affiliate links. To read our affiliate policy, click here.
When it comes to the term "organic," as a society, we have come to a certain understanding. Specifically, it signals health and safety. Besides, the seal of an organic certification is what makes the product credible and trustworthy to consumers. Oftentimes, it is the seal that causes us to choose a product without giving it a second thought. While I do promote certified organic products, I wonder if organic laundry detergent is always the best choice. Keep reading to find out which clean laundry detergent I use and recommend. Also, to estimate the safety of your detergent, check out my Guide to the Safest Laundry Detergents.
What is in conventional laundry detergents?
A while ago, Procter & Gamble reduced the amount of carcinogenic 1,4-dioxane in their Tide detergents. Yes, your laundry detergent may contain 1,4-dioxane, a petroleum chemical that may cause cancer and is a significant groundwater contaminant. No, that does not mean that you will get cancer from wearing clothes washed with 1,4-dioxane, but you might be drinking and eating it afterward.
After strong consumer pressure, many detergents started boasting 1,4-dioxane-free labels. However, it is unclear if the claims were verified by independent studies.
Also, many detergent manufacturers claimed to produce 100% natural detergents, most of which were made with coconut oil-derived surfactants. While this is a huge step in the right direction, it is not fully satisfying. First, saying 'coconut oil-based surfactant' implies that one of the raw ingredients is coconut oil. The emphasis should be on the derivation process, not on the coconut oil.
To clarify, the derivation process involves chemicals and may be associated with trace impurities that come with these chemicals. Besides, the environmental impact is still under investigation.
For example, consider the derivation process of cocamidopropyl betaine, one of the so-called "coconut oil-derived" surfactants. It involves adding harsh chemicals, e.g. dimethylaminopropylamine, that can remain in the final product as contaminants. Notice, though, that they are not listed as ingredients.
Further, studies have shown that people may experience allergies from the contaminants or the surfactants themselves. In short, we do not fully understand the long-term impact of these surfactants on human health and the environment.
What is organic laundry detergent?
To begin with, a clean laundry detergent can get an organic certification from an official certifying organization such as the United States Department of Agriculture (USDA). However, there is a requirement to adhere to. Namely, 95% of the product ingredients must be individually organic. In turn, for these ingredients to be able to even qualify for an organic certification, they must be of agricultural origin.
Furthermore, they must meet the USDA organic standards for production, handling, processing, and labeling. That is to say, the production operators, the handlers of the ingredients, and the manufacturer of the final product must first get their certification from an organic certifying agent accredited by the USDA.
Generally, this means that the ingredients are minimally processed and are derived without adding non-agricultural ingredients. For example, if oil is derived with a petroleum solvent such as hexane, it does not qualify as organic. The processes that meet organic standards are cold pressing, filtration, infusion, distillation, grinding, and dehydration. As for certified organic ingredients, they would be plant oils and herb or plant extracts.
Thus, a clean laundry detergent is eligible for an organic certification if its ingredients adhere to the USDA organic standards. If they do, the laundry detergent gets the USDA organic label, which gives it the status of being safe and healthy.
Organic laundry detergent options
The two organic options I would like to talk about are FIT Organic and Green Shield Organic. Here are their ingredients:
FIT Organic

Green Shield Organic Lavender

Water, Alcohol*, Glycerin*, Berry Saponins*, Guar Gum*, Baby Powder Scented Oil*, Potassium Hydroxide, Coconut Oil*, Sunflower Oil*, Citric Acid*.

*Organic
Water, Sapindus Mukorossi (Soap Berries)*, Cocos Nucifera & Potassium Hydroxide (Saponified Coconut Oil*), Sodium Carbonate, Sodium Bicarbonate, Xanthan Gum, Aloe Barbadensis Leaf Juice Powder*, Glycerin*, Sea Salt, Cymopsis Tetragonoloba (Guar Gum)*, Acacia Senegal Gum*, Fragrance*.

*Organic
As you can see, besides water, the only non-organic compound in the FIT Organic formulation is potassium hydroxide. The company assured me that it does not remain in the final product. To clarify, it is used to make soap through a reaction with sunflower oil and coconut oil. This process is called saponification.
The Green Shield detergent is made by the process of saponification, too. The fact that potassium hydroxide, the alkali, does not remain in the final product allows for an organic certification. It is how soaps have been made for centuries. To read more about the process of saponification, go to my Natural bar Soap – The Mystery Revealed post.
The non-organic ingredients include sea salt, sodium carbonate (soda ash), sodium bicarbonate (baking soda), and xanthan gum (a sugar-based polymer produced by bacteria).
Although their ingredients are fine and both detergents are rightfully certified organic, there is something that bothers me about these organic laundry detergent options. Read on to find out what I mean.
Fragrance
If you have followed me for a while, you know that I do not like to see fragrance in product lists. Suffice it to say, in my Shampoo Rating List, Baby Wipes Rating List, and Diaper Rating List I give this ingredient a rating of 8 out of 10 (with 10 being most toxic). Why? Because fragrance is usually a blend of many ingredients that manufacturers choose not to disclose to us. In the meantime, many of those ingredients are allergens and sensitizers. And "natural fragrance" is not an exception. Please, read more about this in my post Is Natural Fragrance Safe?.
What does this have to do with these detergents? Well, they both have fragrance. While Green Shield lists it as "fragrance," FIT Organic uses the "baby powder scented oil" wording, which I assume is fragrance oil, not essential oil.
Further, I have contacted both companies to find out what ingredients they use in their fragrances. Green Shield responded that it is "proprietary information." FIT Organic has given no response as of the time this was posted (and I will update the post if they respond). Therefore, organic or not organic, fragrance is something to consider when looking for a safe laundry detergent.
Packaging
Again, if you have followed me for a while, you know that I like to avoid plastic when possible. Therefore, I prefer a clean laundry detergent, even if it is not organic, with packaging made of a more environmentally friendly material than plastic.
Indeed, many cleaning products and detergents come in plastic bottles that end up in the ocean or a growing landfill. In fact, scientists say that there could be more plastic than fish in the oceans by weight by 2050 (source). That is why I encourage you to avoid disposable plastic products. You can learn more about the dangers of plastic in my post Plastic Plates: This Post is For You.
As for FIT Organic and Green Shield laundry detergents, they both come in plastic bottles. And this is something I cannot overlook regardless of the certified organic content of those bottles.
Which products do I recommend?
Although the laundry detergents I recommend are not certified organic, their ingredients and packaging are safe for us and the environment. They are Meliora Laundry Powder and Humble Suds Laundry Soap.
| | |
| --- | --- |
| Meliora | Humble Suds |
| Sodium Bicarbonate, Sodium Carbonate, Vegetable Soap [Sodium Cocoate, Glycerin, Organic Cocos Nucifera (Coconut) Oil, Water]. | Sodium Carbonate, Sodium Percarbonate, Saponified Coconut Oil (Sodium Cocoate), Sodium Bicarbonate. |
As you can see, they also have soap as the basis of their laundry detergents. And for their scented options, both brands use essential oils that they disclose on their websites. If you are prone to allergies, I advise you to choose the unscented version.
I like Humble Suds laundry soap a lot. In comparison to the Green Shield organic laundry detergent, my clothes seem to come out much cleaner. Plus, the scent imparted by essential oils is pleasant and not overbearing.
Undoubtedly, Meliora's scented laundry powder is great for sensitive noses as it has a very subtle scent. Based on my experience with multiple detergents, I can say that Meliora powder and Humble Suds soap seem to work better than many other clean laundry detergent options I have tried. Thus, my laundry comes out tidy and fresh.
Above all, neither brand packs their products in plastic. Humble Suds uses paper bags, and Meliora uses recyclable cardboard and stainless steel as well as paper bags for refills.
Learn more about Meliora non-toxic cleaning products in my post about this company. Also, check out my review of Humble Suds non-toxic cleaners.
Conclusion about laundry products
In conclusion, I would like to praise you for looking for organic products. The FIT Organic and Green Shield organic laundry detergents are good but not ideal. Mainly, they do not disclose their fragrance ingredients and use plastic for packaging. Refer to my Guide to the Safest Laundry Detergents for another organic detergent option.
Even though Meliora and Humble Suds are not organic, I like them more. They do not have undisclosed ingredients and avoid plastic in their packaging. Besides, they both perform very well.
You can purchase Humble Suds laundry soap on the website with a discount code IRLFY10.
As for Meliora, visit their website and get free shipping with a $40 minimum purchase. It is also available on Amazon.
Check out my shop for multiple non-toxic options of personal care or home products. Also, feel free to book a consultation with me if you are taking steps towards a non-toxic life and seek help. Last, join the Savvy Consumer Circle to become a part of the health-oriented community of like-minded people.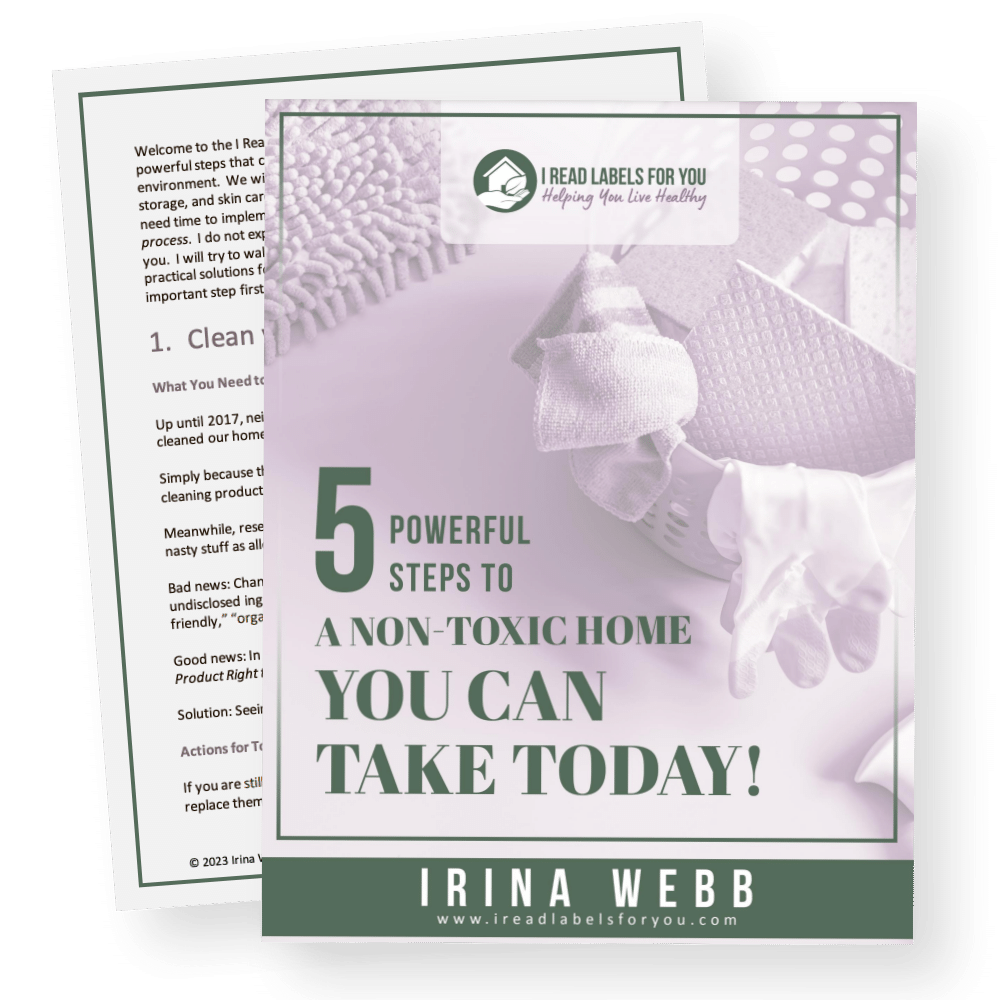 Download The Free Guide!
5 Powerful Steps To A Non-Toxic Home
Join our informed consumer community and get our free guide the "5 Powerful Steps To A Non-Toxic Home".