#1 Latex-Free Mattress of 2023: Best Organic, Non-toxic Brand for Your Bedroom
This post may contain affiliate links. To read our affiliate policy, click here.
If you are looking for a non-toxic mattress, consider reading my guide to buying a non-toxic mattress. And if you are looking specifically for a latex-free mattress but aren't sure which brand is the best, stay with me. Also, should you worry about latex mattress allergy? Read this expert analysis to answer this question and help you find the best latex-free mattress option for your bedroom. After researching latex-free organic mattress brands, I can say that my favorite one is Naturepedic latex-free mattress. Here's why …
How to Shop for a Latex-Free Mattress the Right Way
To begin, buying the right mattress comes from the understanding that it is a long-term investment in your sleep and health. Spending time on research will help you avoid mistakes and regrets in the future. Learn about the mistake I had made before I started researching mattresses in my Sealy Soybean Foam-Core Crib Mattress post.
The organic mattress we ended up buying was the result of my year-long investigation of the mattress industry. Among other areas of my research are cookware, water filtration, air purifiers, skincare and makeup, shampoos, permanent hair color, baby wipes and diapers. With a total of almost a decade of research experience, I can say I know these industries inside and out now. Check out the methods I use on the I Read Labels for You website. There, you can also find numerous free blog posts on the safety of ingredients and product reviews. Just type a keyword in the search bar at the top right corner.
So, the mattress brand that won my heart is Naturepedic. Although the mattress I own is not latex-free, you can purchase a latex-free organic mattress at Naturepedic, too.
If you like doing your own research (which I applaud you for!), you can follow my steps. This will spare you trial and tribulation and save you time and health. Also, read on to find out if there is such a thing as "latex mattress allergy."
Ask these Questions of the Latex-Free Mattress Manufacturers.
When choosing a mattress, many people seem to go by comfort and price. For me, safety is super important, too. Hence, I developed a questionnaire for mattress manufacturers to make sure that their mattresses are safe for our health. I also added questions about warranties and return policies. The former tells me about the product quality, and the latter is especially important when you buy a mattress online. Feel free to use these questions in your own research!
| | |
| --- | --- |
| 1. | What do you use in the mattress to pass the Federal Government flammability test? |
| 2. | Are wool and cotton in this mattress GOTS certified organic? |
| 3. | Is there an innerspring system? |
| 4. | What material are the coils wrapped in? |
| 5. | What type of adhesive do you use for the innerspring encasements? |
| 6. | What is the binding ("tape edge") made of? |
| 7. | Is the mattress made in a GOTS certified facility? |
| 8. | Is your mattress GOTS certified organic? |
| 9. | What is the warranty period? |
| 10. | What is the return policy? |
Why does a need for a latex-free mattress arise in the first place? Mostly, due to latex allergy that we will talk about in a bit. But my research has shown that there are not that many latex-free organic mattress options in the market.
Top 5 Latex-Free Mattress Brands
In addition to Naturepedic latex-free mattress, I have found four other latex-free mattress brands that (1) use natural ingredients, (2) avoid memory foam (also known as polyurethane foam), and (3) use innerspring systems. The springs help avoid mold that can grow inside mattresses without innersprings. Check them out!
Mattress brand
Naturepedic
(Chorus, EOS, Halcyon)
My Green Mattress (Pure Echo)
LifeKind (The Traditional)
Joybeds (LX/LXC/LXP)
Holy Lamb Organics (Natural Spring)
Material to pass the flammability test
Wool
Wool
Wool
Potato Plant fiber
Wool
GOTS certification for wool and cotton
Yes
Yes
Yes
Only cotton for the top cover
Only cotton
Coil wrapping material
Polypropylene, organic cotton
Polypropylene
Organic cotton
Cotton
Organic cotton
Adhesive for innerspring encasements
None (heat seal)
None (hot melt)
None (sewn)
Unclear
None (sewn)
Binding ("tape edge") material
Organic cotton
Cotton
Cotton
Unclear
Cotton
GOTS certified facility
Yes
Yes
Yes
No
No
GOTS certification for the entire mattress
Yes
Yes
Yes
No
No
Warranty (years)
10 and 20
20
20
10
25 (10 non-prorated + 15 prorated)
Return policy
90-day money back guarantee
120-night trial (exchange or full refund)
30-day refund if unopened; 90-day exchange
$139 processing fee
No cancelations or returns
Feel
Medium / Soft
Firm – Medium Firm
Medium -Medium Firm
Firm / Medium / Plush (4,5,7 on a scale of 1 to 10)
Firm
Thickness (depth)
10" and up
9.25"
8"
10", 11", 12"
8"
Why Naturepedic Latex-Free Mattress is the Best Brand
Do you want a latex-free mattress due to a latex allergy? In my opinion, a latex-free organic mattress by Naturepedic is the best option among latex-free mattress brands.
First, Naturepedic carries several models of mattresses without latex. They include the standard Chorus organic mattress (medium firm, 10"), and customizable EOS Classic, EOS Pillow Top, and Halcyon models. With customizable models, you can request your own mattress depth and firmness/softness, even different for each side of the bed.
Second, I respect Naturepedic for its leadership in the organic mattress industry. They were the first to use organic materials and to get their mattresses GOTS-certified. Moreover, they renew their certifications timely, are transparent about their ingredients, and are fighting against fraud in the mattress industry.
Third, we have experienced the comfort and quality of Naturepedic mattresses ourselves. Check out our mattress and adjustable pillow we have been using for years now. For our son, we have used their crib mattress and kids mattress. (Actually, Naturepedic kids mattress is more affordable than My Green Mattress, and I have a 15% discount for it!)
Above all, after interviewing the founder of Naturepedic several times, I can vouch for his passion and integrity. An environmental engineer, Barry Cik has over 30 years of experience caring for the environment and human health. He has profoundly answered all my questions about the mattress industry and latex-free mattress brands. Let's walk through some of these questions together.
What do you use in your latex-free mattress to pass the Federal Government flammability test?
To begin with, what makes a mattress highly flammable is foam made from petroleum, namely polyurethane foam. Thus, memory foam mattresses are made with polyurethane foam and need flame-retardant chemicals to pass the flammability test. That is why I do not consider memory foam mattresses a good alternative for people with latex allergy.
Since the Naturepedic latex-free organic mattress has no foam, it can pass the test without having to add flame retardant chemicals. Instead, it uses a layer of organic wool as a natural flame retardant. As a matter of fact, wool can be used to extinguish fire in the absence of water. (Three other latex-free mattress brands in the table above use wool, too.)
To clarify, manufacturers do not need to stop their mattresses from igniting and burning to pass the flammability test. So, they construct their mattress in such a way that allows it to release heat under a certain threshold when it burns. And wool is a good material for that.
If you are not concerned about latex mattress allergy, Naturepedic can add a layer of latex foam to your organic mattress to make it firmer. They use latex foam made from rubber trees that is certified organic to the Global Organic Latex Standard (GOLS).
Are wool and cotton in your latex-free mattress GOTS certified organic?
This is a very important question. Indeed, non-organic cotton may contain insecticides, and non-organic wool may contain chemicals used to process it. Because these chemicals may cause allergies, Global Organic Textile Standard (GOTS) certification for these materials is desirable.
The great news is that the multi-layered Naturepedic latex-free mattress uses GOTS certified organic wool and cotton fill. In addition, there are no dyes in their latex-free organic mattress materials. Also, to bleach cotton, they use hydrogen peroxide, a non-toxic alternative to chlorine bleach.
What encasement material and adhesives do you use for the coils?
As I have mentioned, coil systems help avoid mold inside the mattress. Certainly, you do not want to buy a latex-free mattress to avoid latex allergy and find yourself potentially exposed to another source of allergies. (All the latex-free mattress brands in the table above use innerspring systems.)
Further, coil encasements prevent noise and make a mattress more comfortable. The encasements may be held together by metal clips, sewing, sealing with heat, and glue. Glue can be a potential cause for mattress toxicity because it can emit volatile organic compounds (VOCs), including carcinogenic formaldehyde. When you do your own research, ideally get the name of the glue and the list of its ingredients. If the seller tells you that there are no adhesives in their mattresses, find out how they hold things together.
In their latex-free organic mattress, Naturepedic uses either sealing with heat or sewing to hold parts and layers together. They designed their own machines to heat seals, so there is absolutely no glue in their mattresses.
As encasement material, they use polypropylene in the Chorus and EOS models, and organic cotton in Halcyon. That is because Halcyon is a luxury line and has the most luxurious offerings for fabrics. They hand pin and then sew the organic cotton to pack the coils tightly, so they are just as sturdy with the cotton as with the polypropylene. By the way, GOTS approves of polypropylene used inside a mattress. I have no concerns about it.
Are the Naturepedic latex-free mattress and manufacturing facility certified by GOTS?
Yes, both the manufacturing facility and all the Naturepedic mattresses, including latex-free mattresses, are GOTS certified organic. (Two other latex-free mattress brands in the table above have GOTS certifications for mattresses and facilities. Stay with me to learn about latex mattress allergy – does it exist and what does it feel like?)
While the raw materials come from different parts of the world, Naturepedic organic mattresses are assembled and hand-sewn in Ohio.
When I contact companies, I always confirm whether a mattress is certified by GOTS as a whole product or just its materials. If the whole mattress is GOTS certified, there is no need to verify the certification for each material used in it. That is time-consuming and hard to do, and there is no guarantee that the materials are organic or even natural. Also, GOTS-certified mattresses can be only produced in a GOTS-certified facility. This reduces the risk of contamination with toxic materials used for production of conventional mattresses.
What additional benefits does a Naturepedic latex-free mattress offer?
In addition to GOTS certification, Naturepedic non-toxic mattresses adhere to Made Safe, Greenguard Gold, OCS 100, and other standards. Even their latex is GOLS certified organic. (Apprehensive of latex mattress allergy? Read on!)
My favorite feature is the adjustable level of firmness/softness in the EOS and Halcyon latex-free organic mattress models. Moreover, you can have either the same firmness across the entire latex-free mattress or different firmness on each side. Not satisfied with the level of firmness you chose? Swap the layers for free to adjust the feel! My experience shows that most people wish they had purchased a softer mattress after all.
As opposed to the EOS and Halcyon models, the standard Chorus model is not customizable (hence, it is more affordable). It comes in a firm feel and has fewer coils than the other two. Nevertheless, even with fewer coils, Chorus has a 10" thickness. Among the latex-free mattress brands above, it is comparable only to that of Joybeds mattresses, but they are not GOTS certified organic.
To reduce the anxiety of buying a mattress without trying it out, Naturepedic provides a 90-day money back guarantee if you purchase it directly from them. For an online purchase, you can use my discount code to get 15% off!
Finally, Naturepedic offers a 10-year warranty for the Chorus model and 20-year warranty for the EOS and Halcyon models. This tells me they are confident of the quality of their products.
Is a Latex-Free Organic Mattress Worth It?
For those with a latex allergy, buying a latex-free mattress seems sensible. But what alternatives to latex are there? In conventional mattresses, they are memory foam, soybean foam, and synthetic latex.
For your information, memory foam consists mainly of polyurethane and additional chemicals increasing its viscosity and density. In turn, polyurethane consists of petroleum derivatives called diisocyanates, such as toluene diisocyanate (TDI), classified as "reasonably to be anticipated as a human carcinogen." Additionally, there may be a risk of added flame retardants to polyurethane foam because it is highly flammable. Please, refer to my comprehensive blog posts about polyurethane foam and the flame retardant law.
Next, soybean foam is basically polyurethane foam and soybean oil. The oil content can go just up to 20%. Consider reading my blog posts about Soybean Foam and my experience with Sealy Soybean Foam-Core Crib Mattress.
Finally, synthetic latex is made of butadiene rubber and styrene, both of which are produced from petrochemicals.
That leaves us with wool, cotton, and springs. This is what Naturepedic latex-free mattresses and the other four top latex-free mattress brands we looked at use. And for you to be sure there are no insecticides and pesticides in cotton and wool, and no glue in the mattress, it is best for the mattress to be GOTS-certified organic.
So, to avoid latex allergy, buying a mattress without latex seems logical. But to also avoid potentially harmful chemicals, opting for a latex-free organic mattress is definitely worth it.
Is Latex Non-Toxic?
Generally speaking, what makes foam or other materials potentially toxic is volatile organic compounds (VOCs) that can off-gas. While polyurethane does off-gas, properly made natural latex does not. If during the manufacturing process no chemicals were added, there are no VOCs to off-gas.
In fact, natural latex, made from the milk sap of the rubber tree (Hevea Brasiliensis), is considered a healthy substitute for polyurethane. Due to two different manufacturing processes, there are two kinds of natural latex – Dunlop and Talalay.
To produce Dunlop foam, manufacturers pour latex into molds, vulcanize it (usually with sulphur), and allow it to dry.
And to make Talalay foam, they whip latex for aeration first. Then, they pour it into molds where it is flash-frozen and subjected to vacuum suction. As a result, Talalay foam is softer than Dunlop foam and is usually more expensive. (source)
To my knowledge, Dunlop latex foam can be certified organic by Global Organic Latex Standard (GOLS) but Talalay cannot. Therefore, I would stick to Dunlop foam, which is what Naturepedic uses for its latex mattresses. As you remember, unlike those of the other top 4 latex-free mattress brands, Naturepedic mattresses can be customized. That is why, including their latex-free organic mattress, they are my top choice.
In conclusion, it can be said that natural latex is non-toxic. However, it may cause an allergy in some individuals, hence the need for a latex-free mattress.
Can you be allergic to natural latex?
Yes, some people may suffer from natural latex allergy. Reportedly, worldwide, 9.7% of healthcare workers, 7.2% of susceptible patients, and 4.3% of the general population face this issue. And in the US, less than 1% of the general population has this condition (source).
According to the Centers for Disease Control and Prevention (CDC), the reaction is caused by the naturally occurring proteins in botanical latex.
Further, the main ways of exposure are through skin, blood, mucous membranes, and inhalation (source). Specifically, latex proteins bond with the lubricant powder used in some gloves, become airborne when gloves are changed, and can be inhaled.
As for treatment of latex allergy, avoidance of exposure to the latex protein seems most effective.
Check out the table below for the common latex products (source):
| | | | |
| --- | --- | --- | --- |
| Dishwashing gloves | Bike handgrips | Erasers | Hot water bottles |
| Medical gloves | Intravenous tubing | Swim goggles | Sanitary pads |
| Balloons | Electrode pads | Blood pressure cuffs | Condoms |
| Baby bottle nipples | Carpeting | Syringes | Diaphragms |
| Rubber bands | Rubber toys | Surgical masks | Stethoscopes |
| Racket handles | Disposable diapers | Clothing waistbands | Respirators |
What does a latex allergic reaction feel like?
First off, note that latex mattress foam is not included in the list of latex products above. My guess it is because there is no direct contact with it when it is inside a mattress. However, if you want to be on the safe side, go for a latex-free mattress among the top 5 latex-free mattress brands. My #1 recommendation is a latex-free organic mattress among Naturepedic mattresses.
According to the CDC, the symptoms may begin within minutes or hours of exposure and are as follows:
Mild
Severe
Rare
– skin redness
– rash
– hives
– itching
– runny nose
– sneezing
– itchy eyes
– scratchy throat
– asthma (difficult breathing, coughing spells, wheezing)
– anaphylactic shock
These symptoms seem like a good reason for purchasing a latex-free mattress!
But can you be allergic to latex mattresses?
Can You Have a Latex Mattress Allergy?
Doing my research, I noticed that most studies in the PubMed National Library of Medicine discussed allergy cases caused by direct contact with medical gloves.
Turns out, stretchy latex products, like gloves and balloons, are made by a cold-dip method that does not remove the allergy causing proteins. In contrast, latex for mattresses is usually washed in a five-stage washer first, and then undergoes vulcanization in high heat. This makes it potentially impossible for the proteins to survive (source).
Additionally, latex in mattresses comes wrapped in wool and sealed with a protective outer layer. Plus, the bedding on top of the mattress and pajamas make direct contact with the foam unlikely.
Nonetheless, I found one study that analyzed latex mattresses reduced to powder, and proteins were extracted. While the synthetic foam mattresses had no protein allergens, the natural latex mattresses revealed the presence of various quantities of proteins. Hence, the researchers concluded that because the natural latex mattresses contained latex allergens, the latter were "a potential source of sensitization and could constitute a risk, at least to allergic individuals."
So, can a person with a latex allergy sleep on a latex mattress? I guess this decision is between you and your doctor.
What Mattresses are Latex Free?
The Top 5 Latex-Free Mattress Brands section of this post lists latex-free mattress options, with Naturepedic latex-free organic mattress as my favorite.
In addition, I came across a couple of spring-free wool mattresses. I did not include them in the latex-free mattress brands table because I focused on latex-free mattresses with coils. As you remember, coils help avoid mold inside the mattress and, in my opinion, make it more comfortable and cushiony. At the same time, spring-free all-wool mattresses are more convenient to handle and may work for your circumstances better.
First, there is a Holy Lamb Organics All-Wool Mattress handmade with premium eco-wool and organic cotton by Shepherd's Dream in Northern California. The mattress is 5" thick and looks beautiful, but it is not GOTS-certified organic. They also have a Changing Table Pad for babies.
Second, there is a White Lotus Home Organic Cotton & Wool Dreamton Mattress. It is 6" to 8" thick in queen size and looks beautiful, too! This mattress is GOTS-certified organic (the certification is on the website).
Do Serta mattresses contain latex?
I have looked at every mattress on the Serta website to confirm that they are latex-free. It sounds like an option to consider if you are prone to a latex allergy, but …
What is a Serta mattress made of?
All Serta mattresses contain some kind of memory foam that is basically polyurethane. As I have already mentioned, polyurethane is made of petrochemicals that do not sound healthy to me at all. Besides, polyurethane foam is flammable, and mattress makers must use something to pass the flammability test. Whether they use flame retardant chemicals is hard to say because they are not required to reveal it by law.
Personally, I stay away from polyurethane foam mattresses.
Summary of the Latex-Free Mattress Post
To sum up, in my opinion, out of the top 5 latex-free mattress brands, Naturepedic latex-free organic mattresses may be a long-sought answer for you if you want to avoid a latex mattress allergy.
The biggest advantage of Naturepedic mattresses is that they are GOTS certified organic and offer a variety of feel levels and depth. You can even choose different firmness/softness for each side of the same bed!
Before buying your mattress at a local store, play with the functionality on the website first. Then, call the customer service with any questions you might have. This will help you decide whether you want to buy your mattress in a store or through the website. For an online purchase, you can use my 15% discount code IREAD15 by activating it through this link before your purchase. This discount cannot be combined with any other promotions.
For #2 recommended mattress, click on the My Green Mattress website link and use the GREEN125 discount code at checkout. It gives you $125 off twin or larger mattresses. This discount cannot be stacked with any other promotions.
If you still have questions, consider hiring me as a consultant, whether you need help finding your perfect mattress or just need peace of mind. Additionally, browse my shop for other home and body non-toxic products. Also, you are welcome to apply to the Savvy Consumer Circle to become a pro in making informed decisions about any of your purchases.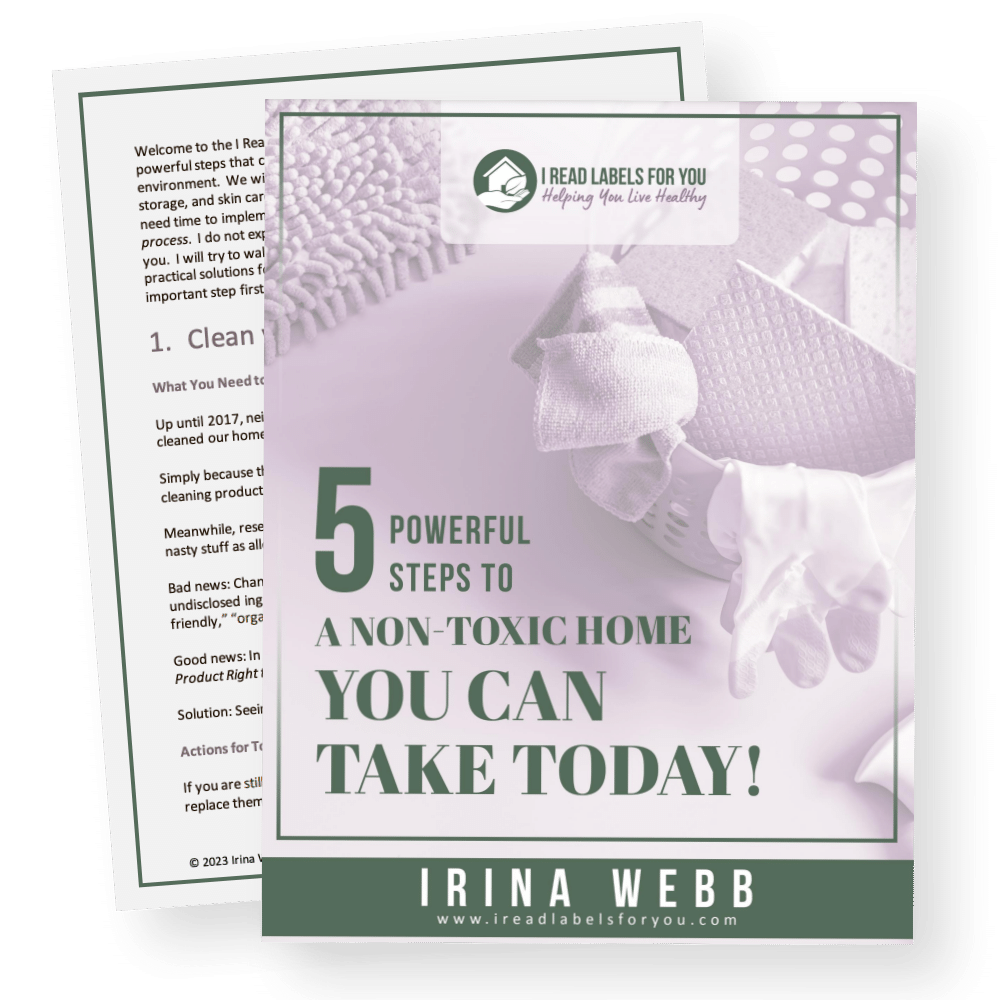 Download The Free Guide!
5 Powerful Steps To A Non-Toxic Home
Join our informed consumer community and get our free guide the "5 Powerful Steps To A Non-Toxic Home".