Best Non-Toxic Christmas Tree Options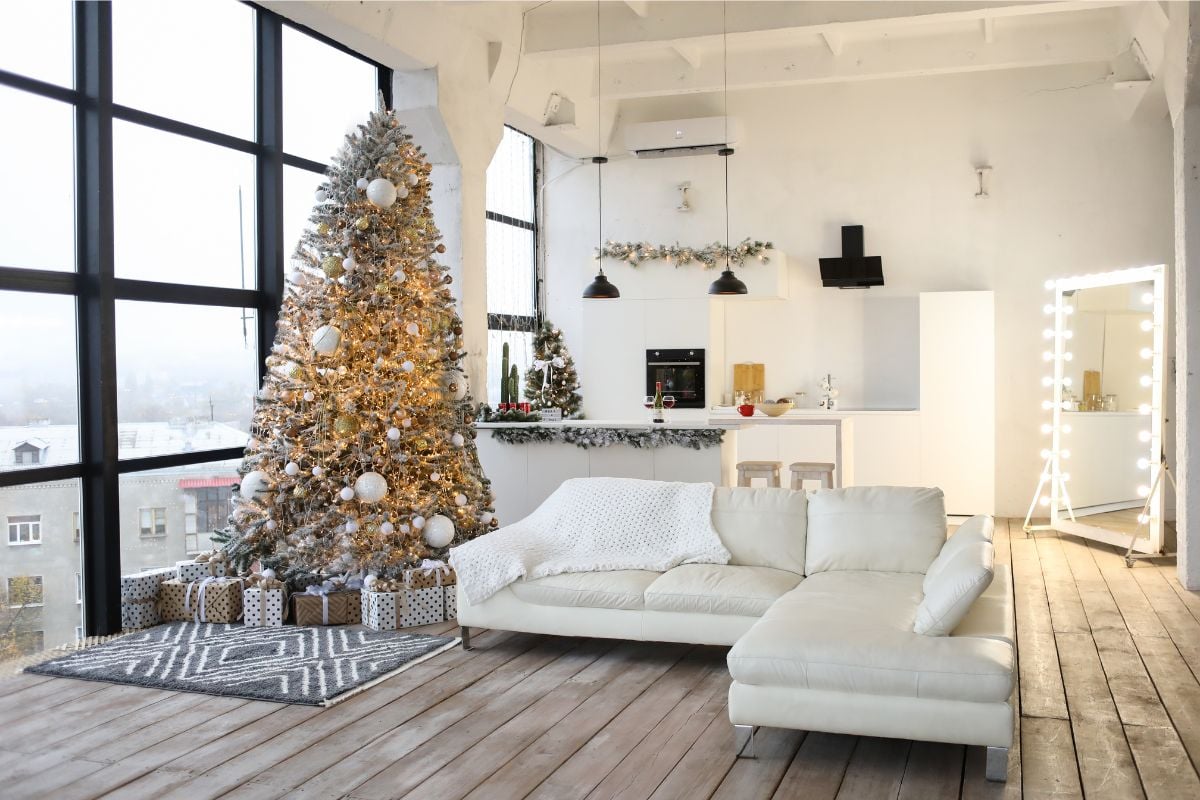 This post may contain affiliate links. To read our affiliate policy, click here.
Is it possible to find a safe Christmas tree in today's market? One may think that a live tree is definitely safer than an artificial tree. Yet, it is not that simple – not all artificial trees are that bad, and neither are all real trees good. There is a lot to consider, and it may cause an overwhelming feeling of uncertainty. A wrong decision can cost you wasted money and unnecessary exposure to potentially harmful chemicals. However, I believe that knowledge helps us make informed decisions and allows us to avoid the pointless hassle. In this post, you will learn about the main types of Christmas trees and my experience with a real tree. This information will help you in your search of a non-toxic Christmas tree to find the one that will work for you.
We do your research for you.
Instead of touting a specific safe Christmas tree option, let me do something better for you. As a full-time consumer product safety consultant and coach, I realize that knowing your options is very helpful. Spoiler alert: no option is 100% ideal and safe for everybody, and this is especially true for Christmas trees. It is all about knowing your choices and their pros and cons. In short, some products may be safer as compared to others, but none of them is safe in absolute terms.
By the way, I have been studying the consumer market and product ingredients since 2012. When I realized that the information I was discovering was too valuable to keep just to myself, I established the I Read Labels for You blog. Today, we are a team of hardworking researchers who spend hours investigating the markets and the ingredients, so you do not have to. We are here to read labels for you and give you all the necessary information to make informed consumer decisions.
Further, our website offers tons of free educational blogposts, unique consulting services, e-books, Savvy Consumer Circle membership, and a shop. Start here to navigate our website and learn about the plethora of credible sources we use in our research.
And now, as I promised, I am sharing with you my experience with a real tree.
Here is why a live tree is not a fully non-toxic Christmas tree.
To begin with, some potential issues with a real tree prevent it from being called a totally safe Christmas tree. Namely, the issues are:
chemicals
mold
allergies.
First, real Christmas trees may have pesticides and herbicides on them. A solution can be trees from organic tree farms or trees with chemicals sprayed around them, not directly on them.
Second, molds found in real Christmas trees can set off reactions like severe asthma attacks, fatigue, headaches, and sinus congestion (source).
Third, tree sap, pollen, or terpenes can trigger allergies that can develop within 24 hours or even after several days. For instance, this study reports that seasonal syndrome includes sneezing, wheezing, and transitory skin rashes. In fact, my colleague shared that within a few days of getting a real tree, she broke out in a full-body rash that required medication. On top of that, her cat developed asthma and had to get medical attention, too. Once she got rid of the tree, the symptoms went away. Indeed, this study reports that household cats share environmental exposures to aeroallergens with humans. They can spontaneously develop airway inflammation similar to human allergic asthma.
Thus, even an organic Christmas tree may not be a fully non-toxic Christmas tree.
Renting a living Christmas tree seemed like a good idea.
Once, looking for a safe Christmas tree for my family, I came across The Living Christmas Tree company. The idea of renting and returning a real tree seemed very clever to me, even though you cannot really pick your own tree. You just rely on what they bring you. Hence, there is always a dash of surprise and anticipation involved. So, we did that for three years in a row.
The first year was good (see pictures below). The workers showed up on time and hauled the tree up the stairs into our home. They placed it in a watertight container on the drip pan my husband had set up earlier. Despite a flat spot in the tree, we liked the fact that it would not end up as firewood or in a landfill in a month.
The second year was a bit different. At first, the tree looked fine, but then it got dry and lost many needles. Putting ice cubes in it every other day per the instructions did not appear helpful.
The third time was even worse – the tree lost what seemed like most of its needles. This time, too, we emptied an ice tray every other day into the bucket in which the tree sat. Later we learned that true pines need cold winters to thrive. It simply could not make it in our warm home. In sum, our living Christmas tree experience turned out to be pricey and not very successful.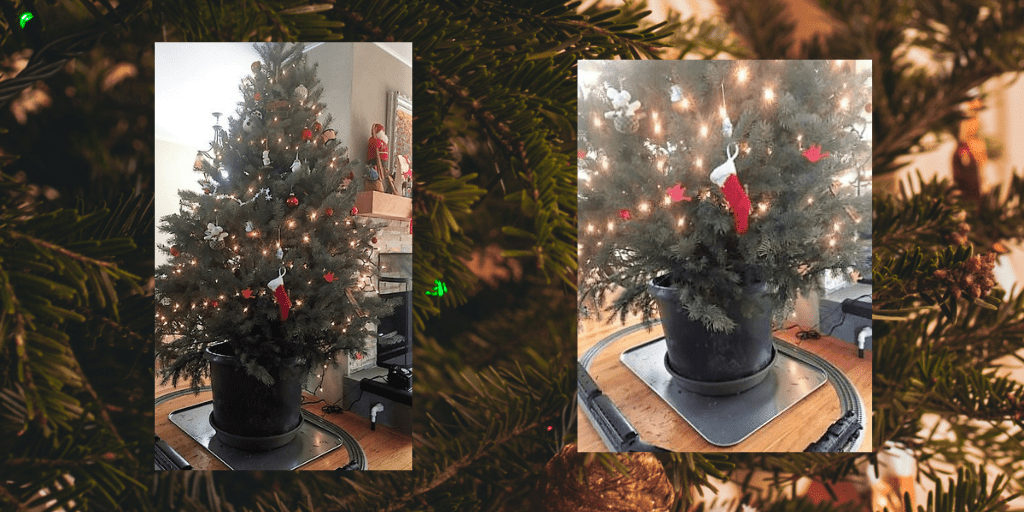 An artificial tree made of PVC is not a non-toxic Christmas tree.
When a real tree is out of the question, we turn to artificial fir trees. Can an artificial tree be a good option for a safe Christmas tree?
To start, conventional artificial trees are normally made of polyvinyl chloride (PVC). This type of plastic is made of vinyl chloride that is associated with an increased risk of cancer (source). Also, PVC may contain lead (linked to neurotoxicity and cancer) and phthalates (linked to hormone disruption and cancer) (source). In fact, the state of California requires that trees with PVC carry a warning label regarding lead.
Additionally, there is a possibility that an artificial fir Christmas tree may contain flame retardant chemicals. In humans, halogenated fire-retardant chemicals are linked to:
infertility,
thyroid disruption,
oxidative DNA stress,
reduced IQ (similar to lead poisoning),
adverse effects on the immune system,
and, possibly, cancer (source).
Importantly, there is an indication that antimony, found in flame retardants, might cause cancer in occupational settings (source). Consider reading this Proposition 65 Fact Sheet about how to reduce your exposure to antimony trioxide. Some measures are as simple as mopping, dusting, and handwashing. Finally, learn more about flame retardants in my free blogpost TB 117-2013: What Does It Mean for You?.
So, neither a real tree nor a PVC tree seems to be a good option for a non-toxic Christmas tree. What other options do we have?
Polyethylene and polypropylene are safer materials than PVC.
As you can tell, it is best to look for a PVC- free Christmas tree. And instead of relying on the manufacturer's claims, I suggest contacting the company and asking them directly. Surprisingly, the information in the product description may not always coincide with what the manufacturer will tell you. In my experience, this is particularly true about product descriptions on Amazon. Therefore, it is always a good idea to confirm.
So, is a PVC-free tree a safe Christmas tree? As I mentioned before, the concept of safety is relative and has a lot to do with comparison.
Thus, artificial Christmas trees that are PVC-free are normally made of polypropylene (PP) or polyethylene (PE). As compared to PVC, these are safer plastic types. However, there is no guarantee that PP and PE trees will be free of lead and flame retardants.
If you already own an artificial fir Christmas tree, you can find out if it is lead-free by contacting Tamara Rubin of Lead Safe Mama. She tests artificial Christmas trees for lead with XMF equipment that shows the total amount of lead in a tree. As for the flame retardants, it is a good idea to contact the manufacturer and ask them for this information.
Actually, it is quite easy to differentiate between polyethylene (PE) foliage and polyvinyl chloride (PVC) foliage. Most websites selling Christmas trees describe the PVC trees as "traditional" or "classic," and the PE ones as "realistic" or "most realistic." Compare the pictures below.

Closer to non-toxic Christmas tree options
You can buy some of these trees in the IRLFY Amazon shop.
Costa Farms Live Indoor Christmas Tree

Costa Farms Live Charlie Brown Christmas Tree
These are good small-size real-tree options for a safe Christmas tree is Norfolk Island pine, native to the South Pacific. This tropical plant looks like a true pine and thrives in warm temperatures. It can grow indoors all year round and can be as tall as 200 feet.
Balsam Hill Most Realistic Stratford Spruce

Balsam Hill Most Realistic Balsam Fir
In personal correspondence, Balsam Hill told me the following: "Our trees can range from all-PVC ("Traditional" trees) to 100% PE/True Needle ("Most Realistic" trees). A 100% PE tree does still have PVC wrapping on the inner trunk and/or the very top of the tree, which is removable and for aesthetics only; as such, it is technically composed of 99.999999% PE, but we round it up to 100%." They use antimony trioxide as a flame retardant (read about the precautions here).
NusGear Faux Christmas Tree Lifelike Needles
The tree materials are described as "polypropylene and steel." It's not a tall tree, though (59.1″).
Senjie Tabletop Mini Christmas Tree
This is a small PE tree (22") with a burlap base.
IKEA's Trees
It looks like they sell in local IKEA stores rather than online. For example, Vinter 2021 Tree is described as made of "polyethylene, steel, polypropylene, PET plastic."
Treetime Most Realistic Christmas Trees
They describe their most realistic trees as made of PE 65%+. Remember, it is always a good idea to call and confirm.
Treetopia Realistic Christmas Trees
Their website says that realistic trees are made with "lifelike needles molded from PE to make them appear just like the real thing." Please, contact the company to ask about the percentage of PE in the tree of your interest.
You can reduce exposure to real tree and artificial tree toxic chemicals.
As it happens, there are no clear-cut answers as far as a non-toxic Christmas tree is concerned. The closest we have come to having a safe Christmas tree is by decorating a pine tree in our yard. Of course, the downside is that we cannot enjoy its beauty while we are inside, which is most of the time in winter. On the plus side, there are no potential allergens in the house, and the tree is there year after year.
Regardless of the tree you decide to go with – real or artificial – here are some ways to reduce your exposure to allergens and potentially harmful chemicals:
Do not let kids touch the tree.
Do not handle the tree if you are pregnant.
Wear gloves when setting it up and decorating.
Wash your hands thoroughly after handling.
After setting the tree up, clean the area thoroughly with a damp mop or a HEPA filter vacuum.
I would like to emphasize the importance of cleaning and washing your hands. In fact, this article describes a study that reported a significant decrease in the levels of flame retardants in the urine of women after increased cleaning and handwashing.
In addition, an air purifier can work for both real and artificial trees and help improve your air quality. To choose the right one, please read our free Comprehensive Guide to Mobile Air Purifiers. You can also read their descriptions in our shop. If you still find it overwhelming, consider booking a personal consultation.
Summary of your safe Christmas tree options
To sum up, there seem to be drawbacks at every turn – be it a real tree or an artificial one. Bottom line, when shopping for a non-toxic Christmas tree, look for the one that is PVC- and lead-free and not treated with flame retardants. However, know that you might not find a tree that meets all three criteria.
To reiterate, there is no 100% safe Christmas tree in absolute terms. Thus, real trees may contain allergens and even trigger asthma in both humans and pets. And artificial fir trees may contain potentially harmful chemicals, including flame retardants. Yet, PVC-free artificial trees, usually made of polyethylene (PE) or polypropylene (PP), seem a safer option than PVC trees. Check out some options in the IRLFY Amazon shop.
Rightfully so, Christmas without a tree seems dull, to say the least. We need a tree to create the holiday season ambiance and, plainly, have fun. Therefore, the goal of this post was not to spook you. On the contrary! The goal was to educate you. Now, you have all the information you need to find what works best for you. Although your choice might not be ideal, it is okay – life is not perfect.
Besides, those potentially toxic chemicals that may be in your house do not have to end up in your body. There are things you can do to prevent that from happening (e.g., use an air purifier).
If you have any experience to share, please tell us in the comments – we would love to hear from you.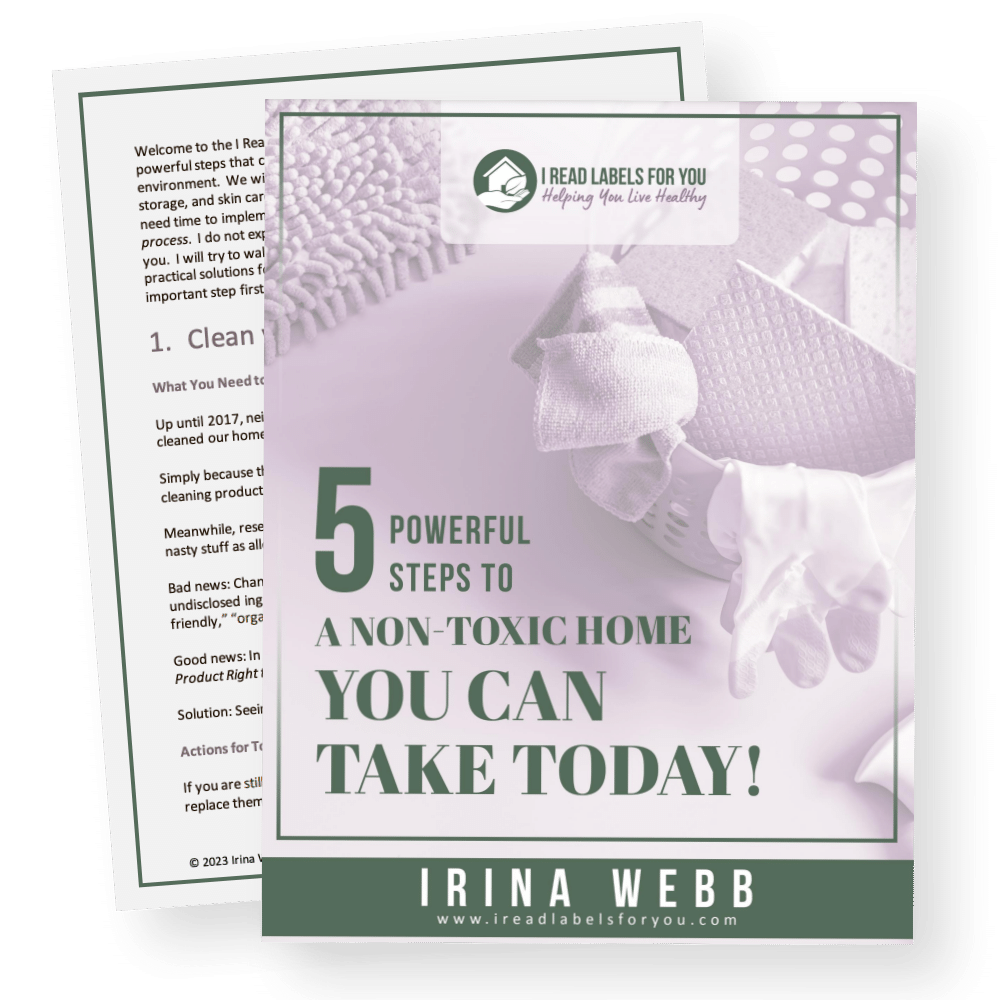 Download The Free Guide!
5 Powerful Steps To A Non-Toxic Home
Join our informed consumer community and get our free guide the "5 Powerful Steps To A Non-Toxic Home".