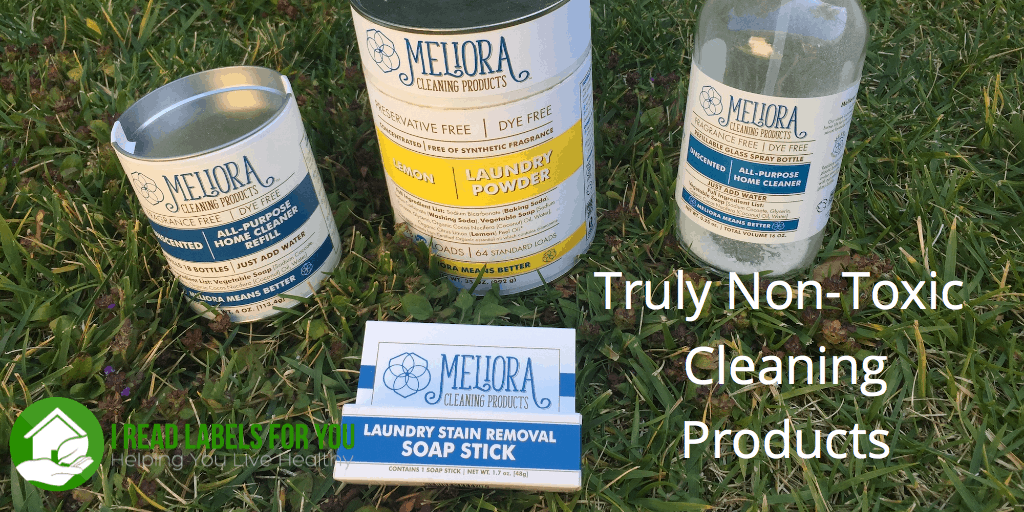 I was very happily surprised when I tried Meliora eco and non-toxic cleaning products for the first time. What a world we live in that these are the emotions we end up experiencing when we go back to our roots. I was happily surprised to find another confirmation that we do not need potentially harmful chemicals to clean our house.
Previously, I have written about simple healthy things you can use to clean your home.  Baking soda, Dr. Bronner's soap, vinegar, and one more surprising ingredient will do most of the cleaning jobs around the house.
Today I am going to tell you about a small business that makes truly environmentally-friendly and non-toxic cleaning products that actually work.
The Harms of Conventional Cleaning Products
Before we proceed, let me tell you a few facts.
I want you to know something fundamentally important when it comes to cleaning products. Manufacturers are not required to disclose the ingredients they use.  If they do, it is on a voluntary basis.
Most cleaning products are dangerous to our health.  You will know that by noticing warning statements on the label.  Some cleaning products cause immediate hazards such as skin or respiratory irritation, watery eyes, chemical burns, or even death.  If you do not believe me, just look at your cleaning products and you will see "Danger," "Poison," "Warning," and "Caution" written on them.
This study of 787 participants in Massachusetts concluded that the regular use of household cleaning products doubles the risk of breast cancer.
And then we have plastic pollution.  Most cleaning products come in a plastic bottle that we discard into a landfill or that end up in the ocean.  Some researchers suggest that by 2050 there could be more plastic than fish in the oceans by weight (source).  Please refuse single-use plastic products.
The ingredients of Meliora non-toxic cleaning products
Kate Jakubas, the founder of Meliora Cleaning Products, worked as an environmental scientist for years and saw first-hand the dire state our environment is in.  She became determined to make a difference.  And I applaud her for that.
She now makes truly non-toxic cleaning products made with washing soda, baking soda, organic essential oils and vegetable soap made from organic coconut oil and organic olive oil –ingredients we can actually pronounce and understand.  There is nothing harmful or dubious about them.
If you are not familiar with how soap is made and how soap is different from a synthetic cleaning agent (aka surfactant), let me explain.  Soap is made by reacting an oil or animal fat with an alkali agent, either potassium hydroxide or sodium hydroxide.  As a result of the reaction, we get soap and glycerin.  Potassium hydroxide or sodium hydroxide does not remain in the final product.
This is how soap was made for centuries before the recent proliferation of synthetic surfactants. Soap was used for washing hands, bodies, hair, houses and whatever else needed washing.
The way things work in the United States is really not conducive to our health.  In the U.S., in general, manufacturers can use new chemicals in products without having to prove that the chemicals are safe for humans or the environment.  So every year, more and more new chemicals are introduced into the stream of commerce without having been rigorously tested first.  (Anyone wonders why cancer rates are skyrocketing?  I have a guess as to why this is.)
So, over the course of the last several decades, many new synthetics surfactants have been introduced. To give you an example of the state of affairs, in 2012, the State of California added one of these surfactants – Cocamide DEA – to its Proposition 65 list of chemicals known to cause cancer.  The only way really to protect ourselves is to go back to our roots, and use products made from the best ingredients, which are truly non-toxic cleaning products.  And Meliora fits the bill.
The packaging of Meliora environmentally-friendly cleaning products
The fact that Meliora healthy non-toxic cleaning products are truly environmentally-friendly comes not only from the safety of its ingredients but also from the packaging.
I have to say I am wowed at Meliora's concepts.  Their all-purpose cleaner comes in a glass spray bottle.  That's a great start, but then what they do is really revolutionary: there is a bit of powder in the bottom of the spray bottle, and nothing else. With no water inside, it is significantly lighter, and easier to ship, because less fuel is used to transport lighter bottles.  At home, you will add water yourself, which is very easy to do.
Their laundry detergent and refills for all-purpose cleaners come in containers made of cardboard and stainless steel, both of which are recyclable.  You might have to separate them in order to be recycled.
The laundry detergent refills come in recyclable and compostable paper bags.  You won't even get a plastic scoop every time you order Meliora safe laundry detergent – unless you ask for it.  Brilliant!
The only plastic container is for the large tub for laundry detergent.  The plastic is of recycle code number 5, which is a recyclable type of plastic.  And they are working right now on replacing these plastic tubs.
I have to tell you: ever since my son was born, I have grown to feel personally responsible for the way we leave the planet for our kids.  So using Meliora truly environmentally-friendly cleaning products gives me a lot of joy.
The Performance of Meliora Cleaning Products
Laundry Detergent: My laundry comes out clean and fresh.  It works better than a lot of other healthy laundry detergents I tried.  This is my current favorite.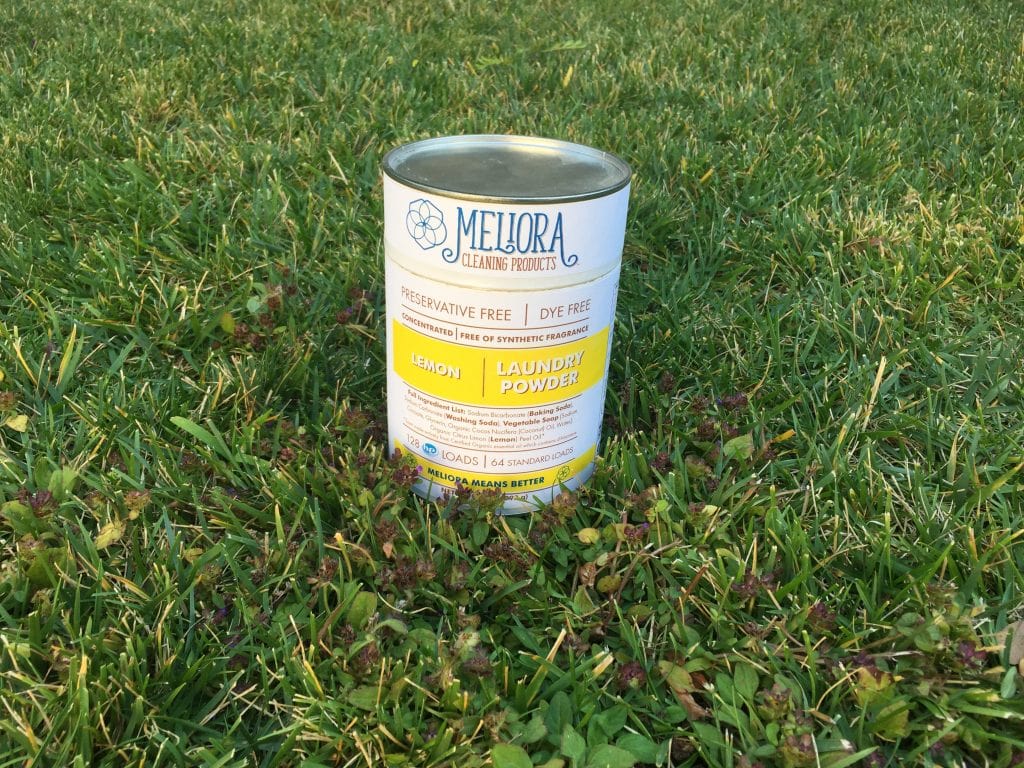 Stain Remover:  As clumsy as I am, I had an immediate opportunity to try Meliora safe stain remover. At a restaurant, I dripped some salad dressing on my white pants.  When I came home, I used the stain remover on the stain and it came right out.  Please see the picture.
[columns] [span6]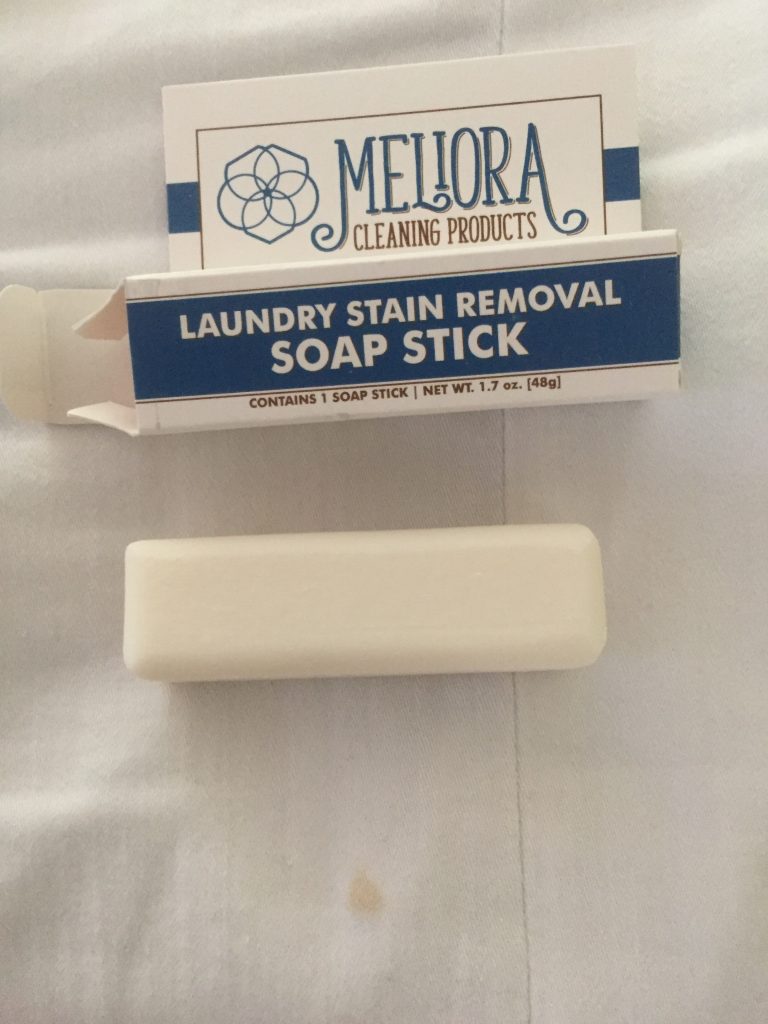 [/span6][span6]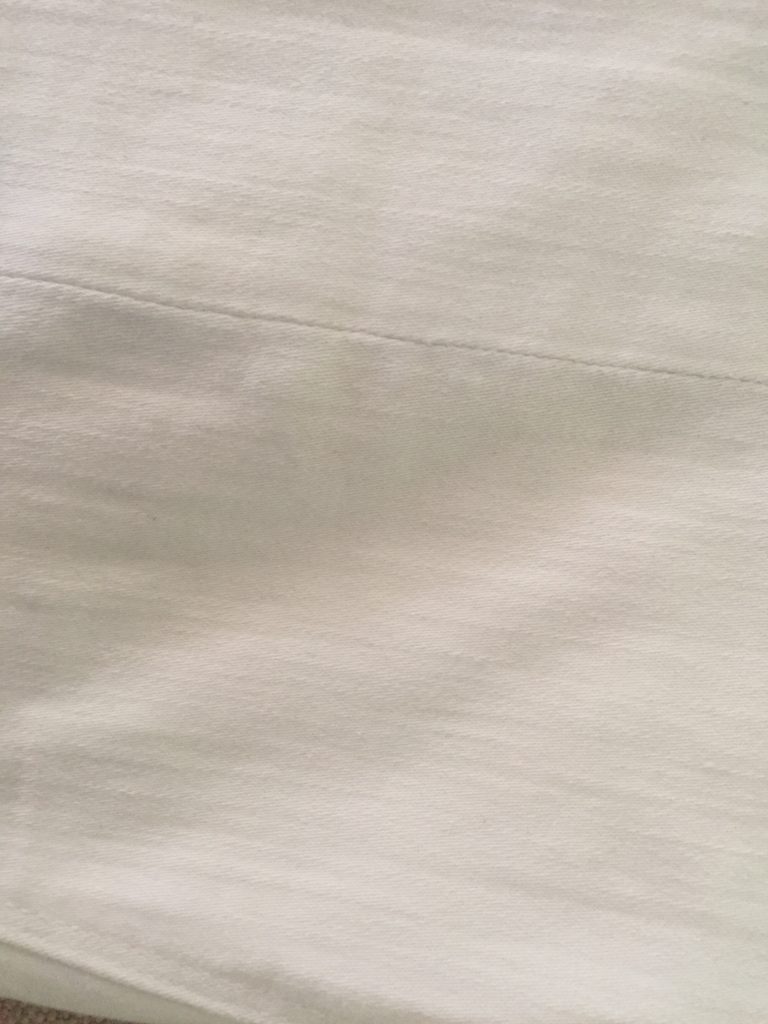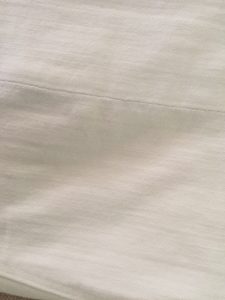 [/span6][/columns]All-Purpose Cleaner:  This healthy cleaner works well on my stainless steel stove, sinks, granite countertops, and bathroom mirrors.
Bath and Body Soap:  For years now, we use bar soap at home for washing hands and in the shower.  So I consider myself a soap connoisseur.  Here are my observations.  It lathers well, moisturizes, and does not get soggy, which is so important. I had my share of soap bars that became gooey after a few uses. Not this one.  Of course, like with any bar soap you should use a soap dish that allows water to drain well.  This is the best one I found after making my house into a soap dish warehouse.
Where to buy Meliora non-toxic cleaning products
You can buy them directly on the Meliora website or on Amazon.
If you buy it on the Meliora website, you can get free shipping with a $40 minimum purchase.
Please support this small business that is doing everything possible to keep our planet and us clean and healthy!  Thank you, Kate!
Let's start creating a healthy home today!
When you join the I Read Labels For You community, you'll receive weekly emails with inspiration, exclusive content and coupons to gain clarity and confidence to create a healthy home. Plus, you'll get the FREE guide: "5 Powerful Steps to a Non-Toxic Home You Can Take Today!"
"I find your knowledge so helpful, to the point and like a gold mine. You have saved me so much time and have taught me so much." Toni