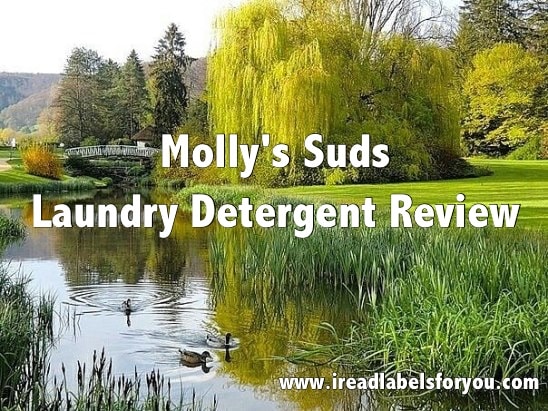 The first time I tried Molly's Suds laundry detergent I knew I would never go back. And here is why.
Overview of Laundry Detergent Market
After I started reading laundry detergent labels (which was three years ago!), I was shocked to learn what laundry detergents are made of! I discovered that most laundry detergents are made of petroleum-based ingredients – even the ones that boast "plant-based," "biodegradable," and "natural" claims. By the way, these claims are NOT legally regulated and often loosely used.
One of the problems with petroleum-based ingredients is contamination with 1,4-dioxane, which is a known carcinogen. Also, a lot of laundry detergents have optical brighteners that make fabrics appear brighteners. They coat clothing in the washing machine and can cause skin irritation. Some brighteners do not break down easily and can accumulate in the environment, where they can be toxic to aquatic life and pollute our drinking water.
After extensive research, I found only two laundry detergents that did not have petroleum ingredients, synthetic fragrances, odor-masking agents, optical brighteners and other ingredients I refuse to bring into my home. However, I was not 100% happy because they are liquid.
Molly's Suds laundry detergent is powdered so there is no big plastic container to throw into the landfill. Yay!!! There is no water in the formulation so you are not paying for transporting water either, contributing to unnecessarily greenhouse gas emissions.
What is Molly's Suds laundry detergent made of?
There is only good stuff in the detergent. Let's look together into what it is made of.
Sodium Carbonate (also known as washing soda, soda ash and soda crystals): is rated only 1 out 10 (10 being the most toxic) in the Skin Deep database. It can be derived in a lab with possible added fillers or mined. Molly's Suds sources its from the Green River Basin in Wyoming.
Sodium Bicarbonate: aka baking soda that we use in food preparations.
Magnesium Sulfate (aka Epsom salt): is an inorganic salt containing magnesium, sulfur and oxygen; is found in sea water and in mineral deposits; is also rated 1 in the Skin Deep.
Unrefined Sea Salt: this is triple filtered in the US, and is food-grade.
Organic Peppermint Oil: organic essential oil that is used in food; the smell is very mild and if you'd like you can this request laundry detergent without it.
So as you can see, Molly's Suds laundry detergent is as safe as it can be. As picky as I am I can't find anything to complain about it. With the exception of washing soda and Epsom salt, all the ingredients are food grade. Hide it from children anyway as inhaling or eating this powder is bad for them.
How does Molly's Suds laundry detergent work?
It works great for me! And I underline for me because if you are used to a laundry detergent with optical brighteners, you might be disappointed. Since I switched from mild petroleum-free laundry detergent, I noticed improvements. The laundry comes out cleaner and brighter.
And it even removes relatively new food stains (1 week old) without soaking or pre-treatment. Here is a before and after picture of my son's jacket with stains of tangerine juice on it.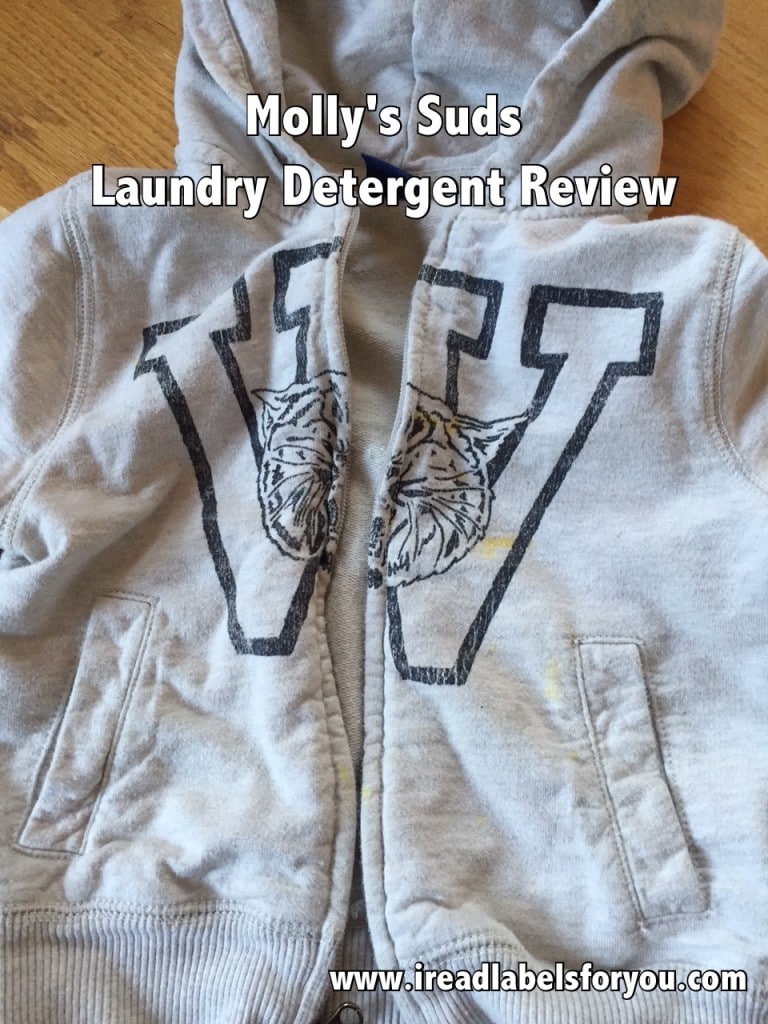 And as you can see the stain is 95% gone. Amazing!
Because Molly's Suds laundry detergent is made of minerals, something tells me that I should not be using it on gentle fabrics such as wool or silk. I might have to continue using Fit Organic detergent for those. I will look into this further.
Where to buy Molly's Suds laundry detergent
[btn text="THRIVE MARKET" tcolor=#FFF bcolor=#693069 thovercolor=#FFF link="http://go.thrv.me/aff_c?offer_id=6&aff_id=4554″ target="_blank"]
[btn text="iHerb" tcolor=#FFF bcolor=#693069 thovercolor=#FFF link="https://www.iherb.com/pr/Molly-s-Suds-Laundry-Powder-120-Loads-70-4-oz-1-99-kgs/72602?rcode=RIN9340″ target="_blank"]
I am impressed with how fast their free shipping is.  And you will receive 5% off by purchasing through this link.
[btn text="Vitacost" tcolor=#FFF bcolor=#693069 thovercolor=#FFF link="https://click.linksynergy.com/deeplink?id=vSNH*/Fs/cg&mid=1155&murl=https%3A%2F%2Fwww.vitacost.com%2Fmollys-suds-laundry-powder-fragrance-free-41-8-oz-3″ target="_blank"]
You will find over 45,000 healthy products, including organic food, at below retail prices, with savings of up to 50% off retail.  If you sign up for their email, they will send you frequent discounts.
This concludes my review of Molly's Suds laundry detergent. As always, I would love to hear from you and I hope you will give Molly's Suds laundry detergent a try as I did. You will love it!
To read about a laundry detergent that I currently use and love, visit here.
SaveSave
SaveSave
SaveSaveSaveSave
SaveSaveSaveSave
SaveSave
SaveSave
SaveSaveSaveSaveSaveSave
SaveSaveSaveSave
SaveSave
Let's start creating a healthy home today!
When you join the I Read Labels For You community, you'll receive weekly emails with inspiration, exclusive content and coupons to gain clarity and confidence to create a healthy home. Plus, you'll get the FREE guide: "5 Powerful Steps to a Non-Toxic Home You Can Take Today!"
"I find your knowledge so helpful, to the point and like a gold mine. You have saved me so much time and have taught me so much." Toni