This post may contain "affiliate links." This means if you click on the affiliate link and purchase the item, I'll receive a commission. I disclose this in accordance with the Federal Trade Commission's 16 CFR, Part 255. I only recommend products that passed my strict criteria. Read about my research methods in the Start Here page.
Last updated on December 28th, 2018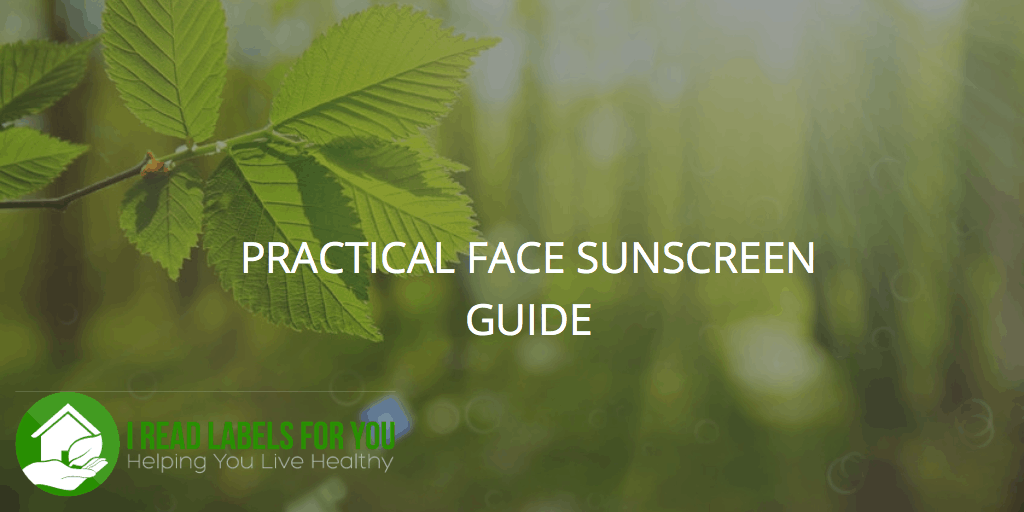 There are a lot of factors to look into when choosing the best face sunscreen.  I use a mineral face sunscreen as part of my UV rays' protection strategy. While reading this, keep in mind that no sunscreen can protect you 100%.
You are about to learn how you can quickly know which face sunscreen is right for you.  I will also share my favorite choices.
This year, I included two more options. I read through all your comments to the original post and looked at each ingredient of the sunscreens you asked about, including Hynt Beauty, Think Sport, Elta MD, De Vita, Suntegrity, and Juice Beauty.
In 2019, I am adding another toxin-free mineral face sunscreen that I love.  You will see it on the top of the mineral face sunscreen list.
The reason I did not choose tinted face sunscreens is that I now use Crunchi non-toxic mineral foundation.  Crunchi is the only company to my knowledge that uses mineral pigments that are EcoCert certified and not made in China. In my opinion, using mineral pigments that are not made in China is very important because of the disproportionate risk of heavy metal contamination (pigments and dyes are expected to contain trace amounts of heavy metals).  You read my review of Crunchi non-toxic makeup brand here.
If you think that buying BeautyCounter products is the best way to avoid heavy metals, please read my investigation into them and my recent update here.
So what do we want from a face sunscreen?
We want it to be safe, meaning that it does not damage our skin or overall health.
We want it to be effective, meaning that it has to protect us from both UVA (short-wave and long-wave ultraviolet-A) and UVB (ultraviolet-B) rays.
And we want our face sunscreen to be practical, meaning without a ghostly whitening effect. Nobody wants to look like a ghost unless you are going to a Halloween party.
That said, let's look at sunscreen ingredients.
First of all, all active ingredients of sunscreens – UV filters – can be divided into two groups: chemical and mineral.
Chemical Face Sunscreens
Chemical UV filters include the following chemicals: oxybenzone, octinoxate, homosalate, octocrylene, and avobenzone.  According to the Environmental Working Group research, these ingredients are linked to adverse health effects.
Oxybenzone: associated with acting like estrogen in the body; altered sperm production in animals; linked with endometriosis in women.
Octinoxate (Octylmethoxycinnamate): linked with hormone-like activity; reproductive system, thyroid and behavioral alterations in animal studies; may cause skin allergy.
Homosalate: linked to estrogen, androgen, and progesterone disruption.
Octocrylene: relatively high rates of skin allergy.
Avobenzone: relatively high rates of skin allergy
Because chemical UV filters either are linked to endocrine disruption or skin allergy or both, I do not recommend them.  In addition, they do not provide as good of protection as mineral sunscreens.  Please read about that next.
Mineral Face Sunscreen Products
The sunscreens that I prefer are mineral, which are made with either titanium oxide or zinc oxide or both.
There are two types of sun protection we need: UVB (ultraviolet-B) and UVA (short-wave ultraviolet-A rays). UVA radiation does not burn the skin as UVB does. It is sneaky because you can receive dangerous levels of UVA without knowing it. Also, UVA protection is not linked to the SPF value. How convenient! In other words, the higher SPF value does not always mean better UVA protection.
SPF simply shows how much time you can spend in the sun without burning your skin. At the same time, UVA radiation is very harmful and maybe even more harmful than UVB because it affects deeper layers of the skin.
From racking the EWG Annual Sunscreen Guide for years now, I noticed a pattern that I confirmed from other sources as well. Zinc oxide offers excellent UVA protection while titanium oxide offers only good or okay UVA protection. Thus, I prefer sunscreens with zinc oxide or a titanium oxide/zinc oxide blend.
Whitening Effect – the Balancing Act
You might have noticed that mineral sunscreens leave some whitening effect. The reason mineral sunscreens make you look like a ghost is that their particles are bigger (non-nanoparticles) and they sit on top of the skin. The thicker layer you have sitting on your skin, the more protection you have from UVA.
The advantages of nano zinc oxide are that it does not cause a whitening effect and it protects from UVB rays better than non-nano zinc oxide.   Keep in mind also that non-nano minerals can't be 100% nano and will have some percentage of nanoparticles. (source)
If you have heard about nanoparticles causing DNA damage, you might be freaking out right now. Don't!
Yes, there was a concern that nanoparticles (<100 nm) can penetrate the skin and damage the DNA. There are no conclusive studies though.
In fact, this year the EWG came to the conclusion that nanoparticles are not a reason to stress out about. They either do not get absorbed or the absorption rate is less than 0.01 percent of either non-nano or nano zinc that has entered the bloodstream. The study could not determine if the zinc in the bloodstream was insoluble nanoparticles. Therefore European regulators concluded it was most likely zinc ions, which would not pose any health risk (source).  Notice that the conclusion was made by a European regulator who I trust a little better.
As for the effects of nanoparticles on marine life, the long story short is that we don't know much about it.
I still prefer non-nano mineral sunscreens but I am not as concerned as I have been before if that claim is truthful. It is hard to track that stuff due to non-existing regulations.
Other Ingredients in Mineral Face Sunscreen Products
What makes it more complicated to pick a perfect mineral face sunscreen is that roughly 75% of total sunscreen composition is made up of inactive ingredients. And they have to be good, too, right? There should not be any irritating, potentially harmful, pore-clogging ingredients, and the preservation system should be sufficient.
With this said, without further ado, let me provide you with a list of face sunscreens I like.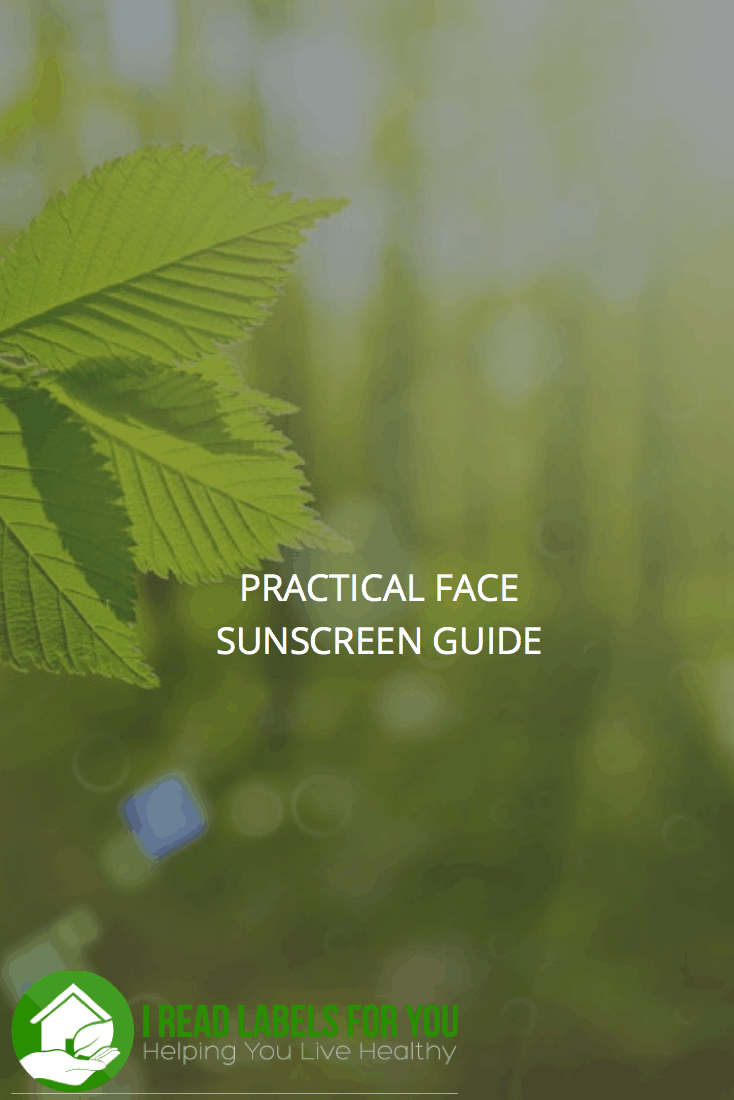 Blissoma Photonic – Light Shifting Solution SPF 25 Broad Spectrum Face Sunscreen, 28 ml, $39
Active Ingredient: 12.5% micronized (non-nano) zinc oxide
Inactive Ingredients: Infusion of Camellia sinensis* (black tea) leaf, Euphrasia officinalis* (eyebright), Centella asiatica (gotu kola) leaf and stem*, Vinca minor (periwinkle) leaf*, Hydrangea arborescens root*, Viola tricolor (violet) leaf, and Silybum marianum (milk thistle) seed*, Aloe barbadensis Juice*, Micronized zinc oxide (12.5%), Leuconostoc/Radish root ferment filtrate, Sesamum indicum (sesame) Seed Oil*, Niacinamide, Argania spinosa (argan) Oil*, Cetearyl Alcohol and Cetearyl Wheat Straw Glycosides, Rubus ideaus (red raspberry) Seed Oil*, Squalane, Extracts of Olea europaea* (olive) leaf, Symphytum officinale* (comfrey) leaf and root, and Echinacea purpurea* root, Oenothera biennis (evening primrose) Oil*, Rubus fruticosus (blackberry) Seed Oil*, Calophyllum tacamahaca (tamanu) Oil*, Gluconolactone, Grain Alcohol*+, Xanthan Gum (and) Lecithin (and) Sclerotium Gum (and) Pullulan, Tocopherol (Vitamin E), Populus tremuloides (aspen) bark extract, Astaxanthin, Bergamot FCF essential oil, Citric Acid.
My thoughts: As you can see, this mineral face sunscreen has a lot of beneficial botanical ingredients.  Even the preservatives are botanical.  There are no ingredients that raise concerns.  I love the fact that niacinamide (vitamin B3) is used.  Studies show that it helps protect from UV light damage, improves skin elasticity, and reduces blemishes and inflammation (source).
It has practically no whitening effect.  The reason for that Blissoma uses a low percentage of non-nanoparticled zinc oxide (only 12.5%) that does not produce the whitening effect.  However, a relatively high SPF of 25 is achieved due to the herbs and oils in it that have natural SPF properties.
It is non-greasy and perfect for somebody with oily or normal skin. I used to have the skin on a drier side but with the regular use of Crunchi Daylight Cream (which is very hydrating, light, and non-comedogenic), my skin is perfectly normal.
I tested it on a recent trip to Hawaii.  Before going to the beach or swimming pool, I applied it to my face and it protected my skin well.  I did not get any burn or even tanned.
And lastly, I love the fact that it is packaged in glass – less environmental pollution.
In conclusion: this is my favorite mineral face sunscreen of 2019.
Where to buy:  Blissoma website or Amazon
Kari Gran Three Sixty Five SPF 28, 30 ml, $48
Active Ingredient: 17% non-nano zinc oxide
Inactive ingredients: non-gmo rubus ideaus (red raspberry seed) oil, non-gmo prunus domestica (french plum seed) oil, organic macadamia ternifolia (macadamia nut seed) oil, non-gmo aleurites moluccana (kukui seed) oil, organic persea gratissima (avocado) oil, organic simmondsia chinensis (jojoba seed) , oil, organic beeswax, tocopherol (non-gmo vitamin e from sunflower).
My thoughts: It contains a number of nourishing and healing plant oils.  There is only one emulsifier (something that binds water and oils), organic beeswax, which means that it may separate.  Accordingly, you will have to shake it well before applying, especially when you first open it.  Emulsifiers may be a source of irritation for sensitive skin so the absence of those moisturizers makes this mineral face sunscreen perfect for those with sensitive skin.  This product is made without water, which means that no preservatives are needed, which can be another source of concern.  All in all, I think this is a perfect face sunscreen for sensitive skin.
The whitening effect is minimum.
Due to the absence of water and emulsifiers, the consistency of this mineral face sunscreen is close to facial oils.  My skin is on the dry side, so it is good for me, and I don't have to use a moisturizer first.  If your skin is oily, you might find it greasy though.  I put on this face sunscreen, let it dry, and follow up with Crunchi primer and foundation.  I am able to achieve a slightly dewy effect using this non-toxic mineral face sunscreen under a Crunchi foundation.
And lastly, I love the fact that it is packaged in glass – less environmental pollution.
Where to buy:  Kari Gran website (I do not get any credit for your purchases there), Credo Beauty (a retailer selling safer skin care and cosmetic products), Amazon
Juice Beauty SPF 30 Mineral Moisturizer Sheer, 2 oz, $32
Active Ingredient: 20% non-nano zinc oxide
Inactive ingredients:  Pyrus malus (organic apple juice)*, cocos nucifera (organic coconut oil)*, vitis vinifera (organic white grape juice)*, aloe barbadensis (organic aloe leaf juice)*, caprylic/capric triglyceride, sorbitan stearate, ricinus communis (castor seed oil), polyglyceryl-10 laurate, magnesium sulfate, helianthus annuus (organic sunflower seed oil)*, simmondsia chinensis (organic jojoba seed oil)*, tocopherol (Vitamin E), sodium hyaluronate (vegetable hyaluronic acid), phenethyl alcohol, ethylhexylglycerin, citrus reticulata (mandarin) & citrus aurantium (petitgrain) pure essential oils *certified organic ingredient
My thoughts: I love how light and non-greasy this face sunscreen is.  Because it has water and typical emulsifiers, it has the texture of a typical lotion. It goes on very white at first but it dissipates quickly.  I use a light and absorbent Blissoma moisturizer (my favorite Blissoma moisturizers are Awake, Lift, or Smooth A+ Correcting Serum for the time when I have a few breakouts) first, then the Juice Beauty mineral moisturizer, then Crunchi primer and foundation.  I wait for each layer to dry first before applying next, which happens quite quickly.  Here is my selfie wearing these products.
Because this mineral face sunscreen has water, antibacterial preservatives have to be used.  First of all, I am so glad that the company honestly lists them (not every company does that, unfortunately).
The preservatives used in this mineral face sunscreen are phenethyl alcohol and ethylhexylglycerin.  The Environmental Working Group rates it only 1 (on a scale from 1 to 10), but marks 'irritation' as a high concern.  So for some time, I tried to stay away from it. Recently, I took time to dive deeper into this concern because ethylhexylglycerin has become such a popular preservative in products whose other ingredients I like.
I am glad that it does not have any links to cancer risks and endocrine disruption, which is a huge plus.  In animal and human studies, the Cosmetic Ingredient Review Panel found it to be a mild irritant in undiluted form and not a sensitizer at a concentration of 50% (I do not have information how much is used in the Juice Beauty sunscreen, but according to my knowledge of how skin care products are made, it should way lower than that).
Because the Cosmetic Ingredient Panel is not an independent organization, but rather is industry-sponsored, I always do my best to look into independent studies.
In the medical literature, there are a few cases described where people became allergic to ethylhexylglycerin. Some of those people had unhealthy and sensitive skin, to begin with.  Because of its popularity, there have been more reported cases of allergic contact dermatitis.  As a result, in 2017, the American Society of Contact Dermatitis added it to its core allergen series along with sodium benzoate and lavender.  Sodium benzoate is another common preservative found in plant-based and natural cosmetics,
The American Society of Contact Dermatitis lists ethylhexylglycerin and sodium benzoate as allergens at concentrations of 5%.
I have studied probably all preservatives available out there for skincare product formulators to use and have consulted with product formulators on preservatives (learn more about super bad preservatives here).  Based on my knowledge of other choices for preservatives, I added ethylhexylglycerin to my approved list of preservatives.
If you have a skin reaction to this effective face sunscreen, discontinue using it and let us know in the comments.
In conclusion, I decided to use this mineral face sunscreen and include it in this mineral face sunscreen guide  So far I have not had any problems with it and like the way it feels on my skin.  It has a bit odd scent though.
Where to buy:  Juice Beauty (make sure to choose 'sheer' option), Credo Beauty (a retailer selling safer skin care and cosmetic products), Amazon
Annmarie Sun Love – Natural Sunscreen Broad Spectrum SPF 20, 2 oz, $39.95
Active Ingredient: 15% non-nano zinc oxide
Inactive ingredients: *Helianthus annuus (sunflower) seed oil; *Cera alba (beeswax); *Cucurbita pepo (pumpkin) seed oil; *Cannabis sativa (hemp) seed oil; *Olea europaea (olive) fruit oil; Titanium dioxide, Mica, Iron oxide, Yellow iron oxide, Brown iron oxide, Zinc oxide; Hippophae rhamnoides (sea buckthorn berry) extract; *Mauritia flexuosa (buriti) fruit oil; Lavandula angustifolia (lavender) oil; *Theobroma cacao (cocoa) seed butter
*Organic or wildcrafted
My thoughts: To deal with the whitening effect, they added mineral pigments such as mica, iron oxide, yellow iron oxide, and brown iron oxide to create a tint. If you are a regular reader of my blog, you probably know that I am concerned about possible heavy metal contamination in mineral pigments. However, I believe the topical application of pigments with trace amounts of heavy metals within the FDA guidelines is okay. My concern is more about a possible inadvertent disproportionately high heavy metals contamination, the risk of which can be avoided if the companies buy their pigments from a trusted US or European supplier or better yet if the company sends the pigments they buy to an independent lab for testing. However, to test every batch might be cost prohibitive for small businesses. So far, I have not found a company who would be willing to back up their claims of pigment testing.
With this said, Annmarie buys their pigments from a trusted US supplier and they even showed me pigment documentation that reflects that heavy metals are within the FDA guidelines.
I tried their old formula of the mineral face sunscreen when they had water in it and as a result, had to have a preservative. It worked okay for me.  There was a whitening effect and the tint blended with my skin tone. It is probably hard to say whether you will like the tint for your particular skin tone. But the good news is that you can purchase a sample for $5 with no shipping charge, which comes with a $5 coupon. Good deal, huh?
Where to buy: Annmarie website
By Valenti Organics Choco-Coco White Solid Solar Screen (sunscreen) SPF30+, 4 oz, $15
Active Ingredients: non-nano Zinc Oxide – 8%, sunscreen grade non-nano Titanium Dioxide – 10%
Inactive Ingredients: Organic Coconut (Cocos Nucifera) Oil, Organic Virgin Coconut (Cocos Nucifera)Oil, Organic Shea (Butyrospermum Parkii) Butter, Organic Cocoa (Theobroma Cacao) Butter, Organic Carnauba (Copernica Cerifera) Oil.
My thoughts: Unfortunately, I have not had a chance to try this mineral face sunscreen so as I can't say how much whitening effect it leaves. If you have tried it, please share your feedback with us. I wanted to include it because I had recommended By Valenti Organics skincare products before and some of you asked me about this sunscreen. The inactive ingredients are all organic and pure. Ms. Valenti strikes me as a person of integrity and who is passionate about doing the right thing.
Where to buy: By Valenti Organics website
Badger Balm Tinted Sunscreen – SPF30 Unscented Cream, 2.9 oz, $15.99
Active Ingredients: Non-Nano, Uncoated Zinc Oxide 18.75%
Inactive Ingredients: *Helianthus Annuus (Sunflower) Seed Oil, *Cera Alba (Beeswax), Tocopherol (Sunflower Vitamin E), *Hippophae Rhamnoides (Seabuckthorn) Fruit Extract, Iron Oxides (C.I. 77492, C.I. 77499) (and) Jojoba Esters.
*=Certified Organic
My Notes: I tried it on vacation in Hawaii where I needed something more protective from both UVA and UVB rays. The tint was lighter than my skin tone so my face looked like I chose a bad foundation. But it was still a much better option than the un-tinted one. I wanted to include it because the botanical ingredients are organic and good for your skin, it is effective, and it may work for you as well. There are lots of Amazon reviews you can read through to figure out if it is worth a try. Like the majority of companies, they do not test their pigments for heavy metals but buy them from trusted European suppliers.
Where to buy: Badger Balm website or Amazon
Hana Organic Skincare Everyday Crème (with 15 SPF), 15 ml, $38
Active Ingredients: 12% non-nano zinc oxide
Inactive Ingredients: *rose, *calendula & *lavender-infused *apricot oil; *jojoba & *rosehip seed oils; *cocoa butter; aloe vera gel; *rose hydrosol; pure filtered beeswax; non-nano zinc oxide; *vegetable glycerin; vitamin E; Leucidal liquid SF ECOCERT; *geranium & *lavender essential oils 
My comments: This is one of my favorite mineral face sunscreen products for everyday use! The whitening effect dissipates after a few minutes, and it is very moisturizing. The texture is like a traditional crème that I know many of you like. It is easy to apply. Because there is water in the composition, a preservative has to be used. The common difficulty with traditional crèmes is that that they have to contain water and preservatives. Those preservatives are often a source of skin irritation or even endocrine disruption. I love Karen's (the owner and formulator) choice of a preservative, Leucidal Liquid, which consists of isolated peptides secreted by the bacteria during the fermentation process of radishes with Leuconostoc kimchi.  Leucidal® Liquid is accepted by Ecocert as an ingredient in certified organic cosmetics.  Because the SPF is only 15, when I know that I will be exposed to the sun for longer than 2 hours, I wear a hat.
Where to buy: Hana Organic Skincare website
So what is next?
All in all, finding a perfect face sunscreen is a bit tricky. A physical barrier is still important even if you wear a mineral face sunscreen. I am glad that I found these options for you.
If you used any of these mineral sunscreens, please share your experiences so we can help each other out.
If you think the sunscreen you use follows the guidelines I outlined here, please let us know what the sunscreen is in the comments. Or simply tell us which out of these sunscreens you would like to try.  Don't be a stranger!  Remember your input makes a huge difference.
Your Superpower To Read Ingredients
Imagine looking at the ingredients of any shampoo, conditioner, lotion, or cream and in a matter of seconds being able to decide if it is safe to use!
With this easy unprecendented method, you will be able to spot potentially harmful personal care or skincare products that may cause irritation, an allergic reaction, or increase the risk of endocrine disruption or cancer.