Innersense Sulfate-Free Shampoo for Curly Hair Review
This post may contain affiliate links. To read our affiliate policy, click here.
Today we will take a closer look at the ingredients of yet another Innersense shampoo to make an informed decision about its safety. It is a sulfate-free shampoo for curly hair with hydrating and nourishing properties. You will see that while the Skin Deep database powered by the Environmental Working Group is the best resource of research for ingredients used in personal care products, it has its shortcomings.
There are three main categories of ingredients in the Innersense Hydrating Cream Hairbath sulfate-free shampoo for curly hair that can help us understand whether it can be considered safe. These ingredients are preservatives, coating agents (aka conditioners), and cleansing agents (aka surfactants).
Innersense Hydrating Cream Hairbath Ingredients
(Note that manufacturers change their ingredients. The following ingredients were accessed online on April 17, 2019.)
Water, Aqua- EAU, Cocamidopropyl Hydroxysultaine1, Sodium Methyl Cocoyl Taurate1, Sodium Cocoyl Isethionate1, Caprylyl/Capryl Glucoside, Glycerin6, Glyceryl Stearate SE6,Persea Gratissima (Avocado) Oil3*, Butyrospermum Parkii (Shea Butter)2*, Calophyllum Inophyllum (Tamanu) Oil4*, Plumeria Actufolia Flower Extract (Monoi Oil)9, Hydrolyzed Quinoa, Hydrolyzed Rice Protein, Guar Hydroxypropyltrimonium Chloride6, Sodium Lauroyl Methyl Isethionate, Cananga Odorata Flower Oil5, Lavandula Angustifolia (Lavender) Oil7, Citrus Aurantium Dulcis (Orange) Peel Oil, Salvia Sclarea (Clary) Oil, Vanillin, Pogostemon Cablin Oil, Glycine Soja Oil, Sodium Benzoate, Pyrus Malus (Apple) Fruit Extract, Citric Acid, Potassium Sorbate, Simmondsia Chinensis (Jojoba) Seed Oil8*, Oryza Sativa (Rice) Extract*, Taraxacum Officinale (Dandelion) Leaf Extract, Salvia Officinalis (Sage) Leaf Extract, Melissa Officinalis Leaf Extract.
*Certified Organic
Plant Source
1 Coconut, 2 Shea Butter, 3 Avocado Oil, 4 Tamanu Oil, 5 Ylang Ylang, 6 Mixed Plant, 7 Lavender, 8 Jojoba Seed Oil, 9 Monoi oil, 10 Clary Sage
Innersense Sulfate-Free Shampoo for Curly Hair Preservatives
Sodium benzoate
The Skin Deep database gives sodium benzoate a rating of 3. It is popular not only as a preservative in so-called "organic" and "natural" shampoos but also in processed food. According to the EWG, sodium benzoate's toxicity is low.
To learn more about sodium benzoate visit here. All in all, though not perfect, it is a safer preservative among the alternatives.
Potassium sorbate
The Skin Deep database gives this anti-mold preservative a rating of 3. The good thing about potassium sorbate is that it is not an allergen or irritant. Food manufacturers use it to preserve their products, too. Yet, I do draw your attention to the discovery of one study that potassium sorbate can modify the DNA within white blood cells.
Coating agents in the Innersense Hydrating Cream Hairbath
These agents serve as a last resort for hair damaged by chemical coloring. They bind moisture to the hair, make it smooth, prevent static and frizz and add volume.
Guar hydroxypropyltrimonium chloride
The Cosmetic Ingredient Review doesn't find guar hydroxypropyltrimonium chloride genotoxic, sensitizing or irritating. Neither have I found any other studies that would link this component to allergic reactions or irritation.
The Skin Deep database states that it has limited data available on this ingredient and gives it a rating of 1. In the research devoted to quaternary ammonium compounds, I discovered that guar hydroxypropyltrimonium chloride seems to be one of the safest.
Hydrolyzed rice protein
Hydrolyzed rice protein is derived by hydrolysis. The 2006 CIR report indicates no safety test data available for this component. However, we can infer the safety from rice extracts. In the case of non-organic rice, the main concern is pesticides, and the EWG Skin Deep database mentions that. What it doesn't mention is arsenic. Since arsenic is a source of contamination for rice, I suppose hydrolyzed rice protein can be contaminated with arsenic, too (source).
Hydrolyzed quinoa
Hydrolyzed quinoa is a hydrolysate of quinoa. Even with the absence of safety data for this ingredient, we can presume that it is fine. We can base this conclusion on the safety of the other hydrolyzed ingredients and the fact that quinoa is not at risk of being contaminated with arsenic.
Thus, Innersense sulfate-free shampoo for curly hair uses some of the safest hair coating ingredients. They have the potential to make your hair look attractive.
Cleansing agents in the Innersense sulfate-free shampoo for curly hair
The two other names for cleansing agents are surfactants and detergents. These agents are in charge of lather production and actually making your hair and skin clean. Surfactants usually come at the top of the list of ingredients.
When a shampoo seller tells you that its surfactant is coconut-derived, it certainly sounds appealing. However, know that the process of derivation adds a lot of potentially harmful chemicals to the original material.
As a result of the chemical process, the end product is far from what it was at the starting point. A good example of this false appeal is cocamide DEA. It is a surfactant made from coconut. However, the California Proposition 65 List addresses it as an ingredient that may cause cancer.
The odds of finding shampoo cleansing agents with absolutely no concerns are next to zero. One of the reasons is that most of them have either no data or limited safety data in the first place. Some of them act as irritants, allergens, and even carcinogens.
The good news is that the Innersense sulfate-free shampoo for curly hair has safer and milder detergents. There are no sulfates in the Innersense Hydrating Cream Hairbath shampoo, which means they are not going to strip and dry your hair.
But there are 5 surfactants in the Innersense sulfate-free shampoo for curly hair. I don't like that because the concerns of each surfactant can add up. The fewer the better.
Cocamidopropyl hydroxysultaine
On the scale of 1 to 10 with 1 being the safest, the EWG Skin Deep database gives it a rating of 1. It mentions, though, that the data is limited. In my opinion, this ingredient must have a higher rating. You can find out why I think so here.
Sodium methyl cocoyl taurate
Sodium methyl cocoyl taurate is the sodium salt of the coconut fatty acid amide of N-methyltaurine. Unfortunately, the Skin Deep database has not updated its data on this ingredient. But the Cosmetic Ingredient Review Expert Panel delivered a report on its safety in 2015. Get acquainted with the main points of the report here. In general, I believe that sodium methyl cocoyl taurate is one of the safer cleansing agents.
Sodium cocoyl isethionate
It is yet another ingredient with limited data on the EWG Skin Deep database which rates it at 1. From 1993 to 2017, the Cosmetic Ingredient Review (CIR) Panel reported sodium cocoyl isethionate to be non-mutagenic, non-sensitizing, non-irritating, causing no birth defects in animal studies, and practically non-toxic (source). It is considered a mild surfactant.
Sodium lauroyl methyl isethionate
Again, no safety data available for this ingredient on the EWG Skin Deep database, though it rates it at 1. Sodium lauroyl methyl isethionate is a part of the group of 12 isethionate surfactants described in the 2017 CIR safety report. There is a lack of safety information on sodium lauroyl methyl isethionate.
However, the CIR Panel presumes that sodium lauroyl methyl isethionate's safety profile should be similar to sodium cocoyl isethionate, discussed above, because they share their core chemical structure (source). You can learn more about this ingredient in the previous post on Innersense shampoo ingredients.
Caprylyl/Capryl glucoside
Caprylyl/Capryl glucoside is in the group of 19 glucoside surfactants. With the limited safety data on individual glucoside, the CIR Panel assigns the same safety to the whole group based on their usage and chemical similarities. Being mild, they are generally safe.
All in all, in my opinion, the Innersense Hydrating Cream Hairbath sulfate-free shampoo for curly hair contains some of the safer and milder cleansing agents. Nevertheless, there is a risk of sensitization and irritation because there are 5 surfactants, not just one or two.
Conclusion about Innersense sulfate-free shampoo for curly hair
This concludes our analysis of the Innersense Hydrating Cream Hairbath shampoo ingredients. Though good, it is not the safest. This shampoo should work well for chemically treated, damaged, and curly hair. If the potential health risks described above don't bother you that much, go ahead and try this sulfate-free shampoo for curly hair.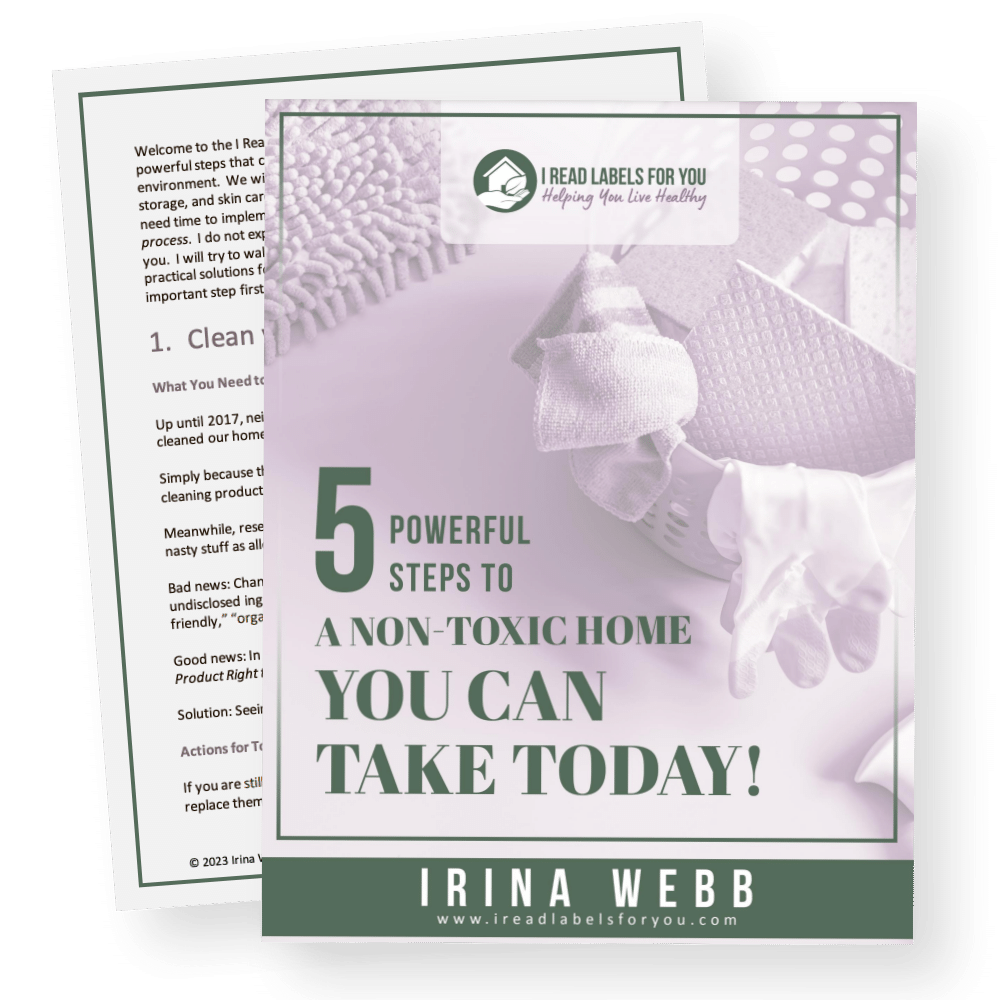 Download The Free Guide!
5 Powerful Steps To A Non-Toxic Home
Join our informed consumer community and get our free guide the "5 Powerful Steps To A Non-Toxic Home".