The empowering truth about hair dyes and cancer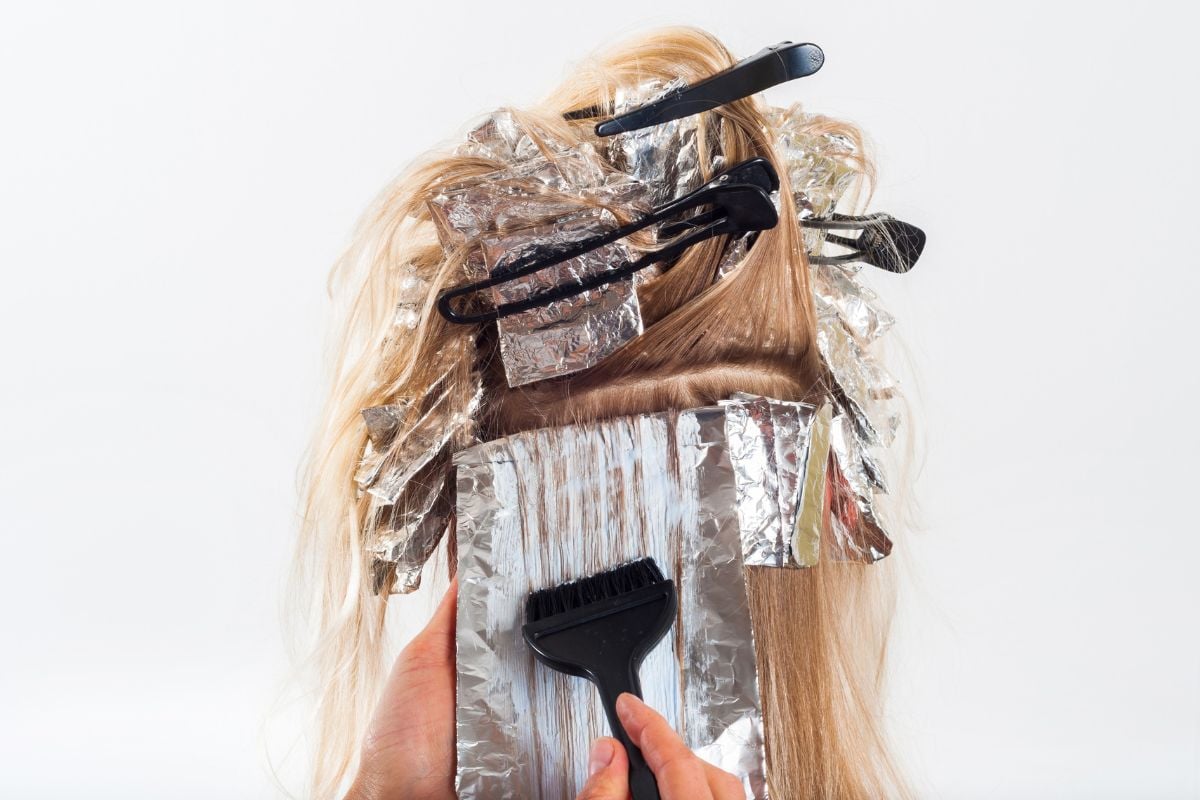 This post may contain affiliate links. To read our affiliate policy, click here.
Is there a link between hair dyes and cancer? Until a week ago, I would have thought, "probably yes, but studies are inconclusive." Unfortunately, it appears that we now know there is a link, thanks to a comprehensive study done out of Finland in 2015, which has made shocking discoveries but somehow has not received much press in the US.
I strongly believe the truth is empowering, and you will learn why. Please read on.
When I was in my 20s, and even early 30s, I did not have any grey hair, but I colored my hair from time to time just for fun, to the dismay of my health-conscious mother.
I never thought much of the hair dyes until somebody mentioned to me that there was an organic hair color, and I got curious how the heck a bunch of stinky and corrosive chemicals can be called "organic," unless they were referring to organic chemistry. (To read why a permanent hair color can't be organic, click here.) I investigated each ingredient in a spreadsheet and rated them based on the European Commission's Scientific Committee on Consumer Safety (SCCS) reports. Please read about my Permanent Hair Color Rating List here.
Before I read the Finnish study about hair dyes and cancer risks
Until a week ago, this is what I knew about hair dyes and cancer.
I knew that there is some connection between hair dyes and bladder cancer and leukemia.
The International Agency for Research on Cancer (IARC) has classified workplace exposure to hair dyes as "probably carcinogenic to humans" based on consistent epidemiologic studies. The studies on personal users of hair dyes did not yield consistent results, though, and thus no verdict has not been made by the IARC. (source)
And then some studies have shown the connection between hair dyes and cancer of the blood and bone marrow, such as non-Hodgkin lymphoma (NHL) and leukemia. Still, other studies have not shown links, so the IARC did not issue any classifications (source).
In addition, some individual hair dyeing chemicals, particularly aromatic amines, have been shown as carcinogenic to animals and they are able to penetrate human skin. FDA published a regulation requiring a warning statement for all hair dye products containing these two ingredients:
4-methoxy-m-phenylenediamine 2,4-diaminoanisole
2, 4-methoxy-m-phenylenediamine sulfate 2,4-diaminoanisole sulfate
The cosmetic industry has since reformulated coal-tar hair dye products and do not use these two ingredients in their hair coloring products. (source)
Is it good enough that the hair dye industry no longer uses these two ingredients?
I do not think so because hair coloring products contain chemical ingredients that are similar to the banned ingredients, for example, para-phenylenediamine (PPD) (source).
Here is what the SCCS report on p-phenylenediamine says:
In two studies, mixtures of p-phenylenediamine and hydrogen peroxide or p-phenylenediamine and resorcinol and hydrogen peroxide were tested by topical application as well as by subcutaneous injection of rats. In both studies, a statistically significant increase in mammary gland tumors was found both after topical application as well as after subcutaneous injection. In 1991, the SCCS considered these studies as inadequate due to deficiencies in group size and duration. However, the SCCS is of the opinion that these results cannot be disregarded.
From the reading ingredients of over 50 hair color brands, I can say that every single permanent hair color I looked at that had PPD has also included hydrogen peroxide and resorcinol or 4-chlororesorcinol or 2-methylresorcinol. In fact, hydrogen peroxide is needed to activate hair dyeing chemicals so they can produce a color in the hair. This means that PPD is linked to an increased risk of cancer in animals and probably human beings but more studies are needed.
Here is another thing that makes me very skeptical of what the FDA says on the topic of hair dyes and cancer.
Color additives used in food, drugs, and cosmetics are subject to the FDA's approval, except for coal tar hair dyes. Non-mineral and non-plant hair dyes are called "coal tar" because they used to be a by-product of the coal industry. Now they are derived from petroleum. (source)
The coal tar dyes are included in permanent, semi-permanent, and temporary hair coloring products.
Moreover, every batch of coal tar dyes is subject to testing and certification by the FDA, which checks to keep these contaminants within specified limits. However, none of this applies to coal tar hair dyes. (source)
I searched the FDA website all over for a possible explanation of why hair dyes are exempt and have not found anything.
So this is what I had learned about the possible link between hair dyes and cancer until recently.
Let me tell you about one more thing before we talk about the shocking discoveries of the Finnish study.
The results of the epidemiological study done in 2005 by the University of North Carolina showed that hair dye use during the month before pregnancy and/or during pregnancy was associated with an almost 60% increased risk of neuroblastoma in newborns, a type of cancer that starts in nerve cells.
Surprisingly, temporary and semi-permanent dyes were significantly more strongly associated with neuroblastoma.
This was consistent with the previous controlled case study that found a threefold increase in the risk of neuroblastoma among children of mothers who used hair dyes during pregnancy (McCall, Erin, Andrew Olshan, and Julie Daniels. "Maternal hair dye use and risk of neuroblastoma in offspring*." Cancer Causes & Control 16.6 (2005): 743-748.).
Studies of other childhood cancers did not yield consistent results (source).
The Finnish study about hair dyes and cancer risk
Now let's talk about the Finnish study published in 2015. I wanted to give special attention to this study because it seems to me a very comprehensive and well-done study.
The study included 6,567 breast cancer patients and their 21,598 matched controls. After adjusting for other risks of cancer (such as smoking, alcohol, the use of hormonal contraceptives and hormone treatment therapy, body mass, family history of breast cancer, level of education, physical exercise, and age), the risk of breast cancer increased by 23% among women who used hair dyes compared to those who did not.
Women who started using hair dyes before the age of 30 had a higher risk of cancer by 7%.
The highest estimates were obtained for women who reported to have used temporary and/or semi-permanent dyes, with 32% and 31% increase in the odds of breast cancer.
While the authors of the study acknowledge the shortcomings of a retrospective study, they believe these findings are significant. They encourage independent and government researchers to focus on the safety of hair dyes.
The authors also acknowledge that individual risks might be still small but believe the risks to public health is significant given that 60% of women in Europe use hair coloring products and between 66% and 74% of women in the US use hair coloring products.
What they mean by that is if your individual risk of breast cancer is 5% with the usage of hair dyes you might be increasing the risk by 32% to 8.8%.
Let's see what the American Cancer Action group has to say about that.
The American Cancer Action organization tells us that 50-70% women who are diagnosed with breast cancer have no known cancer risk factors such as smoking, alcohol, radiation from X-rays, having children later in life, the use of hormonal contraceptives, and family history. They suspect that exposure to toxic chemicals has something to do with that.
And they also report that in the 1960s, a woman's lifetime risk for breast cancer was 1 in 20. Today it is 1 in 8.
What can we do to reduce the risks of cancer?
Obviously, not using any chemical hair dyes is the best choice. And at the very least, I highly recommend that women who are planning to conceive stop coloring their hair at least one month before conception.
I know, it is easy for me to say because I have a very small amount of grey hair so far and can get away with using nothing, or the Hairprint Color Restorer or henna-based herbal muds.
If you feel that you have to use a hair dye, consider ways to minimize contact with the scalp. Some examples include capping, foiling, and placing ointment on the scalp to create a barrier.
Some researchers recommend reducing the time of dye application by 25 percent for each hair-dying session (source).
I also encourage everyone to share this uncomfortable conversation with friends and hairdressers.
Here is the empowering truth about hair dyes and cancer.
If you decide to continue using a hair dye, you can do everything in your control to reduce your exposure to potentially harmful substances in other areas of your life (and I can certainly help you with that) and reduce all other cancer risk factors so your overall cancer risk profile does not go up. Does that make sense? Please let us know in the comments.
The thing is if we do not talk about the hair dyes and cancer connection, we will never see any improvements. But if we do talk about it, with each other, with our friends, and with our hairdressers, at some point, we will. I am sure of it.
Maybe as a society, we can change the stereotypes of beauty. Possibly, we can learn that grey hair is beautiful or valuable because it is a sign of aging and, thus, experience and wisdom. Maybe it is time to learn to value older people because they are the ones who have experience and enlightenment, and their grey hair attests to that.
We do need to figure something out together and quickly.
Please let me know in the comments what you think in the comments.
Let me also know how you think I can help you. Do you think you would be interested in another Hair Color Rating List that would focus solely on cancer risks? I can try to dig out as much information as possible about which hair dyes are more likely to be problematic. Please let me know.
Tell us something. At the very least, I want to hear if you will continue using a hair color after reading this. Together we are stronger. And I want you to be healthy and happy.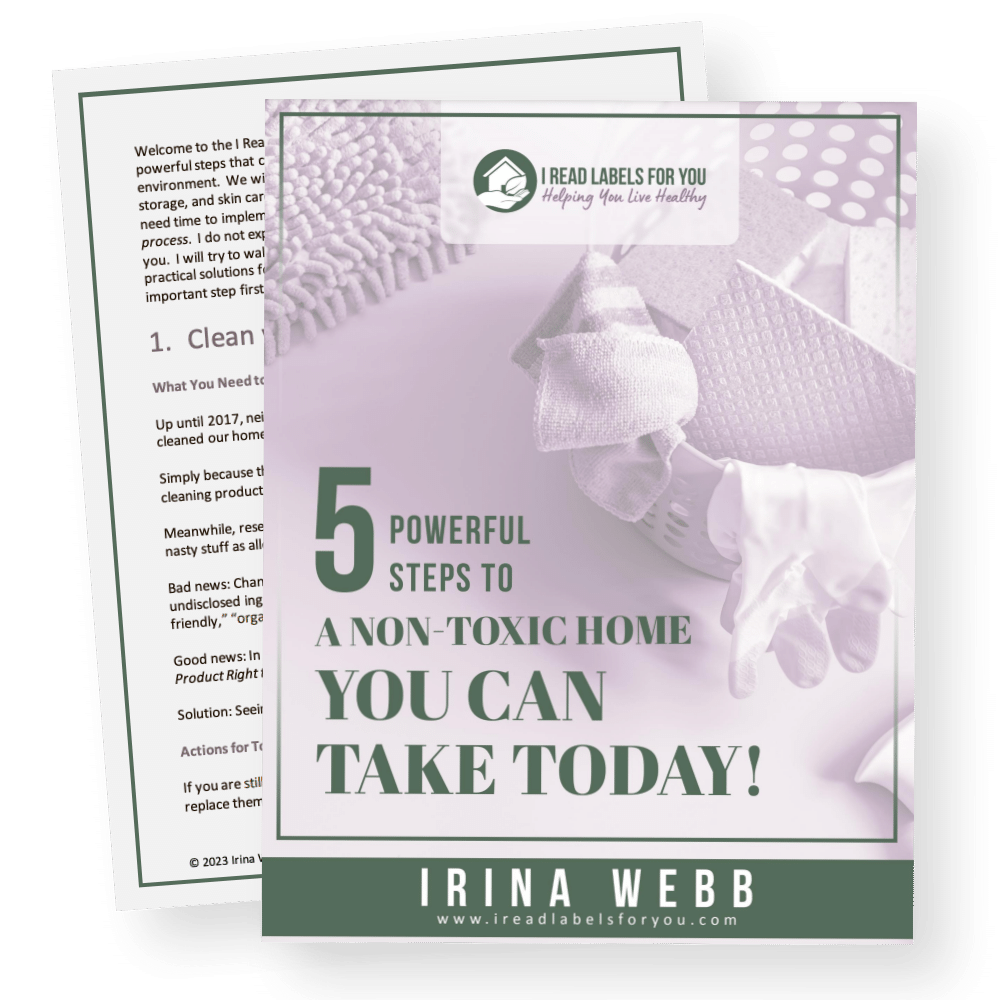 Download The Free Guide!
5 Powerful Steps To A Non-Toxic Home
Join our informed consumer community and get our free guide the "5 Powerful Steps To A Non-Toxic Home".