Are All-Natural Shampoo Bars Good for You?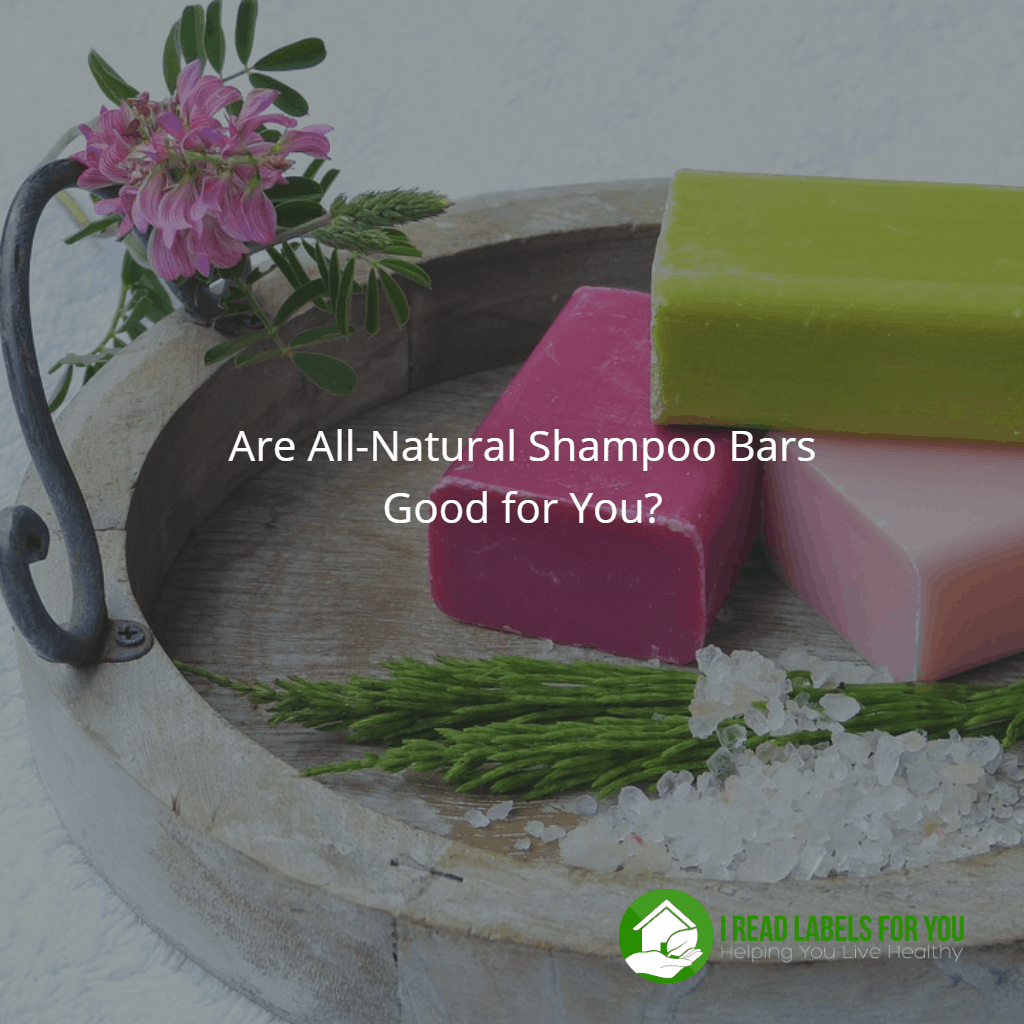 This post may contain affiliate links. To read our affiliate policy, click here.
I I I spent the whole year of 2014 trying all kinds of shampoos. As a result, I ruined my hair but also learned a lot. For example, I learned how to read the ingredients for any shampoo and predict accurately how it will work on my hair. I also concluded back then that so-called all-natural shampoo bars don't work for my hair, because they leave soap residue making my hair greasy.
Thus, even though using an all-natural shampoo bar is the best option from an environmental and health standpoint, I had to go back to conventional shampoos in plastic bottles.
My recent experience with an all-natural shampoo bar
5 years later, I keep hearing from some of you how much you like your all-natural shampoo bars. So, I decided to give it another try. Since we recently installed a whole house water filter (yay!), I was hoping that it would make a difference.
And, I have never used any shampoo on my 6-year-old son. I use regular bar soap on him, and his hair is shiny, light, and non-greasy.
Unfortunately, the same problem occurred, and even worse. After one wash, there was soap residue left in my hair, making it look greasy, dirty, and heavy. My scalp was itching so badly that I could not wait to wash my hair with shampoo.
With this said, all-natural shampoo bars are the healthiest option, because they are made with simple ingredients, the way soaps have been made for centuries. More on this below. Moreover, they do not pollute the environment. Plus, they really do work for a lot of people. So, I am going to tell you more about them. Maybe you will be inspired to try them, and you will love using them as much as many other people do.
What are all-natural shampoo bars?
A shampoo bar looks like a bar of soap. An all-natural shampoo bar is made by the same process of saponification as a soap bar. Saponification is a reaction of plant oil with an alkali — in this case sodium hydroxide. The alkali does not remain in the final product.
The principal difference between a shampoo bar and a bar of soap is that in an all-natural shampoo bar, you will find oils that are beneficial for the health of hair.
Besides saponified oils, an all-natural shampoo bar will normally contain other plant oils that have not gone through the process of saponification. These oils are normally coconut oil or argan oil.
Why use an all-natural shampoo bar?
If you're a regular reader of my blog, you know that I'm a big fan of saponified soaps because they are free of animal testing, toxins, and untested chemicals. Saponification is the process used for making soap for hundreds of years.
Recently, there has been a proliferation of synthetic surfactants (cleansers) widely used in shampoos, toothpastes, liquid dish soaps, and laundry detergents, to name a few. While we use them in so many places, most of them have not been studied enough to assure their safety.
Some synthetic surfactants have received bad press, such as Sodium Lauryl Sulfate (SLS) and Sodium Laureth Sulfate (SLES). Another, Cocamide DEA, has been added to the California Proposition 65 list of chemicals known to cause cancer and birth defects. Cocamidopropyl Betaine, a very common surfactant in so-called "natural", "organic", and "green" shampoos, is known to cause allergic skin reactions in some people. The American Society of Contact Dermatitis lists Cocamidopropyl Betaine as one of the core allergens, even in concentrations as low as 1%. Due to high rates of cases involving allergic reactions, it was named the 2004 Allergen of the Year by the American Contact Dermatitis Society.
Other surfactants might be as bad but have not been widely studied for their impact on human health and the environment.
Since all-natural shampoo bars don't have these synthetic surfactants, they are potentially much healthier for you. Neither do they have preservatives, which are often a cause for concern. You can read more about preservatives here.
Lastly, by using an all-natural shampoo bar, you avoid using plastic bottles that pollute the environment, and which may leach synthetic estrogen into the shampoo. Also, you won't be paying for transportation of water in the shampoo (which is heavy and, therefore, costly to transport). And you won't be buying ingredients that are needed only for liquid shampoo. For more discussion about bar soap versus liquid soap, visit my post here.
How I used an all-natural shampoo bar
Apply it to the scalp directly and lather by gently massaging your scalp (you do not have to apply it to the ends of the hair)
Rinse with organic apple cider vinegar solution. I recommend a 1:3 ratio of organic apple cider vinegar to filtered water. With a 1:1 solution, you might get a brassy color in your hair.
Which all-natural shampoo bar to use?
I would suggest trying J.R. Liggett's Old Fashioned Shampoo Bar. This solid shampoo bar has a ton of positive Amazon reviews. I verified with fakespot.com to make sure that they are not fake. The company gets a rating of A on fakespot.com, which is great.
The all-natural shampoo bar ingredients are as follows:
Saponified Olive Oil, Coconut Oil, Castor Oil and Sunflower Oil; Organic Virgin Coconut Oil, Argan Oil, Vit. E
– NO FRAGRANCE ADDED –
You can buy this natural shampoo bar on Amazon.
What is next?
I encourage you to try an all-natural shampoo bar that is made with saponified plant oils. If you have tried a shampoo bar and know that it does not work for you, check out the shampoo I am currently using.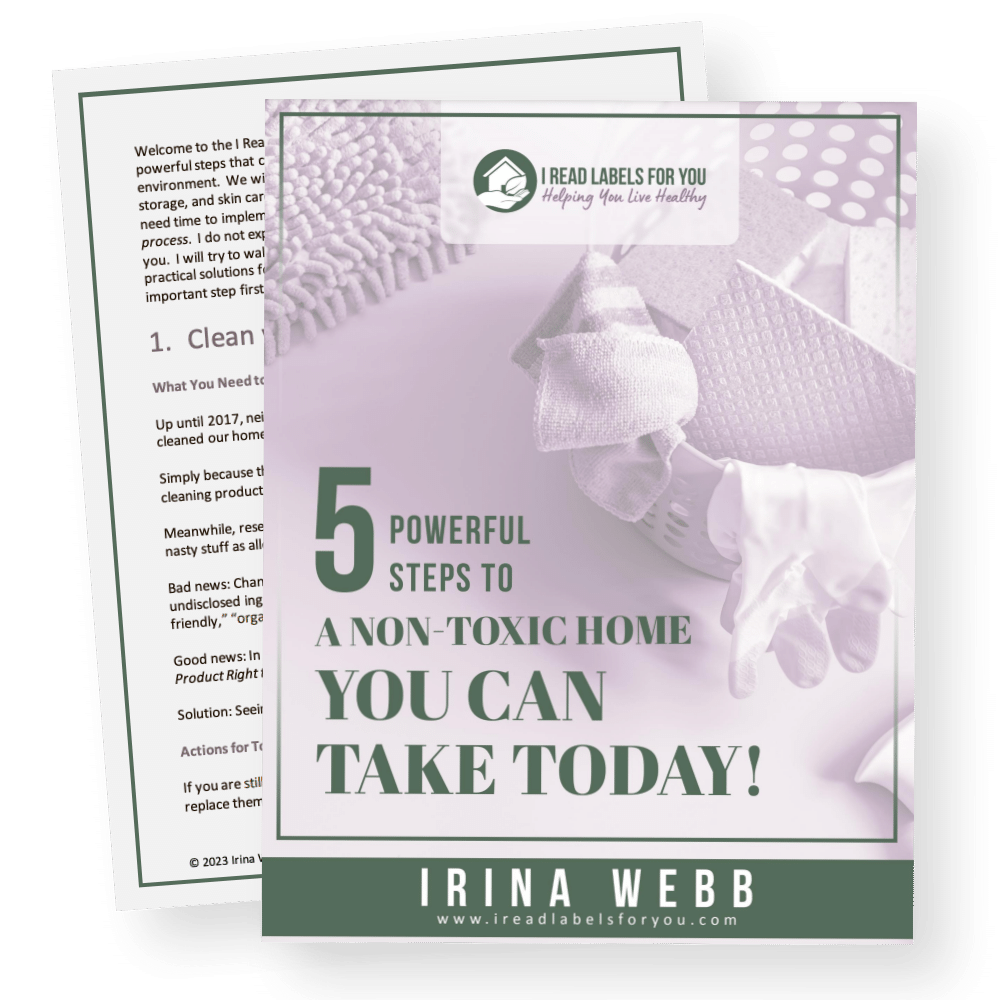 Download The Free Guide!
5 Powerful Steps To A Non-Toxic Home
Join our informed consumer community and get our free guide the "5 Powerful Steps To A Non-Toxic Home".