Best Organic Mattress Review
This post may contain affiliate links. To read our affiliate policy, click here.
It has been a few years since we bought our organic mattress and I can tell you, "We love it!" When we were shopping, I wanted not only a non-toxic mattress but also an affordable and super comfortable one. I did lots of research, and in the end, the Naturepedic mattress won my heart. Now I can say that it is the most comfortable mattress I've ever slept on.
Is Naturepedic a truly organic mattress?
Many mattress makers claim that their mattresses are organic, but what does that truly mean? It may mean that some of the materials that go into their mattresses are certified organic. Also, it may mean that the mattress is made of natural materials – wool and cotton, instead of petroleum foam.
What it should mean is that the whole mattress is certified to the Global Organic Textile Standard (GOTS). And Naturepedic organic mattresses are. In fact, Naturepedic mattresses are the only mattresses that carry every possible certification in the organic mattress industry. They also provide up-to-date certification documentation right on their website.
GOTS certifies that the entire supply chain (processing, manufacturing, packaging, labeling, trading, and distribution) is environmentally and socially responsible. Among other things, all heavy metals, aromatic solvents, formaldehyde, GMOs, and nanoparticles are prohibited in the sourcing, manufacture and distribution of GOTS-certified products. You can learn more about how to buy an organic mattress in my non-toxic mattress guide.
What are the components of a Naturepedic non-toxic mattress?
Unfortunately, most conventional mattresses are made with petrochemical polyurethane foam which is toxic to manufacture, use, and dispose of. Among other things, polyurethane foam emits potentially harmful gases such as Volatile Organic Compounds (VOCs). In fact, polyurethane foam is one of the top pollutants. You can read more about it in my post about polyurethane foam and furniture.
In contrast to toxic foam, a Naturepedic organic mattress utilizes safe materials. They include stainless-steel coils, organic cotton and wool, organic latex foam, and polylactide (PLA).
Polylactide in Naturepedic safe mattresses
PLA is derived from non-GMO plant starch through the process of fermentation. At first, I struggled with the fact that PLA, a synthetic fabric with little known about it, goes into a Naturepedic non-toxic mattress. But then I learned that PLA has GOTS approval for use in organic mattresses. On top of that, PLA meets the Greenguard Gold standard. Naturepedic also provided me with actual test reports. They showed that the PLA they use adheres to my safety standards for gas emissions and other substances.
Stainless-steel coils in a non-toxic mattress and the issue of EMF
You may have heard about electro-magnetic fields (EMF) and their connection to innerspring mattresses. The detailed overview of this issue is in my e-book The Savvy Consumer Fast Track: Mattresses. Since we own a metal spring mattress, I had professionals come to my house and measure EMF levels. Our mattress coils don't act as EMF source and don't increase exposure to EMF in any significant regard. So, to answer the question about the safety of innerspring mattresses, in my opinion, they are generally safe products for people without electric sensitivity. And I also believe that it is important to make efforts to reduce EMFs at home. Especially it concerns sleeping areas (e.g. by keeping smart phones, computers and electrical devices away from your bed).
How do Naturepedic organic mattresses pass the Federal government's flammability tests?
All mattresses must pass two types of Federal flammability tests – open fire and smolder. Often mattress manufacturers add toxic flame-retardant chemicals to mattresses to pass these tests. Some manufacturers claim that instead of flame-retardant chemicals they use non-toxic flame barriers. However, they do not seem to want to answer what those barriers are made of.
There are two simple reasons Naturepedic's non-toxic mattresses have no flame-retardant chemicals or barriers.
To begin with, Naturepedic mattresses do not have any petroleum foam, which means they are not highly flammable in the first place. And secondly, Naturepedic organic mattresses contain wool and PLA. As you may know, wool does not catch fire easily; instead, it smolders. That's why Naturepedic uses PLA to pass the smolder testing.
How comfortable are Naturepedic safe mattresses?
Super comfortable! In fact, here is a funny story. The first morning we slept on the Naturepedic organic mattress, my husband and I woke up feeling tired and sore. But from the next night on, we have slept like we were in heaven. Yes, they are that comfortable. Both my husband and I love our Naturepedic organic cotton mattress.
My husband says, "I travel a lot for work and know that some mattresses are comfortable, and others are a recipe for a restless night and stiffness the next day. Our old mattress was pretty comfortable, although it was starting to show its age. I was resistant to giving it up for something that might or might not ultimately work out. As it turns out, I'm thrilled about this organic mattress, and we'll never buy one from anyone else."
In fact, with our son growing out of his crib mattress, we have bought him an organic twin mattress at Naturepedic, too. He loves it, and I have peace of mind that my son sleeps on a non-toxic mattress. If you are looking for a crib mattress, please read my posts about the organic crib mattress I recommend, as well as solid wood cribs.
One of the reasons we feel that Naturepedic mattresses are the best organic mattresses is that they come in different degrees of firmness, and you can choose what works for you. You can even select dual firmness as we did. My husband uses a firmer side, and since I weigh less, I need a much softer surface.
Where can you buy these best organic mattresses?
We bought ours at a local store. You can find the location of a Naturepedic store closest to you on their website. My recommendation is to play with the functionality on the website first (there is a feature allowing you to select the right mattress for you). Then, call the customer service with any questions you have. After that, you can decide if you want to buy your organic mattress in a store or through the website.
To reduce the anxiety of buying a mattress without trying it out, Naturepedic has made it easy. They provide a 30-day money back guarantee if you purchased from Naturepedic directly. If you buy online, use the discount code IREAD15 to get 15% off, which makes a huge difference, especially with an investment like this.
Certainly, a Naturepedic non-toxic mattress is more expensive than a petroleum mattress. However, to my knowledge, they are among the most affordable in the organic mattress sector. We bought an EOS classic mattress, which is the least expensive line of Naturepedic safe mattresses, and we do not feel that we are missing out on anything.
Conclusion about Naturepedic organic mattress
I admire Naturepedic for their transparency. Quite frequently manufacturers withhold information from me, but Naturepedic went out of its way to provide me with all the information I sought. I even sat down with Barry Cik, Naturepedic's Founder, CEO and Technical Director, and asked him a lot of questions, all of which he answered to my satisfaction. His integrity and vision to provide everybody with affordable, comfortable and safe mattresses impressed me. We are thrilled to own a Naturepedic non-toxic mattress and I hope you will be, too.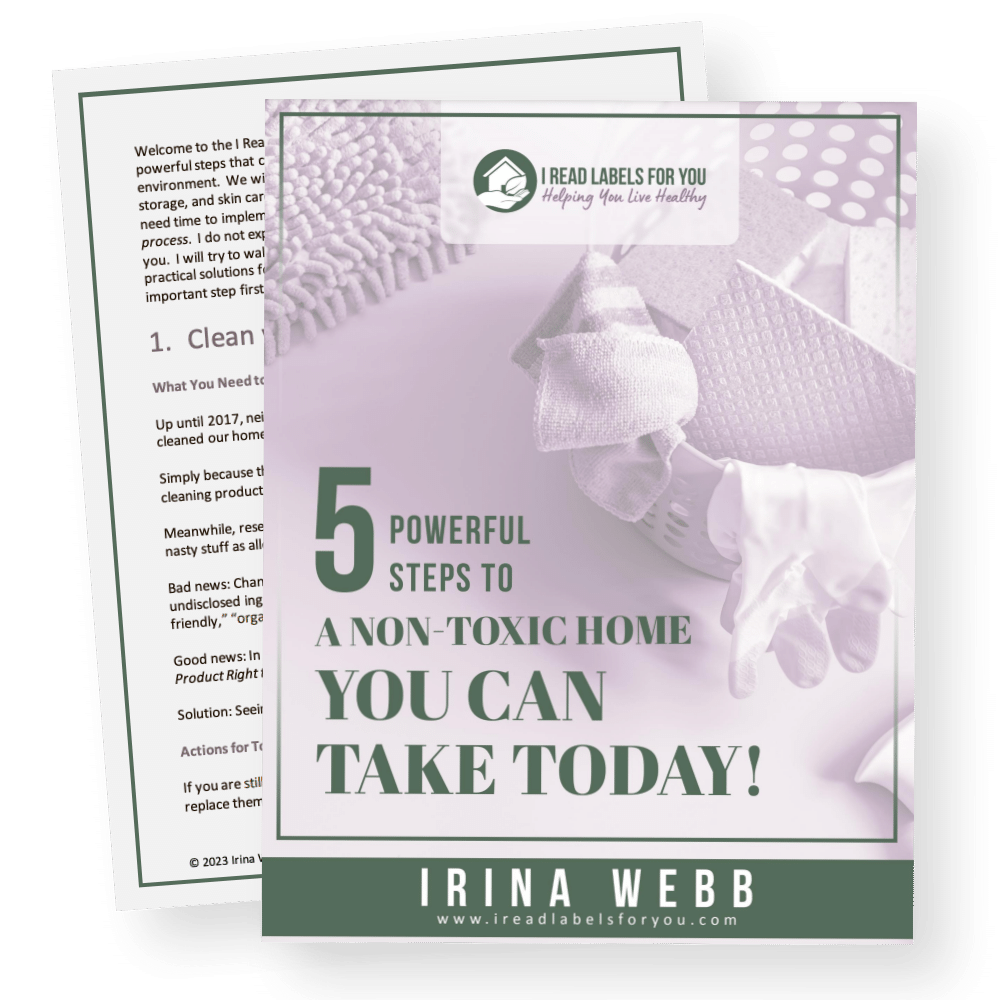 Download The Free Guide!
5 Powerful Steps To A Non-Toxic Home
Join our informed consumer community and get our free guide the "5 Powerful Steps To A Non-Toxic Home".