This post may contain "affiliate links." This means if you click on the affiliate link and purchase the item, I'll receive a commission. I disclose this in accordance with the Federal Trade Commission's 16 CFR, Part 255. I only recommend products that passed my strict criteria. Read about my research methods in the Start Here page.
Last updated on August 2nd, 2018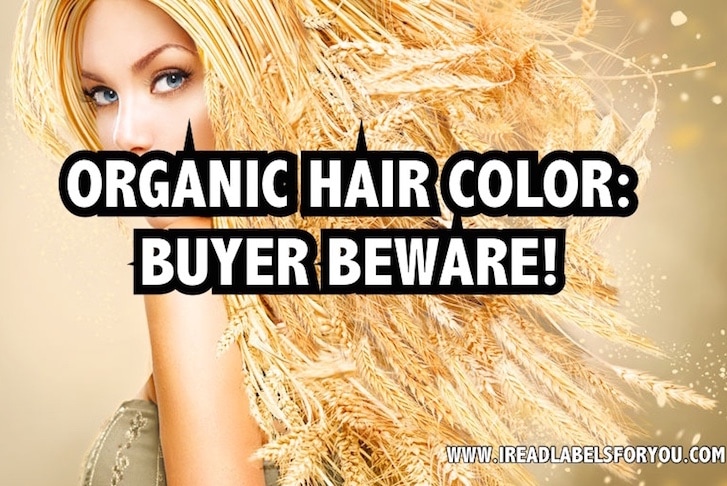 If you type "Organic Hair Color" into Google, it will retrieve over 14 million results. You will see the phrase "organic hair color" repeated over and over again. You might start thinking that maybe there really are organic hair color products. But wait a minute. Is it really possible for a hair color to be organic? Let's talk about organic hair color products.
What does "organic" mean?
In the U.S., some agricultural products are certified as organic by the United States Department of Agriculture ("USDA") under its National Organic Program ("NOP"). However, cosmetics, skin care and personal care products are regulated by the Food and Drug Administration ("FDA"), which does not define or regulate the term "organic."
With this said, some personal care products meet USDA labeling standards because the USDA certifies 95% of their ingredients as organic. This allows some personal care products to be certified as organic by the USDA.

For example, as we will see below, there are some facial balms that carry the USDA certified organic symbol. This means that the product has met USDA standards. However, because the USDA does not regulate personal care products, and the FDA (which regulates personal care products) does not regulate use of the term "organic", there is no law prohibiting other manufacturers of facial balms from using the term "organic" to promote their own facial balms, as long as they don't use the USDA symbol.
In other words, this means that anybody can say that their cosmetics, skin care or personal care products are "organic" – even if they are made with highly toxic materials – without any legal repercussions (as long as they do not display the USDA organic seal on their products or website). Nobody is stopping them; it is up to us as consumers to become educated about whether a product is truly worthy of the lofty term "organic."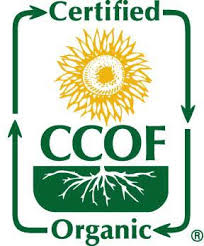 Because the USDA organic symbol is hard and expensive to obtain and maintain, a lot of smaller farmers are certified organic through other means. For example, the California Certified Organic Farmers organization ("CCOF") is a well-regarded organization that certifies food that meets its standard as being worthy of being called "organic." Its symbol looks like this. 
There are other certifying organizations, as well.
The point is that as a society, we have come to understand that the term "organic" means that a product objectively adheres to certain well-understood standards of health and safety that have been agreed upon by thoughtful people comprising an independent certifying organization, and that the term "organic" should not be something a manufacturer simply decides on its own to call its product, based upon its own subjective (and often undisclosed) standard – or no standard at all – in order to sell its products.
In short, if you do not see the USDA organic seal on an organic hair color product, that means it is NOT considered organic according to the USDA's objective standard.
Can organic hair color have a USDA organic seal?
No, for reasons that follow.
I am not aware of any hair color products that carry the USDA organic seal. The only possible exception is that certain henna has been certified organic. Henna is a fine powder of dried and crushed leaves of the lawsonia inermis plant that apparently works for some people as a hair color treatment. You can read about my experience with it here.
Why don't organic hair color products carry USDA organic seals?
First of all, know that for a product that consists of more than one ingredient to receive USDA organic certification, it has to be comprised of at least 95% ingredients that are themselves certified organic (aside from water and salt which are not counted when making the 95% calculation).
Take soup, for example. If 95% of its ingredients (setting aside water and salt) are themselves certified organic, then the soup can also receive USDA organic certification.
How does this apply to so-called organic hair color products? In order to determine whether a hair color product (the "soup") can be certified organic, we first have to see if at least 95% of its (non-water, non-salt) ingredients themselves have been certified organic.
As stated by the USDA, for a hair color product ingredient to be eligible for organic certification, it has to be "an agricultural ingredient that meets the USDA/NOP organic production, handling, processing and labeling standards." (Source). Notice that to be eligible for organic certification, an ingredient has to meet organic production and processing standards. Here is what the USDA/NOP states: "The operations which produce the organic agricultural ingredients, the handlers of these agricultural ingredients, and the manufacturer of the final product must all be certified by a USDA-accredited organic certifying agent."
This means that a personal care ingredient has to originate from an organic agricultural plant, vegetable or fruit.
Normally that means that minimally processed ingredients are derived without adding non-agricultural ingredients. For example, oil derived with hexane, a petroleum solvent, would not be qualified as organic. Processes that are qualified to be organic include cold pressing, filtration, infusion, distillation, grinding, and dehydration.
Examples of certified organic ingredients would be plant oils (e.g. olive oil, jojoba oil, coconut oil) and herb or plant extracts (e.g. calendula extract, seabuckthorn berry extract).
Here is an example of the ingredients in a USDA certified organic facial balm (made by Badger).
Damascus Rose Beauty Balm Ingredients: *Olea Europaea (Olive) Fruit Oil, *Ricinus Communis (Castor) Seed Oil, *Cera Alba (Beeswax), *Lavandula Angustifolia (Lavender) Flower Oil, *Rosa Canina (Rosehip) Fruit Extract, *Hippophae Rhamnoides (Seabuckthorn) Fruit Extract, *Rosa Damascena (Rose) Flower Oil, *Calendula Officinalis (Calendula) Flower Extract, *Anthemis Nobilis (Chamomile) Flower Oil.
On the other hand, lathering agents (aka surfactants) can not be certified organic, because they are not "an agricultural ingredient that meets the USDA/NOP organic production, handling, processing and labeling standards."
For example, let's look at the surfactant sodium laureth sulfate that is often claimed to be "natural" because it is derived from coconut oil. Yes, it can be made from, or derived from, certified organic coconut oil.  To make sodium laureth sulfate, though, the coconut oil is first turned into fatty acids that are used to derive lauryl alcohol. Then, the lauryl alcohol is treated with sulfur trioxide gas or chlorosulfuric acid to produce sodium lauryl sulfate.  And finally, the sodium lauryl sulfate is treated with carcinogenic ethylene oxide.
It seems to me by the time organically grown coconuts have traveled the distance to become sodium laureth sulfate, there is not much left in it to remind us of coconuts, and this is why the USDA requires ingredients to meet organic processing standards.
What does all of this have to do with hair color products?
In order to receive USDA organic certification, so called organic hair color products have to be made solely from extracts, oils, sea salt and water. Are they?
No. As you can imagine, hair color products are made with mineral pigments and petroleum dyes (mostly petroleum dyes). None of these ingredients can be USDA-certified organic, for one very good reason – they are not agricultural products subject to the jurisdiction of the USDA.
In addition, pseudo organic hair color products have chemicals that open up hair cuticles and push mineral pigments and petroleum dyes into the hair. These include, for example, ammonia, hydrogen peroxide, 2-methylresorcinol, and resorcinol. None of these even remotely resembles agricultural products.
And then there are preservatives, surfactants, and emulsifiers that can never be organic because they are made in a way similar to sodium laureth sulfate – in a multistep process that significantly changes the substance, even if it was originally derived from a certified organic agricultural product; i.e. they are not ingredients that meet organic processing standards.
Some so called organic hair color products contain a few certified organic ingredients that moisturize and sooth the scalp. For example, Organic Color Systems has 5 certified organic ingredients such as alcohol, symphytum officinale, comfrey root, aloe barbadensis, aloe vera leaf, citrus aurantium dulcis, orange peel, citrus grandis, and grapefruit seed. Great! However, the product also lists about 25 other ingredients, such that the proportion of the product that is comprised of organic ingredients would be much less than 95%. This means that Organic Color Systems is not organic, either by USDA standards or by any other objective standard set by any independent organization.
In conclusion, no – organic hair color products are not organic and can't be organic. In order to function properly as hair dyes, they need non-agricultural ingredients and lots of them. For that reason, they cannot meet USDA organic standards.
And this makes me sad. A lot of people (think pregnant and breastfeeding women) see the word "organic" and think this means that the product will not harm them or their baby, when there are a lot of ingredients whose safety is questioned or unknown.
Yet manufacturers persist because the USDA is powerless to stop them (as long as they don't use the USDA symbol), and the FDA (which has jurisdiction over hair color products) has not implemented an objective standard as to whether something is organic. This regulatory loophole means that manufacturers are free to use the term "organic" wholly unfettered by our reasonable expectations as consumers that the word "organic" has objectively verifiable meaning.
This is yet another area where the phrase caveat emptor ("buyer beware") applies.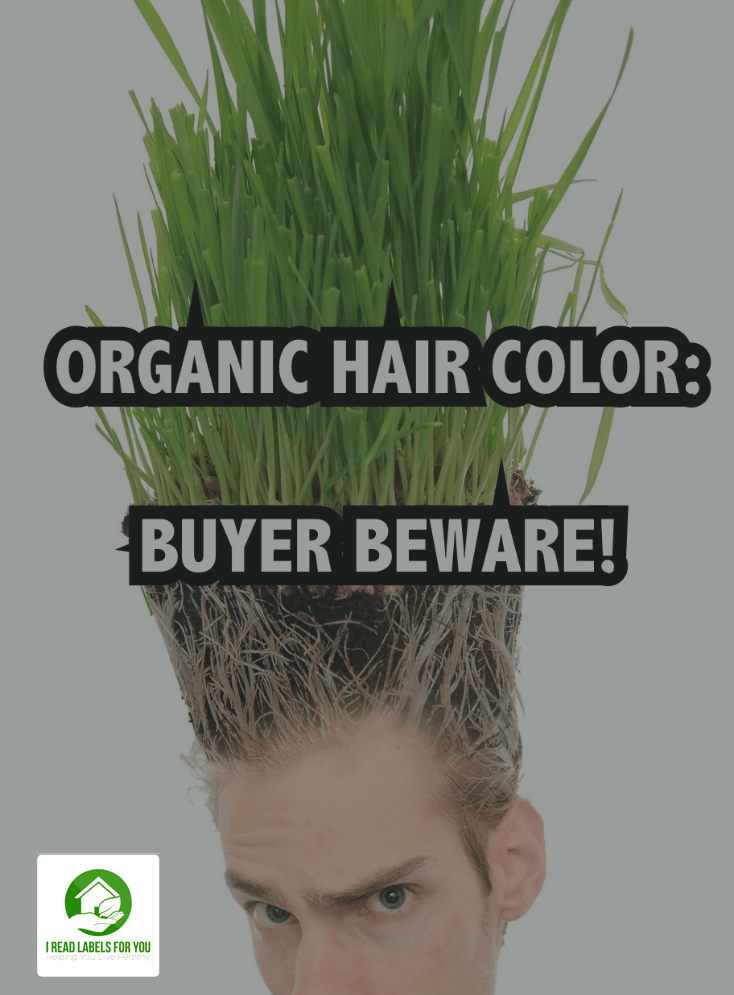 Share this post with your friends.  Let them know about pseudo-organic hair color products that may trick them.
By the way, if you use hair dye, I understand.  Trust me, vanity is not a stranger to me.  I just want us to make informed decisions based on the truth.  
Free 5-Day Hair Color Email Course
You can learn simple techniques to choose safer permanent hair color and make informed decisions about your hair coloring, which may save you from an allergic reaction that may result in irritation, hair loss, or anaphylactic shock.
Sign up for this unprecendented 5-day email e-course today!
P.S. You will also receive 20% off on the Permanent Hair Color Rating List.