Naturepedic Mattress Review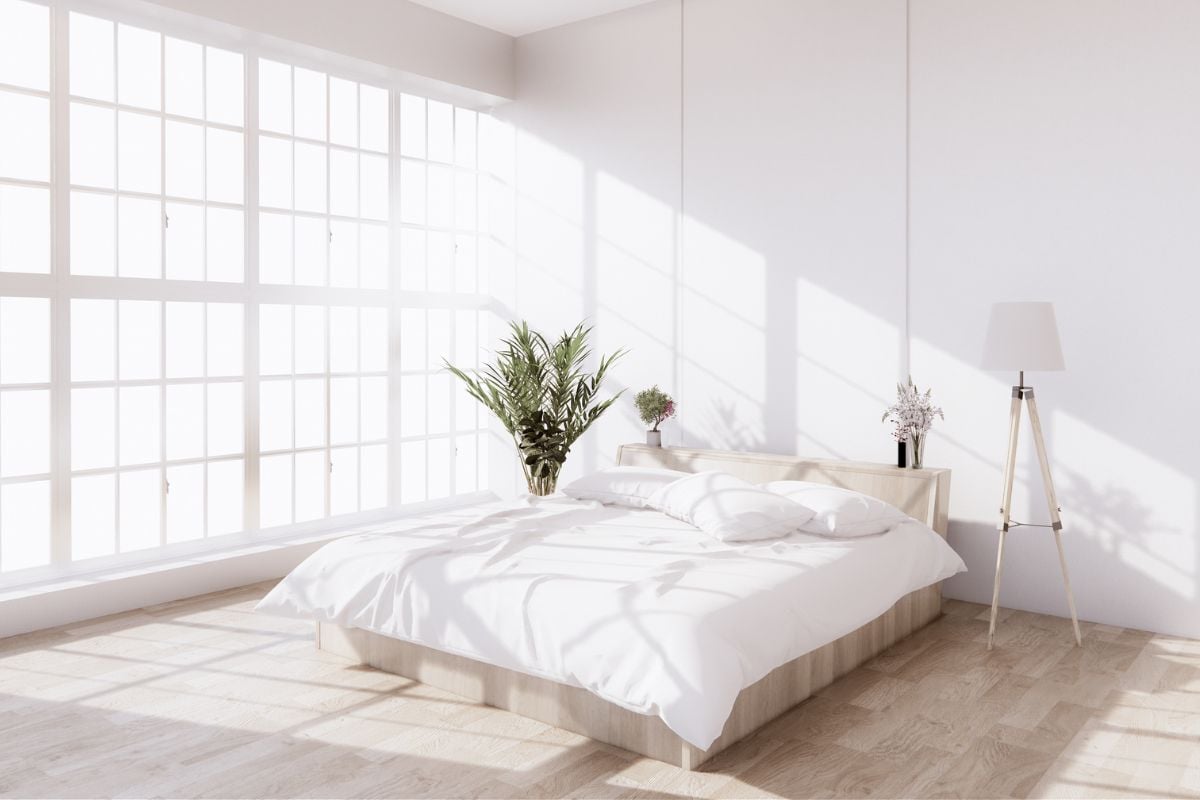 This post may contain affiliate links. To read our affiliate policy, click here.
Having a quality mattress isn't just about comfort and luxury. A good mattress can improve your sleep, which can have positive effects on your immune system, mental performance, mood, and overall health. When my husband and I were in the market for a new mattress, I did a lot of research on the best non-toxic mattresses. In the end, Naturepedic mattresses won my heart (use the IREAD15 discount code for 15% off).
My husband and I actually woke up sore and tired the first night we slept on it, but since we got our Naturepedic mattress, we've slept soundly almost every night. Yes – the mattress is really that good.
Now, our whole family has Naturepedic mattresses (use the IREAD15 discount code), including my son, who has one of their children's options. I highly recommend Naturepedic, which is why today, I'm sharing my review of various Naturepedic mattress styles. Use this information to make your own informed decision on your next mattress purchase.
Naturepedic Mattress Review
There is much to say about Naturepedic mattresses (use the IREAD15 discount code). First of all, they are the only mattress in the industry that has every organic certification available and these certifications are all up-to-date.
Most mattresses are made of petrochemical polyurethane foam, glues and adhesives, and potentially harmful chemical flame retardants. You can read more about this topic in my post about polyurethane foam and furniture, but in summary, this material is toxic to manufacture, use, and dispose of. Hence, it is important to consider owning only mattresses made from organic natural materials for the health of your family and the environment.
Naturepedic mattresses are made in the USA, using organic cotton, wool, and latex.
However, you can customize the fill in certain mattresses if you would rather avoid cotton, wool, or latex. (After you click "buy now," the Naturepedic point of sale will direct you to customization options.)
Furthermore, there are no flame retardants. However, they are unnecessary since the polyurethane foam is the primarily flammable part of a conventional mattress. There are no materials in the Naturepedic mattress that catches fire in the same way as polyurethane foam does. Despite the lack of chemical retardants, Naturepedic mattresses pass flame retardant standards because Naturepedic makes its mattresses from materials that are naturally flame-retardant.
In addition to its numerous organic certifications and exemplary awards, Naturepedic mattresses are sold in different degrees of firmness and are very comfortable. Customers can even opt for a dual-comfort mattress, where each side of the bed is a different level of firm or soft. Getting a customized fit for your body preference is essential to improving your sleep with a quality mattress.
Do your research and test out what mattresses feel the best before you commit to a certain firmness and style. (Note that some Naturepedic mattresses allow for further personalization after purchase. In other words, if you or your partner isn't happy with the degree of firmness of the mattresses listed below as "fully customizable" after it has been shipped to you, Naturepedic will work with you to revise your mattress until you're as satisfied with your mattress as we are with ours. How many companies promise, and deliver, that?)
Below, I'll outline each Naturepedic mattress style.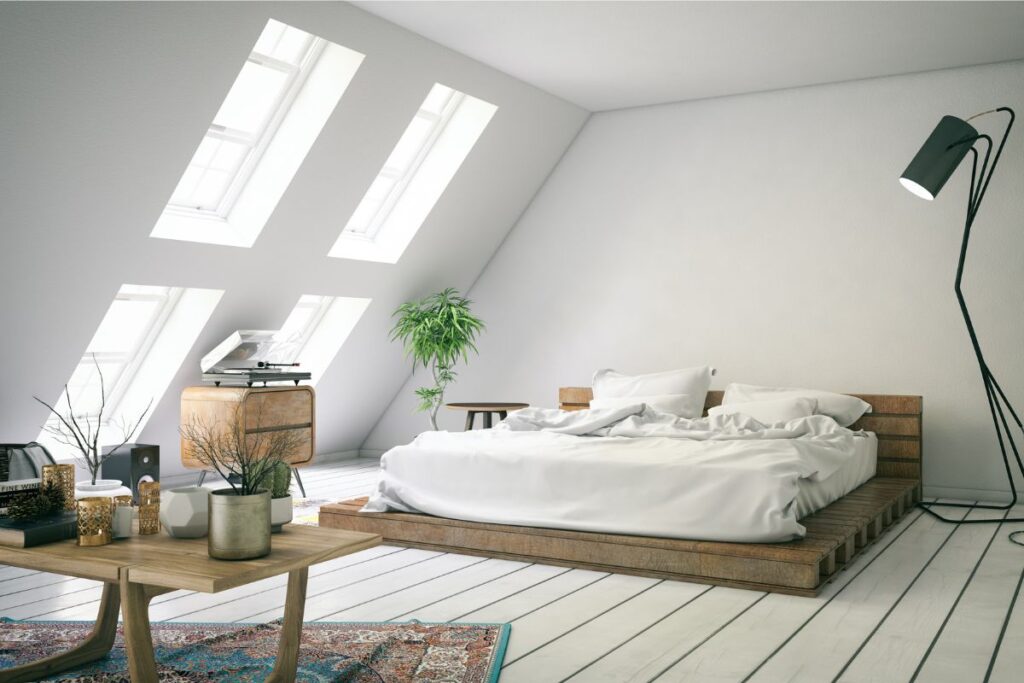 Non-Customizable Options
The Chorus mattress is the most affordable Naturepedic option (use the IREAD15 discount code for 15% off). Despite the lower price tag, it is still a fantastic organic mattress with unique cooling properties. It is comfortable for most people and completely hypoallergenic.
Firmness
This mattress is considered medium firmness and does not have a dual-comfort option. Every Chorus has the same medium comfort level. Additionally, the Chorus mattress is Naturepedic's thinnest (and least expensive) mattress at 10 inches.
Materials and Construction
It is a coil mattress stuffed with organic cotton batting. The top layer is quilted organic cotton, wool, and PLA. PLA is polylactide, which may not sound like a safe material, but it is. It's derived from non-GMO plant starch, doesn't off-gas, and it has GOTS approval. You cannot customize the Chorus's batting, but it is latex free.
Special Features
The Chorus mattress, like all Naturepedic mattresses, has cooling properties. The microcoils allow for good airflow and heat dissipation. The wool also helps with temperature regulation by wicking moisture away.
Price
Depending on the size of the mattress, the Naturepedic Chorus mattress runs between $1,399 – $2,799.
If you need a pressure-relieving mattress, the Serenade is the most inexpensive option Naturepedic offers (use the IREAD15 discount code). It is constructed for maximum comfort and pain relief, with a pressure relieving latex layer and optimal temperature regulation properties.
Firmness
The Serenade mattress comes with two degrees of firmness: cushion-firm and firm. Naturepedic recommends cushion-firm for most sleepers and firm for those who need specialized additional support. You cannot get split comfort with the Serenade to get both firmness options. The Serenade is 11 inches thick.
Materials and Construction
This mattress is a combination of coils, organic cotton batting, organic wool batting, and GOTS-approved PLA. It also includes a 2-inch organic latex layer, glueless encased coils, and a cotton insulator layer. If you would prefer to be without wool, cotton, or latex, you will have to select a different option, because you cannot customize the fill of the Serenade mattress.
Special Features
The Serenade is designed for optimal comfort. The latex relieves pressure points, and the unique pocketed coils deliver support. Like the Chorus, it has cooling properties to prevent overheating.
Price
Depending on the size, the Serenade is between $1,699 and $3,599.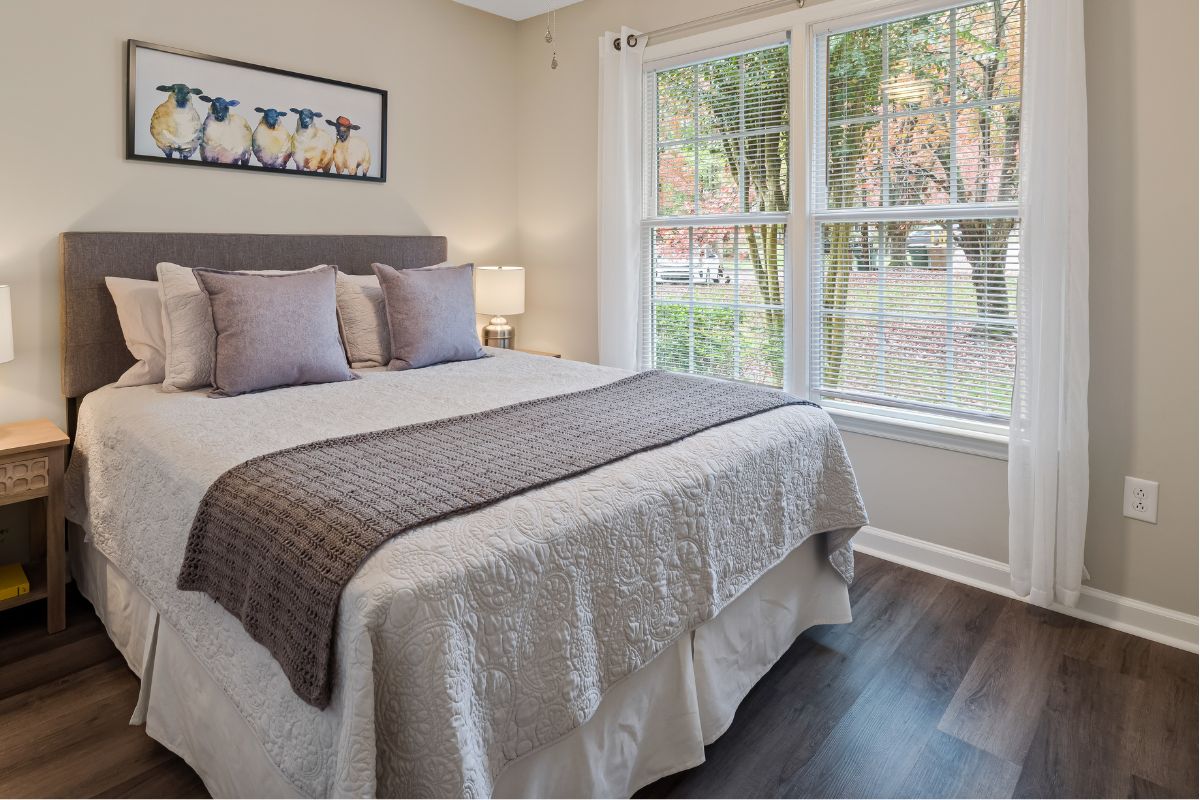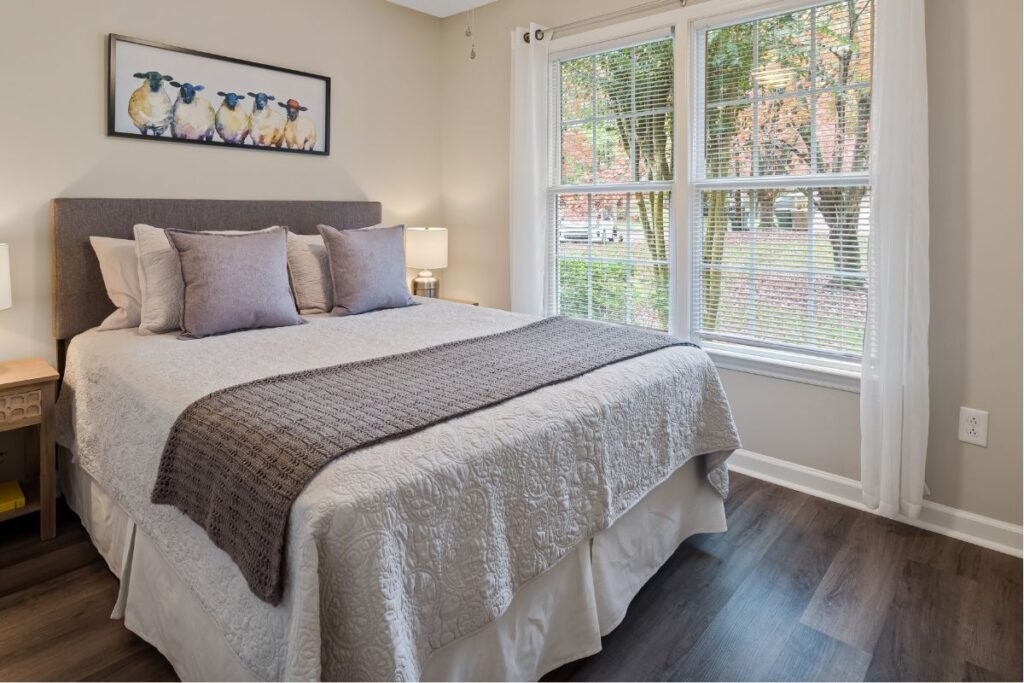 Fully Customizable Options
If you have never had a good mattress, buying a new one can be stressful. I can speak from experience when I say it is difficult to know what firmness level you need without expert advice. What is appealing about the EOS Classic (IREAD15), as well as the remaining mattresses we will discuss below, is that it is completely customizable. Not just in initial manufacturing, but at any point in time after purchasing, making it easy to switch your firmness until you identify the right level of support and comfort for YOU. My husband and I sleep on an EOS Classic model (IREAD15). For my side, I have soft latex and plush coils. And my husband has medium latex and plush coils. For your reference, I am 130lb and he is over 200lb (and very manly, he wants me to include), and we are both side sleepers.
Firmness
The EOS Classic is the first tier of mattress from Naturepedic that allows for dual-comfort firmness. Either side of this 12-inch mattress can be plush, medium, cushion-firm, firm, or extra-firm. You can even change your firmness whenever you like, at no cost to you, in the first 100 days. The layers are easily swapped and changed until you find the mattress that feels just right, as Goldilocks would say.
Materials and Construction
The EOS Classic is made of organic cotton batting, glueless encased coils, organic latex, and organic wool. There is also a PLA comfort layer and the whole mattress is zippered into an organic cotton cover that allows for easy layer swapping. The filling of the EOS Classic mattress is customizable as well.
Special Features
The EOS Classic's claim to fame is its customization options. Regardless of you and your partner's needs, the EOS Classic can deliver the right level of firmness and comfort. Like the others, the EOS has cooling properties for temperature regulation.
Price
Depending on the size, the EOS Classic is between $2,199 – $4,299.
It is important for both partners to get the right support and comfort level. This way, both individuals get to experience the sleep benefits of a Naturepedic mattress. The EOS Pillowtop (IREAD15 for 15% off) has the most customization opportunities of any Naturepedic mattress, even years later after its purchase.
Firmness
The EOS Pillowtop mattress is a much thicker mattress that the others so far listed, measuring at 15 inches. It comes in ultra-plush, plush, medium, cushion-firm, and firm. There is a split comfort option for two levels of firmness on either side of the mattress. Note that the EOS Pillowtop allows for an ultra-plush option.
Materials and Construction
The EOS Pillowtop inner materials are customizable, but it comes standard with organic cotton, glueless encased coils, organic latex, GOTS-approved PLA, and organic wool. The mattress has an attached pillow top for more comfort and customization. Like the EOS classic, you can change your firmness layers whenever you like, but with the EOS Pillowtop, you can also change out the pillowtop firmness for additional personalization.
Special Features
This EOS Pillowtop mattress is notable for its customization opportunities. It is a cooling mattress tailored to the customer's needs and provides the right comfort level for both partners.
Price
Depending on the size, the price for the EOS Pillowtop ranges from $3,099 – $5,799.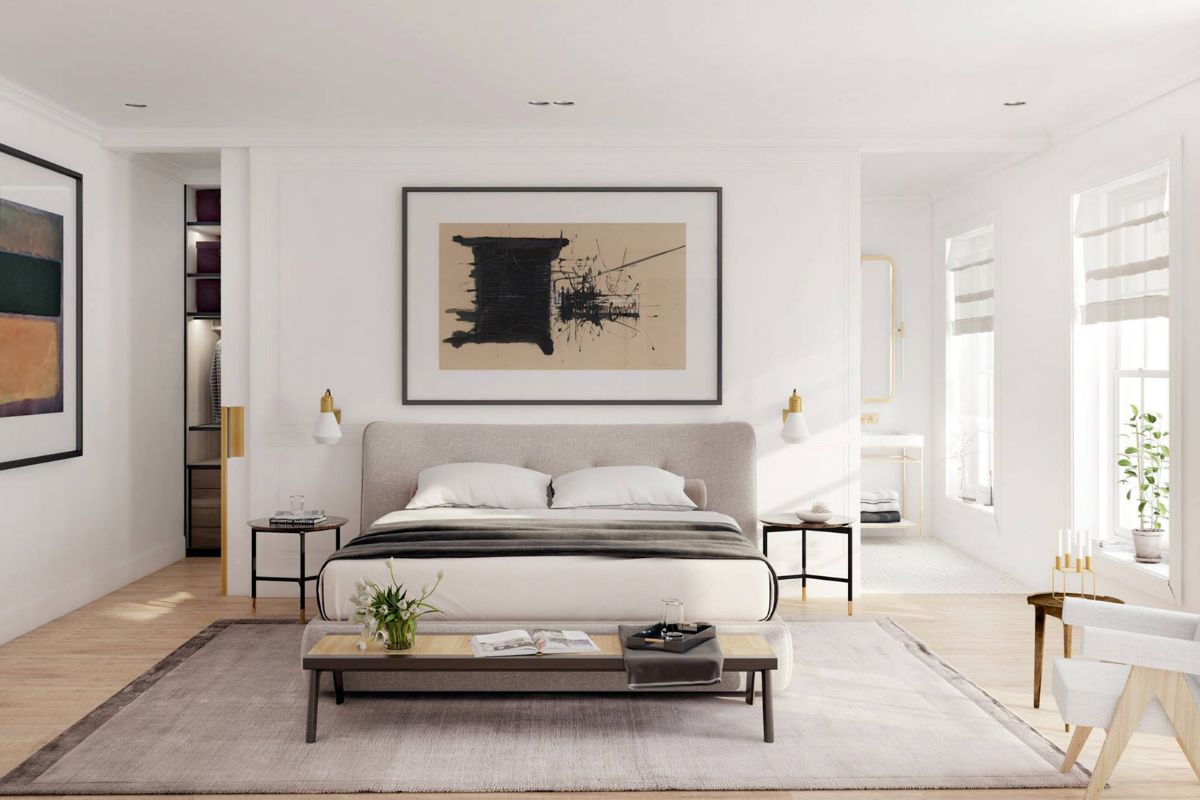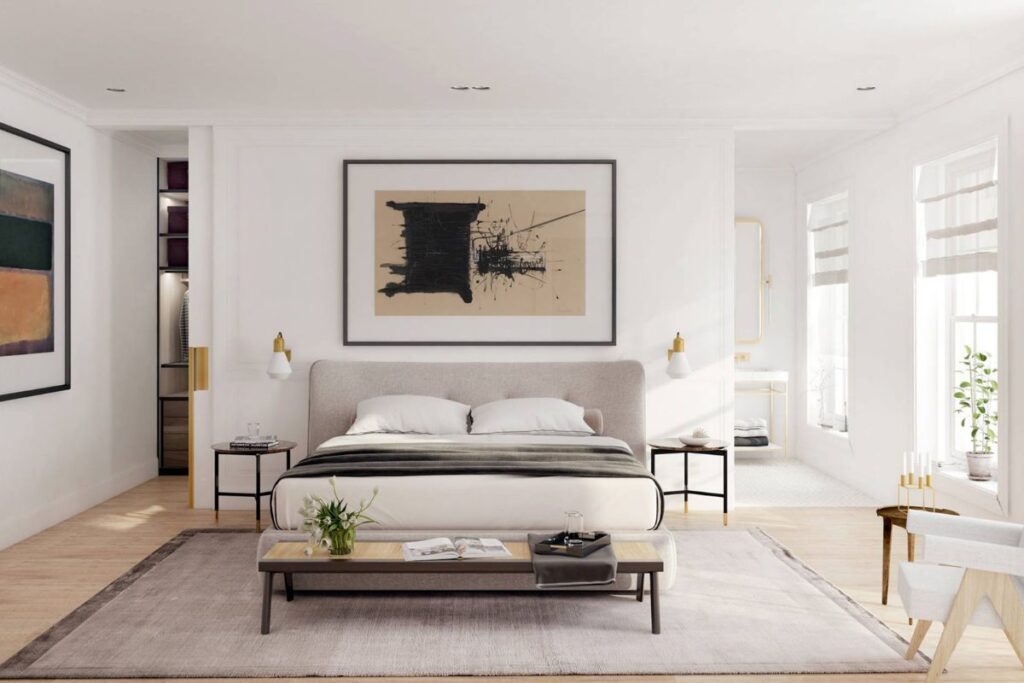 The EOS Triflux is Naturepdic's coil-free mattress (use the IREAD15 discount code for 15% off). It is latex over latex, which is why it is thinner than the EOS Classic and EOS Pillowtop. There are plenty of customization options with this mattress style, but it does not include a pillowtop layer.
Firmness
The EOS Triflux is another thinner mattress option at 10 inches. It has split comfort capabilities and customization options even after purchase with the interchanging layers. The firmness choices for the EOS Triflux are plush, medium, cushion-firm, firm, and extra-firm.
Materials and Construction
As mentioned, the EOS Triflux is a coil-free mattress. The inner fill material is customizable, but it comes standard with organic cotton, organic latex, organic wool, and PLA. Unlike the EOS Pillowtop, it does not have an interchangeable zippered comfort layer. The plush layers are sewn in and are made of latex and PLA. However, the material can be changed at checkout if you prefer materials other than latex and PLA.
Special Features
Like the EOS Pillowtop, the EOS Triflux is notable due to its personalization options. The Triflux, though, does not include the interchangeable pillowtop layer. It is a firmer Naturepedic option.
Price
Depending on the size, the EOS Triflux costs between $2,599 – $4,999.
The Halcyon Collection is Naturepedic's luxury mattress line (use the IREAD15 discount code). They are sold in-stores only, but pricing is listed online. Each mattress is completely customizable and made of premium organic material. The three types from least expensive to most expensive are Azure, Arcadia, and Elysium.
Firmness
All of the mattresses have dual-comfort options and can be any firmness from ultra-plush to ultra-firm. The thickness varies in each of the mattresses—the Azure is 10 inches, the Arcadia is 13 inches, and the Elysium is a whopping 16 inches.
Materials and Construction
Where the Halcyon mattresses stand out is in their premium materials. In addition to the organic cotton, latex, and wool, the Halcyon mattresses are constructed with alpaca, cashmere, and 500-thread count organic sateen. Hence, the higher price tag.
Special Features
The Halcyon collection spares no expense. Everything is hand constructed and assembled with top quality materials. This mattress is for those who aren't just looking for organic materials, but who are also seeking an exclusively luxurious product.
Price
The Azure ranges from $4,199 – $7,999. The Arcadia ranges from $5,199 – $9,999. And, the Elysium price ranges from $6,199 – $11,999.
Note that this ends the "Fully Customizable Options" section.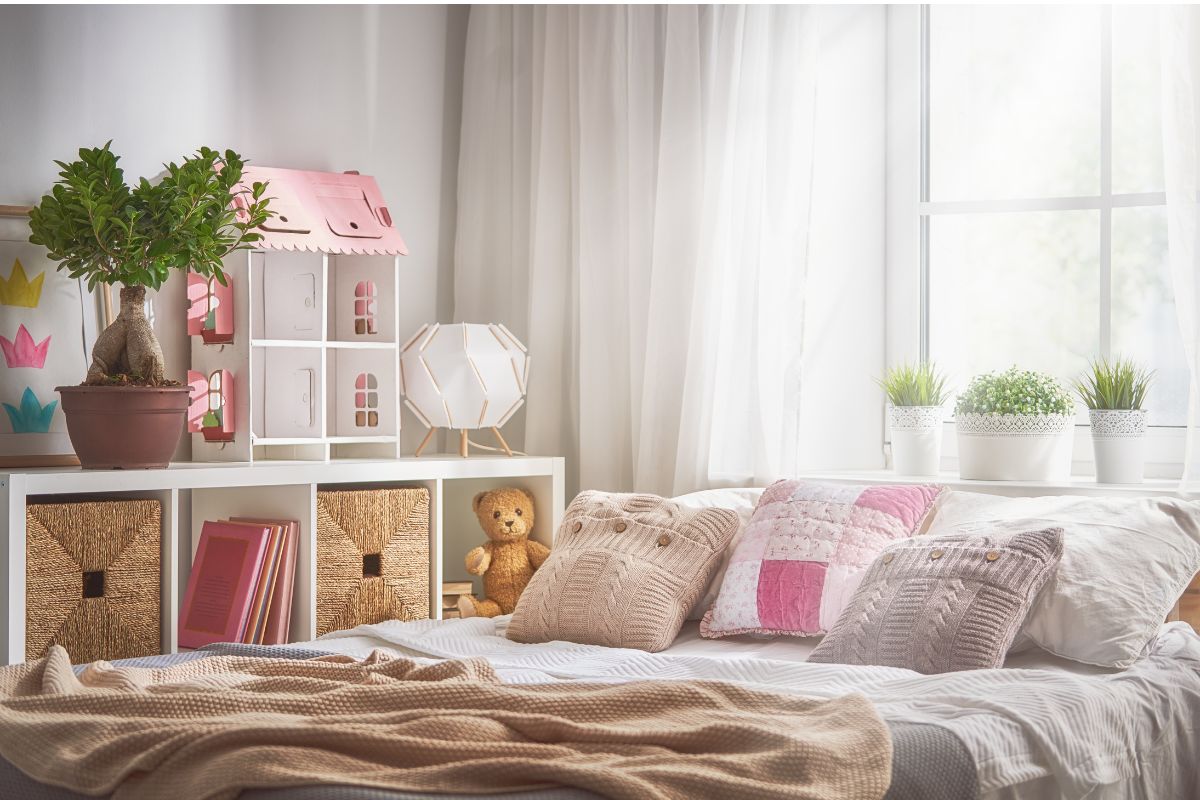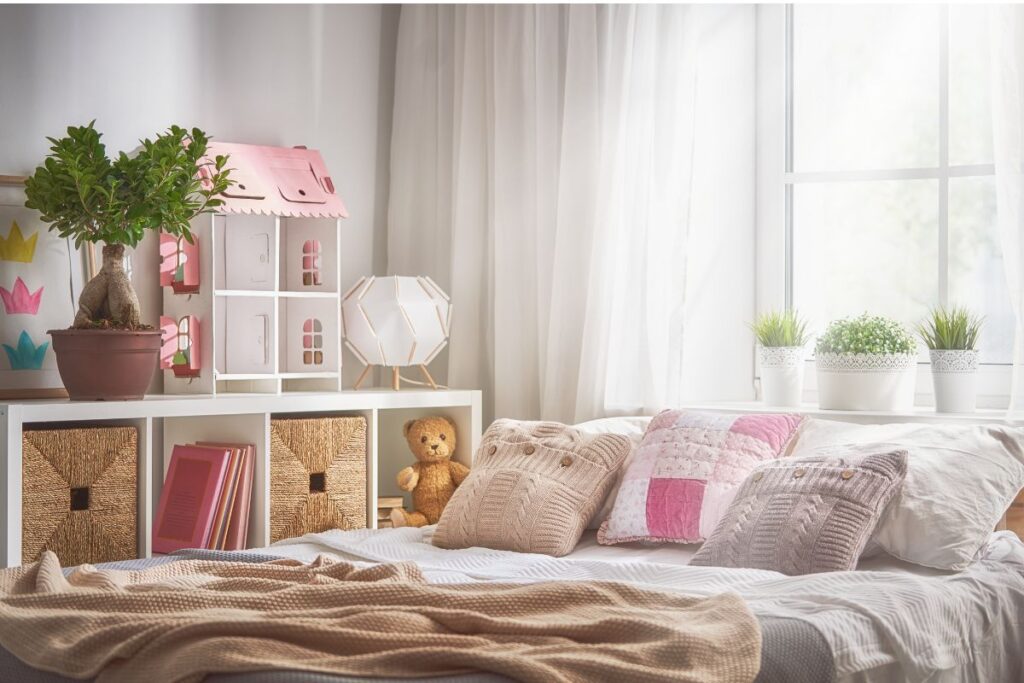 Naturepedic has two top quality organic kids mattresses. The 2-in-1 and Verse are both great choices for a kids mattress (use the IREAD15 discount code for 15% off). They take into consideration the challenges and needs of a child to make the mattress both functional and non-toxic.
Firmness
Both kids' mattresses are firm because the developing spine needs firmness. The 2-in-1 has a 6-inch and 7-inch thickness options, whereas the Verse mattress is 9 inches thick. If you are getting a kid's mattress for a trundle bed, ensure you purchase the 6-inch 2-in-1 option.
Materials and Construction
The kids mattresses are not customizable, but they are latex free. Both are filled with cotton backing and springs. The 2-in-1 has a traditional innerspring system, whereas the Verse has the encased springs we see in the adult-sized mattresses. The top layer includes GOTS-approved PLA for comfort.
Special Features
The 2-in-1 option is waterproof and quilted. In my opinion, a waterproof layer is essential for a children's mattress. In fact, we got the 2-in-1 mattress for my son. The Verse provides more comfort with the thicker mattress and glue-free encased coils, but it is not waterproof.
Price
The 2-in-1 Naturepedic mattress ranges from $799 to $999, and the Verse is between $999 and $1,499.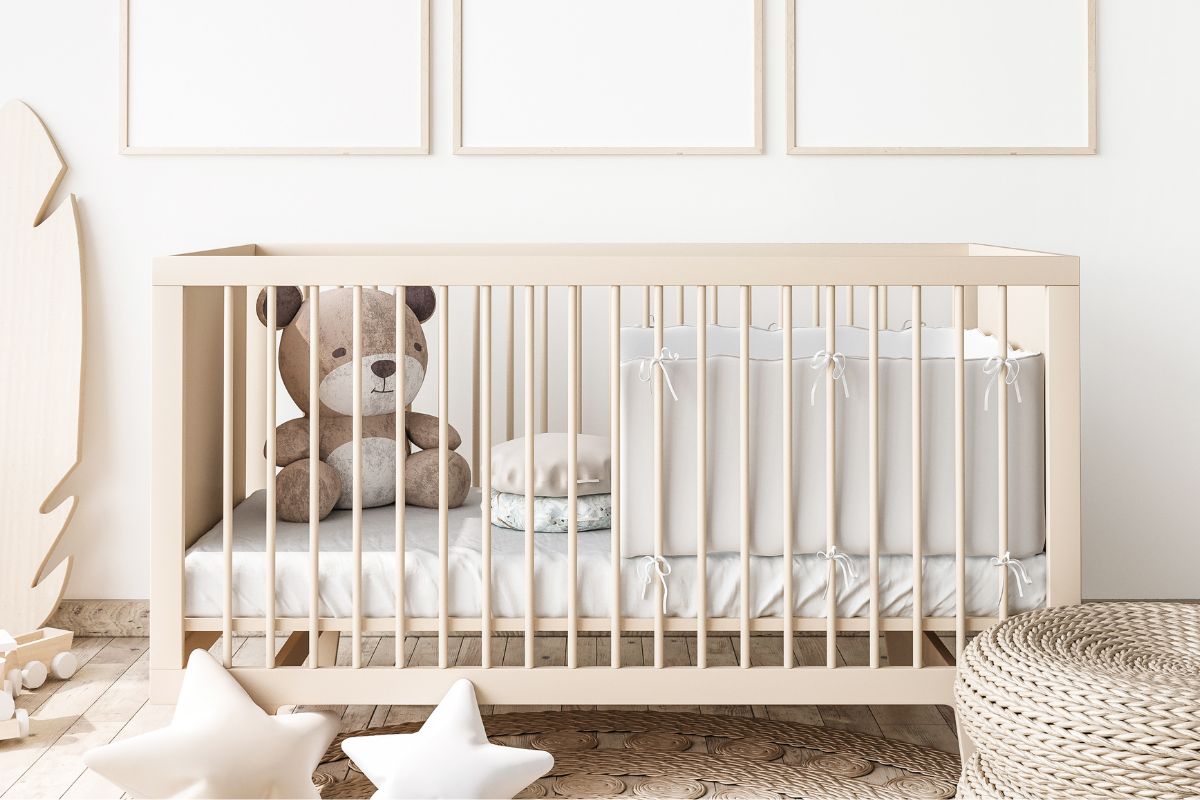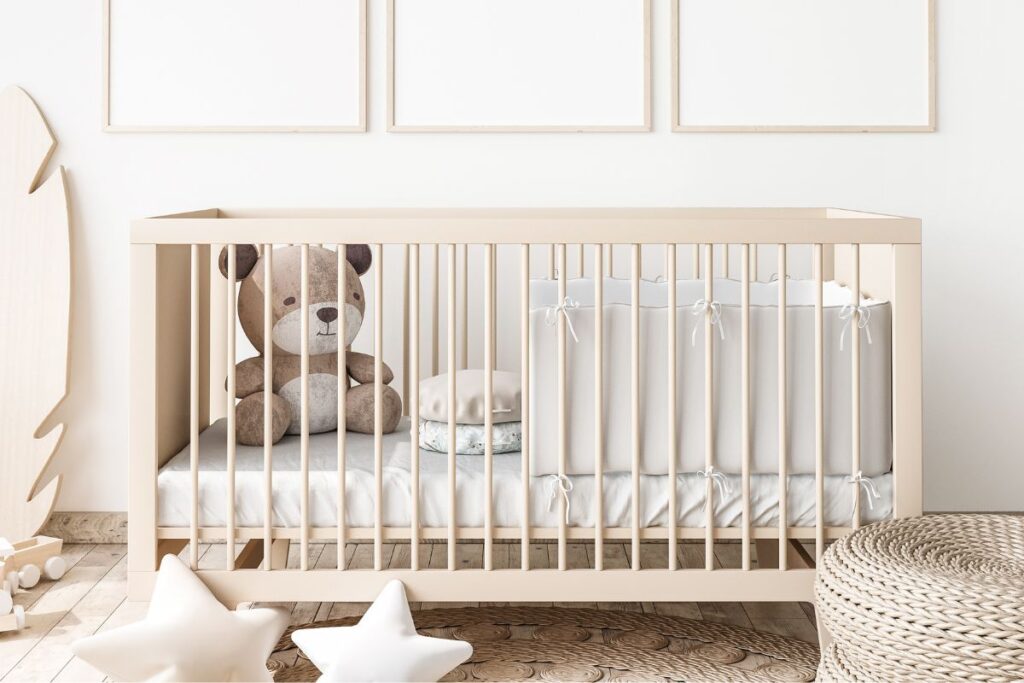 There are three crib mattress options with various levels of breathability (use the IREAD15 discount code for 15% off). In recent years, moms have prioritized purchasing mattresses that are breathable in hopes of preventing SIDS. There is no evidence that a breathable mattress decreases the risk of SIDS, but it provides peace of mind for many of expectant mothers.
These mattresses, like the others, are made of organic materials, but they are also all waterproof, which is crucial to prevent the growth of allergenic bacteria, mold, and mildew. The support comes from lightweight coils and organic batting. Also, all Naturepedic crib mattresses are latex-free, making Naturepedic different from other organic or natural mattress brands. The price ranges from $269 to $499. For the differences between the seven crib mattress models so you know which one is for you, visit the Naturepedic Crib Mattress Review blog post. You can also find out how Naturepedic crib mattresses compare with many other brands in the organic crib mattress reviews on my blog.
Is Naturepedic Worth It?
My family and I think so. Personally, I admire Naturepedic for their leadership in transparency. They never withheld information from me or tried to make me feel that I am too much as I was researching their mattresses, and my husband and I sleep better at night knowing our mattress is non-toxic—and we sleep better because of how comfortable our Naturepedic bed is. Plus, my son uses the 2-in-1, and I sleep easy knowing he is safe from toxic materials.
Furthermore, before you gawk at the price, I will tell you I think that Naturepedic mattresses are actually rather affordable when compared to other organic mattresses (e.g., OMI). My husband and I got the EOS Classic mattress in 2014, and for us it is worth it. It is as comfortable today as when it was brand new. Having a good night's sleep without exposing ourselves to chemicals that increase risks of damaging our health is priceless.
A non-toxic mattress can help you sleep better at night in more ways than one.
If you are considering buying a new mattress, make sure you consider where the old one is going. You can call the local Humane Society, homeless shelters, and Habitat for Humanity organization for donation opportunities. If those avenues are not fruitful, search for a location to dispose of your mattress properly (IREAD15). That way, it will not be taken to a landfill.
I hope you found this post helpful and will be taking the plunge into an organic brand. You can also find my reviews of the Avocado Mattress, the Happsy Mattress, and the My Green Mattress, and a link to purchase your own Naturepedic mattress. Browse my blog for more about organic products and toxic-free living.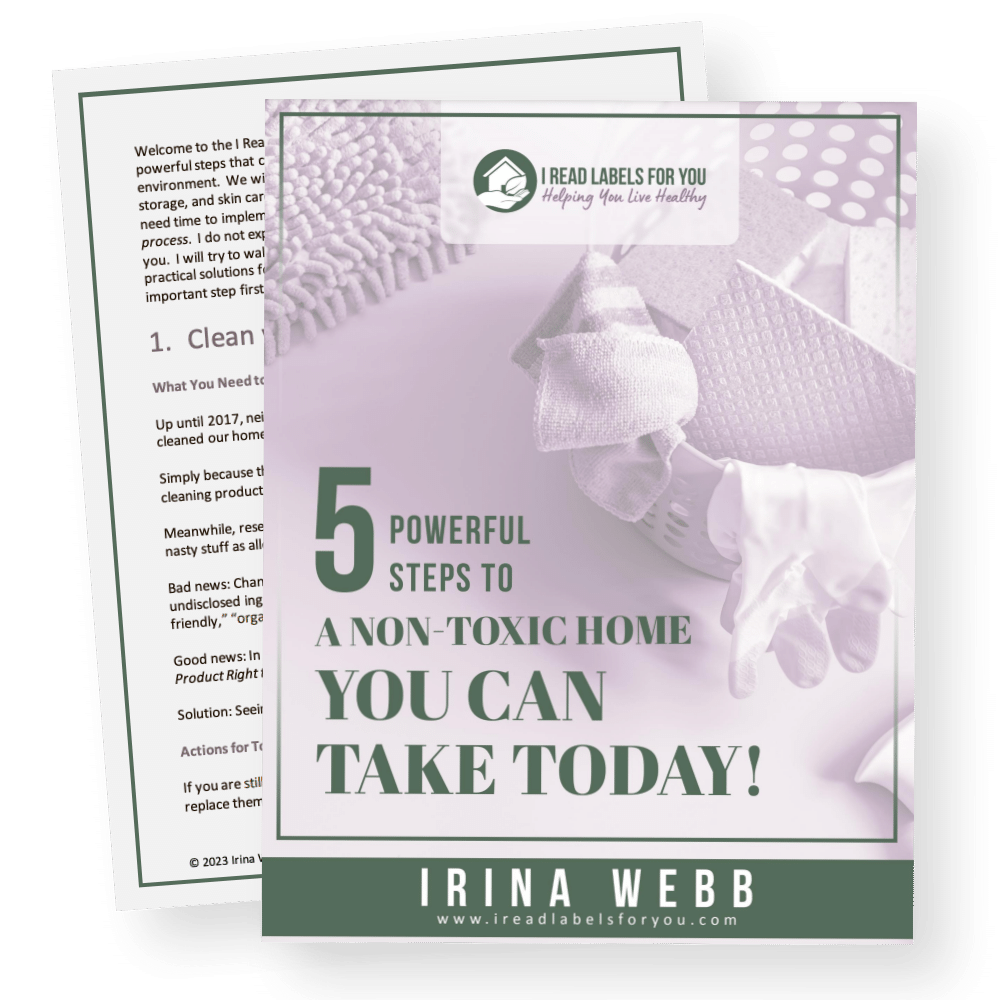 Download The Free Guide!
5 Powerful Steps To A Non-Toxic Home
Join our informed consumer community and get our free guide the "5 Powerful Steps To A Non-Toxic Home".