Non-Toxic Dry Shampoo Guide
This post may contain affiliate links. To read our affiliate policy, click here.
In the morning, you rush to get a healthy breakfast and get your kids to school. At least you don't have to wash your hair – it's still good to go after yesterday's wash. Later in the day, right before an important meeting, you notice that your hair is not as fresh as you hoped it would be. You wish you could wash it. And the good news is – you can, even with those few minutes left before your meeting. Dry wash is what you need. Throwing that non-toxic dry shampoo in your bag earlier today was a good decision. You are happy that your safe dry shampoo will not compromise your overall healthy choices.
This is all too familiar to me. My third-day hair is a tricky business – it's kind of clean, but not really. I don't want to go through the whole washing process because it takes so much time! So, I've found that shampoo powder works for me – it's a quick and easy way to get my hair in shape. In this post, I'm going to share with you what non-toxic dry shampoos I use and recommend.
What is not a safe dry shampoo
Before we discuss safe shampoo powders, let's talk about dry shampoos to avoid.
First of all, how do we decide whether a shampoo is safe? By looking at its list of ingredients, not by its brand name or an ad. As a hint, the longer the ingredient list, the slimmer the chance that this product is safe. For your convenience, I have divided dry shampoos into four categories. They are worst, bad, better, and best so you know the ins and outs of the dry shampoo market in a flash.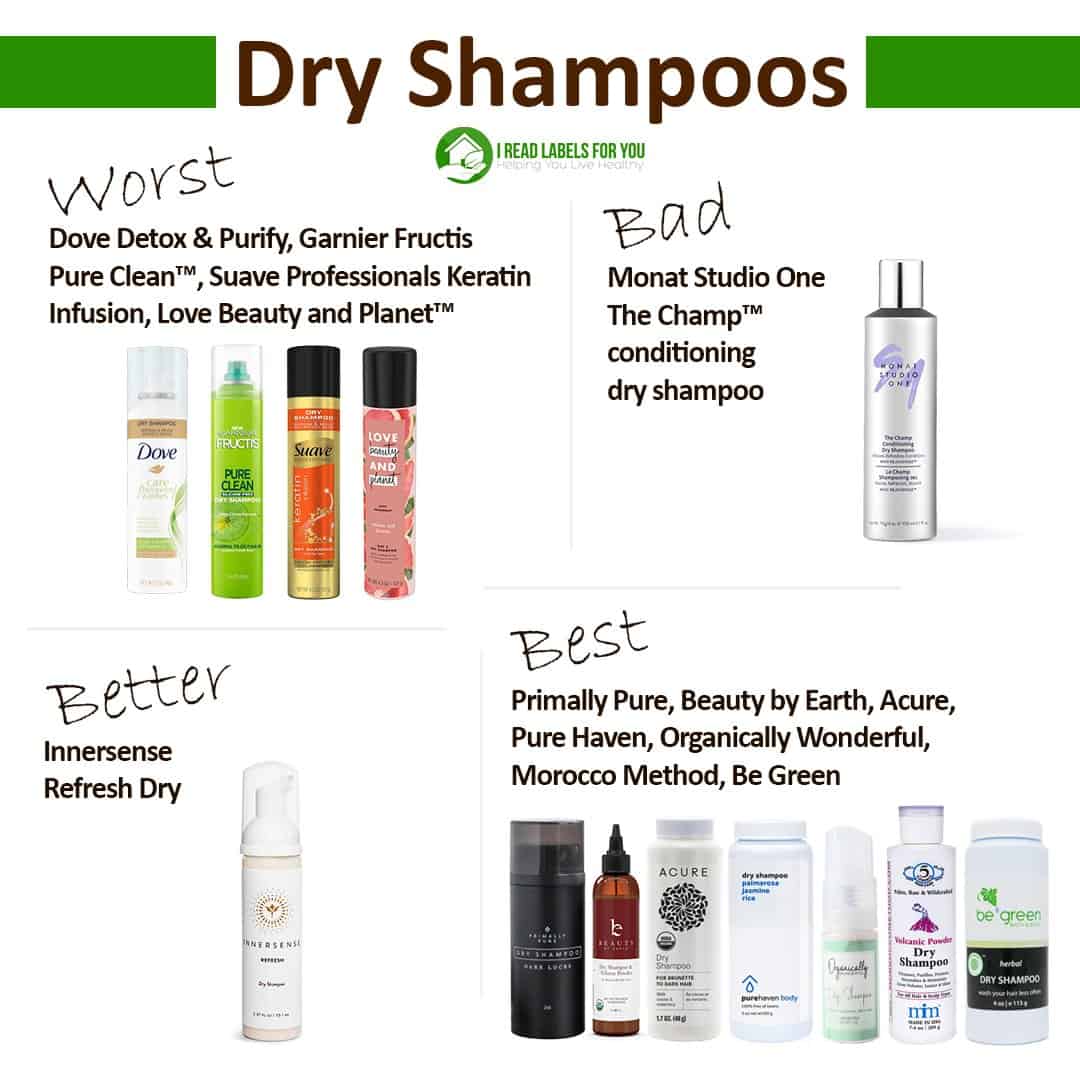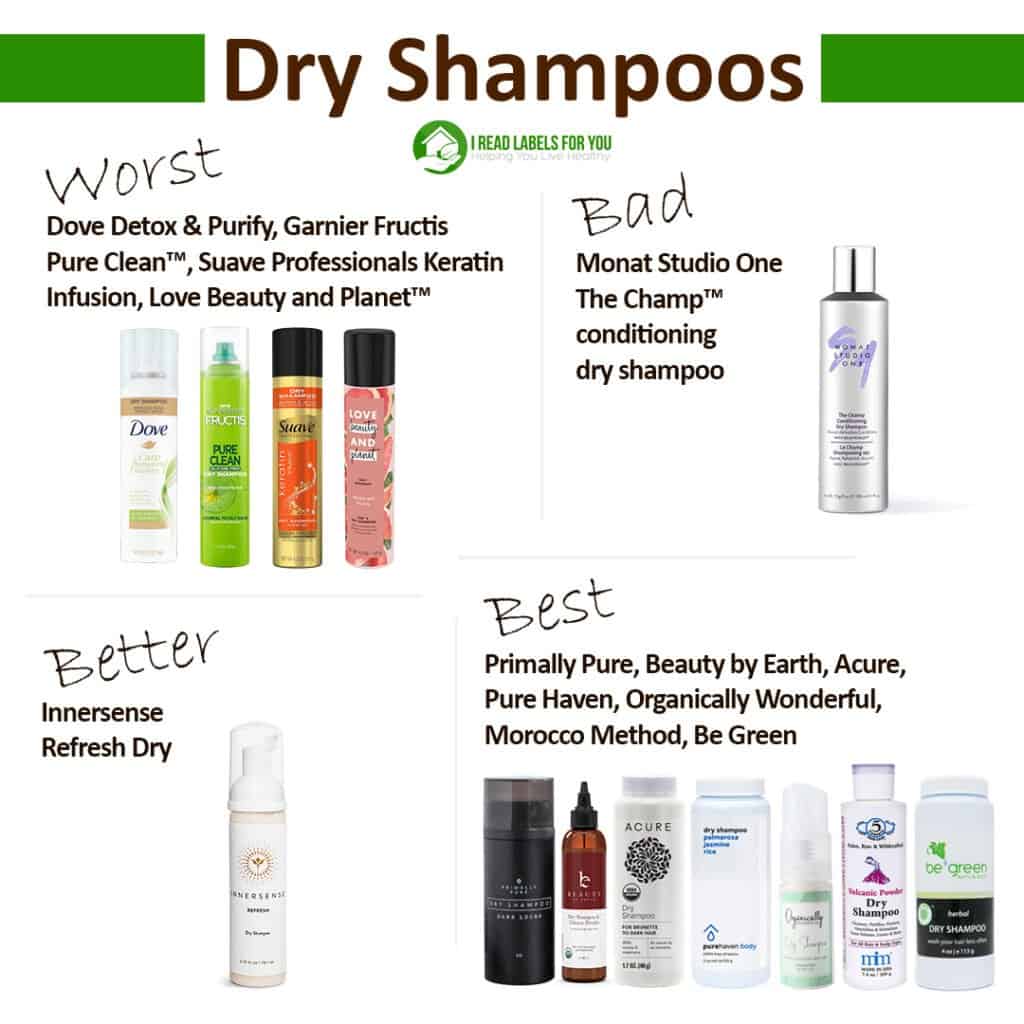 The worst dry shampoos
The worst dry shampoos normally come in the form of aerosols. Because of this, there is a risk of inhalation of their ingredients. In my opinion, even benign substances don't belong in our lungs.
Aerosol shampoos have such substances as butane, propane, and isobutane, which are gases associated with allergies and inhalation toxicity. The Skin Deep database rates butane and isobutane at 4-7 (with 10 as the most toxic) depending on use, and propane at 4.
Another ingredient that is contrary to the definition of a non-toxic dry shampoo is fragrance. Parfum, or fragrance, is a mixture of undisclosed ingredients linked to allergies and endocrine disruption. As for "natural" fragrances, they are not much better. You can learn why that is in my post about Natural Fragrance.
Unfortunately, there are so many "worst" shampoos. For example, in my opinion, the worst dry shampoos are Dove Detox & Purify (ingredients), Garnier Fructis Pure Clean (ingredients), Suave Professionals Keratin Infusion (ingredients), and Love Beauty and Planet (ingredients).
The bad dry washes
Some companies decided to use tetrafluoropropene instead of butane, propane, or isobutane. I believe that a safe dry shampoo should not have tetrafluoropropene. The Cosmetic Ingredient Review Panel did not review it for safety, so we simply don't know how safe it is in hair products. I found its Material Safety Data Sheet, though. It says that tetrafluoropropene may cause skin and respiratory irritation, and severe eye irritation. In addition, it may cause drowsiness, or dizziness, and may even explode when heated. Thus, tetrafluoropropene does not seem like a safer alternative to butane, propane, or isobutane.
Monat Studio One The Champ™ conditioning dry shampoo (ingredients) is one of the shampoos that contain tetrafluoropropene. A while ago, I wrote a review of a controversial liquid Monat Revive shampoo whose safety is debatable. Unfortunately, the ingredients of Monat dry shampoo are not less concerning to me.
In addition to tetrafluoropropene, Monat Studio One The Champ™ contains fragrance as a blend of undisclosed ingredients, too. And the fragrance is listed at the beginning of the ingredient list. That means that a bigger amount of it is used than would be the case if it were listed at the bottom of the list. I did ask for the ingredients of the fragrance and they refused to tell me, saying that it was proprietary information.
What constitutes a non-toxic dry shampoo
The products that I consider safe dry shampoos fall under the 'better' and 'best' categories, as below.
The better dry shampoos
I included one shampoo into this group – Innersense Organic Beauty Refresh dry shampoo. It has similar ingredients to liquid shampoos and conditioners. If you've downloaded my Shampoo Rating List e-book, you know that even the safest shampoo and conditioner ingredients are not perfect for everybody. If this shampoo were not a leave-in product, I would say Innersense made pretty good choices. Since the dry shampoo is "leave in," my criteria are stricter. There are some ingredients that are associated with irritation such as benzyl alcohol and sodium benzoate, depending on the amounts used. Plus, they use both of them, not one or the other.
The best shampoo powders
Are you ready to know the names of the safest non-toxic dry shampoos? Here we go.
The safest dry shampoos I included in the 'best' category are Primally Pure, Beauty by Earth, Acure, Pure Haven, Organically Wonderful, Morrocco Method, and Be Green. Now, let's see why they belong in this category by looking at their ingredients.
Among these, I have three favorites.
Primally Pure, Beauty by Earth, and Acure ingredients
Primally Pure: Organic Cocoa Powder, Kaolin Clay, Organic Arrowroot Powder, Baking Soda, Organic Essential Oils of Grapefruit, Organic Lavender, Organic Peppermint.
Beauty by Earth: Organic Zea Mays (Corn Starch), Organic Maranta Arundinacea (Arrowroot) Powder, Kaolin Clay, Sodium Bicarbonate (Baking Soda), Organic Theobroma (Cocoa) Powder, Organic Lavandula Hybrida (Lavender) Oil.
Acure: Organic Zea Mays (Corn Starch), Organic Maranta Arundinacea (Arrowroot) Powder, Kaolin Clay, Sodium Bicarbonate, Organic Rosmarinus Officinalis (Rosemary) Oil, Organic Mentha Piperita (Peppermint) Oil, Organic Theobroma Cacao (Cocoa) Powder.
Did you start noticing a pattern in the ingredients constituting a safe dry shampoo? Let's look at the rest of them and then analyze the ingredients of a non-toxic dry shampoo.
Pure Haven, Organically Wonderful, Morrocco Method, and Be Green ingredients
Pure Haven: Oryza Sativa (Rice) Starch, Kaolin, Sodium Bicarbonate (Baking Soda), Lauroyl Lysine, Jasminum Officinale (Jasmine) Flower, Cymbopogon Martini Oil (Organic Palmarosa), Pelargonium Graveolens Oil (Geranium), Rosa Damascena Oil (Rose), Dehydroacetic Acid, Phenethyl Alcohol.
Organically Wonderful: Organic Rice Starch, Diatomaceous Earth.
Morrocco Method: Montmorillonite, Bentonite, Aloe Barbadensis (Aloe Vera) Powder, Emblica Officinalis (Amla) Fruit Powder, Opuntia Ficus-Indica (Prickly Pear) Powder, Lavandula Angustifolia (Lavender) Powder, Arrowroot, Basil, Bladderwrack, Burdock Root, Cardamom, Charcoal, Chlorella, Dandelion, Fennel, Gingko, Kelp, Marshmallow, Myrrh, Peppermint, Rosemary, Sage, Shavegrass (Horsetail), Thyme, Turmeric.
Be Green: Non-GMO Oryza Sativa (Rice) Flour, Kaolin, Arrowroot, Organic Rosa Centifolia (Rose) Flower Powder, Organic Lavandula Officinalis (Lavender) Powder, Organic Urtica Dioica (Nettle).
Analysis of the safe dry shampoo ingredients
By now you might easily see what constitutes a non-toxic dry shampoo. Let's go over it together.
First, these non-toxic shampoos consist of powders, such as clay, starch, cocoa, and rice flour.
Second, many of the ingredients are organic botanicals.
Third, there is no fragrance as a blend of undisclosed ingredients. The fragrances of some of those shampoos come from essential oils or dry herb powders.
My favorite non-toxic dry shampoo
So, which dry shampoo is my favorite? Primally Pure is my best choice. I love it because of the way my scalp feels after its application.
In addition, except for baking soda and clay that cannot be organic, its ingredients are organic. It means that there is no toxic pesticide residue and heavy metals associated with synthetic fertilizer and dirty irrigation water.
Furthermore, the packaging for this safe dry shampoo is a carton with very minimum plastic involved.
And I have great news for you. You can get a discount for this shampoo if you use the ReadLabels10 code.
As for Beauty by Earth and Acure dry shampoo, they are certified organic but have plastic packaging.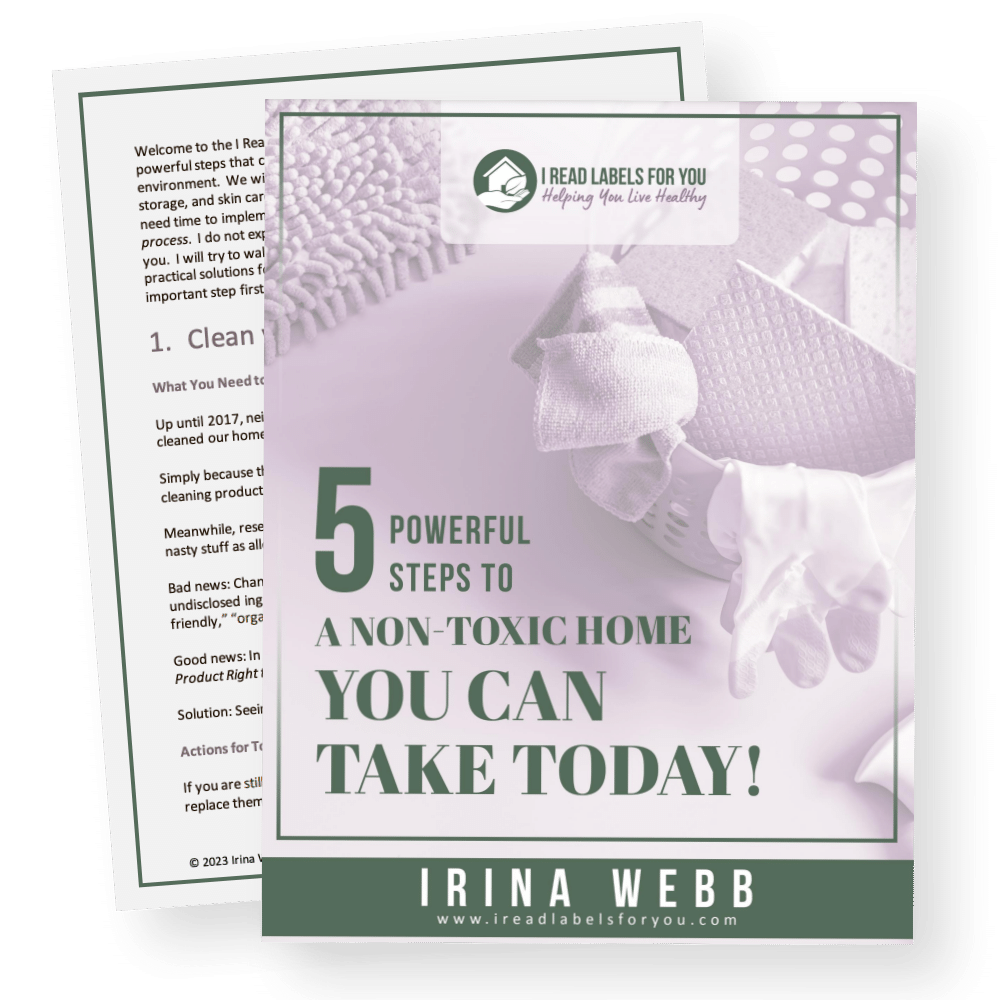 Download The Free Guide!
5 Powerful Steps To A Non-Toxic Home
Join our informed consumer community and get our free guide the "5 Powerful Steps To A Non-Toxic Home".