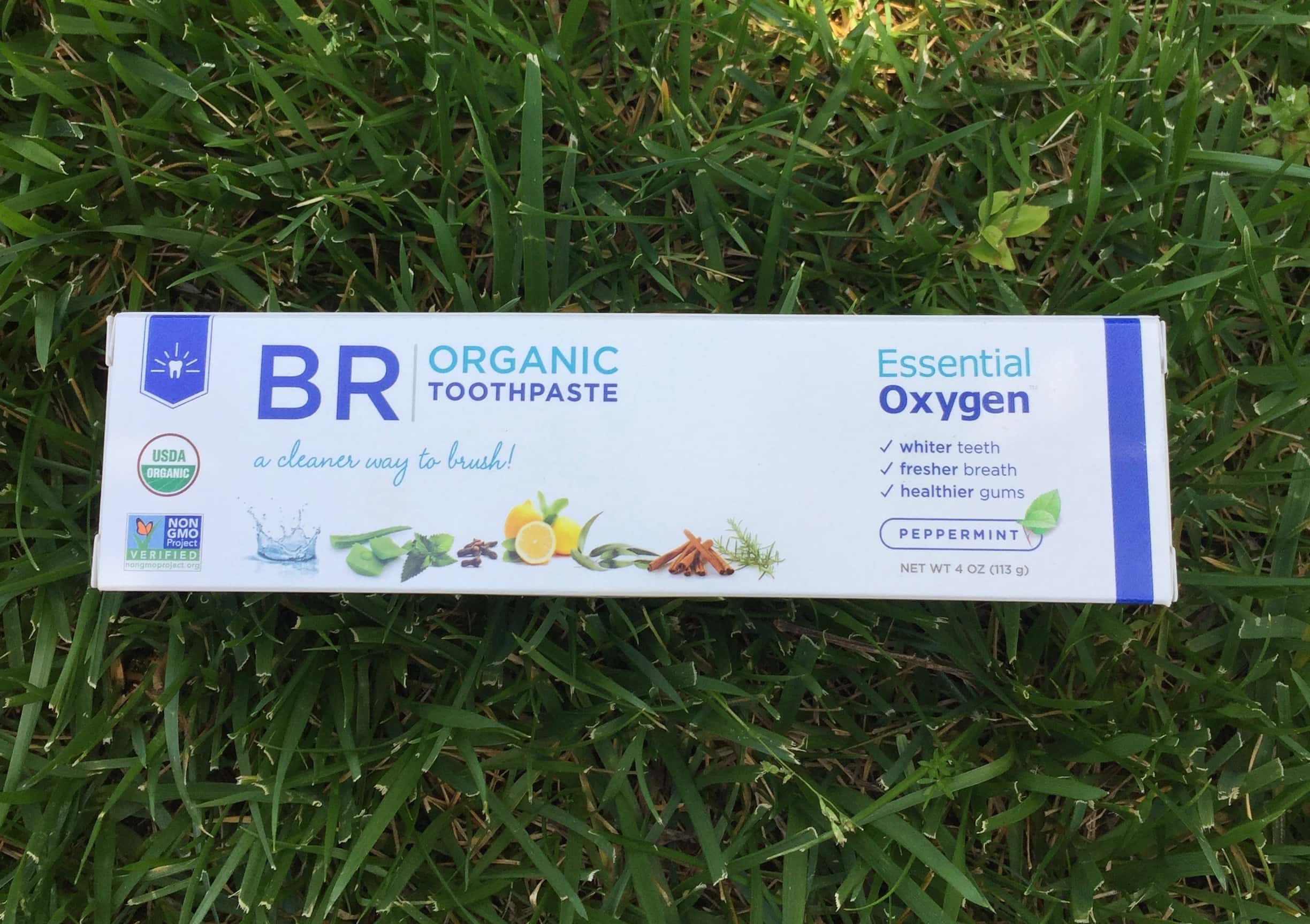 Back in 2014, I published my top three choices for a toothpaste.  Since then I kept on trying different toothpastes to explore my options. I wanted a toothpaste not only without potentially harmful ingredients or even questionable ones but also that would provide a pleasant brushing experience and improve my mouth health. To my surprise, I found a certified organic toothpaste that works so well!
I first tried BR Organic toothpaste made by Essential Oxygen a month ago. I love this organic toothpaste because it whitens my teeth, has a mild and refreshing taste, and in texture, it is not too far different from conventional toothpastes.
I bought it at a local organic grocery store called Good Earth.  After I used and liked the toothpaste I contacted the company, and it turned out they can give you 20% off and compensate me with a little credit for your purchases.
Conventional toothpastes have surfactants (aka foaming cleansers or detergents) that might not be good for us and are not needed for health reasons but are there just to help the toothpaste spread easily around the mouth.  Many toothpastes contain sodium lauryl sulfate (SLS) or surfactants with not much health safety data available about them.  And that's just one of the problems with toothpastes.
Besides surfactants, conventional toothpastes may have fluoride, synthetic dyes, artificial sweeteners, synthetic preservatives, and even microbeads.  Some toothpastes, while non-harmful, contain very few or no beneficial ingredients.
As you can imagine, I was glad to see a certified organic toothpaste with beneficial ingredients and that foams and stays on your toothbrush.
Essential Oxygen BR Organic Toothpaste Ingredients
Without further ado, let's look at the Essential Oxygen BR organic toothpaste ingredients. I accessed these ingredients here.
Deionized purified water, aloe vera, hydrogen peroxide, xanthan gum, guar gum, coconut oil, peppermint oil, spearmint oil, stevia, clove oil, lemon oil, rosemary oil, cinnamon oil, wintergreen oil, eucalyptus oil, frankincense oil, coconut flour, calcium phosphate.
First, I'd like to preface this by saying that I do not like that Essential Oxygen does not list their product ingredients in accordance with the INCI (International Nomenclature of Cosmetic Ingredients) labeling system, which would make it easier for a consumer to understand them. INCI promulgates a set of global standards for ingredient names, providing a globally-consistent nomenclature for product ingredients.
For example, Essential Oxygen lists guar gum as an ingredient, but it is listed without its INCI name, so it is unclear whether it uses guar hydroxypropyltrimonium chloride or cyamopsis tetragonoloba (guar) gum, which are two different ingredients.  However, since on the box of the toothpaste guar gum is marked as organic, I believe it is cyamopsis tetragonoloba (guar) gum, which is a better choice.
Good news! Essential Oxygen informed that the INCI names are featured on the new boxes and the website will be updated soon.  Here is the screenshot of the INCI ingredients.  So yes – guar gum is cyamopsis tetragonoloba.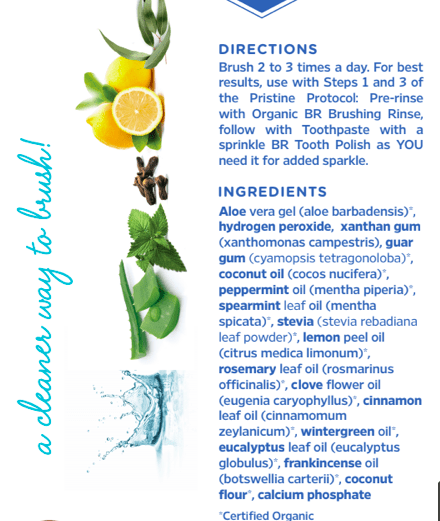 Second, Essential Oxygen did not identify which ingredients are organic on its website.  They did that on the packaging of the toothpaste only.
Deionized purified water: this water is listed as "demineralized," meaning that harmful minerals are removed from it.
Aloe Vera:  has numerous healing properties including antibacterial, moisturizing, and wound healing, including of mouth canker sores.
Hydrogen Peroxide:  is a bleaching and disinfectant substance that is not known to increase the risk of cancer or endocrine disruption.  It is one of the chemicals whose safety is dose-dependent.  In other words, in large doses, it can be very corrosive and cause burns and even death.  In the Essential Oxygen BR organic toothpaste, hydrogen peroxide is only 1.5%, which is lower than the 3% hydrogen peroxide you would buy in a drug store.
Xanthan Gum:  is used in food widely for its thickening properties.  It is a polysaccharide produced by fermentation of sugars. While I am not a fan of xanthan gum or any food made with it for that matter, I believe it is safe in a toothpaste and in fact it is an ingredient that helps the toothpaste to stay on the toothbrush and resemble in texture a conventional toothpaste.
Guar Gum:  as we discussed earlier, since it is marked as organic on the packaging, I assume that it is cyamopsis tetragonoloba (guar) gum, not guar hydroxypropyltrimonium chloride.  Guar gum is made of the seeds of the guar, or cluster bean, plant.   It is widely used in food to thicken foods, add fiber content, and improve texture (source). So this is another ingredient that improves the experience of using this organic toothpaste.
Coconut Oil:  I am glad to see organic coconut oil in this organic toothpaste as it is known for its healing and hygienic properties and is used in oil pulling, which many find beneficial.  You can read more about that on Dr. Mercola's website.
Essential oils:  Essential Oxygen uses a large number of essential oils in its BR organic toothpaste, which are known for their healing and antibacterial properties. They are all marked as organic.
Stevia: is plant sweetener that does not have side effects associated with sugar (more to read about stevia here).
Coconut Flour:  I believe it is used to improve the texture of the organic toothpaste. It is marked as organic.
Calcium Phosphate:  Because there is no fluoride, I am so happy to see calcium in the toothpaste.  Recent studies show that calcium is as effective as fluoride in remineralization of the teeth (read more here and here) and is recommended as a safe alternative to fluoride.
At the moment, so far this BR organic toothpaste is my favorite. I like that it contains no harmful ingredients and instead contains beneficial ingredients for the health of the teeth and mouth.
Where to buy
You can use the code ReadLabels20 to receive 20% off if you purchase the toothpaste and their other products on the Essential Oxygen website. I have not had a chance to try their other products, but I am planning to do so soon.
You can also find the Essential Oxygen toothpaste on Amazon here and or the set of their 3 products here.  The reviews are very good.
[columns] [span6]
[/span6][span6]
[/span6][/columns]
Other toothpaste options I reviewed:
Is Crest Complete Toothpaste Safe?
Let's start creating a healthy home today!
When you join the I Read Labels For You community, you'll receive weekly emails with inspiration, exclusive content and coupons to gain clarity and confidence to create a healthy home. Plus, you'll get the FREE guide: "5 Powerful Steps to a Non-Toxic Home You Can Take Today!"
"I find your knowledge so helpful, to the point and like a gold mine. You have saved me so much time and have taught me so much." Toni