Certified Organic Toothpaste for Sensitive Teeth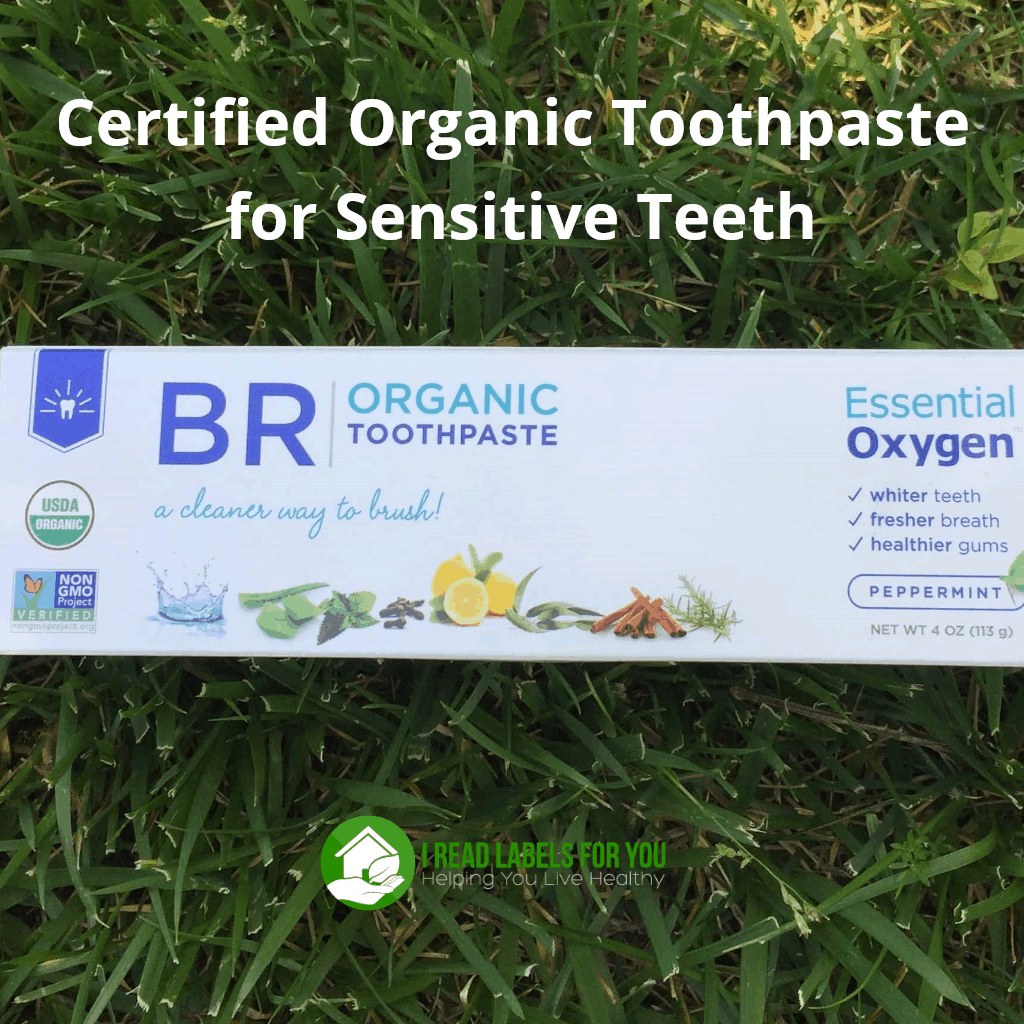 This post may contain affiliate links. To read our affiliate policy, click here.
Normally, I do not have sensitive teeth, but sometimes I do. You might not relate to this, but I love tart fruit – cherries, plums, and apples. I even love fresh cranberries. And I can eat a whole bag of cranberries. When I eat a lot of them, my teeth become very sensitive. In this post, you are going to learn about a certified organic toothpaste that is a perfect toothpaste for sensitive teeth. The main reason it works so well for sensitive teeth is that it is a non-abrasive toothpaste. Keep in mind though that I am not a dentist, so consult with your dentist to choose the best toothpaste for you.
Conventional toothpaste
I wanted a toothpaste without potentially harmful ingredients or even questionable ones. After all, we use toothpaste frequently, at least twice a day. Our skin absorbs things we put on it, especially if it is a mucous membrane type of skin as is the case with the mouth. And we may also swallow tiny amounts.
Conventional toothpastes have surfactants (aka foaming cleansers or detergents). They may be too harsh for the gentle skin of our mouths. In addition, many toothpastes contain sodium lauryl sulfate (SLS) or other surfactants with not much health safety data available about them. And that's just one of the problems with toothpastes. Besides, conventional toothpastes may have fluoride, synthetic dyes, and synthetic preservatives. They may also have ethoxylated ingredients, quaternary ammonium compounds, and even microbeads. Some toothpastes, while non-harmful, contain very few or no beneficial ingredients.
As you can imagine, I was glad to see a certified organic toothpaste for sensitive teeth. It is definitely the best organic toothpaste for sensitive teeth.
Non-abrasive toothpaste
To know the degree of abrasiveness of a toothpaste, we can look up its RDA (Relative Dentin Abrasiveness) index. Many types of toothpaste are highly abrasive and can strip away tooth enamel. That can make the teeth very sensitive to hot, cold, sour, and sweet food. The FDA recommends not to exceed an RDA index of 200. Dentists consider toothpastes with an index of 70 and lower to be of low abrasiveness. Toothpastes between 70 and 100 are of medium abrasiveness. Therefore, dentists do not recommend toothpastes with an RDA of over 100 for people with sensitive teeth.
Essential Oxygen recently sent their organic toothpaste for testing. They found out that the RDA for their non-abrasive toothpaste is only 12. For your reference point, brushing with plain water is 4. This is how we know that Essential Oxygen BR is a perfect toothpaste for sensitive teeth.
With this said, let's look at the Essential Oxygen BR toothpaste ingredients. I accessed these ingredients here.
Essential Oxygen BR organic toothpaste ingredients
Aloe vera gel (aloe barbadensis)*, hydrogen peroxide, xanthan gum (xanthomonas campestris), guar gum: (cyamopsis tetragonoloba)*, coconut oil (cocos nucifera)*, peppermint oil (mentha piperia)*, spearmint leaf oil (mentha spicata)*, stevia (stevia rebadiana leaf powder)*, lemon peel oil (citrus medica limonum)*, rosemary leaf oil (rosmarinus officinalis)*, clove bud oil (eugenia caryophyllus)*, cinnamon leaf oil (cinnamomum zeylanicum)*, wintergreen oil (gaultheria procumbens)*, eucalyptus leaf oil (eucalyptus globulus)*, frankinscence oil (botswellia carterii)*, coconut flour*, calcium phosphate
*Organic ingredient
First and foremost, I'd like to say that the ingredients are disclosed in International Nomenclature Cosmetic Ingredients (INCI) naming conventions. These are naming conventions upon which the cosmetic industry agrees. Making the names consistent makes it easier for customers to know what they are and to research them. Hence, that is one of the factors I look at when I decide whether I can trust a company.
Let's look at each ingredient of the Essential Oxygen toothpaste separately.
Aloe vera gel and oils in this toothpaste for sensitive teeth
Aloe vera gel
This ingredient has numerous healing properties. They include antibacterial, moisturizing, and wound healing (think 'canker sores'). And I am so glad that this non-toxic toothpaste has a certified organic aloe vera gel.
Coconut oil
It's great to see organic coconut oil in this organic toothpaste. Coconut oil is famous for its healing and hygienic properties and is used in oil pulling, which many find beneficial. You can read more about that on Dr. Mercola's website.
Essential oils
Essential Oxygen toothpaste for sensitive teeth uses a large number of essential oils in its BR organic toothpaste. These oils are known for their healing and antibacterial properties. They are all organic and produce a refreshing yet mild taste.
On a side note, here is something to keep in mind if you are pregnant or breastfeeding. The National Association for Holistic Aromatherapy has published a list of essential oils that are best to use in a highly diluted form or avoid using altogether throughout pregnancy, labor, and breastfeeding. Wintergreen oil is one of them. By the way, it is a common ingredient in natural toothpastes.
Thickeners in this non-toxic toothpaste
Xanthan gum
This ingredient is popular in food for its thickening properties. It is a polysaccharide produced by fermentation of sugars. While I am not a fan of xanthan gum or any food made with it for that matter, I believe it is safe in toothpaste. In fact, it is an ingredient that helps the non-abrasive toothpaste to stay on the toothbrush and resemble conventional toothpaste in texture.
Guar gum
It is great that guar gum in this toothpaste for sensitive teeth is organic. Guar gum is made of the seeds of the guar, or cluster bean, plant. It is widely used in food to thicken foods, add fiber content, and improve texture (source). So, this is another ingredient that improves the experience of using this organic toothpaste.
Coconut flour
I believe, coconut flour functions as a thickening ingredient to improve the texture of this non-toxic toothpaste.
Calcium and stevia in the Essential Oxygen organic toothpaste
Calcium phosphate
Because there is no fluoride, I am glad to see calcium in this non-abrasive toothpaste. Recent studies show that calcium is as effective as fluoride in the remineralization of teeth (read more here and here). Thus, holistic dentists recommend it as a safe alternative to fluoride.
Stevia
It is a plant sweetener that may not have side effects associated with sugar (you can read more about stevia here).
Hydrogen peroxide in this organic toothpaste for sensitive teeth
To begin, hydrogen peroxide serves as a disinfectant to prevent or help with plaque and inflammation of the gums. I am not a dentist, but my personal experience previously led me to believe that in order to deal with plague I must use a more abrasive toothpaste. The good news is that Essential Oxygen toothpaste allows us to deal with plaque without risking wearing out our enamel.
Some people may be concerned about the use of hydrogen peroxide in toothpaste. Let's talk about that for a moment.
The first concern about hydrogen peroxide in toothpaste
Hydrogen peroxide is one of the chemicals whose safety is dose-dependent. In larger doses, it can be very corrosive, cause burns and even death. However, in smaller doses, its dangers are mitigated.
Essential Oxygen organic toothpaste for sensitive teeth contains 1.5% hydrogen peroxide, which is lower than the 3% hydrogen peroxide you would buy in a drug store. It is also much lower than teeth whitening products contain. Normally, teeth whitening products have a 6% hydrogen peroxide concentration. Some whitening gels contain hydrogen peroxide as high as 35%.
The second concern about hydrogen peroxide in this non-toxic toothpaste
I'd like to address cancer as one of the concerns. The US 2018 Cosmetic Ingredient Review report detailed animal studies for carcinogenicity. Obviously, the purpose of the studies was to see whether hydrogen peroxide could stimulate the growth or multiplication of cancer cells. The scientists got mixed results and came to the following conclusion. There was not enough evidence to classify hydrogen peroxide as carcinogenic to humans. By the way, in the animal studies, scientists administered hydrogen peroxide orally in drinking water.
The EU Scientific Committee on Consumer Safety (SCCS) refers to hydrogen peroxide as a weak cancer promoter. Additionally, the committee looks at multiple factors to determine its safety guidelines in toothpastes and mouthwashes. These factors include amounts, frequency, and people's overall state of health.
For example, the SCCS found that saliva rapidly breaks down hydrogen peroxide (H202) into oxygen (O2) and water (H20). In fact, studies showed that at least 70% of peroxide decomposes during brushing. As for the other ingredients, they did not affect the rate of decomposition.
Addressing the concerns about hydrogen peroxide by the EU Scientific Committee
It is important for us to feel completely safe when using the Essential Oxygen organic toothpaste for sensitive teeth. So, what does the EU Scientific Committee have to say about a toothpaste with hydrogen peroxide?
The EU Scientific Committee concluded that:
Using toothpastes containing up to 1.5% of hydrogen peroxide twice a day for up to six months did not lead to adverse health effects.
Using mouth rinses that contain up to 1.5% hydrogen peroxide once or twice daily for up to 2 years had no adverse effects on the inside of the mouth, gums or tongue. However, one study reported discoloration of the inner lining of the mouth and the tongue when used 4 times daily for 5 weeks.
Using rinses containing 3% hydrogen peroxide 3 to 5 times per day can cause irritation in people with a previous mouth injury.
Rinsing and brushing 2 to 3 times daily with products containing more than 6% hydrogen peroxide affected the tongue and gums in some healthy people.
Conclusion about this non-abrasive toothpaste
I believe these organic toothpaste ingredients are generally safe. It can be an excellent option as a toothpaste for sensitive teeth that are also prone to plaque and gum inflammation. However, you should consult with your dentist to decide what works the best for your teeth and gums.
In addition, if you are looking for a toothpaste for kids, please read my post about the Safest Toothpaste for Kids. Also, for your general education, here is information about the popular Crest Complete Toothpaste.
You can use the code ReadLabels20 for 20% off if you purchase Essential Oxygen toothpaste and their other products on the Essential Oxygen website.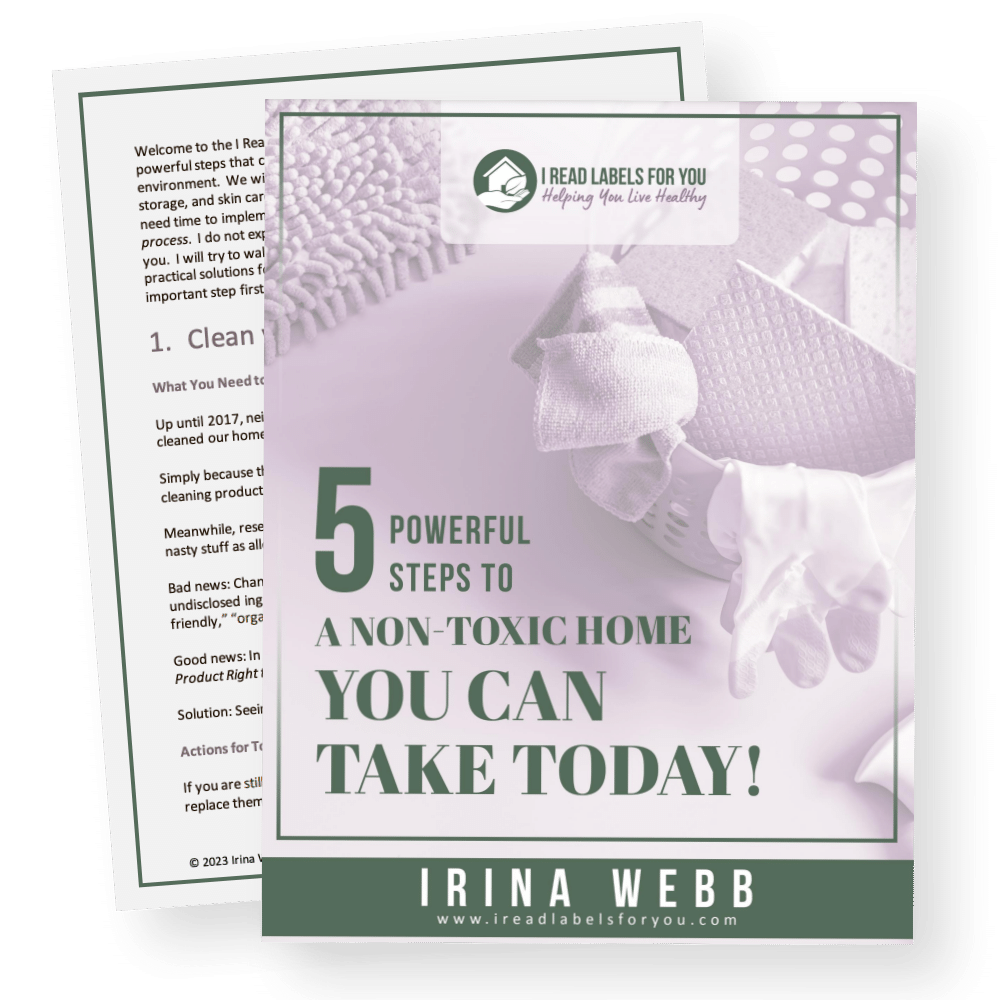 Download The Free Guide!
5 Powerful Steps To A Non-Toxic Home
Join our informed consumer community and get our free guide the "5 Powerful Steps To A Non-Toxic Home".