Are Cast Iron Pots and Pans Safe?
This post may contain affiliate links. To read our affiliate policy, click here.
Whether your pancakes will slide off the frying pan easily or stick to it may set your mood for the whole day. My husband used to look forward to making pancakes because of the ease of removing them from the pan. It made him feel good as a cook. When I replaced all the non-stick cookware in the kitchen with cast iron pots and pans, he was not pleased. However, after learning how to use cast iron to make it work, he totally forgot about all the toxic non-stick pans he had used before. Read on to find out why we chose cast iron as safe non-stick cookware for our kitchen and what makes it non-stick. You will also learn about cast iron safety in general.
In my opinion, it is best to avoid Teflon and even ceramic non-stick cookware.
Let me tell you why I decided to get rid of our non-stick cookware for good.
On the one hand, non-stick pots and pans are easy to use and easy to wash, assuming you do not scratch them. But on the other hand, the material of their coating may be unsafe for your health.
Teflon non-stick cookware
To begin with, Teflon® is a trademarked name for a slippery polymer discovered in 1938 and patented by DuPont. Its "real" name is polytetrafluoethylene (PTFE), and it contains perfluorooctanoic acid (PFOA) and other undisclosed materials.
When you heat a PTFE-coated pan to 464°F, it starts off-gassing toxic particulates, and at 680°F, it releases at least 6 toxic gases. The latter include two carcinogens, namely, PFOA and tetrafluoroethylene (TFE), and two global pollutants. They also include monofluoroacetic acid (MFA), which is lethal to humans even in small doses. In fact, a non-stick frying pan can reach 800°F when you preheat it on an electric stovetop burner, and 1,000°F – on a gas range top (source).
Additionally, please do not fall for the "PFOA-free" label. If the PFOA is not there, there must be something else to replace it. And you do not know if it is better or worse than PFOA.
Thus, even though Teflon® cookware is light and easier to handle than cast iron pots and pans, I recommend you stay away from it altogether.
Ceramic non-stick cookware
What about ceramic non-stick pots and pans, such as GreenPan – are they safe non-stick cookware?
Well, the good news is that GreenPan uses Thermolon instead of PTFE coating. The Thermolon coating results from a Sol-Gel process and is comprised mainly of silicon dioxide, the component of sand from which glass is made. So, from this standpoint, ceramic non-stick cookware is better than Teflon® cookware. However, there are two reasons that prevent me from pronouncing it as completely non-toxic cookware.
First, although GreenPan provided me with their test reports, which I applaud, there is no way to say that they are comprehensive. For example, we know that one of the components of Thermolon coating is silicon dioxide. But what about the other components? We still do not have the full list. Consequently, it is hard to say what substances we need to see test reports for.
Second, GreenPan is facing a class-action lawsuit from three law firms that they filed in September 2019. The lawyers filed the lawsuit because of GreenPan's claims to be "completely toxin free," whereas (alleges the lawsuit) the patent for Thermolon lists numerous toxic chemicals that comprise it. To read more about the lawsuit and GreenPan cookware, please head over to my Is GreenPan Non-Stick Cookware Safe? post. And I also wrote about the safety of Our Place Always Pan, another popular brand.
For these reasons, I cannot recommend ceramic cookware as safe non-stick cookware. But I do recommend cast iron pots and pans, and here is why.
I like cast iron non-toxic cookware because it contains no lead.
To start with, cast iron is made of an alloy comprised of over 90% iron. As you may know, cast iron cookware has a long history of use in Asia, Europe, and the US. It was especially popular during the first half of the 20th century because it was cheap and durable. Therefore, most American households had at least one cast-iron cooking pan at the time. Even though it fell into disfavor, it is now seeing a strong comeback as non-toxic cookware.
For example, according to Tamara Rubin, a leading lead-poisoning prevention advocate, cast iron has a much higher melting point than lead. As a consequence, simple cast iron pots and pans almost never have any lead as it is unlikely for the metal itself to contain lead. The two exceptions, though, are cast iron cookware with a decorative high-temperature enamel finish and some antique cast iron cooking items (source).
With the right use, your cast iron can serve as safe non-stick cookware.
Although cast iron cookware does not carry "non-stick" marketing labels, it has non-stick properties. All you need to do is learn how to use it correctly. When you do, your non-stick cast iron will serve you long and well.
First, make sure you heat the pan well before you add any food. A few drops of water dancing across the surface as they boil off are a good indicator.
Second, season your cast iron after every use. For example, after washing my cast iron, I put it back on the stove in a wet state. Once the water has boiled away, I take it off the stove and apply a thin layer of avocado oil (the best oil to use at high heat). When it cools down, I wipe any excess with a paper towel before putting it away.
How does seasoning cast iron pots and pans work?
Apparently, heating the cast iron opens small holes, or pores, in its surface. These pores collect and trap the oil as it cools and contracts, making it act as a non-stick surface the next time you use it. And if you do not do this, the cast iron may rust. But you can restore even a rusty pan with some elbow grease and a new seasoning.
Don't let the need to season your cast iron cookware after each use intimidate you. It is easy to do once you get in the habit. Besides, a cast iron skillet usually comes with instructions on how to season it before the first use. And there are lots of videos online as to how to do it.
Thus, with the right treatment, your cast iron has a potential to become your favorite safe non-stick cookware. Based on experience, I can say that non-stick cast iron is perfect for pancakes and other potentially sticky food. After a couple of months, our cast iron skillet became non-stick.
Is cast iron safe? It depends.
Cast iron safety is a moot point. First of all, cast iron leaches iron into food during the cooking process. Thus, studies show that the amount of iron varies from 1.7 mg per 100 g to 26 mg per 100 g. In addition, acidic foods, high moisture content, and the long duration of cooking increase the release of iron significantly. Therefore, not to overdose on iron, it is best not to use it frequently or at all for acidic food that requires long cooking time, such as tomato sauce.
Can iron cause harm to our health?
On the one hand, iron is a necessary substance for our health. Therefore, cast iron cookware may help with iron deficiency when the diet is poor in iron or when the iron does not absorb well. Clearly, we should not consider this safe non-stick cookware the only source of iron, though.
On the other hand, too much iron is toxic. Accumulating too much iron can be due to a genetic disease called hemochromatosis. But many people do not know they have this disease. In fact, symptoms of iron overload can be very few, or can include joint pain, fatigue, general weakness, weight loss, and stomach pain.
So, how much iron do we need?
Basically, the amount of iron we need daily depends on age, gender, and whether a woman is pregnant or breastfeeding. That is to say, the range is between 7 mg to 27 mg daily. And pregnant women need the highest amount. For more details, please visit here.
Therefore, I recommend that you determine your iron needs before making cast iron pots and pans your primary cookware and use it accordingly.
You can do that by asking your doctor for some blood tests. For example, Myrto Ashe, MD, MPH, IFMCP, who reviewed this post, recommends getting both a ferritin level and a serum iron and TIBC (total iron binding capacity). The ferritin is a measure of iron storage, but it is also a measure of inflammation and insulin resistance. Thus, the ratio of iron divided by TIBC gives you the information you really need. When the ratio is too low, there is likely iron deficiency. When the ratio is too high, there is iron overload. How high is too high? There is a debate: 35% is safe, 40% less so, 45% probably too high. When the ratio is too high, the protein that carries iron is a bit overwhelmed. It drops iron in various places in the body, which is harmful as it causes oxidative stress.
Stargazer and Field Company produce safe non-stick skillets.
Speaking of safe non-stick cookware, I cannot help but mention Stargazer and Field Company.
When I learned about Stargazer, I asked them about their proprietary 2-step finish for their non-stick cast iron. That is to say, I wanted to know if they used additional substances that created that non-stick finish.
The company answered that that they applied two layers of seasoning. They emphasized, however, that it was important to keep it seasoned, because that was what made it non-stick.
As we discussed above, it is best to use a high smoke point oil for seasoning your cast iron pots and pans. For example, Stargazer uses a blend of grapeseed, canola, and sunflower oils. And Field preseasons their non-toxic cookware with grapeseed oil.
While Stargazer offers two sizes of skillets, Field offers a variety of skillets and a Dutch Oven. The cookware of both brands has non-stick properties because the cookware surfaces are very smooth versus textured. Alternatively, some new Lodge cast iron cookware has textured surfaces that make it harder to achieve a non-stick effect. In contrast, Stargazer and Field grind and smooth the surfaces of their non-stick cast iron cookware.
In addition, I appreciate the fact that both companies produce their cast iron cookware in the USA.
Conclusion about safe cast iron cookware
In conclusion, I want to emphasize the benefits of cast iron cookware. First, it can serve as safe non-stick cookware if you treat it right. Second, it has no lead or other heavy metals that are harmful to our health. Third, it can supply your body's need for iron. However, I do want to say that fried food is not good for you. Conversely, eating a lot of fresh or steamed vegetables is very important.
Regarding cast iron safety, if your iron level is high to begin with, do not use cast iron cookware. Always select cookware according to your health condition. Thus, you can find out about other options of non-toxic cookware in my Safe Cookware Guide That Makes Sense.
For options of cast iron pots and pans please visit my shop. Also, I am available for consultations on the safety of products you consider buying for you or your household. Finally, become a part of the Savvy Consumer Circle to learn how to make your home a non-toxic haven.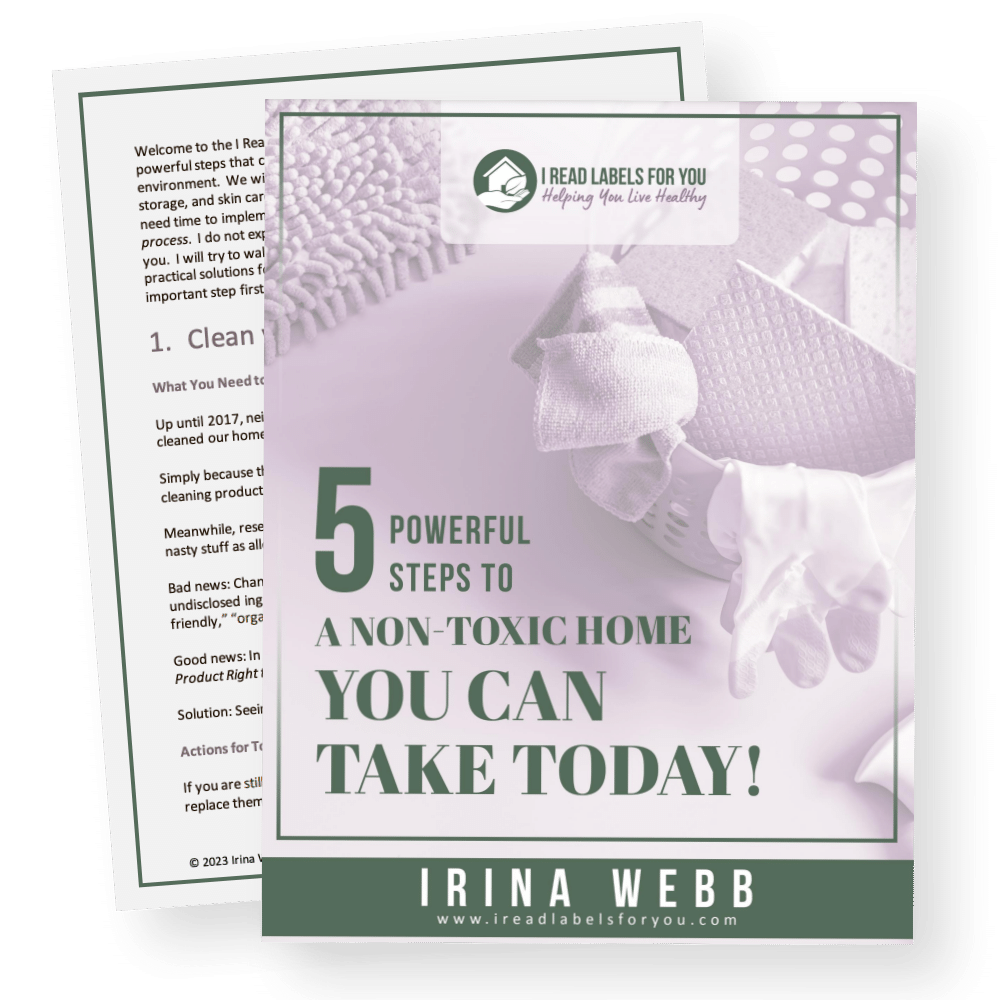 Download The Free Guide!
5 Powerful Steps To A Non-Toxic Home
Join our informed consumer community and get our free guide the "5 Powerful Steps To A Non-Toxic Home".