BPA-Free Cans – Safe or Toxic?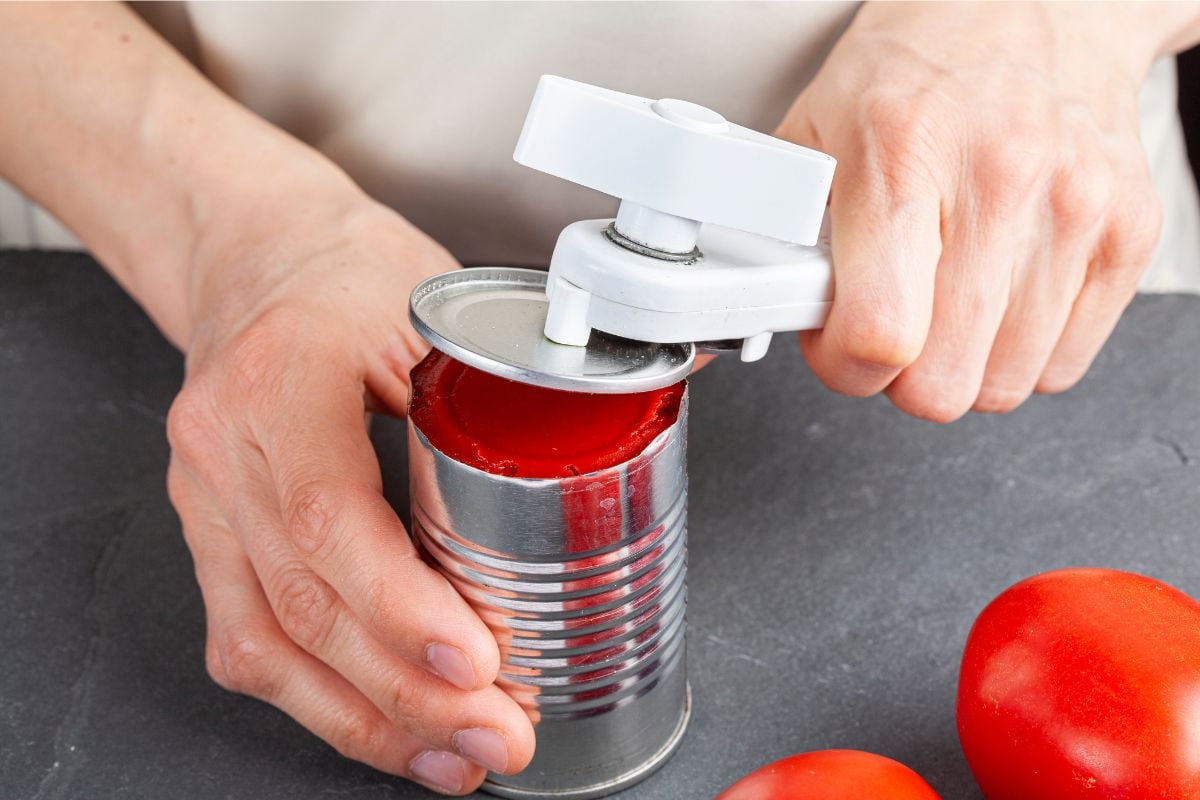 This post may contain affiliate links. To read our affiliate policy, click here.
After I discovered that bisphenol A (BPA) may leach from the can lining into food, I ditched canned food altogether. Well, almost all canned food. I still ate canned sardines, taking solace in the label statement "No BPA used in can lining." Then I called the company to ask what they used instead of BPA, and they said it was proprietary information.
Even though, allegedly, they tested for BPA, they had no test results to show. And they did not test for other bisphenol family members, such as bisphenol S, bisphenol F, bisphenol B, and others. As a result, my confidence in those "BPA-free" canned sardines dissipated. At first, I was happy to see "BPA-free" claims as an indicator that the market responded to the issue of BPA in cans. But when I dug deeper, this is what I found out about BPA-free cans. (And if you still use plastic water bottles, this post is for you!)
BPA-Free Cans
When I started researching product ingredients, there was a combination of factors that pushed me to do it. First, I was expecting a baby. Second, I had been diagnosed with Hashimoto Thyroiditis. Third, my dad had died of metastatic cancer. All that made me wonder what I could do to improve my own health and ensure safety for my baby.
I remember being shocked to see a list of chemicals on a "natural" baby wash. Suddenly, I realized it was my responsibility as a consumer to make sure I was using safe products. Since then, it has been my passion to expose chemicals in products and educate consumers on their potential health effects. It is imperative that we become mindful of what we eat and apply on our skin and our children's skin.
Since 2012, when I began my health journey, I have completely recovered from Hashimoto's. For details, please visit my posts Can Breast Implants Cause Autoimmune Diseases and My Health Update After Explant Surgery.
Moreover, I have founded I Read Labels for You whose aim is to help consumers make informed decisions in the market. For this purpose, I have developed a five-step research approach based on thoroughness, honesty, and integrity.
With that said, let's talk about BPA in cans and why avoiding BPA is best.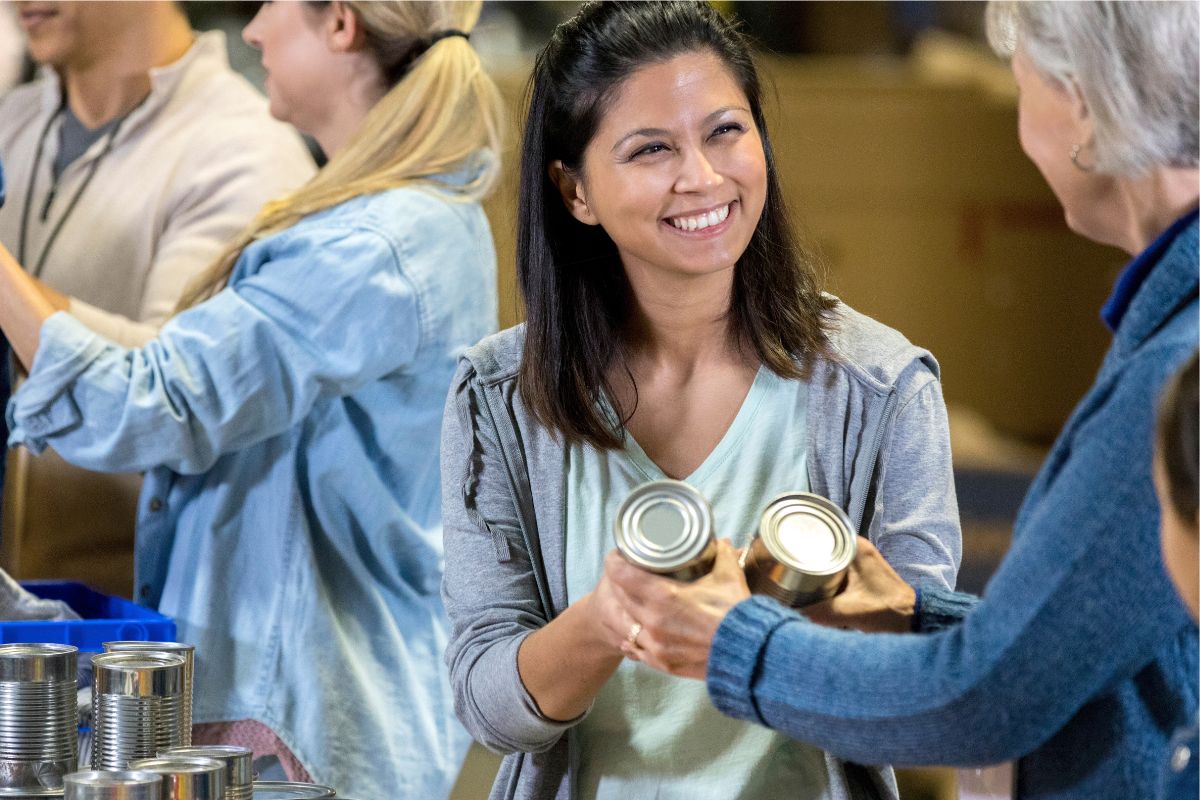 Potential Negative Effects Of BPA On Health
To begin with, bisphenol A (BPA) is common in epoxy-resin linings of metal food cans. The epoxy lining forms a barrier between the metal and the food which helps create a seal. This seal prevents corrosion and, thus, keeps the food safe from bacterial contamination and a metallic taste.
In addition, BPA has been used in the manufacture of reusable plastic bottles, including baby bottles, sippy cups, and infant formula packaging (source).
However, the major problem with BPA is that it is classified as an endocrine disruptor (source). Even small amounts of BPA may interact with estrogen and androgen cell receptors in humans. This may lead to cancer development and progression (source).
Also, animal studies show that adult exposure to BPA may affect the brain, the reproductive system, and the immune system.
Additionally, this study showed that BPA exposure during pregnancy may cause oxidative stress in both the mother and child. This, in turn, may lead to diabetes and cardiovascular diseases in the child later in life.
And this animal study suggests that one of the concerning adverse effects of BPA on fetuses is disruption of behavior, especially during late pregnancy.
Lastly, this study suggests that in utero exposure to BPA may increase the risks of asthma and wheezing among school-age girls.
I think these are some of the reasons for the growing demand for BPA-free cans.
But how do we know that BPA in cans leaches from the can lining into food?
Bisphenol A Is Detectable In A Human Body
According to the National Health and Nutrition Examination Survey, there were the following results regarding BPA concentrations in human urine.
First of all, the survey evaluated 7,669 participants of 6 years and older between 2003 and 2008.
People who consumed one can of food had 24% higher concentrations of BPA in their urine (within 24 hours after consumption) than people who had not consumed canned food. Further, consuming two or more cans of food resulted in 54% higher BPA levels.
Moreover, some kinds of canned food were associated with higher BPA concentrations. For example, consumption of one or more cans of canned vegetables or canned fruits caused 41% higher levels of BPA. And consuming canned pasta resulted in 70% higher BPA levels.
The highest level of BPA – a whopping 229% – was after consumption of canned soups.
In other words, canned fruits, vegetables, pasta, and especially soup are the first in line for BPA-free cans.
How Much BPA In Cans Is Safe?
Opinions differ on this one. For starters, in 2009, Consumer Reports tested a variety of canned food. They also found the highest amounts of BPA in canned vegetables, fruits, and soups. By the way, Progresso Vegetable Soup showed the highest levels of BPA, ranging from 67 to 134 ppb.
So, how much is that in micrograms?
To compare, many birth control pills are delivered at 20 micrograms of estrogen. Assuming that a can weighs 416 grams, 100 parts per billion of BPA in it would translate into 41.6 micrograms (mcg), or twice as much as a birth control dose. Of course, it is not correct to assume that BPA acts exactly like estrogen.
The US Environmental Protection Agency (EPA) has established a safe BPA level of 50 mcg/kg/day (source). Further, Health Canada has established the tolerable daily intake (TDI) for BPA at 25 mcg/kg/day. And the European Food Safety Authority has replaced its previous TDI for BPA at 4 mcg/kg/day with the new TDI of 0.2 nanograms (0.2 billionths of a gram) per kilogram of body weight per day. This is around 20,000 times lower than before (source).
Following the European standard, a 40 lbs (18 kilograms) child's daily BPA intake should be no more than 3.6 nanograms. As we saw earlier, one can of food may expose the child to much, much more than that!
The Food And Drug Administration Opinion On BPA Acceptable Levels
In 2012, the FDA amended its regulations to no longer provide for the use of BPA-based polycarbonate resins in baby bottles and sippy cups (source). And in 2013, the FDA amended its regulations to no longer provide for the use of BPA-based epoxy resins as coatings in packaging for infant formula (source).
Further, the US Food and Drug Administration (FDA) conducted a BPA safety assessment in 2014 and reviewed its safety again in 2018. As a result, the FDA concluded that "currently authorized uses of BPA continue to be safe for consumers" (source).
Nevertheless, in May 2022, in response to a food additive petition filed by a coalition of physicians, scientists and public health and environmental organizations, the FDA agreed to reconsider the safety of using BPA in plastics lining, metal can coatings, and other materials that contact food (source).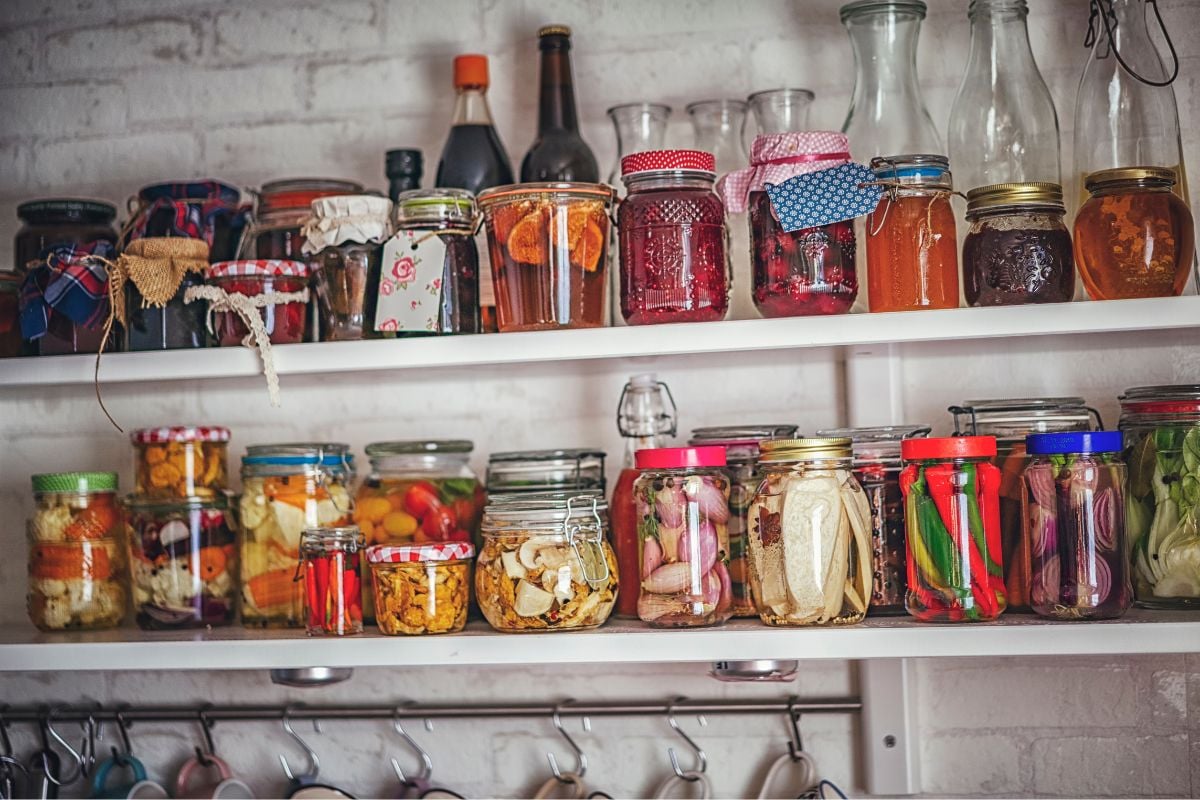 Are There BPA-Free Cans In The Market?
According to the Can Manufacturers Institute, the BPA endocrine disruptor in cans is a matter of the past. Allegedly, about 98 percent of modern food cans have no BPA-based linings. Instead, they use acrylic, polyester, non-BPA epoxies or olefin polymers that are developed to avoid endocrine activity.
In 2017, the Center for Environmental Health (CEH) used an infrared spectrometer to identify lining materials in popular canned foods. The cans were from Kroger, Albertsons, Dollar Tree, and 99 Cents Only retail chains. In total, the CEH examined about 250 samples and found BPA linings in about 40% of the cans. Additionally, CEH discovered that out of the 71 cans that tested positive for BPA, only 3 were listed in a state database intended to list canned foods that contain BPA.
In 2019, the CEH bought 50 of the cans that had BPA linings in 2017. Here is the good news – 48 of the 50 cans had BPA-free lining materials.
Additionally, back in 2017, the CEH tested canned foods from certain ethnic groceries. They found that 71 out of 78 (90%) had BPA in cans. It is unclear, though, if the CEH has retested the canned food from those ethnic stores. It is good to remember that the US market requirements for the manufacture of BPA-free cans may not adhere to the cans manufactured in other countries.
What Is Wrong With BPA-Free Cans?
On the one hand, it is great that many canned food manufacturers have stopped using cans with BPA-based epoxy lining. But on the other hand, most substitutes are not any better or simply are not disclosed.
Thus, the common lining materials replacing BPA-based epoxy lining are oleoresin, acrylic resin, polyester resin, and polyvinyl chloride (PVC) copolymers.
Since manufacturers do not disclose the ingredients of those linings, we know little about chemicals that may leach from them. We do know, though, that PVC is made from vinyl chloride which is considered carcinogenic (source). (You can learn more about polyvinyl chloride in my post about PVC yoga mats.)
For your information, several health organizations surveyed canned food and published their findings in the "Buyer Beware: Toxic BPA and Regrettable Substitutes in Canned Food" report. Some of those organizations are the Breast Cancer Fund, the Campaign for Healthier Solutions, and Clean Production Action. As you can probably guess, the title of the report telegraphs its conclusions. Please, refer to my post Yummy and Safe Coconut Milk for a detailed review of innovative can lining materials.
The only lining that I am relatively comfortable with is oleoresinous enamel. It is a mixture of oil and resin extracted from plants such as pine and balsam fir. To my knowledge, Eden Foods is the only company that uses oleoresinous enamel cans. However, oleoresinous e-enamel lining does not work for highly acidic foods, such as tomatoes.
Conclusion About BPA-Free Cans
While It Is Great That The Market Is Exploring BPA-Free Can Linings, We Do Not Know Much About The Safety Of BPA Substitutes.
It is great that there is evidence that the market is shifting from BPA in cans to BPA-free canned food. At the same time, we know very little about the additives used in the BPA-based epoxy lining substitutes.
So, the best thing is to avoid canned food altogether, especially if you are pregnant or may become pregnant. If you find that avoiding canned food is too hard and stressful, Eden Foods BPA-free cans are your best bet.
I also advise buying tomato products in glass jars or make your own. (My husband makes a great red sauce for pasta whose recipe he inherited from his mother.) Know that jar lids may leach some BPA as well, so fresh food is always better. And tomato paste may be a better choice than tomato sauce because it is not liquid and does not touch the lid as much.
For additional consultation on healthy living contact me, and I will help you. Check out my e-books and shop for options of non-toxic products of all kinds.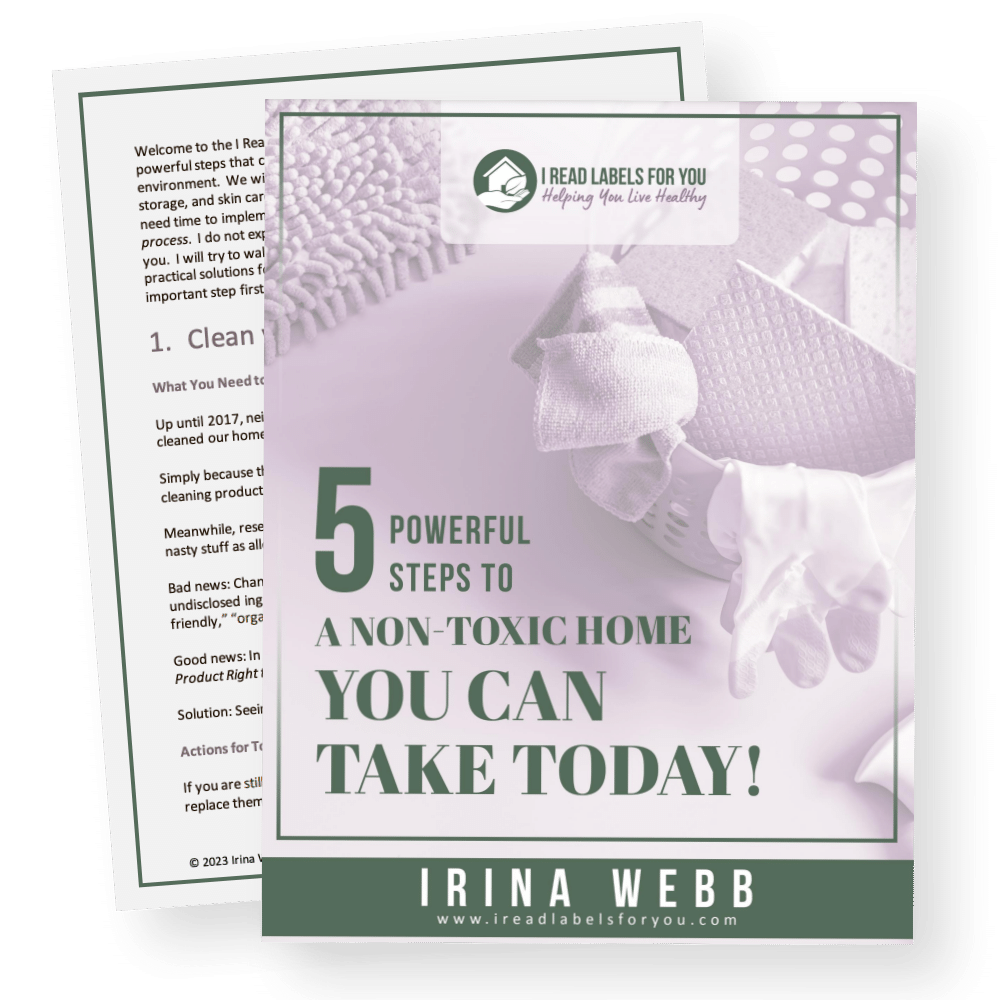 Download The Free Guide!
5 Powerful Steps To A Non-Toxic Home
Join our informed consumer community and get our free guide the "5 Powerful Steps To A Non-Toxic Home".