Non-Toxic Tea Kettle Not Made in China
This post may contain affiliate links. To read our affiliate policy, click here.
Have you been looking for a non-toxic tea kettle not made in China? Personally, I feel sad that such a great country has become an epitome of bad quality. The background level of pollution in China and general lenient attitude towards quality standards are discouraging. Hence, it helps to buy products from countries that have more effective environmental and consumer protection laws.
However, in this post I am going to show you that even China-made cookware can be safe enough for you. What matters is the materials for the cookware. Keep reading and you will learn how to find the best tea kettle for you.
What materials should not be in a non-toxic tea kettle
A non-toxic tea kettle should not be aluminum or have enamel coating.
Why your best tea kettle is not an aluminum tea kettle
Aluminum cookware may leach aluminum salts. Unlike lead or mercury, aluminum's negative effects on our health are controversial. While it is not an established carcinogen, it is linked to Alzheimer's and may contribute to the depletion from the body of phosphorus, calcium, magnesium, and iron (source).
Unlike lead, which has no safe levels, our bodies can take some aluminum without suffering harmful effects. The generally accepted level of aluminum we can ingest is 3-5 mg a day. Independent tests show that food prepared in aluminum cookware can increase this daily intake substantially.
The good news is that our organs don't absorb most of the aluminum we ingest as it gets excreted. However, we should take into consideration that aluminum is bioaccumulative, meaning that it accumulates in the body over time. Thus, I don't recommend aluminum tea kettles. I personally make tea several times a day, and I want to make sure that I use a non-toxic tea kettle for boiling water.
Why your tea boiler should not have enamel coating
The main reason for not recommending kettles with enamel is heavy metals that can leach into water from the coating.
Lead is a common contaminant in cookware or dishware that can be found in enamel, too. It is a heavy metal that accumulates in the body over time. You do not want your best tea kettle to leach lead. There is an array of potential health problems standing behind lead – anything from fatigue and joint paint to cancer.
We can't know for sure whether the cookware in question contains lead until we test it. Fortunately, there are people who do this for us. One of them is Tamara Rubin. She conducted XMF tests on several household items, starting with an enameled camping cup and ending with an enameled oven by a famous kitchenware brand. All the enamelware items showed the presence of lead or cadmium in them.
Thus, I do not recommend enamelware for your non-toxic tea kettle, especially if it is made in China.
If you are still considering an enameled tea boiler, make sure that the tea kettle is not made in China and does not have the California Prop 65 warning label attached to it.
Regulations to help you buy lead-free cookware
Are there any regulations to help you buy the best tea kettle free of lead? Yes! There are two regulations to look for – FDA regulations and California Proposition 65. In the table below you will find the FDA and California Proposition 65 lead compliance limits side by side per type of cookware/dishware. The measurements are in micrograms per milliliter (mcg/ml) after the item was soaked in a 4% acetic acid solution.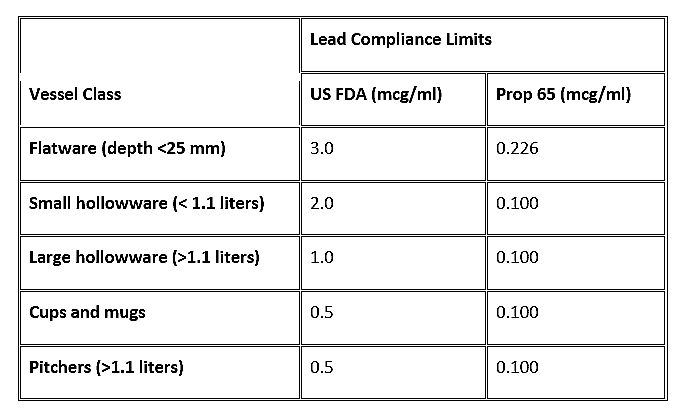 Let's put these numbers into perspective. A better understanding of what they are will help you buy your non-toxic tea kettle.
Reading the table for FDA and California Proposition 65 lead compliance limits
First, as I have mentioned above, there are no safe levels for lead because it accumulates in the body over time. However, when lead goes into our digestive system, there is a chance not all of it will be absorbed. By the way, diets rich in fiber and lean protein reduce the absorption of lead.
The Office of Environmental Health Hazard Assessment, created by California Proposition 65, sets forth 2 types of limits for lead per day. The maximum limit for lead as a carcinogen is 15 micrograms. And the maximum amount of lead as a chemical causing reproductive toxicity is 0.5 micrograms.
So, if your tea boiler (large hollowware) follows the FDA limits, you can't drink more than 15 milliliters of water out of it before you start increasing your risk of cancer. Fifteen milliliters is a little over three teaspoons – not very much. Considering that not all lead is absorbed, let's say 6 teaspoons – still not much. And the safety limit for pregnant women would be much less than a teaspoon.
As you can see from the table above, the California Proposition 65 limits are either 5 or 10 times more stringent. In our case with large hollowware, it is 10 times better than the standard. So, 30 teaspoons of water from a tea kettle would be okay to drink without increasing the risk of cancer.
Safe materials for your best tea kettle
Safer choices for a tea boiler include plain (undecorated) stainless steel and plain (undecorated) clear glass. We use cookware from these kinds of materials at home. Not only are they free of toxins, but they are inexpensive as well. And here is very good news – if your tea kettle is made of stainless steel or plain glass, it doesn't really matter whether it is a product of China. In other words, your non-toxic tea kettle can come from China if it's made of stainless steel or glass.
Stainless steel for cookware
Definitely, stainless steel looks beautiful. And it is the workhorse of professional chefs. The reason stainless steel is the number one choice of professional chefs is that it heats uniformly and reacts well to changes in temperature. Cast iron, in contrast, holds heat for a long time, making it tricky for some applications. But if you turn down the heat on a stainless-steel pan, it will react accordingly, just like downshifting a sports car.
Tamara Rubin tested several stainless-steel items with an XRF instrument and detected no lead, cadmium or arsenic in them. However, there are some downsides of stainless steel. It leaches chromium, nickel, and iron into food during cooking. While iron and chromium are essential nutrients for which stainless steel may be useful, we don't need nickel for our health. Yet, I did a lot of research into that, and concluded that stainless steel cookware is one of the safest cookware available to us regardless of its manufacturing location. I talk more about this in my guide to safe cookware. Normally stainless-steel cookware is of two types: 18/10 or 18/8. The first number is the percentage of chromium and the second is nickel.
The good news is that boiling water for tea does not create conditions that stimulate nickel leaching. For example, boiling water does not stay in the pan as long as a sauce might because you pour the water immediately into a tea cup. Also, water is not acidic like tomato sauce. Hence, the odds of significant nickel leaching into the water in your kettle are very small.
Glass for your best tea kettle
Clear non-crystal glass doesn't leach lead or cadmium. Tamara Rubin tested glass kitchenware and found vintage glassware positive for lead. However, her testing of modern glassware with no decorations or color detected no lead, cadmium, arsenic or mercury.
The glass for your non-toxic tea kettle should be absolutely clear — not even a hint of tint (especially the clear light green or blue tint that is often typical of recycled glass items.) Additionally, it shouldn't be a recycled glass item if you want to avoid lead. According to Tamara Rubin, despite its environmentally virtuous appeal, recycled glass is often positive for at least trace amounts of lead, regardless of the tint or color or lack thereof. You can read more about glass products you can use in the kitchen in my Lead Free Glassware Brands post.
A few words about Xtrema tea kettles
Xtrema is a very popular brand. Almost every single blogger writing about healthy living promotes their products. Despite the fact that they manufacture their cookware products in China and from ceramic, Xtrema has been able to persuade the public that their products are safe. On the plus side, they publish test reports that show compliance with the California Proposition 65 regulations. However, Tamara Rubin tested Xtrema and didn't find them heavy metal-free. You can read more about that in my Safe Cookware guide.
When Xtrema started selling their products, I bought what I thought would become my best tea kettle. I found that it took a long time to boil water. So, I tried to increase the temperature form low to low medium. When I did that, the bottom started chipping away and pieces would crack off with a noticeable "pop" and fly around the kitchen. As you can imagine, it was not very safe to use. But if you read an enthusiastic review from my fellow bloggers and become excited about it, please let me know and I can ship you my Xtrema tea kettle that I do not wish to use.
Conclusion: non-toxic tea kettle
In this post I have shown you that even China-made tea kettles can be safe enough for you. Such materials as stainless steel and clear glass provide assurances for safety as they don't test positive for heavy metals and contaminants regardless of the country of origin. To find your best tea kettle and other non-toxic products I approve of, please visit the IRLFY shop.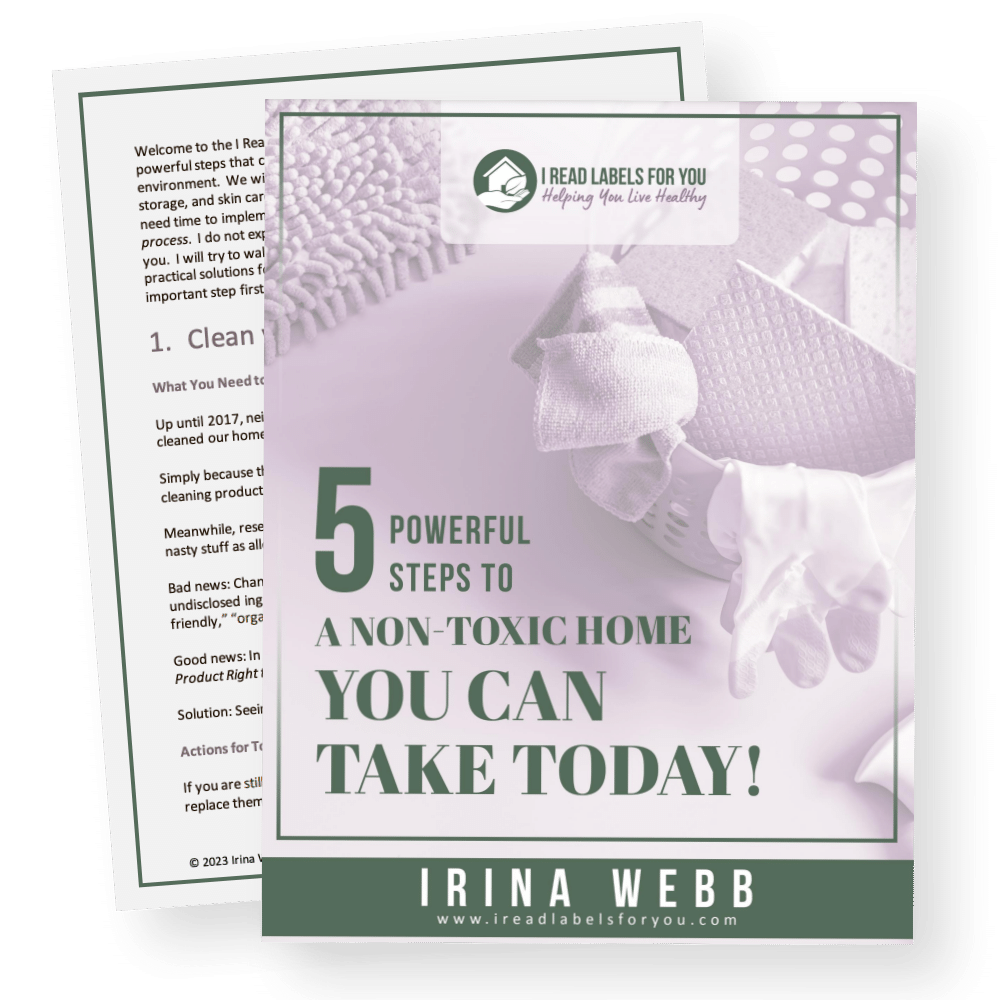 Download The Free Guide!
5 Powerful Steps To A Non-Toxic Home
Join our informed consumer community and get our free guide the "5 Powerful Steps To A Non-Toxic Home".